"What parks are you going to?" asked everyone when we mentioned we were heading to Florida for Christmas. And to their utter dismay, we answered, "None."
It may come as a surprise to some, but there are other things to do in Orlando besides the theme parks. Especially during the holidays!
Here are some festive and fun – some even free, Christmas events in Orlando that don't involve long lines or high costs.
Click here to read my other things to do in Orlando in December for adults or families!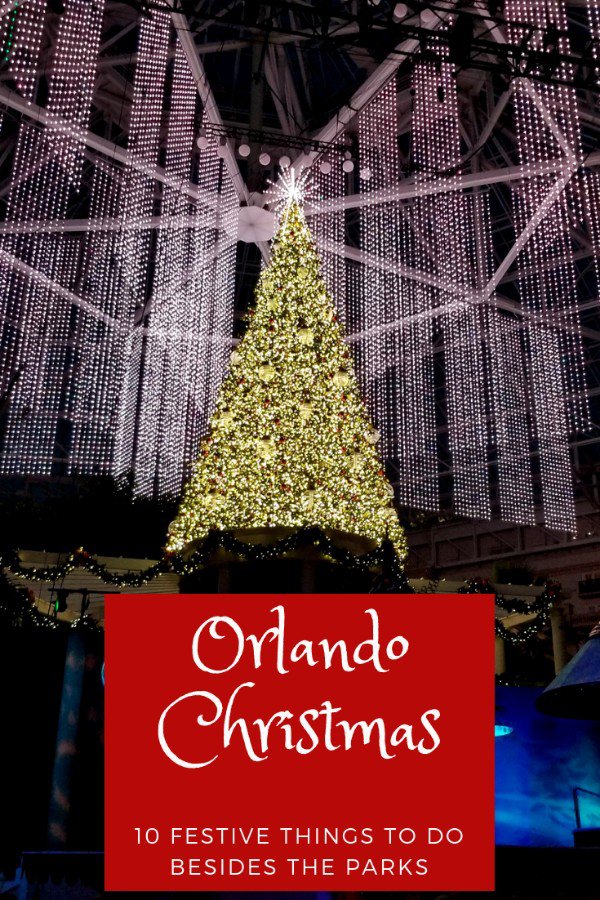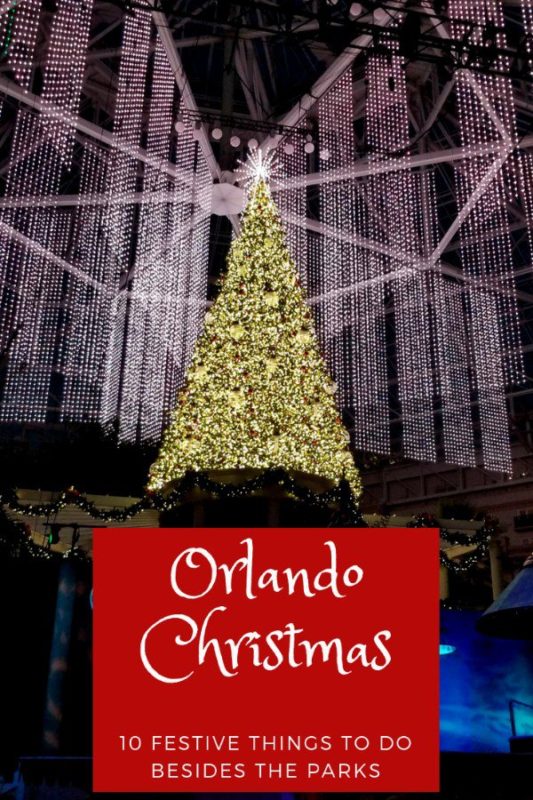 It's the busiest time of year so don't forget to make reservations or have a dining plan, see my article on What Restaurants are Open on Christmas in Orlando.
1. Lights on Jeater Bend
A spectacular synchronized music and light display on Jeater Bend in the town of Celebration. So if you'll be in Orlando during Christmas break, park your car and walk along the street for a dazzling show between neighbors.
Christmas lights sparkle in unison with the houses across the street, dancing to the music on the loudspeaker.
Santa with his bag of toys passes by a window, he looks so real I stop because I thought it was the owner of the house peeking out for a second. Olaf pops up on a large screen right before snow flurries start. It is a magical street!
Since we didn't see much when driving down the street during the day, we almost didn't come back at night. I'm so glad we did.
Our Christmas lights Orlando tradition always includes a stop at Jeater Bend now.
Also, if you're looking for other things to do outside of town, check out these super fun and unique day trips from Orlando!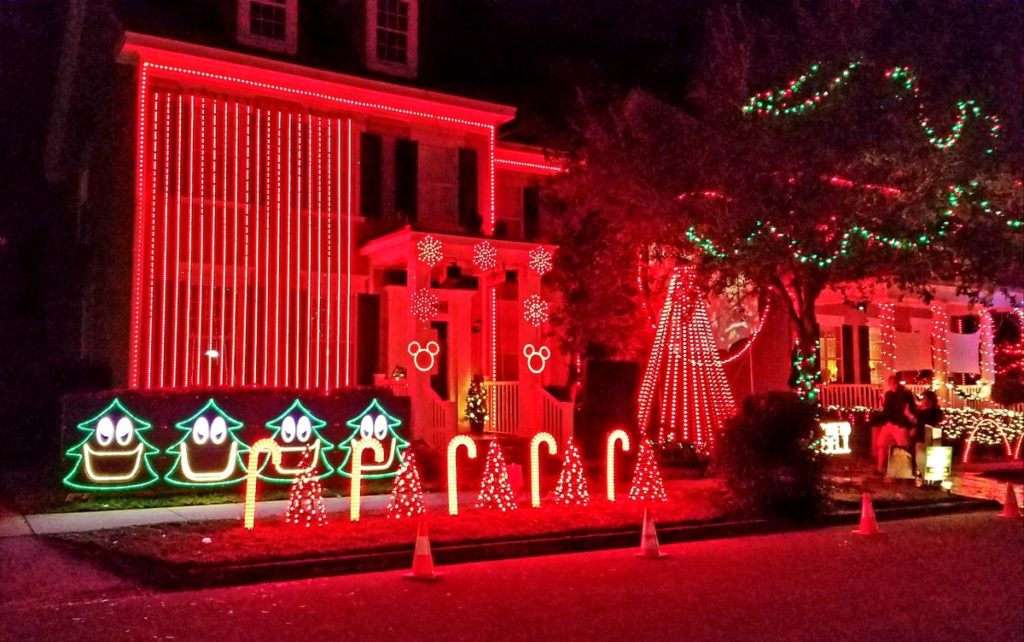 The lights and decorations on Jeater Bend, the most festive street in Celebration!
Where: 1033 Jeater Bend Drive, Celebration, Florida.
When: Thanksgiving to December 31st from 6:00 PM to 9:30 PM.
Cost: Free
Tip: To avoid crowds, try to visit weekdays.
2. Dazzling Nights at Harry P. Leu Gardens
Returning this year is Dazzling Nights at the Harry P. Leu Gardens. And dazzling it is indeed.
An ornamental Christmas tree will greet your family before entering a forest of fog and lights with a small chance of snow. Wander through a 65-foot tunnel of lights, 185 colorful Moroccan lanterns, and an illuminated rose garden while dancing to holiday tunes. It's a surefire way to kickstart the Christmas vibes this year.
Where: 1920 N Forest Avenue, Orlando, Florida.
When: November 17th – January 6th, timed entry between varies.
Cost: $25 per person, must be purchased online in advance. Plus $12 per car for parking.
3. Disney Springs Christmas Tree Trail
The Christmas Tree Trail at Disney Springs will return for Christmas in Orlando in 2023! The exact dates have not been published yet.
Expect at least two dozen holiday trees each decorated for a different Disney character or theme with a few notable additions inspired by "The World's Most Magical Celebration!"
On our strolls in previous years, we saw Star Wars, Little Mermaid, Toy Story, Snow White, and Beauty and the Beast to name a few.
You'll also find Mickey Mouse-shaped pretzels, holiday drinks, and seasonal ornaments along the walk, and don't be surprised if you get snowed on!
Tip: Attention any military folks, most restaurants offer discounts so don't forget to ask.
Where: 1486 Buena Vista Drive, Orlando, Florida near the Once Upon a Toy store.
When: Daily from November 11th through January 8th.
Cost: Free
4. Orlando Christmas Boat Parades
What is there to do in Orlando at Christmas? Lots, that's what! One of the unique things is Christmas boat parades; floating celebrations of merriment and cheer!
Orlando Christmas 2023 Where and When:
December 1st at 8:00 PM, Tarpon Springs, begins at sponge docks and ends at Spring Bayou.
December 2nd at 6:00 PM, Dunedin, runs from Marker 1 Marina, south along the intracoastal to Union St, and returns north to Dunedin Marina. Boats arrive at Dunedin Marina at approximately 7:00 pm. Limited viewing at Weaver Park and along Bayshore Blvd and Edgewater Drive.
December 2nd at 6:30 PM, Winter Haven Chain of Lakes, the parade travels from Lake May to Howard, back to May, then onto Lake Shipp.
December 2nd at 7:00 PM, downtown Mount Dora, beginning at the Lighthouse across from Gilbert Park on Tremain Street and Liberty Street.
TBD, Orlando Christmas Paddle 2023 , Grills Lakeside Seafood Deck & Tiki.
TBD, Apollo Beach near 1250 Apollo Beach Boulevard.
December 9th at 6:00 PM, Cocoa Beach, starting at Mile Marker 101 near Centennial Park on State Road 520, ending at Cocoa Beach Golf Course. Best places to watch: Sunset Cafe, Wildlife Watersports, End of S. Banana River Blvd, and Cove Park.
December 9th at 6:00 PM, Deland near 1889 Hontoon Road. The community party starts at 4 PM.
December 9th at 5 PM, St. Augustine Regatta of Lights starts one mile south of the Palm Valley Bridge and travels north.
December 15th from 3 – 8 PM, Rollins College in Winter Park, boat parade and water ski show.
December 15th at 8:00 PM, South Lake Conway, at the Southside of the Nela Bridge and will run clockwise.
December 16th, Merritt Island -Cape Canaveral begins near the Humpback Bridge Saturday at dusk and proceeds through the residential canals of Sykes Creek and ends to the north near the SR 258 (Beachline) Bridge.
December 16th at 7:30 PM, Middle Lake Conway, at the Sand Bar (SE Corner of Middle Lake) and will run clockwise around the center lake.
December 17th at 7:00 PM, North Lake Conway, at 'the Point' on (North) Little Lake Conway and will run clockwise.
Cost: Free
Other Awesome Places to Celebrate Christmas in the U.S.
5. Now Snowing Celebration Town Center
Close your eyes, hold hands, and wish for snow. Even if it's a 70-degree Florida night with palm trees overhead, in the town of Celebration the magic of believing will make it happen.
No one cares that it is a machine-made snoap falling from the sky. The kids will squeal with delight as tiny soap bubbles snowflakes land on their noses as they dance around to Christmas music playing from the speakers.
During the Now Snowing Celebration, you can go ice skating, take a Cinderella-style horse-drawn carriage ride around town, or hop on a train to see all the Christmas lights.
Tip: Visit the charming town of Celebration during the day as well if you have time. There are a few restaurants, a cool hotel, and a mile-and-a-half boardwalk around a lake and through nature.
Where: Celebration Town Center, Florida.
When: November 26th – December 31st, Nightly – Snow falls at various times between 5pm and 9pm.
Cost: Free to walk around, additional fees for ice skate rentals or rides.
Celebration Town Center closes the main street and sets up a Christmas tree with other decorations outside the shops and restaurants.
6. Check Out a Resort or Two
At Christmas in Orlando, many of the Walt Disney World resorts go above and beyond with decorations and lights. The Wilderness Lodge is ranked #1 for many travelers with its rustic feel and roaring fireplaces.
The Grand Floridian has a life-size gingerbread house with a sweet shop inside! You can find gingerbread ornaments, cookies, and miniature gingerbread houses, all made using a classic gingerbread recipe from Austria.
Where: The Wilderness Lodge, 901 Timberline Drive, Orlando, Florida
Where: The Grand Floridian, 4401 Floridian Way, Lake Buena Vista, Florida
When: The month of December
Cost: 3 hours complimentary parking if you have restaurant reservations at most hotels or you can take public transportation from Disney Springs or any of the parks.
Tip: The piano player at the Floridian starts at 3 PM daily and a prince and princess come out at 3:30 PM for a waltz every day except for Tuesdays.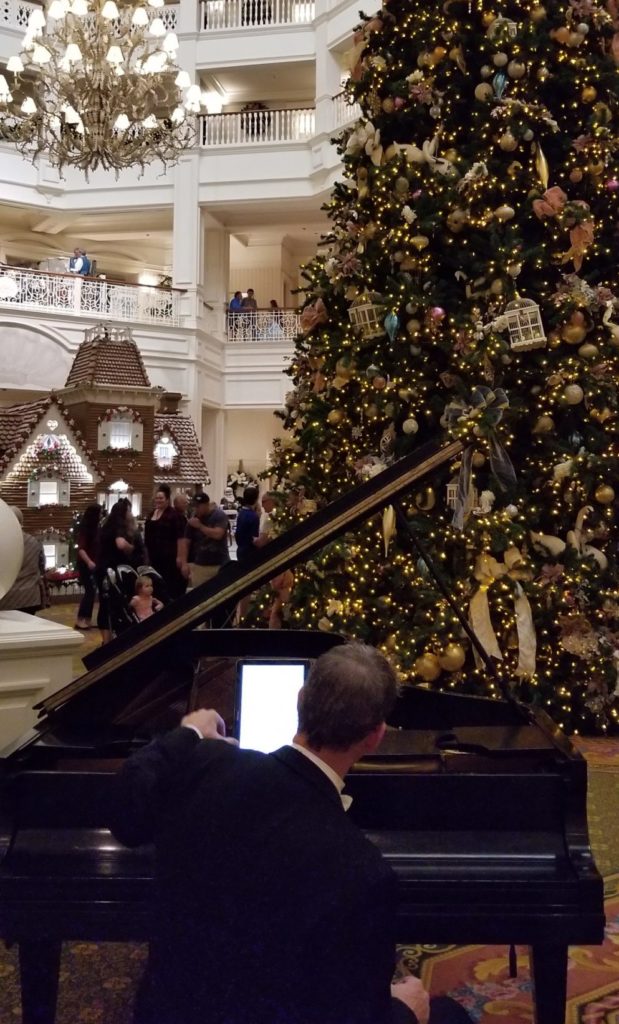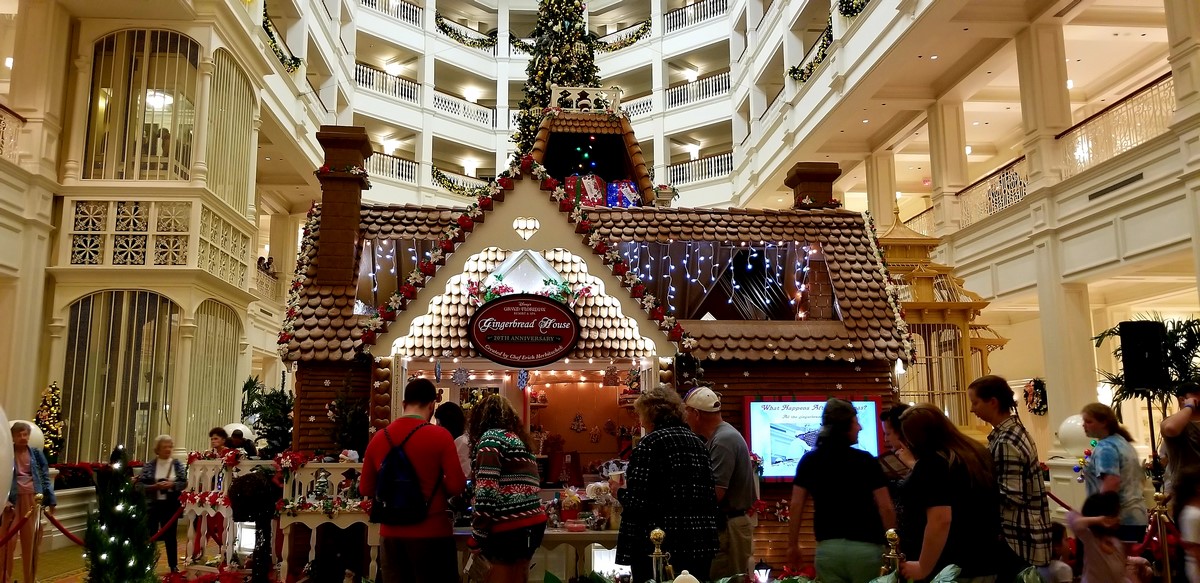 Get Your Guide is a great company that offers discounted tours and attraction tickets. One of the most unique tours out of Orlando is the Swim with Manatees Tour which is an all day excursion. Did you know Crystal River (which is under two hours away from Orlando) is one of the few places in the WORLD where you can swim with these amazing creatures? If you book through our site, at no additional cost to you, you'll help us support the blog since we receive a small commission. Read about our experience swimming with the adorable underwater sea cows here.

Other unique tours they offer from Orlando:
7. Disney Holiday Fireworks from Outside the Park
You don't necessarily have to be at a Walt Disney World theme park to enjoy the fireworks display. Our favorite location is the Grand Floridian's pier where you can see the Electrical Water Pageant and Magic Kingdom's fireworks above the lake.
A great option on a cold night (that does happen on occasion in Florida!) is eating at Narcoossee's, their signature restaurant known for its seafood. You'll feel like part of the show when you hear the Wishes Nighttime Spectacular music and accompanying narration come on overhead.
Other Locations Outside the Park to See Fireworks
Where: The Grand Floridian, 4401 Floridian Way, Lake Buena Vista, Florida
When: Check Magic Kingdom's fireworks schedule for times.
Cost: 3-hour complimentary parking if you have restaurant reservations at most hotels or you can take public transportation.
8. Cirque: Spirit of Christmas
A 25-minute interactive show chock full of whimsical costumes, colorful characters, daring showmanship, and entertaining theatrics.
Arrive fifteen to twenty minutes early to check in and see the Dreams of Christmas Light Show above the stage.
Where: Gaylord Palms Resort and Convention Center, 6000 W Osceola Pkwy, Kissimmee, FL
When: November 17th – January 3rd, 1:00 PM and 6:30 PM Sunday – Friday, 1:00 PM, 6:30 PM, and 8:15 PM Saturdays.
Cost: Prices vary based on the type of seat and time of the show. Adults $11.99 – 29.99, Child (4 – 11) $4.99 – $19.99. Tickets have been released and must be reserved for all shows.
Parking Fee unless validated by a restaurant or Guaranteed Seating available for a fee. Purchase tickets here.
Tip: Arrive early and try to go on a weekday to avoid crowds.
9. ICE! A Charlie Brown Christmas
Talented artisans from China spend countless hours carving realistic and larger-than-life ICE sculptures using two million pounds of colorful ice.
We've been to a few of these spectacular displays, and they are truly something else.
So grab your cold-weather gear -they give you parkas before you enter, but you'll want long pants, closed-toe shoes, and gloves for this even though you are in Florida!
Where: Gaylord Palms Resort and Convention Center, 6000 W Osceola Pkwy, Kissimmee, FL
When: November 17th – January 3rd, 1:00 PM and 6:30 PM Sunday – Friday, 1:00 PM, 6:30 PM, and 8:15 PM Saturdays.
Cost: Adults (12 and older) $36.99 – 29.99, Child (4 – 11) $24.99. Discounts may be available for combo tickets.
10. Snow Flow Mountain
Gaylord Palms Resort creates a one-of-a-kind experience each holiday season. Last year's pop-up theme was the movie, A Christmas Story, and this year they have created a Snow Factory where you can tube down ice slides and hilly ice coasters.
Where: Gaylord Palms Resort and Convention Center, 6000 W Osceola Pkwy, Kissimmee, Florida.
When: November 17th – January 3rd
Cost: $24.99 per person plus tax, purchase tickets in advance online. Purchase Discounted Tickets here.
3 Places to Visit if You Love the Movie, A Christmas Story
11. Send your Holiday Cards from Christmas, Florida
Is there a Christmas town in Florida? I know there is a town in Indiana called Santa Claus but only recently found out about Christmas.
There's not much going on in town, but a unique thing to do is to bring your letters and cards to the local post office around the holidays to get postmarked with an official and special stamp and logo.
It's Always Christmas in Christmas, Florida!
12. Bok Tower Gardens
If you enjoy getting out in nature a bit, head south to the tranquil Bok Tower Gardens, known as America's Taj Mahal.
Not only does it have a "singing" tower with a 60-bell carillon, but beautiful gardens and a 1930s Mediterranean-style mansion decked out in Christmas decorations as well.
Where: Bok Tower Gardens, 1151 Tower Boulevard, Lake Wales, Florida.
When: TBD November 27th – January 3rd.
Cost: $17.00 for adults and $5.00 for children ages 5-12, under 5 are free.
Tip: Concerts are held at 1 PM and 3 PM daily.
13. Eola Wonderland Christmas Tree Show
Situated on the banks of Lake Eola, watch as Orlando's 72-foot Christmas tree awakens every night to music and lights up with red, blue, green, and gold lights.
Where: Lake Eola Park in Downtown Orlando near E. Washington Street and N. Rosalind Avenue.
When: December 2nd through Jan. 6th at 5:45 PM, 6:45 PM, 7:45 PM, 8:45 PM and 9:45 PM daily.
Cost: Free as long as you park along Eola Drive.
14. Holidays at Old Town
Walking down the brick-paved streets of Old Town will bring you back to a simpler time. Festive decorations are strung up throughout the area, along with a 40-foot traditional Christmas tree.
The strip is a great place to find some special gifts. Extreme Woodcrafts offers puzzle boxes, frames, aircraft models, and more. There is retro memorabilia from the Forties, Fifties, and Sixties at the Wound 'N Around. And there are a few stores that carry Disney apparel, souvenirs, and toys.
On the weekends, you can experience family-friendly events with live music, fluffy "snow" falling on the streets, and car shows and cruising.
Where: Old Town in Kissimmee
When: November 23rd – December 25th
Cost: Free.
15. Lake Nona Lights
Two neighbors started the tradition by trying to create a "killer light show." As the years pass by, they add more and more and have been deemed one of the best light displays in Central Florida.
Where: East Park Subdivision off of Narcoossee Rd. at 9800 Old Patina Way in the Lake Nona area of Orlando Florida.
When: November 23rd – December 31st, Sunday – Thursday 6:00 pm to 10:00 pm and Friday & Saturday 6:00 pm to 11:00 pm.
Cost: Free.
16. Light Up the Holidays in Altamonte Springs
Walk the trail in Cranes Roost Park to find a choreographed fountain with synchronized dancing water and lights, 200,000 lights on over 100 displays, and an oh-so-merry 60-foot Christmas tree.
Events throughout the season also include live holiday music, Santa appearances, and outdoor holiday movie nights.
Where: 274 Cranes Roost Blvd, Altamonte Springs
When: December 2nd – January 1st, Nightly at Dusk.
Cost: Free.
17. Stetson Mansion in DeLand
Explore elaborately decorated rooms at the historic Stetson Mansion, one of the top attractions and holiday home tours in all of Florida.
Self-guided tours of the luxury estate of the inventor of the cowboy hat, John B. Stetson, will be offered during the 12th annual Christmas Spectacular! Expect over-the-top light displays and extravagant ornamentation.
Where: 1031 Camphor Lane, DeLand
When: November 1st – January 20th.
Cost: $28 per adult, $15 per child plus taxes.
18. Oh, What Fun! Festival
Enjoy live shows, holiday-themed pop-ups, Christmas trees, food trucks, and arts and crafts in Peppermint Square. Plan a visit to the Oh, What Fun! Festival on weekends to find the Peppermint Forest Tree Lot, Santa's Cottage, Kid's Craft Village, DJ Peppermint & The Snow Squad Dance Party, and Peppermint the Penguin.
Where: Lake Nona Town Center
When: December 7 – 23rd
Cost: Free.
Other Cool & Unusual Things to Do in Florida
You Might Also Like
Have you been on an Orlando Christmas vacation? What is your favorite thing to do during Christmas in Florida?
Like it? Please share on Pinterest!