We all know that Florida offers endless outdoor adventures, but did you know in a single day you could kayak with manatees, experience a live mermaid performance, and swim in paradise? Talk about combining my love of nature, animals, and roadside attractions in one memorable day of fun! Weeki Wachee kayaking will go down as one of my all-time favorite experiences in Florida, here's why.
Weeki Wachee Kayaking with Manatees in Florida
After spending an afternoon viewing the stunning waters of a Florida natural spring a few days prior, we couldn't wait to get out on the water ourselves.
The popularity of Weeki Wachee Springs State Park has sky-rocketed in the last few years so we made sure to make our reservations ahead of time, choosing the earliest available time slot in hopes of getting some alone time on the water.
Since we rented our kayaks within the state park – Boating in Florida near the Weeki Wachee Marina is the only rental facility on the Weeki Wachee River – we were floating on the water in minutes after picking up our gear and a quick briefing.
Shortly after we start paddling, a loud horn from a Weeki Wachee Springs State Park boat has us rowing frantically to get out of the way. It would have been nice if the young girl setting us up at the kayak outfitter mentioned the park's boat tour was on the first section of the river!
Thankfully, the boat only shares the first half a mile with us then turns around and heads back to the park.
Nature at its Best
Once things quiet down, we admire the enchanting landscape around us. The natural beauty of the Weeki Wachee River is mind-blowing; every turn provides a new backdrop.
And there are a few turns! Weeki Wachee was named by the Seminole Indians and means "winding river" after all.
A school of fish hurriedly swims upstream to the right of the kayak while I'm noticing dreamlike pools of emerald and cobalt water shimmering to the left. In addition to vodka clear water below, the river is lined with cypress, oak, and palm trees above.
It's like a fantasy!
Mermaids in Florida?
Did you know manatees are the original mermaids of the sea? The harmless critters were mistaken for mermaids since the days of Christopher Columbus. On one of his voyages, he wrote about a mermaid sighting:
"He quite distinctly saw three mermaids, which rose well out of the sea; but they are not so beautiful as they are said to be, for their faces had some masculine traits." ~ Voyages of Columbus 1493
I am hoping to spot a masculine mermaid today! Then at about three-quarters of the way to the pick-up point, a dark outline of a manatee darts past us.
We discuss whether or not to turn around and go looking for him. The Hospital Hole, a deep pocket in the river, is usually where manatees can be found hanging around.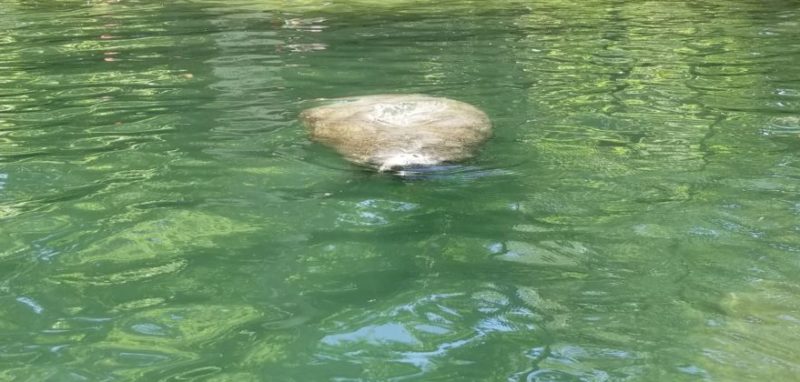 We are not too far from there so we decide to take our chances with another encounter at the hole. As soon as we take the sharp bend in the river, we hear a few kids yelling to their dad that they see a manatee. As we get closer, the preteen boy pops up with his snorkel gear and is laughing hysterically. "Do you see all the fish nibbling him, dad?" The dad reminds his son not to get too close – you go dad – and that the fish are eating the algae off of them.
I have a flashback of when we snorkeled with manatees a few years back in Crystal River to the guide saying it's like the fish are giving the manatee a haircut, eating all the algae and dead skin off them.
Given that our four hours of kayak rental was almost up, it was time to bid farewell to the darling manatees and make our way to Rogers Park, the pickup location. Here, a van was waiting to take us back to the park.
The day isn't over yet. It's time for the "real" mermaid show!
READ NEXT: WHAT IT'S LIKE SWIMMING WITH CRYSTAL RIVER MANATEES
Weeki Wachee Springs State Park
It's 1947, the average cost of a car is $1,300 and gas prices are 15 cents a gallon. World War II just ended and many soldiers are coming home looking for jobs. Newton Perry, former U.S. Navy, is one of them. His background is in training men to swim underwater to which he took that talent and parlayed it into a tourist attraction that still exists today.
Newt invented a method of breathing underwater with small hoses instead of oxygen tanks, giving the illusion of being underwater with no breathing apparatus. And thus, the mermaid show began. Pretty girls strapped in a mermaid tail and a smile started performing 16 feet underwater. By the 1950s, Weeki Wachee Springs was a hit and gaining recognition worldwide.
So, what's it like now? My guess is pretty similar to back then with the exception of a small water park attached. It's a no-frills kind of place with a riverboat tour, wildlife shows, and mermaid performances.
Our timing worked out perfectly. First, we walked to the back of the park to hop on the short boat ride. Even though we kayaked the river earlier in the day, we were glad we took the 25-minute ride. It provided a different perspective and the guide had some interesting facts about the park and its history.
Plus, it was included in the price of the ticket so why not?
Underwater Extravaganza with Mermaids
Since it was a long day already and we just saw native animals at Homosassa Springs State Park, we skipped the wildlife shows. If we planned for an entire day at the park, we would have surely stopped in at one of the encounters.
Read more about our day at the very cool and unique Homosassa State Park here, another fun attraction in the area.
Therefore, we head over to the main attraction next, the mermaids! We sit patiently staring at the thick drawn drapes while sneaking peeks at the television above our head. It's playing clips from shows years ago and concerts performed at the springs.
As the curtain is drawn, we discover the bright blue water of the spring behind it, bubbles appear and the Fish Tails Mermaid Show begins.
We are immediately drawn back in time with the synchronized swimming and simple melody of the music. For decades, mermaids have been entertaining tourists by performing feats like eating apples and taking drinks underwater. For a split second, I wonder how many other generations to come will be taken back and experience the show for themselves.
And finally, the day ended with a photo opportunity I couldn't pass up. Who wouldn't want a picture with a mermaid?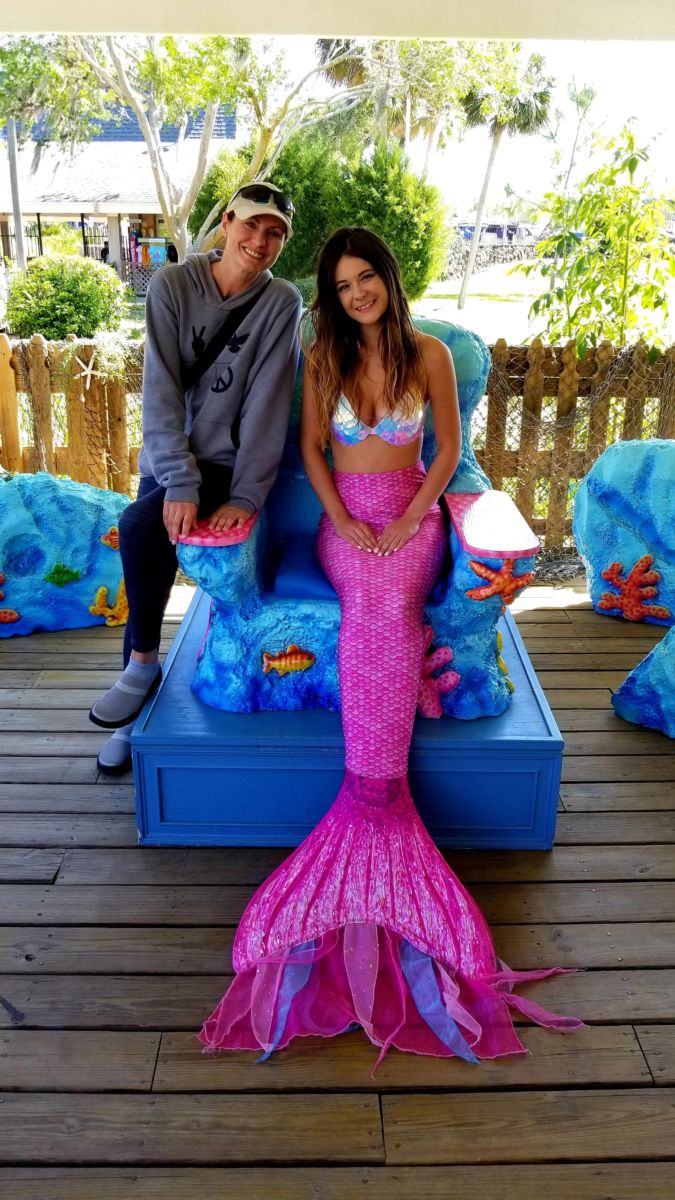 As far as roadside attractions go, Weeki Wachee State Park is as wacky as they come, but the historic tourist destination is worth the visit. Between kayaking, manatees, and mermaids, Weeki Wachee is a truly special place in Florida.
⇓ CONTINUE BELOW FOR IMPORTANT INFO FOR YOUR VISIT ⇓
Where is Weeki Wachee?
Lastly, let's show you where we are in case you'd like to plan a trip to Weeki Wachee as well. You can find the state park on the west coast in central Florida; the state park is about an hour north of Tampa and just under two hours west of Orlando.
In Orlando? Check out our related article on Best Things to Do in Orlando besides Disney!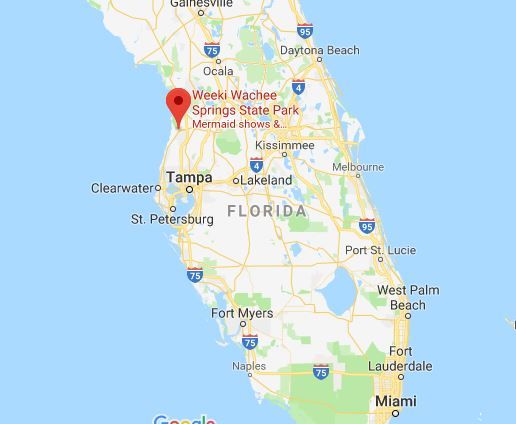 RELATED: CRYSTAL RIVER KAYAKING
Weeki Wachee Hotels and Campgrounds
Kayak and Paddleboard Rental Information
If you look up Weeki Wachee kayaking reviews, the top places are
Weeki Wachee Kayaking
Weeki Wachee Springs State Park Kayak Rentals
Weeki Wachee Kayak Shack
Weeki Wachee Kayaking – Know Before You Go
All kayak and paddleboard 4-hour rentals include boat, life jacket, and shuttle back from the pickup area.
The springs are popular, reserve the first time slot if possible to avoid crowds.
Walk-ins are welcome but reservations are highly recommended.
Arrive 15 minutes early to fill out paperwork and to receive a quick crash course.
Be respectful of the manatees. Remember the springs are their safe haven; give them space and just observe. Manatees were only recently taken off the endangered species list and any mistreatment or abuse is punishable by law in the state of Florida.
Common Questions

What can I bring to Weeki Wachee? As far as kayaking you can bring coolers with food and drinks but bags are checked, no alcohol is permitted. Food and drink, however, are not allowed inside Weeki Wachee Springs State Park. There are multiple picnic areas outside the water park area.
Are there alligators in Weeki Wachee Springs? Yes, we are in Florida silly, they are everywhere! BUT they are scarce as they tend to stay in the marsh area.
Can you bring your own kayak to Weeki Wachee? Yes, but you still need to make a reservation since they try to limit 70 boats per hour on the water.
How long does it take to kayak down Weeki Wachee? It takes 3-4 hours depending on your pace and how many stops you make.
Can you bring pets? No pets are allowed with the exception of service animals.
What to Bring
Sunscreen and moisture-wicking hat for sun protection– the Florida sun is strong and even on a cool day, it is important to wear sunscreen.
Plenty of Water – stay hydrated.
Swimsuit or swimming trunks.
GoPro – we kept saying over and over we need to get a GoPro for these unforgettable experiences. It is on my list of things to purchase this year.
Waterproof phone case and/or dry bag.

Lunch or snacks. Paddling makes you hungry.
Disclaimer: This post contains some affiliate links, if you book through our link we will receive a small commission at no additional cost to you. Thanks for supporting the blog.
Have you ever seen the Weeki Wachee Mermaids? How about Kayaking on the Weeki Wachee River? Tell us in the comments below!