Many people don't realize that Florida state is home to roughly 600 natural springs that produce more than 8 billion gallons of water a day. 8 Billion!
Do you know what this means? The sunshine state has the largest concentration of freshwater springs in the world.
Focusing on the natural side of things on our road trip in Florida this year, we put Silver Springs State Park on the itinerary.
Come with us as we uncover what Florida's first tourist attraction has to offer!
History of Silver Springs State Park
Tourism in Florida didn't begin until after the Civil War ended in 1865. Thank you very much to the Florida Museum in Tallahassee for that tidbit of information we learned on our visit.
Soldiers were on the move looking for the healing powers of the springs and the warm weather of the south.
And in comes Silver Springs with its warm weather, invigorating capabilities, and 72-degree year-round water temps.
When Hullam Jones invented the glass bottom boat to view the crystal clear world below in 1877, Silver Springs was well on its way to becoming the state's first theme park.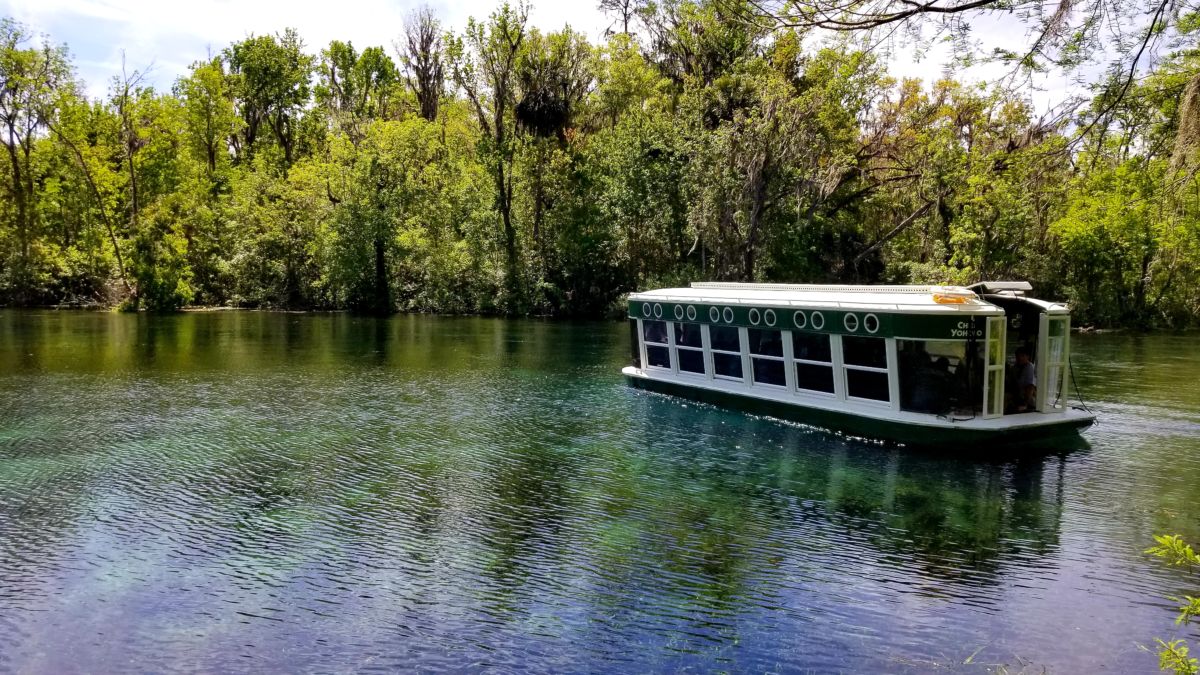 Here we are, 140 years later, and the springs are still impressing visitors every day.
Visit Silver Springs State Park
Located in central Florida, Silver Springs State Park is an hour and a half from Orlando. Only a short distance from the hustle and bustle of Disney, Florida's current number one tourist attraction, yet Silver Springs feels like a lifetime away.
From the moment we walk under the entrance sign, we notice the nostalgic feel of simpler days lost some time ago. It speaks volumes about the yesteryear when travel wasn't so widespread and accessible.
Once inside, we notice the park is compact with only three main walking trails justifying the small admission price. After a short jaunt along a paved pathway, you are rewarded with stunning views of the azure waters.
Now, this is what we came here to see!
Kayakers are gliding on top of the water taking breaks every so often to look down into the deep blue abyss. A glass-bottom boat slowly gets its start from the boat launch and I can't contain my excitement.
World-Famous Glass Bottom Boat Tour
Ordinarily, we like to get out on the water ourselves, but since we've never been on a glass bottom boat before, we couldn't pass up the opportunity.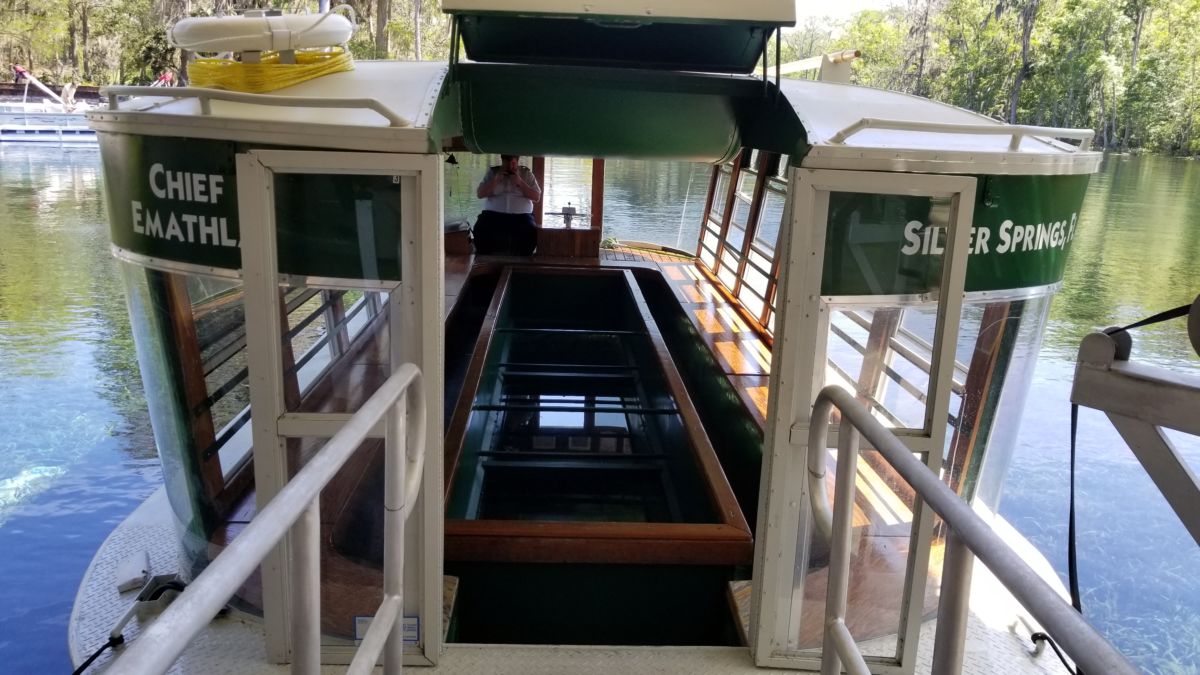 While waiting for other passengers to board, we witness the circle of life taking place outside our window.
As the tour begins and we make our way across the springs, it is effortless to spot fish swimming by in the crystal clear freshwater below.
The 30-minute ride goes by fast as we listen to the history of the park and see a canoe that dates back to the Spanish explorer days still sunk at the bottom of the river.
Fun Fact: Parts of the "Creature of the Black Lagoon" movie were filmed at Silver Springs.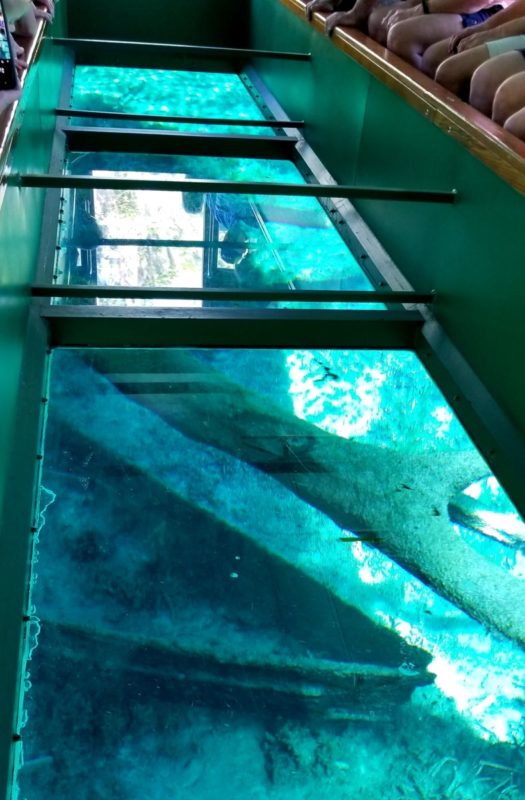 If it's your first visit like ours and you are not taking advantage of the kayaking or canoeing, I would suggest the 90-minute extended boat ride to see more of the river. It is only offered on Fridays, Saturdays, and Sundays so plan accordingly.
⇓ See below for information on your visit ⇓
Kayaking or Canoeing in Silver Springs
Silver Springs State Park now offers kayaking and canoeing as an option to get out on the water. For over a century, the route was used for tour boats only.
Although we didn't kayak this time around, we spoke to a few people that did and they enjoyed the jungle-like scenery.
Not only are you paddling on pristine water, but there's always a chance of seeing some of the wildlife in the area. Deer, armadillos, black bears, wild boars, foxes, alligators, bobcats, and even monkeys call the state park home.

"Warning: Feeding or petting the monkeys is prohibited as they can get aggressive. Avoid contact and observe from a safe distance if you encounter one."
I have to admit, there is a sense of adventure walking around the trails when you know at any moment you might encounter a wild monkey.
Unfortunately, because we visited on a cool winter day, we didn't see any monkeys on our visit. You are more likely to see them when it's hot outside as they hang out by the water then, we were told at the end of our tour by the captain.
Altogether our experience at Silver Springs State Park was a positive one and we will be back at some point to kayak and monkey around. It's clear that Florida state parks have a lot to offer so we plan to add a few more to future itineraries.
Places to Stay near Silver Springs State Park
Plan your Visit to Silver Springs State Park
Silver Springs State Park
5656 Silver Springs Blvd, Silver Springs, Florida 34488
Open: 365 days a year from 8 am to sunset
Glass Bottom Boat tours require an additional fee and run every 30-45 minutes from 10 am to 6 pm daily.
Reservations are not necessary.
The last Boat tour is 6 pm.
Extended 90-minute tours are offered Fridays, Saturdays, and Sundays at 11 am, 1 pm and 3 pm.
Spring Side Café serves an array of hot food including sandwiches and wraps.
Picnic tables located in the parking lot and inside the park to bring your own food.
Canoe and kayaks are available for rent, reservations suggested during busy season.
Disclaimer: This post contains some affiliate links, if you book through our link we will receive a small commission at no additional cost to you. Thanks for supporting the blog.
Have you ever been to Florida's Silver Springs State Park? Tell us about your experience in the comments below!
Like it? Pin it!