Christmastime has arrived! I don't know about you, but we are fascinated with discovering unique places to visit to get in the holiday spirit. The Garden Glow St Louis, with its million lights and festive installations, seems to do the trick.
The Missouri Botanical Garden – one of our favorite U.S. botanical gardens by the way – is transformed into a glowing winter wonderland every season.
Learn about what's going on inside this winter glowland, find out tips for your visit, and discover the other unique events held at the Missouri Botanical Garden.
The Garden Glow, which began in 2012, is now a popular holiday tradition for many St. Louisans. Our first visit went like this.
Joyful and merry music plays as we move along the illuminated walk. Humming and shaking our way to making our spirits bright!
Scroll to the Bottom for Info on Garden Glow Tickets
Greeting us almost immediately is the Blizzard Bar with drinks like the Merry Manhattan, Tree Topper (Fireball Hot Chocolate), and Snowed In (Peppermint Hot Chocolate). What better way to warm up but from the inside out, right?
We didn't indulge in a drink this time since it would get in the way of us taking pictures. But as an adult, I like that it was an option.
RELATED: TOP THINGS TO DO IN ST. LOUIS
We continue on our way through balls of light, lantern row, the twinkling tunnel, and even raced through a radiating maze.
The one-way path through the garden is just over a mile long. But there are so many fun photo opportunities throughout the walk that it takes some time getting through.
Looking for other holiday ideas in St Louis?
Check out Anheuser-Busch's spectacular display here.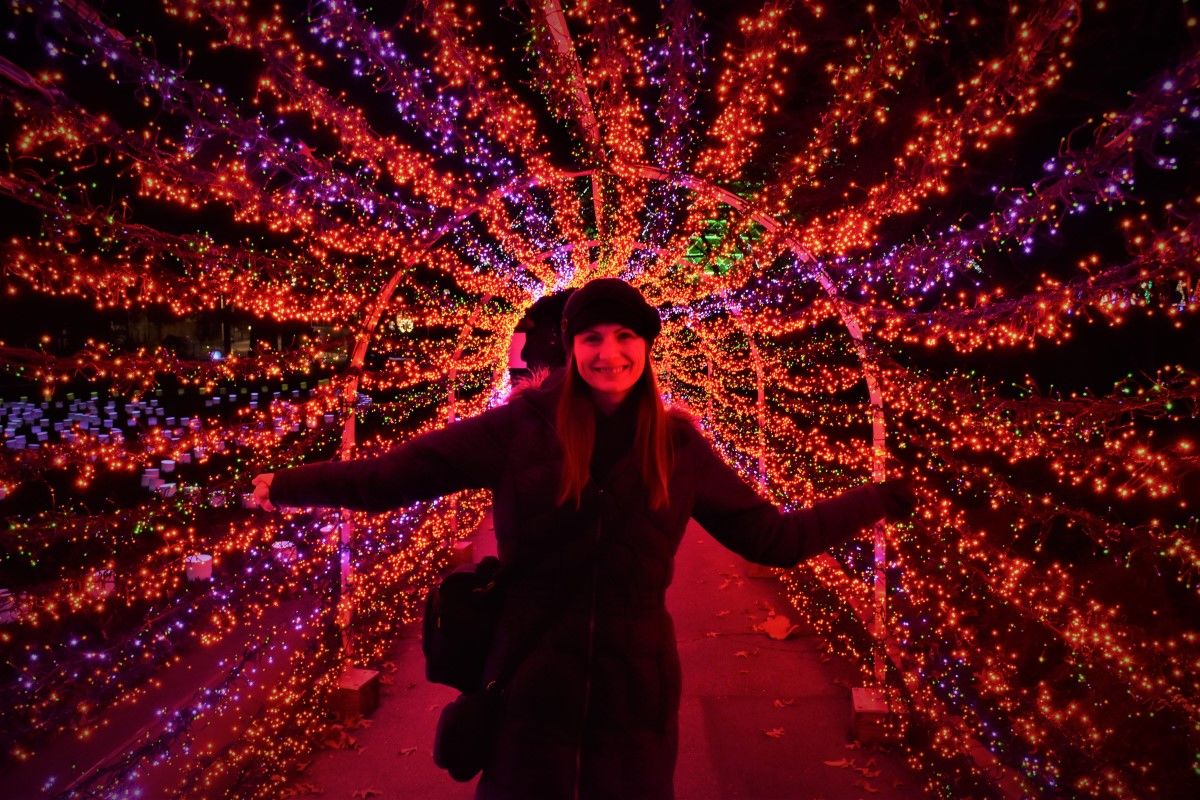 RELATED: WINTER GETAWAYS IN MISSOURI AND IOWA
Concessions are set up throughout the botanical garden that offer refreshments, hot chocolate, kettle corn, hot dogs, and other snacks. The garden even has open fires where you can toast your own marshmallows.
The garden does a great job every year making adjustments so it feels like a new experience.
Suspended this year: Garden Glow tickets now include admission to the Gardenland Express Holiday Flower and Train Show. The indoor playland will have six tracks of animated model trains and hundreds of festive holiday plants.
READ NEXT: BEST CHRISTMAS TOWNS IN THE MIDWEST
The Missouri Botanical Garden was once the garden and country estate of a prominent local businessman, Henry Shaw. Opened in 1859, it is one of the oldest botanical gardens in the United States.
The Tower Grove House, where Shaw lived, is open to the public and decked out with holiday decorations. Warm up with a short self-guided tour inside!
Other special events include Family Nights on select Wednesday nights that offers discounted children tickets for $3; Interaction with Santa (previously Meet Santa) on select dates included with Glow admission; and an early family-friendly New Year's Eve with dancing and a ball drop.
Santa visits will look a little different this year. He will be located in the Linnaean Plaza in the Sleigh.
Meet Santa Dates & Times Below
Hours: 5 – 9 pm
November 19, 22, 23, 29 and 30
December 6, 7, 13, and 14
RELATED: CHRISTMAS LIGHTS IN CHICAGO
Walking through the Garden Glow at Missouri Botanical Garden is just the right thing to kick start the holiday season. Read below for details and tips for your visit.
Disclaimer: This post contains affiliate links, if you book through our link we will receive a small commission at no additional cost to you. Thanks for your support as this helps us with the cost of running the website.
Unique Places to Stay Near St. Louis Botanical Garden
Details
Address: 4344 Shaw Boulevard, St. Louis, Missouri
Time: 5:00 PM – 10:00 PM
Dates: Now – January 8th (Closed Christmas Eve and Christmas Day)
Garden Glow St Louis Tickets 2021: General Admission Adults $20, Children $10 and Family Nights & Bargain Nights Adults $18, Children $3.
Tips for Visiting Missouri Botanical Garden Glow 2021
Purchase Garden Glow tickets online in advance (a full refund will be given if due to the current situation if the event is canceled.) to guarantee entry.
Follow Missouri Botanical Garden's Facebook page for Garden Glow coupon action. Every once in a while they post $5 off for certain dates.
Go on a weekday right at opening for discounted Missouri Botanical Garden tickets and to avoid crowds.
Meet Santa is included in the Garden Glow ticket prices on Monday and Tuesdays.
If you cannot make it on a weekday, purchase tickets online beforehand.
Avoid family night (discounted tickets for children) if you do not have kids.
Garden Glow 2021 parking is free and the lot is attached to the garden.
Dress warmly. Although there are some parts indoors, the majority is outdoors.
Selfie sticks are not permitted.
Have you been to Garden Glow St Louis 2021? Share your experience below and don't forget to sign up to follow our adventures!
Like it? Pin it!