A Road Trip Itinerary with the Most Unforgettable Things to Do in Newfoundland
My husband and I first stepped foot in the eastern Atlantic Canadian provinces ten years ago on a family cruise. We had nothing but heavy rain and dense fog the entire trip, but since we hadn't done much research beforehand we didn't realize at the time how much we were missing.
Don't Miss These
20 Must-Know Tips
Before You Go to Newfoundland
It was a good thing too because after we looked up the ports once we got home, we couldn't believe what we saw. Colorful fishing villages. Sandy beaches. Vibrant cities. Historic lighthouses. Scenic drives.
It looked like an entirely different world than what we experienced so we've talked about going back ever since. When the announcement was made that the Canada border would be opening back up to Americans again, we figured it would be the perfect time to go.
And so began a deep dive into planning a two-month Canadian road trip.
Our original plan focused on The Maritimes – New Brunswick, Nova Scotia, and Prince Edward Island – but we soon realized Newfoundland, Canada's easternmost province is not much further. Only sitting a hop, skip, and a ferry ride away, we added the island to our itinerary.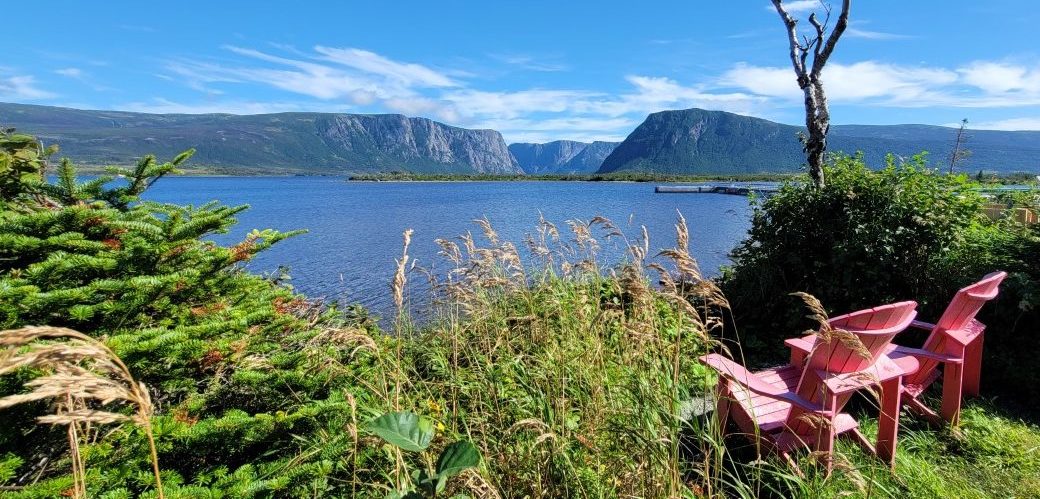 Since we didn't know anyone that personally visited before, we had no idea what to expect. The island surprised us in so many ways!
What we came across was a genuine kindness and distinct aura of local pride you won't find in many places, incredible hiking trails, and raw beauty that begs to be explored.
We can definitively say if Newfoundland isn't on your travel bucket list, it should be!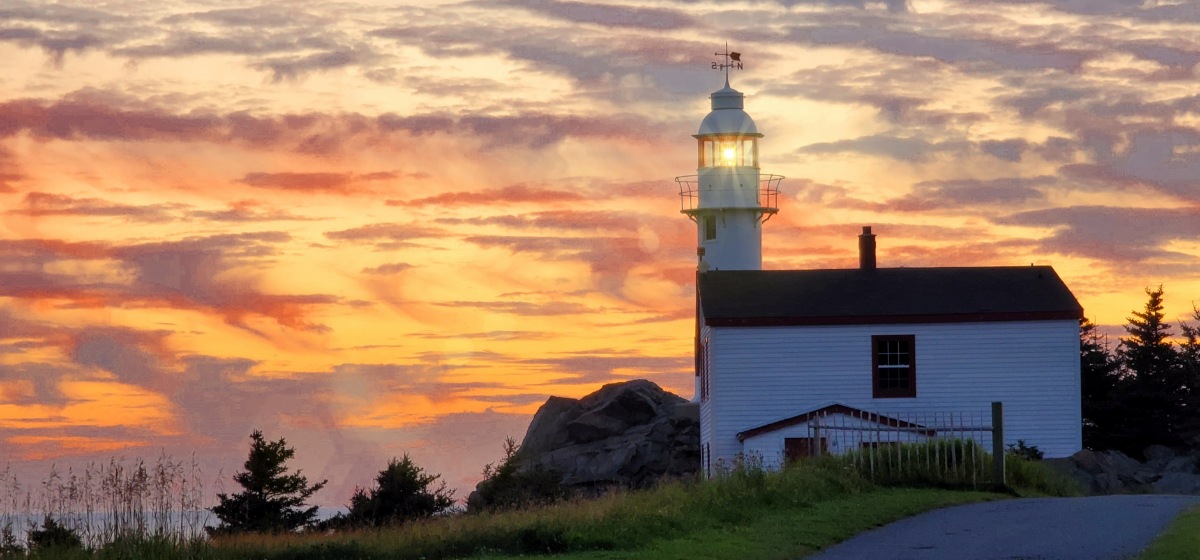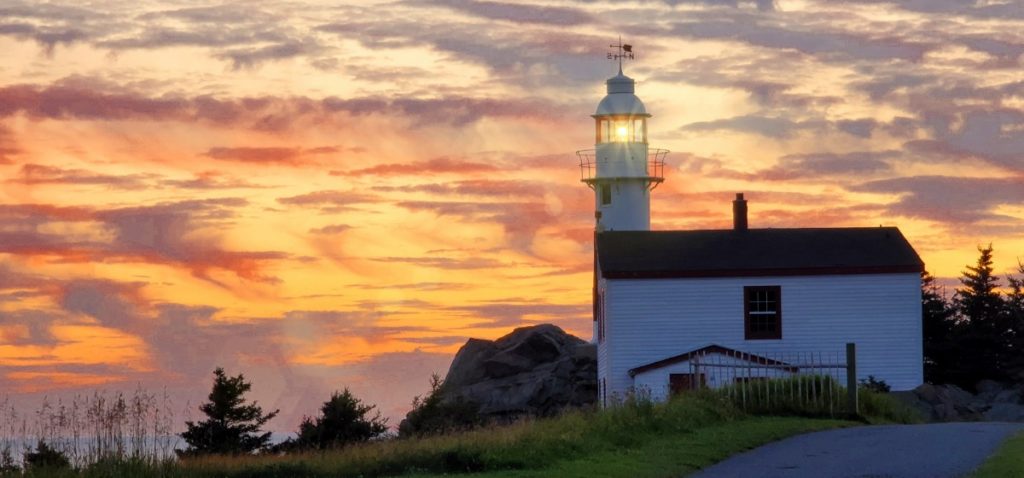 When to Visit Newfoundland
What is the best month to visit Newfoundland? The answer to that question depends on what magical experience you are chasing – floating icebergs, historical lighthouses, majestic whales, exciting festivals, or adorable puffins.
Because Newfoundland has it all and so much more!
Summer is by far the best time of year to visit Newfoundland and is also prime time for whale and puffin watching.
In late June and July, the temperatures start warming up and flowers begin to bloom. July is the driest month and August is the hottest.
We visited the last week in August and the first week in September. The weather was a variety of sunny days, clouds mixed with sun, and a few windy and rainy days but warm temperatures with highs around 71 degrees Fahrenheit (21 degrees Celsius).
On any given day, there's a chance for a lighthouse or a moose sighting. But if you'd like to have icebergs floating in the background, plan your trip in the springtime in late May or early June.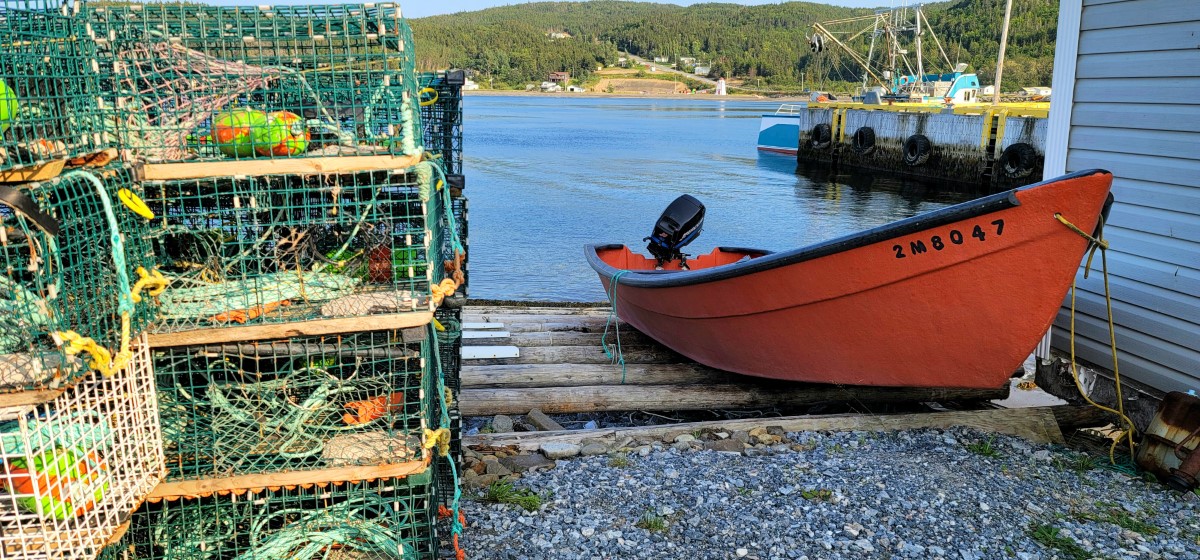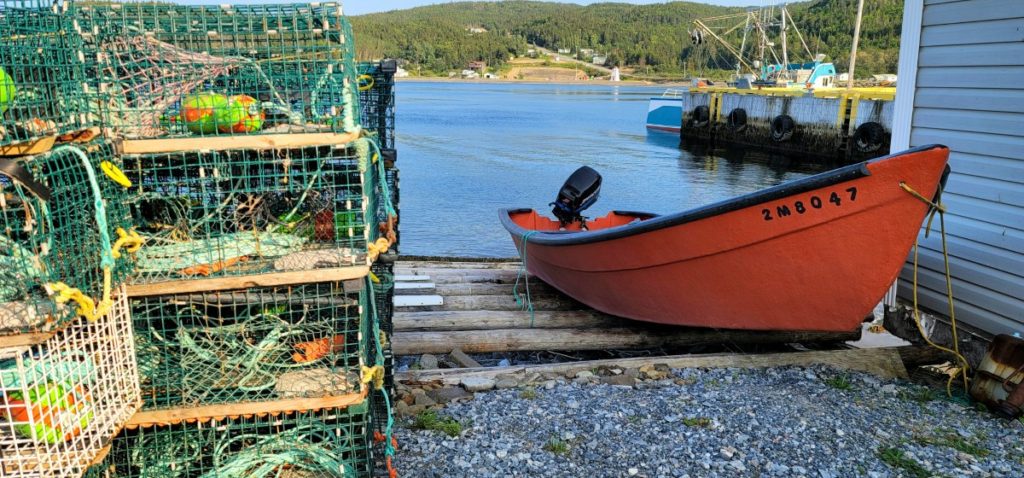 How to Get to Newfoundland
Since it is an island, your only options to get to Newfoundland include a ferry or a plane ride.
If you fly, you'll most likely begin your trip in the capital of St. John's located on the southeast side of the island.
If you choose to drive, you have two options: a six to eight-hour sail to Port aux Basques or a fifteen-hour sail to Argentia.
If you are driving over the border from the United States another helpful article is All the Info You Need to Know to Cross the Border into Canada by Car.
Because of limited availability and planning our trip not too far in advance, we ended up taking the Port aux Basques ferry both ways.
If you are planning ahead of time, I suggest taking the Port aux Basques ferry in and Argentia out to avoid an entire day of driving. It takes roughly nine hours from port to port double backing through some areas.
Two Week Newfoundland Road Trip Itinerary
Click here for an interactive Newfoundland road trip map.
How many days do you need in Newfoundland? The island of Newfoundland is the 16th largest island in the world.
For comparison, it's a quarter larger than Ireland and roughly the same size as the state of Ohio.
It takes a long time to drive from east to west and north to south.
Ideally, you should plan a week at a minimum, but two weeks not only gets you to all the highlights but allows you to enjoy them with a few hikes and tours here and there.
Here is my suggested Newfoundland road trip itinerary.
Newfoundland Itinerary 14 Days: Summary
Port aux Basques, 1 night
Corner Brook, 1 night
Gros Morne National Park, 3 nights
Kings Point, 1 night
Twillingate, 2 nights
Terra Nova National Park, 1 night
Trinity, 1 night
Conception Bay, 1 night
St John's, 3 nights
Looking to visit other places in Canada?
Eastern Townships Region in Quebec
Disclaimer: Some of the links included in this post are affiliate links and will provide me with a commission at no additional cost to you.
Day 1: Port aux Basques
If you take the daytime ferry you'll be arriving in Port aux Basques between 6:00 and 7:00 pm and will have to go through customs so for the first night we don't recommend you drive too far.
So instead of rushing out and trying to beat twilight, once you debark, kick off your Newfoundland travel with a short yet spectacular sunset hike.
Be aware one of the many unique things about Newfoundland is that it has its own time zone. Once you arrive on the mainland, you'll be a half-hour ahead of Atlantic Canada.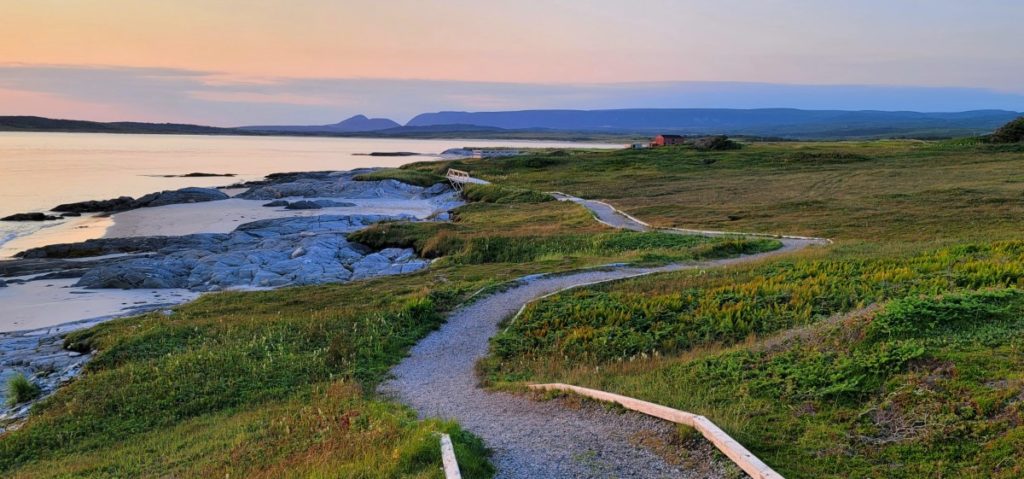 What to See & Do: A delightful introduction to the island is the Grand Bay West Walking Trail. The easy hike starts out on a boardwalk overlooking the beach and a quiet bay then continues to multiple platforms overlooking the ocean.
There are wildflowers, swaying green grass, an old barn, sandy coves, and is the perfect spot to catch a sunset.
Where to Eat & Drink: After a long day, Seashore Restaurant with its friendly service, ocean view, and big portions is the right place for dinner. On the menu, you'll find Newfoundland local dishes, seafood, and sandwiches.
Where to Stay: If you like your privacy, book at St. Christopher's Hotel for a spacious and clean hotel room.
For another fantastic experience, Hotel Port Aux Basques is a great option as well.
Those looking for a free camping site, stay in the lot at Grand Bay West. It has two clean bathrooms that stay open all night and you won't be bothered.
Day 2: Corner Brook
Cruise the Trans-Canada Highway lined with evergreen trees and views for miles for roughly two and a half hours before detouring over to Cape Saint George.
What to See & Do: The Boutte du Cap Park honors the French Acadian fishermen, Newfoundland's first settlers, by baking bread in traditional wood fire bread ovens in a few places in the area including the park.
Try to get there between 12:00 pm and 2:00 pm to take advantage of the free freshly made rolls made by locals in the stone oven in the park.
The bread is so fluffy and light; it's a real treat.
Note: The bread oven demonstrations are typically done in July and August, Monday – Saturday.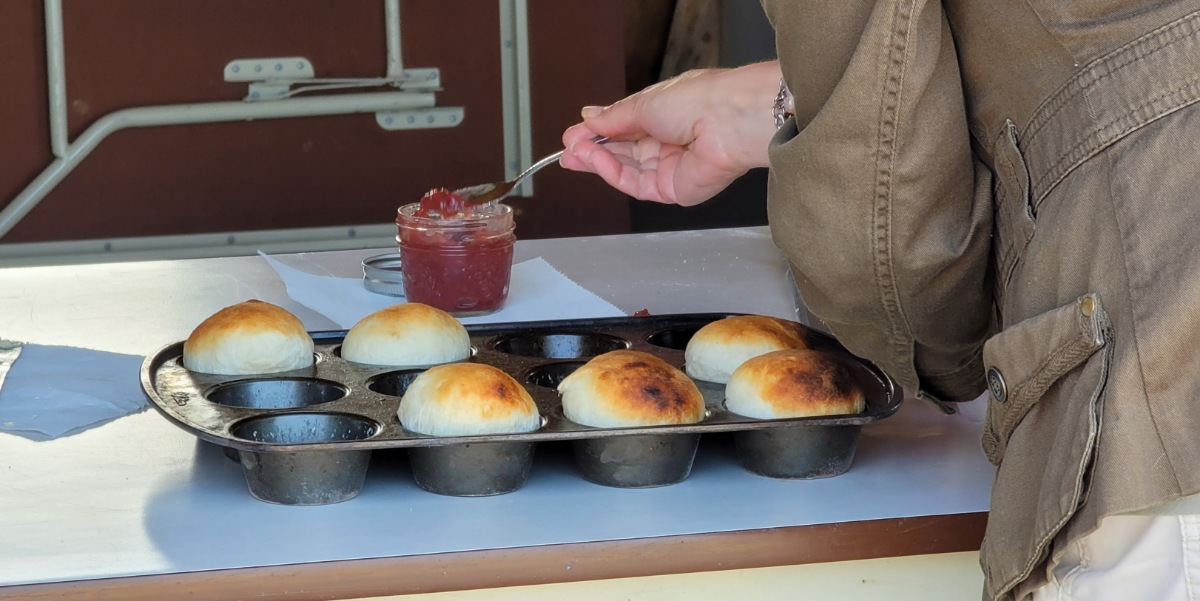 Also at the park, you'll walk along plunging cliff edges to admire what locals call The Boot, a craggy horn jutting out from the mainland.
Head north on 463 to finish the Port au Port Peninsula loop drive before stopping at Captain James Cook National Historic Site.
The site has amazing views of the city of Corner Brook and the Bay of Islands and you only have to walk a short distance for spectacular photo opportunities.
Complete the day with a hike on the OBIEC Bottle Cove Boardwalk Trail. It was one of our favorite hikes in Newfoundland!
With every step, it just keeps getting better and better.
A relatively short hike that starts out on a flat boardwalk, and after a short climb and walk on a tree-covered path pops out to spectacular views where the cove meets the ocean.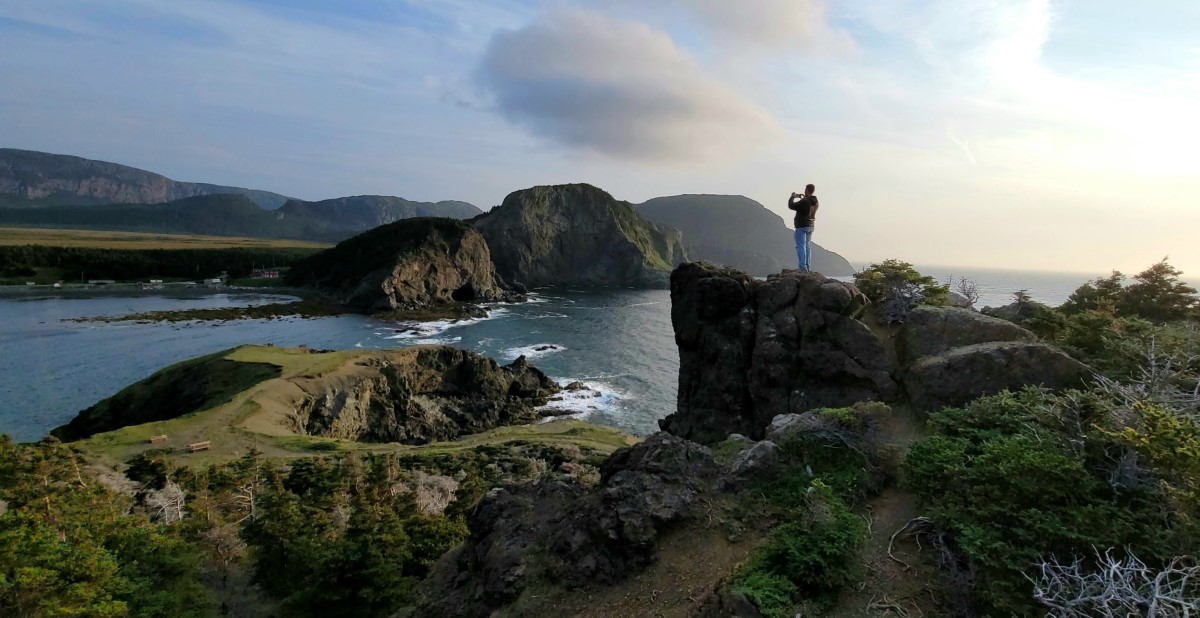 Where to Eat & Drink: After the historic site, take a break for lunch at the Saltbox and Everoutdoor Adventures overlooking Benoit's Cove.
Where to Stay: Right in the heart of the small downtown is Glynmill Inn, highly rated with a restaurant and pub.
If you're looking for something a bit more modern and free continental breakfast, the Hew & Draw Hotel is a great option.
Days 3 – 5: Gros Morne National Park
Next up on your Newfoundland road trip is Gros Morne National Park which is not only a national park but a UNESCO World Heritage Site as well.
The park is a magical experience and one of the most beautiful places in Newfoundland that should not be missed!
What to See & Do: We have a few recommended hikes for every level of hiker.
Easy – Eastern Point Trail
Easy – Tablelands Trail
Easy – Berry Hill Pond
Easy – Steve's Trail
Moderate – Green Gardens Trail
Moderate – Lookout Trail
Difficult – Gros Morne Mounain
Difficult- Western Brook Pond
The Eastern Point Trail, found near the south end of the park near Trout River, is not on the park map for some reason but I read about it beforehand so I had it on our itinerary.
And I'm so glad we did because it scales our top 10 Newfoundland hiking list along with Bottlecove as one of our favorite trails.
If you are an experienced hiker, I highly recommend the Gros Morne Mountain Trail, a roughly 10-mile (16 km) climb that will knock your socks off. But it is difficult and will take an entire day so if you are in good shape and willing to climb on rocky terrain
Another popular hike (and the picture you probably have come across a hundred times when researching your trip) is the Western Brook Fjord hike. We did not hike this trail because you either have to book a super expensive guide or go through a bunch of red tape to prove you are experienced and reserve a permit weeks in advance.
I suggest booking the Western Brook Pond boat tour instead. It still requires a hike (roughly 2 miles but on flat land) to the dock but then you'll get to enjoy the magnificent views of the glacier-carved fjord while relaxing on a boat.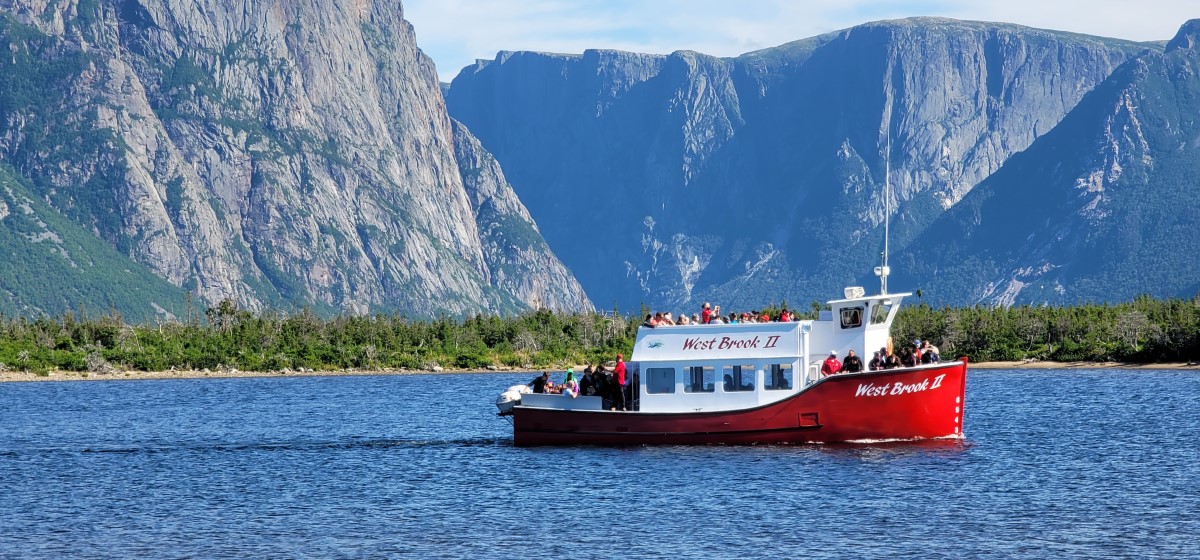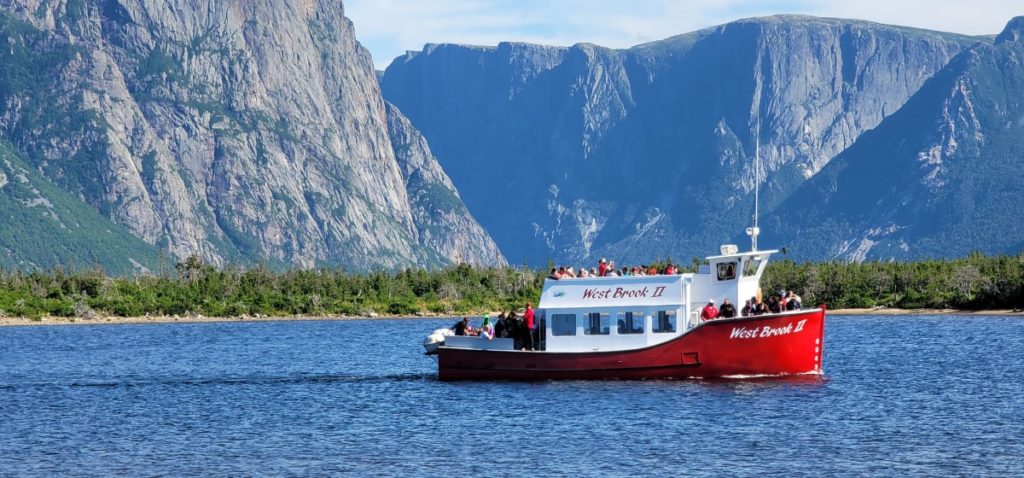 Other do-not-miss easy hikes include the most unique part of Gros Morne, The Tablelands, where you can actually see part of the earth's mantle.
We knew we had to experience this unusual section because of its rare geology, but what we didn't expect was for it to be barren yet beautiful.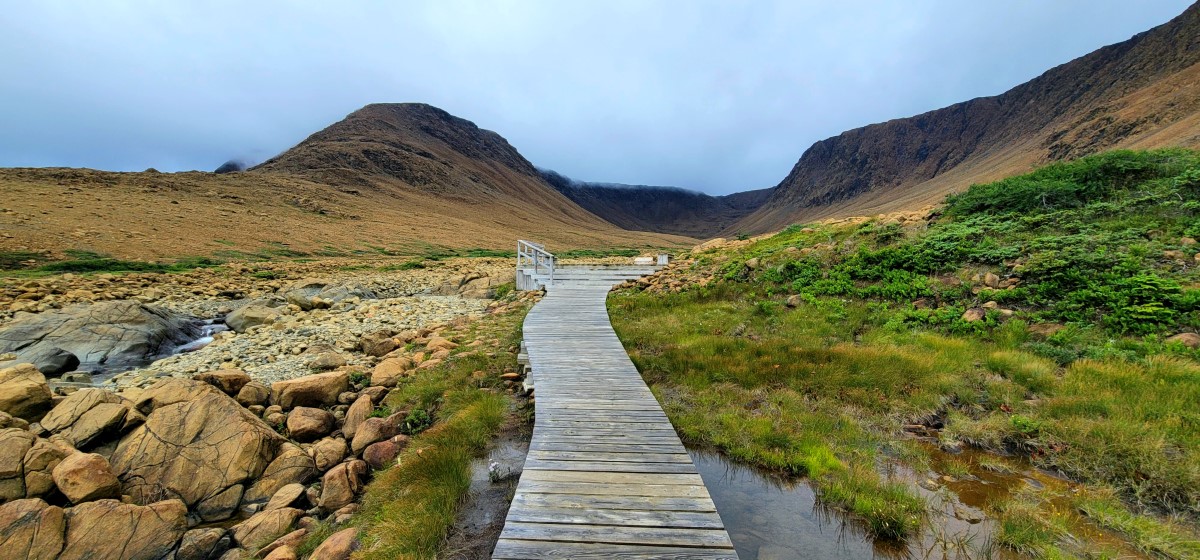 Steve's Trail is another fantastic short hike, which starts in a meadow and leads out to a beautiful beach.
It's also a great cove for spotting seals.
And last but not least, make sure to catch a sunset at Lobster Cove Head Lighthouse. It's another one of the most beautiful places in Newfoundland.
Where to Eat: A unique restaurant mixing Newfoundland culture in a diner setting in the Tablelands area is the Merchant Warehouse Retro Cafe & Wine Bar.
Even though local craft beer and fish and chips are the most popular items on the menu, there are also burgers, sandwiches, and specialty desserts to be enjoyed inside or out back on the patio with water views.
Where to Stay: We van camped at Berry Hill Campground inside the park, but if you aren't camping The Rooms at Woody Point are comfortable and well-rated. (Take a tour of our minivan-turned-campervan here and see all the essential camping items we recommend.)
If you like the cabin vibe, book one of Bambury's Hillside Chalets; they are in a great location for exploring Gros Morne National Park.
Day 6: King's Point
You'll be backtracking a little bit today through Deer Lake, but from there you'll head north to the town of King's Point, another charming small town.
What to See & Do: From Gros Morne, you can drive direct to King's Point or you can take an hour detour a little north to Tilt Cove.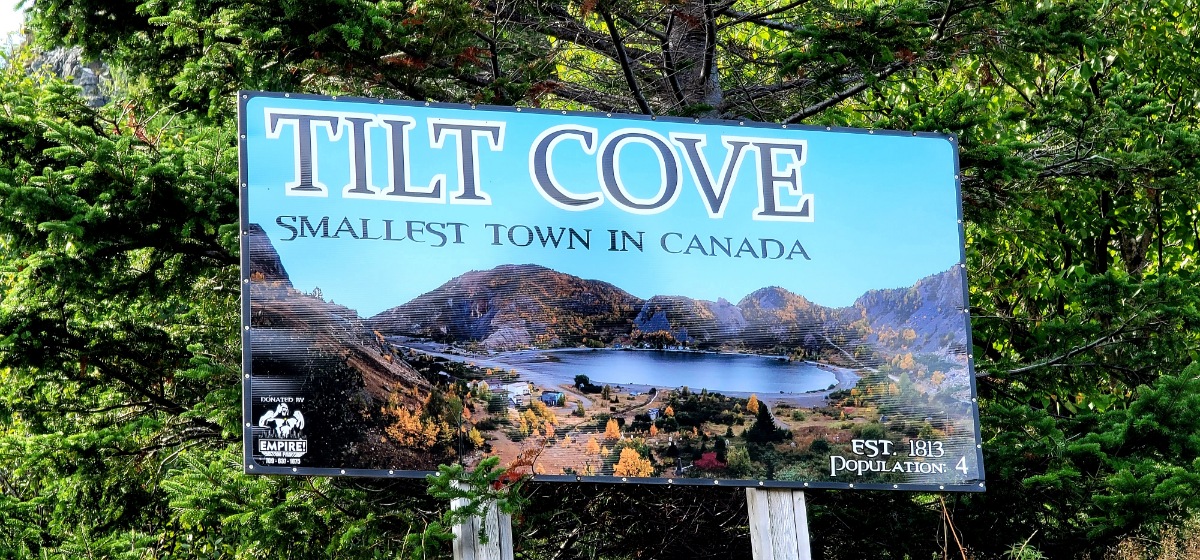 With a population of four, the super tiny hamlet is the smallest town in Canada.
Founded in 1813 for its gold and copper ores, it was also Newfoundland's first mining town.
Today, the sleepy town has a few livable homes and remnants of its mining past.
On the way, Foster's Bawn Lookout Trail in La Scie is a worthy deviation. Located at the tip of Baie Verde Peninsula, it's another prime spot for iceberg viewing and whale watching during peak season.
It's a short walk to a wooden platform with views like below.
Another option is to arrive early in King's Point and hike the Alexander Murray Hiking Trail, a popular 5.3-mile hiking trail. 1,000 stairs lead hikers to a breathtaking lookout.
Alternative Option
One of the most unique things to do in Newfoundland is to see floating icebergs from the glaciers of western Greenland.
If you are planning a trip from April through August, you may want to adjust your itinerary from King's Point to add a night up north in St. Anthony or Hay Cove to see the frozen giants and visit the L'Anse aux Meadows National Historic Site, one of Newfoundland's hidden gems.
The rugged coast is where Norse sailors first settled in North America – long before the famed Christopher Columbus. It's the only authenticated Viking site on the continent and recently researchers figured out the exact timeframe – 1,000 years ago in 1021.
We struggled with whether or not to add L'Anse to our itinerary, but in the end, we chose not to add the extra driving time (it's roughly 4 hours from Gros Morne National Park) since we visited in late summer and the icebergs had already disappeared. If you decide to add the additional stop and you need to keep your itinerary to 14 days, I suggest reducing one night in St. John's.
Where to Eat & Stay: A fantastic option for lodging and dinner is at By the Sea Inn & Cafe, located right on the water in the bay. Our waitress told us it's not uncommon to see whales frolicking right outside your window. We weren't so lucky, but there were multiple pictures hanging on the wall to back up her story!
We camped at King's Point RV Park and although the campground itself is nothing to write home about the view is amazing and it is a cheap option. It was one of our favorite campsites of the trip.
Day 7 & 8: Twillingate
A stunning coastline, a winery that serves up wine created with iceberg water, a historical lighthouse, and scenic country roads.
Yes, Twillingate is worth an overnight!
What to See & Do: If you are visiting during the spring or early summer, Twillingate is a popular spot to take an iceberg and whale-watching boat tour.
We visited in late summer and all the other tourists we talked to did not see whales on their guided tours so we decided to save our money and try later in the trip on the St. Lawrence River.
Do not miss the Long Point Lighthouse for breathtaking views of the rugged shore.
Built in 1876 for the fishermen and coastal traders that navigated the rough waters of the Atlantic, the historic landmark is one of the most photographed locations on the northeast coast of Newfoundland.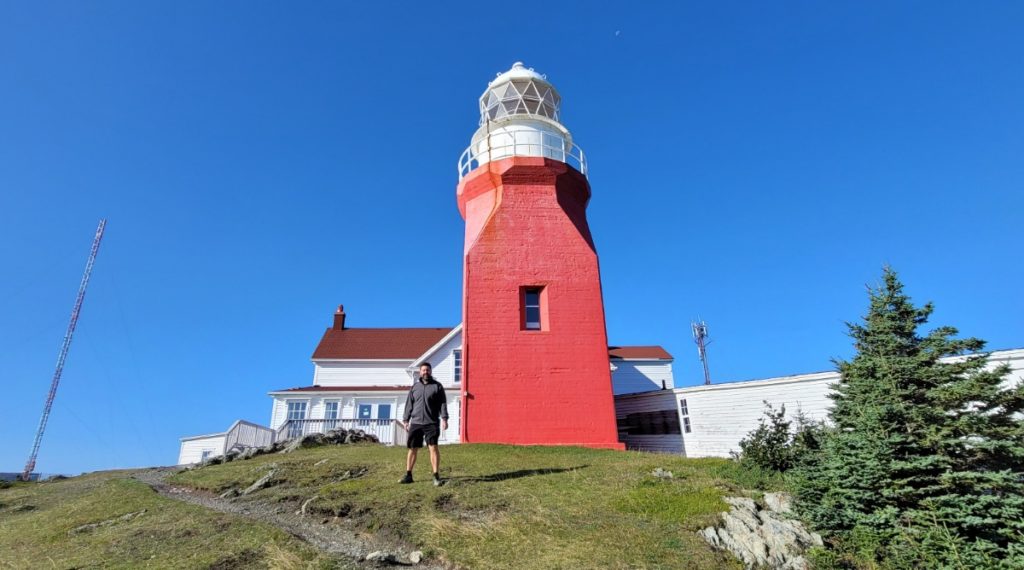 Next, hop over to the Auk Island Winery for a tasting. Not only are the names unique – like Fifty Shades of Bay, Moose Joose, Kiss My Arse, and 3 Sheets in the Wind – but the wines, made with local berries like partridgeberry and iceberg water, are as well.
There are so many breathtakingly beautiful hikes in Newfoundland. We kept saying over and over, "we need more time!"
The French Beach Walking Trail, just east of the city, is another one. The coastline trail offers epic views of a few spectacular coves and if visiting in late summer, wild blueberries bloom ripe for picking at the base of the trail.
Where to Eat & Drink: Annie's Harbour Restaurant is a casual seafood restaurant right on the water. Popular with locals and visitors alike, I highly suggest making reservations.
If you like craft beer, you'll find a cream ale, IPA, brown ale, and stout over at Split Rock Brewery. The cozy pub, right on the harbor, offers a menu with ham
Where to Stay:
We enjoyed our stay at the
North 99 Motel.
It's in a great location and each room is well-appointed with a seating area, kitchenette, a small dining area, and a private bathroom.
Day 9: Terra Nova National Park
Did you know Newfoundland has two national parks? The second one on your itinerary is Terra Nova, also the most easterly national park in Canada.
What to See & Do: When you leave Twillingate, drive east to Pike's Arm Lookout on New World Island. The short (but steep) trail is worth the detour and the steps.
It's mostly stairs versus a trail, but the climb is rewarding with 360-degree views including Notre Dame Bay and multiple small islands. At the top, you'll find an outhouse and a platform with a large picnic table to sit at while you take it all in.
Afterward, head to Mill Cove Trail inside the park. A quick stroll on a boardwalk through a patch of forest leads you to a moderate rock climb then a few stairs, to amazing views. Under a mile long, it's another short and sweet hike with big payoffs.
If you're looking for an easier walk, take the Coastal Trail that begins at the Visitor Centre and follows the Newman Sound. It's a long out and back but you can cut it short wherever you'd like.
Where to Eat: There are not many restaurants to choose from today, a few local popular ones you'll come across are Gill's Grill in Gambo, Rosie's Restaurant & Bakery in Gander, and Country Style Coffee & Bakery in Glovertown.
Where to Stay: There are not many lodging options near Terra Nova National Park so we camped at Newman Sound Campground, right in the heart of the park. The sites all have electricity, water, and showers.
If you are not camping, consider Glovertown Ocean View Suites and Cottages or if you're traveling with family Terra Nova Cabin.
Day 10: Trinity
Before motoring to Trinity, there are a few interesting sites on the Bonavista Peninsula.
What to See & Do: Start the morning at Tickle Cove Sea Arch, a magical bay of red sandstone and quartz. The relentless waves of the Atlantic Ocean eroded the rock from both sides creating the wonderful sea arch.
It's just one of the significant geological sites in the peninsula that led to the UNESCO World Heritage Site designation.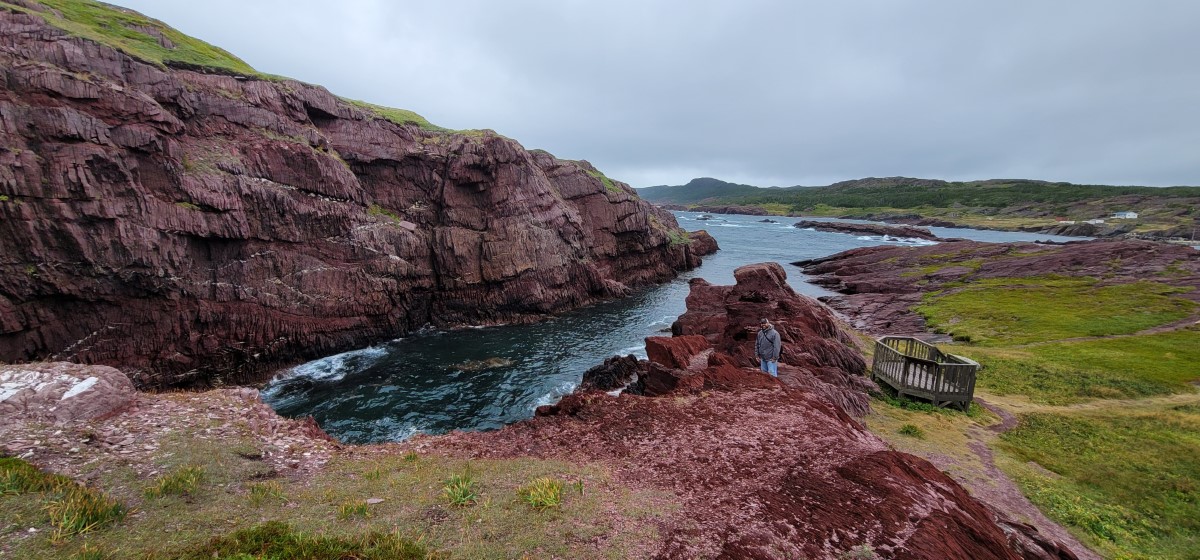 Over at the Cape Bonavista Lighthouse, take a tour and climb the 1843 historic structure. Also, spend some time walking the grounds to look for whales and puffins.
Afterward, swing through Dungeon Provincial Park. There you'll see, The Dungeon, a large crater with two sea arches. It's also quite the sight to see as horses and cows graze on the dramatic coastline.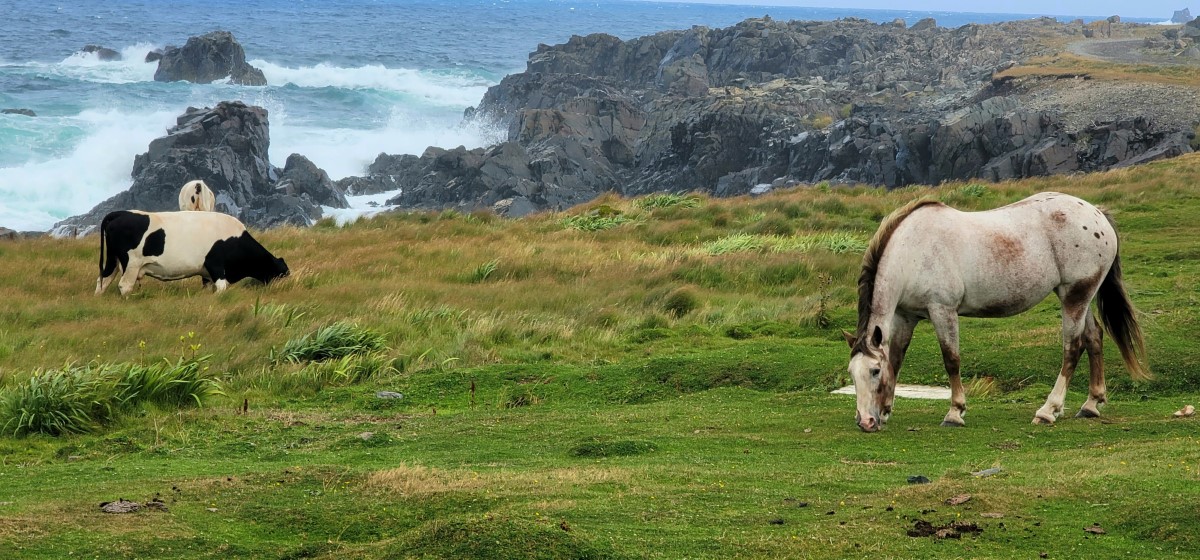 Another must-do in the area is the Elliston Puffin Viewing Site to see the small sea parrots from land, one of the only places in North America to offer such a sight.
PRO TIP: You'll be looking for all sorts of wildlife on your trip, so make sure to pack a good pair of binoculars like these! We bought them right before our trip and they worked out great. Lightweight, budget-friendly, easy to use, and comes with a carrying case.
There are usually a few flapping around the colony at all times of the day but sunrise or sunset is the best time to visit.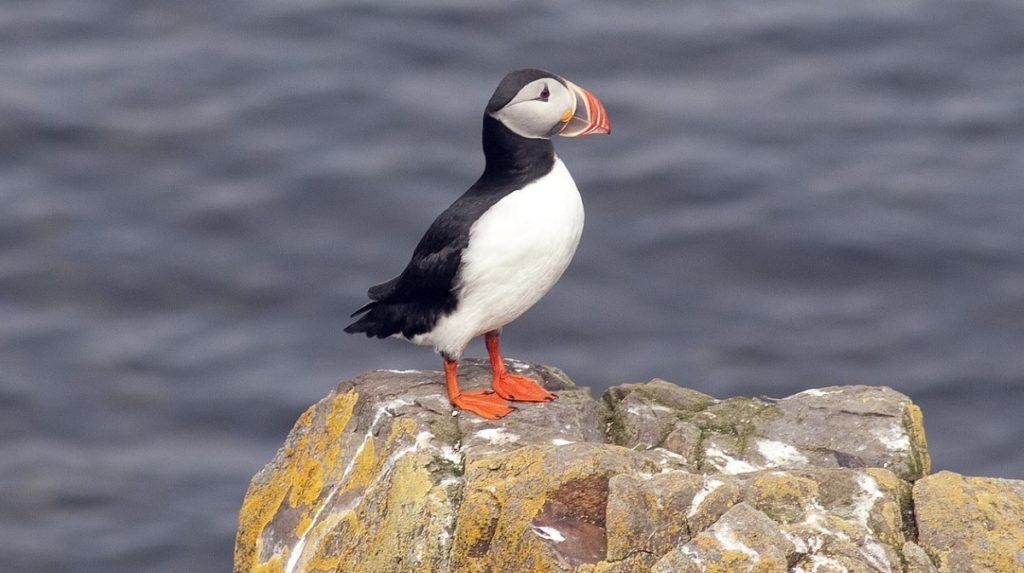 After checking in to your guesthouse, take a stroll through the quaint town of Trinity, which has been an active settlement since 1588.
Where to Eat & Drink: Another cool fact about Elliston is that it is considered the Root Cellar Capital of the World with hundreds of frost-free underground and hill vaults. You'll see a few at the puffin viewing site but also at Nanny's Root Cellar Kitchen.
It's the perfect restaurant to try traditional Newfoundland food like cod tongue, fish and brewis, or the famous Jiggs dinner in a historic building.
If it's a Thursday through Sunday, stop in at Port Rexton Brewery to grab a pint, a gourmet grilled cheese, and poutine at the permanent food truck stationed at the outdoor patio. It's a fantastic spot to sit and relax.
If you're ready for an extra special dining experience, make reservations at Twine Loft in Trinity. The restaurant offers a 3-course dinner by candlelight overlooking the water.
Where to Stay: Book a private room with a bath at Eriksen Premises within walking distance of everything in town.
Day 11: Avondale
In the morning, walk the noteworthy Skerwink Trail, a 5.3 km hike in the Trinity area. The trail was previously selected by Travel and Leisure Magazine as one of the top 35 walks in North America and Europe.
I hate to disagree with this designation because the hike is outstanding. But one of the top 35 in ALL of North America and Europe? Not sure it lives up to all that hype but worth it? Absolutely.
The stunning experience includes a tranquil walk in an evergreen forest lined with blueberry bushes, impressive overlooks at Robinhood Bay, towering sea stacks, and wonderful views of the towns of Port Rexton and Trinity.
What to See & Do: On the way to Conception Bay, you have to stop in Dildo. Yep, that's right, there's a town called Dildo in Newfoundland!
And there's not only
Dildo Brewing Company & Museum
which has fantastic beers and good food right on the water but a Hollywood-style sign up on the hilltop too.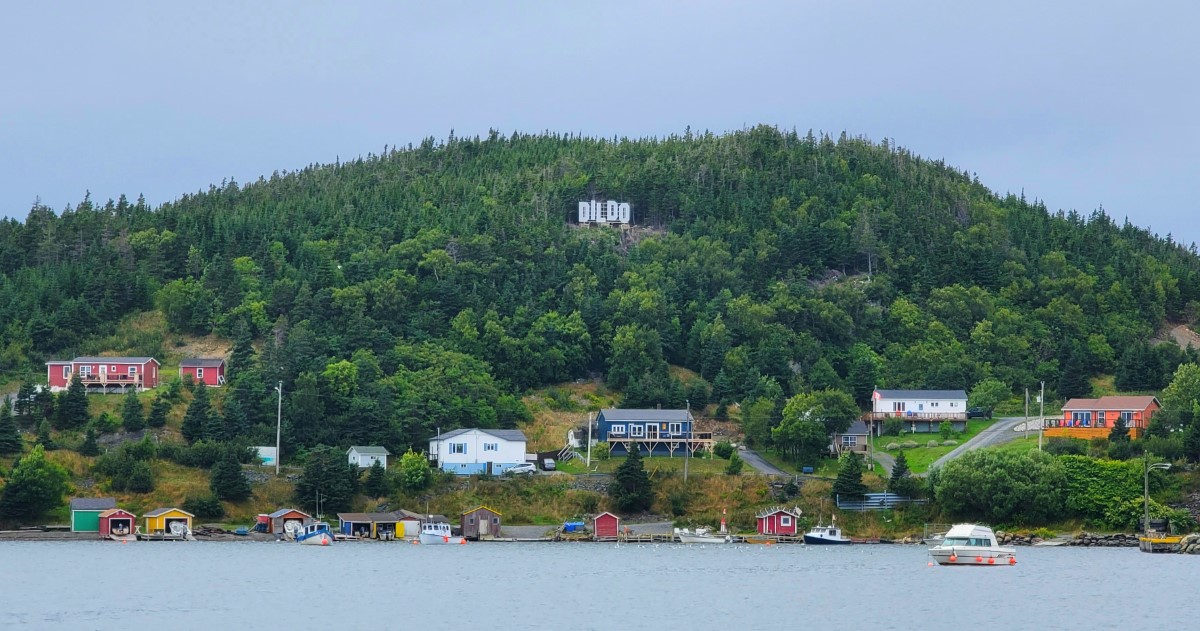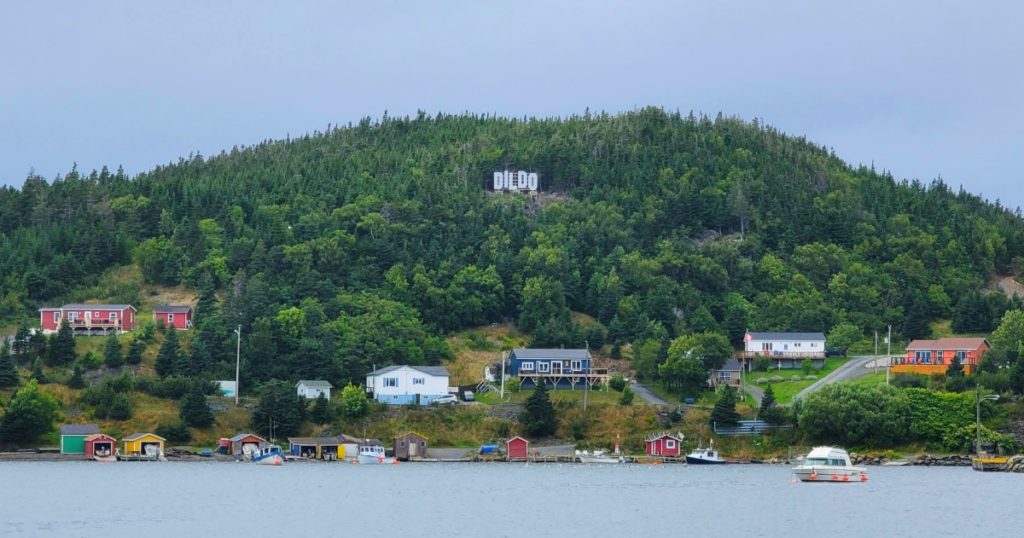 Afterward, explore the historic small fishing villages of Cupids and Brigus. You can view artifacts from one of the oldest settlements in North America at the Cupids Legacy Centre then walk the narrow lanes of the neighboring town.
Where to Stay: Don't let the check-in at the small neighborhood bar throw you off at Gloria's BnB. Attached to the other half of the building is a guesthouse with private rooms and bathrooms for a reasonable price. In the morning, expect muffins, coffee, and juice in the shared room on the main level.
Days 12 – 14: St. John's
You'll finish your trip in St. John's, the capital and largest city in Newfoundland.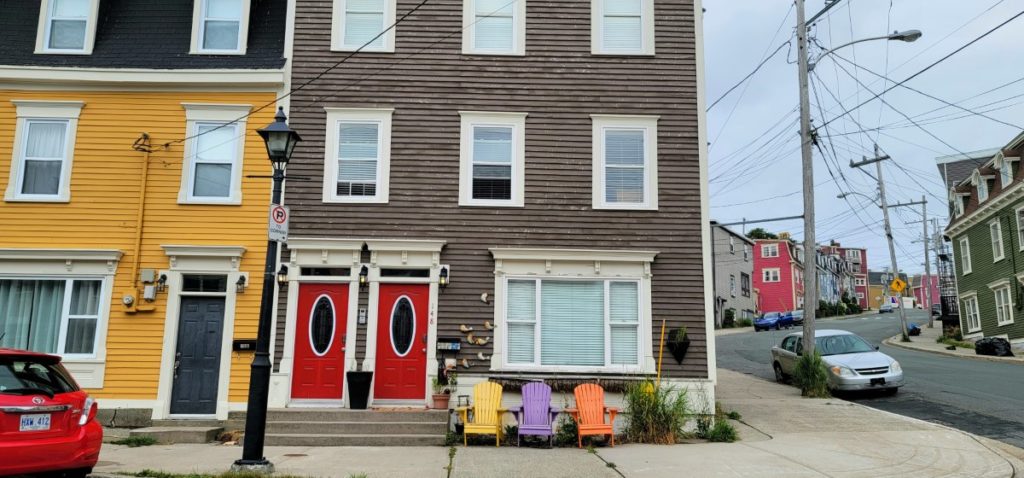 What to See & Do: There are a few things you must do while staying in St. John's. Check out this 2-hour boat cruise that leaves from the heart of downtown to see whales, puffins, and more. Or maybe you are just interested in a downtown walking tour to learn all about St. John's fascinating history and interesting architecture.
Visit Cape Spear, the easternmost point in North America found at the tip of Newfoundland just 10 miles east of the city.
Constructed in 1836, the Cape Spear Lighthouse National Historic Site is the oldest surviving lighthouse in the province.
Another unforgettable experience is hiking the North Head Trail. It's the oldest and supposedly the most popular trail on Signal Hill but we didn't see many people while we were on it.
Be prepared for lots of stairs but you'll catch amazing views of the harbor and ocean. If you're lucky, you may even see some whales.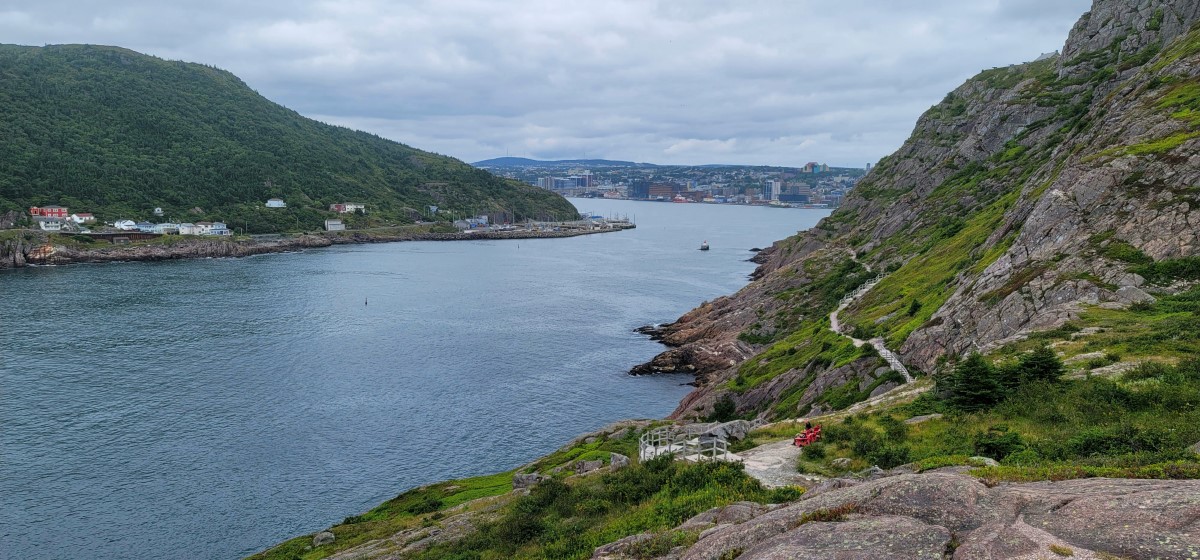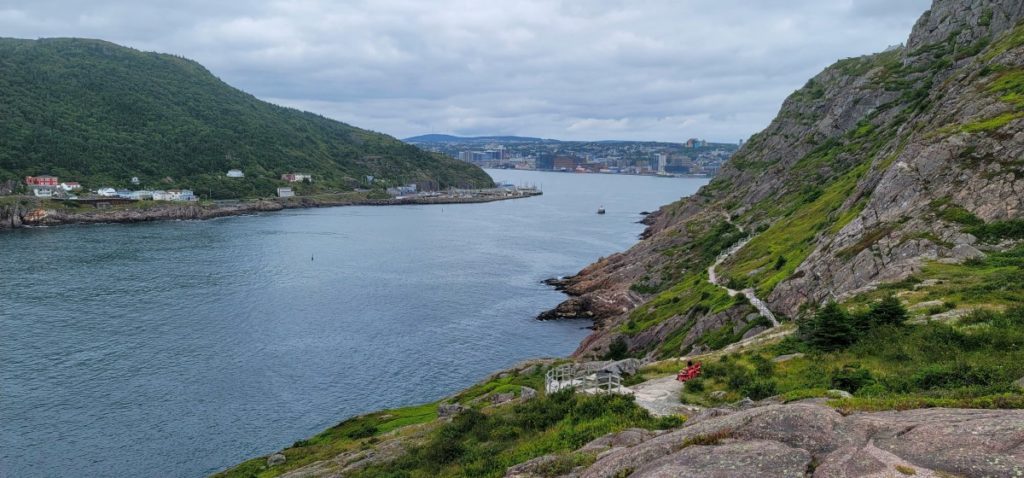 Start at Fort Waldegrave up to Signal Hill (if you get there around noon you can see them shoot the cannon) then over to the fishing village of Quidi Vidi.
You won't want to miss the quaint historic hamlet nestled in a tiny harbor surrounded by large rock outcrops.
NOTE: There is a small parking lot as well if you're not up for the challenge of the hike.
A perfect location to rest your weary legs is the Quidi Vidi Brewing Company. Grab a table on the patio overlooking the bay and order a flight to try a few of their many delicious beers.
The fish & chip food truck serves up the best we had on the island.
After proper hydration, finish your hike with an easy flat stroll along the Quidi Vidi Lake Trail back into St. John's for a 5-mile loop.
Optional: If you're visiting during whale season take a drive on the Irish Loop which starts just 20 miles south of St. John's.
The scenic route winds around the southern region of the Avalon Peninsula. Add Witless Bay Ecological Reserve, Tors Cove, La Manche Provincial Park, Ferryland Lighthouse Mistaken Point and St. Vincent's to your itinerary.
Otherwise, I'd skip it to spend more time in and around the city.
Where to Eat & Drink: Get screeched in at Christian's Bar, check out the speakeasy-feel in the basement bar at YellowBelly Brewery, get stuffed at Get Stuffed, and eat at the vegetarian Peaceful Loft.
Where to Stay: The historic Gower Manor B&B is perfectly located and has free parking and breakfast.
If you don enjoy B&B's, the JAG Boutique Hotel is less than a 5 minutes walk from George Street with comfortable rooms appointed with a mini-fridge and Keurig coffee machine.
The Argentia port is only an hour and a half from St. John's so plan accordingly for your last day.
And that wraps up your two-week Newfoundland itinerary! I can't wait for you to discover this enchanting place!
Frequently Asked Questions
Is Newfoundland expensive to visit? Newfoundland is relatively expensive to visit. From an American's perspective, most things in Canada including food, lodging, and drinks are a bit more expensive than at home. And Newfoundland is even more since it's an island and more remote than some other provinces. But it is doable and there are ways to save like not eating out every meal and camping versus staying in hotels.
What language do they speak in Newfoundland? English is the main language spoken in and around all of Newfoundland. Menus and signs are also written in English.
What side of the road do they drive on in Newfoundland? Newfoundlanders follow the same rules of the road as Americans, driving on the right side.
Can you see the Northern Lights in Newfoundland? If you're lucky you can see the northern lights on a clear night in Newfoundland but it is not one of the top places in Canada to see the aurora borealis.
What is Newfoundland best known for? Newfoundland is best known for its colorful houses in St. John's and its deep-rooted fishing heritage.
Do you have any other favorite things to do in Newfoundland? We will definitely be back so please share in the comments below!
Save for Later!