If you are planning on visiting Newfoundland in Canada, there are a few tips that can help make your trip more enjoyable. From packing essentials to local customs, this guide will ensure you have a stress-free and memorable travel experience.
Another helpful post is my Newfoundland Road Trip Itinerary with the best things to see and do while on the island.
1. Book Early
Newfoundland has a short season for visitors so the minute you know when you want to go, start booking.
We stayed in a mix of places – bed and breakfasts, guesthouses, campgrounds, and hotels – and many of them were already booked up when we started planning our trip.
This goes for the ferry as well. Read here for what the Marine Atlantic ferry experience is like if you plan to travel to Newfoundland by car.

2. Best Way to Get Cash
Since ATMs have no associated fees (if you use the right card) and usually offer the best conversion rate, they are the best way to get cash abroad when visiting Newfoundland.
We always recommend using a bank like Charles Schwab that offers unlimited ATM fee reimbursements worldwide and no withdrawal charges.
There are also no monthly fees or minimum balances required, so it's a great choice for travelers.
PRO TIP: You will be asked if you want the withdrawal "with conversion." Always select no to avoid high exchange rates. This just means your bank versus the bank you're pulling money out of will do the exchange.
Disclaimer: This post may contain affiliate links, if you book through our link we will receive a small commission at no additional cost to you. Thanks for helping to support the blog!
3. Bring a Credit Card with No Foreign Transaction Fee
If you are traveling from outside of Canada, most credit cards will charge a foreign transaction fee.
To avoid the additional charge, sign up with a credit card like Chase that has zero fees.
Another bonus of the card is the tap to pay which is the more acceptable option in Newfoundland and does not require a signature.
4. Contact Your Bank and Credit Card Companies Before You Leave
To avoid a fraudulent alert on your credit card when traveling outside of your home country, it's always a good idea to contact your bank and credit card companies.
Some do not require it anymore, but we still do it to avoid any misunderstandings while being hundreds of miles away from home without good cell service.
I even recommend it if you're only a few hours away as sometimes any unusual activity will flag your card.
Most companies allow you to do it online. Log in to your accounts and look under International Travel or Alerts.
5. Pack a Good Pair of Walking Shoes
Whether it's wandering around lighthouses, towns, or on trails, you'll find yourself getting a lot of steps when visiting Newfoundland.
Make sure to pack a good pair of walking shoes that can also double as hiking footwear like these trail runners for women or these excursion shoes for men.
6. Tip Appropriately.
The tipping culture in Newfoundland is similar to that of the United States.
The expected tip at restaurants is between 15 – 18% and upward to 20% for good service.
7. Expect Additional Taxes
Canada adds a federal tax and the provinces add an additional tax as well so you end up paying roughly 15% more on everything.
This includes hotels, restaurants, and items bought at a store.
8. Check your Cell Coverage Plan Before You Go
Make sure to check your cell phone's plan to see if you're covered in Canada.
We have T-Mobile and had a free data connection, but it was reduced to 2g speeds which is a lot slower than we are used to.
Most of the island is remote so we didn't have any connection in some areas.
Calls are not included in our plan so if we made any calls during our trip, we would have been charged per minute.
We van camped when visiting Newfoundland, here are my favorite van camping accessories that were helpful for the trip.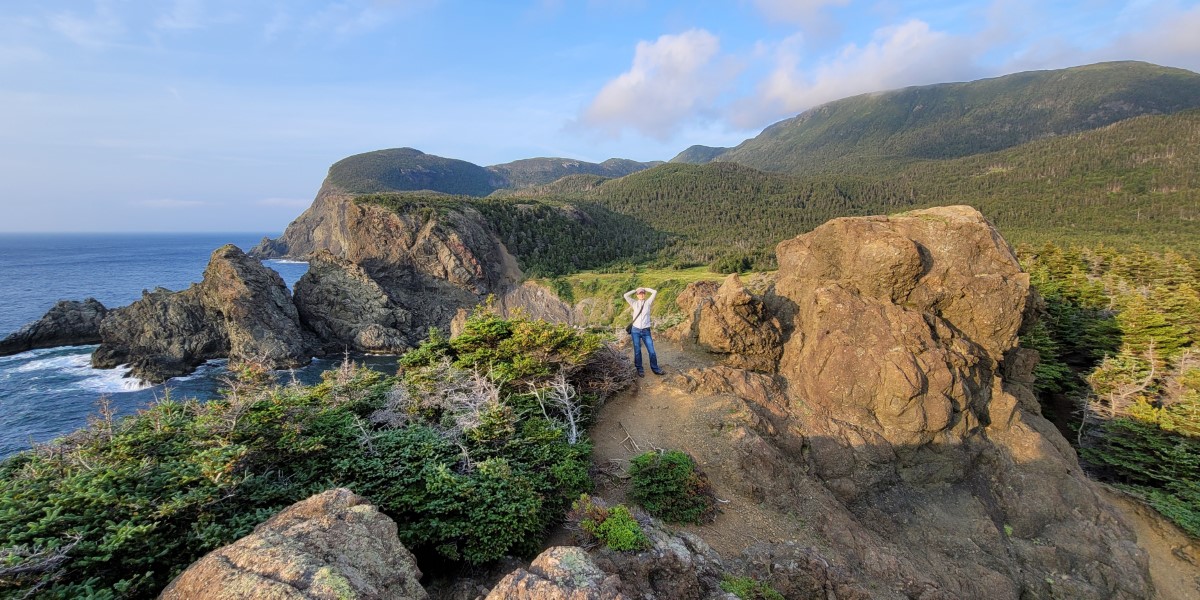 9. Don't Expect Good Wi-Fi
Even though a place advertises as having Wi-Fi, don't expect it to work or be high-speed.
Unfortunately, even with a WiFi booster, we came across a weak or no connection throughout the island.
It's not a big deal, it's kind of fun to be disconnected. But it would have come in handy for trying to look things up like restaurant recommendations, laundromats – things like that.
10. Use a Virtual Private Network
You may not have a good internet connection everywhere, but when you do get it, make sure to use a VPN.
What is a VPN? A Virtual Private Network provides security when you are connected to public Wi-Fi.
Everyone should use a VPN, whether traveling or not, for an extra security measure when on the internet.
11. Always Have Your Headlights On When Driving
When we first arrived, we had multiple people flash us on the road and we didn't understand why.
We asked someone at our hotel and they said it is customary to always have your headlights on in Newfoundland for safety.
12. Don't Drive at Night
Speaking of driving, it is also HIGHLY recommended not to drive at night in Newfoundland. And this isn't just a tourist thing.
We had many locals tell us they do not drive at night because of the moose population.
Not wanting to have a smashed car, we followed the recommendation!
13. If You Run Hot, Check beforehand for Air Conditioning
If you're someone who is always hot when sleeping, look for air conditioning when booking your lodging.
This seems like an odd thing to mention because Newfoundland isn't known to be a warm destination per se, but we found ourselves in a few B&Bs with no air conditioning.
My husband likes it very cool when he sleeps so it wasn't the end of the world or anything but if we knew ahead of time we may have chosen a different option when booking.
14. Consider Purchasing a Discovery Pass
If you are road-tripping through other parts of Canada before or after visiting Newfoundland (or plan on other trips later in the year throughout the country) and you will be visiting national parks, consider purchasing a Canada Discovery Pass.
The travel pass provides unlimited admission to over 80 parks and historical sites. It lasts for one year from the month of purchase and covers everyone in the same car as the cardholder (up to seven people).
15. Bring Some Food Over With You
Because you're on an island, food in grocery stores and restaurants is more expensive than on the mainland.
If you can, pack some snacks and food staples when visiting Newfoundland. Since we drove, this was easy to do, but I wished I brought a few more things as I didn't think about it beforehand.
16. Be Prepared to Convert Kilometers to Miles
If you hail from the United States like me, converting kilometers to miles doesn't come easy.
1 kilometer is equal to 0.621 miles. If you don't want to do the math, just remember it's a little more than half.
HOT TIP: A nice feature in Google Maps is that it will automatically start using kilometers and you'll notice in the bottom left corner it will show the speed limit and your speed.
If driving around the island get familiar with the most common speeds you'll see:
100 KM = 62 Miles per Hour
80 KM = 50 Miles per Hour
50 KM = 31 Miles per Hour
17. Invest in a Good Pair of Binoculars
A good pair of binoculars goes a long way in Newfoundland.
Whether you use them while watching for puffins from shore or whales from a ship, you will not regret packing a pair.
18. Pack Reusable Grocery Bags
There is a ban on retail plastic bags in Newfoundland and Labrador so you will have to pay for reusable shopping bags if you do not bring your own.
19. Get Familiar with Loonie and Toonies
If I could only explain the look on my face when someone first asked me if I had a loonie!
A loonie is a nickname for Canada's one-dollar coin and a toonie is a two-dollar coin.
20. Check Newfoundland Travel Restrictions
The island was one of the stricter places when it came to the pandemic so I would definitely double-check Newfoundland travel restrictions before you go.
As of February 2022, no restrictions are in place.
I hope these tips are helpful when you are visiting Newfoundland. You are in for one unique and exciting vacation!
Here are some other unforgettable destinations!