The Essential Camping Gear for Van Life
While traveling in our converted minivan, we have found a few travel accessories that we think are must-haves for any van or car camper.
Whether you are just starting out or have been on the road for a while, these best camper van accessories will help make your travels less stressful and more comfortable.
READ NEXT: WHY WE CHOSE A MINIVAN FOR TRAVEL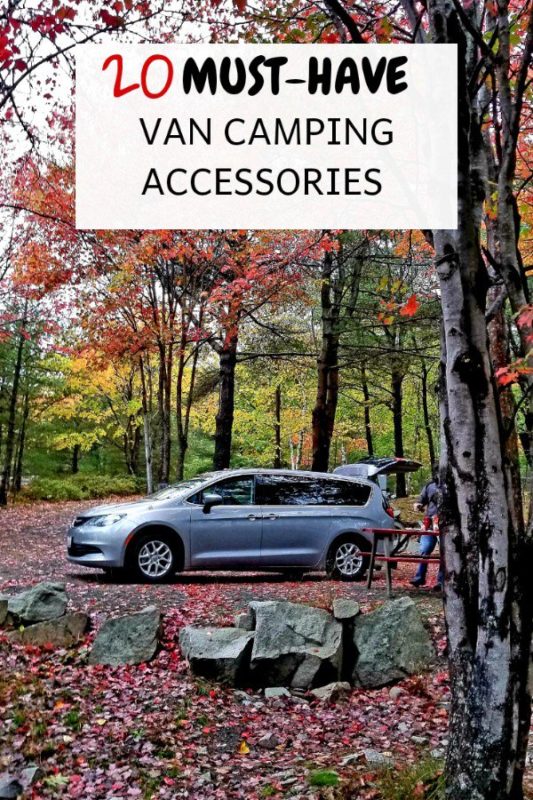 Disclaimer: As an Amazon Associate I earn from qualifying purchases. Some of the links included in this post are affiliate links and will provide me with a commission at no additional cost to you.
1. A Comfortable Mattress
I learned early on in my long-term travels whether it was in a hotel or in our van, night after night of no sleep is unacceptable.
Crankiness ensues, and so does an achy back or neck. It's not fun and in turn, your attitude reflects it.
Good sleep can make or break a successful trip. It allows you to start off on the right foot in the right attitude.
Once we went from truck camping to minivan camping, the mattress was the first thing we purchased. We spent a lot of time researching and investigating what would work for us and in the end, we landed on two tri folding mattresses and we LOVE it.
A foldable mattress is one of the best van camping ideas we've had so far!
FIND OUT WHY WE CHOSE NOT TO BUILD UP OUR BED HERE


2. Quick Dry Travel Towel
One of the best campervan accessories that make our lives easier is compact quick-drying travel towels.
Limited storage space is always an issue no matter what van camping setup you choose so small and easy-to-store towels are great.
3. Fridge or Cooler
You don't necessarily need a fridge or cooler, but it makes life so much easier to have one. If you have space and are looking for adventure van accessories because you'll be off the beaten path, I highly recommend it.
The cheapest and easiest option to keep your food fresh and your beer drinks cold is a cooler. Sort of the cheapest as in up-front cost. Buying ice adds up so it really depends on how much you are going to use it.
Since we are on the road six months out of the year and travel to remote areas, we chose this refrigerator that runs off 12vDC or 110vAC – it has currently been out of stock so I included a different link above to a similar fridge without a freezer.
Watch our video below to see the layout!
4. Car Seat Organizer
Add additional compartments inside the van for extra space. We use these seat organizers to store our towels, pills, headlamps, and a few other small items. They have been sold out lately, so check out this two-pack for a cheaper price, but with great reviews.
Hanging right over our mattress, it's a must-have in your van camping accessories arsenal.
RELATED READING: BEST FREE CAMPING APPS FOR THE GREAT OUTDOORS
5. Coffee Maker & Travel Mug
There's nothing like hot coffee in the morning to get you buzzing for the day. Pour it into a good thermos mug to keep it nice and hot!
There are a few options here:
Single serving coffee bags are the easiest option if you do not want to buy or store more equipment.
We started with instant coffee and then went to coffee bags. Even though it's the easiest option, we appreciate good coffee so it didn't stick.
If you are interested in quality-tasting coffee, I would recommend either of the next two options.
A Single Serve Coffee Filter lays right over your mug with coffee grounds inside as you pour hot water into it.
The positive side of this contraption is that it is easy to clean and super small to store.
The negative is it only makes one cup at a time and the water temp cools down as you fill your cup.
The last option, which seems to be the favorite, is a French Press. It makes the best tasting coffee but takes up more space and is more difficult to clean.
6. Collapsible Storage Containers
Whether we use storage containers for leftovers or sandwiches while hiking, it's always a good plan to pack them on your travels.
And collapsible containers take up less room when not being used.
7. Hanging Clothesline
Usually, we hit up laundromats so at first, we didn't realize a portable clothesline would be handy. But as we traveled more, we realized we needed a clothesline for our towels to dry and the few times we hand washed items.
8. Additional Storage
Let's see, how many times have I written the word "organize" and "space" so far?
That's the key, though, with van camping. A set of drawers for the back of your van will help you stay organized. And sane.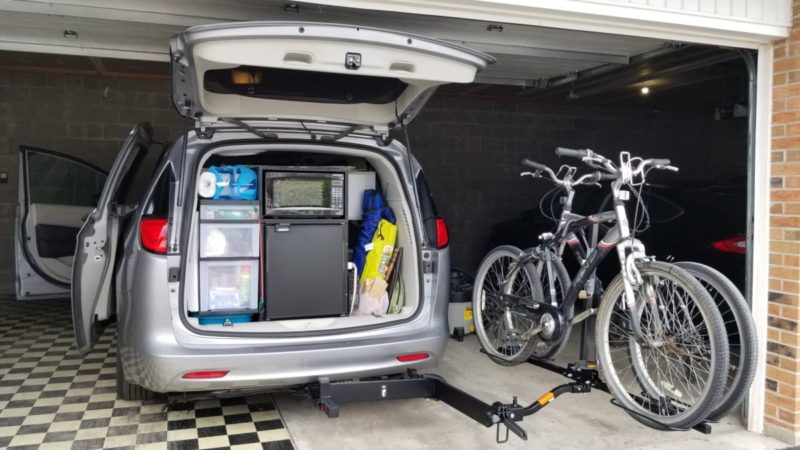 I did not include a swing-away bike rack to the top van life essentials list since not everyone is a biker, but if you are it does make it much easier to get in and out of the back of the van. We searched for a base rack that could also transport a storage container with the bikes like the one linked here, but at the time it didn't exist.
9. Emergency Kit
Every car you drive, whether you are road-tripping or sleeping in it, should have an emergency roadside kit. Whether you make it yourself or purchase one don't forget jumper cables, flares, a first-aid kit, duct tape, and an emergency blanket.
10. Car Jump Starter
Speaking of emergencies, a jump starter is good to have on hand in case the battery dies.
Before we bought the minivan, we borrowed a popup camper and hit the road for 80 days. We were lucky to have a jump start with us when our truck died in Banff National Park in Canada. Twice.
It can also be used to run a fan and charge phones at night if you don't have electric-wired in the vehicle.
11. Sun Shade and Privacy Shades for the Windows
Keep the inside of your van cool with a sunshade for the front and back windows.
A foldable sunshade is easy to store when you are not using it and provides protection from the sun's hot rays.
A shade in the back and inserts on the side windows not only helps keep the electronics like the fridge cool but provides extra privacy.
12. Shoe Holder
Plastic storage containers with snap-on lids work great for a shoe holder. They even fit right alongside our mattress on the inside!
If your space is limited, you can always keep them outside since they are weatherproof. Just remember to wipe them up before putting them back in the vehicle.
READ NEXT: DIY OUTDOOR BATHROOM FOR VAN CAMPING
13. Flashlight
Our handy hanging flashlight is hooked on our clothesline above our heads so we never misplace it. It's small and easy to carry when walking around the campground.
14. Window Screens
Keep the air circulating and the bugs and rain out with mesh window screens for the driver and passenger windows.
Because they are black mesh, it provides privacy as well.
15. Cell Phone Car Mount
I was recently thinking about how phones have become our ultimate travel buddy. One item that has the capability to take pictures, give directions, show reviews, and book campgrounds.
Van camping equals road-tripping and navigation tools like Google Maps and Waze have made our lives so much better.
A good phone holder makes navigating a cinch. No more arguing about directions!
16. 2-Burner Stove
Add a 2-burner stove with side panels for wind protection to your list for your cooking needs. It fits a 12-inch and 10-inch pan at the same time, each with different controls to adjust the burner temperature on each separately.
17. Dr. Bronners Liquid Soap
Did you know Dr. Bronners Soap is an all-in-one type product? You can use it to wash your face, shampoo your hair, shave your face, and wash dishes and clothes.
Talk about a great accessory to have in a van camper!
18. Glass Treatment and Anti-Fog Combo
Improve visibility on the exterior during inclement weather and keep the windows on the interior from fogging overnight with glass treatment and anti-fog liquid.
19. Lantern
On our fall trip this year, we realized how helpful it is to have a lantern as an addition to our travel gear. With the sun setting so early, we found ourselves cooking in the dark many times.
20. Small Multitool
I cannot even count the number of times we've had to take out this tiny clip tool to get us out of a pinch.
Featuring a file, knife, Phillips screwdriver, bottle opener, quick-release clip, and pliers, is there anything it can't fix?
Additional Conversion Van Accessories for Boondocking & Stealth Camping
A Portable 5 Gallon Toilet – A simple bucket-style design with a snap-on lid.
Hot Tip: Line the toilet with a garbage bag and use a little kitty litter at the bottom to keep the toilet grounded, to absorb the odor, and for easy removal.
A Portable Solar Shower – Lightweight and foldable outdoor shower warmed by solar.
A Pop-Up Privacy and Shower Tent – A spacious, water-repellent pop-up tent with mesh at the top for ventilation and a clothesline for hanging wet clothes or towels. It's a perfect tent for privacy when showering, changing, or going to the bathroom (the portable toilet above fits great).
Did Someone Say Giveaway? Add this Quick Dry Towel to Your Van Life Essentials List!
Sometimes things align and today we are talking about all the wonderful van life gear that we cannot live without on the road and number two happens to be our quick-drying microfiber towel.
We have teamed up with VENTURE 4TH to give away a towel to our readers that is great for camping, working out, swimming, and/or backpacking.
It is quick-drying, lightweight, and compact; a perfect travel companion!! It's one of our picks for the best camper van accessories.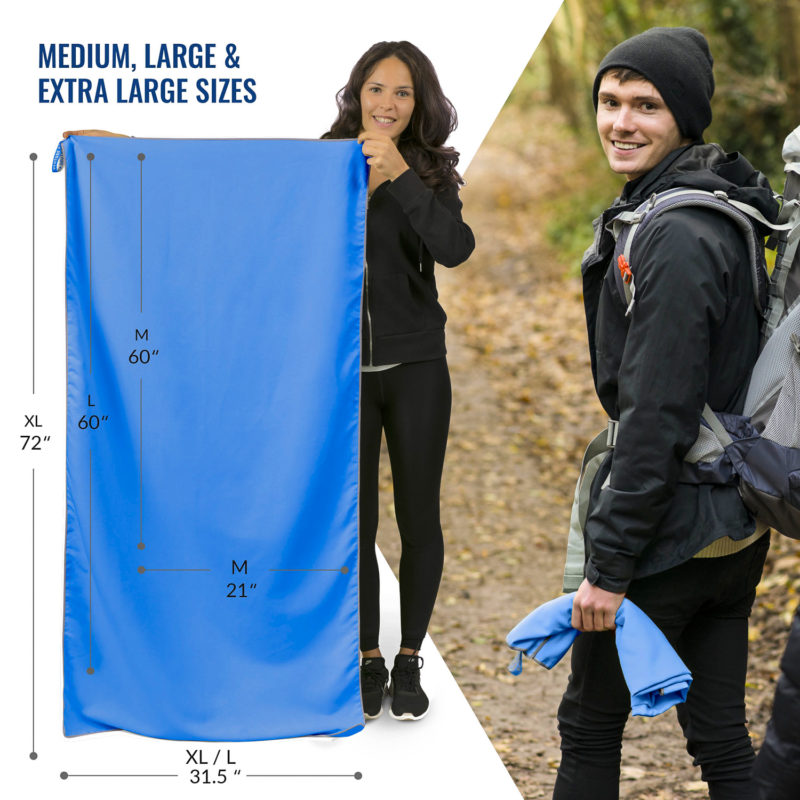 You Might Also Like
How to Enter
UPDATE: THIS CONTEST IS NOW CLOSED. THE WINNER WAS CHOSEN ON NOVEMBER 14th, 2018.
Comment below on which travel accessory above you couldn't live without on the road then click the widget to let us know you commented.
Please be sure to include a valid e-mail address because I will be using it to contact the winner. And don't worry I will never sell your information and no spam will be sent!
One winner will be chosen at random. Must be a U.S. Resident and over 18 to enter.
Entry period ends at 8:00am CT on November 14th, 2018.
Good luck!