From finding an open campsite to navigating and tracking the weather, these free camping apps will help you have a great trip.
We've accumulated a few favorites over the years during our many road trips where we camped in either a pop-up trailer or our recently converted minivan camper.
Having added and removed many apps that were either outdated, inadequate or simply a replica of an app we already had installed, we believe we've finally got the list down to something manageable.
Without further ado, here is our list of the best free camping apps and how we use them to find a place to stay, navigate, and plan our outdoor adventures.
Finding a Campsite
Free Campsites (Android and iOS via web browser)
Free Campsites is the first free campsite app we open when planning a road trip or looking for a place to park for the night at the last second.
As of now, it seems to be the most comprehensive map of free campsites in the U.S. The android app just opens their website which you can also access via a browser on Apple products.
On our Route 66 road trip we spent the night for free on 4 different occasions thanks to this free camping USA app. Once near the Grand Canyon, once near White Sands National Park, and twice near Big Bend National Park.
Keep in mind that these sites are FREE and usually will not include many amenities if any at all.
Plan on most of these sites offering absolutely nothing other than a place to park your camper or set up a tent and you won't be disappointed. Also keep in mind that they all have limits on how many nights you can stay, so plan accordingly. Most limits are 2 weeks or less.
Despite these shortfalls, it's certainly hard to beat the price!
RV Parky (Android and iOS)
If there are no free campsites in the area or are looking to stay somewhere with amenities such as hot showers, we'll get our bearings on what is around using the RV Parky app.
This app not only includes campgrounds but also has other useful information such as the locations of Travel Centers, Walmarts (it even has a filter for ones that allow overnight parking), Rest Areas, Casinos, a large variety of Camping stores (Cabela's, Camping World) and even low bridge and road warnings for those driving a larger RV.
Just click on a campground icon and it will show a pop-up that has the park name, 5-star rating and reviews, price (not always accurate but close) and icons showing which amenities it has.
You can even filter out campgrounds based on amenities, so if you want to see only campgrounds that have shade trees, allow pets and have Wi-Fi you can filter for those things.
We also appreciate that you can choose whether to see everything on a basic map or overlaying a satellite view to get a better idea of what is around without having to go to a separate app for this information.
LIKE CAMPING? CHECK OUT OUR LIST OF FUN CAMPING ESSENTIALS
WikiCamps USA (Android and iOS)
After using RV Parky to get our bearings and zero in on a potential camping spot, we then use WikiCamps to get more information, see more reviews, and confirm the amenities are there. They now have other countries available as well: Canada, Australia, New Zealand and the UK.
Occasionally there will be another camping option that didn't show up in another app that will show up here as their list is quite comprehensive.
Some other reasons to use WikiCamps include the ability to download the data for offline use, a list view to see everything based on distance rather than via a map overlay, the ability to sort the list by star rating or distance, and finally because they have a trip planner which looks handy.
They have a nice video on how the trip planner works to see if it's something that would interest you.
The trip planner will stitch a map together for you with driving distances to each camping location, points of interest and anything else you choose to add to the route.
It even allows you to share your plan with others, so they can see everything you're doing and recreate the trip for themselves. The trip planner includes lots of icons to choose from for each point and allows you to add notes along your route so you can follow along a pre-planned trip.
Navigating
Chimani National Parks (Android and iOS)
The Chimani National Parks app is an outstanding resource for hiking and navigating in the U.S. national parks. We've used it many times including Yellowstone, Arches, Badlands, and Canyonlands to name a few.
It includes maps, information, and photos of more than 400 units of the National Park System including national parks, monuments, seashore, historic sites, and more.
The biggest perk of the app is its downloadable feature for maps, hiking information, fishing spots, campsites, and other points of interest since the national parks usually have no coverage for cell phones and spotty Wi-Fi.
It also features notifications about the latest park news, and the ability to earn and collect badges based upon the number of parks you visit.
Weather Report
WeatherBug (Android and iOS)
It's always important to stay on top of weather forecasts when camping and hiking. Wind, rain and lightning are typical trip-ruining events that you should always be on the lookout for.
WeatherBug has detailed weather data to help you avoid any camping catastrophes. Some of its many features include forecasts, radar, lightning detection, local pollen details and alert notifications.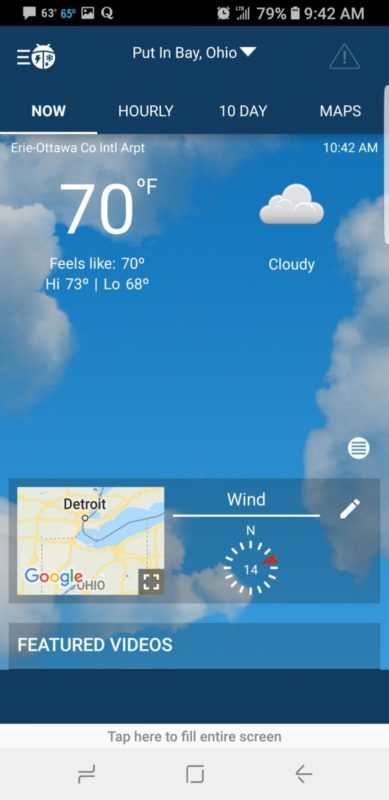 Hiking & Safety
AllTrails (Android and iOS)
Covering over 50,000 hiking trails and mountain bike routes with maps, pictures, reviews, and hiking information, AllTrails is a favorite among many hikers including us.
Follow hikers that inspire you, save trails for future trips, and turn your phone into a GPS tracker so you don't get lost.
We love reading the reviews before choosing a hike as it gives us an idea of whether or not we would like the trail, where to find the trailhead if it's tricky, usually it has the current condition of the trail and any additional information we may need.
Cairn Map Offline (iOS only)
It's always a good idea to have an extra layer of safety when it comes to hiking whether you are solo or with a group. Cairn has an emergency call locator with available cell coverage in the area. It allows you to find which service providers will work where in case of a crisis.
If you choose to set up its safety notification feature and it goes unanswered, Cairn will alert your emergency contact. You can record your hikes and it has offline topo maps available.
RELATED: 15 SIMPLE TRAVEL HACKS TO MAKE YOUR NEXT TRIP CHEAPER
Offline Survival Manual (Android only)
The Offline Survival Manual has everything from the psychological aspects of a survival situation to how to build a basic shelter, what to eat, and how to make a fire and find direction. Useful for dire situations but also useful for learning about nature, hiking, and camping.
Plus, it has the interesting factor; pretty entertaining to read about what to do if you get a snake bite and how to use the moon to find your way. Offline Survival Manual is one of the most useful free camping apps for Android users.
Just Plain Fun
Star Walk 2 (Android and iOS)
I always like to pretend I know what I'm talking about when I gaze up in the sky and see beautiful constellations. In reality, I have no idea. I can typically find the Big Dipper or is it the Little Dipper?
Star Walk is a great astronomy guide for exploring the night sky. And while camping in remote areas is usually the time you'll be able to a clear starry sky.
You point your phone to the sky and it identifies planets, asteroids, comets, constellations and stars in real time.
Geocaching (Android and iOS)
Who doesn't like treasure hunts? Geocaching is the official app for all the millions of containers hidden all over the world.
Even if you're a newcomer to the geocache scene, the app walks you through your first finds with tips and instructions on what to do.
The app can be used to search for geocaches, submit whether or not you found a particular cache and has a LiveSearch option that continuously updates as you move.
RELATED: 39 EASY CAMPFIRE RECIPES
Pokémon Go (Android and iOS)
I have yet to jump in on this latest craze, but we see people searching for their mons all over the place. It's what all the cool kids are doing nowadays.
The basic Pokémon Go app is free which allows you to connect with friends, send gifts, unlock bonuses and search for Pokémon. The app is free to play but offers in-game purchases.
Be careful, from what I've been told it can be addictive!
Additional App for Military
Allstays Camp and RV Military (Android and iOS)
Since it's only free for active military, military veterans and government employees, we put Allstays at the bottom of the list.
This app shows every military campground and includes commercial campgrounds that are a part of the Tents for Troops program together on one map. It's one of the best camping apps for military personnel who enjoy camping.
We like military campgrounds as they are relatively inexpensive, usually have good amenities, and due to the nature of them being on a military installation, are secure and usually have additional amenities such as commissaries, base exchanges, gas stations and nearby restaurants.
The Tents for Troops program is only for active military members and their immediate family members and allows them to enjoy a campsite for a minimum of 2 nights for free. Reservations are required and must be coordinated directly with the campground.
NOTE: Allstays also has a few paid apps for free camping that are worth the fee if you are on the road a few times a year searching for free campsites.
You Might Also Like
Do you have favorite free camping apps? Let us know in the comments below!