Snaking its way through rural southern Missouri, the Current River is one of the most beautiful rivers in the entire country. And as fate shall have it, another one is right next door, the Jacks Fork River. I haven't been on every river in the United States necessarily, but I've visited every state and have never come across two more paddle-worthy waterways.
Together, they make up the first river system in America to be designated a national park, the Ozark National Scenic Riverways. It only takes two seconds on the water to figure out why they wanted to preserve and protect them both.
The spring-fed water is so vodka clear that I don't think the two guys we met on our most recent canoe trip are that crazy for saying they stuck their bottles in at one of the springs and drank it. I wouldn't recommend it, but I totally get it!
Below, you'll find all you need to know for your Current River float trip!
What to Pack & Wear
The 184-mile river is the most spring-fed of all the Ozark rivers, so it remains a steady 58 to 63 degrees, making it a year-round destination. And the perfect getaway to escape Missouri's suffocating summer heat.
Current River rafting rental places provide paddles, life jackets, and garbage bags. Here is what you should bring.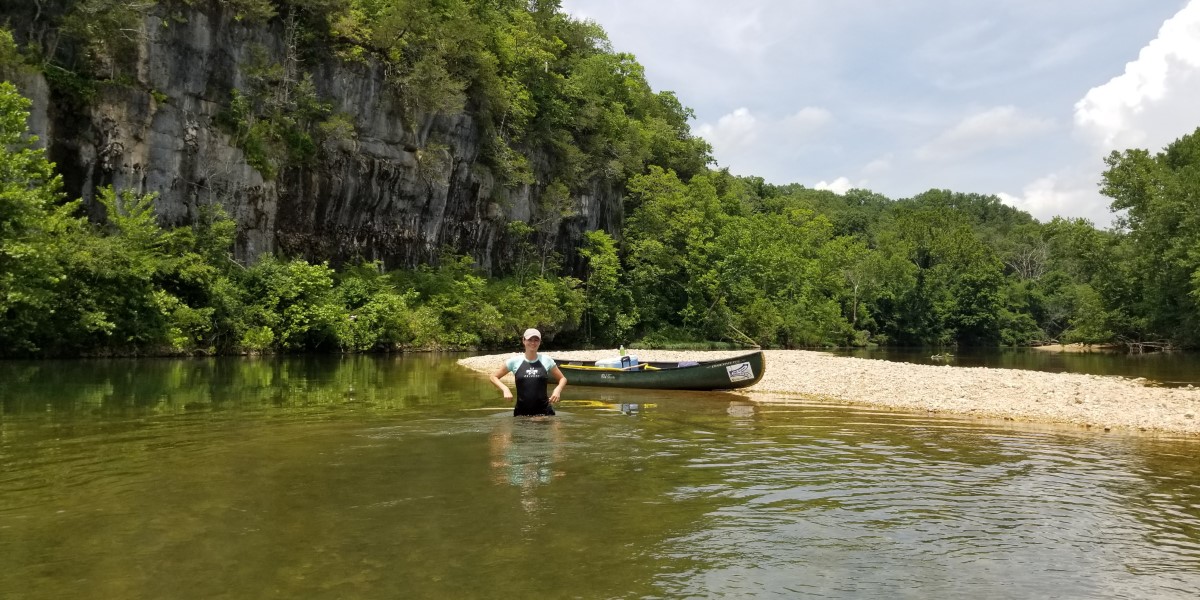 A Cooler – If you plan to be on the water all day, bring a big enough cooler for lots of water, snacks, other drinks, and food. This Inflatable Floating Cooler Raft is perfect if you plan on going down the river in a tube. Note: Alcohol is permitted but no glass containers or styrofoam coolers are allowed.
Bug Spray – It's always a good idea to pack bug spray when enjoying the great outdoors.
Sunscreen
Hat and/or Sunglasses
Water Shoes or Waterproof Hiking Sandals
GoPro (we love not worrying whether or not our phone is going to get wet) or Phone with Waterproof Case.
Dry Bag – This waterproof dry backpack is perfect for kayaking, camping, or floating.
Binoculars if you're into bird watching.
Tips for Your Current River Float Trip
Floating Current River is one of the most popular activities in Missouri. Be prepared with the tips below, before floating down this spectacular river.
Check the Current River floating conditions (water levels and weather) the night before your scheduled trip.
If you want to miss the loud, drunk college kids, float during the week or in the off-season.
Ask the rental place about any areas you need to watch for due to high or low water. They usually have the inside scoop where people are tipping over if there's a hotspot.
Do not leave anything expensive in your car. Lock it up either way.
See if you can leave your car keys with the rental place. Realizing you lost your car keys would be a horrible way to end the day.
Clarify where the pick-up or stopping point is. Find out if there are signs or prominent features in the river to look out for.
Apply and reapply sunscreen. It's easy to forget how strong the sun is when swimming in that cold water!
Download the area (click here to read how to save maps on Google Maps) with a few main points of interest saved in case you have any issues and to track how far you are throughout the day. There is limited cell service on the river.
Is the Current River Difficult to Paddle?
The Current River is considered a Class I rapid. The water is mostly gentle with a few Class II spots.
It's important to note that the river can present some challenges though. One factor that can make the Current River difficult to paddle is its fast-moving currents.
The river has a steady flow rate, so paddlers must use their skills and experience to navigate the water safely. Inexperienced paddlers may find themselves struggling against the current, particularly when trying to maneuver around obstacles such as rocks or fallen trees.
The river can also be challenging due to its rapids and riffles. These areas are characterized by rough water and sudden drops, which require careful attention from paddlers in order to avoid capsizing or getting stuck on rocks. While experienced kayakers and canoeists may enjoy the thrill of navigating through these sections, beginners should exercise caution when attempting them.
In addition, weather conditions can play a major role in how difficult the Current River is to paddle. Heavy rainfall or high winds can create choppy waters and increased currents, making it more challenging for even experienced paddlers to stay upright.
Overall, whether or not the Current River is difficult to paddle depends on numerous factors. However, with proper preparation and experience, most individuals should have no trouble enjoying this scenic river by kayak or canoe.
Best Current River Float Trips
The Current River starts at Montauk State Park in Salem, Missouri, and runs for 184 miles.
There are many sections to consider so what part of the Current River is best to float?
Here's the thing, the Current River is amazing from all sides and angles so you really can't go wrong with any float trip. If you are only driving down to get out on the water and don't have time to sightsee then I suggest canoeing or kayaking the upper section.
One of my favorite parts in this section is Akers Ferry to Pulltite. It's a half-day float and halfway is Cave Spring.
It's a unique spot because you can paddle about 150 feet inside the dark cave. You feel the temperature drop immediately when entering and it gets a little spooky as your eyes adjust.
But if you have time to make this a full-fledged getaway then I suggest the lower section so you can add additional sights in the area to your itinerary.
In that case, the Two Rivers to Blue Spring (8 miles) or Log Yard (16 miles), might be the Current River float trip for you.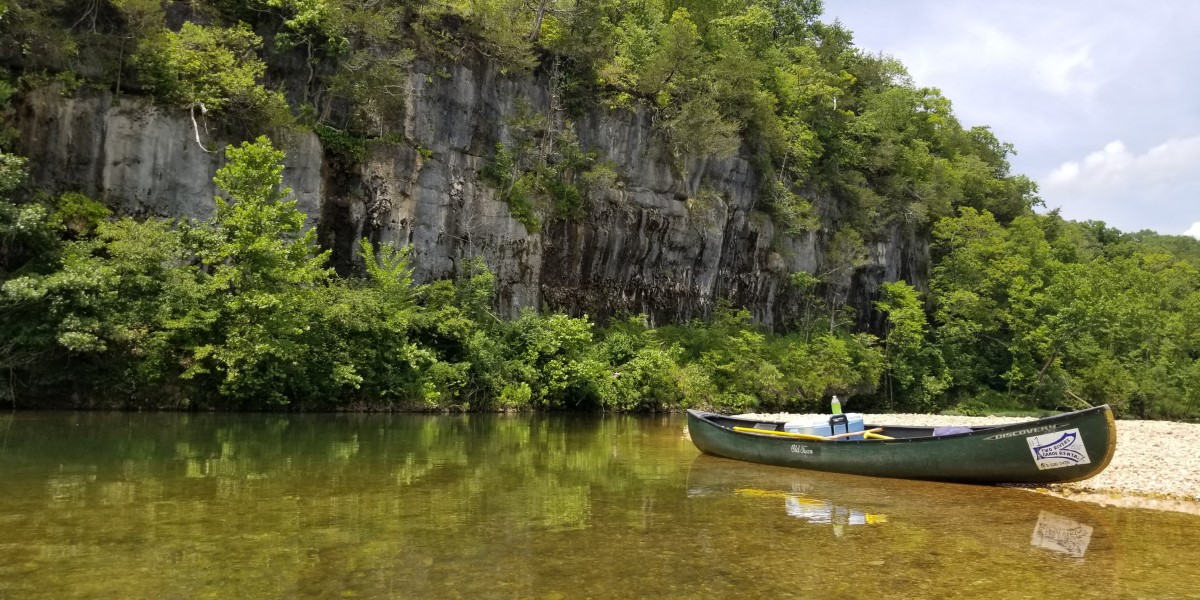 How long does it take to float the Current River?
Estimated Current River Float Times
Float times can vary widely depending on water levels, what type of paddler you are, if you are tubing versus canoeing or kayaking, and how many stops and pictures you take.
Upper Current:
Baptist Camp to Cedar Grove: 8 miles, 3 – 5 hours
Cedar Grove to Akers: 8.5 miles, 3 – 5 hours
Pulltite to Round Spring: 9 miles, 4 – 5 hours
Akers Ferry to Pulltite: 10 miles, 5 – 6 hours
Akers Ferry to Round Spring: 20 miles, 6 – 8 hours
Round Spring to Two Rivers: 21 miles, 6 – 8 hours
Akers to Two Rivers: 40 miles, 14 – 16 hours
Lower Current:
Van Buren to Big Spring: 2 hours
Two Rivers to Powder Mill: 3 hours
Waymeyer to Van Buren: 3 hours
Big Spring to Cataract: 4 hours
Big Spring to Gooseneck: 6 hours
Van Buren to Gooseneck: 8 hours
Round Springs to Two Rivers (18 miles): 8-10 Hours
Powder Mill to Van Buren: 10 hours
Two Rivers to Big Spring: 14 hours
Can you tube the Current River? Yes, you can, and it's a popular summer activity although tubing takes the longest time since you're not paddling.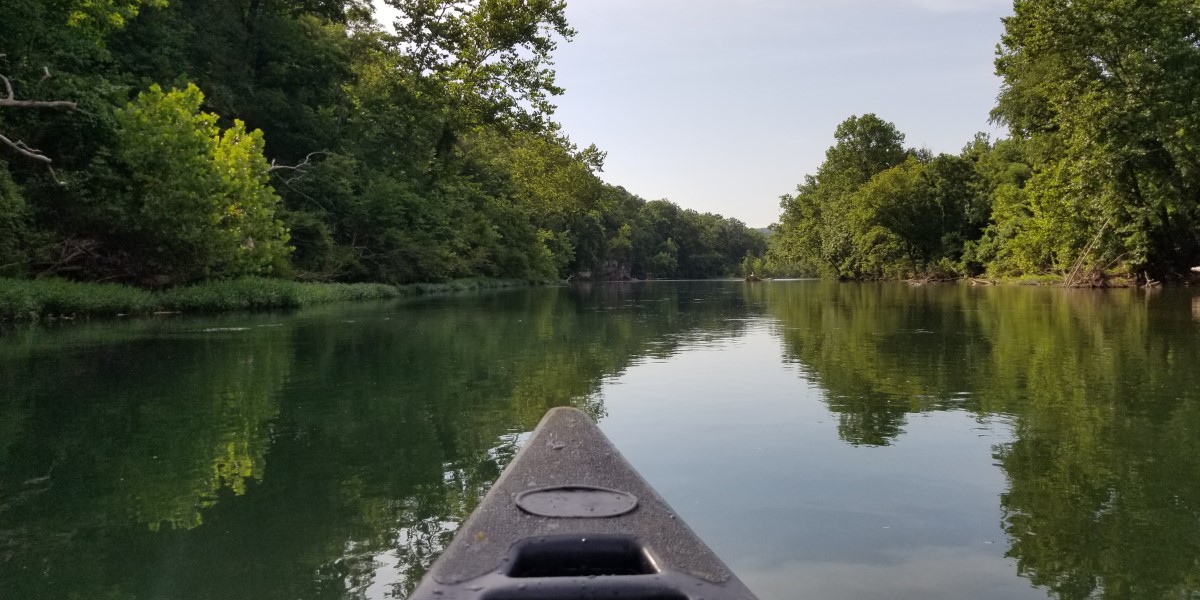 When to Go
When is Current River open? The river is open year-round and free to access, but the best time to go is in the summer on a weekday.
There are many caves, springs, and pull-off sand and gravel bars to enjoy at any time of the year, but the water is so inviting that it's nice to visit when you can also go for a swim.
Wildlife You Might See on the Current River
The Current River in Missouri is home to a diverse range of wildlife, with many species thriving in the area's rich and varied habitats. From fish to mammals, reptiles to birds, the river supports an impressive array of creatures that call it their home.
One of the most iconic animals found on the Current River is undoubtedly the river otter. These playful creatures can often be seen swimming and playing in the water, using their webbed paws to paddle and dive beneath the surface. Otters are sensitive indicators of water quality, so their presence on the river is a good sign that it is healthy and thriving.
Another aquatic animal commonly found in the Current River is various types of fish such as smallmouth bass, rainbow trout, or channel catfish. The clear waters provide plenty of food for these species, which helps them thrive in large numbers. Anglers flock to this beautiful river every year for fishing trips that offer some great catches.
On land, visitors may encounter goats or white-tailed deer grazing along its banks or crossing through shallow areas during migration season. Wild turkey also frequent this area; they can be spotted pecking around on dry ground near trees or perching up high above riverside cliffsides.
Birdwatchers will enjoy sightings of bald eagles soaring overhead while blue herons stand motionless waiting for prey at shallows' edges. Owls come out at nightfall while woodpeckers drum sounds into surrounding trees during daylight hours.
Unfortunately, there is always a chance of snake sightings. Uh, no thanks!
But we've been on the river a few times over the years and have never seen one. The venomous Cottonmouths and copperheads are the ones to worry about, but I'd avoid any whether or not you think it will hurt you.
Luckily, the water is clear so you should be able to see them easily if they are wiggling around. Avoid low-hanging branches and always look where you step.
Don't Miss These Other Noteworthy Attractions in the Area
If possible, stick around a few days to enjoy the Ozarks. There are so many other awesome things to see and do in the area. Here are a few to add to your itinerary!
Big Spring is one of the largest springs in the world with an average daily discharge of 276 million gallons.
Stewart's Landing is a cozy old west town with specialty shops that sell handmade jewelry, boots, crafts, and souvenirs.
Round Spring, named for its shape, is a 55-foot deep sinkhole that gushes 26,000,000 gallons of water a day.
Alley Spring Grist Mill Historic Site has an over 100-year-old red grist mill on-site that is not only picturesque but historic as well.
Current River State Park and Echo Bluffs State Park have a few hiking trails, lakes, and picnic sites.
Blue Spring is another gorgeous spring that has the most vivid blue color.
Rocky Falls is a cascading waterfall with a large pool of water to swim in at the base.
Current River Canoe Rental Places
There are many Current River outfitters that offer day trips for floating Current River in Missouri. Here are the best places to rent tubes, canoes, kayaks, and rafts to make your trip down the river unforgettable.
Upper River:
Carr's Canoe Rental
Silver Arrow Canoe Rental
Aker's Ferry Canoe Rental
Current River Canoe Rental
Jadwin Canoe Rental
Lower:
Windy's Canoes
Harvey's Alley Spring Canoe Rental
Two Rivers Canoe Rental
Current River Float Trip Lodging
Once you start doing research, you'll figure out there are not many chain hotels or motels in the area. The privately owned places do not pop up on third-party websites and you'll have to call for reservations.
The Landing Current River
River's Edge Resort
Shady Lane Cabins & Motel
Round Spring Lodge
Current River Camping Options with Flush Toilets & Showers
Jacks Fork Campground
Eminence Camp
Big Spring Campground
Alley Spring Campground
Round Spring Campground
Two Rivers Campground
Rustic Current River Camping Options
Pulltite Campground
Akers Campground
If floating the Current River was not on your travel bucket list before, we sure hope it is now!
Other Missouri Trips to Consider:
Explore Mark Twain's Hometown
Must-See Route 66 Attractions in Missouri
An Awesome Family Trip to Branson
A Very Cool Missouri River Town that Even Has a Casino
Other Popular Missouri Float Trips:
Current River Overnight Float Trip
Black River Float Trip
Meramec River Float Trip
Eleven Point River Float Trip
Big Piney River Float Trip
Have you been on a Current River float trip before? Share your experience with us below!