You'll find many opportunities to stop along the eight-state journey but there are a few famous Route 66 roadside attractions and hidden gems that you MUST experience on your trip. From the utterly awesome to the notably historic to the wacky to the lip-smacking delicious, here are our recommendations for the must-see Route 66 attractions by state.
SCROLL TO THE BOTTOM TO SAVE AN INTERACTIVE ROUTE 66 MAP FOR YOUR TRIP!
What attractions are along Route 66? If you are about to hit the road, don't forget to order a handy Route 66 Guide Book since the Route isn't that easy to follow. I would say 75% of the trip is navigable, but there are a few tricky spots and the Route 66 planner is helpful for those areas. Plus, it includes certain attractions and tips for the ride.
Now let's take a look!
ILLINOIS ROUTE 66 ATTRACTIONS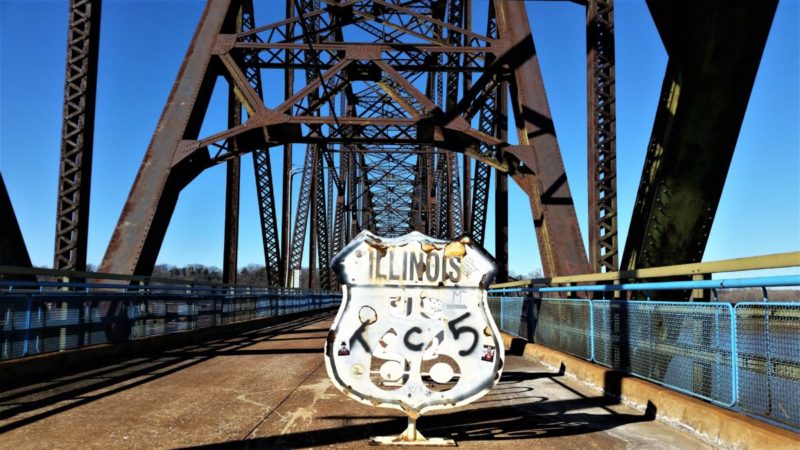 The Skydeck at Willis Tower in Chicago
You will have a memorable visit 103 floors up and 1,353 feet hanging over the city streets on the Ledge at Willis Tower. On a clear day, the skyscraper has views of four Midwestern states – Illinois, Indiana, Wisconsin, and Michigan.
The Willis Tower, a long-time symbol of Chicago, offers breathtaking views and an awesome experience.

Where: 233 South Wacker Drive, Chicago, Illinois

FULL DISCLOSURE: Some of the links in this post are affiliate links. We will receive a commission at no additional charge to you if you book through our link.
Gemini Giant in Wilmington
The 30-foot Gemini Giant with his silver space helmet and rocket ship stands tall as he overlooks Route 66 from the now-closed Launching Pad Drive-In. The muffler man makes the list as a must-stop for his unique getup and one-of-a-kind photo opportunity.
Where: 810 E. Baltimore Street, Wilmington, Illinois
READ NEXT: QUOTES ABOUT ROAD TRIPS
Illinois Route 66 Hall of Fame in Pontiac
There are a few reasons the Route 66 Hall of Fame makes our list. It's free and has loads of information on display about the infamous road plus many artifacts from Bob Waldmire's life. He is well-known on the Route 66 circuit as a legend of sorts.
It's a great place to spend a few hours and don't forget to go outside behind the museum to see Bob's school bus turned mobile home and to take a picture in front of the giant Pontiac mural lined with original Route 66 bricks.
Where: 110 West Howard Street, Pontiac, Illinois
Funks Grove in Shirley
Situated about twelve miles south of Bloomington, Illinois, you'll find a small family-owned farm that produces some of the best sirup I've ever had the pleasure of tasting. Yes, that's sirup with an "I," stop by to find out why. Funks Grove has been a favorite among Route 66ers since the very beginning.
Where: 5257 Old Route 66, Shirley, Illinois

Abraham Lincoln Presidential Museum in Springfield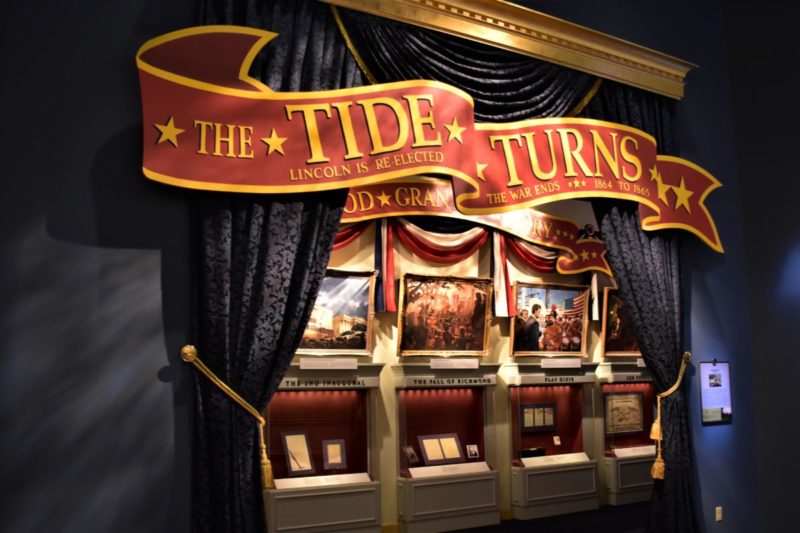 The Lincoln Presidential Museum brings history to life by taking you through every stage of the 16th President's life. The interactive exhibits are engaging and entertaining for all ages.
Learn about Lincoln's dark side, his personal interests, his family woes, his rise to political power, and his lasting effect on America.
Where: 212 N. Sixth Street, Springfield, Illinois

Henry's Rabbit Ranch in Staunton
Quirky is the name of the game on Route 66 right? It can't get any quirkier than Henry's Rabbit Ranch. We are talking about adorable bunnies of the hopping variety and rabbits of the Volkswagen stationary kind.
You will experience a pet cemetery, a climbable fiberglass photo-op-ready giant rabbit, nostalgic Route 66 memorabilia, a friendly owner, and an unforgettable time at the ranch. It's definitely one of the weird things to see on Route 66!
Where: 1107 Historic Old Route 66, Staunton, Illinois

Chain of Rocks Bridge in Granite City
You do not want to miss this interesting mile-long bridge that spans over the mighty Mississippi River. The bridge is one of the coolest we've seen on our travels; it has a 30-degree turn right in the middle of it with castle-like intake towers jetting up from the water. It carried travelers across the border –located in the middle of the river – from Illinois to Missouri on Route 66.
Where: Chain of Rocks Rd, Granite City, Illinois
Illinois has so many more cool spots, if you'd like to read about them click here: Route 66 Attractions Illinois.



MISSOURI ROUTE 66 ATTRACTIONS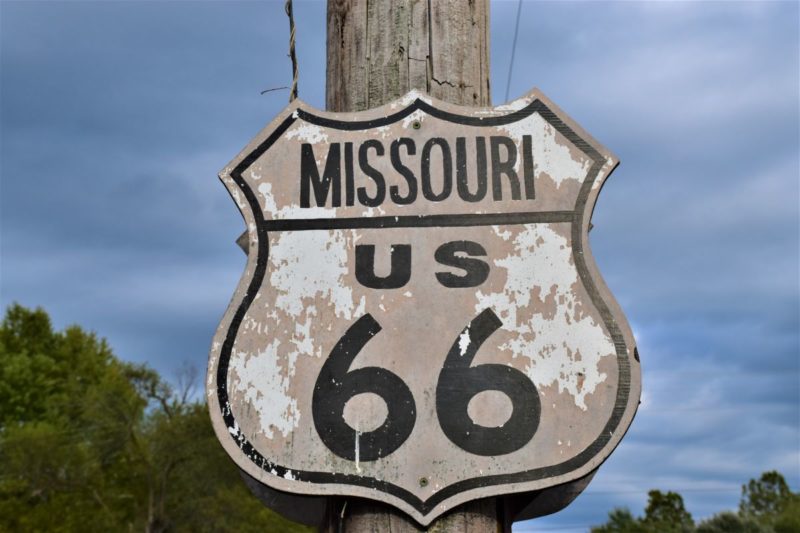 The Gateway Arch in St. Louis
This 630-foot monument is known as the Gateway to the West so you cannot miss it as you begin your journey across the United States. Not only is it a symbol of American history but the world's tallest arch.
You can choose to walk around the base of the arch – especially if you are claustrophobic as it is not for those that dislike small spaces – or take an elevator to the top for fabulous views of the city.
Where: St. Louis, Missouri

Meramec Caverns in Sullivan
Humming along on old Route 66, you'll come across a sign for Meramec Caverns, then another one and another one, and so on. Even if you hadn't planned on visiting you'll make the stop just to see what the fuss is all about.
The extensive cave system not only gained notoriety because of its beautiful formations but also for being the hideout of Jesse James, the notorious outlaw. Its combination of natural beauty and kitsch makes it a perfect stop on your road trip.
Where: 1135 Route W, Sullivan, Missouri

Missouri Hick BBQ in Cuba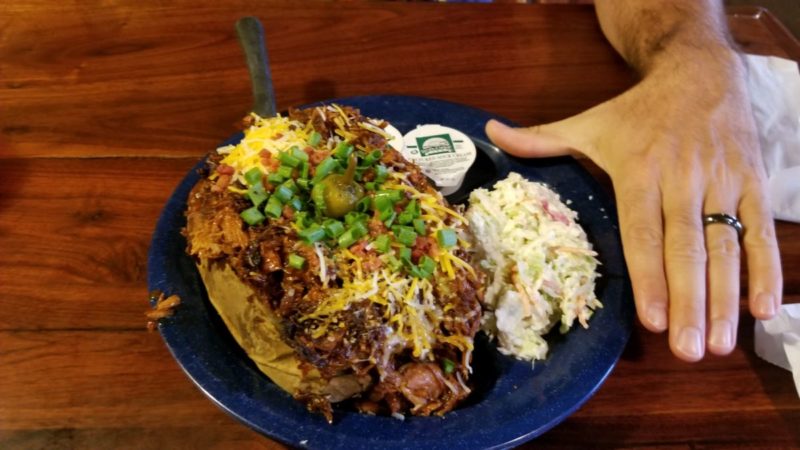 Do not pass by the adorable town of Cuba without stopping in for an Ory's Spud at MOHick BBQ. You'll be dreaming about this giant baked potato for the rest of the trip. It comes loaded with baked beans and pulled pork smothered with cheddar and Monterey Jack cheese and sprinkled with bacon, chives, and seasoning.
Where: 913 E. Washington, Cuba, Missouri

Uranus Western Mini-Town Strip Mall in Saint Robert
If you like laughing, photo-ops or unique souvenirs then Uranus is the place. The Western town motif storefront is complete with a saloon, dinosaurs, fire engine, tattoo parlor, candy store, and fudge factory. If you don't laugh when the girl behind the counter at the Fudge Factory screams "Thanks for picking Uranus!" as you head out the door, you need to get your funny bone checked out.
Where: 14400 Hwy Z, Saint Robert, Missouri

RELATED POST: 10 FABULOUS THINGS TO DO IN SPRINGFIELD, MISSOURI
Gay Parita Sinclair Filling Station in Everton
The station is a re-creation of the original that was established eight years after the opening of Route 66 but burned to the ground in 1955. The stop will take you back in time with mementos, photos, cars, tools, and signs from an era long gone. It's one of the few stops that seem to capture the true essence of the iconic highway.
Where: 21498 MO-266, Everton, Missouri
Missouri has so many more interesting spots, if you'd like to read about them click here: Route 66 Attractions Missouri

KANSAS ROUTE 66 ATTRACTIONS
Cars on the Route in Galena
Kansas is only home to an itty-bitty section of the route on the southeast corner of the state but don't let that hinder you from making it a stop. At the old Kan-O-Tex Service Station you will find the inspiration for the character "Tow Mater" from the Disney movie Cars. The 1951 International Boom Truck sits alongside a few other vintage vehicles and the station now serves as a diner and souvenir shop.
Where: 119 N. Main Street, Galena, Kansas

OKLAHOMA ROUTE 66 ATTRACTIONS
Blue Whale in Catoosa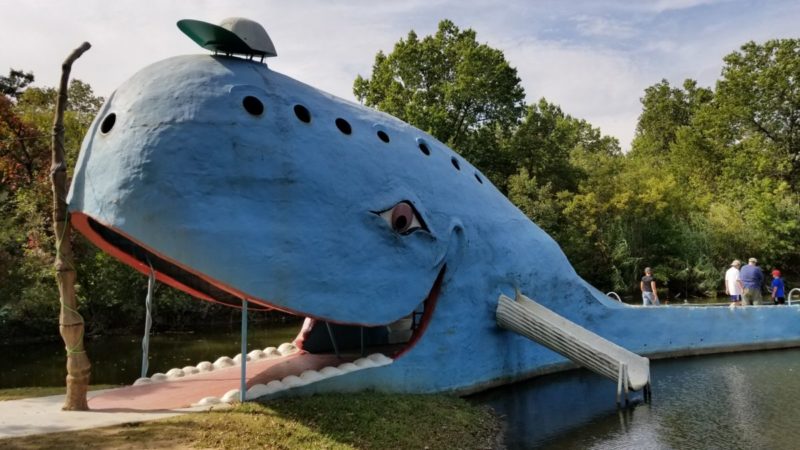 Once a popular swimming hole for Route 66 travelers is now one of the most recognizable roadside attractions on the trip to the west coast. The big blue creature with mouth wide open and kind eyes sits on the edge of a pond baiting visitors to walk on in.
Where: 2600 Route 66, Catoosa, Oklahoma

Rock Café in Stroud
Not only is the Rock Café on the National Register of Historic Places and owned by the woman who Sally, the Porsche in Disney's movie Cars, is based on, it also serves up a delightful plate of Jaeger Schnitzel as well. If fried pork and mushroom gravy are not on your must-eat list on Route 66, it's time to add it.
Where: 114 W. Main Street, Stroud, Oklahoma

POPS in Arcadia
You will not believe the selection of soda they carry at POPS. With over 700 kinds from gross to delicious, they have every flavor I could possibly imagine. Plan a little extra time to browse through the selection and grab a bite to eat at the diner.
Where: 660 Rte 66, Arcadia, Oklahoma
National Cowboy & Western Heritage Museum in Oklahoma City
The expansion out west plays a major part in America's history and as you make that pilgrimage yourself, take a moment to learn about the others before you. The National Cowboy and Western Heritage Museum is entertaining, informative, and hands-down one of the best museums on the route.
Where: 1700 NE 63rd Street, Oklahoma City, Oklahoma
Oklahoma has so many more unique things to do, if you'd like to read about them click here: Route 66 Attractions Oklahoma
TEXAS ROUTE 66 ATTRACTIONS
Leaning Tower of Texas in Groom
The Britten Water Tower right of Interstate 40 was bought at an auction and meant to be used as the town's water tank. It never could meet code regulations so instead of doing nothing with it, Ralph Britten decided to place it on his family's property with a twist… or a lean if you will.
Where: Exit 114 off I-40 W, Groom, Texas
Cadillac Ranch in Amarillo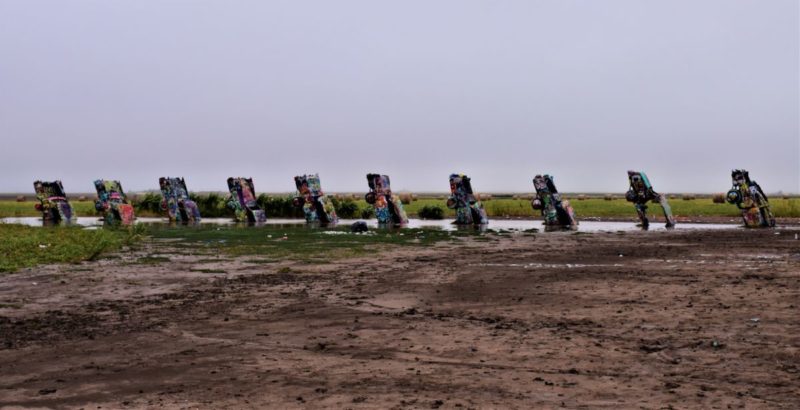 The mother of all roadside attractions on Route 66 is the famed Cadillac Ranch. The symbolic row of cars was built by a group of hippies called The Ant Farm. The tribute represents the evolution of car lines such as the Cadillac tailfins which are used in the installation. Spray-painting the cars is a fond memory for many travelers as they leave their mark on Route 66.
Where: I-40, Amarillo, Texas
Midpoint in Adrian
Adrian, Texas marks the exact geo-mathematical center on Route 66: 1,139 miles in either direction from the start or finish. Stop to take a picture by the sign and eat a slice of pie at Midpoint Cafe, one of the oldest eateries on the highway.
Where: 305 Historic Route 66, Adrian, Texas
Looking for other neat things to do in Texas, check out our other post: Route 66 Attractions Texas
NEW MEXICO ROUTE 66 ATTRACTIONS
Blue Hole in Santa Rosa
Even if it's not swimming weather, the Blue Hole is worth a short stop to stretch your legs and discover a magical geological gem. The hole is 60-foot round, 81-feet deep and one of the most popular diving spots in the United States. The bright blue waters is a contrast to the desert scape between Amarillo and Albuquerque.
Where: 1085 Blue Hole Road, Santa Rosa, New Mexico
Musical Highway in Tijeras
If you are taking the Route 66 trip from east to west, you'll have to turn around to drive on the musical stretch of the road. Just outside of Albuquerque, you'll find a short section that when you drive 45 miles per hour over the white line "America the Beautiful" plays aloud.
Where: Old Route 66, Tijeras, New Mexico
The Frontier in Albuquerque
While traveling through the state, you have to try a dish with the New Mexico green chile. It will not be hard because every menu seems to have at least two items with the local condiment of choice. The Frontier Restaurant has been serving Route 66 patrons for over 45 years and the giant breakfast burrito is a showstopper.
Where: 2400 Central Avenue, Albuquerque, New Mexico
Not only did we experience the World's Largest Ballooning event, but we also visited two of the most beautiful cities in the state, read more here: Route 66 Attractions New Mexico
ARIZONA ROUTE 66 ATTRACTIONS
Petrified Forest National Park in Adamana
Take time out of your day to drive the 28-mile park road through the spectacular Painted Desert and petrified forests in the only national park that contains a section of Historic Route 66. The Petrified Forest National Park is an extraordinary piece of land with stunning landscapes.
The Corner in Winslow
A random street corner in a small town may seem like an odd attraction but it's not random at all. The corner was made famous from the song "Take it Easy" by the Eagles and is now one of the busiest corners on Route 66.
Where: 2nd and Kinsley, Winslow, Arizona
Continue scrolling to save the Route 66 Map with all the attractions below!
Wild Burros in Oatman
In the old mining town of Oatman, you'll find friendly burros wandering the streets looking to make friends. The furry burros are not the only reason to visit, the town hasn't changed much since it began in the early 1900s. It's a throwback to the gun-slinging days of the Wild West.
Where: Downtown Oatman, Arizona
CALIFORNIA ROUTE 66 ATTRACTIONS
Elmer's Tree Bottle Ranch in Oro Grande
It's hard to imagine that a front yard of dusty old bottles would be impressive but it is. The maze of glass and metal is enchanting and well worth a stop on your way to the end of the trail.
Where: National Trails Highway, Oro Grande, California
Santa Monica Pier in Santa Monica
The landmark has been a favorite among travelers for over 100 years. Your visit to the Santa Monica Pier will be bittersweet as your adventure comes to an end. Don't forget to look for the "End of the Trail" sign at the beginning of the pier.
Map of Route 66 Attractions with Roadside Stops
Frequently Asked Questions
What is the most scenic part of Route 66? Arizona is my favorite section of the drive because offered amazing landscapes and jaw-dropping sights.
What attractions are along Route 66? There are all kinds of cool and weird things to see on Route 66 from quirky roadside stops to majestic national parks. Plus cool cities and top-notch museums.
Is Route 66 a good trip? It is a must-do road trip within the United States. A Route 66 road trip gets you off the beaten path and back to the heart of America.
How long does it take to drive the whole Route 66? The entire route is 2,448 miles long so the shortest length of time I would recommend is one week / 7 days which is tight. That would mean you would have to drive 350 miles a day. Ideally, you should plan for at least two weeks to fully enjoy the ride.
Where does the famous Route 66 begin and end? The route begins in downtown Chicago, Illinois, and ends at the Santa Monica Pier in California.
How do I find the best Route 66 attractions near me? This article silly! Check the state you are closest to to find the best attractions on Route 66.
You Might Also Like
Which Route 66 attractions would you like to visit? Have any other questions? Let us know in the comments below!
Like it? Share it!