If Antelope Canyon in Arizona is not on your bucket list already, it should be! The American Southwest has so much to offer so when you are planning your trip make sure to include the magical slot canyon on the itinerary.
Here's how it normally goes while I am traveling:
"I can't believe how beautiful this is. Just look at this landscape." Click. My smile slowly turns into a frown as I realize the fiftieth photograph I just took will never be able to capture the enchanting landscape before my eyes.
"Ugh. What am I doing wrong? This is NOT how it looks!" I say, as I give up and realize the camera will never be able to capture the beauty. I realize I am okay with that as I give in to the moment and let my mind do the picture taking.
This is NOT how it goes in Antelope Canyon! If anything, the camera is able to capture the depth of colors and the optical illusion of movement on the sandstone to a greater extent than my eyes. I'm not a professional photographer but I am pretty sure this place is a photographer's wet dream.
Antelope Canyon: The Basics
The canyon is on the Navajo Nation Reservation east of Page, Arizona in the north-central part of the state. You cannot explore on your own unless you are willing to kayak the flooded portion of Antelope Canyon in Lake Powell.
You must reserve a guided tour for both sections of the canyon. The tours book up at all times of the year, especially during the best time of day when you might see light beams so make sure to plan ahead.
Both locations have limitations as far as accessibility. The Lower Canyon has steep stairs, ladders, and narrow passageways which can be limiting for some. The Upper Canyon is flat and has only a few narrow sections but the ride out to the opening is bumpy and rough. I would not suggest it to anyone with back problems.
Lower Antelope Canyon versus Upper Antelope Canyon
From our experience, if I only had time for one of the canyon tours, I would choose the lower canyon. It is cheaper, a one-way walk, and the less busy of the two. We visited in mid-October and as far as lighting and color, the Lower Canyon was by far more impressive.
BUT I have read that the Upper Canyon is more likely to have light radiating down from the openings and maybe that is the case in the summer. I think this question is best answered based on the time of year you are going.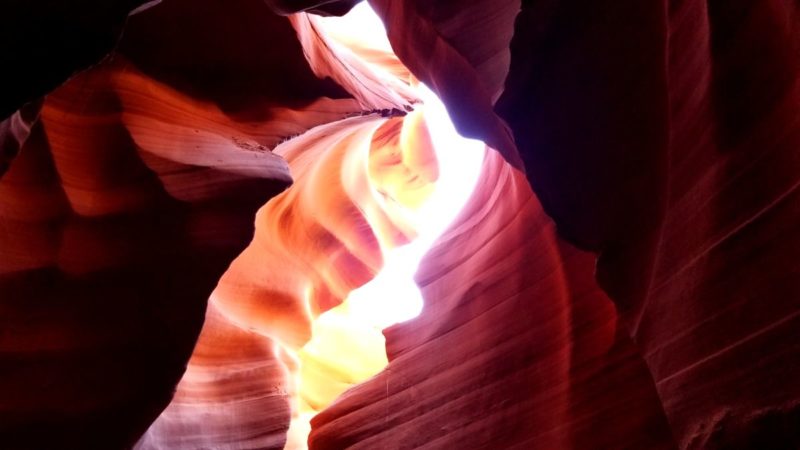 Even though it made for an expensive day, we chose to do both tours and we didn't regret it. I would have always wondered about the differences between the two. Because the canyon is on a reservation you not only have to pay for the tour but for a Navajo Permit Fee as well.
Since we chose to do both tours on the same day, we only had to pay for the permit once. I highly recommend this option if you are planning on visiting both canyons on your trip.
Disclaimer: I earn from qualifying purchases. Some of the links included in this post are affiliate links and will provide me with a commission at no additional cost to you.
Which Antelope Canyon Tour Should You Book?
From every article and review, I found it sounds like they are all similar as far as cost and quality. We used two different tour companies – read below for our experiences – and both had wonderful staff and tours.
Lower Antelope Canyon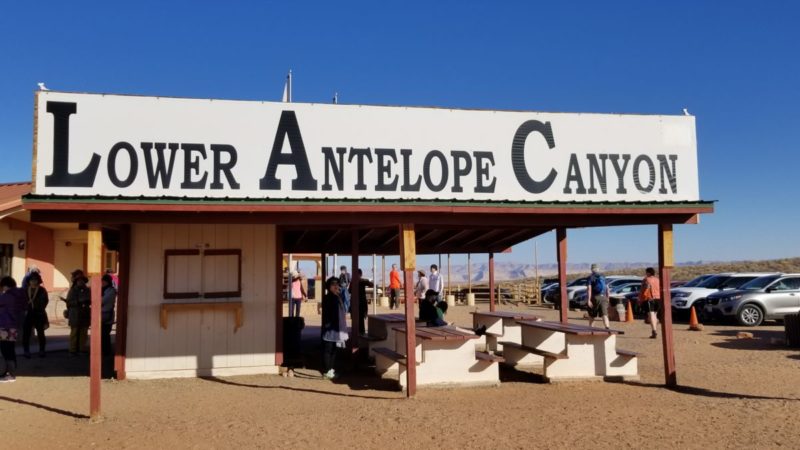 The first tour of the day for us was the Lower Antelope Canyon. Tours run every 30 minutes and last for about an hour. We took the General Tour. It is an all walking tour and is roughly one mile round trip.
Check Prices for the Lower Antelope Canyon Tour here.
I read that the Lower Canyon was the least busy of the canyons so when a tour bus full of people pulled up with us, I felt a smidge of frustration come over me. I wondered if the canyon was going to be worth a day of annoying crowds. We waited our turn for our time slot to be called – about 20 minutes after our set time – and were dispersed into groups of about 10-12 people.
We walked about 1/4 of a mile to the opening and waited under a shade for roughly another 20 minutes before being led down to the canyon.
The tour company does a good job separating the groups so luckily, once you are in the canyon it does not seem crowded. Our guide was wonderful with helping us set our phones up to be able to capture the color and intensity of the rock.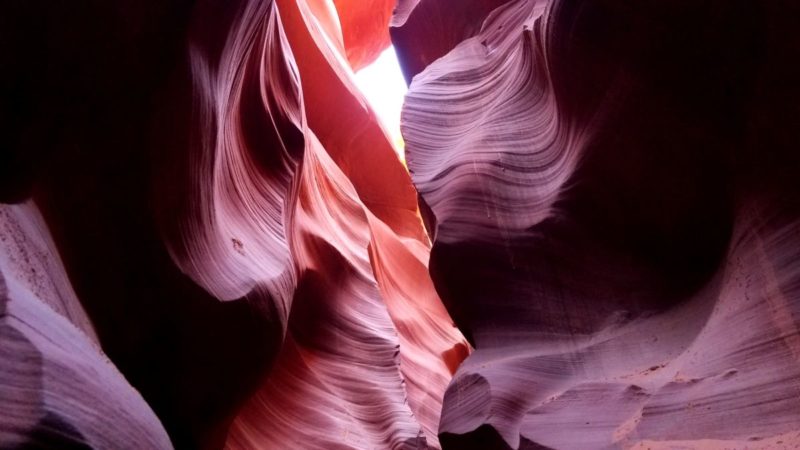 We navigated through the undulating passageways with every turn unfolding spectacular scenery.
Upper Antelope Canyon
The tour of the Upper Canyon starts out with an entertaining dance performance while we wait to be called.
We are broken up into groups of 10 – 12 and jump in our military-grade vehicles to drive over to the Upper Canyon. The ride lasts about 15 minutes and is jerky and extremely windy.
We, along with all the other strangers we are paired with, laugh the entire time together breaking the ice in our group. After working out the knots in my hair, I'm ready to get into the cavern and see what the Upper Canyon has to offer.
The Upper Canyon is flat and wider than the Lower Canyon so you would think it would be easier to maneuver but because it is more crowded with people going in and coming out (it's a two-way walk) it inevitably feels tighter.
The Upper Canyon has towering walls and more narrow slits at the top so it is darker than the lower section. It's mid-October and our tour guide tells us that at this time of the year (best time being mid-summer) it is most likely we will not see an abundance of light or beams because of the angle of the sun.
All pictures are taken on the walk to the end and we are told by our tour guide not to stop and take anymore when coming back. It's difficult to follow directions though when you feel like you see a shot you weren't able to get on the way in. As a consequence, small crowds form making it a tad claustrophobic at times.
Check Upper Canyon Tour Prices Here
When to Go to Antelope Canyon
The answer depends on what you are hoping for. If you are looking for the ultimate picture then the perfect time to visit Antelope Canyon is in the summer midday. It's when the afternoon sun is high and it is the best opportunity to see light beams.
If you are looking to avoid long lines, crowds, and heat, the shoulder season in the spring or fall in the morning or late afternoon is your best bet. The regular busy tourist season is from mid-May through September.
Antelope Canyon is gaining popularity and the tour buses have arrived so be prepared and plan ahead no matter what time of year you visit!
How to Get to Antelope Canyon
Getting to Antelope Canyon is a combination of flight and rental car. Flagstaff and Page have small airports but have limited flights. The closest major airports are Phoenix and Las Vegas International Airports, both of which are about five hours from Page. You can pick up a rental car at either major airport.
RELATED POST: Route 66 through Arizona
Antelope Canyon Lodging
Most people visiting Antelope Canyon stay in Page, just a short drive away. There are many hotel options as well as RV parks and campgrounds.
Hotels
Campgrounds
Tips on Visiting Antelope Canyon
Plan ahead and reserve accordingly
Call the tour company to ask about what time of day is the best for the time of year you will be visiting
Make sure you have the right time. Navajo lands operate in a different time zone than other areas in Arizona (including Page) by not acknowledging daylight savings time. Your phone may not be correct so double and triple check you know when you are supposed to be there.
Figure out your camera settings beforehand
Bring plenty of water (the desert is hot, be prepared)
Watch the weather. Flash flooding can occur
Wear sunscreen and a hat for the walk and waiting out in the sun before going into the canyon
Wear comfortable shoes with a grip
Eat and drink before the tour
No bags of any kind are allowed in the Upper Canyon
Disclaimer: This post contains affiliate links, if you book through our link we will receive a small commission at no additional cost to you. Thanks for your support as this helps with the cost of running the website.
Do you have any thoughts on visiting Antelope Canyon? Tell us in the comments below!
Like it? Share it!