Recognized as a favorite among road trippers, I have been looking forward to our time on Route 66 Arizona. The distant lands of awe-inspiring sights and majestic landscapes are calling to us and it's time we answer.
Come with us as we discover scruffy yet adorable old Western towns, a peculiar lodging stay that has us questioning the ordinary, roadside oddities, the first national park of the trip, an extraordinary consequence of Mother Nature's volatile temper, and a side trip to one of America's most famous landmarks.
These Route 66 Arizona attractions are must-sees for your future trip!
Highway of Dreams in the Petrified Forest National Park
The 28-mile park road takes travelers from the spectacular colored rocks of the Painted Desert in the north to prehistoric fossils and petrified forests in the south.
Upon entering the park, the landscape of the Painted Desert slaps us in the face with its brilliant beauty.
Deposits of diverse rock millions of years ago create layers of multihued mesas that are profoundly moving. There are many things in life that are hard to explain like the overwhelming feeling of unconditional love or the heartache of grief and right along with those is the feeling of awe in the presence of natural beauty.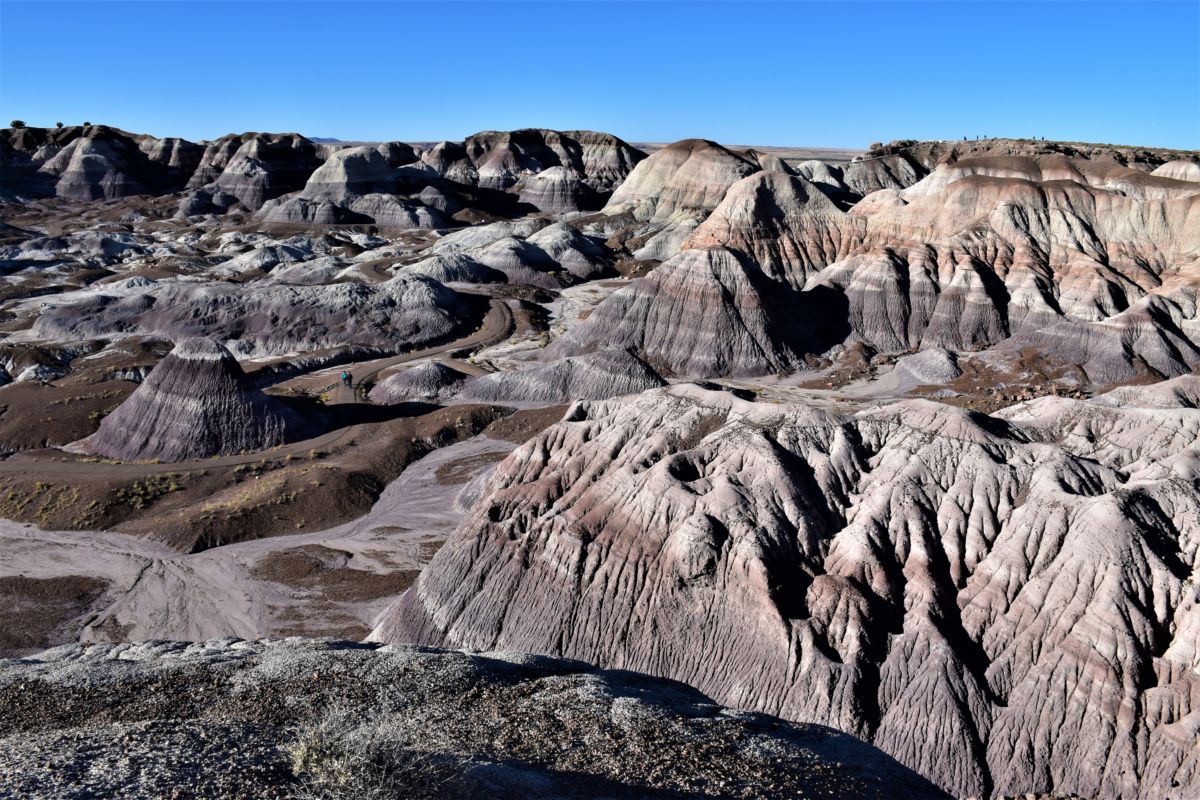 The Petrified Forest National Park is the only national park that coincides with travelers on Route 66.
It has a small display to recognize its past with America's Main Street: an old shell of a car, a cement bench with a car bumper on one side and the 66 logo on the other, and a sign explaining the location.
"Petrified Forest is the only national park in the country with a portion of the Historic Route 66 within its boundaries. You are currently standing where the Mother Road used to be, with the line of telephone poles paralleling its alignment through the park. This stretch of Route 66 was open from 1926 until 1959 and was the primary way millions of travelers experienced Petrified Forest and the Painted Desert. Imagine driving to this spot in the 1932 Studebaker before you, when the road was in its heyday!"

Along the southern section, we come across stark badlands dotted with giant logs of petrified wood. At first glance the logs look dark in color with a dull presence. Upon closer examination, the core is a mix of colorful shiny deposits.
After a few hours of exploring the park, we make our way to Holbrook to check in for the night.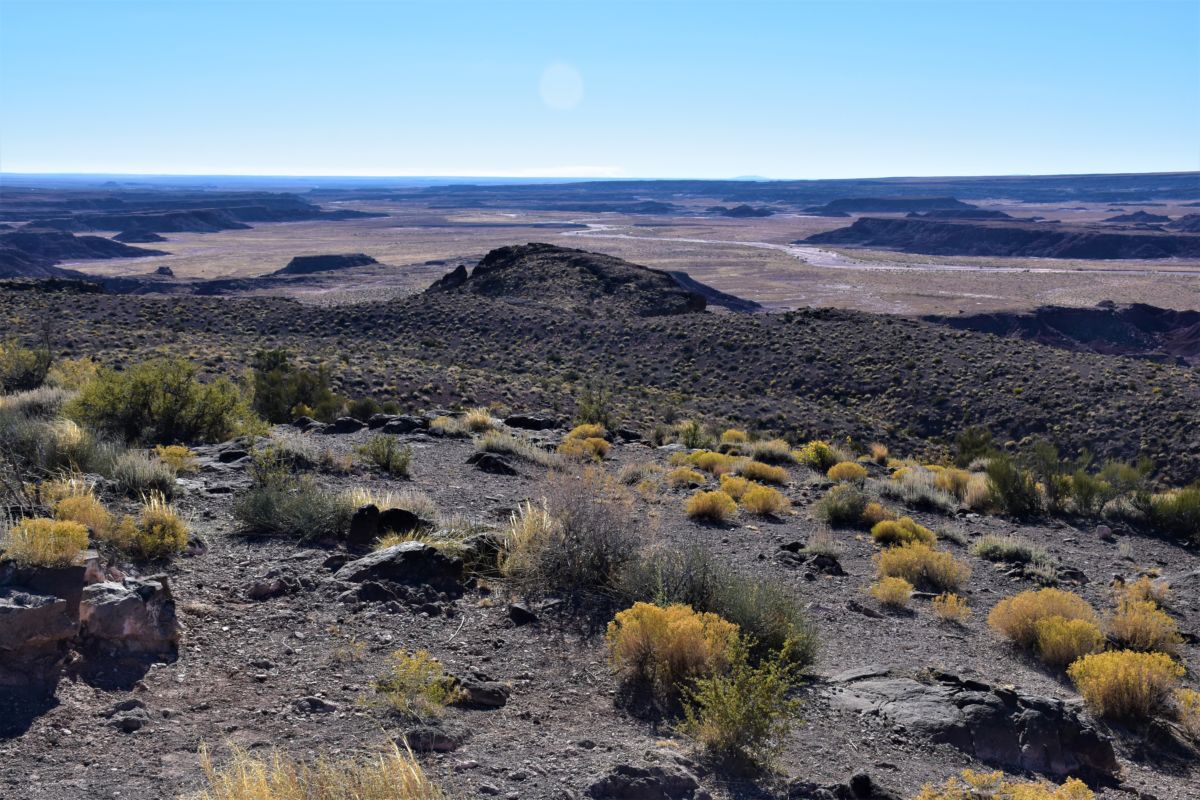 A Unique Stay at The Wigwam Motel
When we aren't camping in our new minivan-turned-camper, we have been using points for hotel stays. We haven't done many quirky 66 motel overnights so I cannot wait for our stay in Holbrook at the Wigwam Motel. We pull in at dusk and the green neon light is buzzing as we notice every wigwam has its own permanent vintage car placed in front of it.
"Have You Slept in a Wigwam Lately?" the sign asks. No I have not but that changes tonight!
Unlike the real deal, the wigwams have running water, toilets, electric, heating and air with a simple interior. They are bright white with a red zigzag line painted about halfway up above the door.
When we open the door of our wigwam, we find a nightstand with a lamp next to a queen size bed, a wood desk with a chair, an empty small table, and a big box television probably 15 years old.
The hand-made hickory furniture is made by the original company used in the early days. The bathroom is small with only the necessities: a toilet, sink, mirror, and a slanted-ceiling shower. At 21 feet wide and 28 feet high, the teepees are not very large but roomy enough for two.
SEE THE FULL VIDEO TOUR HERE
The motel was placed on the National Register of Historic Places in 2002. Completed in 1950, being the sixth of its kind, it was designated Wigwam Village #6 out of seven total. Only two others, one in California and one in Kentucky, still exist today.
*Tip: Be aware of your surroundings. I'm not sure if this was a rare occurrence but we did have a man approach us out of nowhere as we were loading our car in the morning asking for money. He reluctantly left when we said no but it was a bit of a sour end to our stay.*

Standin' on the Corner in Winslow, Arizona
The Eagles band put Winslow, Arizona on the map with its 1970s song, "Take it Easy" and the town is taking full advantage. Why not, right? The town is one of the many on the route that lost its thriving business from the railroad back in the day.
We grabbed our morning coffee and took a walk around the small town. We found a few welcoming murals, a statue commemorating the song, souvenir shops, and a fabulous hotel.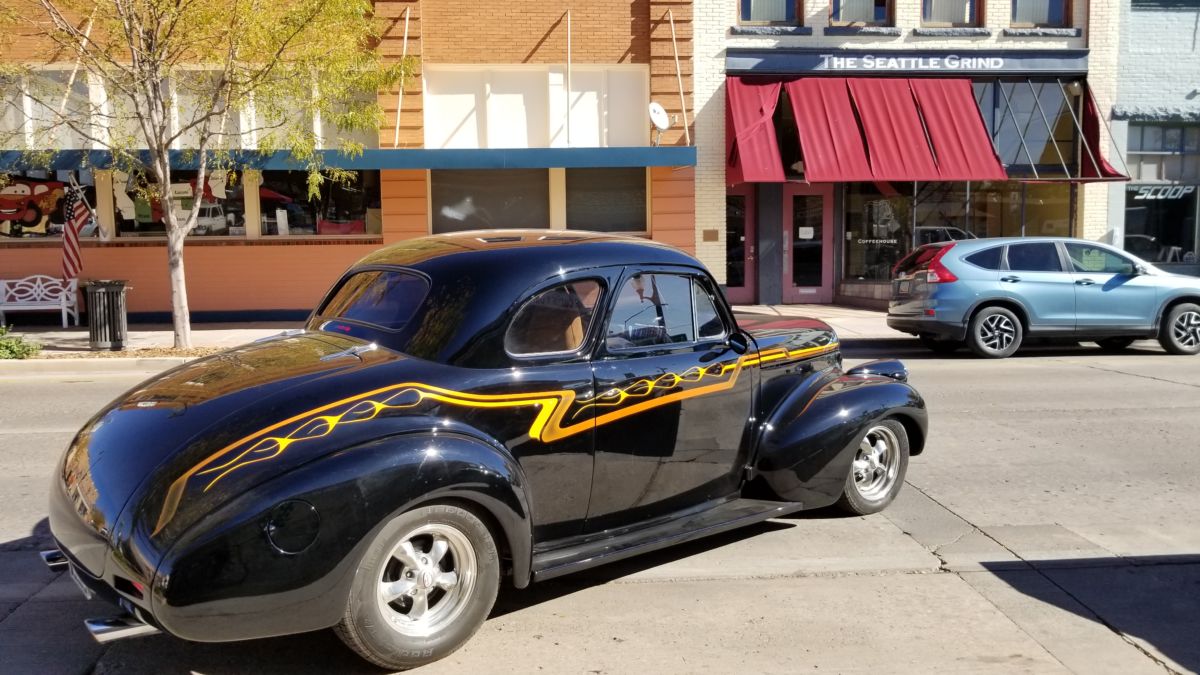 The La Posada Hotel was one of the last great Santa Fe railroad hotels and known as one of the fanciest on Route 66. Prior famous guests include Amelia Earhart, Albert Einstein, Franklin D. Roosevelt, and John Wayne.
The construction costs in 1929 were over $1 million dollars! It closed with the decline in business then was reopened after being renovated to its original splendor.
We didn't ask about the rates, but it looks like a fantastic place to stay. The afternoon sun is close to making its appearance so it's time to get back on the road, we have a busy day.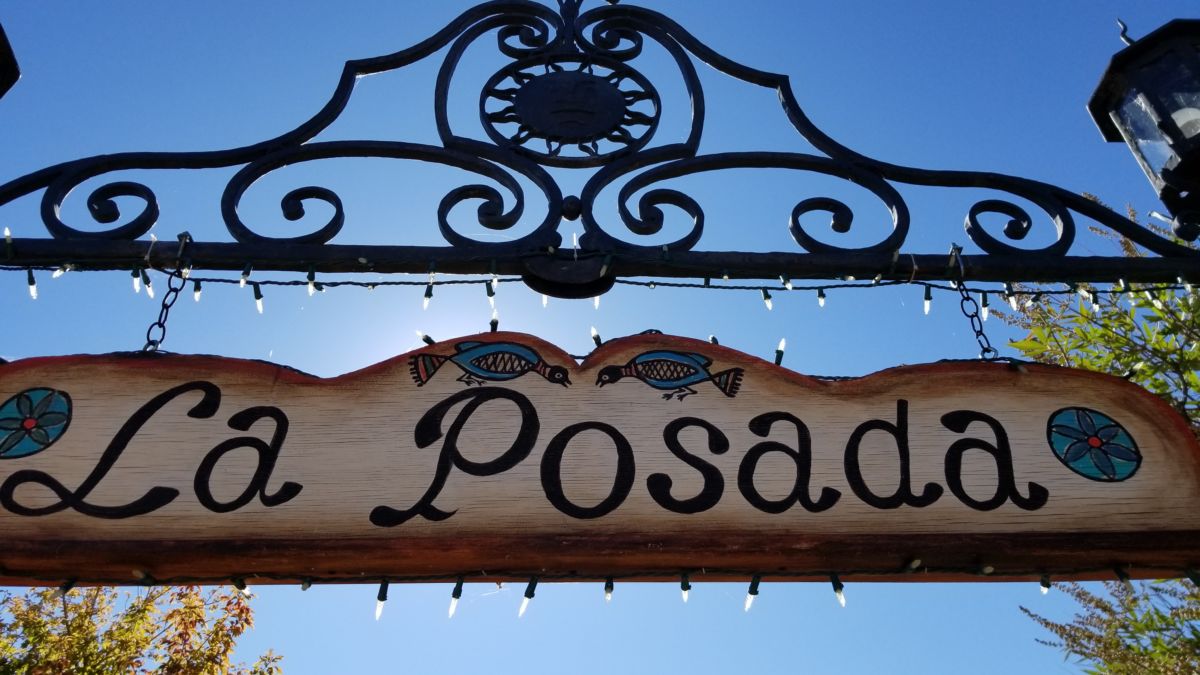 A Crater as Deep as the Washington Monument is High
Only a few miles down the road from the town of Winslow is Meteor Crater, a colossal hole in the ground formed by a meteorite. It came hurling down to earth 50,000 years ago at about 26,000 miles per hour. Scientists say the force was greater than 20 million tons of TNT leaving behind a gigantic bowl-shaped crater!
After watching a short introductory film at the Visitor Center located on the rim of the crater, we had the option of a guided tour or to walk around on our own. Since we have many more miles to cover today, we opted to follow the interpretive signs on our own.
It's an incredible sight to see, knowing that a giant meteor plummeted to earth to create the crater. A shade of darkness hovers above though when you read the words, "happens on average once every 50,000 years or so" and "happened 50,000 years ago."
"Uh honey, did you just read this?" Said with wide-eyes and a look of disbelief.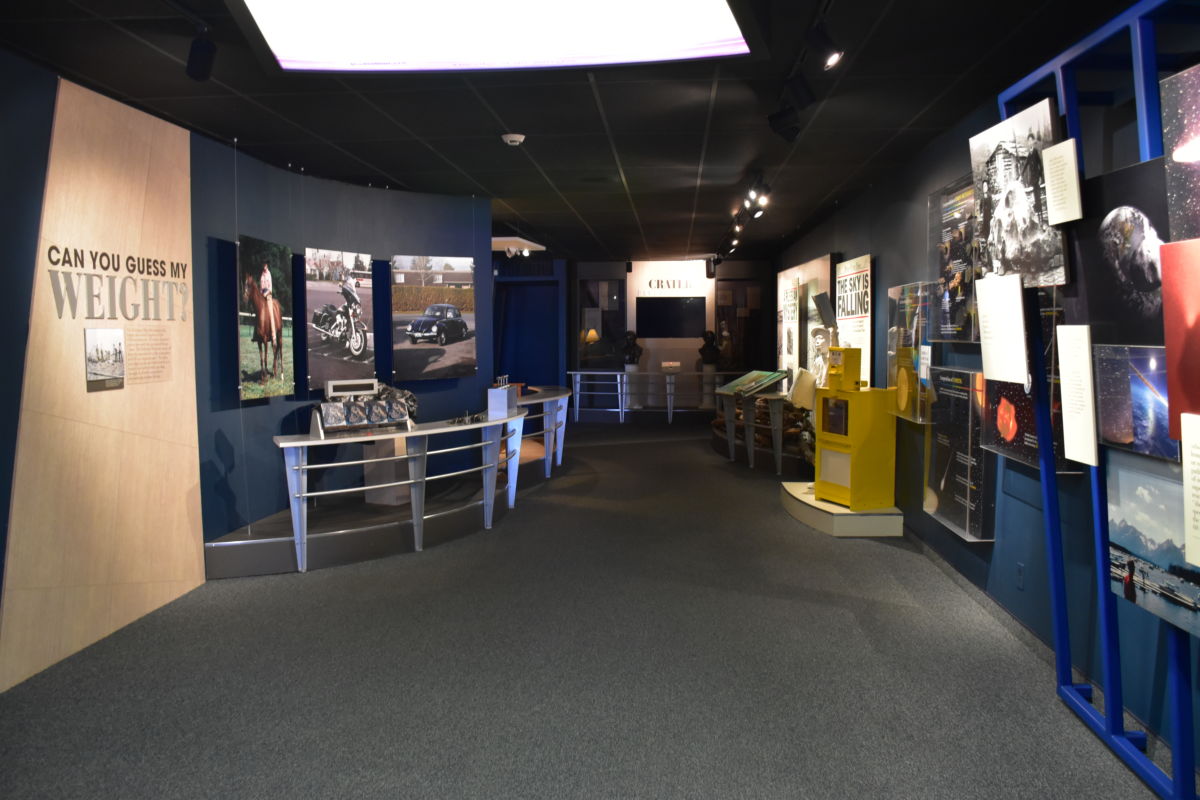 After walking the rim and looking through the many observation telescopes, we spent about 35 minutes in the Discovery Center. It covers the intense impact, the story behind the researchers who dedicated their life to investigating the site and the science around asteroids.
A highlight of the Discover Center is the Holsinger Meteorite, the biggest fragment ever found. The size of a small luggage piece, it looks as though I'd be able to pick it right up. Or at least that's what I thought until we read it weighs over 1,400 pounds!
I thought the Meteor Crater would be a quick stop -it's a hole in the ground, how much time do we really need to see that- but we were surprised at the level of detail and interesting information the center had.
All in all, I actually wish we had more time designated. As such as busy road trips go, it was time to take off, we have another two hours to go north for a side trip to the Grand Canyon.
*Tip: Active Military Members are Free, Non-Active Military & Veterans Receive Half-Off Discount & Seniors over 60 Receive a Small Discount*
Arizona, the Grand Canyon State

As every Arizona license plate reminds us, it is the Grand Canyon State so how can we not go visit it? It's my first time and Dave's second time visiting the GC. I have dreamt of going since I was a little kid. Not every American can name all the national parks but there are some that everyone can probably name and Grand Canyon is one of them!
With all of that notoriety and fame comes hoards of tourists so we knew we had to be on our 'A' game to see as much as possible on our overnight.
As far as a Route 66 vacation goes, the tip is: DO NOT MISS THIS SIDE TRIP! This Grand Canyon Guide will help you with the best things to see and do in the national park.
Williams, One of Our Favorite Towns on 66
We did not plan on staying overnight in Williams but once we saw the town, we just had to. They have shops, restaurants, two breweries, and an overall welcoming vibe.
Not only can you get a iconic shot of an Route 66 Arizona sign, but there's tons of fun to be had in this little town.
We explored Main Street before landing at the Historic Brewing Company for dinner and drinks. I recommend the place but try to make it for Happy Hour as the prices reflect being in a tourist town.
Since we did not originally plan on staying in Williams, we chose tonight to try out boondocking in the van!
*Tip: You can hop on the Grand Canyon Railway Train for an overnight or day trip to the Grand Canyon from Williams or Sedona – check prices here.*
Boondocking for the First Time
"What the heck is boondocking?" I've been asked. In case you are wondering, it is free off-the-grid camping. We have read a lot about it but have never done it ourselves. We are boondocking newbies! So how did it go?
We opened up a website for free campsites, and were jumping for joy when we found a site just four miles south of Williams! We decided to head there before dinner to see the area in the daylight.
Down the offshoot road a bit, we found a sign with camping limits and maps so we felt reassured it was the right place and it wasn't private property. We then drove further to find many open areas and a few taken with trailers (some looked like semi-permanent setups), a van and even a semi-truck. We saw NO people though which was a little unsettling since they were going to be our neighbors for the night.
After dinner, we drove back to the area in the dark. The same spot was open so we pulled in and got ready for bed. It was pitch black and again no sign of life anywhere.
I'll be honest, I was a little nervous. I thought, "well we may get murdered tonight but at least we are saving a few bucks."
We sent our location to my father-in-law, you know so it would be easier to find our bodies when no one heard from us in awhile, and we were off to sleep.
We both slept sound and were excited with the idea of free camping in our future. "Imagine all the money we could save!" my husband says as I see his eyes wander off planning the rest of our trips FOREVER in a van.
"Hold on with all that dreaming honey, remember this option has no bathroom or shower so I'm not signing up full-time just yet."
And so my Dreamcrusher pet name continues…
Route 66 Arizona Restaurants
The Snow Cap Drive-In is considered a Route 66 must experience by many but we have a slightly different opinion. The Drive-In was built in 1953 by a local resident, Juan Delgadillo, using mostly scrap lumber from the Santa Fe Rail Yard.
It is quirky and silly with things such as "cheeseburgers with cheese" and a door with two knobs and a sign that says, "Sorry, we're open." We loved Delgadillo's humorous side and all the fun memorabilia but the diner food was not worth the high cost.
It is definitely worth a stop and maybe to get ice cream or something small but we'd recommend eating elsewhere. Maybe Roadkill Café down the road. Yes, that is a restaurant and it was hopping when we drove by on our way out of Seligman.

The Old Mining Town of Oatman
We are on our way to the Old West town of Oatman founded in the early 1900s. Old Route 66 ascends from the barren desert to rocky hillsides and we wonder what we are going to find in what seems the middle of nowhere.
The mines here once produced over 1.8 million ounces of gold but the boom was over by the mid 1930s leaving behind somewhat of a ghost town.
As we arrive in Oatman, we find the ever popular and mischievous wild burros walking around town looking as cute as can be. They've come a long way since their descendents who used to haul ore and rock in the mining days. These guys lounge around all day with the only job of looking adorable, waiting to be fed by tourists.
Yes, Oatman is a total tourist town with bucktooth burros, kitschy souvenir shops, and cheesy gun fights but it also has history, allure, and the determination to stay prosperous against all odds. I loved it!
*Tip: Make sure to stop by the Oatman Hotel and grab a drink at the Dollar Bill Bar*
From Oatman we spent a few uneventful and disappointing nights in Laughlin, a short detour off the route. We found out the cheap lodging does not offset the expensive food and gambling!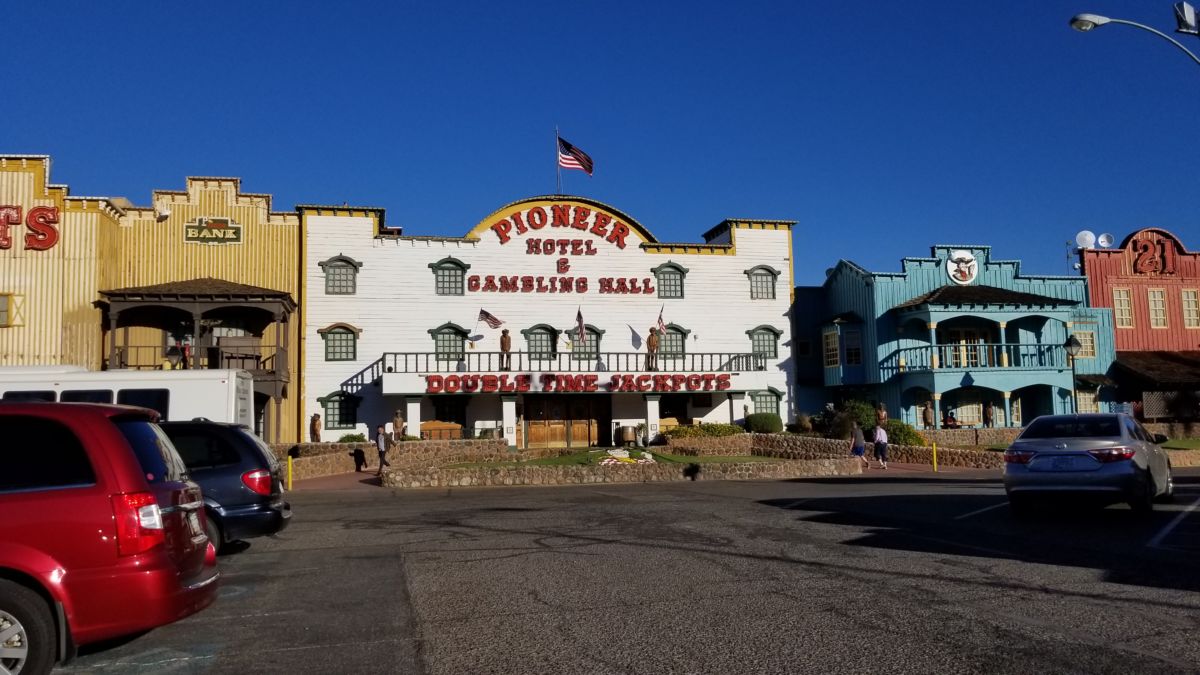 Our last stop on the Route 66 Arizona path before hitting California is Topock66, a restaurant slash party place on the Colorado River. We visited on a Sunday morning for breakfast so it was quiet but it looked THE place to be to partayyy.
Our time on Route 66 is coming to an end as we cross over the California border today. We have about 300 miles to go! Pacific Ocean we are coming for you!
Don't forget to sign up below to be the first to know when a new post comes out so you can follow along on our adventure!

Disclaimer: This post contains affiliate links, if you book through our link we will receive a small commission at no additional cost to you. Thanks for your support as this helps with the cost of running the website.

Like it? Pin it!