It's time to hit the road again. We are leaving Springfield, the Land of Lincoln, and heading to the Gateway of the West, St. Louis. The two cities are only about 100 miles apart, but we took our time stopping at some of the most well-known Route 66 attractions along the way. It was a day of a little bit of this and little bit of that.
Highpoints were an original section of the road, bunnies, a brothel, one of the most interesting bridges in America, and a sandwich that made Travel Channel's "Best Sandwich in America" show.
On the road again, Goin' places that I've never been
Seein' things that I may never see again
And I can't wait to get on the road again ~ Willie Nelson
A Little Piece of History in Auburn, Illinois
Only twenty minutes into our drive we stop in the small town of Auburn to walk, then drive, on an original section of the Scenic Byway. The historic brick road is a little over a mile of hand-lain brick completed in 1931.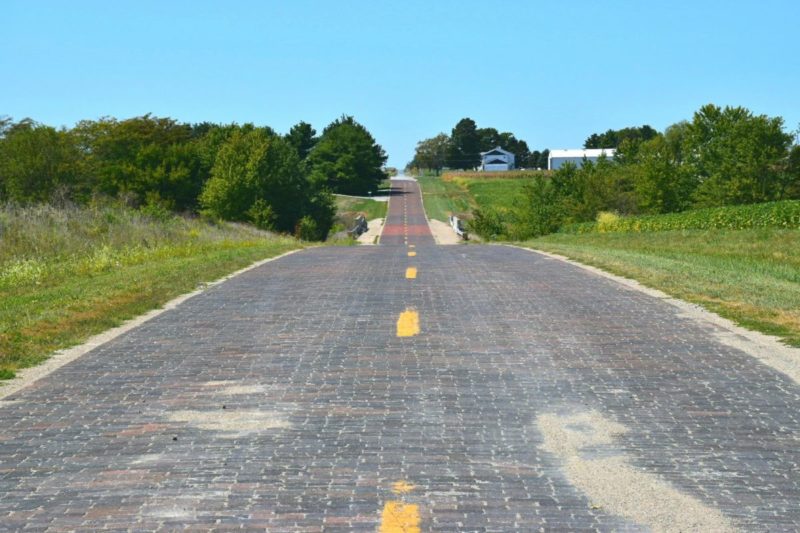 A Bunny Ranch on Route 66?
Did someone say bunnies? It is clear immediately that Henry's Ra66it Ranch in Staunton is going to be a favorite stop for me. Just a hop away from Route 66, Henry's front lawn touches the road making it a straightforward detour.
The owner and bunny-lover, Rich Henry, is a sweet man that welcomes us to his emporium. He walks outside to introduce himself as we are laughing at the newest rescued bunny, Sir Hubert, as he reminded us of an 80s rocker with his long hair blowing in the wind.
We take a tour of the property and my husband points out all the cars scattered about are Volkswagen Rabbits from years past. He has seven sticking straight up in the air similar to Cadillac Ranch in Arizona that we will be seeing later on down the road.
Like many Route 66 attractions, photo ops are aplenty. Along the outer wall of the side of the building sits a cemetery of lost buddies and a climbable giant rabbit similar to the jackrabbit at Wall Drug in South Dakota.
We take a look at the memorabilia inside and chat with Rich for a short time. He shares stories of Route 66, his family and how his daughter's random litter of bunnies turned into this kitschy roadside attraction. We say farewell and hop back on the road.
Gambling and a Brothel on Route 66
The story goes Luna Café, built in 1924, was once home to a gambling operation frequented by none other than Al Capone, the gangster of all gangsters. Illegal betting wasn't the only unlawful behavior going on, a brothel of sorts was run on the second floor.
Luna Café's signs is one of the oldest signs on Route 66. It is said that if the red cherry on the old neon sign was turned on, then the girls were in!
Old Chain of Rocks Bridge, the End of Illinois Route 66
The Old Chain of Rocks Bridge once carried travelers over the Mighty Mississippi into the state of Missouri. It is now closed to vehicular traffic and is only used by pedestrians or cyclists. A long, deserted road dead ends at the parking lot for the bridge. It is an eerie ride, but worth it to see the unique bridge. Illinois Route 66 signs and markers welcome you to the spot.
*Tip: If you decide to walk the bridge, lock your car and do not leave valuables inside. We did not have any issues but I read that other people have*
It is made of steel and concrete and opened in 1929 as a toll bridge at a cost of $2.5 million. There are two peculiar things worth checking out on the bridge: the 30-degree turn midway down and the castle-like intake towers jutting out from the river.
Heading into Missouri via Route 66
Since the Old Chain of Rocks Bridge doesn't allow cars anymore, we get back in our van and backtrack down the lonely Chain of Rocks Road to a working bridge to carry us over to the state of Missouri. It's time for the second state of the trip! The journey went fast from when we started in Chicago.
The short drive to downtown St. Louis is through a sketchy part of town so I don't suggest stopping anywhere apart from Bellefontaine Cemetery. It's a beautiful cemetery and arboretum originally founded in 1849 shrouded in history. Adolph Busch, founder of the Anheuser Busch Brewing Company, and William Clark, the explorer, are laid to rest here.
Crown Candy Kitchen, a St. Louis Landmark
A few blocks off Route 66, before hitting the center of St. Louis, you can find Crown Candy Kitchen. We have stopped here before and couldn't resist the call of their heart-stopping BLT sandwich.
The plain white walls are covered in vintage posters and signs, a visit is like stepping back into simpler soda fountain times. It's been around for over 100 years and not much has changed. We order a chocolate shake and one BLT sandwich to share. We learned last time that they do not mess around with the portions here! The owner said they go through up to 200 pounds of bacon on a typical day.
Adam Richman visited for his "Man vs. Food" series and took the malt challenge, attempting to drink five malts in 30 minutes. Yuck! He was sent home with a BLT for later and ended up coming back years later for the "Best Sandwich in America."
If you like nostalgia, bacon or ice cream, Crown Candy Kitchen is a must-stop in St. Louis.
The Gateway Arch, St. Louis
We walked to the base of the Gateway Arch, but didn't go up this time. We did it years ago so we chose to skip it, but would recommend it to anyone on a visit to the city. We come to St. Louis frequently and have a few favorite things we recommend.
Read here for a St. Louis Travel Guide
The city is in the middle of a huge overhaul project of the riverfront so we went to check out what they've done so far. The walking path and park area that is already done looks nice. I can't wait to see the completed project.
READ NEXT: A ROUND UP OF ALL OUR FAVORITE STOPS ON ROUTE 66
Breweries Galore
St. Louis has over ten breweries, each of them bringing something different to the table. Our first stop is at 4 Hands Brewery in the LaSalle Park neighborhood only a few blocks off Historic Route 66. They offer six year-round beers and a long list of rotating ones. City Wide, an American Pale Ale, is a favorite that put them on the beer map. A percentage of proceeds are donated to local non-profit organizations.
I tried and enjoyed Incarnation, a Mosaic hopped IPA, it is tropical and hoppy with a bit of a bite. A good bite that is. The hubby tried the Chocolate Milk Stout. It's velvety and smooth with hints of dark chocolate. Perfect for a sipping beer in the fall or winter.
*Tip: Try beer only, skip the food*
Next up is Civil Life Brewing Company, a cozy brewery with wood-paneled walls and a friendly neighborhood vibe. It's a half a block away from the original alignment of Route 66, southwest of downtown.
It's my favorite brewery in the city for not only the beer but the atmosphere as well. The bartenders and patrons alike are always willing to strike up a conversation. For instance, on this visit we ended up talking to a guy sitting on the stool next to us. After about 30 minutes of getting to know him, we were in the employee-only section of the brewery finding out all the ins and outs of beer canning. Turns out he is the canner for Civil Life and was excited to show us the process.
Going to a brewery and making the statement, "I can't find a beer I don't like" is a pretty big deal. Usually there are one or two I would consider purchasing or find myself looking for on the shelf of my local liquor store, but that is what I say every time I visit Civil Life. Cream Ale? Good. British Bitter English Pale Ale? Good. American Brown Ale? Good. And I am on an IPA kick right now which they don't have a lot of.
There are so many more cool things to do in St. Louis, but since we are so close we kept our visit short this time. We need to get out west!
Stay tuned. Next, we are heading down to Springfield, Missouri. Don't forget to subscribe to our blog by entering your email below to follow along on our Route 66 journey!
Don't forget to sign up below to be the first to know when a new post comes out so you can follow along on our adventures!
Like it? Please Share it!