We have driven from Chicago to St. Louis and back, countless times over the years. Before sitting down to write this, I actually tried to calculate how many times we've taken the mind-numbing drive. It has to be at least a thousand times between me and my husband.
Typically, the drive is pretty monotonous – cornfields and farms – nothing too exciting. But it's time to spice it up a bit and take a jaunt on the Mother Road, Route 66. The trip was full of so many surprises, we had no idea we were passing one-of-a-kind places all these years. Check out these cool Route 66 Illinois attractions to add to your adventure!
Starting your trip in Chicago? Click here to read our other article, Route 66 in Chicago.
Route 66 Illinois Map
Joliet, first stop on the road
The Old Joliet Prison has made appearances in many films and television shows but most notably in The Blues Brothers movie circa 1980 and the Prison Break television series.
Officially closed in 2002, there's not much here but a fence triple wrapped in barb wire, a closed-off abandoned building and a parking lot with a few old signs describing the history of the correctional facility. I was told the city used to allow visitors to roam around until this summer when the prison caught fire on two separate occasions.
It would be great if they had some kind of tour, there's a lot of history going back to 1858 when it was built.
UPDATE: The prison is now offering 1.5-hour historical tours outside on the property about the general history including some of its infamous past prisoners.
RELATED: ROUTE 66 MUST-SEE BY STATE
Another highlight of the area, is the Rialto Square Theatre, originally opened in 1926. The lavish vaudeville movie palace has been restored to all of its glory. They have shows throughout the year, history tours, and paranormal tours.
If you are hungry we recommend skipping the diner – since you will be coming across MANY on your journey – and visiting Chicken-N-Spice instead. Established in 1979, it is a favorite among locals and visitors alike. Try their big juicy chicken chunks and spicy rice.
Looking for another scenic drive? Consider the Illinois Great River Road where you'll discover charming river communities, historic sites, beautiful state parks, and more!
Other Route 66 attractions in the area include Rich & Creamy ice cream store, Route 66 Diner, Union Station with MyGrain Brewery, Route 66 Raceway for racecar fans, the Joliet Area Historical Museum and the Route 66 Welcome Center.
A Giant and a Delicious Pulled Pork Sandwich in Wilmington
What would Route 66 be if not for its kitschy and quirky stops? In front of the old Launch Pad Drive-In is the home of the first GIANT muffler man we see on the road. I write first because from what I've read there will be many more. The Gemini Giant with his silver space helmet and rocket ship is hard to miss.
When we walk up to the base to get our obligatory photo we see two young teenagers. They are laughing and posing in his legs while the dad snaps a few pictures. They rush up to me and ask if we are driving Route 66, I say yes that it is our first day. Animated and excited, the boy and girl both start talking at once. They did the trip years back when they were in grade school with their parents and loved it. Their enthusiasm is contagious, I almost skip back to the car with a big smile on my face.
My brother, who doesn't live too far, recommended Nelly's and we've been meaning to stop here for years when we pass by on I-55. What better time than now, our first official day on Route 66. ​They have about a dozen Angus beef burgers to choose from or the option to build your own. I built my own while the hubby ordered the pulled pork.
As much as I enjoyed my burger, oh that pulled pork. YUM!
If you are taking a road trip, Route 66 or not, check out our post about Best Road Trip Apps.
Going to Jail in Gardner
Gardner was a quick stop to the two-cell jail and historic streetcar next door. The jail was built in 1906 and is a fun photo op!
Got thrown in the slammer on Route 66 y'all!
Right next door to the jail is a historic streetcar, it was moved to Gardner in 1932 to serve as a diner along Route 66. We read that it was previously pulled by a horse and carriage!
Making Friends in Dwight
We discovered a secret about Route 66 at the Texaco Station in Dwight. There is a camaraderie among travelers and business owners that I believe we will see throughout our entire ride on the Route.
For some reason, I didn't think about this perspective before the trip. I am realizing the journey along Route 66 might be similar to the pilgrimage we did earlier this year. Not as far as the walking goes but the idea that everyone we meet is connected by one journey. And that connection will wield kindness and kinship.
As we walked up to the Ambler-Becker Texaco Station, for instance, we were immediately greeted by a grinning woman. She asked where we were from, if we were driving the whole route and what stops we already made. She wasn't just asking, she genuinely cared.
Here we also met a man from Michigan with a rad classic purple Studebaker toting a Route 66-themed teardrop. He has made the drive a few other times and shared some of his favorite stops along the way. He gave us a tour of his cute trailer which had Route 66 curtains, pillows, and even the knobs in his kitchen.
Click HERE to see a video of inside the trailer
Route 66 Hall of Fame in Pontiac
Pontiac is home to a few museums but we only had time to stop at one, the Route 66 Hall of Fame and Museum. It is free and has the largest collection of 66 memorabilia in Illinois. We browsed through photos and artifacts that follow the history from the beginning in 1926 to the current preservation efforts of the historic by way. The city itself should be on your list of Route 66 towns to visit even if you don't have time for the museum.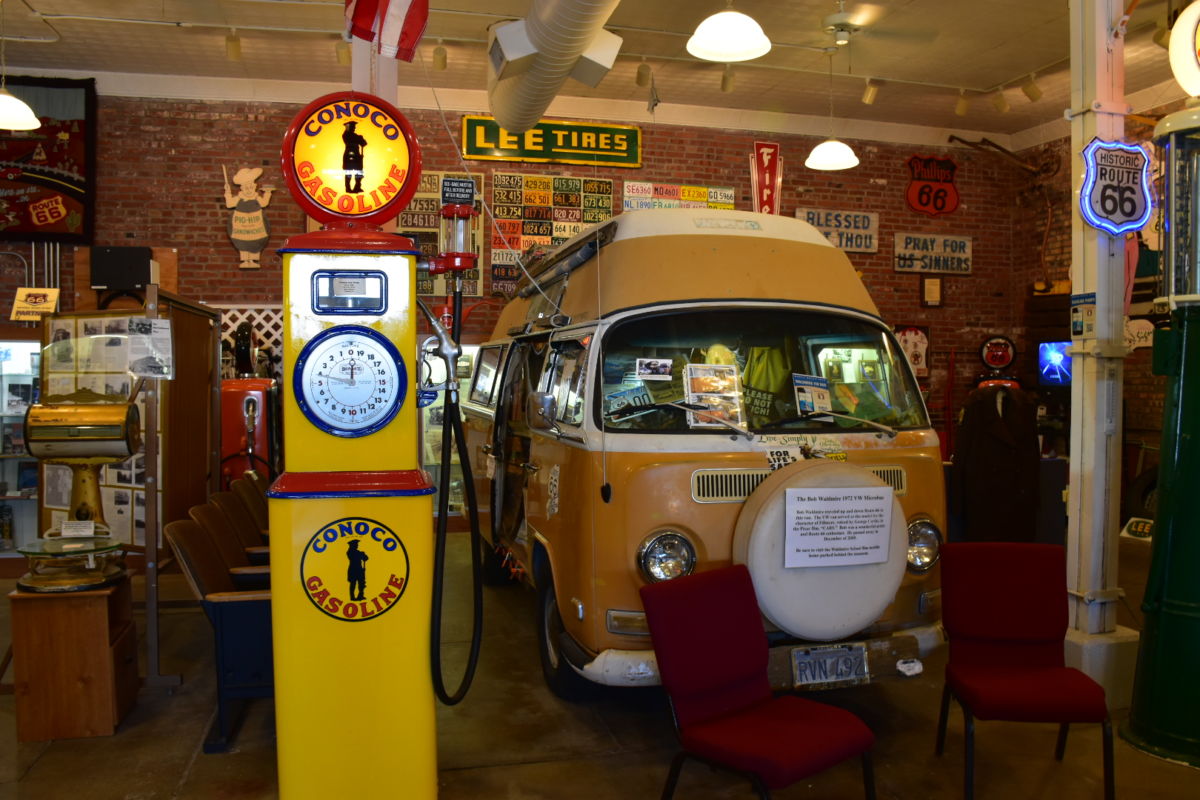 It is in the museum we are introduced to Bob Waldmire, a Route 66 aficionado and legend. He spent years documenting and sketching all things Route 66. He has been connected to the by way since birth. His father and friend invented the corndog made famous at the Cozy Dog Drive In.
Waldmire spent his whole life traveling along 66 in either a school bus turned mobile home (below), a 1964 Mustang, or a 1972 Volkswagen. You can see the real VW and school bus at the museum. Pixar and Disney based the VW Volkswagon, Fillmore, in the movie Cars on him.
The school bus has solar panels for elecricity, a rain water collection system, a cozy back patio, a storage loft, and a workimy toilet and shower. It's pretty impressive! I couldn't believe it was street legal; I would be shocked to see someone cruising down the road in it.

Behind the museum is a must-stop photo op!
We took a short walk around the square and found a couple more picture worthy murals.
Pick Up an Iconic Road Trip Snack in Bloomington
The first surprise we encountered on Route 66 was in Bloomington. The college town is home to the Beer Nut Factory!
You know, the pretzel-peanut mix that they put out at bars to go with your beer? They don't have tours, but the factory has a store that sells various items and offers free samples.
It was just us in there since it was a weekday or maybe because we were in the heart of the Prairie State, but either way we had the place to ourselves. The employees were super nice and it seemed we could have unlimited samples or at least that's what we thought since they let us munch on whatever we wanted, for as long as we wanted.
The store is inside the main doors to the right. We almost didn't go in because it looks like you are entering an office. It was a fun stop to pick up snacks for the rest of our road trip.
What do you mean Sirup with an "i"
Every time I have passed the sign to Funks Grove, a farm on Route 66 selling maple sirup (my computer is even trying to autocorrect now), I wondered why the business left the sign up with a misspelled word which is their main product!
After our visit, we are now in the know. They spell it like that on purpose!
The Funks family has been making sirup for almost 200 years. We stopped in the salesroom to hear about their history, the process of tapping trees, and for a sample.
The sirup (still cannot get used to that spelling) is delicious. It is so smooth, buttery and light, obviously not processed with thick corn syrup.
We are not sirup connoisseurs or anything, but I'd have to say it was the best sirup I've ever had. We've sampled some in Michigan and recently on a New England trip, and this one was right at the top.
Muffler Man Holding a Hot Dog? Sure let's stop!
The quiet little town of Atlanta was the third surprise on our Route 66 road trip. First of all, we pulled into town only to see a giant man holding a hot dog. Can it get any better than that?
It drives my husband nuts that I get such a kick out of goofy roadside attractions. I can't help it, but I really enjoy taking pictures next to weird things!
The town had a few interesting attractions including a public library founded in 1873, wall murals, a café, and a Route 66 memorabilia shop.
Illinois has the Largest 'Something' in the world?
The town of Lincoln has two claim to fames: the world's largest covered wagon and the only town named for Abraham Lincoln before he became president.
He was actually quoted saying, "Nothing bearing the name of Lincoln ever amounted to much." Boy, was he wrong!
The town was bigger than we expected, with the Logan County Courthouse smack in the middle of the square surrounded by boutique shops, buildings with painted wall murals, restaurants, and a movie theater.
The domed stone courthouse, built in 1905, was quite impressive for such a small town.
Lincoln Presidential Museum
Springfield, the state capital of Illinois, is a great destination for an overnight stay. Since the 16th President lived, worked, and was buried here, there's a lot to see.
The Presidential Library and Museum follows Lincoln's life from the very beginning to the tragic end. Kudos to them for a fabulous job bringing history to life. We highly recommend a visit if you are ever in the area.
Obed and Isaac's, a brewery on Route 66
Obed and Isaac's is a brewery with charm. Springfield's first microbrewery, located in a renovated historical home, is just steps from Abraham Lincoln's home where he lived from 1844 to 1861 before becoming the 16th President of the United States.
You have the choice of inside seating in the mansion, outdoor seating on a quiet patio or a picnic table at the bocce garden. The atmosphere is top-notch for a good time.
Lincoln's Tomb
Since we were in Springfield, we decided to stop and see Abraham Lincoln's Tomb at the Oak Ridge Cemetery. To our surprise, they were having a flag-lowering ceremony performed by civil war reenactors.
At first, we thought they were filming a movie or something because we saw people dressed up in Civil War uniforms and women in dresses from that era. We asked around and found out that every Tuesday night from June till August, the 114th Volunteer Infantry Regiment of the Civil War performs Civil War drills, firing of muskets and flag-lowering events in front of the Lincoln Tomb.
You can experience part of the ceremony on our YouTube Channel. We just happen to be there that day!
Engrained Brewery, a perfect stop for dinner
Engrained Brewery is fairly new on the scene, but the combination of a locally sourced restaurant and reviews of excellent beer had us intrigued.
The delicious food made up for any misgivings. We had the Heirloom tomato salad, fish n chips, grilled chicken with sauteed vegetables, and raspberry shortcake for dessert.
Angela's favorite beer: Blackberry IPA and Peach Saison
Dave's favorite beer: German Lager and Oatmeal Stout
Our last stop in Springfield was a recommendation from one of our readers. We were told to stop by Maid-Rite Sandwich Shop for a loose-meat sandwich. The sandwich shop in Springfield was built in 1924 and claims to have the first drive-thru window in the U.S. The building, along historic U.S. Route 66, was added to the National Register of Historic Places in 1984.
I'll be honest when I read the description of what it is- loose ground meat with pickles, onions and mustard- it didn't sound too enticing but we were willing to give it a try!
We opted to check out the inside. The minute we walked in, I could smell the root beer. So naturally, we had to order one to try.
Even when I opened up my sandwich wrapper and looked inside it still didn't sound or look enticing but it was good and the root beer even better.
*Tip: Skip the fries and just go for a root beer and sandwich*
Oddly enough, Illinois was the first state to hard surface their section of Route 66 and yet the first to decommission it.
The Illinois Capitol Building
Do not miss the dignified Illinois State Capitol when visiting Springfield.
Fun trivia: In the late 1800's, Secretary of State Henry Dement was known to hunt pigeons from the roof of the State House with a shotgun. Can you imagine?
Springfield Illinois Lodging
We stayed at the State House Inn, a boutique hotel located near the state capitol building and Lincoln Home National Historic Site. It was perfect for what we needed. Clean room with a good location and a free hot breakfast. My only complaint is the pillows; they were big round balls. Sounds comfy right?
Next we are heading down to St. Louis, Missouri. I wonder what adventure awaits for us there…
What are your favorite Route 66 attractions? Tell us in the comments below!
Don't forget to sign up below to be the first to know when a new post comes out so you can follow along on our adventures!
Disclaimer: This post contains affiliate links, if you book through our link we will receive a small commission at no additional cost to you. Thanks for your support as this helps with the cost of running the website.