There's nothing that captures the heart and soul of America like a cross-country road trip. From the very beginning of the westward expansion, promises of prosperity and opportunity enticed Americans to make the long journey. With the invention and eventual mass production of the automobile in the early 1900s, all of a sudden, the possibilities were endless.
The open road became synonymous with hope, freedom, and adventure. A certain kind of wanderlust was born; the dream of discovery of oneself and what lie waiting in the uncharted depths of America's Wild West.
Route 66, the Main Street of America it is often called, came into existence in 1926. It ran 2,451 miles across eight states: Illinois, Missouri, Kansas, Oklahoma, Texas, New Mexico, Arizona, and California. It progressed from city skyscrapers to dusty roads of the desert to the wild waves of the Pacific Ocean. Making the journey on the two-lane highway quickly became a right of passage for the adventuresome.
"IT'S NOT THE DESTINATION. IT'S THE JOURNEY."

Even though Route 66 has been decommissioned since 1985, it still remains a path shrouded in mystery and a sense of wonder. The idea of this uniquely American road trip has fascinated me for as long as I can remember and it's time to discover the romance behind the road.
Join us as we begin our 50-day journey across the great American landscape via Route 66! And it all starts in Chicago…
Chicago Route 66 Attractions
I was born and raised on the south side of Chicago, but my husband and I now live in the suburbs, just a short train ride away. So instead of driving into the city, we chose to take the Metra train down and cross off a few items we've been meaning to do.
Buckingham Fountain
Let's start at the beginning or is it?
Buckingham Fountain, one of the world's largest fountains, is often mistakenly considered the start of Route 66. Even though it's not, it is still an iconic part of Chicago's landscape. I've heard people say the fountain, situated along Lake Michigan in Grant Park, is in Chicago's front yard. We are lucky to have a peaceful large green space next to a bustling downtown.
The fountain runs from early May to mid-October and spouts water up to a height of 150 feet in the air every 20 minutes.
Read HERE to find out more about our Route 66 Trip!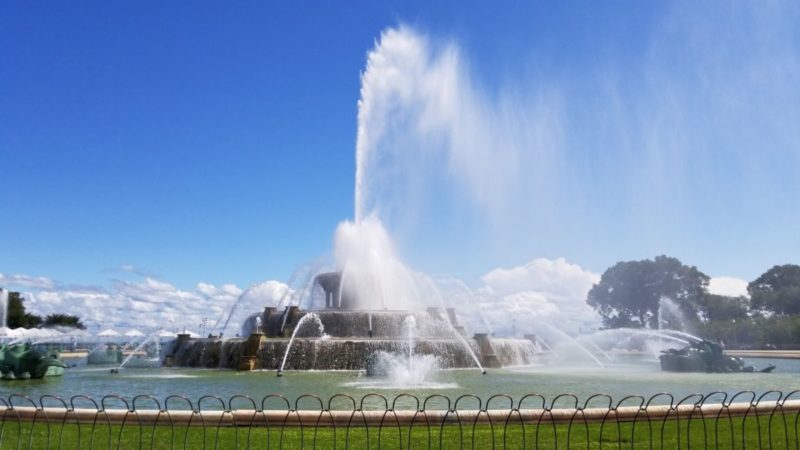 READ NEXT:
OTHER FUN ROAD TRIPS FROM CHICAGO
Chicago Route 66 Sign – Where it all Begins
Across the street from the renowned Art Institute of Chicago, near the intersection of S. Michigan Avenue and E. Adams Street, you'll find a few signs designated as the official Route 66 starting point. Many tourists, not necessarily taking Route 66, snap pictures with the historical marker. Not us, we are the real deal on this trip.
Route 66 here we come!
Standing on a Ledge at Skydeck Chicago
Can you believe we are from here and have never gotten out on the ledge of the Skydeck at the Sears Tower? I know, I know, it's Willis Tower but to me and most Chicagoans, it will always be the Sears Tower.
Situated 103 floors and more than 1,350 feet over the city streets, the Ledge is a MUST-DO when visiting Chicago. I'm ashamed it has taken us this long to experience it. On a clear day, you can see four states – Illinois, Indiana, Wisconsin and Michigan. The Willis Tower, a long-time symbol of the city, offers incredible views and an unforgettable experience.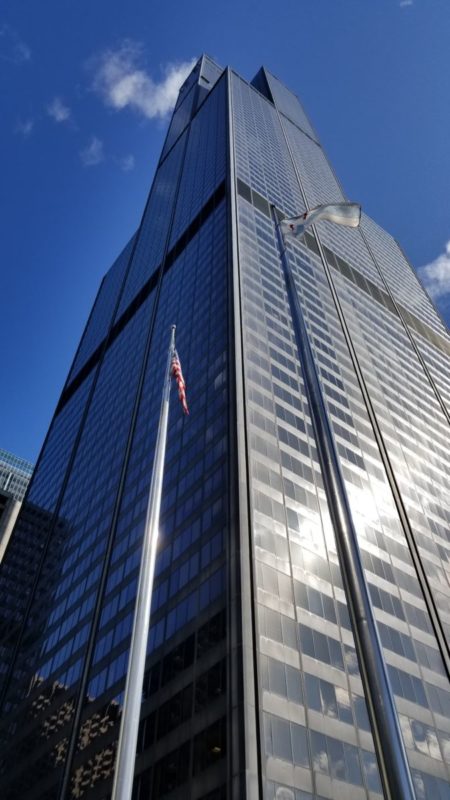 We lucked out with weather this morning, it is partly cloudy with temperatures in the upper 60's. It's supposed to rain this afternoon so first things first we decide to get up in this skyscraper before it gets bad out.
We lined up with about 15 other people ten minutes before opening and the elevator doors unlocked right on time. We breezed through ticket sales and stopped in a room for a brief video about the Sears Tower and its history.
*TIP: If you are interested in also going to the aquarium, museum or the other observation deck at the John Hancock Building, look into a CityPASS for cost savings*

Did you know it all started as a building to house Sears, Roebuck & Company's employees all in one place? Sears did a little research and came up with the number of 3,000,000 square feet. That's how much office space was needed in order to put them under one roof.
Willis Tower Fun Facts
It is the twelfth-tallest building in the world
Weighs 222,500 tons (almost 20,000 city buses)
Cost $150 million to build over 3 years
Has 16,100 tinted windows
Approximately 1.5 million tourists visit the Skydeck annually
After the video, we were off on our way up to the highest observation deck in the United States! You could blink and almost miss the elevator ride. It is ridiculously fast. Come to find out, the elevator operates as fast as 1,600 feet per minute – one of the fastest elevators in the world.
*TIP: Free Admission for Active Military Members*
And now comes the Ledge experience… I wasn't sure if I would be nervous to step out. As we waited our turn, we watched a man from Europe sit down then scoot on his butt, feet first, onto a small section of the ledge – all while clutching his chest begging his friend to take the pictures as fast as he could. I thought, well at least if I get scared it won't be that intense!
Our turn came and we were both so excited for the views and the craziness of the moment, that we totally dismissed the fact that we were hanging over looking down 1,350 feet!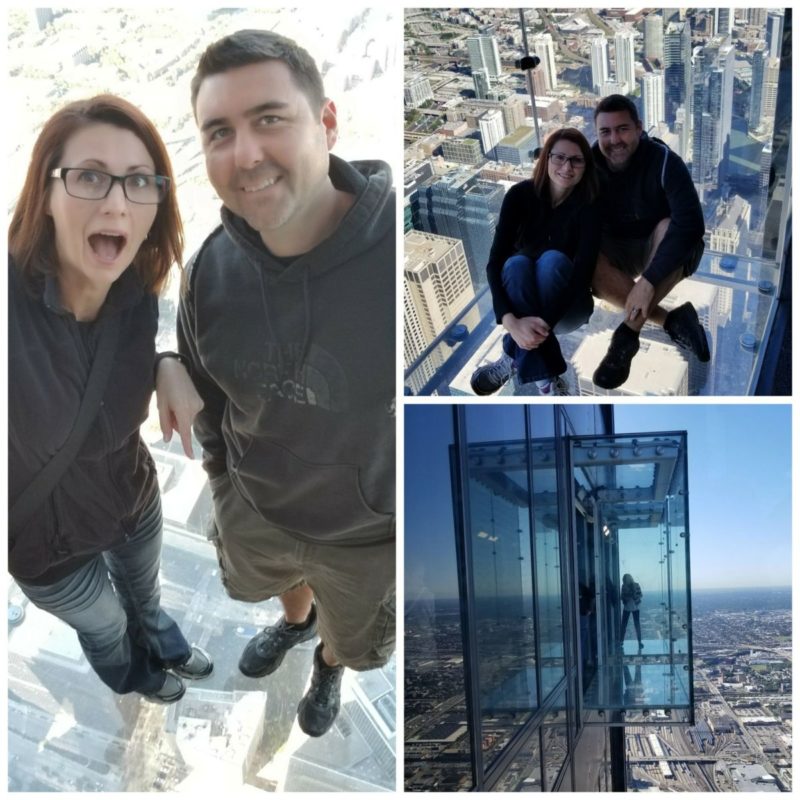 Lou Mitchell's, a Chicago Route 66 Relic
Apparently living on the edge – literally – makes you ravenous. It's time to eat! We stopped off at a Route 66 original, Lou Mitchell's restaurant. It was inducted into the Route 66 Hall of Fame in 2002 and has been serving food for almost a hundred years.
Lou Mitchell's knows how to welcome guests; we didn't even get a chance to say "a table for two" before the hostess dropped a free doughnut hole into our hand.
Another fun bonus at Lou Mitchell's is the tradition of handing out a box of Milk Duds to ladies and children. I received mine when I sat down at our booth. Apparently they were originally manufactured in Chicago and the owner of the company was both a loyal customer and dear friend of Uncle Lou's. He began handing them out decades ago and the tradition stuck.
We shared a fluffy omelet and an order of pancakes while soaking in the idea that patrons have been visiting the establishment since horse and buggies were still around.
Tomorrow, we hit the open road. What a great start to our Route 66 road trip!
Scroll down for tips on your visit!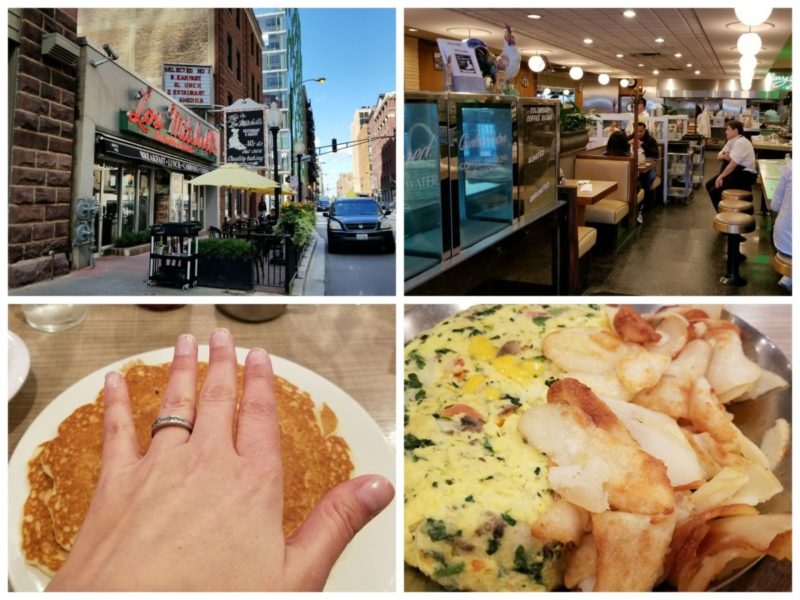 INFORMATION – KNOW BEFORE YOU GO

Willis Tower Skydeck, 233 South Wacker Drive, Chicago, IL (Enter Skydeck on Jackson Boulevard)

Summer Hours (Mar-Sept): 9am-10pm

Winter Hours (Oct-Feb): 10am-8pm

Selfie sticks are allowed

Sunset would be an ideal time to visit

Not like most attractions, the Skydeck promotes lying, sitting and jumping on the ledge so be ready for your pose
Other Suggested Stops and Eats in the Area: Garrett Popcorn, Millennium Park, Giordano's or Gino's East Deep Dish Pizza, Maggie Daley Park, and Grand Central Station
Don't forget to sign up below to be the first to know when a new post comes out so you can follow along on our adventures!
Disclaimer: This post contains affiliate links, if you book through our link we will receive a small commission at no additional cost to you. Thanks for your support as this helps with the cost of running the website.

Like it? Pin it!