Las Vegas is one of the most popular tourist destinations in the United States, and has a reputation for entertainment that has lasted generations and spread around the world. The planet's greatest casino hub and by extension a hot spot for performances, fine dining, nightlife, and just about anything else you might want in a vacation, it can actually be a little bit overwhelming. Planning a trip there, you'll find you're inundated with dozens of intriguing options for just about every aspect of how you might want to spend your time.
So how can you narrow things down and organize your trip? To begin with, you should know that you'll likely end up spending a lot of your time at whichever resort you choose to stay at. Sometimes you'll have access or perhaps a better rate to in-house entertainment, and it will just be more appealing than exploring other resorts. However, the Vegas establishments are aware that people want to pick and choose their experiences, so some hopping between resorts (or at least resort attractions) is certainly a good idea.
This is by no means a comprehensive or definitive guide. But to help you narrow down some of the bigger decisions that go into a Vegas itinerary, I've highlighted some popular picks for the best options in major categories.
Best Resort To Stay At
This may ultimately be the toughest call to make. The Wynn may have the best overall reputation; the MGM Grand and Mandalay Bay can be more family-friendly; and the ARIA is a popular pick as one of the newer and more state-of-the-art resorts. But the Mandarin Oriental is the pick here, as perhaps the most unique top-tier resort in town. It doesn't feature a casino on the property, and has fewer rooms than most of its counterparts, making it feel a little more intimate. It's quieter and classier with big, luxurious rooms, and it's right in the middle of the action, meaning it's a nice base for exploring other casinos.
Best Pool
In choosing the best pool, it sort of depends on what you're looking for. Some of the resort pools are meant for relaxation, some are for kids and families, and others are effectively daytime versions of nightclubs. I'd probably single out the ARIA here, not for one pool but for a selection of them. The ARIA has three pools (with accompanying hot tubs), with the "Liquid Lounge Pool" serving as the club-like one and the others built more for relaxation. The variety, as well as the pure quality of the facilities, sets the ARIA apart.
Best Place To Play Poker
We could talk about the best casino floors in general, but the truth is most every resort has a huge selection of slot machines, video poker, roulette and the like. What a lot of visitors are more curious about is the chance to play poker and feel like a high roller. And for this kind of activity, there's no bigger player in town than the Bellagio. The poker room at this legendary resort is known for hosting the "Big Game" (where millions of dollars are on the table), and for hosting pros on a regular basis. And while it's not a cheap experience, you can try your hand at the tables as well.
Best Bar
As with the pools, it sort of depends on what you're looking for here. Some bars in town, like Minus5 at Mandalay Bay or The Bourbon Room at The Venetian, thrive on very particular themes. There are also some legendary dive bars off the Strip if you're looking to get away from the general gaudiness of Vegas. But for one of the more unique and enjoyable atmospheres, I'd point you toward Parasol Up & Parasol Down, a dual bar at The Wynn. The upstairs bar (Parasol Up) sort of blends into the nearby casino, while Parasol Down feels a little more intimate and relaxed, with wonderful views of the resort grounds and a more enclosed space.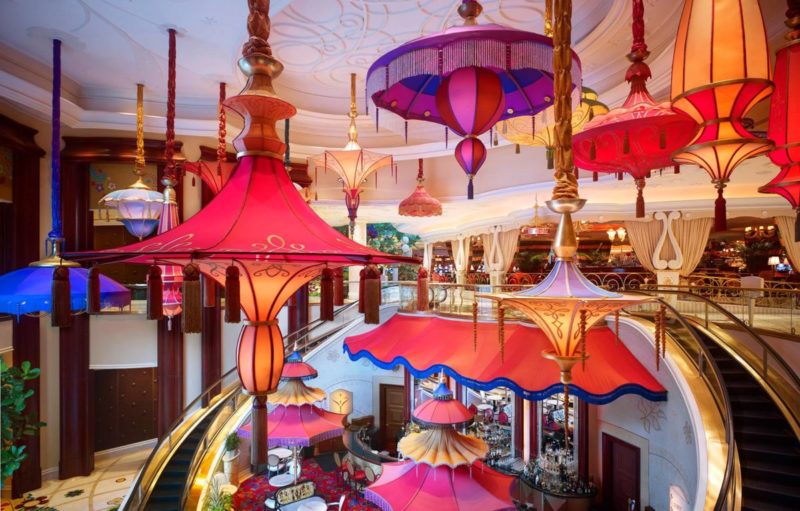 Best Restaurant
Vegas offers up a whirlwind blend of restaurants, some casual, some featuring fine dining, and some run by the kinds of celebrity chefs you see on television shows. Smack in the middle is Bazaar Meat by José Andrés, a pricey but wonderfully unique establishment at SLS Las Vegas. Said to be dedicated to celebrating the bounty of the Earth, it's a restaurant with a heavy focus on special ingredients. While it appears to be a steakhouse at first glance, the menu goes well beyond beef and even heavy meats, providing all kinds of options that will make your mouth water.
That should help a little bit! We could delve into other categories as well: the best spas, nightclubs, show venues, etc. But those come down to personal taste even more than some of the categories above, and you might be best off making a few judgment calls once you arrive in town.
Enjoy your time in Sin City!
Our guest post this month is from Trevor Clark, a travel blogger and freelance lifestyle writer. He lives in Seattle and spends his free time meeting friends for drinks and struggling to learn guitar.