Here are the best things to do in Springfield MO
Springfield is often recognized as the birthplace of Route 66, the two-lane ribbon highway that eventually became known as the iconic "Mother Road."
On April 30, 1926, at the Colonial Hotel via telegram, Springfield businessman John T. Woodruff and Oklahoma businessman Cyrus Avery first proposed U.S. 66 as the name of the new Chicago-to-Los Angeles highway hence the "birthplace" designation.
A Route 66 road trip is what led us to Springfield, Missouri, but we immediately figured out there are heaps more to discover in the state's third-largest city.
Another Fun Missouri Adventure:
Cool and Unique Mark Twain Attractions in Hannibal
1. Explore Route 66, America's Main Street
It's why we are here so of course, the number one thing we recommend is going to be about Route 66!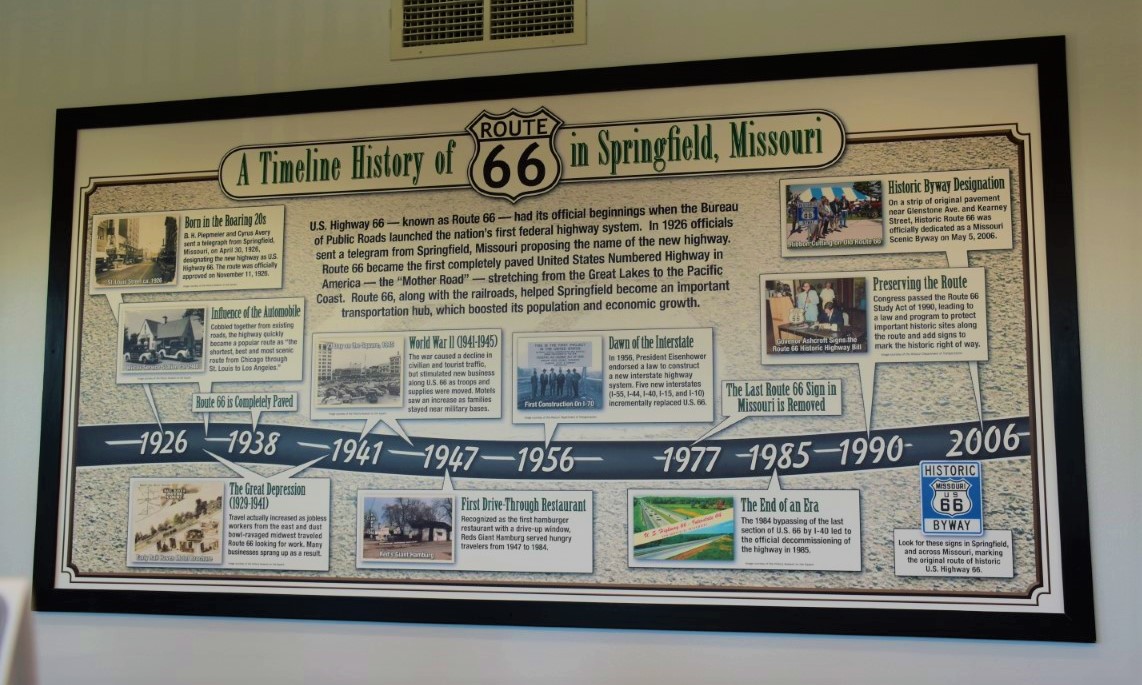 Start your day of exploration at the Route 66 Springfield Visitor Center (815 E St. Louis Street) to pick up information on the area, free souvenirs like the postcard and wooden nickel we received, maps, and tips from the helpful staff. Open Monday – Friday 8 AM – 5 PM.
The center is chock-full of history and many photo opportunities. And don't forget to tag your pictures with #LoveSpringfield!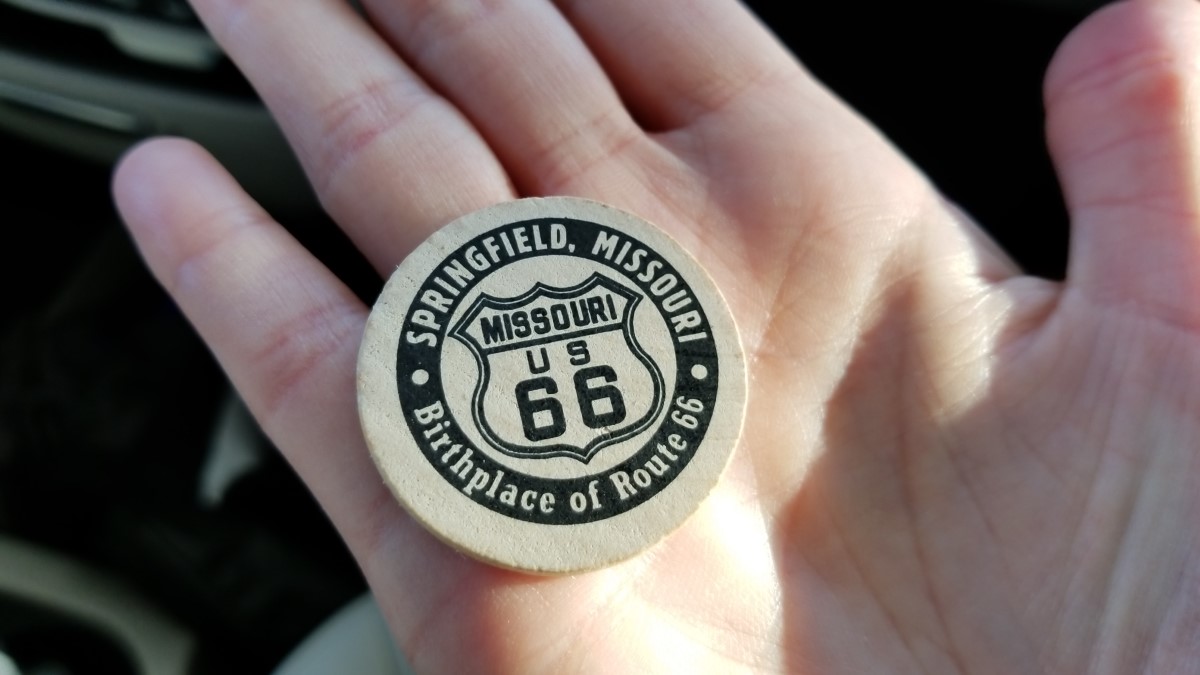 Next, check out the Best Western Route 66 Rail Haven at 203 S Glenstone Avenue. The motel has been welcoming travelers for over 80 years and has made the National List of Historic Places.
Even if you are not sleeping over, make sure to stop by and take a look around.
If you're traveling through St. Louis, make sure to check out my other article, The Best Things to Do in St. Louis
Another interesting pit stop is the Route 66 Car Museum.
With over 70 American and European cars in the collection, the museum houses seven Jaguars, two Rolls Royce cars, and a couple of Brass-Era cars that predate 1910.
Inside the garage, you'll also discover several celebrity and famous cars used in cinema like the truck from the movie "Grapes of Wrath" starring Henry Fonda.
The 1926 Hudson speedster transformed for John Steinbeck's adaptation was discovered 69 years later and restored to its full period racer glory. The almost-century-old truck has less than 8,000 original miles on it.
READ NEXT: OTHER MUST-SEE ROUTE 66 ATTRACTIONS
Where: 1634 W College Street
2. Visit the ORIGINAL Bass Pro Shop
Even if Bass Pro isn't your thing, this megastore is worth a visit. Coined the "Granddaddy of All Outdoor Stores," it is HUMUNGOUS at 500,000 square feet.
You can spend hours shopping the astounding assortment of outdoor gear, browsing the precise details of every display, looking for wildlife such as gators and fish, eating lunch or dinner at Hemingway's Blue Water Café, grabbing a coffee and piece of fudge, or visiting both of the free museums inside.
Johnny Morris is a genius when it comes to anything he puts together so I was not surprised that I enjoyed walking through both museums.
The NRA National Sporting Arms Museum displays the progression of sporting arms throughout the years. It also has a few guns once owned by famous people such as Jesse James and Annie Oakley, totally fitting in with our "heading-out-West" theme of the road trip.
The Archery Hall of Fame was an entertaining stroll as well that takes a historical glimpse into the archery world in the United States.
RELATED: THINGS TO DO IN SPRINGFIELD, IL
Where: 1935 S Cambell Avenue
3. Toast to the Craft Beer Craze at Local Breweries
The craft beer boom has hit the Ozarks with Springfield home to multiple local breweries.
One of the oldest, Springfield Brewing Company has been around for twenty years and focuses on true to traditional English, German, and American style ales and lagers. The food is a major draw as well.
We had a local tell us it's the best breakfast place around. Breakfast at a brewery? Okay, table for two, please!
Mother's Brewing Company, another local favorite, is on the path of where the original Route 66 meandered. They not only have a taproom for sampling but an awesome outdoor patio with a stage, picnic tables and bean bags as well.
Another brewery found along Springfield's Route 66 is Lost Signal Brewing Company. They opened up in a building that once housed the KICK radio station, hence the name, and is now a popular hangout for beer and barbecue. Update: Unfortunately, Lost Signal is permanently closed.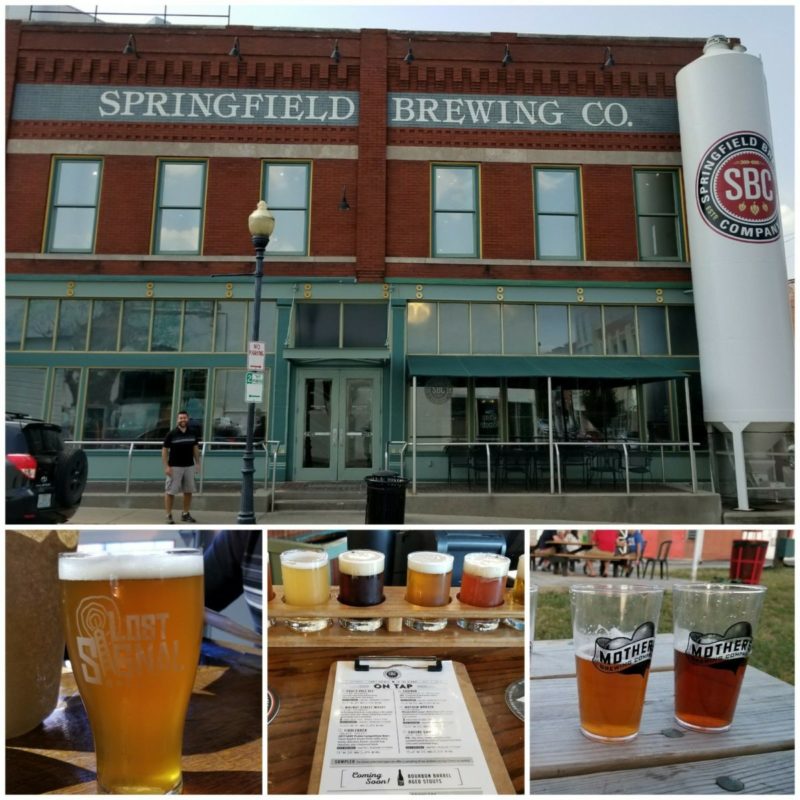 UPDATE: Since our visit, there have been a few additions to the beer scene: 4 By 4 Brewery, Tie & Timber Beer Co., Hold Fast Brewing, and Prehistoric Brewing Company. If you get a chance to visit before us, let us know in the comments below!
4. Explore One of the Most Immersive Conservation Attractions in the World
Next door to Bass Pro National Headquarters, the Wonders of Wildlife National Museum and Aquarium is another Johnny Morris masterpiece.
Home to a 1.5 million gallon aquarium with 35,000 fish, birds, mammals, and reptiles and a museum filled with wildlife galleries, artwork, dioramas, and special collections, the Wonders of Wildlife will keep you entertained all day long.
We took a detour from our Branson trip with our nephews to explore "America's best new attraction" and even after five hours, the kids did not want to leave. There are so many interesting and interactive displays.
It is a do-not-miss on our list for things to do in Springfield, MO with kids.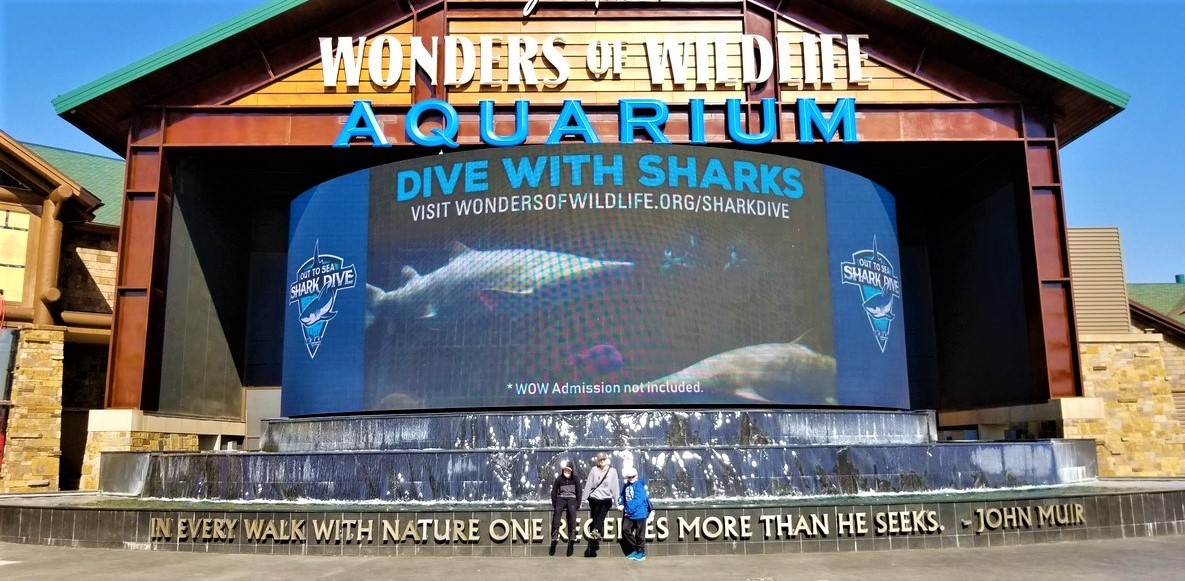 How far is Branson from Springfield MO? It's under an hour's drive between the two cities. It's a straight shot south on US-65.
Read our other article next if you are planning a trip there: Fun Things to do in Branson, MO
Where: 500 W Sunshine Street
5. Learn about the Second Major Battle of the Civil War
The Battle at Wilson's Creek in 1861 was not only the second major battle of the Civil War but the first major one west of the Mississippi River.
Watch a well-done 27-minute film about the battle and tour the museum at the Visitor Center, then drive the 5-mile loop to see where it all unfolded.
Make sure to walk the short trail to the Ray House where you can see the actual Civil War-era house that eventually turned into a makeshift hospital for the wounded and dying.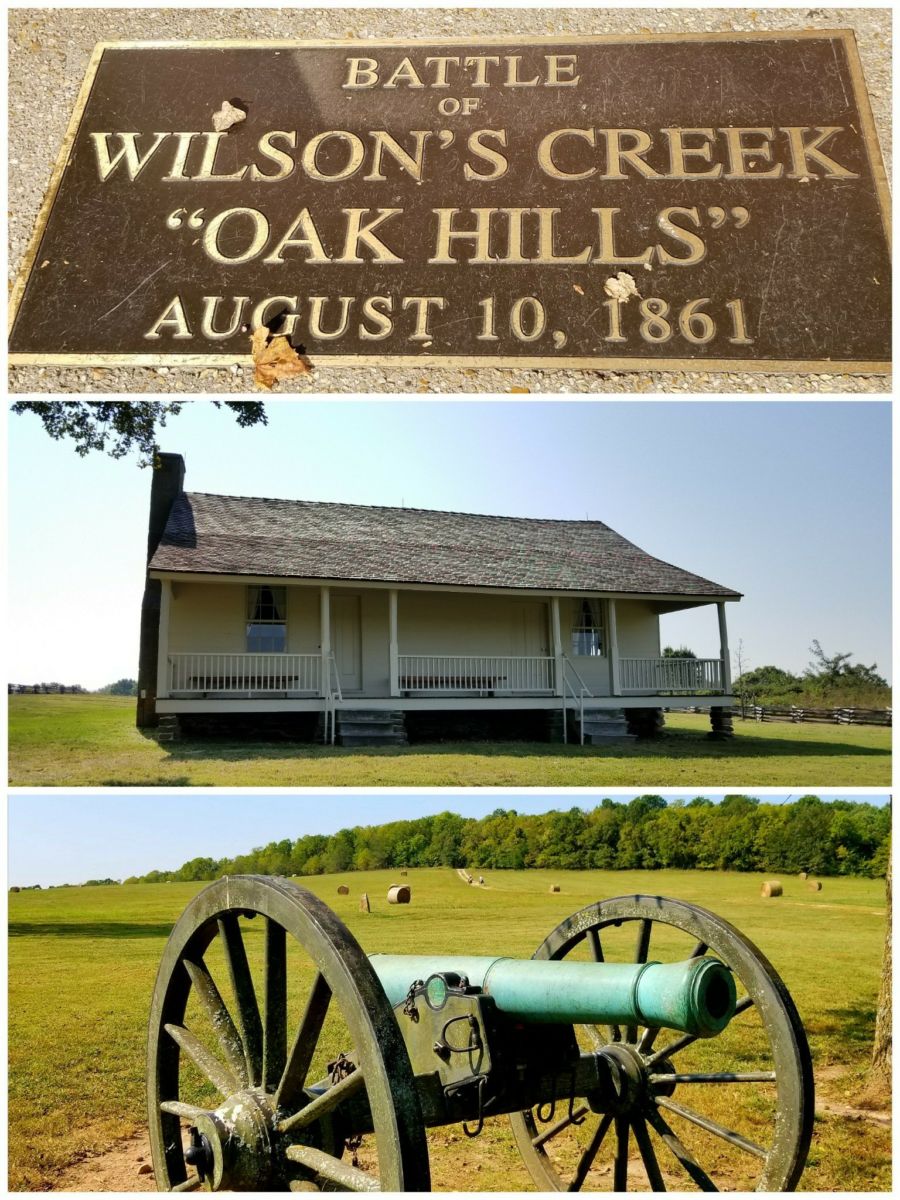 Where: 6424 W Farm Road 182
6. Stand Next to the World's Largest Fork
Holy fork! At a whopping 35 feet tall and 11 tons, the world's largest fork is a fun stop.
It's a little off the beaten path, behind an ad agency, not readily visible from the street but worth the detour if you like quirky stops like me.
There are many other exciting things to do in Springfield Missouri so keep on reading!
Where: 2215 W. Chesterfield Street
7. Tour the Only Ride-Through Cave in North America
Besides Fantastic Caverns being the only ride-through cave in North America, it's also only one in four in the world. A Jeep-drawn tram takes you into the depths of an Ozark cave originally discovered by a farmer back in 1862.
He kept it a secret for years and it wasn't explored until 1867 when twelve women answered his newspaper ad "seeking explorers." We saw the women's names etched into the rock along with beautiful formations and untouched chambers on our tour.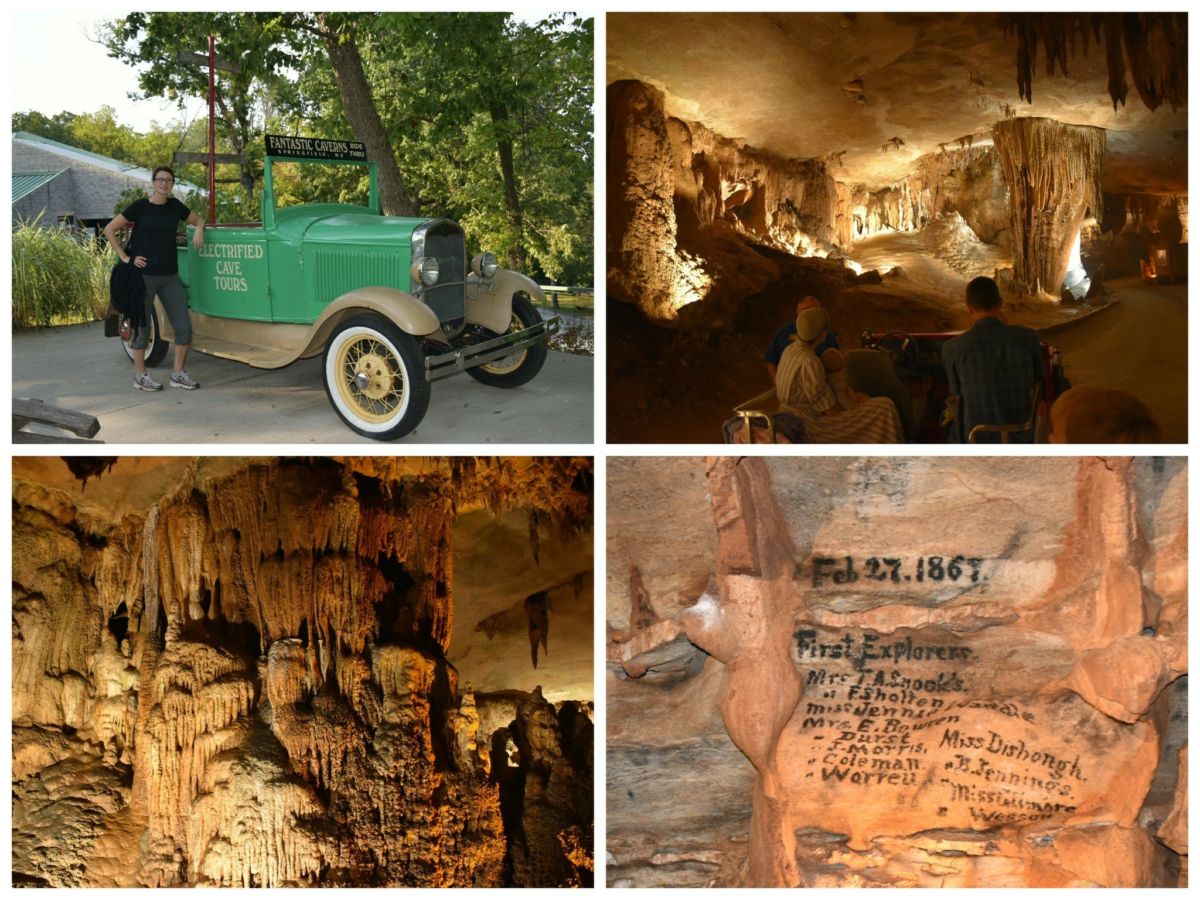 Where: 4872 N Farm Road 125
8. Pedal and Drink your way Around Downtown
It's a party on wheels with 417 Pedal Tours! One of the fun things to do downtown Springfield, MO is pedaling around on an illuminated open-air 14-passenger quadricycle.
We began and ended our night at Lost Signal Brewery but stopped at a few establishments in between. My cheeks hurt at the end of our two-hour extravaganza from laughing and smiling so much.
UPDATE: The Trolley Bike is now 417 Pedal Tours and will reopen in 2021.
9. Eat a Wild and Crazy Donut
Hurts Donuts has many locations now but first gained momentum in downtown Springfield circa 1999. I have never seen so many over-the-top donut creations!
From cereal-themed like Fruit Loop killer to candy-themed like Twix toppings, there are so many options it'll make your head spin.
Then there are the basic you-know-they-will-taste-good donuts like S'mores, Nutella, Oreo Cheesecake, German Chocolate, and Cookies 'n Cream. Oh and let's not forget the shakes where they grind up a donut with ice cream and plant one on top around your straw. Oh the joy…
Where: 320 Park Central W
10. Take the BEST Selfie Ever
Apparently, Springfield's Hotel Vandivort, a luxury boutique hotel, is THE place to be for selfies.
To be exact, the bathroom at the Hotel Vandivort is the place to be. I thought the people who told us this were pulling our leg too, but nope it's the real deal. There is even a hashtag designated for such an event, #HotelVandivortBathroomSelfie.
When we walked into the upscale and swanky hotel, I felt I needed to immediately go full-on incognito mode, but the grinning hotel staff just pointed us in the right direction. It's something with the lighting that supposedly transforms us into our better selves.
I have to admit we were impressed with the results. We took this after an 8-hour day of exploring Springfield (for me that was) including being on the bike tour for an hour pedaling up hills and down streets so I'll take it!
Where: 305 E Walnut Street
11. Shop at Missouri's Largest Antique Mall
We are not typically antique shoppers, but we noticed many of them along Route 66 and decided to see what they were all about. So why not stop at Missouri's largest one? The Relics Antique Mall is lined with booths full of antiques and one-of-a-kind collectibles.
We had a snack break in the adorable tea room with their specialty Apricot Mango Tea and a slice of Lemon Berry Mascarpone Cake that was absolutely marvelous!
Where: 2015 W Battlefield Road
12. Feed a Friendly Giraffe at Dickerson Park Zoo
One of the most unique things to do in Springfield, MO is getting to experience the giant giraffes up close at Dickerson Park Zoo.
The zoo itself is a pleasure to walk through – beautifully landscaped walkways, flowing waterfalls, and intimate exhibits that make the animals easy to spot.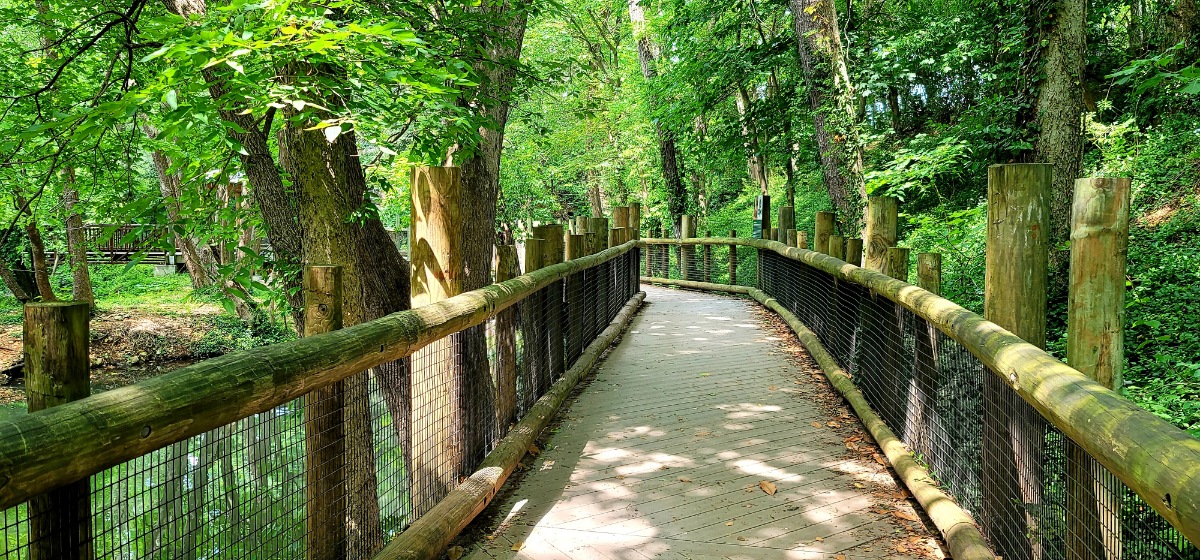 It's the perfect-sized zoo: not too big and not too small. Plan to spend about two to three hours on your visit.
There are a variety of critters sectioned off by geographic region and an Express Train that'll take you around the property for a nominal fee.
The standout feature is the feeding station at the giraffe deck. You get face-to-face with the world's tallest land mammal.
You don't necessarily have to pay extra for the feed to get close to them, but it does make the meeting extra special if you do!
Note: The deck is open from 10 am to 4 pm and closed from November through February.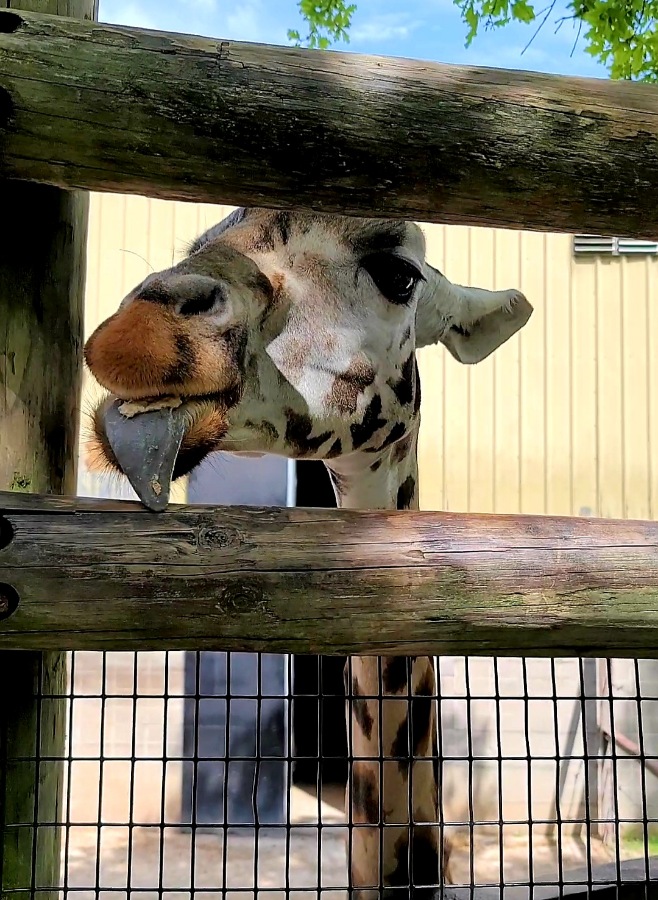 Where: 1401 W Norton Road
13. Springfield History Museum on the Square
One of the newly restored attractions in Springfield is the History Museum right on Route 66.
As soon as you walk in the door, you are taken back in time through the significant events of the city.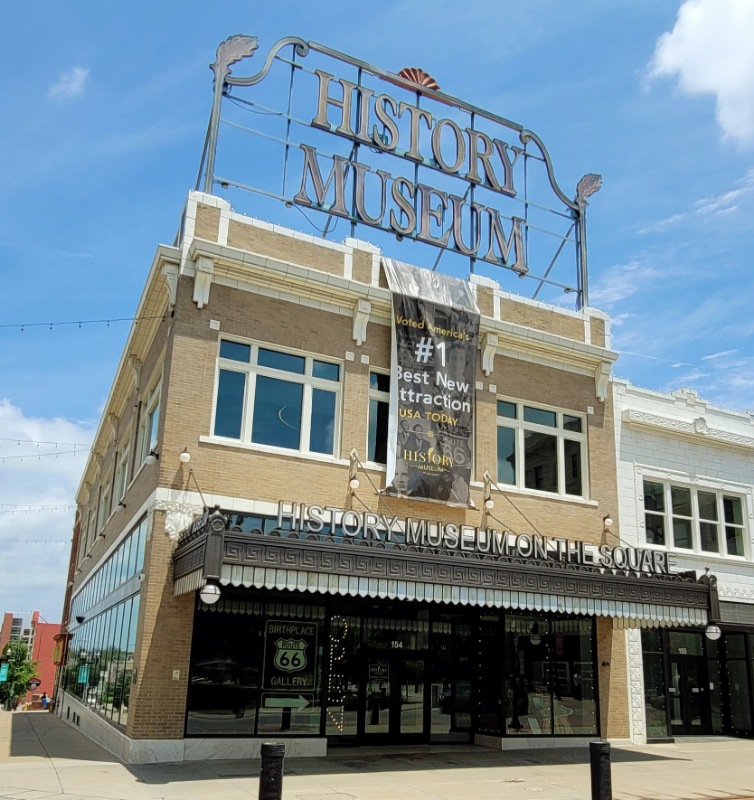 From the Native American tribes that were first on the scene to Missouri's official statehood and the Civil War, the exhibits display important artifacts and photographs of Springfield's rich history.
Did you know the first recorded shootout of the Old West happened in Springfield? And one of the culprits was Wild Bill Hickok!
The quick-draw duel occurred right outside in the square in front of the museum. Though I'm sure it looks way different compared to 1865.
Our favorite exhibit is the Birthplace of Route 66, where you have photo ops galore. It has all sorts of memorabilia from the most popular road in the United States including replica neon signs, paintings, and a 66-foot long timeline with favorite stops by state.
We spent 50 days exploring the Mother Road, read here for all our recommended Must-See Route 66 Attractions.
Where: 154 Park Central Square
Where to Stay in Springfield
This family-friendly hotel has an indoor and outdoor pool.
It is rated superb, is in a central location, and has free parking.
If you are looking to book a hotel with a full kitchen, take a look at this hotel with an indoor pool.
It is close to the Wonders of Wildlife Museum and Aquarium which is a must-do on your visit!
Disclosure: The hotel links included in this article are affiliate links, if you book through any we will receive a small commission at no additional charge to you.
Don't forget to sign up below to be the first to know when a new post comes out so you can follow along on our adventures! What other Springfield MO attractions do you recommend?
Do Us a Favor? Pin for Later!