Hannibal would probably be a sleepy town in northeastern Missouri if not for Mark Twain. Instead, he catapulted it on the American map by immortalizing the city and its residents as the fictitious town and people of St. Petersburg in The Adventures of Tom Sawyer and The Adventures of Huckleberry Finn. Let's talk about all the fun and unique things to do in Hannibal Missouri that make this place so special.
We spent some time exploring the area with my family – brother, sister-in-law, and two nephews – and loved every minute of it!
What is Hannibal MO known for? There is no doubt that Hannibal's claim to fame is Mark Twain as you'll see his name and the names of his characters EVERWHERE throughout the city.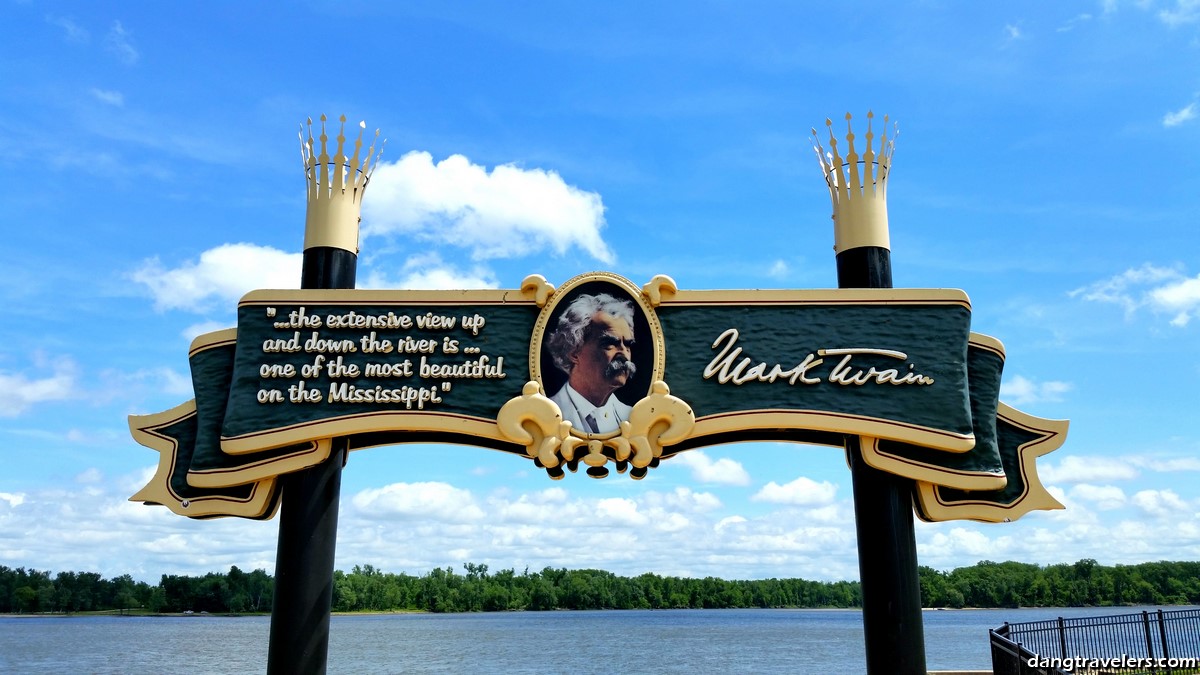 Mark Twain, The Voice of Quintessential America
Samuel Longhorne Clemens, a.k.a. Mark Twain, lived in Hannibal from the ages of 4 to 17. He drew most of his inspiration for his writing from his personal experiences and adventures as a young boy in and around Hannibal.
Hannibal made my list of Fun Spring Break Destinations in the Midwest, click here to read what other places did too!
Mark Twain not only brought the town of Hannibal alive in his stories but touched on the most significant struggles in American history.
On the surface, his two most famous books are coming-of-age stories about innocence, exploration, and untamed imagination, but at the core, they are about the common folk, identity, prejudice and progress.


America is a vast land of diversity and change so it is hard to pinpoint just one thing that would be considered quintessential America, but Mark Twain's books are widely accepted as American classics.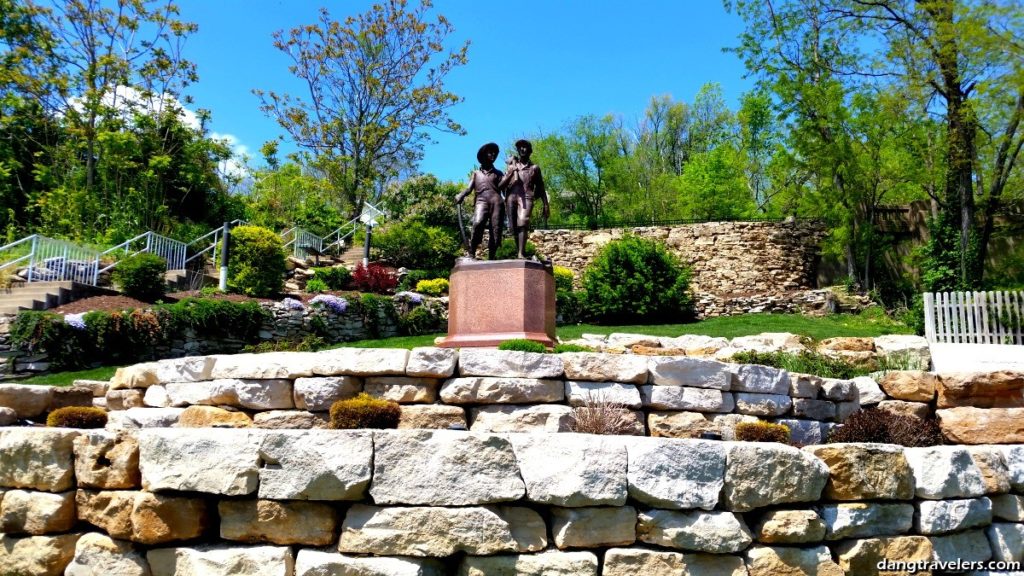 Where is Hannibal, Missouri?
Hannibal sits on the Great River Road along the Mississippi River roughly 115 miles northwest of St. Louis, Missouri. With Lambert International Airport being the closest commercial airport to the city and no train service, driving is your best option for your visit.
It is a short driving distance from a few major Midwest cities:
Top Things to do in Hannibal Missouri
The Adventures of Dang Travelers
Mark Twain Boyhood Home and Museum: History Comes Alive
The Mark Twain Boyhood Home and Museum is a collection of five historic buildings, two museums, and three museum shops.
Wandering on your own through the five buildings -Mark Twain Boyhood Home, Becky Thatcher House, John M. Clemens Justice of the Peace Office, Grant's Drug Store, and Huckleberry Finn House- you'll encounter photographs of Mark Twain, his family, friends, and memorials dedicated to him around the world.
The historical site houses a comprehensive collection of printed material including books on Mark Twain, advertising pieces for his writing, original letters written by Mark Twain, and first editions of all Mark Twain's major works.
Mark Twain Cave: The Kids' Favorite Attraction
The Mark Twain Cave is a short drive or trolley ride outside of downtown Hannibal.
Opening in 1886, it is the oldest operating show cave in Missouri and is a National Natural Landmark. Mark Twain referenced the cave in five of his books which brought it instant fame.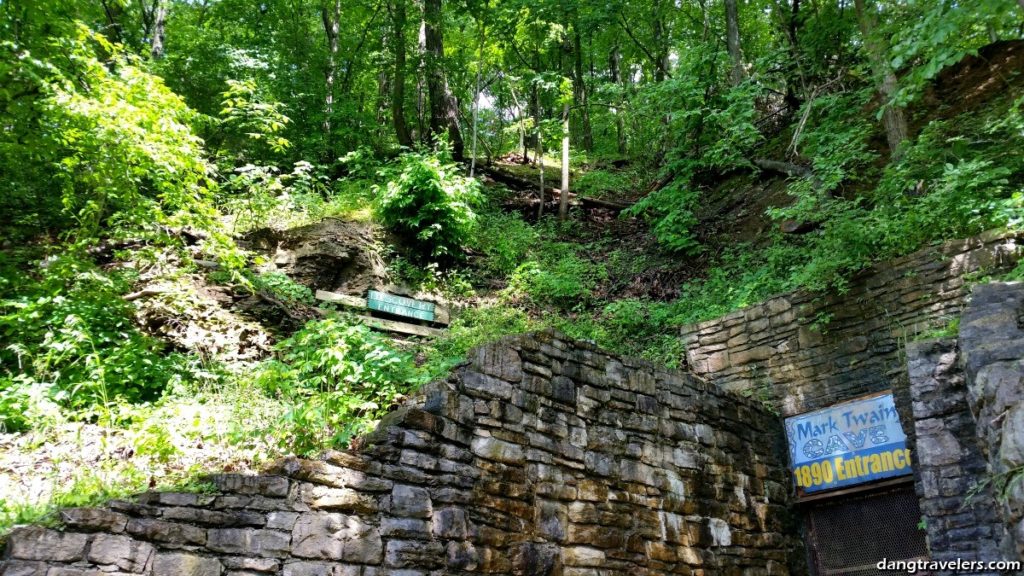 The tour guide turns off the flashlight and suddenly the cold, damp room is completely dark. Faint sounds of water are in the background along with my accelerated heartbeat because even though I am an adult, it is unsettling not to be able to see your hand an inch away from your face in an unfamiliar area.
She continues to explain the theories of darkness and the premise that being left alone in such a blackout for days could blind you.
The tour is 5/8 of a mile, flat, and takes about an hour. The narrow paths are exciting to walk through as the tour guide recalls the adventures of Mark Twain's characters and of his actual experiences as a boy.
Mark Twain Quote about Cave Exploring:
It was miles in extent and was a tangled wilderness of narrow and lofty clefts and passages. It was an easy place to get lost in; anybody could do it–including the bats. I got lost in it myself, along with a lady, and our last candle burned down to almost nothing before we glimpsed the search party's lights winding about in the distance. – Mark Twain
Tips for visiting the Hannibal MO Caves: Wear walking shoes (it gets slippery in spots), bring a sweatshirt as the cave stays around 52 degrees year-round, plan your visit if/when it rains (we had a few hours of expected rain so it worked out perfectly) and combine the tour with a trolley ride (the Hannibal Trolley Company provides a 14-mile sightseeing tour in and around Hannibal's top attractions with one-stop being the cave).
Special Note: The Hannibal Trolley runs from April 15th – October; and in November by appointment only.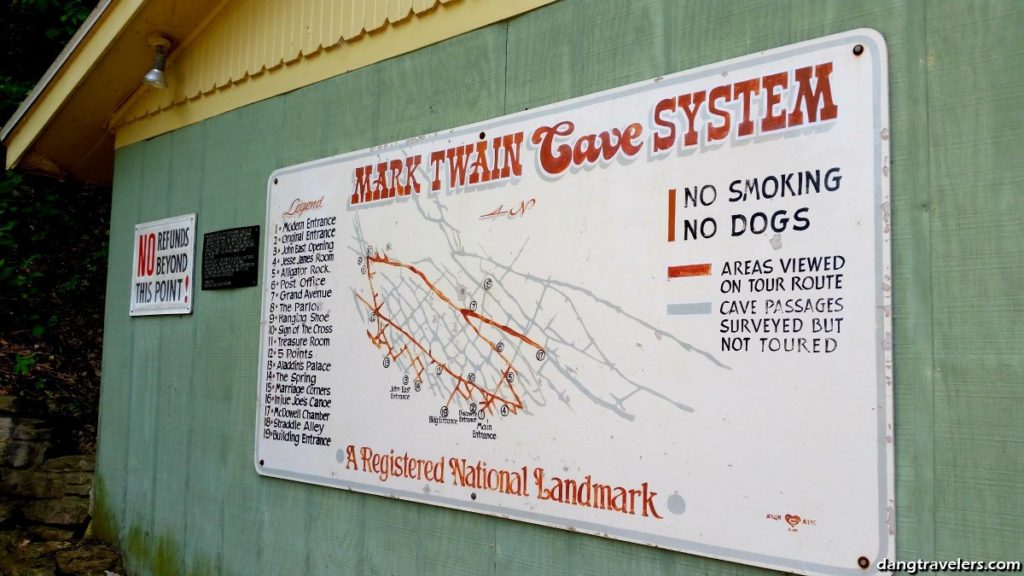 The Legend of Lovers Leap
On the way to or from the cave, stop at Lovers Leap, one of the free things to do in Hannibal, MO. It is said to be the spot where long ago, two Indians jumped to their death together to avoid being torn apart.
As you can see below, it's another great location for a panoramic view of the mighty Mississippi River.
Hannibal MO Riverboat: Learning about Life on the Mississippi
We hopped on the 11 a.m. sightseeing cruise and our nephews couldn't hide their excitement if they tried.
If you like visiting quaint river towns, read Top Things to do in Cape Girardeau next.
Travel is fatal to prejudice, bigotry, and narrow-mindedness, and many of our people need it sorely on these accounts. Broad, wholesome, charitable views of men and things cannot be acquired by vegetating in one little corner of the earth all one's lifetime. – Mark Twain
We slowly made our way up then down the river while listening to the Captain tell stories and point out significant spots like Lover's Leap, the cave, and the island Tom & Huck ran off to.
The Mark Twain Riverboat offers a sightseeing cruise which is an hour-long and a dinner cruise which is two hours long and includes food, music and cash bar.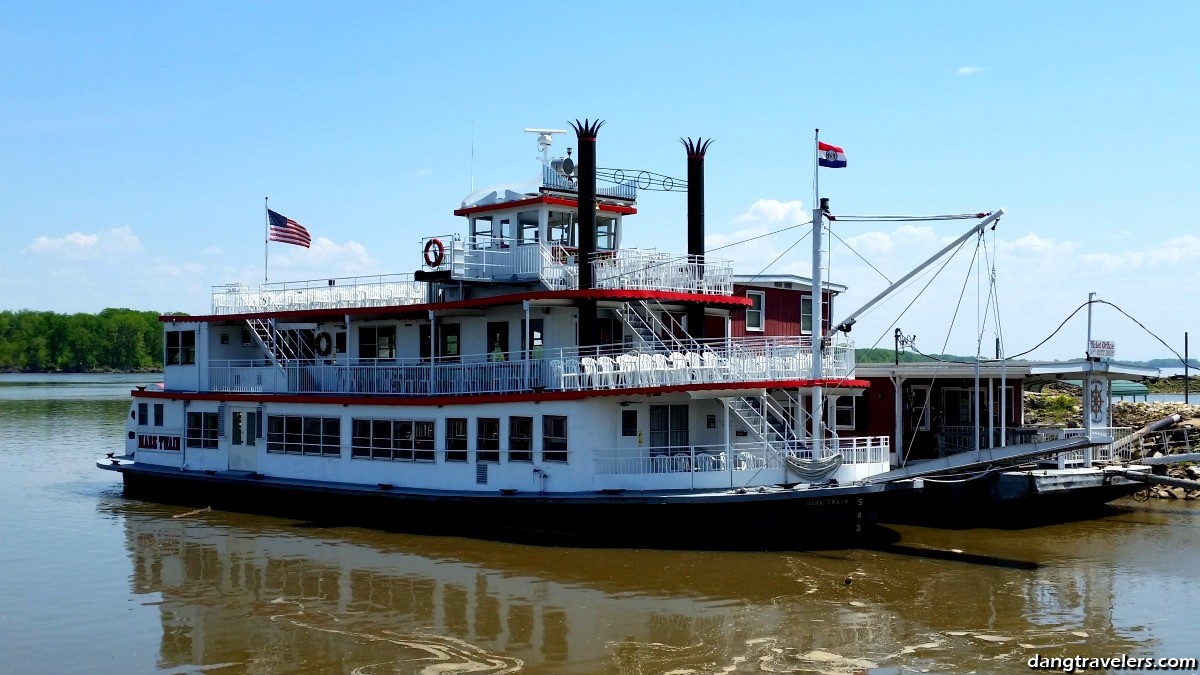 Details: The Mark Twain Riverboat runs from April 1st through November 6th.
Mark Twain Brewing Company: Lunch and Local Beer
One of our favorite restaurants in Hannibal, Missouri is Mark Twain Brewing Co. The food menu is large with everything from soups and salads to barbecue, sandwiches, burgers, and more.
We sampled a few beers from the numerous beers on tap. The favorites included King Arthur's Court Imperial IPA, Jumping Frog IPA, Halley's Blueberry Saison, and Huck's Habanero Apricot Wheat.
The most unique is the habanero apricot wheat with a smooth beginning and a bite at the end. Never had anything like it!
Mark Twain Memorial Lighthouse: Working off our Lunch
The Mark Twain Memorial Lighthouse was built in downtown Hannibal, MO atop Cardiff Hill in 1935 as a memorial to the man himself for his 100th birthday.
You can walk up the 244 stairs leading to the lighthouse from downtown at Main and North Street or park near the top.
Unfortunately, the inside is not open, but the panoramic views of Hannibal and the Mississippi River are worth the visit.
RELATED: BEST MIDWEST SPRING BREAK DESTINATIONS
Big River Train Town and Museum: All Aboard!
Update: Unfortunately, Big River Train Town is permanently closed.
Another one of the fun things to do in Hannibal is to be transported through time at Big River Train Town & Museum. Its intricate town has kids and adults alike playing conductor.
Model trains, vintage cars, and memorabilia line the walls with the train town display in the middle. The kids were handed a whistle and let loose to push buttons, maneuver the switchboard, and let their imaginations run wild.
Bustling life in train town at the Big River Train Town and Museum.
Twain on Main Festival: Twain-a-Mania
Every year, Hannibal celebrates Mark Twain by throwing a big street festival called Twain on Main. It's a family affair with arts, crafts, reenactments, music, games, food and drinks all in the name of Twain!
Riverview Park
And last but not least, head over to Riverview Park for scenic views of the Mississippi River. With no admission required, it's another one of the free things to do in Hannibal, MO.
Take the Riverview Trail to the overlooks and the large Mark Twain memorial erected by the State of Missouri in 1913 just three years after he passed away.
The plaque states, "His religion was humanity and a whole world mourned for him when he died. The whole loop is an easy 3 flat miles if you include the section near the playground or you can head straight to the lookouts and come right back to shorten the distance.
The park was officially listed on the National Register of Historic Places in 2005 and also has a shelter, picnic tables, walking trails, a playground, and restrooms.
Other Things to Do in Hannibal Missouri
There's never enough time to do everything so we definitely want to get back to explore more. Here are a few places on our list for the next visit that might interest you.
Is Hannibal Missouri Worth Visiting? Final Thoughts
Is Hannibal MO worth visiting? Absolutely! It was a pleasure walking in the footsteps of America's literary icon, Mark Twain. Our admiration thickened as we learned more about the world traveler, humorist, steamboat pilot, author, and speaker.
The state of Missouri continues to impress us with interesting historical sites, mysterious caves, and charming river communities like Hannibal.
If you are interested in the man himself, you can also read about our cool experience visiting the Mark Twain home in Hartford, Connecticut, and his study and burial site in New York.
Places to Stay in Hannibal MO
Looking for other Midwest travel destinations?
Like it? Pin it!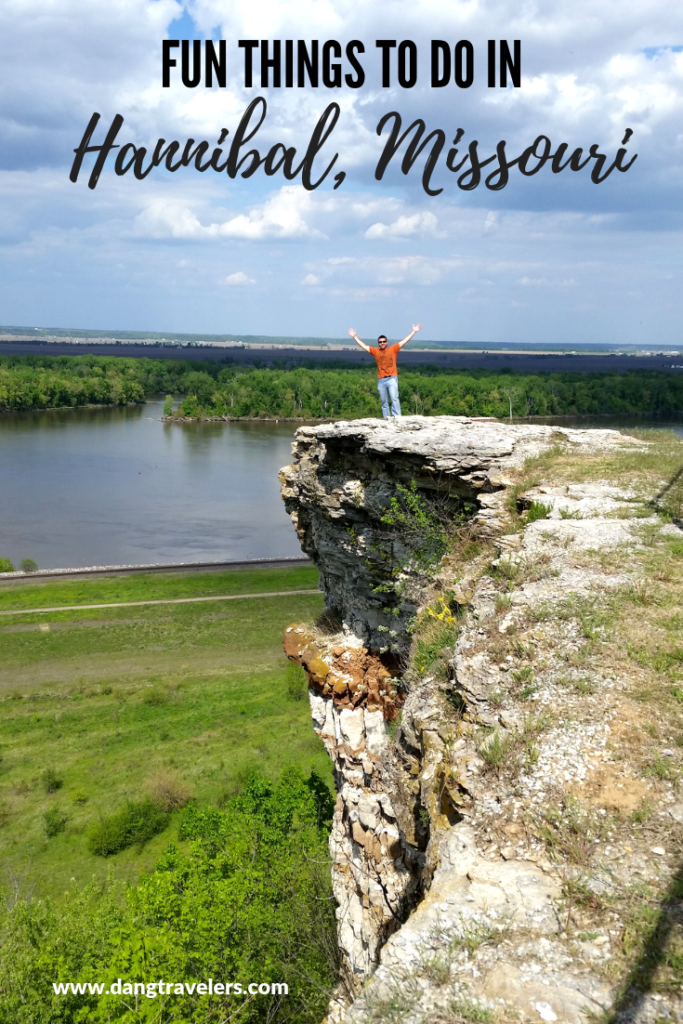 Have you ever been to Hannibal, Missouri? If not, would you like to? What Hannibal attraction would you like to do? Tell us in the comments below!