A week into our northeast road trip, we cross over to the nutmeg state in search of inspiration for the perfect Connecticut bucket list. It's the first New England state we enter since leaving Chicago. From the slow-rolling countryside and charming seaport villages to the historic city capitol and coastal drives, we discovered there are many amazing things to do in Connecticut!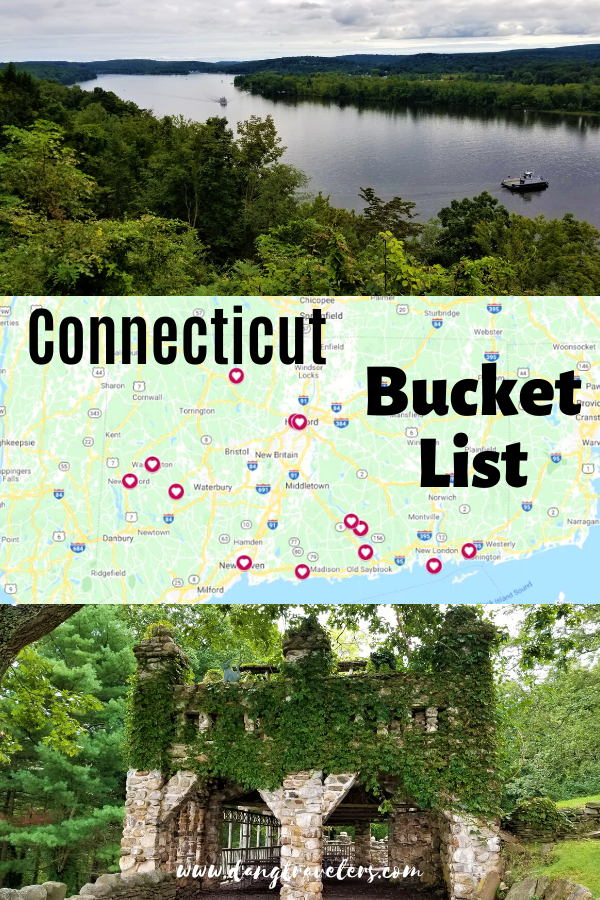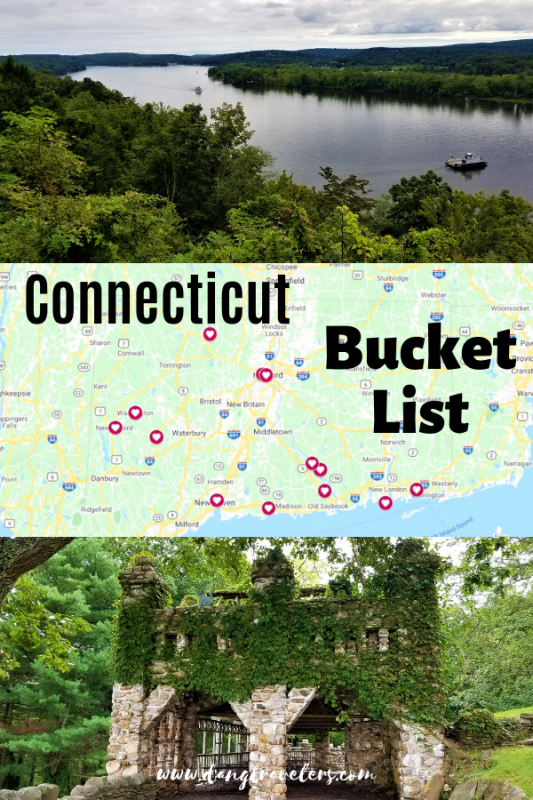 READ NEXT: OUR FULL NEW ENGLAND ROAD TRIP ITINERARY
Here are the must-see places and must-do attractions we think you should add to your CT bucket list trip.
1. The State Capitol
Although the city of Hartford is lackluster as a whole, there are a few things that make it worth a visit and the State Capitol is one of them.
Topped with a shiny gold dome, the marble gothic building is easily one of our all-time favorites. The exterior is gorgeous; it is adorned with stained glass, sculptures, ornamental reliefs, and medallions.
Typically, we find if a building is over-the-top on the outside the inside leaves something to be desired. Not at Connecticut's capitol!
As we walk around, we discover an 18-foot impressive statue that once topped the dome, a model of the Civil War flagship Hartford and the wooden figurehead from the original ship, the statue of Nathan Hale, the Revolutionary War hero, the battle flags of Connecticut regiments from the Civil War, and a replica of the Liberty Bell.
Where: 210 Capitol Ave, Hartford, CT
One of the unique things to do in CT is a tour of the Connecticut State Capitol Building. Pictured is the large statue that once stood on top of the golden dome that can now be found inside.
2. Mark Twain's House and Museum
If you've been following along on our adventures, you might remember when we took our nephews to Hannibal, Missouri to explore Samuel Clemens, aka Mark Twain's, boyhood home or more recently his study and burial site in New York.
The man is a literary legend and I'm not only interested in his artistic genius but the man himself is quite intriguing.
Not only did he love to travel and considered himself a vagabond, but he was a literary celebrity.
He also dressed the part. Always wearing white from head to toe, even his untamed wild hair and eyebrows matched!
At the Mark Twain House and Museum, you get a glimpse into the lavish lifestyle that led him to financial ruin.
Built in 1847 for $45,000, the home has a medieval gothic feel with dark wood and rich colors.
READ NEXT: 32 Best Things to Do in Hartford CT
No pictures are allowed inside, but on the tour, we learned Clemens and his family lived in the Hartford home for seventeen years and it is where he wrote many of his famous novels.
The house is filled with original furniture and even has silverware laid out on the dining room table etched with Olivia Langdon's name, Twain's wife.
If you are interested in American literature, Victorian architecture or history, the Mark Twain House and Museum is one of the best things to do in Hartford, Connecticut.
Where: 351 Farmington Road, Hartford, CT
3. Picturesque Saville Dam
If you look for cool and unusual places on your travels, be sure to stop by Saville Dam and Reservoir.
Situated on the eastern section of the Farmington River surrounded by trees and blue water, the gatehouse is as Instagram-worthy as it gets.
It looks like a miniature castle with a stone turret and archways.
Tip: The walk from the parking lot is on a 50 MPH road so stay within the walking area.
Where: 27 Saville Dam Road, Barkhamsted, CT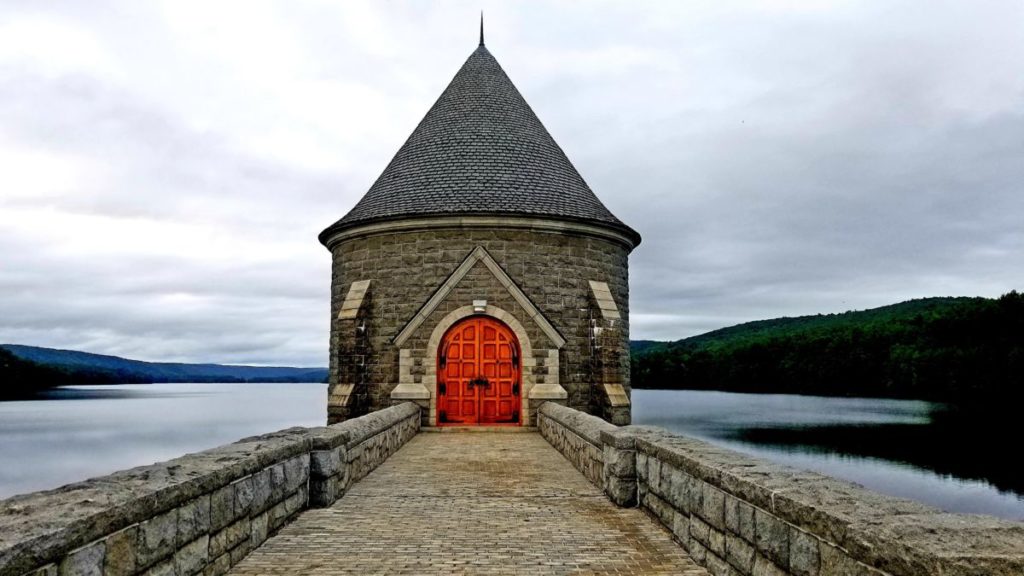 READ NEXT: A MAGICAL GETAWAY IN RHODE ISLAND RIGHT ACROSS THE CONNECTICUT BORDER
4. Climb Mount Tom Tower
Take the short 1.30-mile loop trail to the summit of Mount Tom.
Climb to the top of the 34-foot stone tower for expansive views that extend to the Catskills in New York and Mount Everett in Massachusetts.
Where: Mount Tom State Park, Washington Depot, CT
5. Hike to Kent Falls
Don't miss this lovely little park situated in the quaint rolling countryside of the Litchfield Hills region.
The stroll to the cascading waterfalls begins across a red covered bridge and is only 1/4 of a mile long with three observation decks.
Where: 462 Kent Cornwall Road, Kent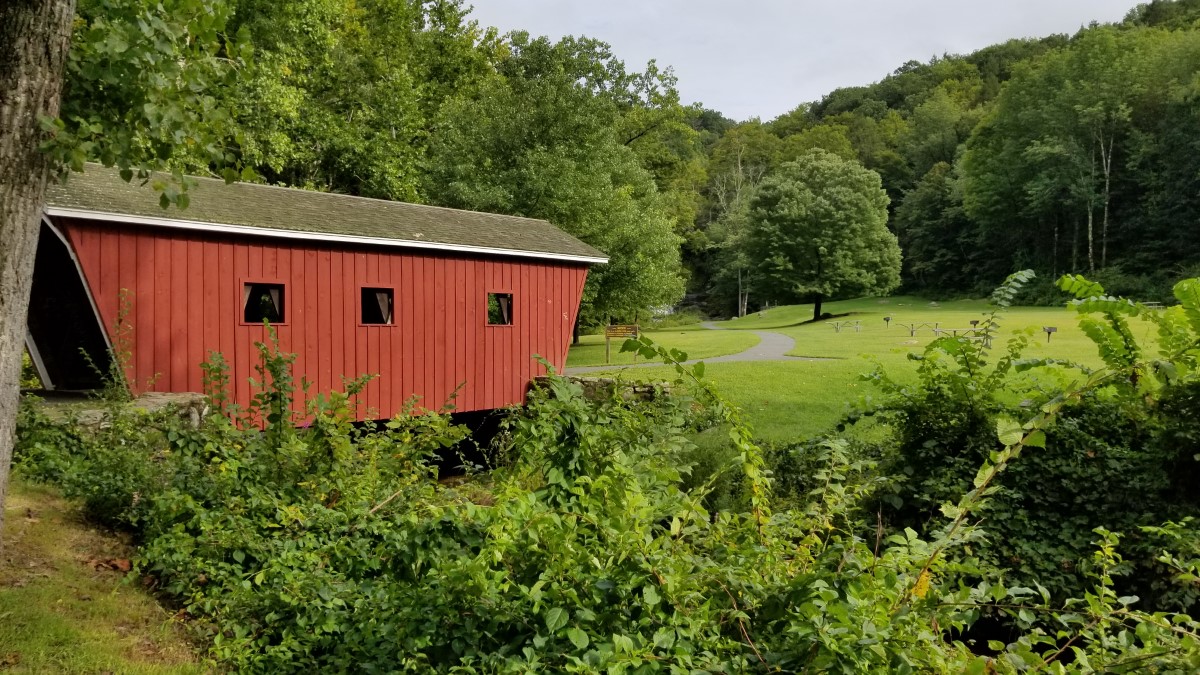 6. Experience Gilmore Girls Small Town Charm
If there ever was a television show that exemplified the nuances of small-town living, it is Gilmore Girls.
The rural communities of northwest Connecticut provided the inspiration for the show.
And although I didn't necessarily get the GG vibe in one town as a whole as I did later on in the trip (keep reading below) we did find a few Rory and Lorelei-worthy stops.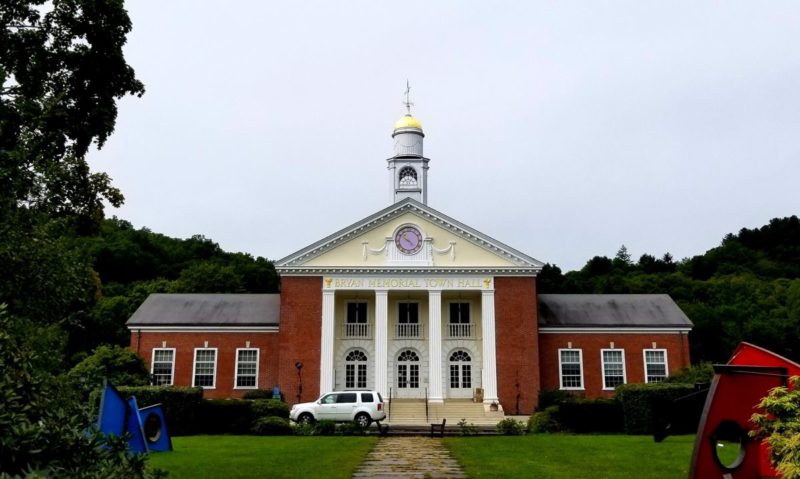 Washington: browse the aisles at the Washington Food Market (Doose's Market), walk the grounds at Mayflower Grace like the show's creator, Amy Sherman-Palladino (Independence Inn), try the coffee at Martys (Luke's Diner), and pick up a book at Hickory Stick Bookshop (Stars Hollow Books).
Woodbury: Go shopping at Farmhouse Antiques (Mrs. Kims).
New Milford: Stop to see the green and white gazebo similar to the one in the Stars Hollow Town Square.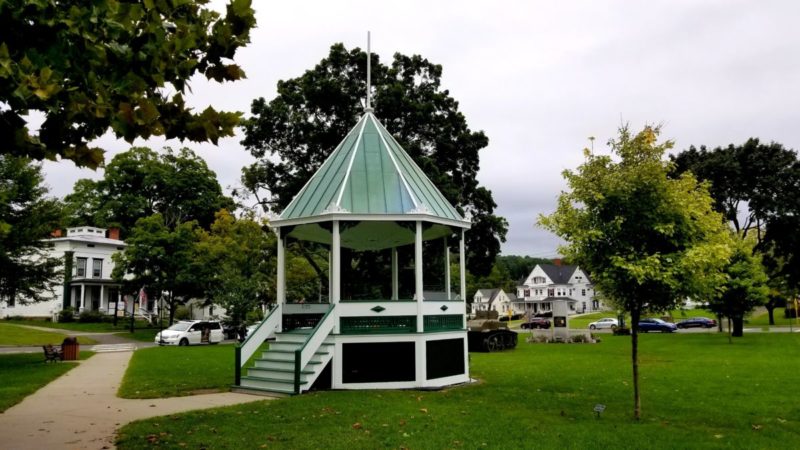 7. Walk Around Yale University Campus
Yale University is the third-oldest institution of higher education in the United States. Built in 1701, it is also one of nine Colonial Colleges built before the Revolutionary War.
The campus is enormous so put on your walking shoes and see what Ivy League is all about.
Do not miss the Old Campus surrounding Phelps Hall; it is the oldest part of the university and where freshman students call home.
Make sure to see the Phelps Gate, College House, Congregational Church, and rub the toe of former Yale president Theodore Dwight Woolsey for good luck.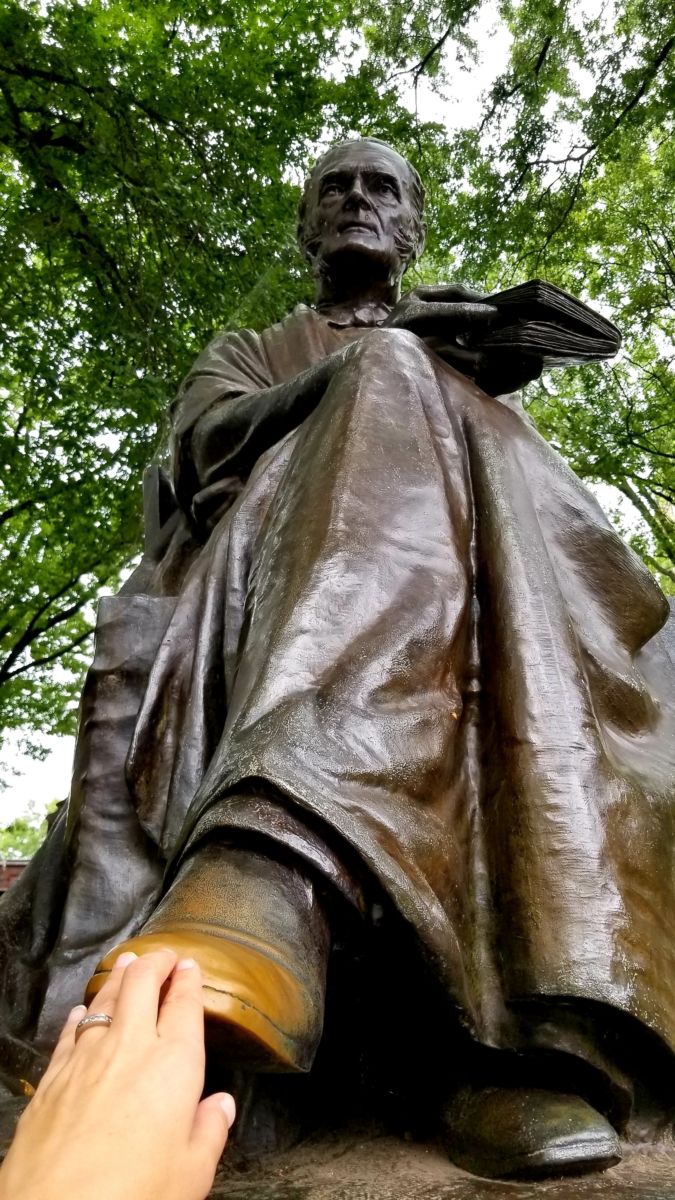 Another must-see is the Beinecke Rare Book and Manuscript Library. It is a new addition to the university with a contemporary design, but you will not want to skip it.
It is home to Yale's oldest books, including a copy of the Gutenberg Bible, and the interior is remarkable. You will certainly want to add this one to your Connecticut road trip.
Where: Yale Visitor Center, 149 Elm Street, New Haven, CT
8. Try New Haven-Style Pizza
All that walking will make you hungry so head over to Little Italy on Wooster Street.
Stop in Frank Pepe Pizzeria Neapolitan for a coal-charred thin crust pizza that has made this street famous.
Where: Frank Pepe, 157 Wooster St., New Haven, CT
9. Lighthouse Point Park
Just twenty minutes southeast of downtown New Haven is a pretty little park featuring an 80-foot lighthouse known as the Five Mile Point Light and an early 20th-century carousel.
The current tower was constructed in 1847 and is listed on the National Register of Historic Places along with the light keeper's house and the 1905 carousel.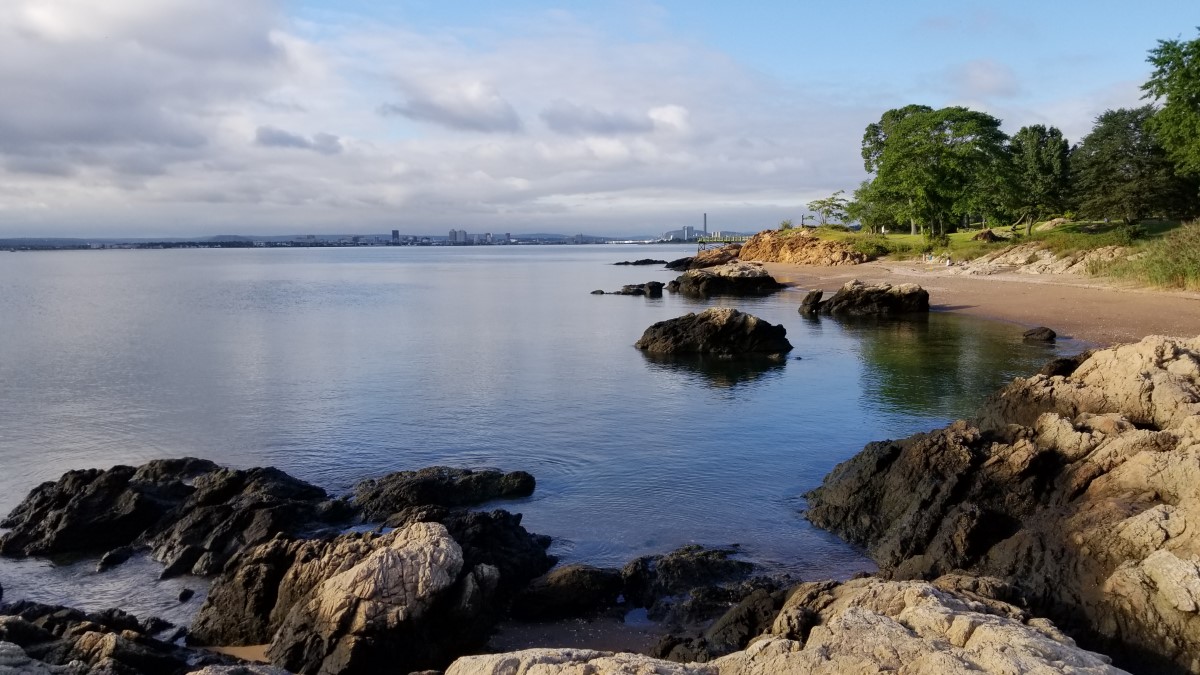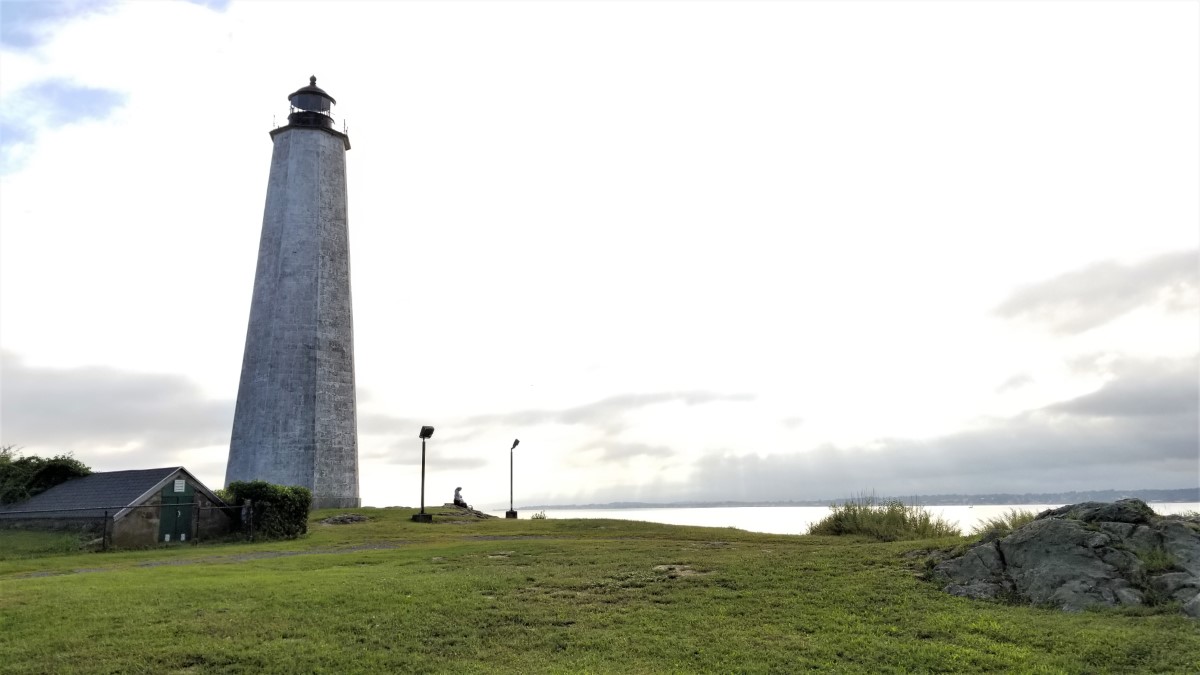 10. Visit the Real Stars Hollow Town of Guilford
Even though I enjoyed wandering around the small towns of northwest Connecticut, no one area seem to capture the all-encompassing Stars Hollow ambiance.
That was until we stopped in Guilford.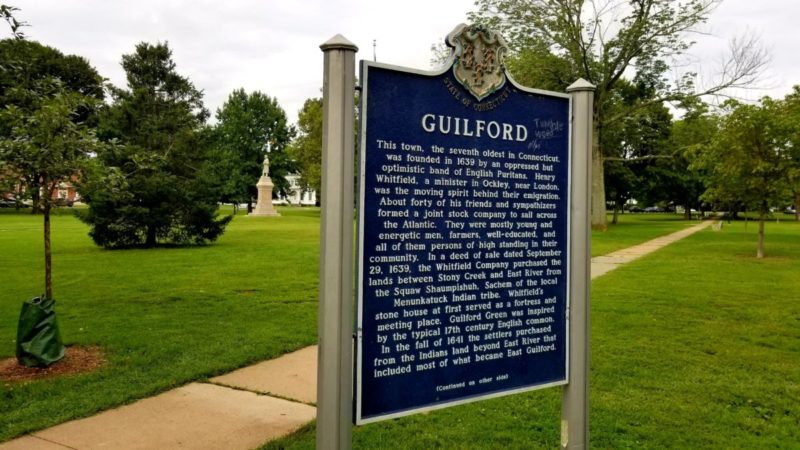 The expansive town green is surrounded by buildings such as the Town Hall, a hardware store, a colorful chocolate shop, a small market, and a book store.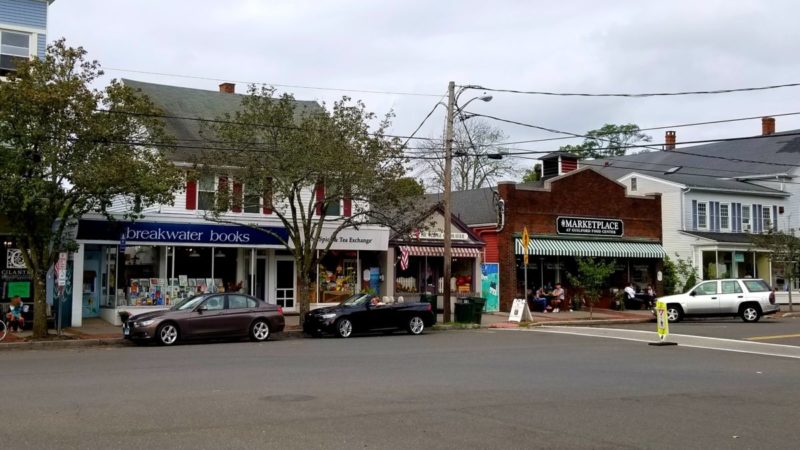 We were immediately drawn into the quirky close-knit community.
A man asked us if we'd like a free barbecue grill he purchased at a garage sale that was barely used when he saw us browsing the selection at the hardware store, another stranger thought he photo-bombed a picture I was taking so he parked his car and got out to apologize, then we saw a cute older couple dressed to the nines on their daily walk around the square.
Can it get any more Stars Hollow than that?
11. Walk Along Connecticut's Longest Stretch of Beach
With over 2 miles of shoreline, Hammonasset Beach State Park in Madison is one of the most popular attractions in the state.
Take a stroll on the boardwalk, visit the nature center, swim, or relax in the sand on Connecticut's longest stretch of beach.
12. Drive a Loop around the Connecticut River
Flowing through four of the six New England states, the Connecticut River is the longest river in the region. From Old Saybrook head north on Route 154 to the historic town of Essex.
Stroll through the quintessential New England town with early Colonial homes, a waterfront harbor, and small boutique shops.
If you're looking for things to do in Connecticut for couples, book a room at The Griswold Inn, the romantic Revolutionary War-era inn, and stay in the picture-perfect town overnight.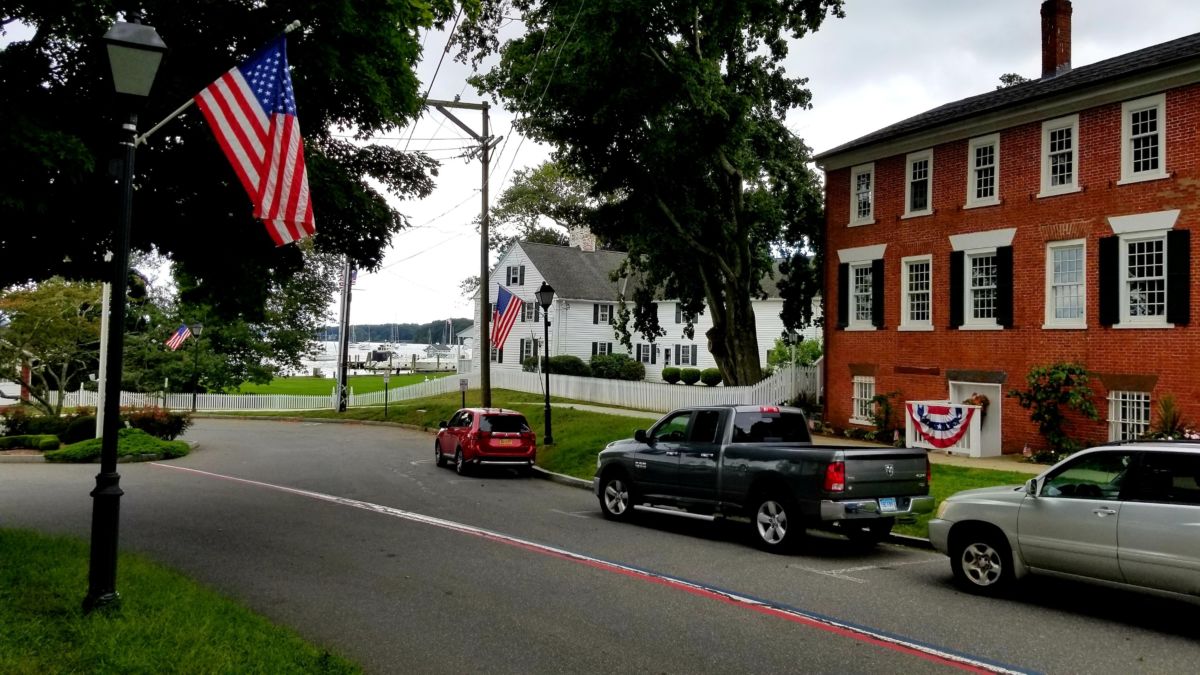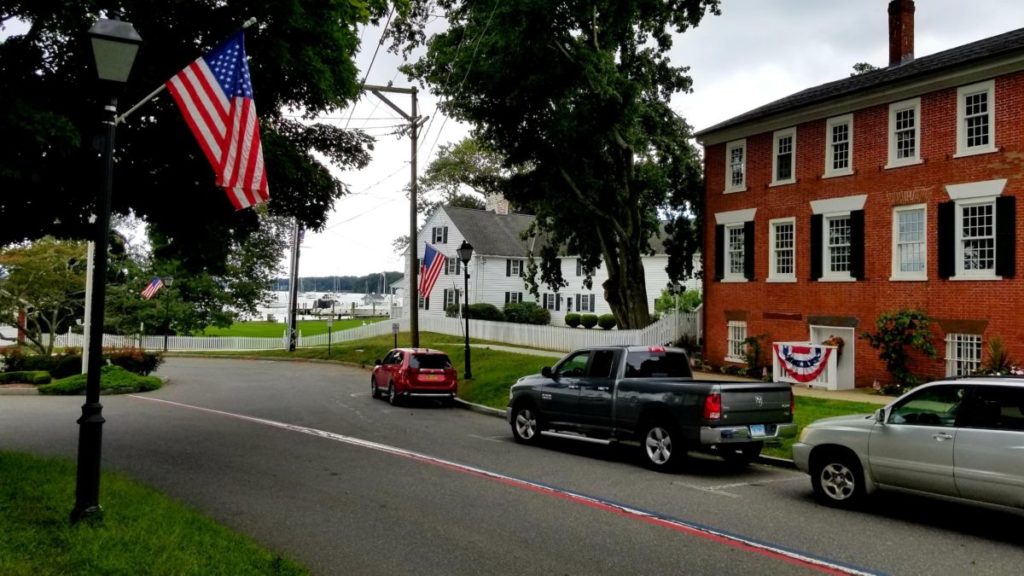 Disclosure: Some of the links on our site are through affiliate partnerships. We may receive a small commission (at no additional cost to you) if you purchase through our links.
At Haddam, detour to Eagle Landing State Park, for a view of the East Haddam Swing Bridge and Goodspeed Opera House, a unique theater where the musical, Annie, first premiered.
RELATED: THINGS TO DO IN CONNECTICUT IN THE FALL
13. Visit Sherlock Holmes' Whimsical Castle
Gillette Castle State Park is on the Connecticut River like the above stops but deserves its own special place on our list.
Even if you do not drive the loop around the river, the castle should make your itinerary as one of the most unique things to do in CT.
Perched high above the river with beautiful views, the castle was built between 1914 and 1919 by William Gillette, the first Sherlock Holmes. The building looks more like a stone fortress from the Medieval era than an actual home.
Unfortunately, tours are only available from Memorial Day to Labor Day so we weren't able to adventure inside. But the grounds are open year-round and the curtains pulled back so we were able to take a sneak peek.
After reading the interior is just as extraordinary as the exterior with puzzle-like locks, trick mirrors, and secret passageways, we are definitely adding it back on our list of places to get back to.
Where: 67 River Road, East Haddam
14. Harkness Memorial State Park
After Labor Day, Connecticut state parks are free so we stumbled upon Harkness Memorial State Park on accident. We turned in one morning thinking it would probably have a trail or two to stretch our legs.
We were pleasantly surprised to find an estate with a flourishing garden and ocean views.
Where: 275 Great Neck Rd, Waterford
15. Try a Connecticut-style Lobster Roll
We are on the ocean! You know what that means? Lobster rolls are THE hot menu item, but there's a catch. Pun intended.
The typical New England lobster roll is served cold mixed with mayo and diced celery. Since I am not a fan of mayo, I am happy to find Connecticut-style is served warm with melted butter.
Stop in the tiny town of Noank at either Abbott's Lobster in the Rough or Ford's Lobster Restaurant, order a lobster roll, grab a picnic table, and enjoy the beautiful view.
Hot Tip: At both establishments, it's BYOB, bring your own booze.
16. Find Giant Seashells at Bluff Point Beach
Bluff Point State Park is an 806-acre park that's also designated a coastal reserve.
Tucked alongside the Pequonot River, it's a beautiful place to hike, bike, bird watch, kayak, fish, or search for seashells and sea glass.
Where: 55 Depot Road, Groton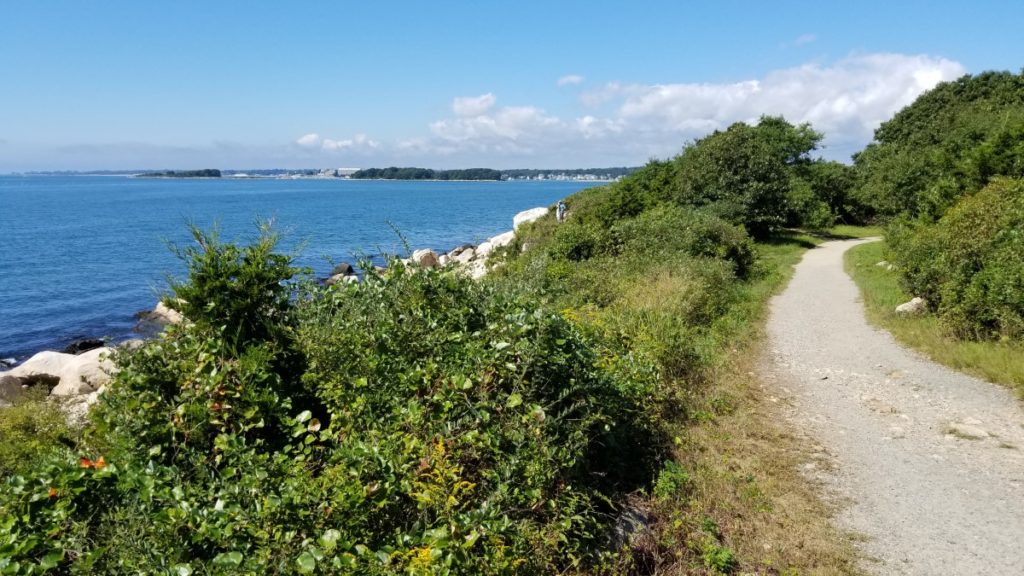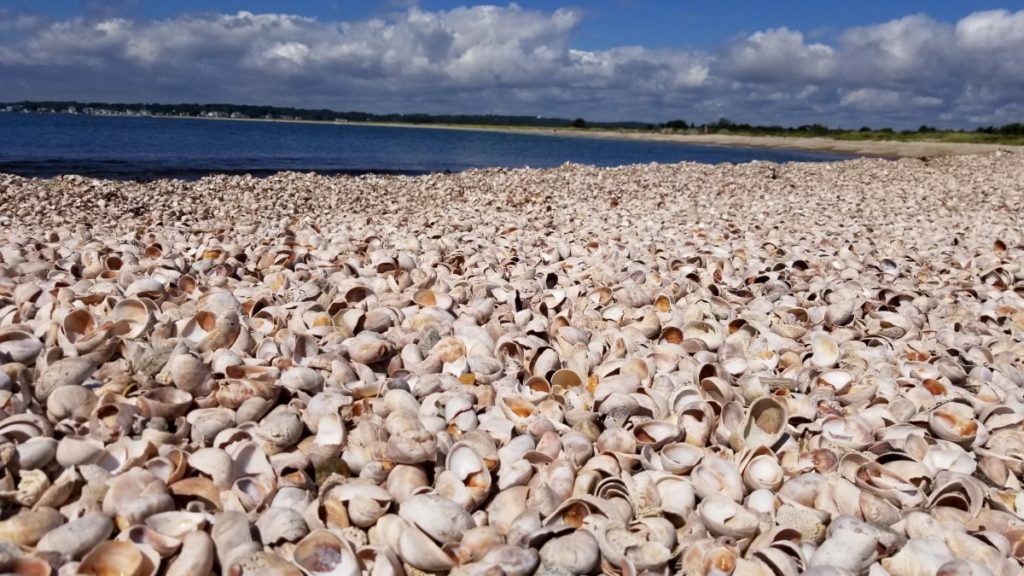 17. Board the World's Last Whaling Ship
What is the most visited place in Connecticut? Most of the above places make that list including this must-do attraction, the Mystic Seaport Museum.
Since our travels this year have taken us to a lot of museums, albeit fantastic experiences, we are feeling a little museumed out. We considered skipping the seaport museum, but we are thankful we did not.
It's not only the largest maritime museum in our nation, it also has the world's last wooden whaling ship, the Charles W. Morgan.
If you are planning a family trip, it's one of the top things to do in Connecticut with kids and adults alike.
Spend the day among historically restored buildings and sailing ships learning about the whaling industry, preservation techniques, and what life was like in 19th century America.
Visit Mystic: Top Things to do in Connecticut in the fall
18. Eat at Mystic Pizza
And finally, if you are a Julia Roberts fan like me, don't forget to visit Mystic Pizza in town. Made famous by the 1980s coming-of-age movie, it's a can't miss establishment.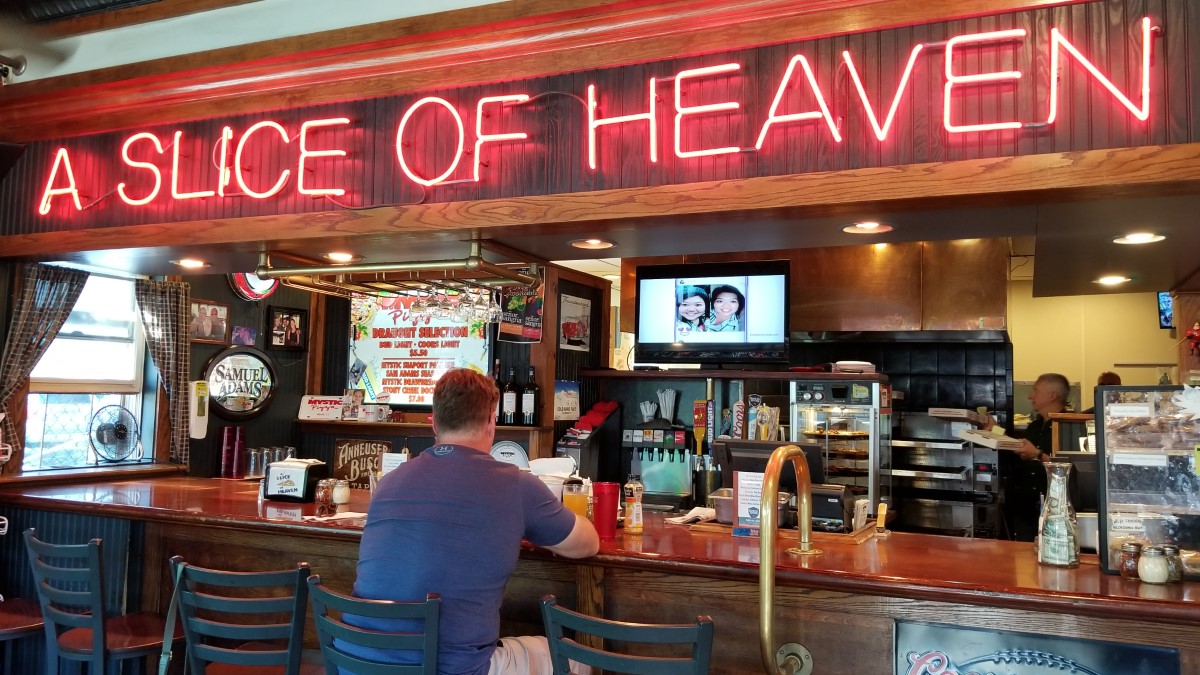 If you are headed to Connecticut for a road trip, check out these cool places and fun things to do.
Have you been? What would you add to our Connecticut Bucket List? Share your favorite things to do in Connecticut below in the comments.
Like it? Please Pin it!