Nestled in one of the most beautiful areas of the state, the southern Illinois wineries on the Shawnee Hills Wine Trail have been welcoming visitors for over twenty-five years.
The 40-mile trail, dotted with eleven wineries, is the state's first designated grape-growing region and offers guests a chance to sip and savor among gently rolling hills.
Our favorite part of this getaway is the opportunity to combine outdoor adventure with experiencing some of the best vineyards in Illinois!
In addition, the nearby towns of Makanda, Cobden, and Carbondale, home to Southern Illinois University, add to the eclectic flavor and bohemian charm of the area.
If you like the outdoors, read my Eastern Shawnee National Forest in a Weekend next to add a few amazing places to your itinerary!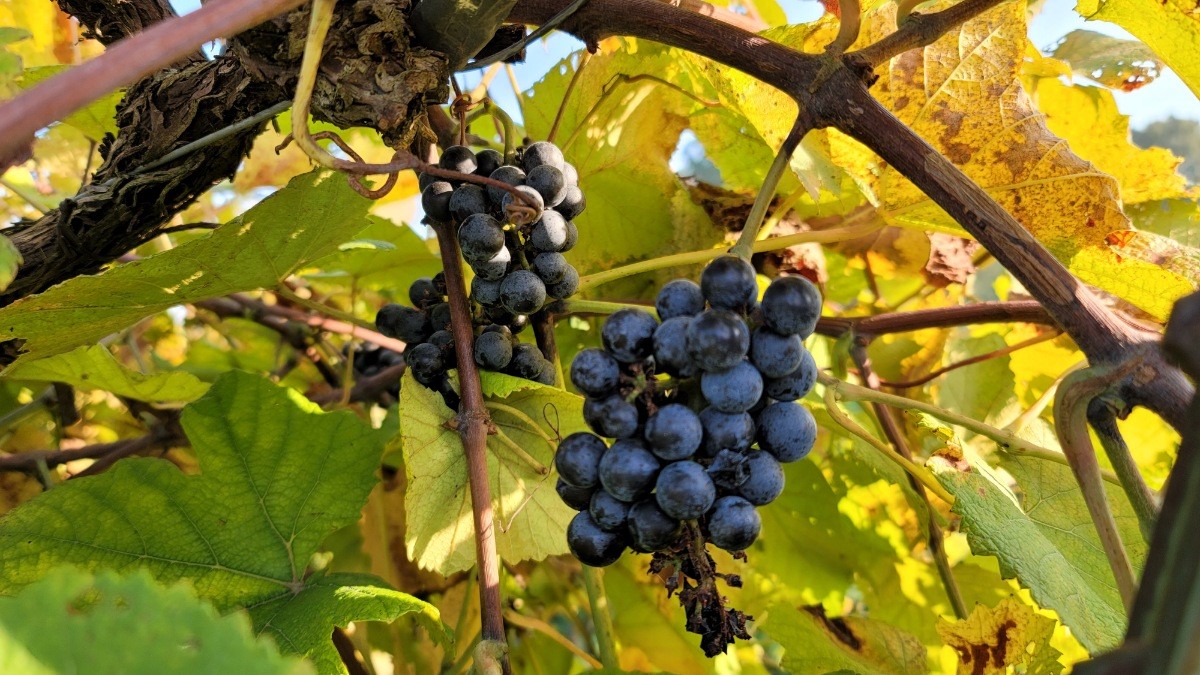 What type of grapes will you find on the Southern Illinois Wine Trail tour?
It doesn't take a wine aficionado to figure out that fine wine starts with a fine grape and Shawnee Hills has plenty of them!
Perhaps you might think southern Illinois is an unlikely place for lush vineyards, but its high elevation in between two rivers offers an ideal weather-resistant climate that produces high-quality grapes.
Even if you only take a day to explore some of the wilderness within Shawnee, you'll discover sandstone glades, limestone sinkholes, shale escarpments, and surface springs that make this land perfect for cultivation.
The karst topography of the unglaciated region yields warmer winter temperatures with a longer growing season earning it the designation of an American Viticultural Area (AVA).
A few of the common French-American hybrid grapes and wines you'll encounter on the Southern Illinois Wine Trail are:
Red
Chambourcin (sham-boor-sin) is the showcase grape of the region with the most accolades and awards.
Norton is another popular grape in the Midwest that offers robust, concentrated berry flavors with earthy undertones.
Cabernet Franc is known for its ability to ripen more reliably than other red grapes and is rich with tart fruit flavors.
White
Traminette (tra-men-et) is a floral white wine grape with hints of apricot, peach, and honeysuckle.
Vignoles (veen-yol) is a versatile grape that has a range from dry, to sweet, to dessert level with tropical fruit aromas and flavors similar to a Riesling.
Seyval is a light-bodied balanced dry white wine with hints of apple, melon and pear.
Ever think about driving the Great River Road in Illinois? It's not too far from Shawnee so it might be a good combo with the wine trail! Click the link to read about all our favorite stops on the historic byway.
Shawnee Wine Trail Map
Well-marked signage can be found along highways 51 and 127 just south of Carbondale to guide your way, but it's always a good idea to have a game plan ahead of time.
Use our interactive Southern Illinois wineries map to guide your wine tasting adventure!
Click here to open the Southern Illinois Wine Trail Map
Pro Tip: If you're visiting the Shawnee Wine Trail in the wintertime consider purchasing a Winter Passport which offers deals and discounts at local wineries, businesses, and shops.
How do you get around the Shawnee Wine Trail?
You can drive yourself or take advantage of the transportation offered on the Illinois wine trail:
Shawnee Shuttle: (618) 201-4841 or e-mail jillian@shawneeshuttle.com for more information on Illinois wine tours.
Wrightway Transportation provides transportation to 3 – 5 wineries on the trail with ample time to enjoy live music, lunch, and tastings.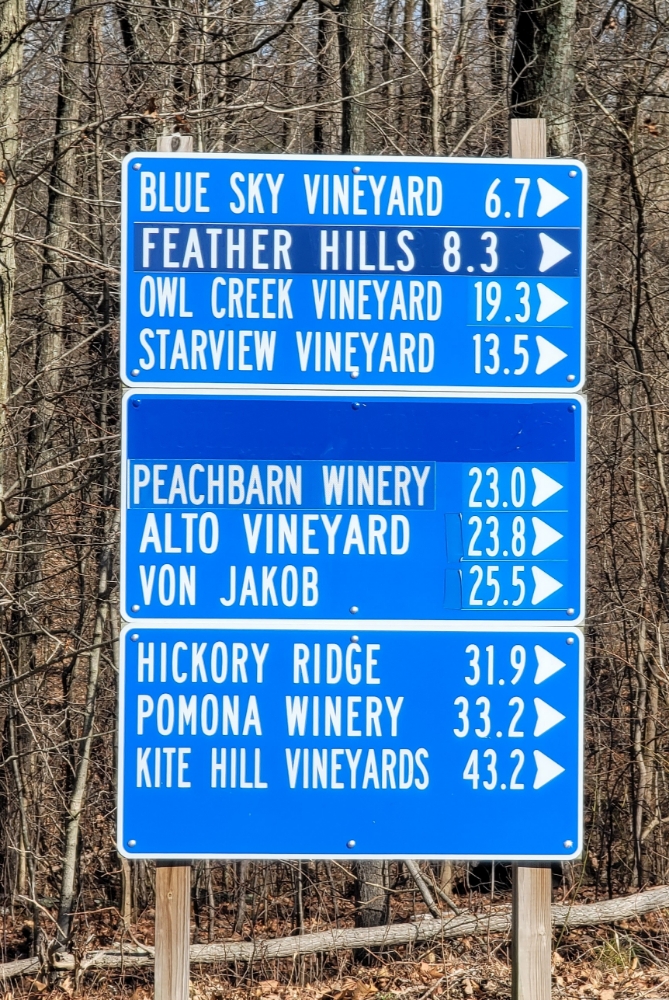 The Best Southern Illinois Wineries to Visit
It's hard to choose the best wineries in southern Illinois since they all have something unique to offer.
It is possible to experience all eleven in a few days, but if you are short on time, here are our favorite wineries for your wine itinerary:
Shawnee Hills Wine Trail
Blue Sky Vineyard
Owl Creek Vineyard
Alto Vineyards
Pomona Winery
StarView Vineyards
Honker Hills Winery
Von Jakob Winery & Brewery
Best Time to Visit the Southern Illinois Wineries
The wineries are open year-round, and as you will read we had a wonderful time visiting during the winter. It's quieter yet if you plan your visit over a weekend, you can still enjoy live music and other events.
On the other hand, you will be able to experience the beautiful outdoor patios and spectacular views if you plan a trip in the spring, summer, or fall.
It's up to you on what type of experience you are looking for, but you can't go wrong with any season.
Blue Sky Vineyard in Makanda
You will forget you're in the Midwest once you drive up to this beautiful property and get a first glance at the grand tasting room.
Positioned on the eastern side of the Shawnee Hills Wine Trail, Blue Sky Vineyard is known for its unmistakable resemblance to an Italian estate.
Sample fine wines – many of which have taken home notable awards in a number of wine competitions including the Governor's Cup – and treasure the attention to detail in the design and decor of the Tuscan-inspired building.
Not all wineries on the trail have hot food, but Blue Sky offers soups and pizza along with cold appetizers, sandwiches, and desserts.
Order the pizza! You won't be disappointed.
If you want to make your visit extra special, book one of the two suites in the villa above the wine bar. You can read about our experience in the Tuscany Romance Suite here.
Scenic Hiking Nearby: The moderate 3-mile Panther Den Loop Trail is only minutes from Blue Sky Vineyard and features high bluffs, dark caves, and impressive rock formations. The trail is fairly rugged and can be muddy so wear your hiking gear!
Owl Creek Vineyard in Cobden
Owl Creek Vineyard is a welcoming venue with a large drink selection.
You'll definitely want to order a flight or two to figure out what you like best with tasty wines, sangria, and hard cider featured.
The red and white sangria is made fresh and served on tap only and their Appleknocker Hard Cider is made with local southern Illinois apples.
Order a plate-size pub pretzel or a panini to pair with your flight and you'll be owltastic.
Scenic Hiking Nearby: Whether you tour the 1930s rustic lodge built by the CCC, climb the observation tower, take advantage of the all-you-can-eat fried chicken meal, or hit one of the eight interesting hiking trails, Giant City State Park is a must-see in the area.
Alto Vineyards in Alto Pass
The oldest of the Shawnee wineries, Alto Vineyards has been a staple in the area since 1988 when Guy Renzaglia had the genius idea of planting five acres of grapes.
Since then the family-owned business has expanded and today you can enjoy award-winning wines in a spacious tasting room, outdoor pavilion, or upper deck patio overlooking one of the vineyards and scenic countryside.
Scenic Hiking Nearby: Quetil Trail begins right in downtown Alto Pass. It's an easy trail with a stone staircase that leads to a scenic viewpoint of the Bald Knob Cross of Peace.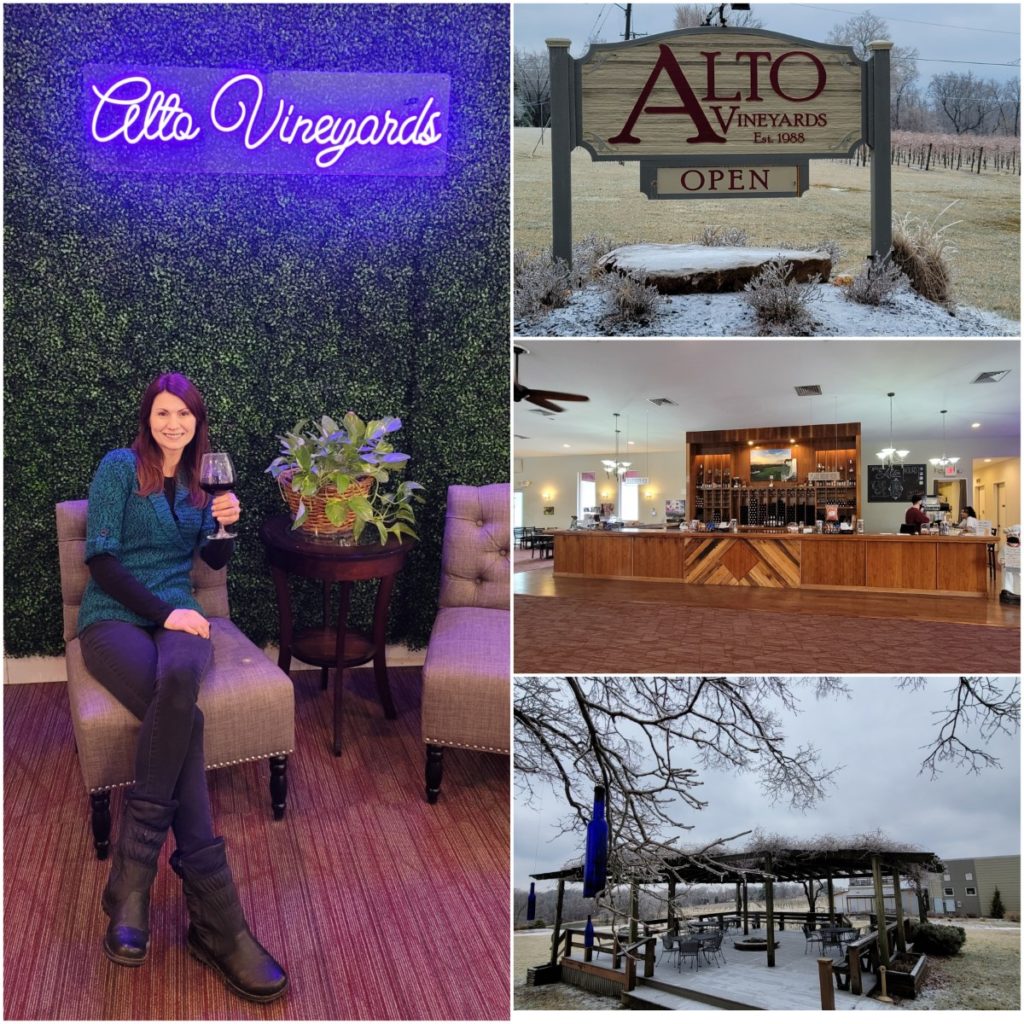 Pomona Winery in Pomona
Pomona Winery is not only unique in that it resembles an oversized secluded treehouse in the forest, this winery sets itself apart by specializing in non-grape wine made from locally grown fruits like blueberries, black currants strawberries, and apples.
The owners, George Majka and Jane Payne, built the winery on their own over a period of several years with salvaged materials and currently reside upstairs.
The wine is high quality, subtle, and ranges from semi-dry to sweet.
Scenic Hiking Nearby: When you visit, stop in at the Pomona Bridge, it's a short walk to a 90-foot natural sandstone bridge. And if you're up for a more moderate hike, the Little Grand Canyon, featuring a panoramic view of the Mississippi and Big Muddy Rivers, is only a few miles down the road.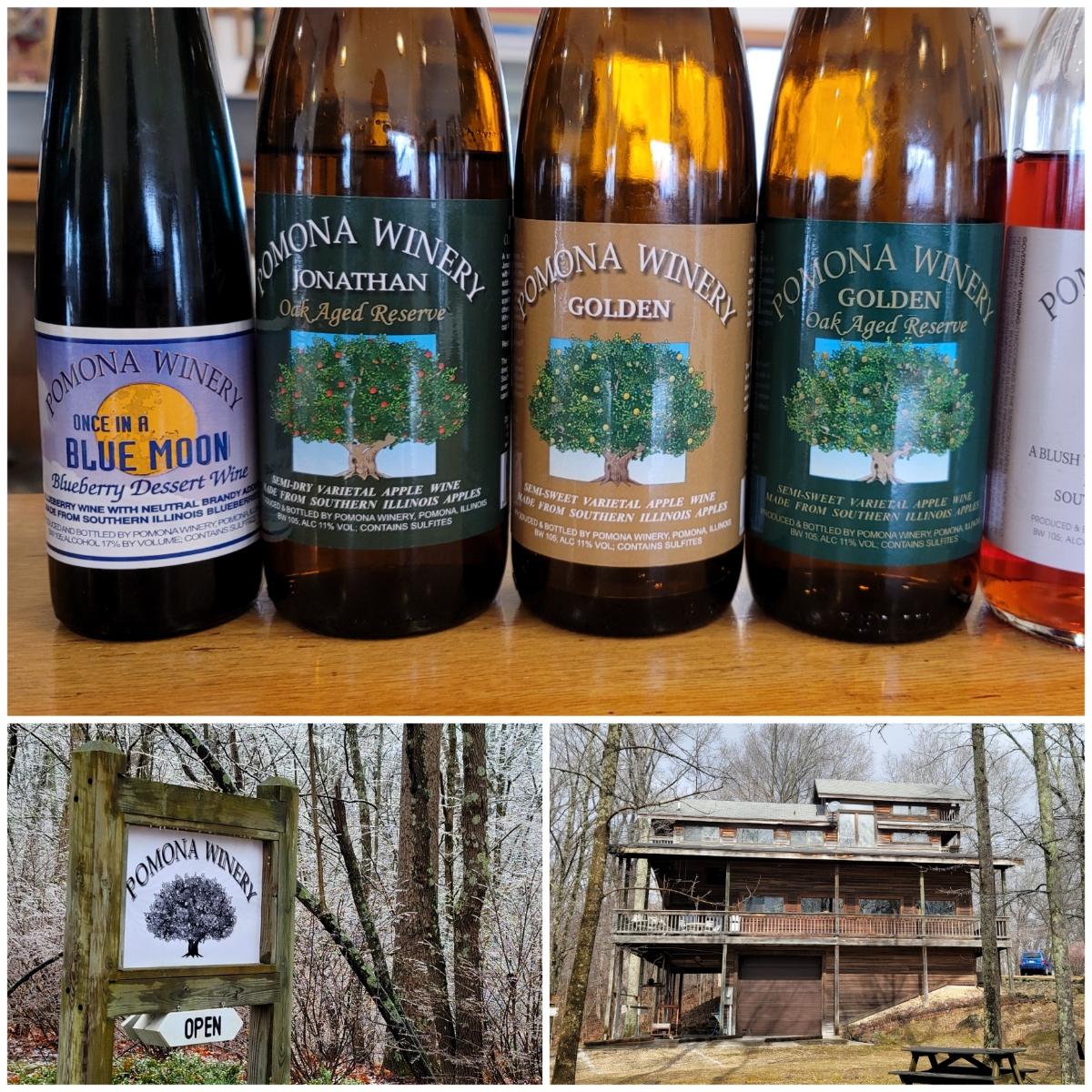 StarView Vineyards in Cobden
What's not to love at StarView Vineyards?
A wide array of wines to choose from. A picturesque property complete with a pretty pond, big beautiful trees, and a large outdoor deck.
And last but not least, yummy wine slushies.
Honker Hill Winery in Carbondale
With remnants of the prior hunting club still hanging on the walls, Honker Hill Winery has a cozy and inviting cabin vibe.
Known for hosting talented local and Nashville-based musicians, it's a great place to go for a fun atmosphere and striking sunsets.
Scenic Hiking Nearby: The 1.8-mile Rocky Bluff Trail is an easy pleasant loop that follows Grassy Creek to unusual sandstone walls and a flowing waterfall.
Von Jakob Winery & Brewery in Alto Pass
Von Jakob is the only winery and brewery on the Shawnee Wine Trail. And we like our craft beer so this was a pleasant surprise!
Choose from eight flagship German-style beers as well as seasonal batches along with a selection of 13 varieties of wine including a delightful twist on the local Chambourcin – a divine Red Oak Port.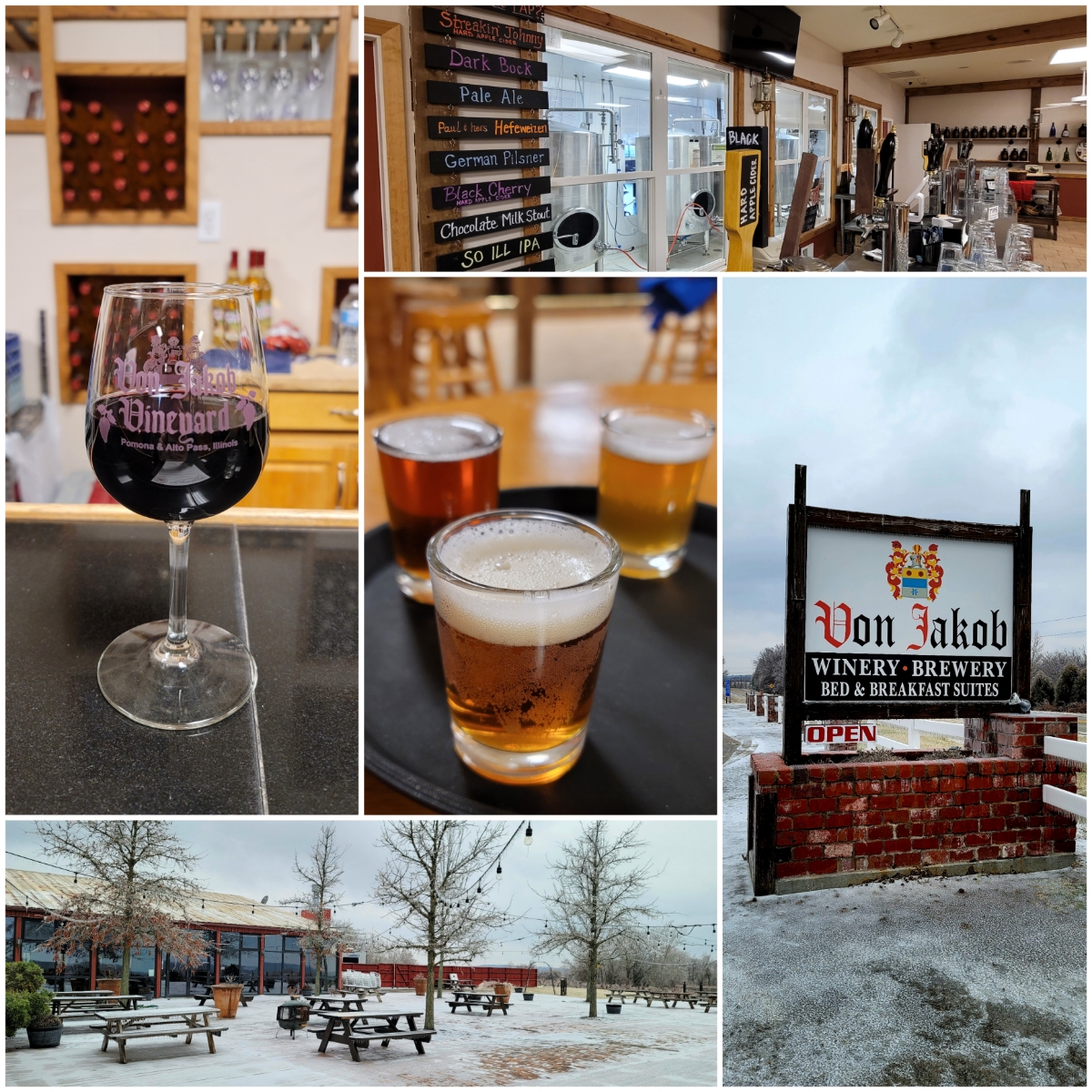 These were our favorites on the Illinois award winning wine trail, but if you have more time, make sure to also include Hickory Ridge Vineyard, Feather Hills Vineyard, and Peachbarn Winery and Cafe.
After all the fun my husband and I had on our winter retreat exploring these phenomenal wineries, we are already looking forward to our next adventure in Southern Illinois.
Hopefully, we've inspired you to grab your favorite travel buddy and do the same!
What are your favorite Carbondale wineries? Share with us below!