No disrespect to my home state of Illinois, but the prairie land is not the first place that comes to mind for diverse landscapes. I was proven wrong this weekend when making a trip from Chicago to Shawnee National Forest in Southern Illinois.
There are two sections of the forest: east and west. We decided to make them separate visits since we only had a few days.
Our winter escape this weekend covers the eastern section and has us asking when we can get back to experience more.
READ NEXT: DID YOU KNOW THERE'S A WINE TRAIL IN SHAWNEE NATIONAL FOREST?
HERE ARE THE BEST WINERIES IN SOUTHERN ILLINOIS
Shawnee National Forest Attractions Map
Come discover this hidden gem of the Midwest with us. Here are the best things to do in Shawnee National Forest!

Day One – Garden of the Gods Country
Standing on top of a Stone Face

I've read about two other natural occurring rock "faces" that have left an impression on people: Old Man of the Mountain in New Hampshire, which collapsed over a decade ago, and Great Stone Face in Virginia. Neither of which resembles a man's face as much as the one down here in Shawnee, yet I had never even heard of it.
There are two trail options to hike to get to the viewpoint at Stone Face. One is three miles from the Tecumseh statue or the shorter option being only ½ mile (one mile out and back) from Stone Face parking lot. Since we wanted to get to other hikes, we took the shorter trail.
The trail is rather steep on rocky ground at first (wouldn't suggest on a wet day) passing through an arch made from a fallen boulder but opens up to a smooth path before reaching the carved face and beautiful overlook.
The Oh so Cool Rim Rock National Recreation Trail

One of our favorite Shawnee National Forest hiking trails is the Rim Rock Recreation Trail. It is a moderate 1.7-mile loop that begins on a paved path through 200 to 300-year-old oak trees. It continues around the rim of a rock ridge offering a few vantage points of the canyon below.
The path leads to an intriguing staircase beckoning for the hiker to come down into the rock crevice and explore.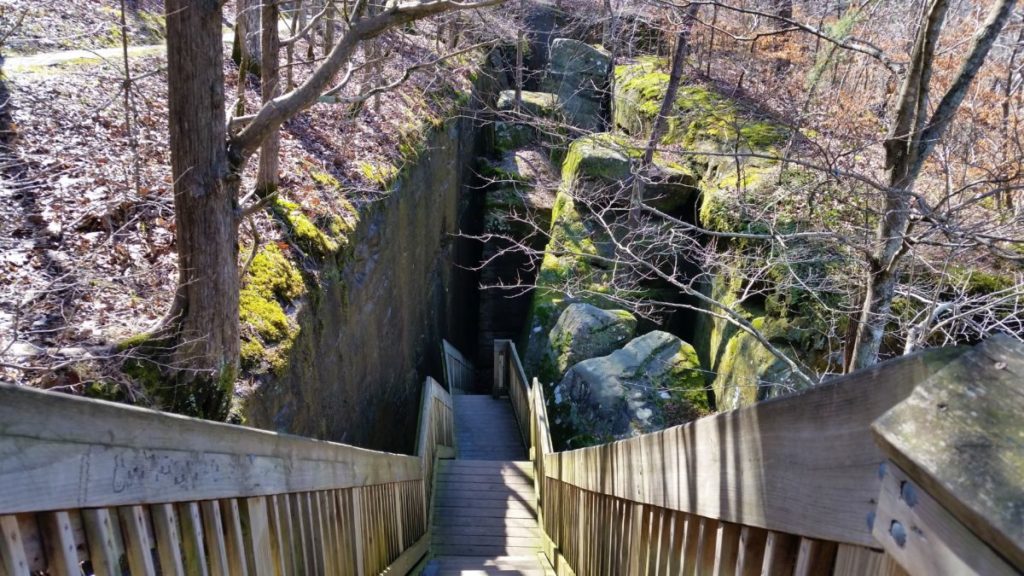 After meandering through the towering stone walls, we are brought to a natural shelter, the Ox-Lot Cave.
Talk about feeling small?!
Standing below looking up at the enormous sandstone bluffs, you can feel the cool air drifting from the rock.
Before heading to Southern Illinois, we discussed whether or not we should wait for a better time of year to visit. Winter may not have blooming flowers or leafy trees, but the area is dotted with moss-green covered rocks, unique formations, and stunning views.
Catfish at Trails End Restaurant

We stopped for lunch at Trails End Restaurant attached to Double M Campground. The menu is simple with appetizers, sandwiches and hot entrees.
The staff is extremely friendly and the fried catfish is excellent. A 1/2 lb of fish battered in a light seasoned breading served with hush puppies, slaw and fries. We ordered a piece of cobbler to go (fresh out of the oven) which was a great snack for later.
Looking for Robbers in the Cave-in-Rock

A short walk along the Ohio River, you will find a 55-foot wide opening shaped like a giant cartoon speech bubble. Being the ultimate hiding place before it was well-known, it served as a stronghold for outlaws.
Shawnee National Forest Garden of the Gods

We heard the sunset at Garden of the Gods was a sight to see. Agreed, it's a must-do when in the area.
If you were to only have time for one thing, I would say head to Garden of the Gods. The observation trail is only a half a mile loop on dramatic rock formations that provide incredible overlooks. Since our cozy cabin was nearby at Williams Hill Pass Campground, we took in its natural beauty on a few occasions.
*Tip: Don't forget to look out for the unique shapes within the rocks: mushrooms, a camel, a monkey, and a turtle*

RELATED: Read about our first cabin experience at Williams Hill Pass Campground
Dinner at Mackie's in Harrisburg
Being from Chicago I'm always curious when someone says there's a good local pizza place. I am happy to report we enjoyed Mackie's thin crispy crust with sweet sauce.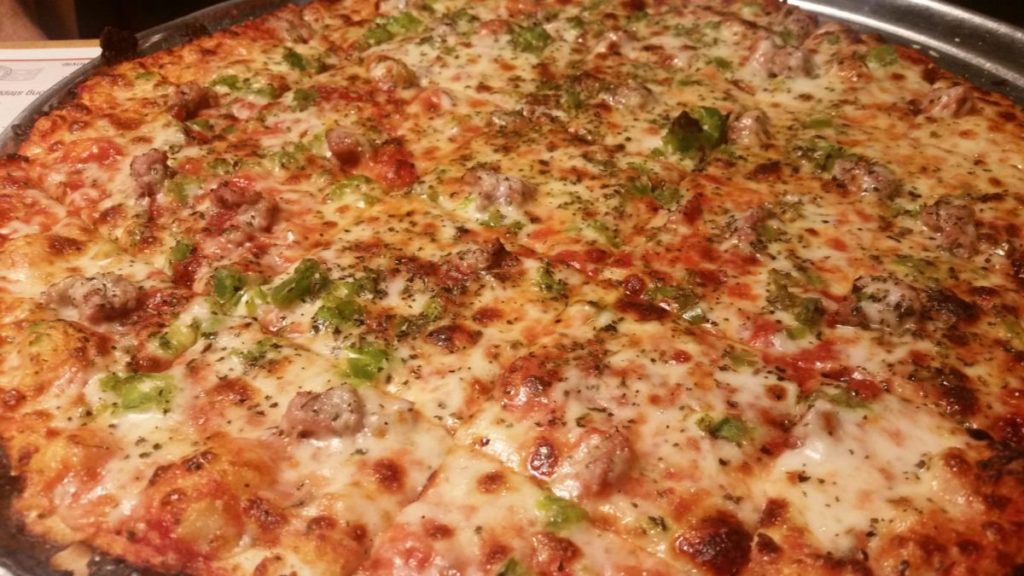 Day Two – Shawnee National Forest
Trickling Water at Burden Falls
Burden Falls is considered one of the highest in Illinois at a whopping 100 feet. The series of waterfalls are not very high by many standards, but remember we are in the plains.
The best times to view the waterfall is spring and fall when water is gushing down. Even though water is just trickling here in the winter the upper view was still picturesque.
Clear Blue Waters of Bell Smith Springs
After our short stop at Burden Falls, we hiked the white trail in Bell Smith Springs Recreation Area. We wanted to see the natural arch (the largest in Shawnee) on the yellow trail, but opted to do the white one instead.
We were told we'd have to wade through knee-high water due to recent rainfall which we were not dressed for. The loop is about 1.5 miles and follows a ridge line along a bluff overlooking the crystal blue water of the creek. It then descends into the canyon for a closer look at the scenic canyon.
Views at Triggs Tower
Step after step we climbed up the fire tower. We stood on the platform as forceful wind smacked us in the face, but it was worth it to overlook the beautiful Shawnee National Forest. We would love to come back for a visit in the fall when the leaves are changing.
After taking in the views we stopped at Shawnee Restaurant and Lounge for a quick bite to eat before heading to our next destination.
DID YOU KNOW THE GREAT RIVER ROAD IS NEARBY?
READ 30 MUST-SEE PLACES ON THE ILLINOIS SCENIC BYWAY
Gators in Illinois? Cache River State Natural Area
You'd half expect to see a slow-moving gator head in the Cache River Area. The swampland reminds me of the landscape you see often in the southern states like Georgia or Louisiana, not Illinois. We were running out of daylight, shorter days are a big negative to winter trips.
We took the walk on Section 8 Woods Nature Preserve Boardwalk to see the champion giant water tupelo tree. It's 23 feet in circumference and may be nearly 1,000 years old. Can you spot the tree below?
Next, we drove to the Heron Pond trailhead to walk along a floating boardwalk hovering over a green marsh popping with bald cypresses and water tupelos. The trail is short but diverse: bringing us through a wooded forest, a wetland then back to the forest with a 100-foot high state champion tree.
Delicious Dinner at The Diver Down in Golconda
For our final dinner in the area, we stopped at The Diver Down in Golconda. The restaurant is split in half with a bar on one side and a restaurant on the other. It was Saturday night and although it was busy, it wasn't too busy that we didn't get a seat right away.
The service and food were fantastic. My husband is still talking about the crab and cheese stuffed mushrooms baked and topped with parmesan Alfredo sauce. The catfish was delicious and came with a delightful mustard-based tartar sauce.
Day Three – Indian Point Trail
It's our last morning here so we decided to take one more hike near our campground. We headed back to the Garden of the Gods area at Indian Point Trail. The walk is 1.9 miles long and fairly easy.
It starts out on top of bluffs overlooking the valley and curves back down to the bottom of the canyon where there are a few caves to explore. It was a wonderful way to end our time in Shawnee. Now we just have to plan to get back to explore the west side. We would love to experience the Shawnee Hills Wine Trail and the other natural wonders the area has to offer.
⇓ Read below for tips on visiting the area ⇓
Know Before You Go
Sprint coverage is sparse. We had to use roaming while in the area. I'm not sure about other phone services, but just be sure to download Google Maps to use offline.

Do your research on things to do and see in the area beforehand. A good start for suggested itineraries and maps is at Southernmost Illinois Tourism Website. With limited resources at each of the trailheads and sparse phone coverage, it will be helpful to have all the information regarding the length of hikes, routes, and options for food.

Wear a sturdy pair of women's hiking shoes or men's hiking shoes, whichever applies. I prefer trail runners or hiking shoes that don't cover my ankles since it tends to rub, but if you prefer hiking boots, make sure to pick a durable and breathable pair.
Bring a good day pack to carry lunch, snacks and water for your daily hikes.
Some roads leading to the areas above are not paved.
There are not many restaurants within the forest so plan accordingly or bring your own food.


Other Fun Midwest Adventures
Do you know of any other must-see Shawnee National Forest attractions? Tell us in the comments below!
Don't forget to sign up below to follow on our adventures!
Disclaimer: This post contains affiliate links, if you book through our link we will receive a small commission at no additional cost to you. Thanks for your support as this helps with the cost of running the website.

Like it? Pin it!