One of the cool things about Memphis, Tennessee is its dripping in American music history and culture that dates back to the late 19th century. The eclectic city is home to the blues which then laid the roots for the emergence of rock and roll.
Legends like W.C. Handy, B.B. King, Alberta Hunter, Robert Johnson, Albert King, Elvis Presley, the Staple Singers, Jerry Lee Lewis, and Otis Redding all walked the streets of Memphis at one time or another.
Rock and roll brought the younger generation of the 50s and 60s, black and white, together through music. It created a powerful connection between the highly segregated worlds. Even before the assassination of Martin Luther King Jr., Memphis played a major role in the civil rights movement.
Not only does Memphis have a whole lotta shakin' goin' on, but it's also a city with a soulful story waiting for a few new readers.
In no particular order, here are 15 Memphis things to do for any first-time visitor:
1. Take in a sunset on the Mississippi River
The mighty Mississippi River has been an inspiration for many. It provoked the early pioneers like Lewis and Clark to explore out west. It presented Mark Twain with his name and became the setting for a majority of his stories.

The muddy utilitarian river may not always provide the prettiest views, but at sunset, it's a sight to see. Add this detour to your list of free things to do in Memphis.
Where: Mississippi River Park, Jefferson Avenue
2. Listen to Live Blues Music on Beale Street
Memphis is not just called "Home of the Blues," it was actually declared such in 1977 as an act of Congress! Nowadays, you can find any type of music on the infamous Beale Street, but remember you are in Memphis.
It doesn't matter if you typically like the blues, when you hear it – especially live – you can feel the spirit and depth of the music.
RELATED: NASHVILLE – NOT JUST A DESTINATION FOR MUSIC
Take your pick of places that feature live music every day of the week. Our favorites include Rum Boogie, Blues Hall, and B.B. King's Blues Club.
For a combination of blues classics and original lyrics look for Vince Johnson and The Plantation Allstars. The band plays regularly at a few of the bars on Beale. We could listen to these guys all night long, Vince plays a mean harmonica.
3. Watch the Duck Parade at Peabody Hotel
The resident ducks have been fixtures at the Peabody Hotel since the 1930s. Every day at 11:00 a.m. they are escorted from their suite on top of the building via the elevator and red carpet to the marble fountain in the lobby. They spend the day swimming and taking pictures and at 5:00 p.m. the Duckmaster parades them back upstairs.
Our visit was rather eventful as one rogue duck did not want to leave the fountain at the end of the day. Each team of ducks only stay at the hotel for three months and are then brought to a farm to live in the wild. I don't think he's going to want to go back, he's liking the fountain.
*Tip: Get there early as every day welcomes a big crowd. They do not allow people to stand on the main floor so if you don't get a good seat, head up to the Mezzanine level to watch from above.
Where: 149 Union Avenue
4. Eat Spicy Chicken at Gus's World Famous Fried Chicken
I know. I know. It's not technically barbecue which is what Memphis is known for. Don't let that stop you from having a lip-smacking delicious meal.
It may be simple, fried chicken served on white bread with beans and slaw, but Gus has the best fried chicken we've ever had.
Where: 310 S. Front Street
5. Visit Graceland, the home of Elvis Presley
Elvis Presley is okay but not really our thing. We were not huge fans, but we are now! That says a lot for the tour.
The price of admittance is a little steep, we debated whether or not to spend the money. There's more to Memphis than Elvis, but in the end, we decided Memphis is synonymous with him so we had to go. We chose the Elvis Experience Tour with the Airplanes Tour.
*Tip: If you don't want to spend or have the money for admission, go between 7:30 a.m. and 8:30 a.m. Visitors are allowed free entrance to the Meditation Garden where Elvis and his family are buried.
Where: Parking 3717 Elvis Presley Blvd
6. Snap a photo with the King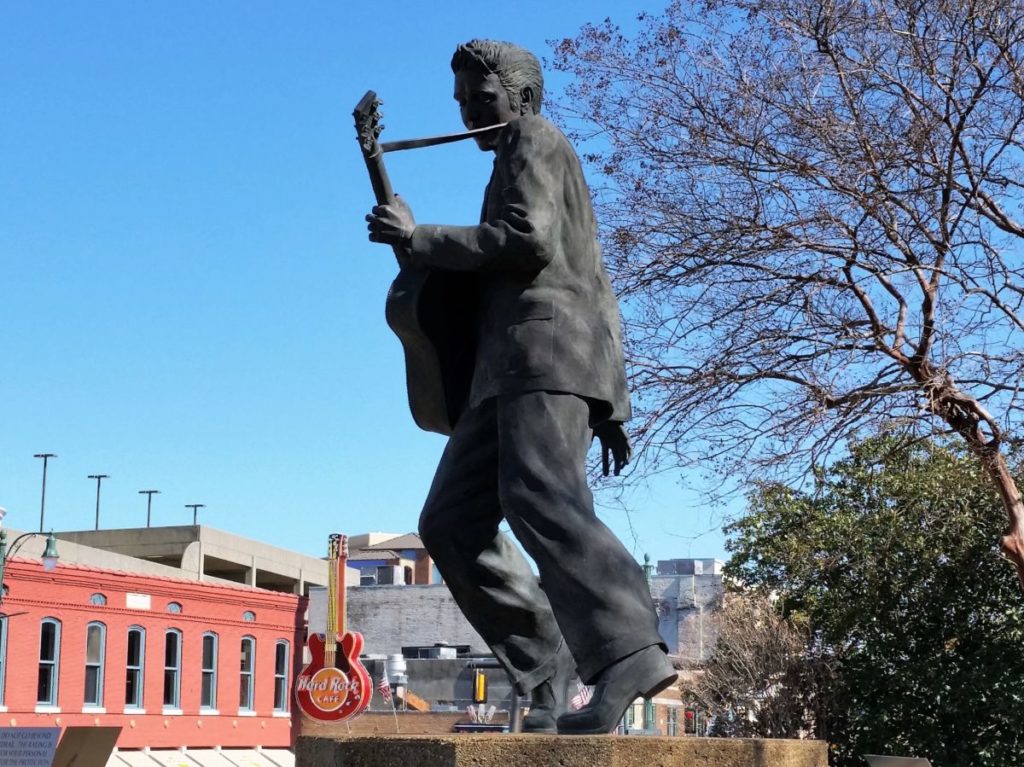 Staying with the Elvis theme, don't forget to take a picture with the King located on Beale Street.
Where: 103 Beale Street
7. See the Irish Diving Goats and drink an Irish Ale at Silky O'Sullivan's
You'll find Silky O'Sullivan's at the corner of Beale and B.B. King Boulevard in a building over 100 years old. The patio is one of our favorite places to hang out along with beer-guzzling goats.
I have no idea what the real story is behind the goats as I get a different story from each person I ask. All I know is that they live in a goat tower and enjoy beer. My kind of goats.
You'll also want to try the Irish Ale, it's made specifically for Silky customers only.
Where: 183 Beale Street
8. View from the top of Peabody Hotel
Not only can you see the penthouse for the Peabody ducks, but the rooftop offers views of the Mississippi river and downtown Memphis.
Get Your Guide is a great company that offers discounted tours and attraction tickets. One of the most popular tours out of Memphis is the Big Mojo Sun Studio + Music History Bus Tour which is a three hour tour of the world-famous Sun Studio as well as a crash-course in Memphis music history with a professional musician as your guide. Visit many of the important music-related landmarks while listening and singing along to live tunes. Did you know Johnny Cash, Elvis Presley, and Jerry Lee Lewis all recorded at Sun Studios? If you book through our site, at no additional cost to you, you'll help us support the blog since we receive a small commission.

Other fun tours they offer:
9. Go back in time at Sun Studio
We stood where the greatest musicians of rock and roll, country music, and rockabilly sang their hearts out at Sun Studio. Johnny Cash, Elvis Presley, Carl Perkins, Roy Orbison, Charlie Feathers, Ray Harris, and Jerry Lee Lewis, all recorded here throughout the mid-to-late 1950s.
Tip: If you don't want to spend or have the money for the tour, you can take pictures outside and in the café and store.
Where: 107 Union Avenue
10. Walk with a drink in hand down Beale Street
There are a limited number of areas in the U.S. you can carry a drink out on the street and Memphis is one of them. Why not grab a drink and enjoy!
11. Learn about the Civil Rights Movement
On April 4, 1968, Martin Luther King Jr., was assassinated at the Lorraine Motel in Memphis. He was one of the most prolific and consequential civil rights activists of all time. The motel and adjacent buildings now house the National Civil Rights Museum.
"Darkness cannot drive out darkness; only light can do that. Hate cannot drive out hate; only love can do that." ~MLK
Where: 450 Mulberry Street
12. Browse the oldest store on Beale Street
A. Schwab, established in 1876, is the oldest remaining original business on Beale Street. You will find everything from Memphis memorabilia to slick hats and obscure toys. You can get spend hours browsing through the hodgepodge of quirky merchandise.
Motto: "If you can't find it at A. Schwab, you're probably better off without it!"
Where: 163 Beale Street
13. Hop on a vintage trolley
Downtown Memphis is a walkable area, but the electric vintage trolley is an inexpensive and fun way to get around.
It stops at some of the major sights including the Tennessee Welcome Center, Peabody Place, Beale Street, National Civil Rights Museum, FedExForum and the South Main Historic Arts District.
14. Have breakfast at the oldest café in Memphis
You can visit the Arcade Restaurant as an Elvis-related stop, he was a regular at one time and even had a favorite booth. Or maybe you would like to hit your nostalgic chord with its retro décor and classic diner food.
Movie fan? The Arcade Restaurant has been immortalized in many movies: Mystery Train, Great Balls of Fire, The Client, The Firm, 21 Grams, Elizabethtown, Walk the Line, and My Blueberry Nights.
Where: 540 S. Main Street
15. Smack on some finger licking good barbecue
Last but not least, get yourself some grilled goodness. Take your pick from barbecue joints all around the city.
Favorites include B.B Kings, Payne's Bar-B-Que and Central BBQ.
Places to Stay in Memphis
Have you been? What were your favorite Memphis things to do? Any suggestions for a first-timer?
Don't forget to sign up below to follow on our adventures!
Disclaimer: This post contains affiliate links, if you book through our link we will receive a small commission at no additional cost to you. Thank you for help supporting the blog.
Like it? Pin it!