Brown County, Indiana is the perfect weekend getaway for families, couples, or a group of friends. Every season offers something special, but we visited for the fall color. We were a little early but still impressed by the beautiful state park and the artsy town of Nashville.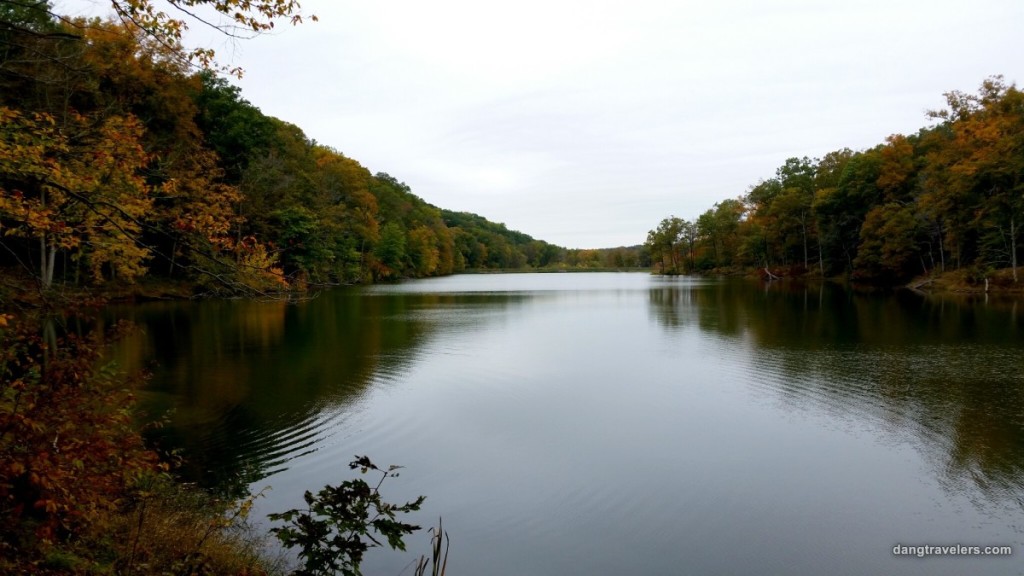 What to Do in Brown County State Park
Brown County State Park was dubbed Little Smokies, after its likeness to the Great Smoky Mountains.
Before visiting, we sort of laughed at the thought of a small Midwest park having any characteristics of the awe-inspiring Smoky Mountains. After one day in the park, we changed our minds and could definitely see where the comparison came from.
RELATED: BEST GETAWAYS IN INDIANA

It is great for all ages as you can enjoy the dazzling 16,000-acre park on foot, mountain bike, kayak, horseback, or even your butt while relaxing in your car.
The park has 20 miles of tree-lined roads that offer vistas and lookout towers with sprawling views. The sun-kissed treetops go on as far as the eye can see.
The entire trip we kept repeating the same thing over and over, "Can you imagine what it will look like in a few weeks when the color really starts to change?" We were so aggravated our timing was off but figured it's just an excuse to visit again.
The park has a leaf cam that updates every fifteen minutes, to keep you connected and in the know for when the leaves start to turn.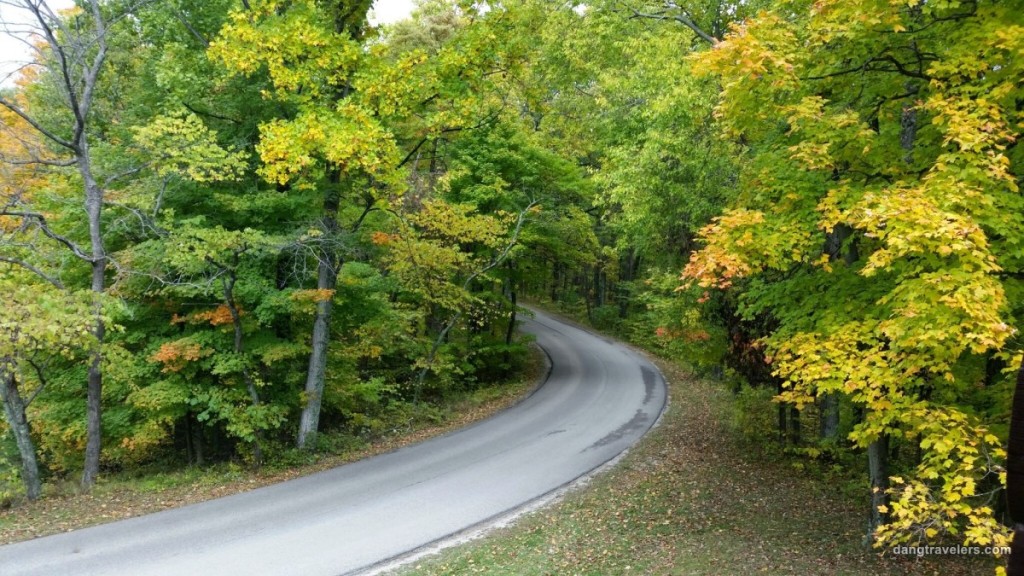 Looking for more Indiana trip ideas? Check out Santa Claus or Tramping in Amish Country!
Hiking in Brown County, Indiana
There are over 20 miles of dedicated trail options that vary in length with easy-to-rugged terrain. It's not for the avid hiker who is looking to through-hike for days but offers short to moderate walks with scenic views. Inside the 70 miles of forested equestrian trails, Saddle Barn offers horseback rides for individuals or group hayrides.
We went with family, including our nephews who were 5 and 7 at the time. They enjoyed driving through the park where the tree branches almost touched the car, climbing the lookout towers, and the short hikes. They have a nature center with a snake display, bird observation area, and a butterfly garden. The kids inspected the stuffed animals while making funny faces and we all got the heebie-jeebies looking at the snakes. Okay, maybe just me and my sister-in-law!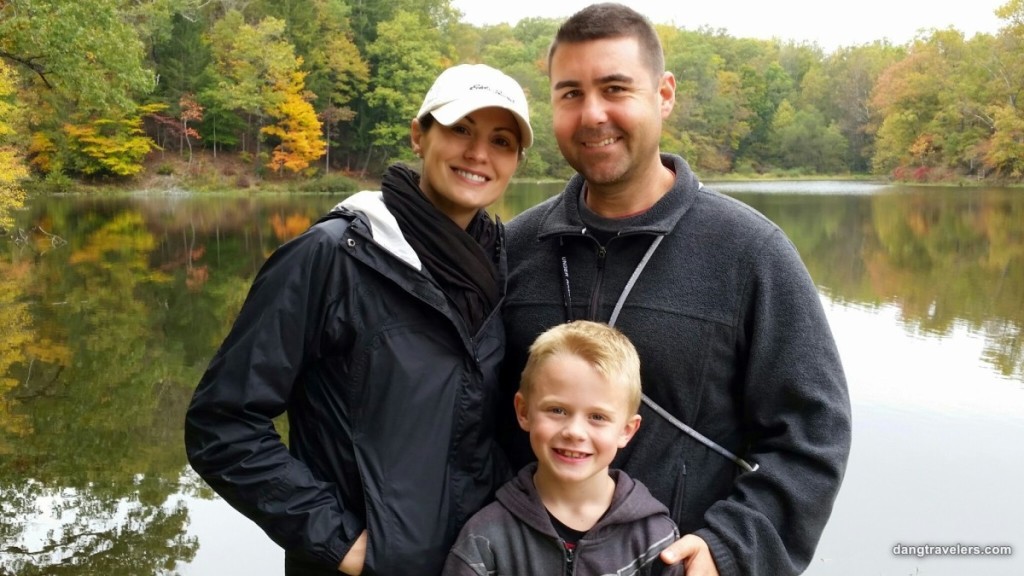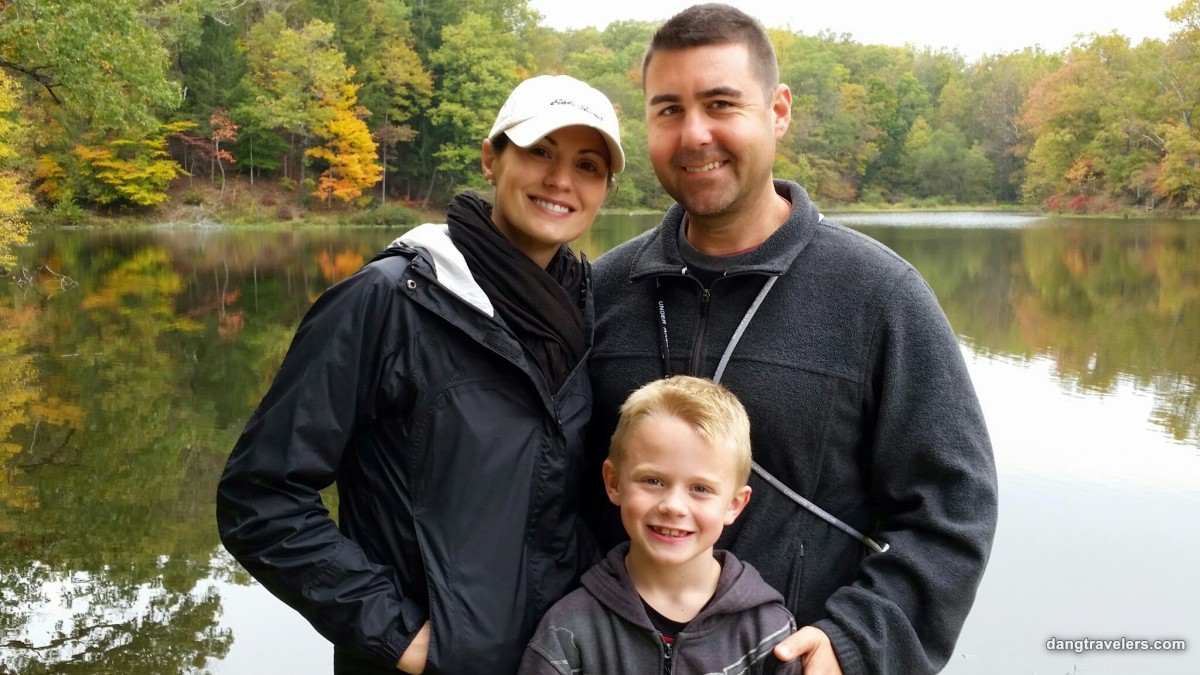 The town of Nashville (Indiana not Tennessee)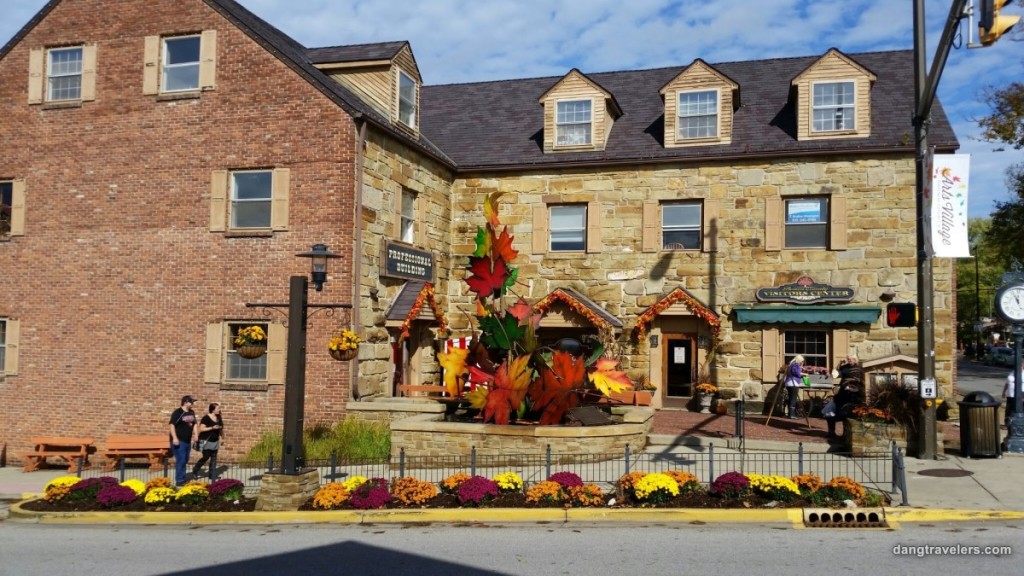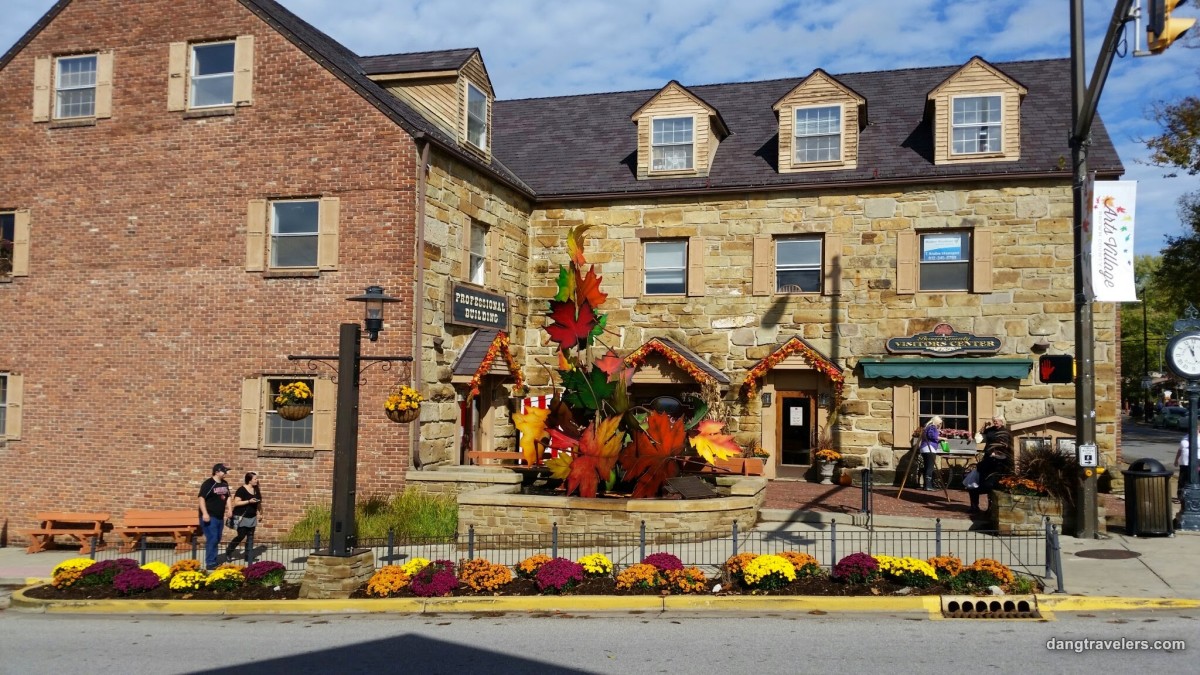 Known as the artist colony of the Midwest, Nashville did not disappoint. We spotted local artists whipping up stunning landscapes while we ogled with jealousy. They make it look so easy!
The quaint Brown County shops were filled with pottery, glass, wood creations, and stoneware. The majority of the galleries display beautiful renditions of the local area but also present various other works of art as well.
We really enjoyed checking out the Wooden Wonders of Nashville. They have remarkably detailed carvings on display that had to take months to create.
Nashville also puts together a few festivals throughout the year: Spring Blossom Arts Festival, the Annual Bill Monroe Bean Blossom Bluegrass Festival, Morel Mushroom Festival, and the Annual Fallfare.
Hiking through the changing forest and breathing in the crisp autumn air was a rejuvenating experience. Brown County is an unexpected hidden gem in Indiana.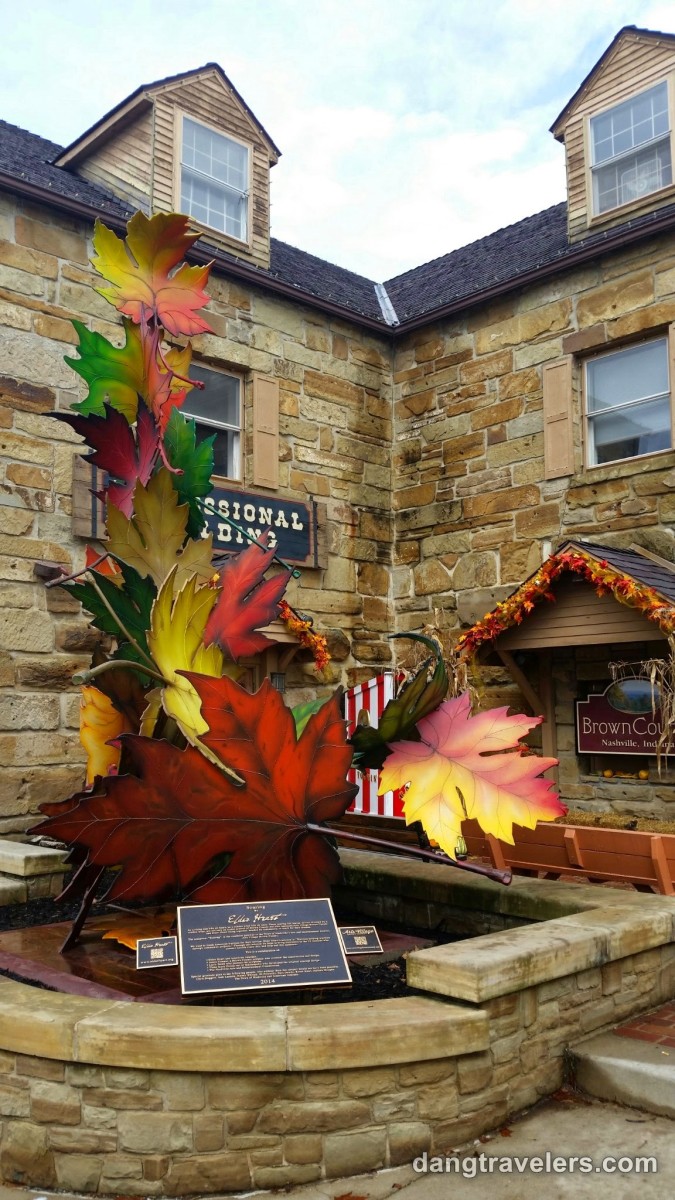 Side Trips from Brown County, Indiana
Village of Story
The unique Village of Story is about 13 miles south of Nashville. It is a preserved boomtown from the mid-1800's that never recovered after the Great Depression. In the early 1980's a young couple purchased the General Store and converted it into a Bed and Breakfast, The Story Inn, and the same couple eventually purchased the rest of the 23-acre town.
Many of the original structures are still standing. The once dilapidated historic buildings, including the Treaty House, Alra Wheeler homestead, Carriage House, and the Old Mill have been refurbished into guest cottages.
Bloomington & John Mellencamp Stalking
The cool college town of Bloomington, home to John Mellencamp and Indiana University, is only 19 miles west of Nashville. On the way to Brown County, we stopped to bike the area which included their B-Line Trail that traipses right through downtown.
Click here to read about all the other fun things to see and do in Bloomington, Indiana.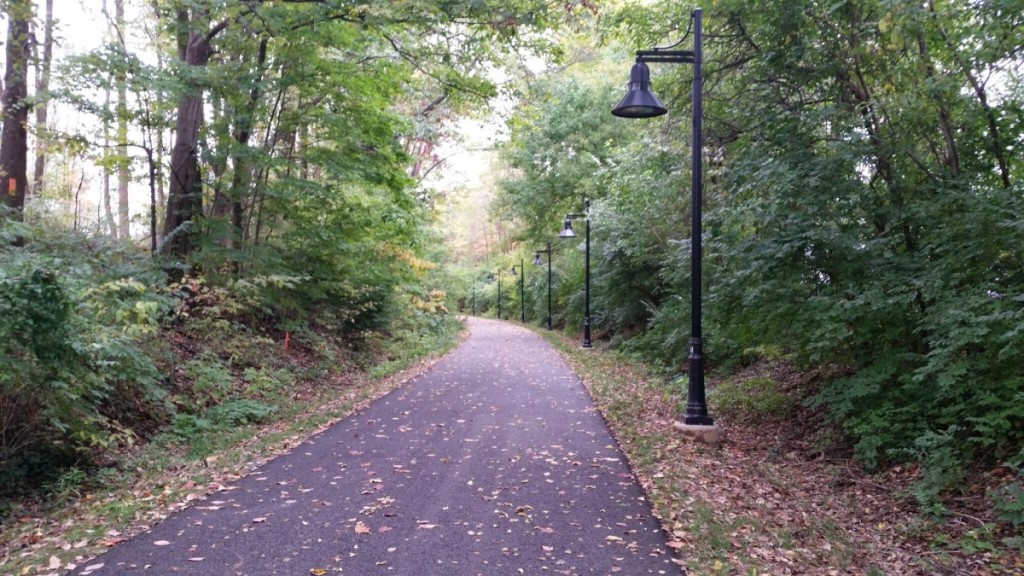 We love visiting college campuses and towns (no, we are not trying to relive our youth!), they always have beautiful landscaping, bike paths, and fun bars and restaurants. We stopped and ate lunch at Upland Brewery. They had a few distinctive beers, food was delish, and the outdoor biergarten was very welcoming.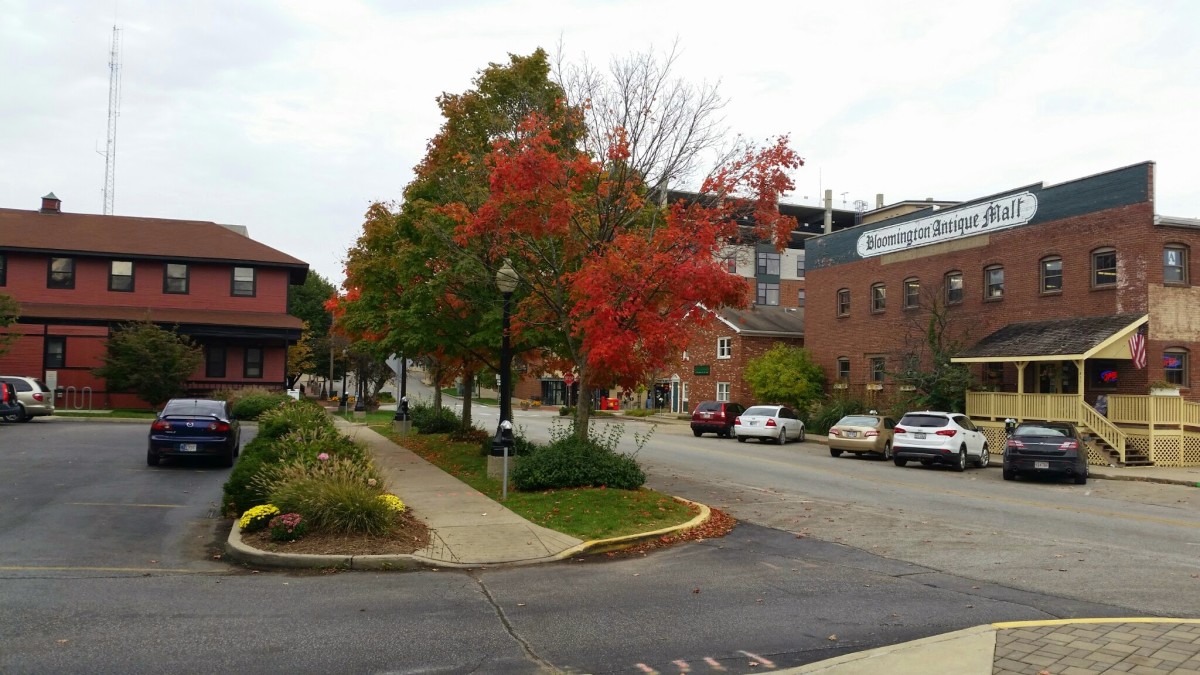 I am a Midwest girl who loves me some John Mellencamp. I picked it up from my mom and aunt at a very young age. "Small Town" is based on the two towns in Indiana that Mellencamp has called home: Seymour, where he was born and Bloomington, were he currently resides. From Bloomington, you can take a short ride on scenic Highway 446 across Lake Monroe, in search of the gate to John Mellencamp's estate (stalk much?).
Looking for other Midwest travel destinations?
What is your favorite location for fall color?
Like it? Pin it!