Updated January 2021. Nothing beats springtime in middle America. The air is crisp with an aura of anything is possible. Melting ice gives way to teensy buds that turn into blossoming flowers. And southern Indiana is the perfect area to observe this transformation.
The city of Bloomington was actually named for its "haven of blooms" so it wasn't a surprise when we found the town dotted with tulips and dogwoods. Just another good reason to plan a short getaway to one of the prettiest college towns in the nation.
It's the last weekend in April and the forecast in Chicago was calling for a mix of snow and sleet. Thus it was a pleasant realization that only four hours south in Bloomington, we were to expect sunny and sixties on our first day. Unfortunately, rain is expected on the last day but that's when having five breweries, two wineries, and a distillery come in handy!
So Where is Bloomington, Indiana?
Situated in the heart of the Midwest in the southern part of the state, Bloomington is a short driving distance from many major cities:
1 hour & 15 minutes from Indianapolis, Indiana.
2 hours from Louisville, Kentucky.
2 hours & 45 minutes from Cincinnati, Ohio.
3 hours & 30 minutes from Lexington, Kentucky.
3 hours & 45 minutes from Columbus, Ohio and St. Louis, Missouri.
4 hours from Chicago, Illinois.
4 hours & 30 minutes from Nashville, Tennessee.
There are so many fantastic places to visit in the state so if you're looking for additional ideas for future travels, check out our other article with The Best Indiana Weekend Getaways.
Without further ado, let's talk about the best things to do in Bloomington IN.
Enjoy the Great Outdoors
Find Serenity Now
On day one of our weekend, we arrive in town early and it is gorgeous out, so we decide to get out in nature before hitting the city scene.
After a 15-minute drive south of town, we find the peaceful area surrounding the Tibetan Mongolian Buddhist Cultural Center. The retreat offers an escape from the buzzing college town. As we slowly walk up to the large white structure, I read a sign on the left side of the path.
"When seeing a Temple, Stupa, & Prayer wheel you should go around Clock wise to generate Merits!"
I don't have the slightest clue when it comes to Buddhism traditions so I welcome the tip on our self-guided tour.
Dedicated to the people of Tibet, the Cultural Center aims to foster and preserve Tibetan and Mongolian cultures here in the United States. The 100-plus acres, hugged by trees and shrouded in solace, offers a quiet locale for meditation and reflection. Throughout the year, the center provides a place for workshops, teachings, seminars, retreats and ceremonies.
Whether you take a self-guided tour or call ahead for a guided one, a walk around the cultural center is one of the most unique things to do in Bloomington, Indiana.
If you'd like a real unique experience during your visit to Bloomington, unplug and stay on property in a yurt.
Best Scenic Overlook
Next on our Bloomington itinerary is the Hickory Ridge Fire Tower in the northern reach of the Hoosier National Forest at the Charles C. Deam Wilderness Area.
The 110-foot-tall steel structure overlooks 13,000 acres of sprawling forest. After climbing 133 metal steps, we are rewarded with unparalleled 360-degree views of fluffy bright green treetops and a cloud-filled sky as far as the eye can see.
The tower, built in 1936 by the Civilian Conservation Corp (CCC), was used to spot wildfires until the 1970s. It's one of eight that still stands in the national forest. Now, it provides one of the best scenic views in the area.
If you're looking for free things to do in Bloomington, IN head outdoors for some hiking!
Tip: On the drive in, stop at Brooks Cabin, an authentic log cabin open on the weekends as a welcome center with a vault toilet. It's the second road on the right after you turn on Tower Ridge Road.
Lake Life
On the way back into town, we take a short detour to see the largest inland lake in the state, Monroe Lake. It slowly becomes apparent why Bloomington is called the "Gateway to Scenic Southern Indiana."
A drive through the bucolic area takes us through rolling green hills and flowered pastures. An opening eventually appears with a few parking spots between two towering limestone bluffs. We walk to the water's edge and take notice that instead of being surrounded by exorbitant summer homes, the lake butts up against a wall of forested land.
With 10,750 acres of water surface, there are plenty of water activities to choose from at the lake: boating, fishing, tubing, water-skiing, and swimming. Maybe we will plan another trip back in the summer!
Beeline to the Walking Trail
It's time to park the car, check into the hotel, and explore. Let's head over to the B-Line Trail, a 3.1-mile paved path through the heart of downtown.
Splashed with colorful artwork and creative sculptures to the south and woods to the north, the converted railroad is an awesome introduction to the city.
NEARBY: THE BEAUTIFUL BROWN COUNTY STATE PARK
Eat and Then Eat Some More
From classic comforts to international cuisine, B-town has it all. With over 100 independently owned restaurants, the city is fast becoming a foodie destination. Because of the fabulous full hot breakfast at SpringHill Suites, where we hunkered down for two nights, we only adventured out for lunch and dinner.
Lunch
For a college vibe, head to the iconic Nick's English Hut on Kirkwood. It has been serving patrons since 1927 and your tour of Indiana University is not complete without a stop-in.
Not even a block away, you'll find the Laughing Planet Café, feeding locals, students and tourists alike. Stuffed with organic and locally-produced ingredients, their staple California-style burrito is a great option for healthy fast food. I found choices for everyone on the menu: vegan, gluten-free, low-carb, and paleo. Vibrant local artwork hangs on the inside walls while festive lights are strung overhead on the outdoor patio. A perfect spot for lunch near campus.
UPDATE: UNFORTUNATELY, LA VIE EN ROSE CAFE IS PERMANENTLY CLOSED. A great alternative is Mother Bear's, which was voted Indiana's best pizza and is a local and statewide favorite.
Want to escape the Midwest? Step into La Vie en Rose Café, where you'll be transported to a cozy Parisian bistro. This pretty in pink café is as authentic as they come in the states. You'll find a simple but delicious menu of pastries, quiches, soups, salads, and cakes. We opted to share a few daily specials – French Onion soup and Kalamata and onion savory bread loaf – and a cheese plate.
My husband was a little skeptical at first, saying it is "a place for girls" but quickly changed his mind! La Vie is a charming place to catch a light meal made from scratch.
Appetizers and Dinner
A happening spot for drinks and appetizers is the Crazy Horse, one of the oldest establishments in Bloomington.
Grab a plate of fried green tomatoes layered with homemade bacon and sizzling cheese sticks while debating what to sip on. With 80 beers, 120 varieties of whiskey, and daily specials to choose from, it may take you a while.
At Hive, you'll get fast and friendly service and comfort food with an international flair in a casual setting. Since it was a cold night, we both opted for the Ramen bowl; the collaboration of flavors melted in our mouths leaving us with warm and satisfied bellies.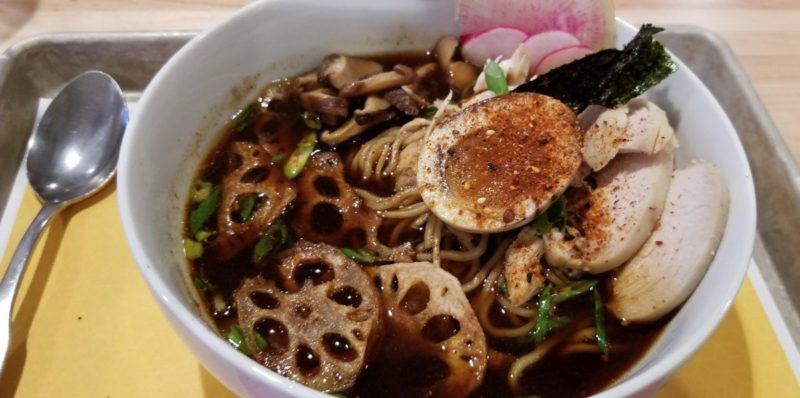 For a well-rounded dinner experience, Cardinal Spirits, overlooking the B-line Trail, is the place to be. The craft beer movement is moving over to make room for the first distillery in Bloomington.
I accented my grilled chicken and black truffles plate with a Goody Two Shoes, toasted black sesame-infused Standard Dry Gin, lime, kiwi shrub, and snap peas. And my husband wouldn't even share a bite of his fontina cheese and pesto-smeared burger. I managed to get a small sip of his Nocino Negroni, Standard Dry Gin with Nocino, Valencia Triple Sec-and-berry elixir, demerara, orange blossom water, and Angostura bitters.
Talk about putting a creative twist on classic drinks!
Wondering what Nocino is? So were we! It's a traditional Italian liqueur made from green, unripe walnuts that the distillery collects locally in Fort Wayne. Once we heard that Cardinal is the only place in Indiana that produces it, we had to get a taste.
Make your Own Brewery Crawl
You ate, now it's time to drink and be merry. We are in a college town after all so there is no shortage of bars to choose from. But if you've followed our adventures, you know we enjoy trying craft breweries.
Bloomington, along with many cities across the country, has hopped on the beer wagon. After indulging at three out of five, it was decided we will definitely be back for another beer-cation.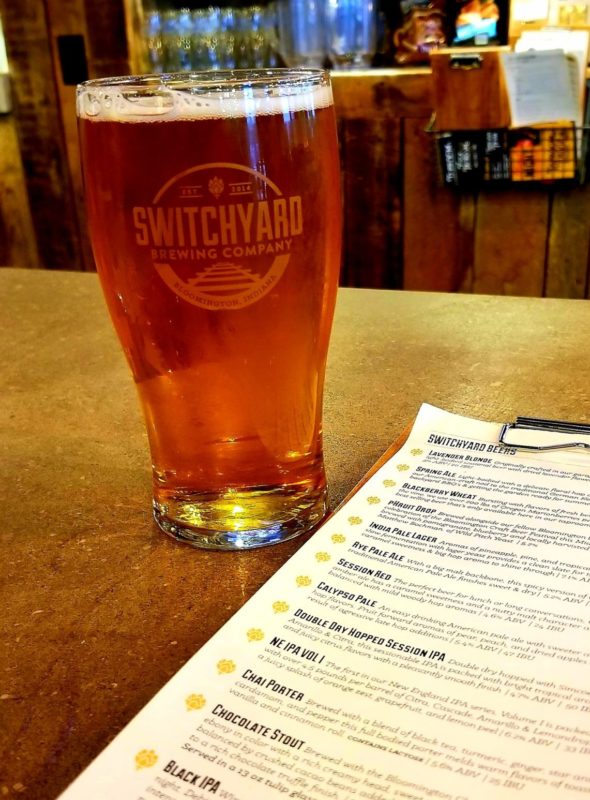 Southern Indiana's first brewpub, Bloomington Brewing Company, can be found at the Brewpub at Lennie's.
Even though they are well-known for their pizza we had a taste for something else. When our waitress recommended a pasta dish and sandwich, we were all ears. We paired them with an IPA and an oatmeal stout and our meal was complete.
At Upland Brewing Company take your pick from a wide range of beer and imbibe on the inviting outdoor patio. The name or label may be familiar to you if you've ever watched the television show, Parks and Recreation. It was the local beer in the fictional town of Pawnee.
At the Wood Shop next door, Upland opened a separate facility for brewing sour ales. With over 10 unique flavors on tap and more on rotation, Upland's tart and complex beer is gaining popularity and is highly regarded in the industry.
Switchyard Brewing Company is definitely a favorite among the locals. We struggled to find a seat in the industrial taproom as a section was reserved for a baby shower. Now, that's a shower I'd like to attend!
A few beers caught our eye, as the brewers teamed up with local vendors such as the Bloomington Chocolate Company and Hopscotch Coffee to create two impressive stouts.
While we didn't make it to The Tap or Function Brewing, we have both on our to-do list for next time. The Tap, in line with its name, has 90 beers on tap along with their own. It has one of Indiana's largest selections of small-batch craft beer. And Function, a new brewery quickly making a name for itself for high-quality sandwiches and good beer.
Take a Bloomington Indiana University College Campus Tour
A stroll through Indiana University is a MUST-DO when visiting Bloomington. It consistently ranks in the top 100 national universities in the U.S. and among the top 50 public universities. And it is one of the most beautiful campuses in the nation.
Walk through the large Sample Gates on a wooded trail to the Kirkwood Observatory, built in 1900 and now one of the distinctive buildings on campus. Then head over to the romantic Rose Well House, built in 1908 from the stone door gates of the Old College Building. Next head inside of the Student Union building, the second largest in the world. It has a hotel, shops, a bowling alley, restaurants, and conference rooms. At this point, you probably will have noticed many of the buildings were constructed with locally quarried limestone.
Afterward, pop your head into Beck Chapel, a fairy tale place of worship. If you have time, walk into the Lilly Library to see an impressive collection of rare finds like one of the few copies of The Gutenberg Bible located in the United States, an autographed copy of Ulysses by James Joyce and Henri Matisse, an Academy Award statue from 1935, an assembly of the smallest books in the world and a copy of Audobon's Birds of America.
In front of the library, you'll see the Showalter Fountain depicting Venus, the goddess of love and beauty. And right down the road is the Eskenazi Museum of Art which unfortunately was closed during our visit for renovations. It is expected to reopen in the Fall of 2019. The museum houses over 45,000 objects and well-known paintings from the likes of Picasso, Monet, Warhol, and Pollock.
Last but not least, head over to the greenspace at the IU Arboretum to end your tour.
TIP: Watch the 1979 movie, Breaking Away, with a young buff Dennis Quaid. The Academy Award winning movie was filmed all around Bloomington including on campus.
Support Local at the Farmers Market
As the warmer weather finally arrives so does Bloomington's Farmers Market. From April till November, you can browse booths with handcrafted items, locally grown fresh food, and flowers and plants. It is THE place to be on Saturday mornings. Live music is playing, kids are playing, and people are sampling away.
Don't eat breakfast before! Go early to grab a coffee and pastry to fuel up for the day.
Discover the Patio at Oliver Winery
After visiting many wineries over the years, we've come to appreciate not only the wine but usually the ambiance that goes with it. Even being right outside of the city, Oliver Winery is no exception. In addition to a beautiful spacious tasting room with large windows and exposed wooden beams, the outdoor area is absolutely stunning.
From the moment you leave the parking lot, Oliver Winery welcomes you in with manicured landscaping, bubbling waterfalls and flowers galore.
The winery began as a law professor's hobby in the 1960s and has grown into one of the largest wineries east of the Mississippi. For $5, you can sample 8 wines with a wide array of options.
Even if you don't like wine, head over to the patio and order a plate of cheese and crackers and soak up the atmosphere.
Tip: Free 25-minute walking tours are offered every half hour on Friday and Saturday, noon to 4:30 pm; Sunday from 1 pm to 4:30 pm. Reservations not required.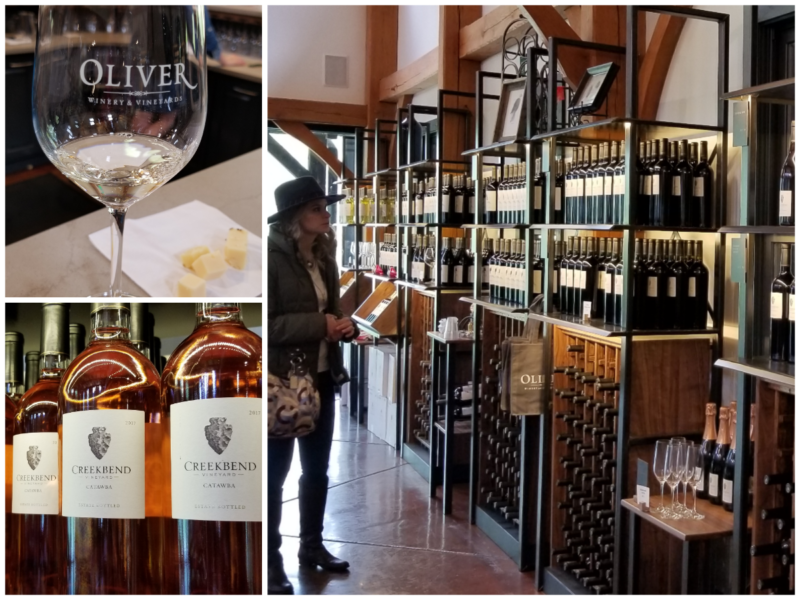 Experience Downtown Bloomington
The walkable downtown district is chock full of restaurants, pubs, storefronts, historical buildings, and music venues. Pick up a souvenir, shop the vintage racks, listen to live music, or find a new favorite coffeehouse.
If you like architecture, check out the Courthouse Square Historic District. It was developed between 1847 and 1936, you'll find notable buildings such as the Monroe County Courthouse, Bloomington City Hall, Princess Theatre, and the Wicks Building. There's so much to do in the condensed area!
If you are looking for fun things to do in Indiana, you can't go wrong with a weekend getaway to Bloomington.
Know Before You Go
One hour free parking is available at all garages downtown Monday – Saturday. Free all day on Sunday.
Bloomington Indiana Street Parking – Metered parking is available downtown Monday through Saturday from 8am to 9pm. Free on Sundays and holidays.
There's always something happening around town so check out Bloomington Indiana Upcoming Events to find out what.
*Disclaimer: We were hosted by Visit Bloomington for two out of three nights during our stay but all of my opinions and experiences expressed are my own.*
Please Pin!