Girlfriend getaways are good for the soul. Period. It didn't take a scientific study to tell me that grabbing your best gal pal and hitting the road is one of the best mental health reboots a girl can get. Sometimes you just need a trip with copious amounts of laughter, good food, silly endeavors, new experiences, and wine. Lots of wine. One of my oldest friends and I were looking for a short road trip from Chicago to a place we've never been. And we landed in Hamilton County, Indiana.
"Friends are the people in life that make you laugh a little louder, smile a little brighter and live a little better!"
So Where is Hamilton County, Indiana?
Just north of Indianapolis, Hamilton County is centrally located in the middle of Indiana state. Under 200 miles away, it is an easy weekend trip from Chicago.
The four corners of the main southern cities of Westfield, Carmel, Noblesville, and Fishers, make an almost perfect square. And within that box, you'll find welcoming and lively communities brimming with arts and entertainment districts, outdoor adventures, historic squares, boutique shopping, and diverse restaurants.
An ideal locale for an Indiana girls trip!
RELATED: ILLINOIS GIRLS TRIP
Day One
Carmel Arts and Design District
Start your girls getaway Hamilton County in the southwest corner. Steadily topping the charts in the "America's Best Places to Live" category, Carmel will have you taking a timeout on a bench to look up real estate as you wander through the Arts and Design District.
First impressions of the area are how safe it feels (says two women who are always on high alert) and how darn cute the downtown district is. Take a few obligatory selfies with any of the 17 life-like statues that you'll find camouflaged on the streets. I had to do a double-take a few times to determine if I was about to pass a real person or a bronze figure!
One of the many things to do in Carmel Indiana will take you to Main Street, take a respite at Peace Water Winery, where you'll find an outdoor patio and tasting room of a local winery that donates 50% of its net profits to charity. Grab a drink and pat yourself on the back for helping change the world one glass of wine at a time!
Eventually, make your way into a few art galleries and storefronts, a favorite being Silver in the City with its quirky and funny gifts, Indiana-pride products, and handmade jewelry.
PLANNING A LONGER TRIP: ADD BLOOMINGTON TO YOUR VISIT
Where: Peace Water Winery, 37 West Main Street, Carmel, Indiana
Silver in the City, 111 West Main Street, Carmel, Indiana
The Museum of Miniature Houses
While miniatures and dollhouses are not particularly my favorite things, the Museum of Miniature Houses is an interesting stop, to say the least. Situated in the Arts and Design district, it is an emporium of all things tiny; I can't even imagine the patience someone has to have to make these intricate pieces!
"You are going to a museum with miniatures? Where is it? How far? Send me pictures! No, seriously. I want all the details."
The response from my friend's mother-in-law when she found out where we were going was quite a surprise to me. I never realized the world of miniatures was a passion for some. My own mother reminded me of the Art Institute of Chicago's 68 miniature rooms by Mrs. James Ward Thorne. And the revelation came full circle when I saw one of her rare pieces in the Carmel collection.
"Miniatures are reality reduced to scale, usually 1:12 (or 1″ to 1′) but also commonly a/s" and 1/4″ scales.  In addition, a miniature should be historically correct, accurately reproducing in detail the era it depicts.  The precise sale, historical accuracy, and fine craftsmanship of most miniature houses make them magical tiny renditions of the real world."
A favorite exhibit of mine is the Sherlock Holmes' Bedroom, a reconstruction created out of seven of his books, by LaVerne Sullivan. Inside the room box, you'll find a miniature bed, desk, books, lamps, a chair, and even small boots and magazine holder! The attention to detail is incredible.
Since its opening in 1993, the Museum of Miniature Houses and Other Collections has welcomed over 91,000 visitors. It is one of only a few in the nation dedicated to this fine art. Displayed at the museum are elegant Victorian homes, crocheted figurines, antique dollhouses, and whimsical room boxes, all painstakingly constructed with the utmost care.
Where: 111 East Main Street, Carmel, Indiana
Monon Trail
Whether you take a stroll or rent a bike from a Zagster bike share station, make sure you check out the Monon Trail, a rails-to-trails paved path that extends more than 25 miles from Indianapolis through Hamilton County to Sheridan. Because of traffic earlier in the morning, we didn't arrive as early as we wanted so we were only able to walk a mile or so, but definitely will rent bikes next time.
There are multiple access points throughout Hamilton County – at 96th Street as well as Rohrer Road, just south of 146th Street. Or, park along the street or in a parking garage and hop on the Monon Trail at Main Street in the Carmel Arts and Design District or at Carmel City Center and the Palladium.
Tip: If you are interested in some of the railroad or local history, stop in the Monon Depot Museum, located right on the trail in Carmel. Admission is free and it is open April – October, Saturday & Sunday 1 – 4 p.m.
Urban Vines Winery and Brewery
Next, head over to Urban Vines Winery and Brewery in Westfield for wine tastings and a predinner snack. Oak barrels and a black and white checkered flag at the entrance let us know we've turned into the right place.
As we open the door, both of our eyes are drawn to the huge wine bottle chandelier hanging over the bar. The bartender waves us over and hands us a long list of wines of various types to choose from: dry white, dry red, semi-sweet, sparkling, sweet and meads.
After trying five samples, pick your favorite one, order a glass and move outside. The back patio, dotted with picnic tables and red chairs, overlooks a small vineyard and is an ideal location to enjoy a drink.
Tip: For an added bonus, plan your visit on a free bingo night midweek or for live music (Friday, Saturday, or Sunday).
Where: 303 East 161st St., Westfield, Indiana
Rail Restaurant
After imbibing a bit at Urban Vines, take the short three-mile drive to Rail Restaurant. You might be a little confused when you realize the restaurant you are looking for is in the middle of a neighborhood. Once you spot the bright red restored barn with the inviting outdoor patio adorned with big light bulbs and white umbrellas, you know you're in the right place.
Rail takes the farm-to-table movement to a whole new level. The joke of the night is, "Were you raised in a barn?"
Before we are seated, we notice the chalked Indiana map on the interior wall with markings of where all the local ingredients come from: meat from Smoking Goose in Indianapolis, dairy from Fischer Farms in La Porte, and artisan cheese from Steckler Farms in Dale.
I choose a 24-hour brined, pesto-rubbed chicken breast with a side of heirloom tomatoes, fresh mozzarella, and fresh basil drizzled with a balsamic reduction. While my friend orders the cottage pie made with a tender English roast and gravy with a medley of vegetables and smashed red potatoes.
Not only is the upscale but still down-to-earth Midwestern atmosphere fantastic, but the food and service are top-notch.
Note: The Rail switched owners and is now a cafe. I have not been since the switch, but it's getting great reviews.
Where: 211 Park Street, Westfield, Indiana
Day Two
Strawtown Koteewi Park
Begin day two with breakfast at the hotel if it includes it. If not, head to Rosie's first. After all that munching, it's time for a walk!
With over 800 acres of land and eight miles of hiking trails, Strawtown Koteewi Park (pronounced ko-TAY-wee) in Noblesville is the perfect site. The park pays homage to its Native American ancestry with educational displays, a recreated archeological site, a dugout canoe, and huts similar to the ones that would have been found back then.
It's a gorgeous day so we walk the northern loop, 2.3 miles that brings us through a shaded woodland area, prairie land, and a stretch along the White River.
We also make a quick stop at the similar 3.2-mile southern loop and find a historic bridge that crosses the river over by the campground.
TIP: Other outdoor activities at the park include horseback riding, an archery range, canoe launch for White River and aerial trails.
Where: 12308 Strawtown Avenue, Noblesville, Indiana
Rosie's Place
By this time, you'll be looking to recharge and Rosie's Place in downtown Noblesville is a good place to amp up. Black and white personal photos hang on the exposed brick wall, affirming the family-owned and friendly atmosphere you think you feel when you walk in.
Obviously a local hangout, the tables are filled with chatty co-workers and friends meeting up for a midday rendezvous. Since we are on a girls getaway Hamilton County style, drinks are a must. A spicy Bloody Mary and Cranberry Mimosa are in hand when skimming the menu. You can't go wrong whether you choose from the breakfast or lunch side, because everything at Rosie's has that special homemade touch.
You'll be full on your way out, but don't forget to grab a cookie for later!
Where: 68 N9th Street, Noblesville, Indiana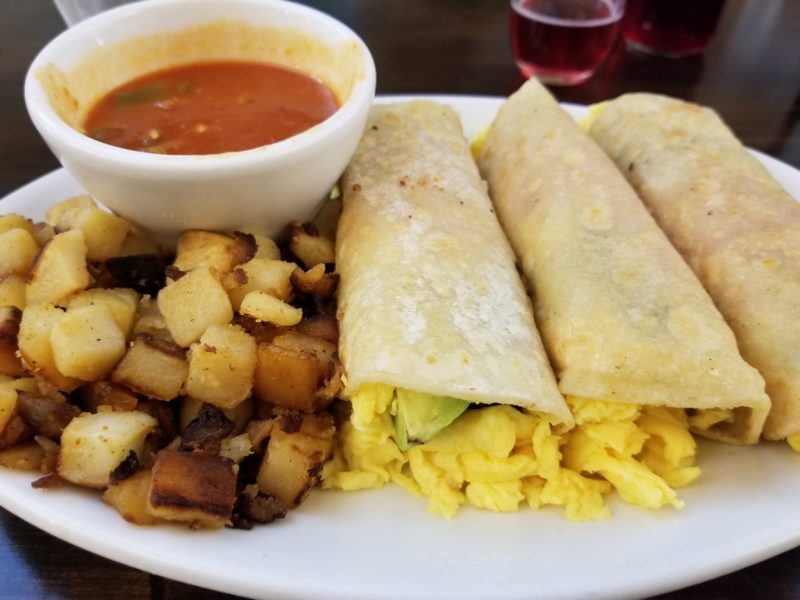 Historic Downtown Noblesville
After lunch, explore the historic Noblesville square, also part of the Noblesville Cultural Arts District. At the heart of the square sits the beautifully kept and well-preserved Hamilton County Courthouse building. Completed in 1879, it is an architectural gem.
On the same piece of land, you'll also find the Hamilton County Historical Society's Old Sheriff's Residence and County Jail, open to the public for a donation-only admission.
In all our travels, I've never seen a setup like this. A sheriff house in the front and cellblock in the back. The building is listed on the National Register of Historic Places and served as the Sheriff's Residence and the Jail until 1977. The cells once housed the infamous Charles Manson and Ku Klux Klan leader, D.C. Stephenson. It's a unique and interesting stop in Historic Noblesville, Indiana.
Dinner & A Show
For your final night in Hamilton County, take advantage of the Center of the Performing Arts, a three-venue performing arts center home to the Palladium, the Tarkington and the Studio Theater. With hundreds of performances throughout the year, you're bound to find something you like.
Forbidden Broadway is currently playing at the Studio Theater, the smallest and most personal of the three venues. The musical parody is a spoof on all things Broadway-related. Taking aim at producers, plots, and musicals themselves, it had us giggling throughout the whole performance. The four-person show is pointed, sarcastic, and right up our alley for an entertaining girl's night out.
Unfortunately for us, a crazy storm came through right before the show and cut out the power within a few block radius so our plans were derailed. Otherwise, Divvy Restaurant was on our agenda. The performance center is in downtown Carmel so you can choose from any number of places to eat such as Bub's Burger Joint or Woody's Library Restaurant.
Where: 4 Center Green, Carmel, Indiana
Café Patachou
Before heading home, plan to brunch at Café Patchou, once referred to as one of the top "Ten Favorite Places for Breakfast in the Nation," by Bon Appetite Magazine. It will forever go down as the restaurant where I discovered Croissant French Toast.
Before the farm-to-table movement hit the foodie scene, the owner at Café Patachou was keen on using locally sourced ingredients right from her communal "backyard" in Indiana. When we read the below statement right on the menu, I knew we found a great brunch spot!
"Have a problem? Tell a human, not a follower. Tell us while you are here, when we can do something about it! A human created the problem, a human can fix it."
Where: 5790 E Main Street, Carmel, Indiana
Girlfriend Getaway Hamilton County edition was a total success! Although we felt like we conquered many of the awesome things to do in Hamilton County, we will definitely be coming back to explore more. Maybe for a festival or special event!
Have you been to Hamilton County? Tell us your favorite thing to do in Carmel Indiana!
*Disclaimer: We were hosted by Visit Hamilton on this particular visit. All thoughts, opinions, and experiences expressed, however, are my own.*