Much to my husband's annoyance, a focus of mine this year – since I'm turning the big 4 0 – is to finish visiting every state in the United States. With only two to go, my fifty-before-forty goal will be complete this summer with a week to spare! Since I am so close, I just could not let this go. When I found out the Midwest Travel Network Conference was going to be in my 49th state, I immediately started doing some research. So here we are finishing up an epic North Dakota road trip, leaving only one more state on my list.
Ultimately, we found the drive-through state to be filled with outdoor adventure, quirky roadside attractions, authentic cowboy culture, revitalized urban spaces, and my favorite, unwavering kindness.
Follow along on I-94 as we discover all the best North Dakota attractions you should add to your trip itinerary when you decide to visit.
Map of North Dakota Road Trip
HOW TO USE THIS MAP: To view the layers and see the names of the places on this map, click the tab in the top left corner. You can select the check marks to show or hide certain layers. If you select the icons on the map, you will get more information about the point of interest.

HOW TO SAVE THIS MAP: If you select the star icon, you can save this map to your Google Maps account. To view it, open Google Maps in desktop or on your phone, select the menu button, go to "Your Places," scroll to the right to Maps, and you will see this map.
Theodore Roosevelt National Park
Theodore Roosevelt, often called the "conservation president," played a major role in expanding the National Park system. We can thank him for the Antiquities Act of June 8, 1906, which enabled President Roosevelt and succeeding Presidents to proclaim historic landmarks, historic or prehistoric structures, and other objects of historic or scientific interest in federal ownership as national monuments.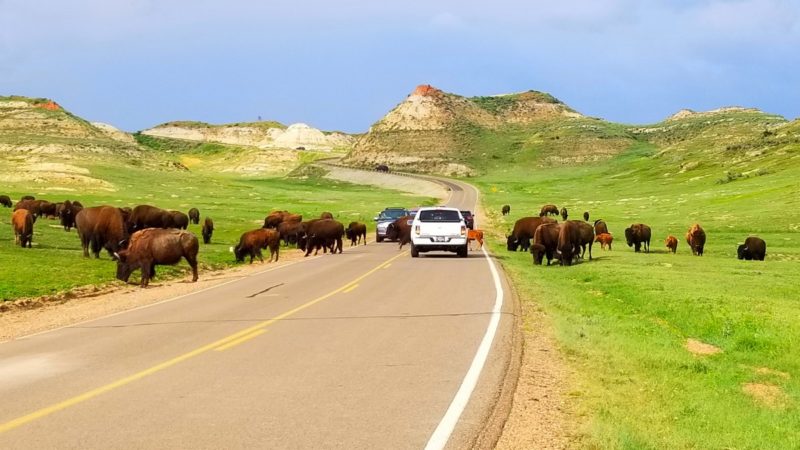 Under his presidency, five national parks and four national monuments were established. And his love and respect of the rugged outdoors started in Dakota Territory.
He first came to the Badlands to hunt in 1883 and eventually built two ranches. Both of which you can still visit in North Dakota's only national park with his namesake. The Theodore Roosevelt National Park covers 70,000 acres of sprawling natural beauty with winding waterways and painted canyons and should definitely make your North Dakota bucket list.
MUST-SEE: South Unit 36-mile Loop Drive (*partially closed in the southern section due to road damage- check website for updates), Sunset at Wind Canyon, Painted Canyon Visitor Center Overlook, Ridgeline Nature Trail, Roosevelt's Maltese Cross Ranch Cabin, Boicourt Trail, Buck Hill Trail, Oxbow Overlook, River Bend Overlook, Cannonball Concretions Pullout, 14-mile North Unit Scenic Byway.
Medora, North Dakota
When exploring Theodore Roosevelt National Park book your stay in Medora, one of the "15 Best Small Towns to Visit," according to Smithsonian Magazine. The delightful western town lies along the edge of the South Unit of the park and is home to two classic North Dakota experiences: The Medora Musical and Pitchfork Steak Fondue.
Performing all summer long outside among the breathtaking Badlands backdrop, the Medora Musical is a throwback to the Old Wild West days.
Take a seat at the open-air Burning Hills Amphitheatre and soak in the live show dedicated to President Theodore Roosevelt's time here. There'll be snappy music, spirited dancing and even fireworks.
Pair your evening at the musical with a hearty meal cooked by cowboys. I never thought the words, "slap my steak on that pitchfork" would ever come out of my mouth but that was before I spent time in Medora North Dakota!
Come hungry because the steak also comes with fresh fruit, salad, coleslaw, vegetables, baked beans, garlic toast, baked potatoes, brownies, and cinnamon-sugar donuts served cafeteria-style.
Walk around and soak in the authenticity and charm of this small town. Take a selfie with Teddy, grab an ice cream cone, and pick up a souvenir or two.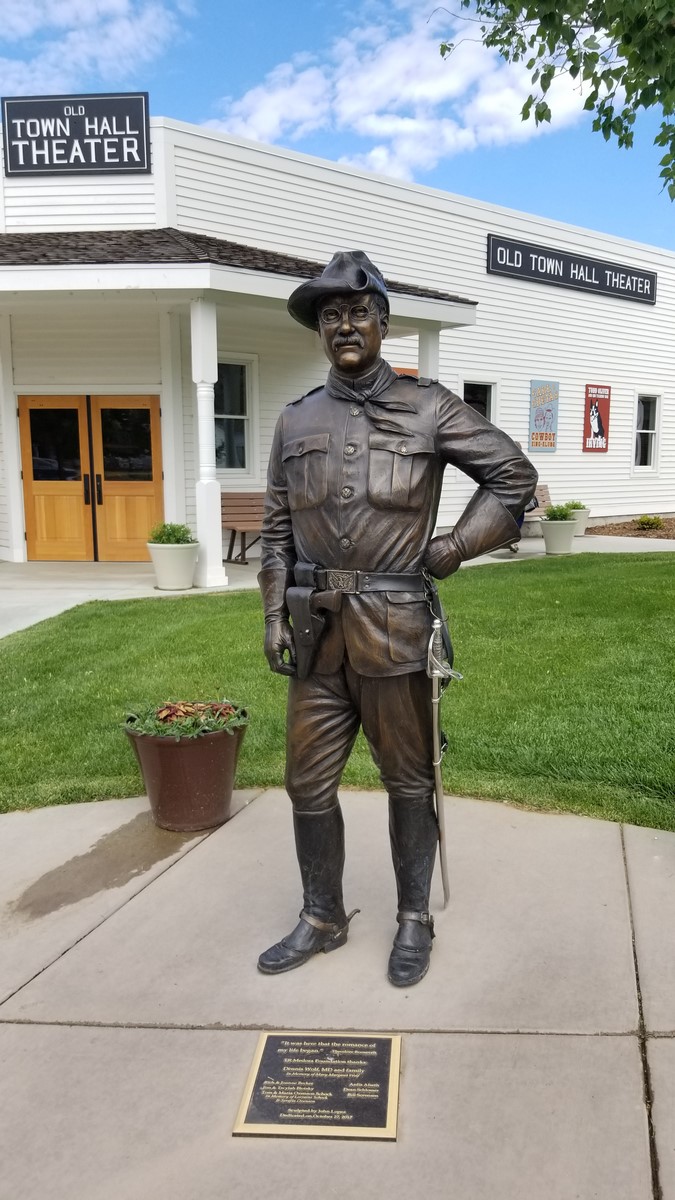 Stop in the Little Missouri Saloon, established in 1883, where the door handles are pistols and the ceiling is draped in dollar bills. There's even a small blackjack table tucked away in the corner. If it's nice out, head upstairs to the outdoor patio for a bite to eat.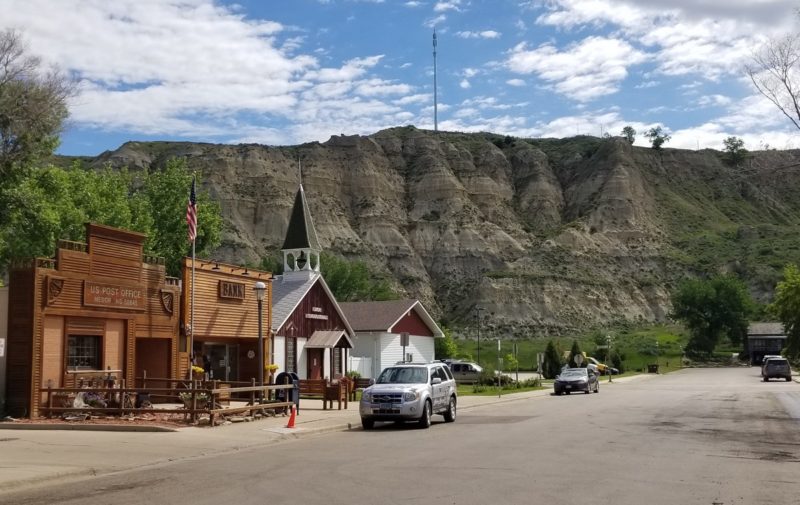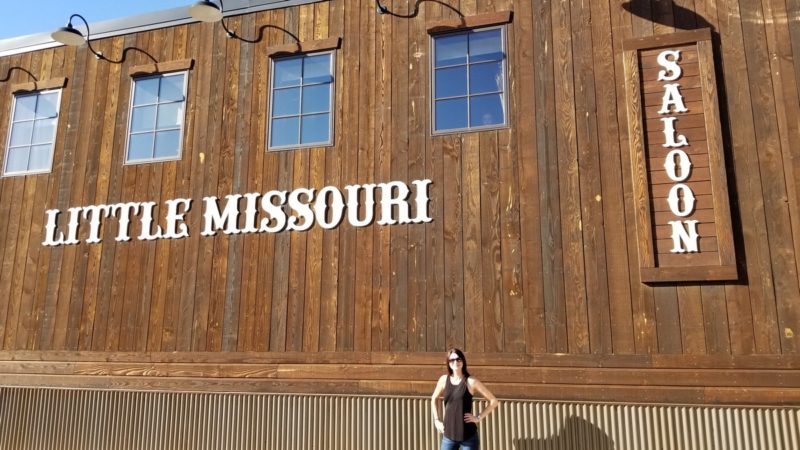 Enchanted Highway
Heading east through the state, take the detour south at exit 72 to the Enchanted Highway, a road turned into an outdoor art gallery. The 32-mile stretch of scrap metal sculptures will take you from the rural towns of Gladstone to Regent.
Local artist, Gary Greff, devised the project in 1989 and continues to add on to the artsy North Dakota roadside attractions.
Some of our favorites were the "Tin Family," "Fisherman's Dream," and "Pheasants on the Prairie."
TIP: If you want to make the drive extra special, plan to spend the night in Regent at the Enchanted Castle, co-owned by the creator of the metal sculptures.
New Salem Sue
Roll your way back to I-94 so you don't miss the next crazy roadside oddity of Salem Sue, the world's largest Holstein cow.
New Salem is rich in dairy farms and dang proud of it. At 36 feet high and 50 feet long, Salem Sue can be seen from five miles away. I couldn't help but wonder how big her udders are!
Her presence shows that New Salem grows
With milk-producers' yields;
We've got the cow, world's largest cow
That looks across our fields.
North Dakota State Capitol in Bismarck
Your first stop in Bismarck should be the "Skyscraper of the Prairie," the North Dakota State Capitol. The 19-story Art Deco building looks nothing like most of its counterparts across the country on the outside but is historical nonetheless.
Head inside, grab a self-guided pamphlet at the info center – if tours are not going on – and take a look around. You might be wondering what is North Dakota known for? Head to the ground floor to find out. The North Dakota's Hall of Fame is where you'll discover the who's who of notable people from the state and what they've accomplished.
Walk up the stairs to the first floor while noticing the jet black Belgium marble along the wall leading you to the prominent North Dakota seal.
You'll find yourself in the monumental Memorial Hall, where bright gold colored ornamental sculptures keep watch above the revolving doors. They depict the farming and mining communities so prevalent throughout North Dakota. Keeping with the agricultural theme, the huge chandeliers hanging overhead represent the head of wheat.
On the same floor, walk to the east side of the building to see the tower elevators that are adorned with bronze reliefs representing the pioneer experience.
Then zip on up to the 18th floor observation deck for fantastic views of the city.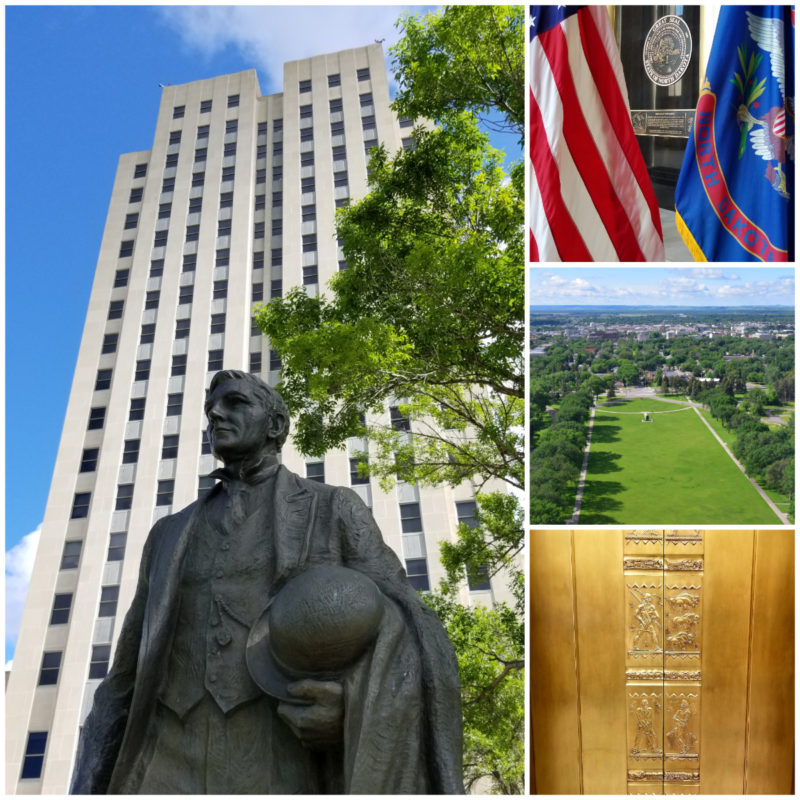 And afterward, walk over to the North Dakota Heritage Center and State Museum, the official history museum of the state. Enter through the sleek glass atrium and take notice of the rare round stones planted at the front entrance. The cannonball concretions are unique formations from the Cannonball River in North Dakota.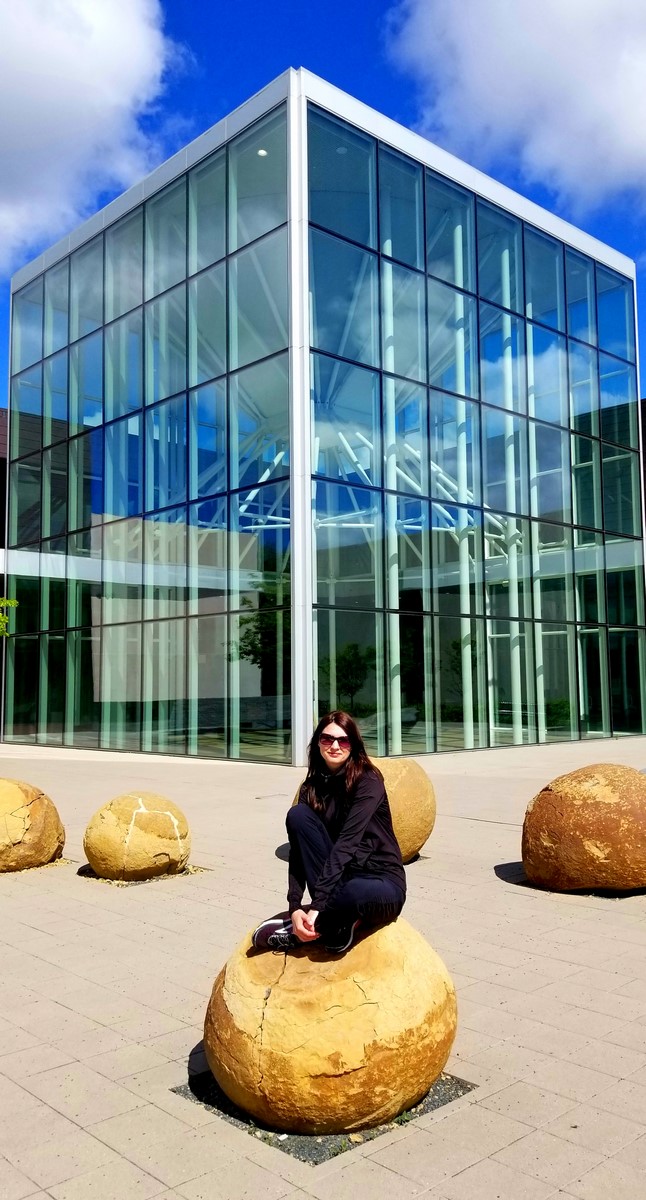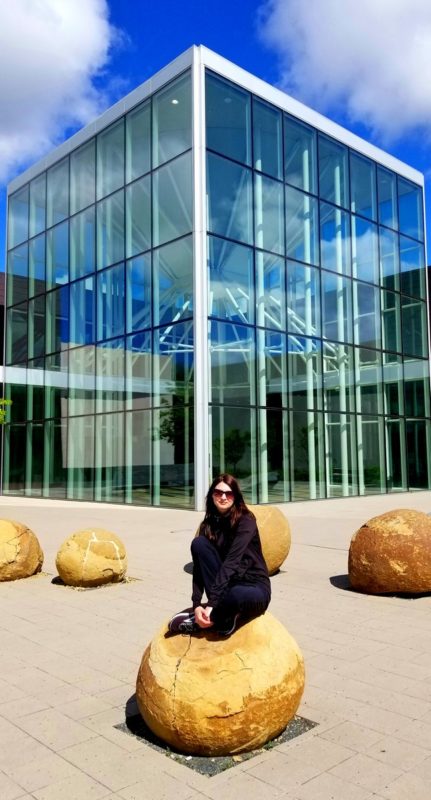 MUST-SEE: Explore the Underwater World exhibit that has the world's largest giant squid fossil, the Innovation Gallery that has a handpainted mural of Double Ditch Indian Village, a rare mummified dinosaur, and much more!
Fort Abraham Lincoln State Park
Travel back in time during two specific time periods at Fort Abraham Lincoln State Park. The museum at the Visitor Center gives a great introduction and in-depth look at the history of the area.
Then, delve into the 1500's at On-A-Slant Indian Village where you'll discover five reconstructed earthlodges. The Mandan tribe inhabited the confluence of the Missouri and Heart Rivers from the late 16th century until 1781.
Afterward, either walk or drive up to the Infantry Post. The blockhouses offer spectacular views of the Missouri river valley.
Then fast forward to 1875. Over 100 years later after the tribe had already left, the land became a military post. General George Custer and his wife lived here until his death.
Travel Tip: Plan for at least 3-4 hours. The state park surprised us as far as depth of information and walking trails.
Lewis and Clark Riverboat
One of the top attractions in Bismarck is the Lewis and Clark Riverboat tour. Float down the Missouri River and see what it was like back in the early days when riverboats were the major mode of transportation.
Begin your voyage at Keelboat Park on the 40-foot flat bottom boat as you feel American history come alive. Plan a sunset cruise like we did and you'll have the glowing prairie sky meet the rippling waters edge for a perfect end of the evening.
Be on the lookout for the unusual four-headed Thunderbird statue located right on the banks of the river next to the parking lot for the boat. Built by students, the sculpture has an eerie kind of beauty to it.
Bismarck is one of those cities that will surprise you. We only planned for one overnight but wished we had designated another one to explore more.
If you like artsy things check out Art Alley located on 5th street halfway between Broadway and Main Avenues. It reminded me of Kansas City's art scene a little bit. Turning ugly dark alleyways into colorful paths of genuine talent is a fantastic way to revitalize an area.
Frontier Village and the World's Largest Buffalo
In case you haven't seen enough buffalo yet, your next stop should be the World's Largest Buffalo, Dakota Thunder. Standing tall over Jamestown since 1959 at 26-feet high and weighing in at 60 tons, it is quite a sight to see. Also, be on the lookout for the rare albino buffalo in the pasture below.
On your way to the concrete giant, you'll pass by old pioneer buildings that were transplanted here from other parts of North Dakota.
Take a walk in and explore a little.
Lining the street is a trading post, saloon, barber shop, post office, church, and print shop all right out of an Old Wild West movie. I could almost hear the swinging doors and banging gunfights.
Fun Fact: Louis L'Amour, the American novelist who wrote Western books dedicated to life on the frontier, was born and raised in Jamestown. You can read more about him and his books at the Writer's Shack.
LIKE ROADSIDE ATTRACTIONS? ROUTE 66 IS LINED WITH THEM!
Tower Travel Center
The Tower Travel Center is not just another truck stop, it is a pie destination. You read that right, this pit stop is more like a pie stop. Pies are made fresh daily with a wide selection to choose from. We planned on taking two to go but they didn't make it out the door!
Fargo-Moorhead Visitors Center
Our final stop is looking for fun things to do in Fargo North Dakota. Lying on the edge of the Minnesota – North Dakota border in a repurposed old grain elevator, you'll find the Fargo-Moorhead Visitors Center.
It is not your typical tourist information center. Walk down the Celebrity Walk of Fame where names like Def Leppard, Dr. Ruth, Metallica, and Neil Diamond will jump out at you.
Then head inside for free popcorn, coffee, and a few photo ops like shoving a foot down in the renowned woodchipper from the cult classic, Fargo.
And if North Dakota is your 50th state, join the Best for Last Club. Young and old have joined the ranks from nine to ninety-nine years old. You'll receive a commemorative t-shirt, an official certificate, sticker and a round of applause from the staff. If I had only gotten to Oregon first! DANG!
OTHER NOTABLE THINGS TO DO IN FARGO: Drekker Brewery, Sandy's Donuts, Fargo Air Museum, and North Dakota University.
Is North Dakota worth visiting? Is there anything to see in North Dakota? That's a hard YES. In fact, throughout our North Dakota road trip we found ourselves saying over and over again, the poor state gets a bad rap as boring but it is nothing close to that. There are so many unique things to do and authentic experiences to be had but maybe we should have kept that to ourselves so it doesn't get overrun by tourists!
We found so many cool North Dakota attractions on our road trip! Did we miss any? Share with us in the comments below!
*Disclaimer: We were hosted by Bismarck Mandan CVB for one night during our North Dakota road trip. All thoughts, opinions, and experiences expressed, however, are my own.*
Please Share for Later!