Badlands and Black Hills Road Trip – 7 Day Itinerary
If you are looking for a classic All-American vacation, you are heading to the right place. A Black Hills road trip in South Dakota encompasses everything a trip should be: endless opportunities for scenic drives, unforgettable scenery, must-experience historic sites, and exhilarating outdoor adventures. Pick your favorite travel companion and get planning!
How Many Days to Spend in South Dakota
Whether you are planning to stop in South Dakota on a cross-country road trip (click here to see our full itinerary) like we did or it is the main destination, you will only be disappointed if you do not plan enough days.
This seven-day, fun-filled itinerary will help you create a memorable trip that you will be talking about for years to come.
How to Get to the Black Hills
The Black Hills of South Dakota is in the southwest region of the state. Flying is the quickest form of transportation to the area. Flights are anywhere between one to four hours from many major U.S. cities. Rapid City Regional Airport (RAP) is the closest airport. It houses Allegiant Air, American Airlines, Delta Connection, Frontier, Northwest, and United. Rental cars are then available to get you around on your trip.
The Black Hills also provides a PERFECT opportunity to hop in your vehicle to see what you can find on the road. We drove the 850-miles or so from Chicago on a mega road starting with Badlands National Park.
READ NEXT: OUR TOP PICKS FOR A MIDWEST SPRING BREAK TRIP
If you are interested in renting an RV from your home state, check out RVShare, one of the largest RV rental marketplaces.
Where to Stay
Take your pick of lodging choices in the area, anywhere from romantic B&B's to basic tent sites. There are options for any type of traveler. I would recommend one location for the first six days. Near Mount Rushmore, in Custer State Park or Rapid City and one overnight near Badlands National Park. We camped in Custer State Park and loved the location for a base.
Lodging Options near Mount Rushmore
Lodging Options near Custer State Park
Lodging Options near Rapid City
Lodging near Badlands National Park
Disclaimer: This post contains affiliate links, if you book through our link we will receive a small commission at no additional cost to you. Thanks for supporting the blog.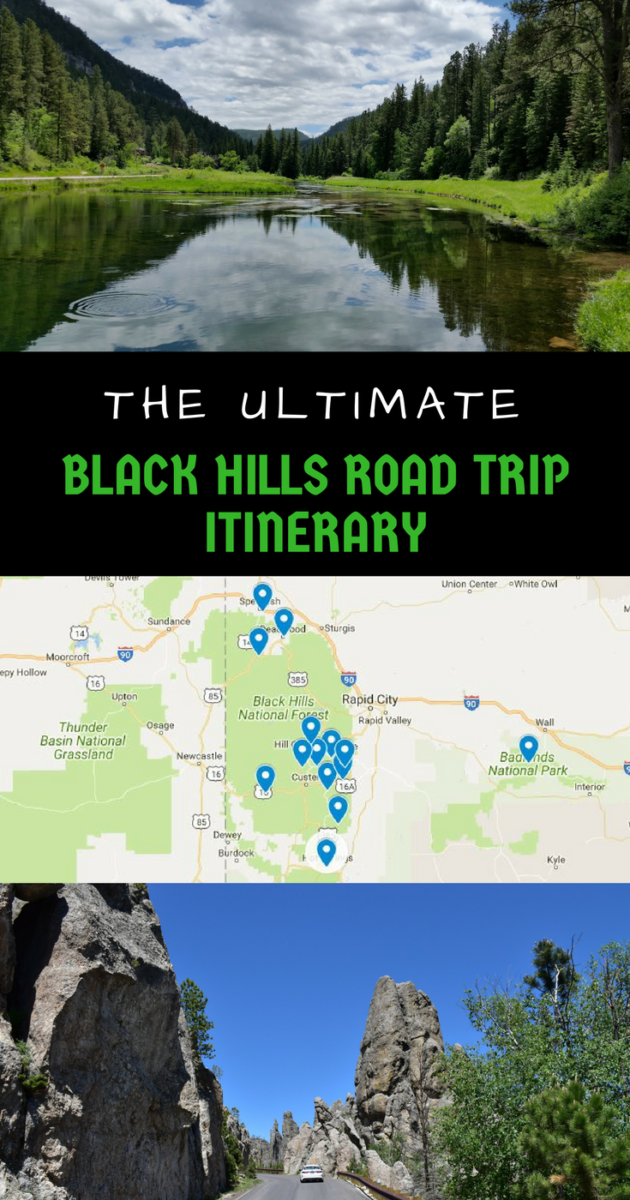 Here's your South Dakota road trip planner:
DAY 1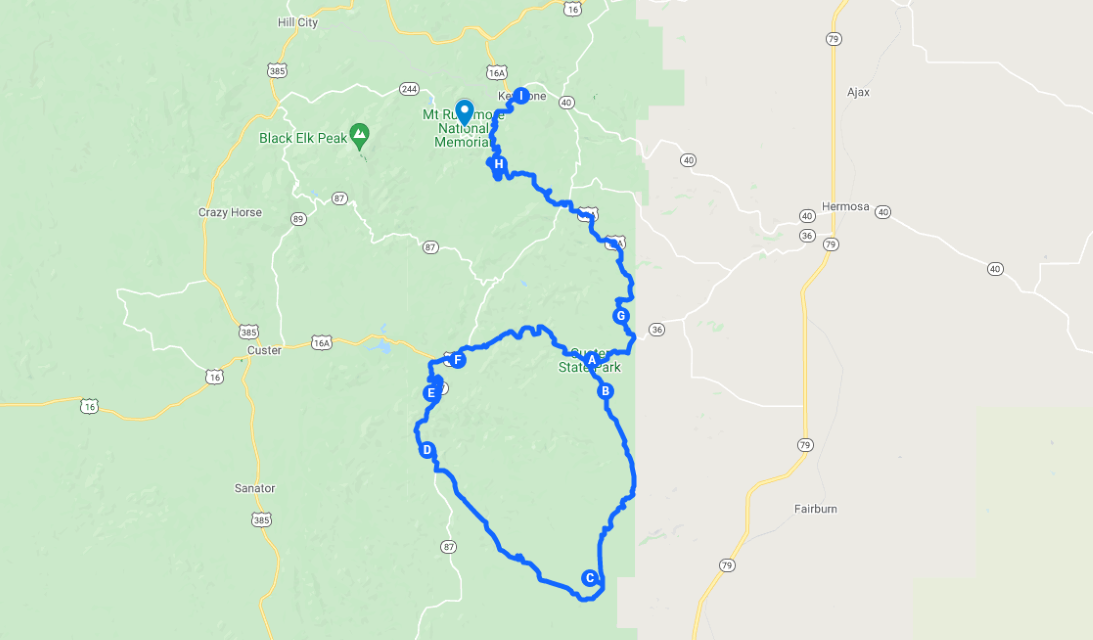 Begin the day exploring the largest state park in South Dakota, Custer State Park. If you need convincing to start here read our post about 10 Reasons to Visit Custer State Park.
Start with an early morning drive on the 18-mile Wildlife Loop Road. Begin at the Visitor Center on the east side of the park. Pick up maps, use the restroom and fill up water bottles. It should take about an hour to drive through slowly and take pictures.
Be on the lookout for bison, elk, burros, prairie dogs, eagles, hawks, deer and coyotes. If you like to check out lodges like us, stop at the Blue Bell Lodge for breakfast (or just a coffee if you've already eaten) toward the end of the loop. The log cabin has a cozy indoor dining room or a patio overlooking the French Creek.
After your break, head north on SD Highway 87 to the Mount Coolidge Fire Tower. Drive up a 1.2-mile gravel road to the summit where you can soak up views of the Black Hills. You'll be 6,023 feet above the forest.
On a clear day, you can see the major sites in the area including Mount Rushmore, Crazy Horse and the Needles.
DETAILS: 1 – 7 day admission is available at Custer State Park per car. Only people traveling non-stop on US Highway 16A are exempt.
*TIP: Oversized vehicles & campers are not allowed on the road up to the fire tower.*
Take in a breather at Legion Lake for a picnic and/or Legion Lodge for lunch.
Then start the afternoon with an awesome ride on Iron Mountain Road, a winding two-lane road with stunning scenery to Mount Rushmore National Memorial.
Not only does Highway 16A have tree-lined roads and pigtail bridges, but the 18-mile drive also has three tunnels with framed views of the iconic Mount Rushmore to get you excited about your visit.
*TIP: Be prepared if you have any travelers that are prone to car sickness
Thus arrive at one of the most recognizable monuments in the world, Mount Rushmore National Memorial. The massive heads of Presidents Washington, Jefferson, Roosevelt, and Lincoln welcome you to South Dakota.
First, watch the short orientation film then walk the Presidential Trail for better views. Plan to spend about two hours here and don't forget to try Thomas Jefferson's original ice cream recipe.
DETAILS: Admission to the park is free but there is a charge for parking.
Take a drive to Keystone for dinner and choose the Old Western-style Ruby House Restaurant, get local wild game at the Powder House Restaurant or if you are traveling with children check out the Chuck Wagon Dinner Show.
CHECK OUT OUR BEST FREE APPS FOR A U.S. ROAD TRIP
DAY 2
Today is the day to get out in nature. Hike to not only the highest peak in South Dakota but east of the Rockies too, Black Elk Peak which was formerly known as Harney Peak.
Take Trail #9 near Sylvan Lake which is forested most of the way but opens to a few expansive views of the rock spires and Black Hills. It is 3.3 miles one way and is considered moderate difficulty. There are gradual inclines and some flat surfaces in the beginning that led us to steep inclines and stairs close to the tower.
Once you reach the 7,242-foot peak topped by a stone fire tower, you are rewarded with breathtaking views of the Black Hills National Forest. Without delay, take a break to have lunch at the top and to enjoy the scenery. The fire lookout, dam and pumphouse were built in 1939 and are listed in the National Register of Historic Places.
Making the trail a loop, connect to Trail #3 then to #4 (it is well-marked) on the way down with a detour to Little Devil's Tower. It is a 3-mile strenuous scramble that climbs 600 feet to spectacular views of Cathedral Spires and South Dakota's highest peak. It was one of my favorite spots of the trip.
It's been a long day. If you feel like getting off your feet and taking a ride, hop back in the car. Hill City is about 35 minutes north of the trailhead. It is the second oldest town in the Black Hills and is lined with restaurants, art galleries, shops, wineries and breweries.
It is also home to the 1880 Train, a steam locomotive that takes visitors on a scenic round-trip ride to the town of Keystone.
DETAILS: Don't forget to pack a lunch and bring your Custer State Park pass.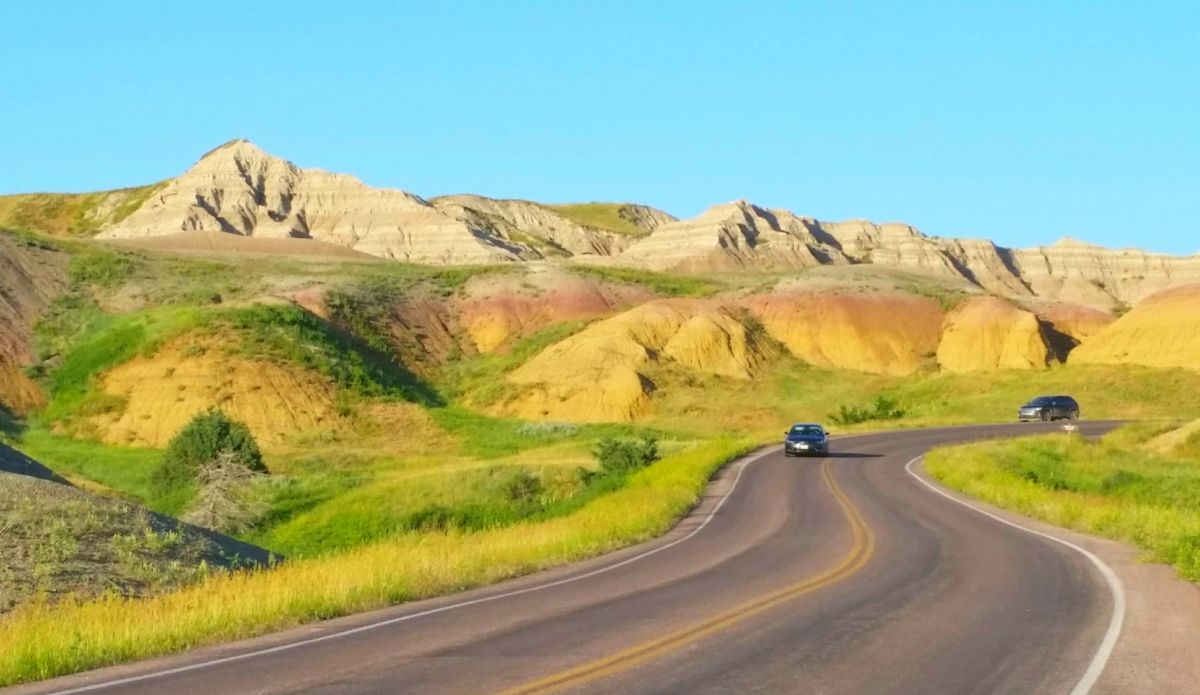 DAY 3
Wind Cave National Park, the first cave to be designated as a national park in the world, is the first stop on your agenda. It is known for its unusual boxwork formations, mineral cave formations that resemble honeycomb patterns.
Take your pick from three regular walking tours: Garden of Eden (easy), Natural Entrance (moderate), and Fairgrounds (strenuous). For the most popular tour, join the Natural Entrance Tour, walking in the main entrance discovered long ago and lasting a little over an hour.
DETAILS: Go early and plan to wait if visiting during summer hours.
After the cave, let's go back to the Ice Age at The Mammoth Site of Hot Springs. It is home to the largest concentration of mammoth remains in the world with currently sixty-one: 58 Columbian and 3 woolly mammoths. Enclosed is a prehistoric sinkhole that is still being excavated today.
Depending on the weather, you can stop at Evans Plunge, the world's largest natural warm water indoor swimming pool. Natural spring-fed waters maintain an average pool temperature of 87 degrees Fahrenheit so certainly not something you want to do on a hot summer day. But with waterslides, a sauna and steam room it would make for a relaxing end of day activity.
DAY 4
Start the morning with a wonderful drive along Highway 87, otherwise known as Needles Highway; it is 14 miles of hairpin turns, impressive rock creations, and one-lane tunnels. Immediately the drive will have you in awe of the natural beauty surrounding the area.
*TIP: Be prepared if you have any travelers that are prone to car sickness
Along the drive, stop off to hike Cathedral Spires, a 3-mile moderate out and back. Shortly after the Needles Highway Scenic Overlook (you can find both on Google Maps), you'll come to the trailhead. Do not let the "moderate" description frighten you, if you're not an avid hiker. It's achievable for most people and is a beautiful hike. It starts out easy taking you through open flatlands of a pine forest dotted with mammoth granite spires then gains some elevation towards the end. Take in the views of the hills at the end and don't forget to look for mountain goats!
After the hike stop at Sylvan Lake Lodge to check out what the park considers its crown jewel. Picnic on the grounds or have lunch at the restaurant.
This afternoon visit the future world's largest mountain carving at Crazy Horse Memorial. Begin your visit at the Orientation Center. The short film, "Dynamite and Dreams," will help you gain an introduction to the memorial and its history. It's entertaining and informative and will give you a better understanding of the sculpture.
Then walk through the Indian Museum of North American and Native American Cultural Center to learn about the American Indian heritage before heading out to the observation deck for views of the massive monument. For an additional fee, you can take a bus to the bottom of the monument for better views.
Don't forget to stop at the information desk to get a return ticket for the "Legends in Light" laser light show they perform in the evening from the end of May to the end of September.
DAY 5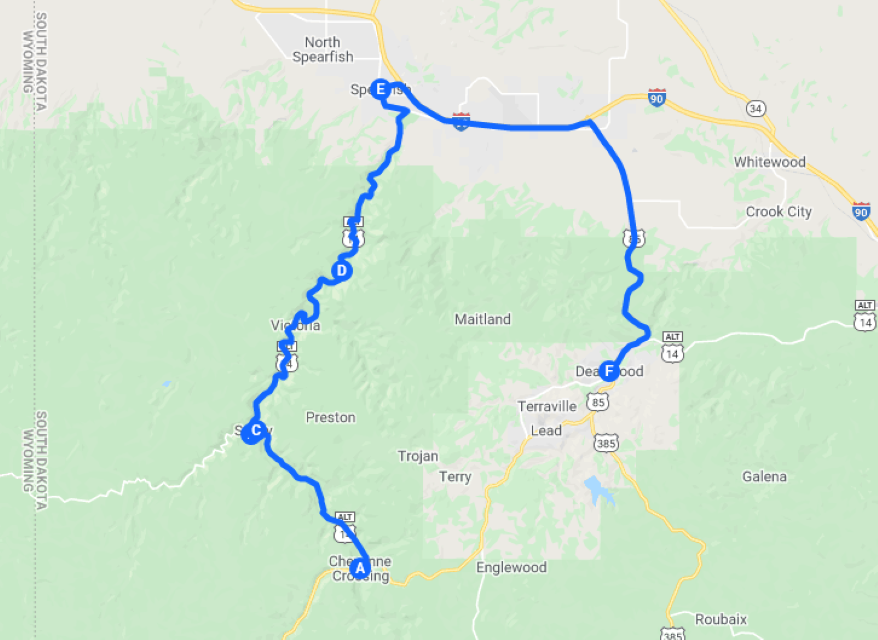 Drive through an outstanding landscape with soaring limestone bluffs, a glistening creek, wildflowers and three flowing waterfalls on Spearfish Canyon National Byway. The 20-mile byway is north of Custer State Park along Highway 14A and is an incredible road. Several scenes from the movie, "Dances With Wolves" were filmed in the canyon.
Coming from the south, pull over at Roughlock Falls, Spearfish Falls, and Bridal Veil Falls. Gushing waters greet you after a short trek along boardwalks. If you are feeling really adventurous and you like swimming holes, look for Devil's Bathtub, a favorite with the locals.
The town of Spearfish has many restaurants to choose from: Steerfish Steak and Smoke or Philly Ted's are popular. If you enjoy breweries, Crow Peak Brewery was named the best in all of South Dakota by Thrillist.
Or you could wait until you head around to historic Deadwood, a throwback to the Wild West. Follow the footsteps of legendary characters like Wild Bill Hickock and Calamity Jane, gamble in one of the many casinos, stroll down Main Street, stop in the charming Celebrity Hotel, hit a gold mine, or learn a few things about the history of the Black Hills at the Adams Museum.
DAY 6
Start your day with a tour of the third-longest cave in the world at Jewel Cave National Monument. Arrive at least 30 minutes before opening as tours book up early. The Scenic Tour is one hour and twenty minutes bringing you 380 feet below the visitor center. Get the nitty-gritty on the history and current research of the cave tunnels, where the jewels are, and the full stalagmites – stalactite circuit. There are various other tours including a shorter Discovery Tour, strenuous Historic Lantern Tour and a Special Wild Caving Tour.
DETAILS: Annual National Park Pass does not include any tour. Discounts available for youth 6 -16 and children under the age of 5 are free.
Take a break at Baker's Bakery Café in downtown Custer for breakfast/lunch. Not only is the food good – homemade bread and big portions – but they have pastries to die for. The cookies are the size of my head and the caramel rolls are mouth-watering.
Take the afternoon to get back to Custer State Park for a short hike like Badger Clark Historic Trail or for a water activity on one of their many pristine lakes.
DAY 7
Spend the day exploring the 244,000 acres of other-worldly landscape at Badlands National Park and the fun roadside attractions in the area. Do not miss the 31-mile scenic Badlands Loop Road taking advantage of every pull-off and overlook. Get on your feet and take our favorite hike in the park: Notch Trail. Also don't miss the Window and Door Trails.
If you have time get off the beaten path on Sage Creek Rim Road to look for buffalo and bighorn sheep. Make sure to check with a ranger on road conditions before taking the drive.
Just northwest of Badlands National Park on I-90 is Wall Drug, a kitschy family-owned drug store opened since 1931. Roadside attractions are synonymous with American road trips so make sure to visit and experience this world-famous wacky place.
RELATED: Top 6 Things to Do in Badlands National Park
What would you add to our Black Hills Road Trip?
Like it? Pin It!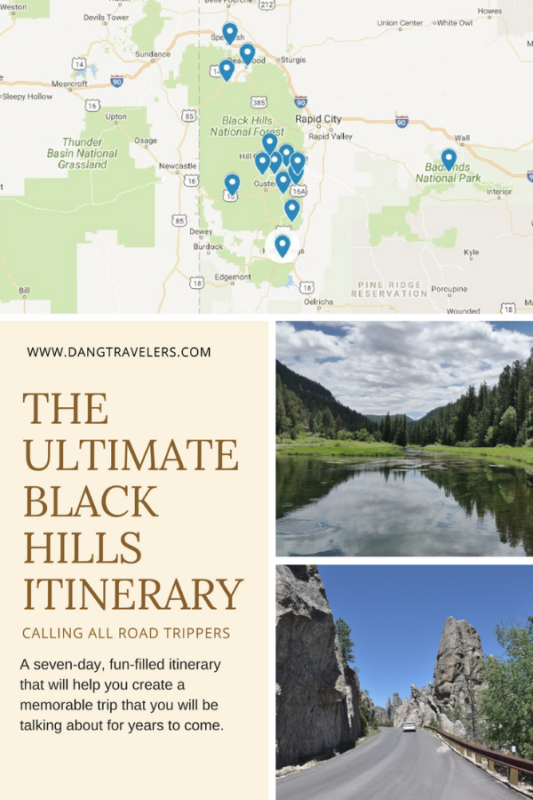 Like it? Please Share It!