SUMMER ROAD TRIP, DAY 4
Custer State Park in South Dakota
Custer State Park is the first and largest state park in South Dakota (one of the largest in the country actually). It encompasses 70,000 acres of lakes, prairie, pine forests and granite rock formations.
We chose the park as our base because it is close to most of the sights we plan to visit: Crazy Horse, Mount Rushmore, Jewel Cave National Monument, Harney's Peak, Deadwood, Sturgis and Spearfish Canyon.
Camping Update – We survived the first set up!
We set up the pop up for the first time last night and we found out we definitely have some things to learn!
The campsite is uneven so we found it a bit difficult to initially get it level. Once that was figured out, we only had a few hiccups and managed to argue only a few times! Hopefully the more times we set up, the better we will get at it.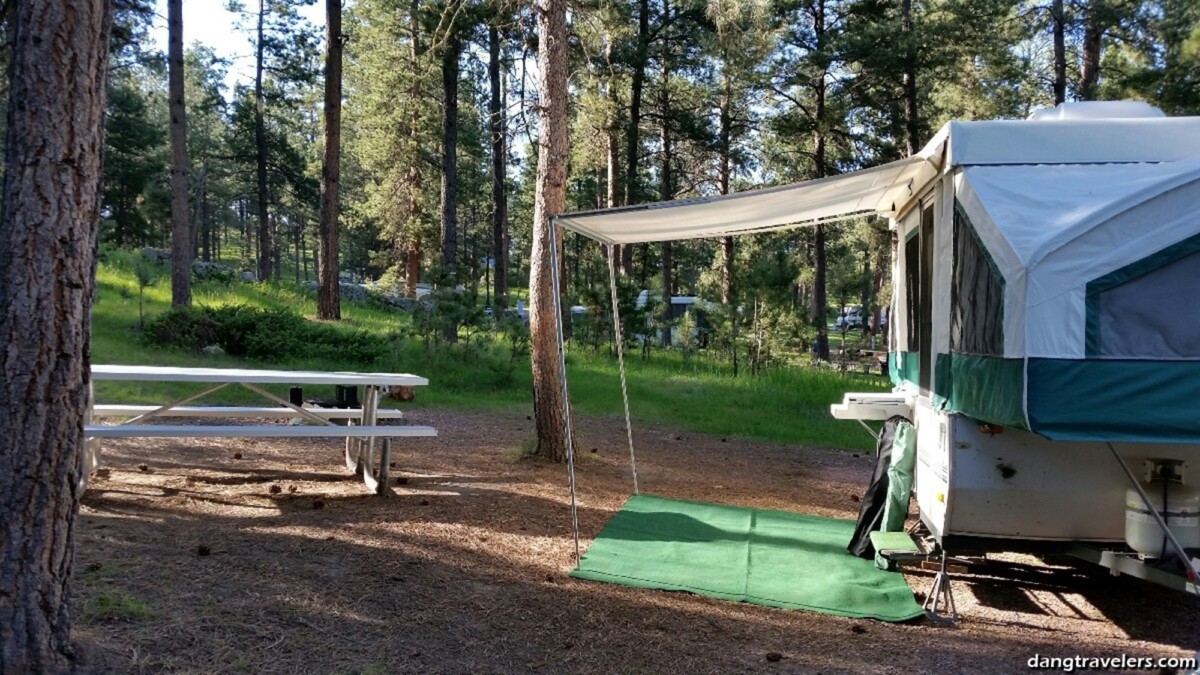 Custer State Park Wildlife Loop Road
We started our day at the new visitor center on the east side of the park. It just opened in May and is a great stop at the beginning of your stay in Custer. We picked up maps, used the restrooms, filled our water bottles, learned about the buffalo we were hoping to see in the near future, and talked to the rangers.
There were two on staff that answered any of our questions and they even had a table map display with miniature buffalo to identify where they were most recently spotted. Yay, some are on the wildlife loop!
The Wildlife Loop is an 18-mile road in the southern section of the park. We assumed the best time of day would be the first thing in the morning or at dusk so we weren't expecting to see many animals when we decided to take the drive mid-morning.
Boy, were we wrong! As we started the loop from the east end, we were surprised to see a group of pronghorns (I only know what they are because of our handy pamphlets we picked up, otherwise I would have thought they were antelopes). And then it happened!
We found ourselves in a small traffic jam due to a herd of about 25 bison. Moms, dads and babies were trotting alongside the cars, weaving in between and walking in front of the cars as well. They didn't have a care in the world and paid no attention to us whatsoever. It was incredible being so close to such an enormous animal.
Did you know they can grow up to 6 feet tall, weigh up to 2,000 pounds and are faster than horses as they can run up to 35 miles per hour?
They seem sluggish and overweight to me. It wasn't until we saw two of them get into a little tiff that their true colors came through. I couldn't help but remember a video I saw of an unwise woman petting one once! Ah, tourists… aren't we the best?
Once upon a time, North America was populated with millions of bison running wild, but by 1900 it is estimated that less than 1,000 were left. In 1914, a man named Peter Norbeck, realized the mammals were in fast decline and decided to do something about it. So was the beginning of Custer State Park.
Today, the park has roughly 1,500 bison roaming in the area.
After a million videos and pictures (slight exaggeration), we made our way to Prairie Dog Town (still on the Wildlife Loop). We saw thousands of them in the Badlands, but we cannot get enough of these cute little guys. They are so entertaining to watch.
Our last animal encounter on the loop was with the ever-friendly burros. They are hilarious, walking up to anyone willing to put up with them and even sticking their heads into car windows. All we had to do was cup our hands out like we had food (we are so tricky) and they would come right up.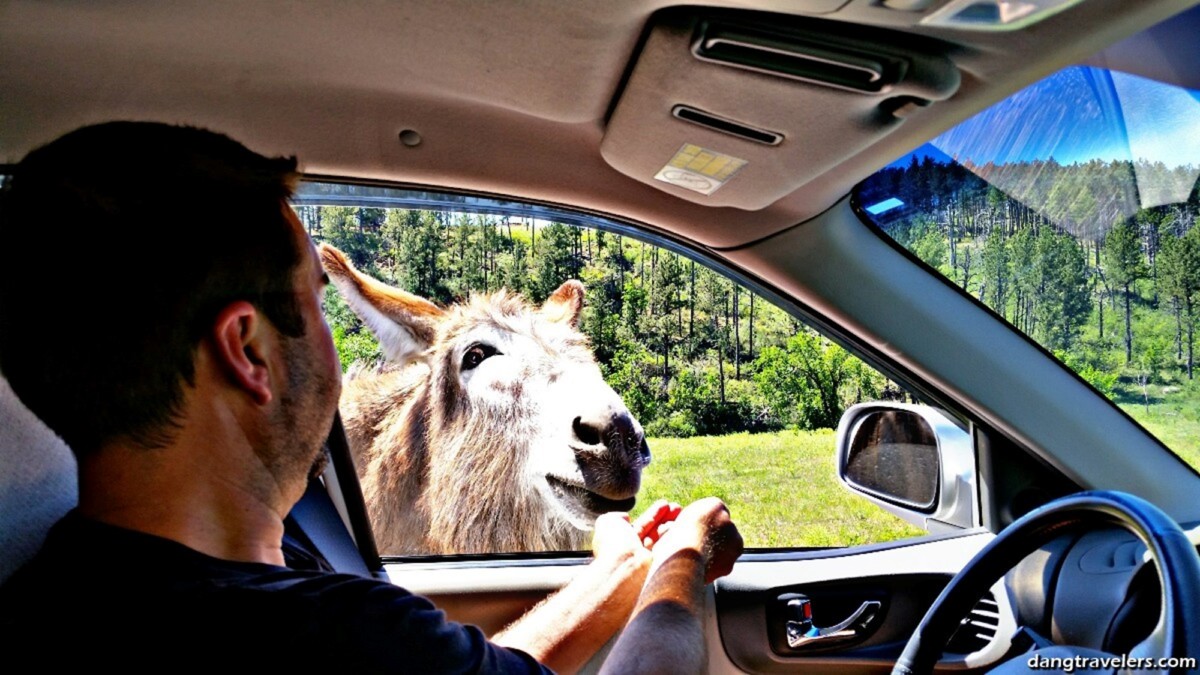 On the western end, heading out of the Wildlife Loop area is the turn off for the Mt. Coolidge Lookout. It is 6,023 feet high and provides distant views of George Washington's profile on Mt. Rushmore, Crazy Horse and Harney's Peak (the highest point in the park and east of the Rockies). We are hiking up to that tomorrow!
A Scenic Drive on Needles Highway
Needles Highway is roughly 14 miles of hairpin turns, one-lane tunnels, and spectacular rock creations. From Legion Lake area, the drive begins with pine and spruce forests and leads up to needle-like granite outcroppings.
Near the end of the drive, we approached an area called Needle's Eye, a formation created by the elements: wind, rain, freezing and thawing. The informative sign at the stop stated that the region is home to some of the oldest rocks in North America, dating over 2 billion years in age!
As we were enjoying the views, we noticed sparkling crystals within the granite. A friendly man from the area noticed we were looking and came up to tell us that it is a rock called mica that was once used in ovens and spaceships due to its heat resistance. Interesting… it's hard to grasp the twinkle with the camera, but we tried.
Crazy Horse Memorial
As if our day wasn't long enough, after driving the Wildlife Loop and Needles Highway, we visited the Crazy Horse Memorial. My uncle once told me it was his favorite stop in South Dakota and I remember being surprised.
I didn't know about the history or the current undertaking, I just knew it was a sculpture on a mountain and didn't really give it much thought. I now understand his sentiment as we spent a few hours learning about the sculptor, the man on the mountain and the Native American heritage.
I will be writing a separate post on our experience, but wanted to add a few pictures from our visit here.
Read our post about Crazy Horse here.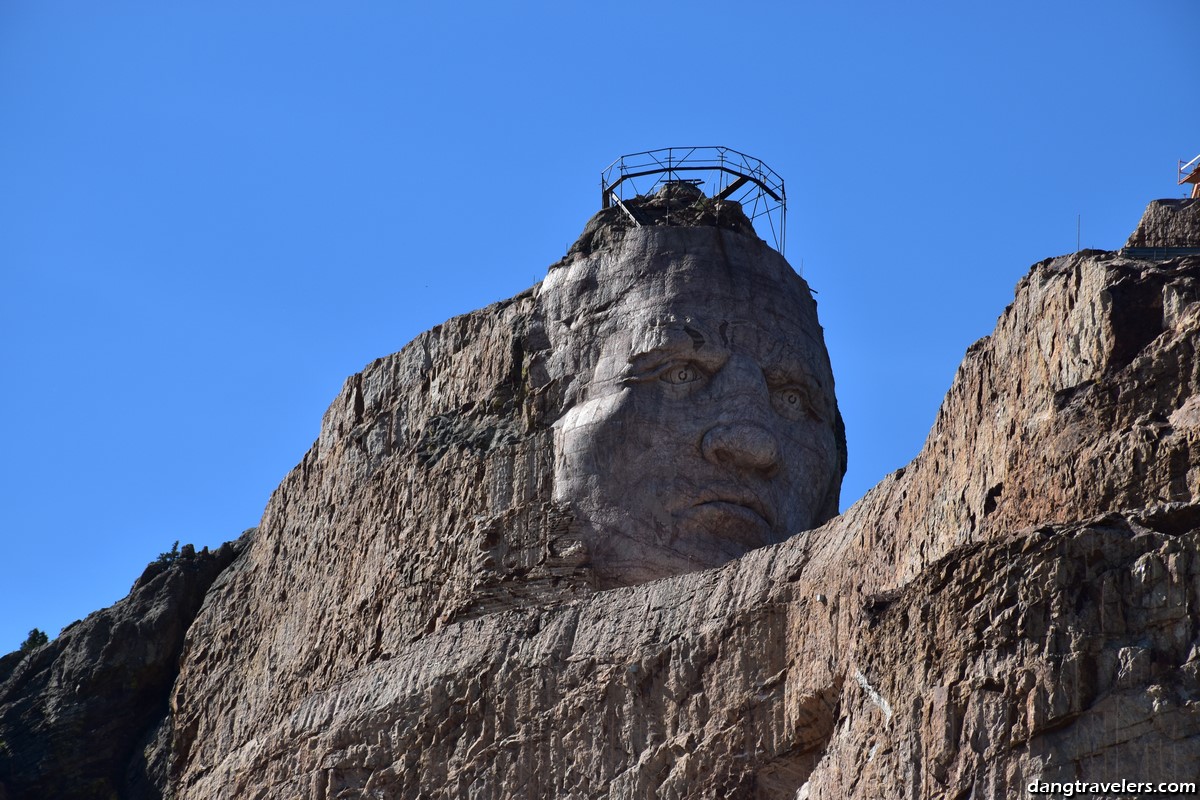 Custer State Park Details
State Park Entrance License: $20 per vehicle ($10 for motorcycle) for 1-7 days, annual pass $30
400 campsites and cabins.
4 Lodges: State Game Lodge, Blue Bell Lodge, Legion Lake Lodge and Sylvan Lake Lodge with a variety of accommodations.
Miles Driven Today: 110, Total Miles Driven: 1,133, Average Gas Price per Gallon: $2.29, States: South Dakota
And so our epic 80 day summer road trip continues – 13 U.S. states, 2 Canadian provinces and 13 national parks. For the upcoming months, Follow our journey via Facebook, Twitter or Instagram. If you would like to see our full itinerary, start at the beginning here. And Day 1 here.