SUMMER ROAD TRIP, DAY 5
Custer State Park Hiking
What was supposed to be a 2 – 4 hour hiking day ended up being a 6 ½ hour day. We were originally planning to hike up to Harney Peak and back, but when we got to the trailhead at Sylvan Lake we saw that we could tack on two additional hikes: Cathedral Spires and Little Devils Tower.
On the map, they didn't look like a whole lot of extra walking, but let my legs tell you – it was A LOT of extra steps with steep inclines and rock climbing! The added steps were worth the views, but we could have been more prepared with additional water and lunch instead of just granola bars. By the end of the day, Dave was looking like a giant walking sandwich.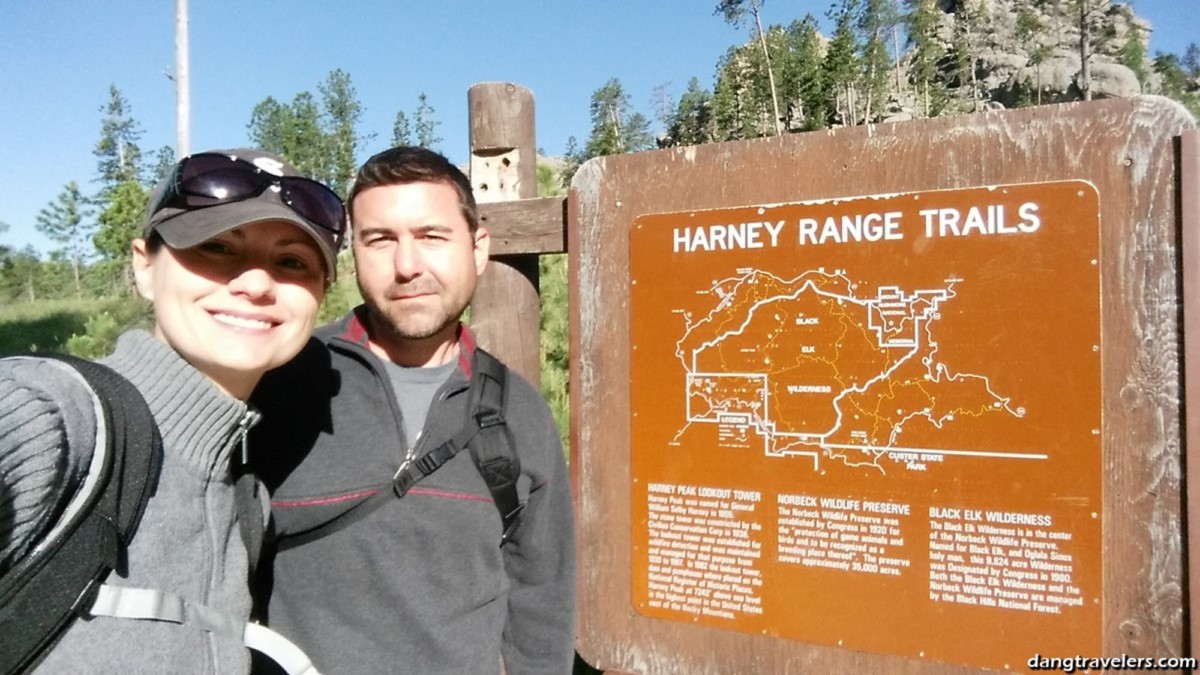 We took Trail #9 up and Trail #3 to #4 back down (stopping at Cathedral Spires and Little Devils Tower) to make a loop at a total of 26,531 steps, about 11 ½ miles.
Harney Peak Hike – The Highest Point East of the Rocky Mountains
The Harney Peak trailhead is in Custer State Park, but the majority of the hike and the actual peak is in Black Elk Wilderness. When we reached that point, we had to fill out a registration card with some personal information, how many were in our party and what trails we were hiking on.
We had a couple of open areas with expansive views of the rock spires and Black Hills as we walked up to the tower on Harney Peak. Trail #9 to Harney is 3.3 miles one way and is considered moderate difficulty. I would agree, there were gradual inclines and some flat surfaces in the beginning that led us to steep inclines and stairs close to the tower.
At the top of the peak is a fire lookout, dam and pump house surrounded by giant boulders. At 7,242 feet high, the peak is the highest point east of the Rockies and west of the Pyrenees Mountains of Europe.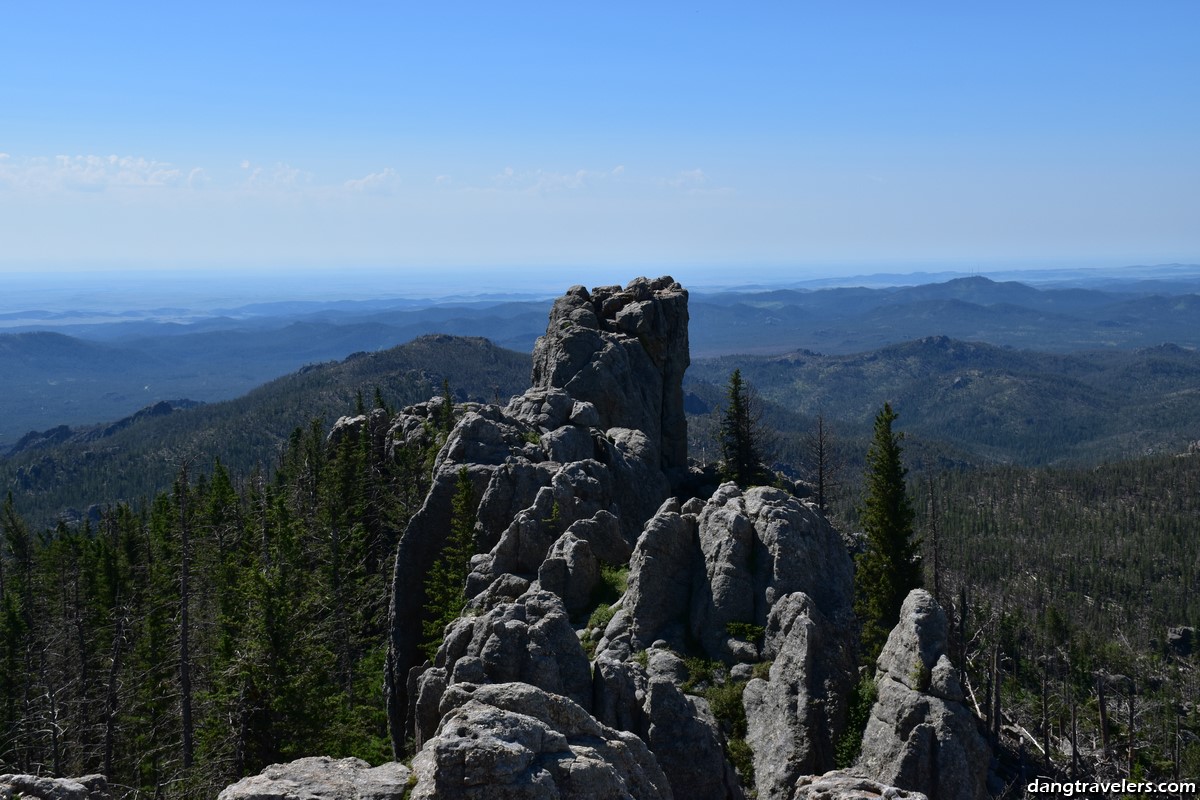 We ate our snack at the top and watched all the little chipmunks scatter across the rock as we took in the views. It took us exactly two hours at a leisurely pace to reach the top with no resting breaks, just brief stops for pictures.
The way down (well we thought it was down. Little did we know it was up, down, up down…) is where it gets tough! The path is well marked except one area where we thought we hit the spires, but it ended up being random rocks. When we did make it to the Cathedral Spire detour there was a sign. Here is where it started to get tricky. The way down to the spires is on a steep rocky slope, I was not looking forward to walking back up. But it leads to a flat open beautiful area surrounded by mammoth granite spires. So worth the extra effort!
We walked a short way after the spires before arriving at the Little Devil's Tower detour. This was my favorite part of the day even though I was dying getting up there! It was another steep rocky slope, but also with rock climbing thrown in. At this point, we had walked about 5-5 1/2 hours with only a short break so it seemed like such a feat to make it to the top. We got to the top of the slope and thought we were almost there when a dad (carrying a baby girl on his chest by the way) laughed and told us we were only half way there. We had no idea about the rock climbing. Along came his wife and five other girls all under the age of 12 giving me a much-needed boost of confidence.
Once we made it up the rocks we were rewarded with gorgeous views that made the steep climb fade away from our memory. Well, for a few minutes because we had to make our way back down!
I loved each hike as they were all so different and provided unique vantage points. Each one can be done separately or together like we did. Make sure to bring lunch if that's the route you take! If I were to do it again, I would probably do the entire Harney Peak route the same way with Cathedral Spires and then maybe climb Devil's Tower separately. It all depends on your fitness level and how much time you have in the park. If you have limited time, at least do Harney Peak and Devil's Tower.
FYI – Both the Cathedral Spires and Little Devil's Tower hikes can be accessed east of Sylvan Lake area on Needles Highway. From here, Cathedral Spires is 3-miles round trip and considered strenuous. Little Devil's Tower is 2.5-miles round trip and considered strenuous as well.
Miners Brewery in Hill City: A well-deserved beer stop
After our long day, we took a ride to Miners Brewery in Hill City, just north of Custer, for a beer break and free Wi-Fi (where I am writing this right now). It is the second oldest town in the Black Hills and is lined with restaurants, art galleries, shops, wineries and breweries. It is also home to the 1880 Train, a steam locomotive that takes visitors on a scenic round trip ride to the town of Keystone. We are looking forward to a relaxing day tomorrow driving up north to some of the popular towns in the area.
Next Stop: Towns of Lead, Deadwood, Sturgis

Miles Driven Today: 108, Total Miles Driven: 1,131, Average Gas Price per Gallon: $2.29, States: South Dakota


And so our epic 80 day summer road trip continues – 12 U.S. states, 1 Canadian province and 11 national parks. Follow our journey via Facebook, Twitter or Instagram.


If you would like to see our full itinerary, start at the beginning here. And Day 1 here.

Have any questions about our Summer Road Trip? Ask us in the comments below!

Like it? Pin it!