SUMMER ROAD TRIP, DAY 8
Today, we drive up the spectacular Spearfish Canyon Scenic Byway, hike to a local swimming hole called Devil's Tub, and take a detour to the highly revered Crow Peak Brewery.
Spearfish Canyon is one of the most picturesque areas in the state so make sure to add it to your South Dakota itinerary!
Spearfish Canyon Scenic Byway
The 22-mile drive is north of the Peter Norbeck Scenic Byway and Custer State Park along Highway 14A. It's the perfect route to combine with a visit to the old historic town of Deadwood from Custer State Park.
The southern terminus of the drive officially begins at Cheyenne Crossing outside of Lead and ends at the town of Spearfish.
You'll be greeted by a striking landscape of soaring limestone bluffs, glistening creeks, colorful wildflowers, and three flowing waterfalls.
Fun Fact: The winter camp in the movie, Dances with Wolves, was filmed just north of Roughlock Falls about three miles upstream from the Spearfish Canyon Resort. A small sign signifies the final scene's filming location.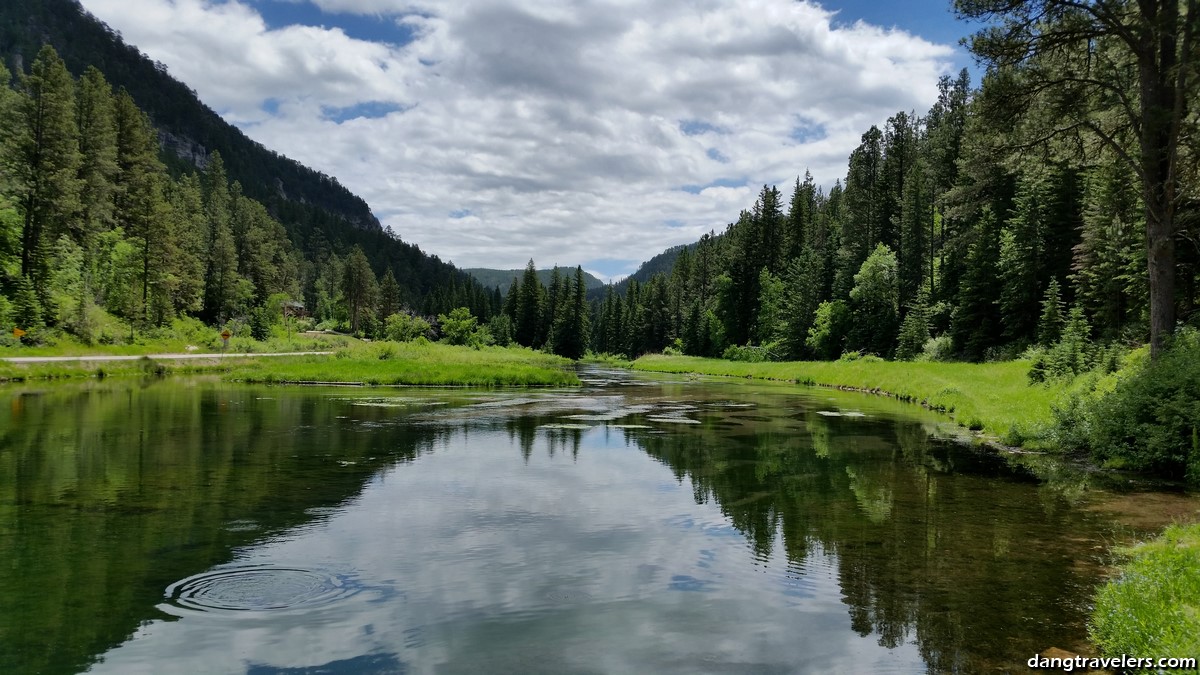 If you are heading to South Dakota, check out our Black Hills itinerary!
Best Time to Visit
The Spearfish Canyon Scenic Byway is breathtaking during all times of the year, but fall is a particularly impressive season. Mid-September through early-October ushers in magnificent fall foliage color.
Spearfish Canyon Waterfalls
1. Roughlock Falls
The first Spearfish Canyon waterfall you'll come across from the south is Roughlock Falls. The handicap-accessible trail is an easy 2-mile roundtrip stroll behind the Spearfish Canyon Lodge along FSR 222.
READ NEXT: HIKING IN CUSTER STATE PARK
2. Spearfish Falls
If you only have time for one waterfall hike, make it Spearfish Falls. Located near Latchstring Restaurant, the trailhead from the parking lot will bring you to the base of the 47-foot cascading fall.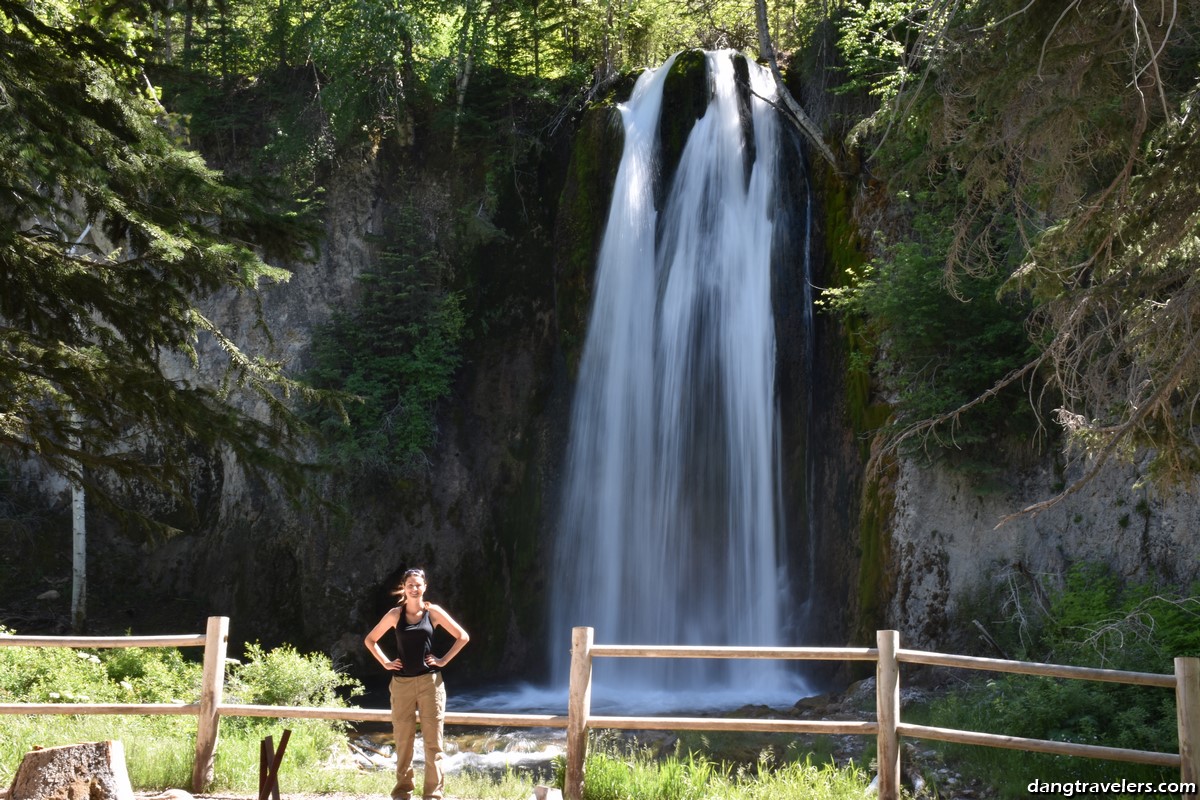 3. Bridal Veil Falls
The last waterfall on Spearfish Canyon Scenic Byway is Bridal Veil Falls which can be seen from the car. I still recommend getting out and adventuring closer though via the boardwalk.
The falls are stronger during the spring after heavy rains but are still worth a stop during the summer and fall season.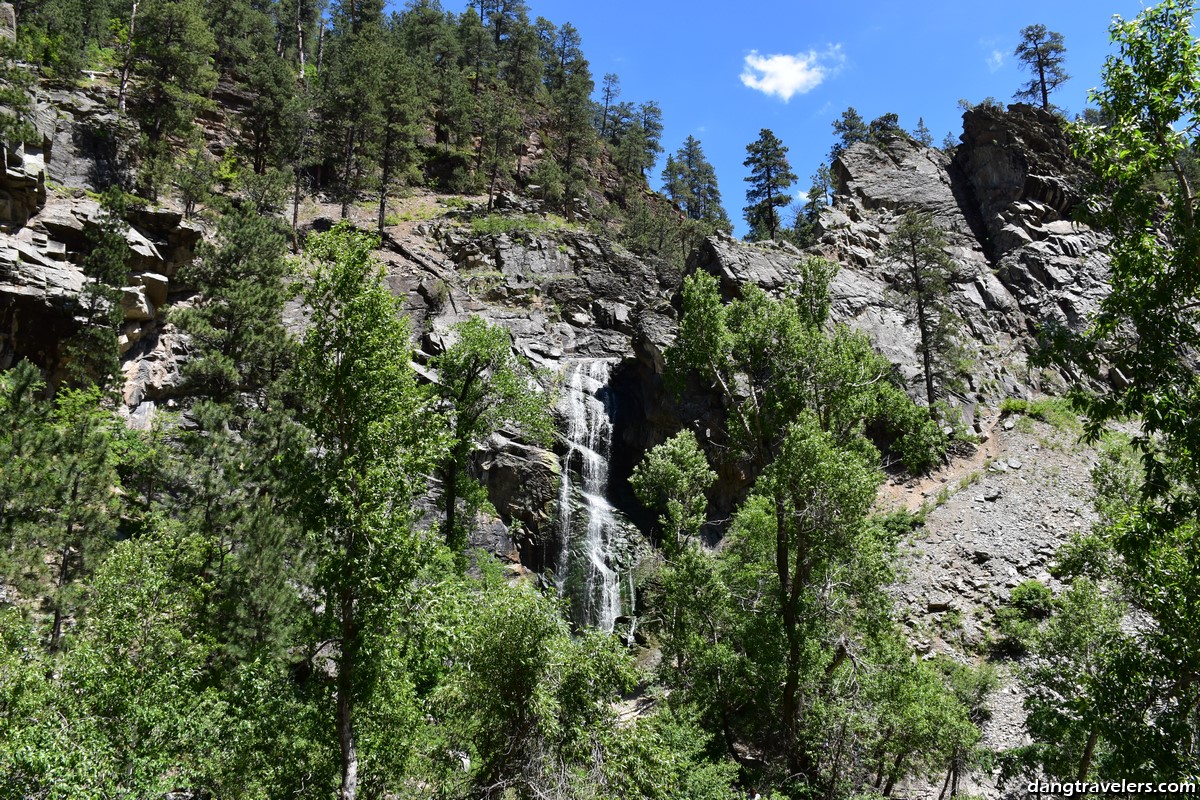 Spearfish Canyon Things to Do
Devil's Bathtub
Between Spearfish Falls and Bridal Veil Falls, we saw cars lined up at a trailhead and thought maybe it was an additional waterfall we didn't know about.
When we stopped and asked someone ready to make the hike, they told us it was to Devil's Bathtub, a local hangout to swim.
TIP: Devil's Bathtub Trailhead is now on Google Maps just north of Victoria.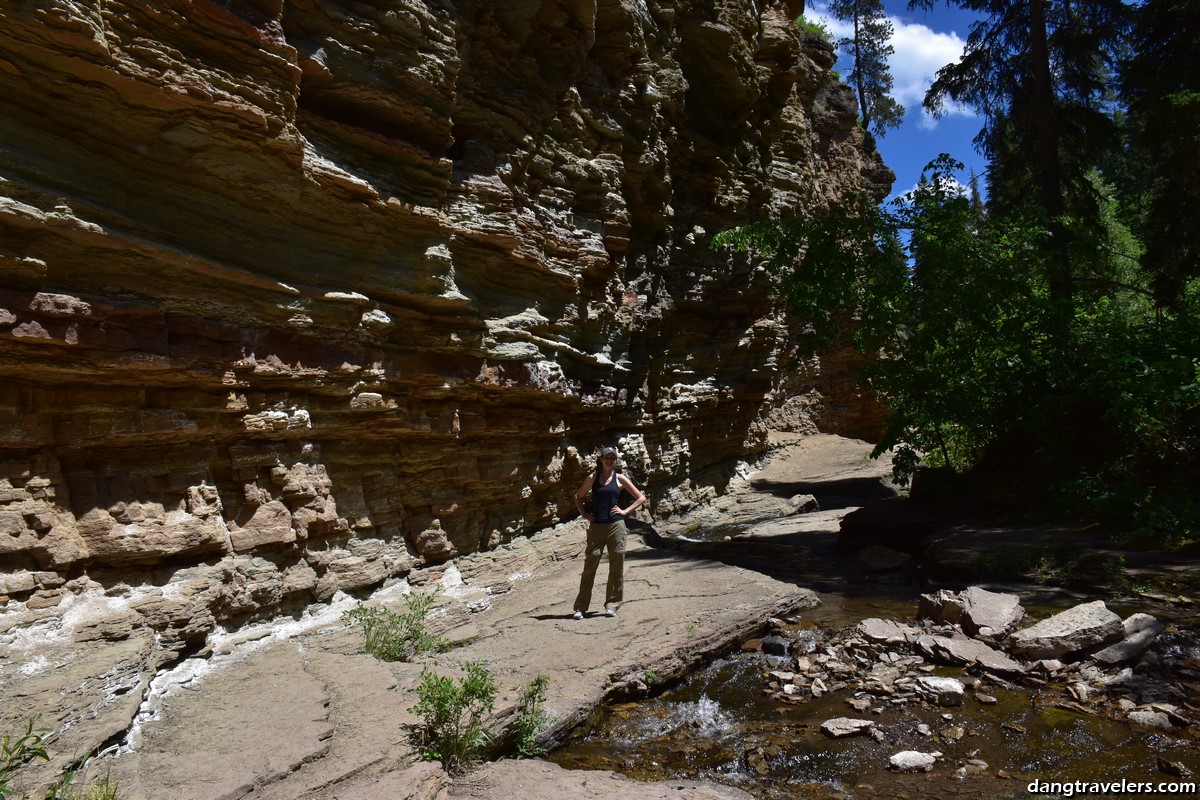 The trail is not well-marked, there were many times we weren't even sure we were going the right way. We had to cross the stream via big branches or rocks multiple times.
I lost my footing once and one foot went in the water, oops. We eventually found Devil's Tub and if we had our swimsuits would have absolutely jumped in! It's a relatively short 1.1-mile hike – around 45 minutes – to get to the water where you'll find a few tubs to swim in.
If you are visiting during the summer, it's definitely worth the hike to have a unique experience hanging out at a "cool" local swimming hole.
Like chasing waterfalls? How about 11 Amazing Waterfall Hikes in America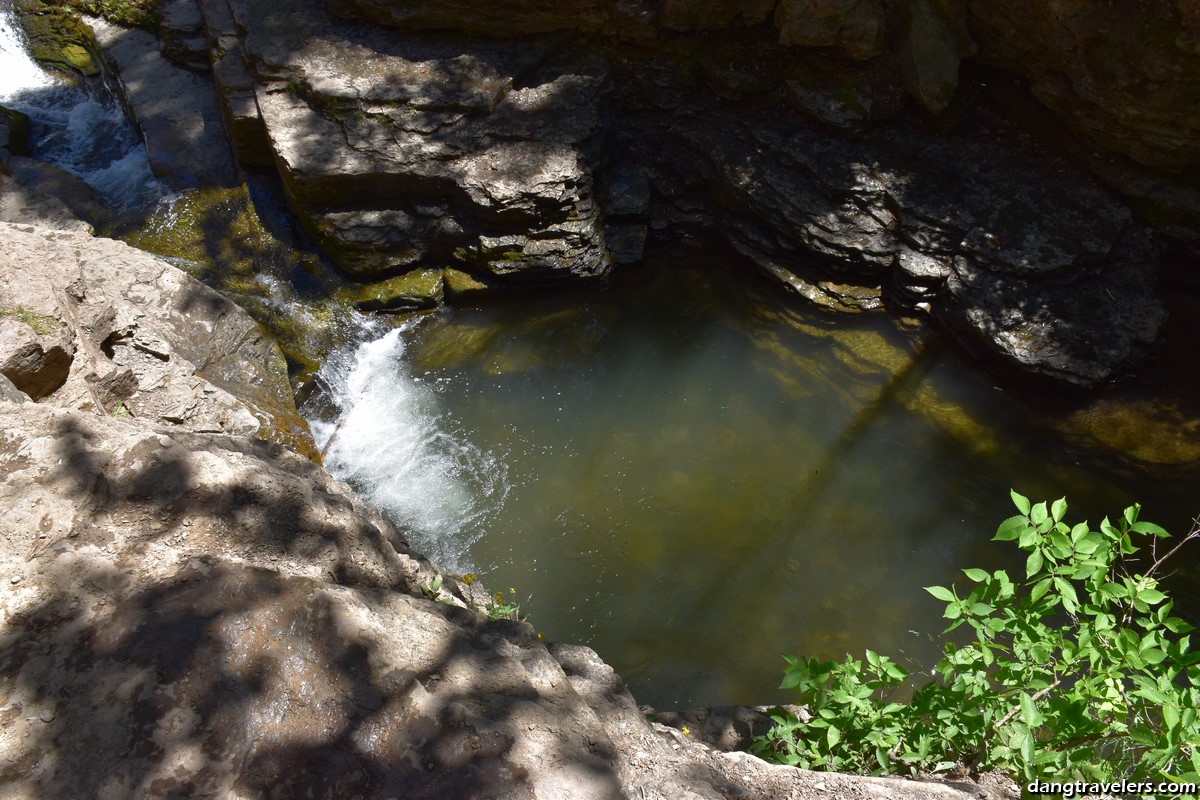 Crow Peak Brewery in Spearfish
Nothing like an ice-cold beer to top off your busy day! Thrillist named Crow Peak Brewery the best craft brewery in the state of South Dakota so we had to stop by.
Located in north Spearfish, the two-story building has indoor and outdoor seating with a great view of Crow Peak, hence the name.
They were all out of their popular Canyon Cream Ale, but we grabbed a sampler and tried a few different ones. The 11th Hour IPA flagship beer is a must-try!
Another Beautiful Sunset at Custer State Park
After a day of exploring, we head back to our base camp at Stockade Campground; today will go down as another fantastic day.
And so our epic 80 day summer road trip continues – 13 U.S. states, 2 Canadian provinces and 13 national parks.
Miles Driven Today: 199, Total Miles Driven: 1,628, Average Gas Price per Gallon: $2.29, States: South Dakota
Follow our journey via Facebook, Twitter or Instagram.


If you would like to see our full summer road trip itinerary, start at the beginning North American Road Trip 80 Day Itinerary. And Start at Day One Road Trip Day 1.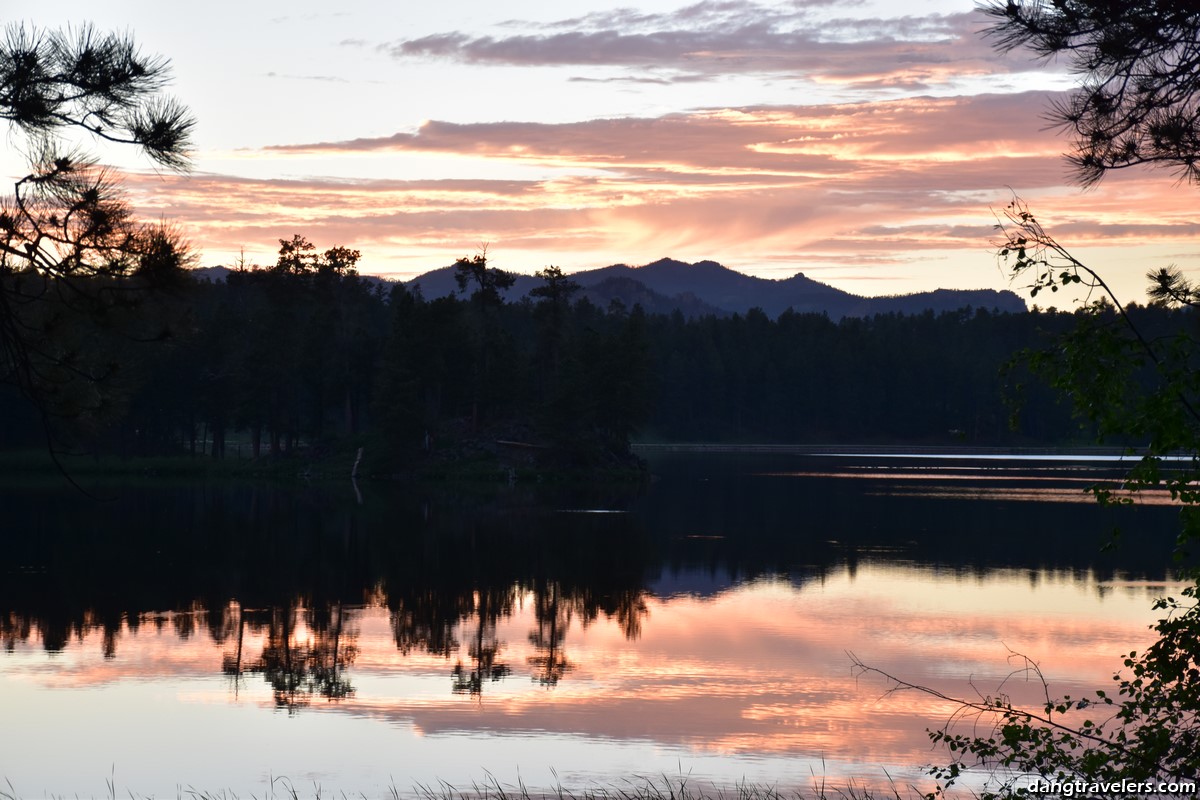 Other Spearfish Canyon Things to Do
High Plains Heritage Museum
D.C. Booth Historic Fish Hatchery
Crow Peak Trail
Iron Creek Lake
Have any questions for us? Ask us in the comments below!

Like it? Pin it!