SUMMER ROAD TRIP, DAY 7
A Cave, A Mountain Carving and Cowboys
We had the ultimate South Dakota day! We explored an enormous cave, gaped at the amazement of Mount Rushmore and admired the traditions of the cowboy.

The Dazzling Jewel Cave National Monument
Jewel Cave National Monument is the 3rd longest cave in the world with more than 182 miles of mapped passageways and they keep discovering more. Any person, like you and me, can adventure in the cave on trips from 4 hours up to 4 days. Just last October, an unknown lake was uncovered by a local fast-food restaurant worker while on a spelunking trip in the cave! It's 723 feet below the ground, the lowest point found yet. Can you imagine?
I can at least imagine the 8 ½ by 24 inch space the cave explorers have to crawl through because I crawled through it myself! Okay maybe not the real deal, but it gave me an idea of what it's like. And let me tell you, it's not easy!
We took the one hour and twenty minute Scenic Tour which took us 380 feet below the visitor center with 723 stairs. There are various other tours including a shorter Discovery Tour, strenuous Historic Lantern Tour and a Special Wild Caving Tour. In the summer, tours are scheduled every 30 minutes or so, but they book up quick so come early to reserve your spot.
The ticket booth opens at 8 am. When we got there at 7:45 there was already a line, but we were able to get on the first tour at 8:30. We came yesterday in the afternoon, but the tours were booked for the next three hours.
We started the tour with a brief overview of the expansive cave network. We then took an elevator down to a platform in a colossal room surrounded by various formations.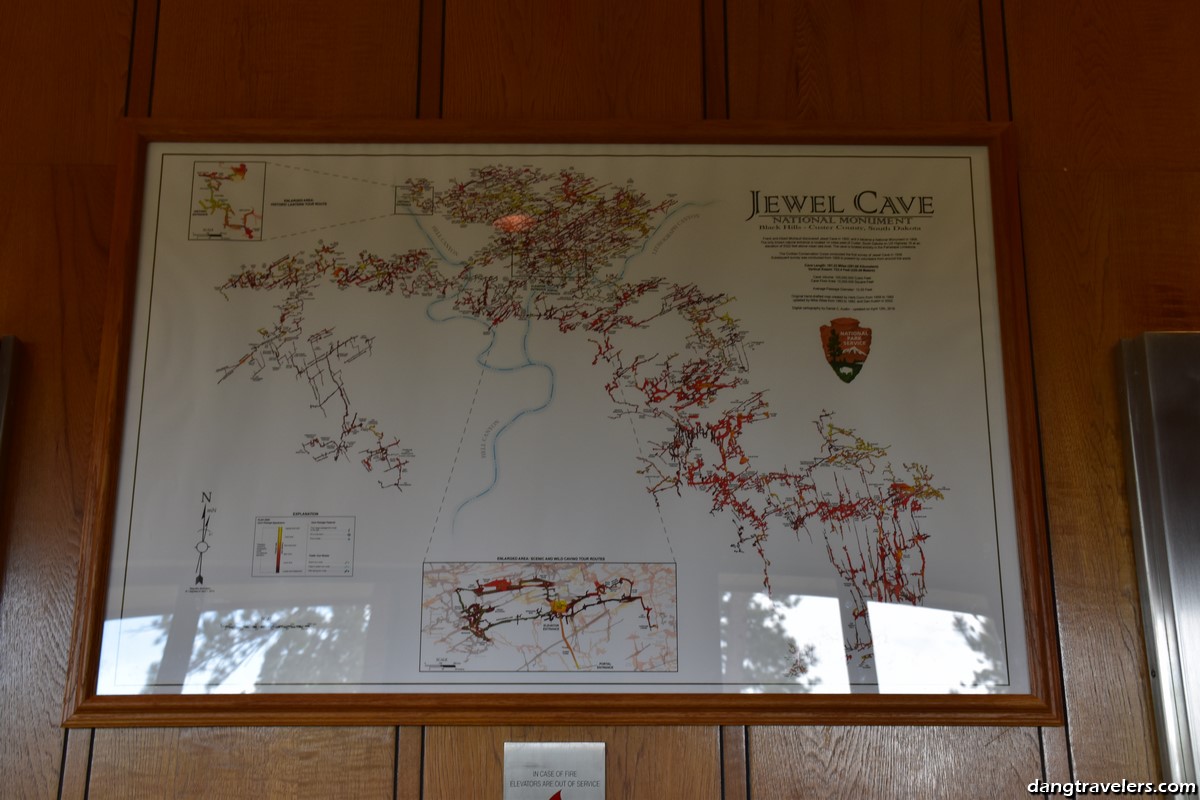 It's immediately clear why the first cave explorers named it Jewel Cave; the crystals are everywhere. They thought they hit the mother-load since the sparkling gems looked like diamonds. Unfortunately for them, it is just calcite crystals that have no real value.
The cave itself is 99% dry, but it has one large room called the moisture room. Stalagmites and stalactites form from the floor and the ceiling.
The lowest point of the tour is in the Spooky Hollow room filled with dark manganese.
We were surprised to find out they make their own bacon in the cave. Check out this 20-foot long piece!
Jewel Cave National Monument is a magical underground complex filled with unusual beauty.
The Scenic Iron Mountain Drive – Say Hello to Mount Rushmore
The Custer area is motorcycle heaven! Winding roads with stunning scenery are all over the place. If you want another vantage point or an introduction to Mount Rushmore AND you don't get car sick, I suggest taking Iron Mountain Road.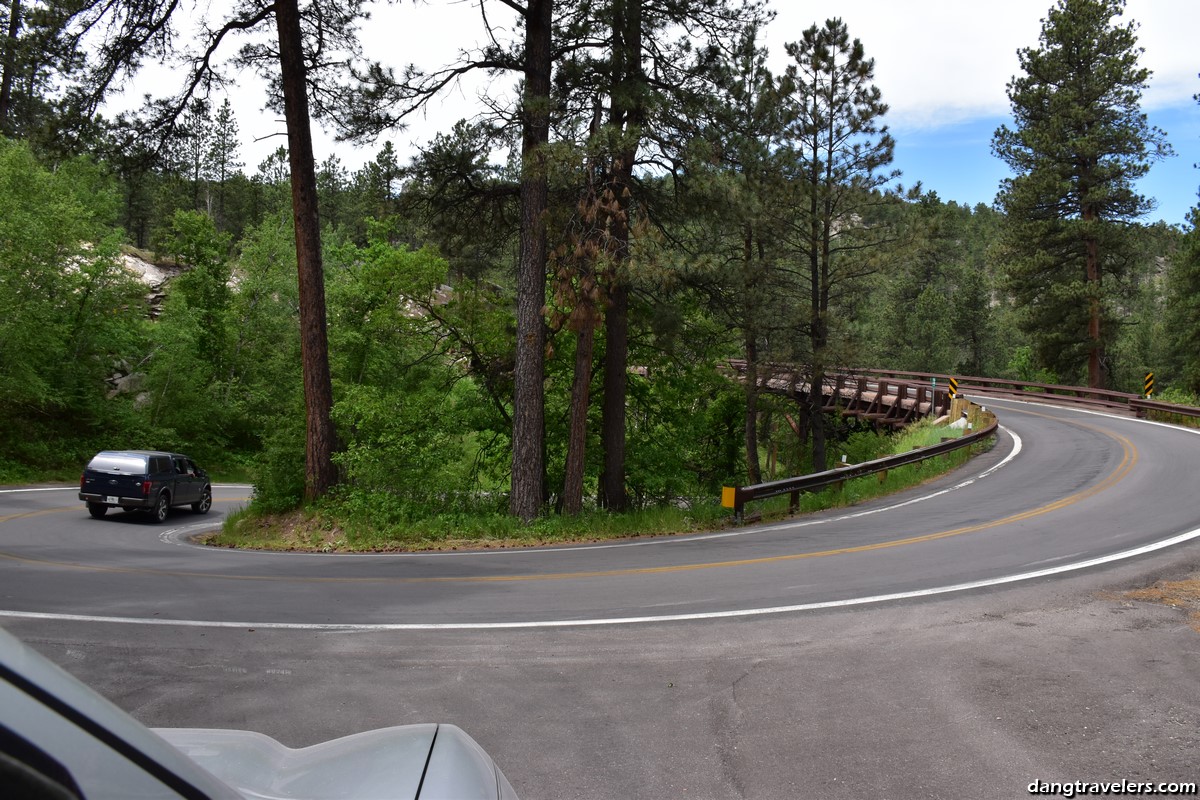 It is an 18 mile road that runs between Mount Rushmore National Memorial and the junction of US 16A and SD 36. It is A-M-A-Z-I-N-G! The drive itself is incredible with pigtail bridges, tree-lined roads, and to top it all off, three tunnels that frame Mount Rushmore! We took the drive on our way to the monument.
Happy 75th Anniversary to Mount Rushmore National Monument!
In 2016, Mount Rushmore celebrates its 75th anniversary. It is one of the most distinguishable monuments in America. I think it would be hard to find any American – even if they have never visited – that couldn't identify the patriotic symbol of democracy.
I'm embarrassed to admit, before I visited I could only name three of the presidents that were carved into the mountainside. I always forget Thomas Jefferson for some reason! Now I got it: George Washington, Thomas Jefferson, Teddy Roosevelt and Abraham Lincoln. Each representing different contributions to America's founding, growth, preservation and development.
An avenue of state flags presents a grand welcome to the monument. Even after seeing a million photos before, it is still a sight to see up close. It is massive! The faces are 60 feet high with the eyes of each president 11 feet wide and their mouths 18 feet wide.
After taking our initial pictures, we watched the 13-minute orientation film about the history, creation and carving process. Afterward, we walked the short Presidential Trail for closer viewpoints.
We were told by many people to try Thomas Jefferson's famous vanilla ice cream, but the line was long and we had a rodeo to get to! If you go, try it and let us know if it is as good as they say.
The True Cowboy Experience at Crazy Horse Stampede Rodeo
We stopped in Custer's Chamber of Commerce for maps and free Wi-Fi. While talking to the woman holding down the fort, she mentioned she had tickets to the Crazy Horse Rodeo and if we would be interested. We did not mention the blog or anything either so it was just a nice offer. Cowboys and bull riding? Yes, please!
Other than the steer wrestling, it was an awesome experience! I was feeling bad for the animals as the cowboys lassoed them in, grabbed them by the horns and slammed them to the ground. All so they could tie them up then let them go. Being from the city, I have never been to a rodeo so I was filled with many questions. I know it is a long-standing rodeo event and everyone in the crowd was cheering, but I couldn't help but feel concerned for the calves. Obviously, the only one in the crowd.
The rest of the rodeo was so entertaining. We watched with our jaws to the ground as the tough riders handled the bucking horses and bulls. They even had a rodeo clown!
Stockade Lake Hike in Custer State Park
We ended the day with a hike at dusk overlooking Stockade Lake. It was a perfect end to the day!
Next Stop: Spearfish Canyon in the Black Hills

Miles Driven Today: 91, Total Miles Driven: 1,429, Average Gas Price per Gallon: $2.29, States: South Dakota


And so our epic 80 day summer road trip continues – 12 U.S. states, 1 Canadian province and 11 national parks. Follow our journey via Facebook, Twitter or Instagram.


If you would like to see our full itinerary, start at the beginning here. And Start at Day One here.
Thank you South Dakota CVB and Custer Chamber of Commerce for providing us with tickets. All words and opinions, however, are my own.

Have you been to Jewel Cave or Mount Rushmore? What about a rodeo? What did you think? Tell us in the comments below!

Like it? Pin it!