Summer Road Trip, Day 2: Goodbye Minnesota, Hello South Dakota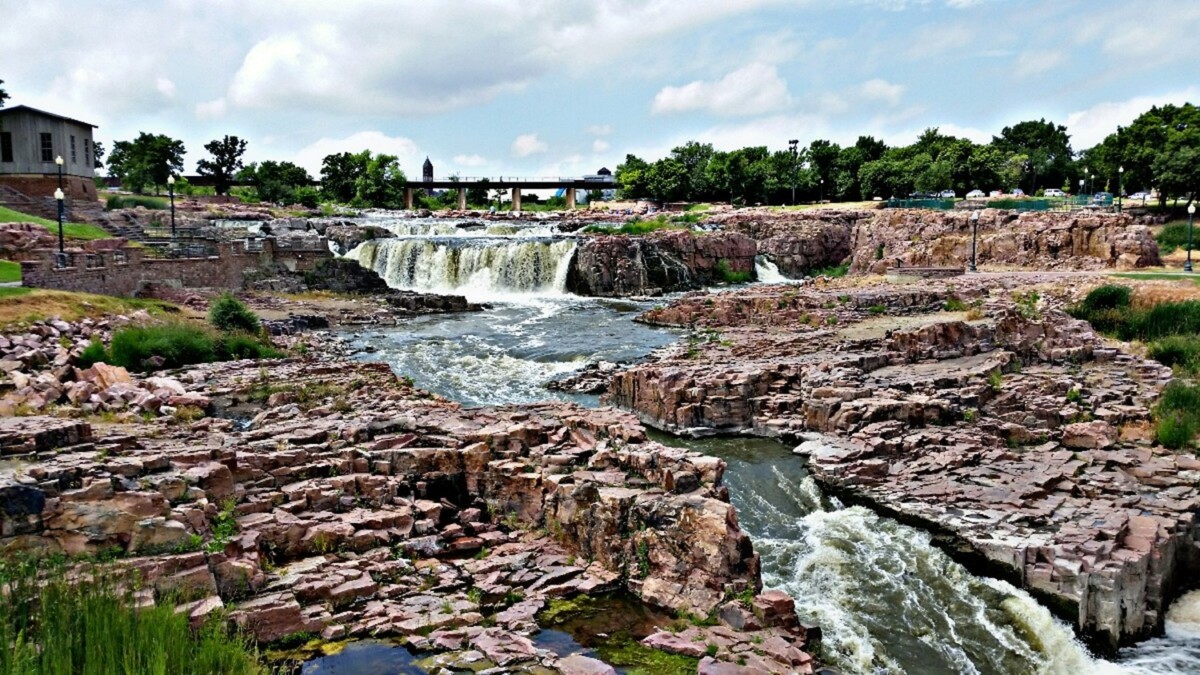 Highlights along Interstate 90 across Minnesota and South Dakota
Interstate 90 is the longest Interstate Highway in the United States at 3,020 miles. It is in the northern section and runs from Boston, Massachusetts to Seattle, Washington.
Today is our longest driving day of the entire trip (fingers crossed) as long as everything goes as planned. To break up the driving, we stopped at some of the fun and quirky roadside attractions on our way out of Minnesota into South Dakota.
The Jolly Green Giant Statue
Where can you stand in between the legs of a 55-foot high green giant? Blue Earth, Minnesota, that's where!
The giant weighs 8,000 pounds, wears a size 78 shoe and has a smile that stretches 48 inches across.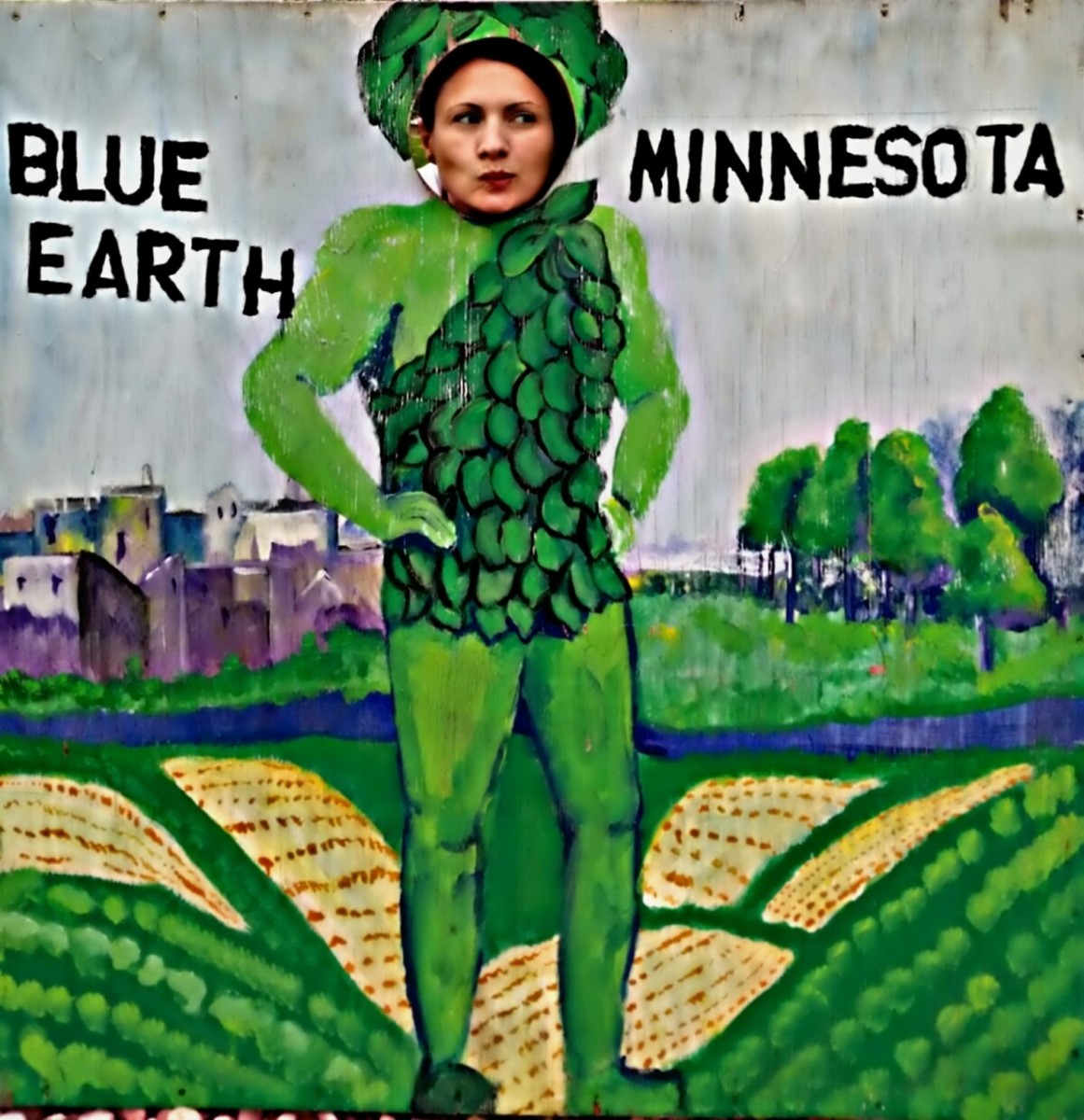 It started to rain heavily as we left Blue Earth and Prince's "Let's Go Crazy" song came on the radio. How fitting as he lived and died in Minnesota. Just a reminder, to live life to the fullest and enjoy every minute of it. Man, I love road trips!
Like quirky places? Read about 8 Quirky Restaurants across the U.S.
Falls Park in Sioux Falls
Stop number two on Interstate 90 is Falls Park in Sioux Falls. This was my introduction to the state of South Dakota and what an introduction it was!
The falls are beautiful and the rocks are unreal! We weren't sure we wanted to attempt to drive in the city (Sioux Falls is the largest city in South Dakota) with the pop up trailer in tow, but we took an indirect route on the outskirts of the city and it was completely fine.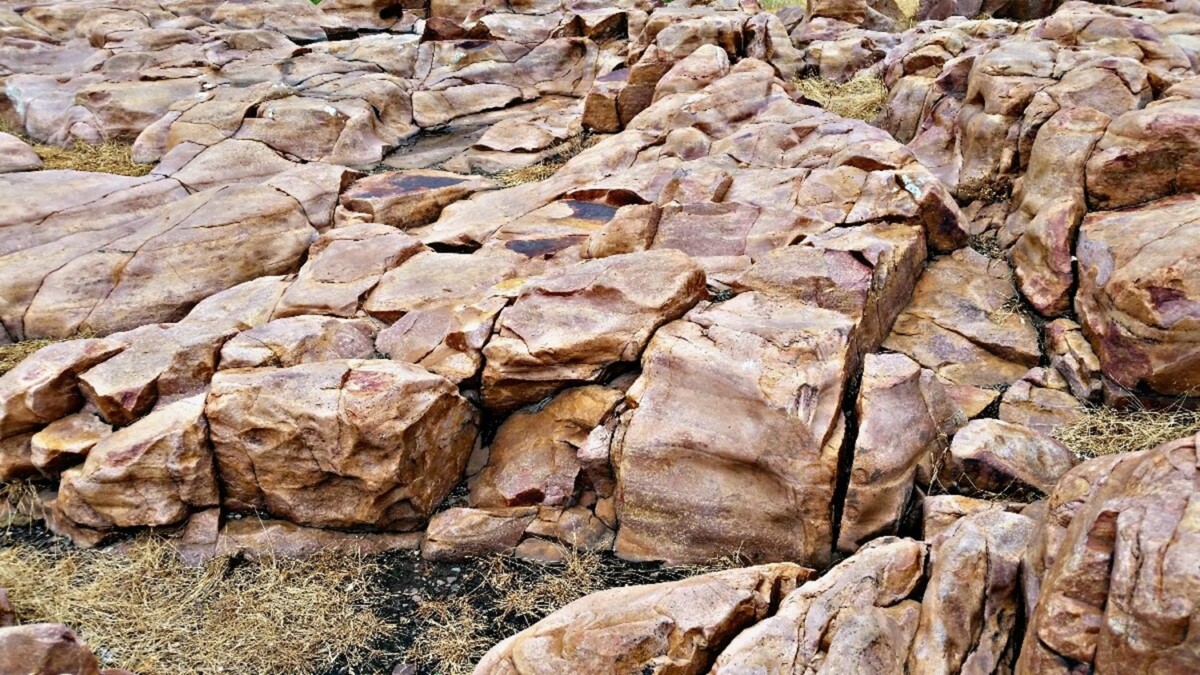 Corn Palace in Mitchell
When I read the words, "World's Only" in front of Corn Palace I thought it sounded a little strange. I wouldn't think there would be much competition in that category, but we came to find out that wasn't the case from the 1880's to the 1930's.
To celebrate their prosperity of dodging the drought in 1887, Sioux City in Iowa created the first palace made of local crops. Throughout the Midwest, there were 34 "prairie palaces" in existence in the midwest. The Corn Palace in Mitchell is now the only one left.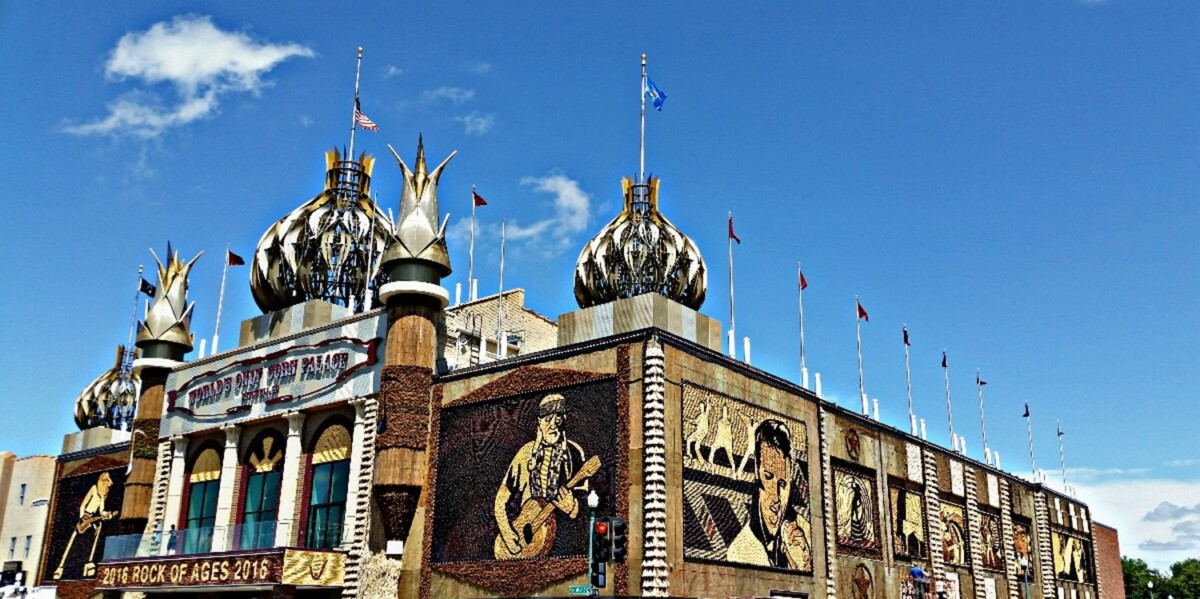 The palace is decorated in a different theme every year with 2016's theme being Rock of Ages. The wall is decorated with an enormous guitar-playing Willie Nelson and a singing Elvis Presley.
Inside the Corn Palace, you learn about its history and can purchase anything you can think of, related to corn: corn t-shirts, popcorn, corn jelly, ornaments, corn cozies, shot glasses and the list goes on.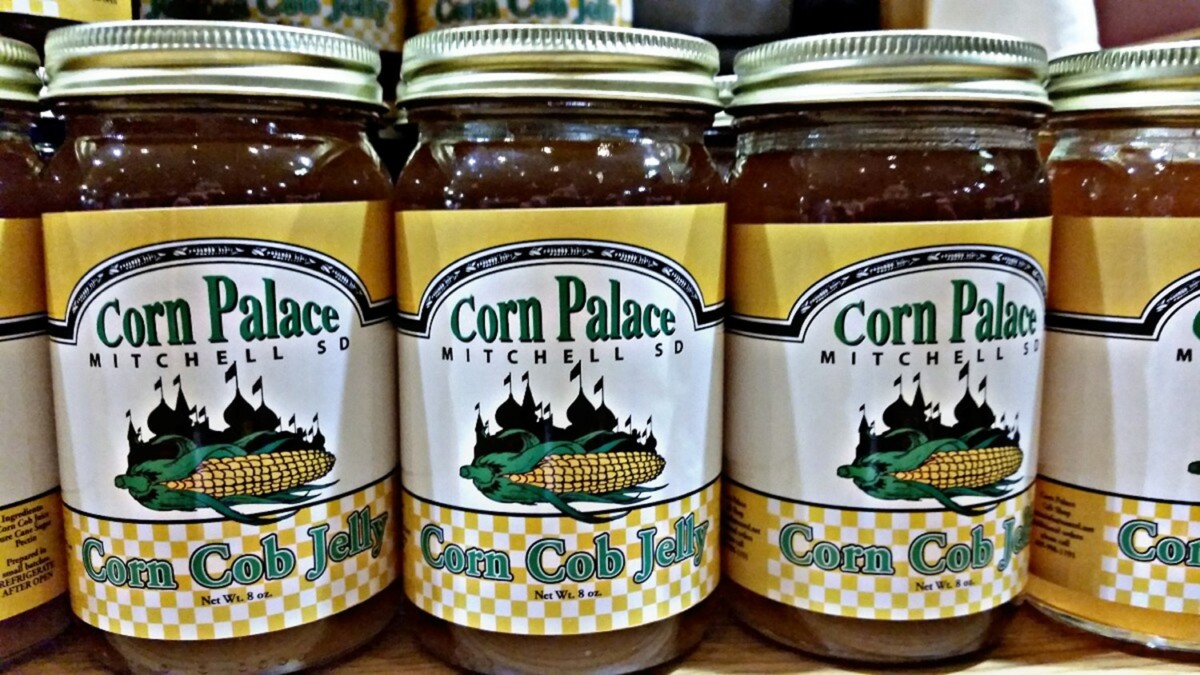 Wall Drug Store
Just northwest of Badlands National Park, you will find Wall Drug Store and you cannot miss it, as signs line the interstate miles and miles before arriving. The family-owned drug store has been opened since 1931.
Some say it's America's all-time favorite roadside attraction.
Being budget travelers, the drug store was one of the highlights of our Interstate 90 drive. It offers free ice water, 5-cent coffee and cheap delicious homemade donuts. That's maple on the right!
Did I mention fun things to do and wacky props to take pictures with?
Western Art Gallery Restaurant at Wall Drug Store
For dinner, we ate at the Western Art Gallery Restaurant which seats over 520 people. Thankfully, it was not that busy when we visited. Only half the rooms were filled with patrons.
Tip of the day: during peak seasons try to eat at slow times like in between lunch and dinner or after the dinner rush hour. Western motif enriches your meal as it has the largest privately owned western and illustration art collection in the country.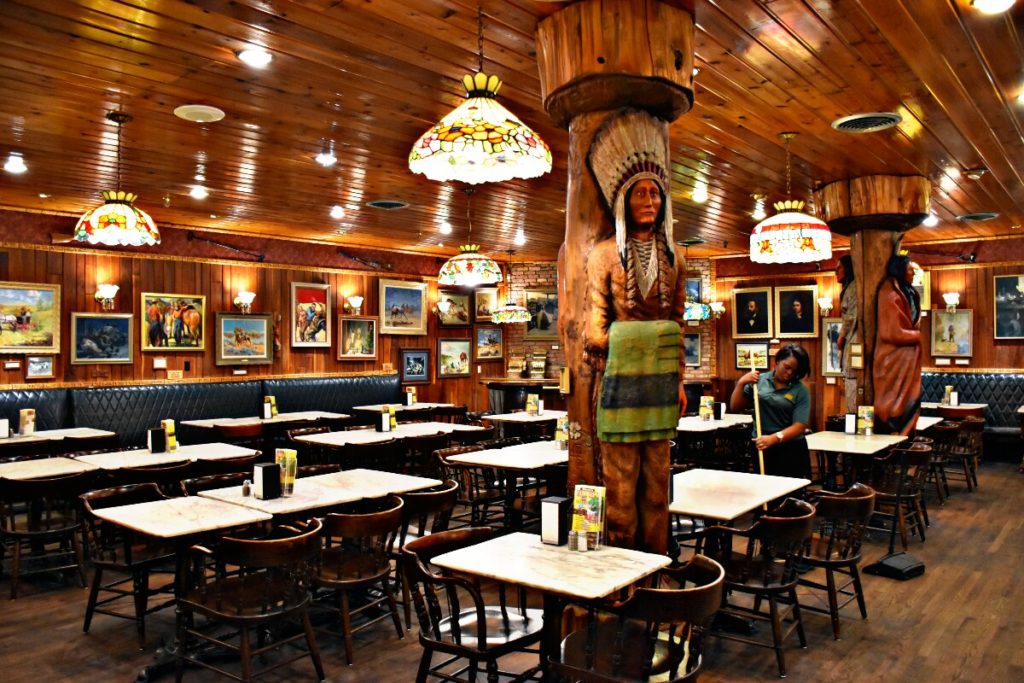 We had the buffalo burger and of course, could not pass up donuts for dessert. Visiting Wall Drug Store was a perfect way to end our day after driving across Interstate 90!
Next Stop: Badlands National Park in South Dakota
Miles Driven Today: 525, Total Miles Driven: 922, Average Gas Price per Gallon: $2.25, States: Minnesota & South Dakota
And so our epic 80 day summer road trip continues – 13 U.S. states, 2 Canadian provinces and 13 national parks. You can also follow our journey via Facebook, Twitter or Instagram.
If you would like to see our full itinerary, start at the beginning here. And Day 1 here.
Thank you South Dakota CVB and its associates for hosting us at Wall Drug Store. All words and opinions, however, are my own.


Like it? Pin it!