With its unique rock formations amid jagged peaks and rugged terrain, Badlands National Park is an extraordinary outdoor playground that should be experienced at least once in your lifetime. And one of the must-do things in the park is hiking Notch Trail Badlands. If you're driving through and only have time for one hike, this is it.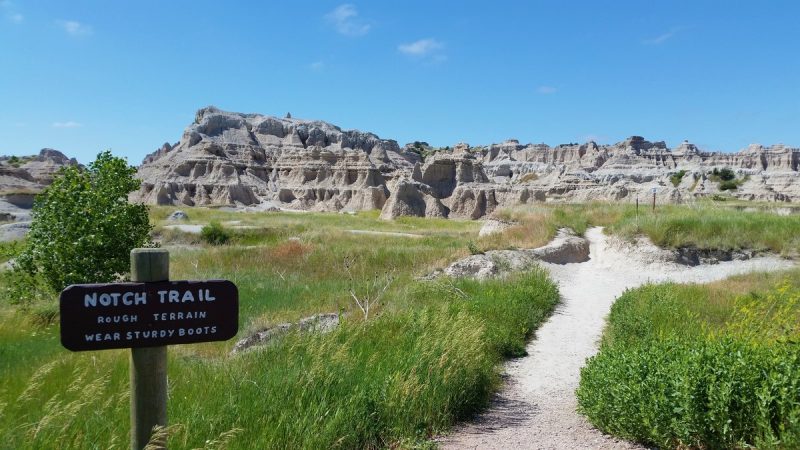 Everything You Need to Know about Hiking Notch Trail – Badlands National Park
Here are all the details you need to know to plan your hike and don't forget to keep reading for our detailed account and pictures below.
Notch Trail Hike Distance: 1.5 miles round trip – Out and Back.
Elevation Gain: 150 feet.
Difficulty: Moderate to Strenuous because climbing a steep ladder and steep drop-offs are involved. Otherwise, I would say easy to moderate. It is not recommended for small children or anyone with a fear of heights.
Length of Time: 1 1/2 – 2 hours. More if you take a lot of pictures like us or there are a lot of people waiting to climb the ladder.
Best Time of Year: Spring and Fall. Avoid summer if possible but if visiting during this time make sure to hike early in the day.
Badlands Weather: The park is open all year long with the coldest months being January, February, November, and December. The average total snowfall is 12 to 24 inches. June is the wettest month with January being the driest. Summers are hot and dry with occasional hailstorms and tornadoes. July and August are the warmest months with temperature highs between 83 and 92 degrees Fahrenheit.
Sun Exposure: All sun, no shade.
Trailhead: Near the Interior Entrance past the Ben Reifel Visitor Center. It's across from the Castle Trail and next to the Window Trail Badlands.
Pets: No pets allowed.
Bathrooms: Pit bathrooms located near the parking lot.
Parking: A shared paved parking lot for other trails.
RELATED: BLACK HILLS 7 DAY ITINERARY
HIKING TIPS:
Begin the Notch Trail Badlands hike early for lower temps and fewer people on the trail.
Pack out all trash.
Trail can be washed out during and after heavy rains so make sure to check trail conditions beforehand.
Also, take a look at our recommended 6 Favorite Things to Do in the Badlands.
Stay at least 100 yards from all wildlife on your visit. That means no close selfies!
Remember all fossils, plants, rocks, and artifacts should remain in the park and unharmed.
WHAT TO PACK AND WHAT TO WEAR: You'll want to bring as little as possible since you'll be scrambling up a ladder. Wear sturdy shoes (no flip-flops), carry a lightweight daypack (click to see a recommended bag) so you'll have nothing in your hands for the climb, and put on sunscreen before you head out. For the hike, you'll want to pack the following:
Water (the NPS recommends two quarts per person for a two-hour hike)
Snacks
Hat and/or Sunglasses
Camera
Notch Trail Badlands Directions
You can find the parking lot for Notch Trail off the main park road roughly 2.5 miles from the Northeast Entrance. The lot is also used for the Door Trail, Window Trail, and Castle Trail.
See below for the Badlands Map with the Scenic Loop highlighted.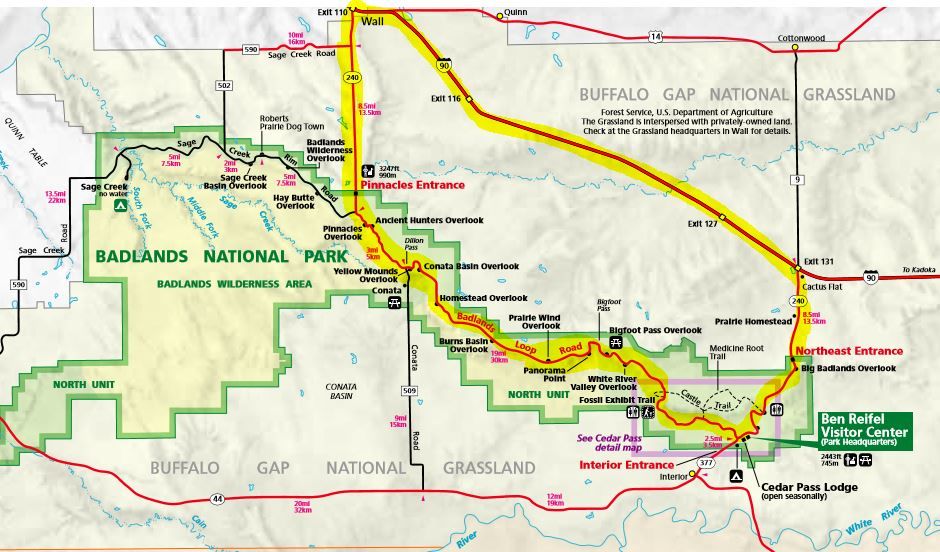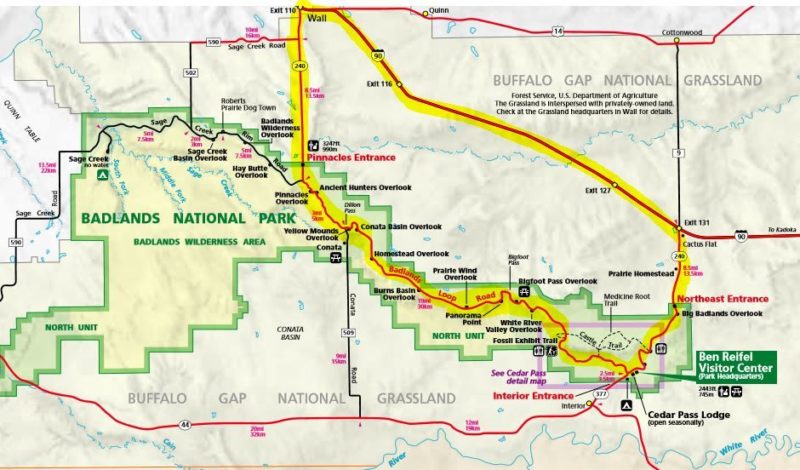 Read Next: The Easy Enter the Door Trail Badlands
What It's Like to Hike Notch Trail Badlands
It's time to hike Notch Trail – Badlands National Park! If it's your first time in the park, make sure to stop in the Ben Reifel Visitor Center to pick up a map and get park information.
Unfortunately, most people only plan for a day in the park even though it has a lot more to offer than you'd think. If you only have a half or full day, I would suggest driving the Badlands Loop highlighted above, stop at the overlooks, and hiking Notch Trail.
*And if you have a little more time hit up the short easy Window Trail Badlands and Door Trail Badlands.*
The 1.5-mile hike begins at the south end of the Window and Door parking area. A brief stroll through a beige-colored canyon leads you to a 50-foot log ladder set up against a steep wall.
I've had a few readers ask if Notch Trail is appropriate for children. My answer is, it depends on the child. Yes, there are a few prime spots where I would be extra careful, but for the most part, it is an easy and fun trail. I think most kids will love the ladder, the short distance, and the expansive views at the end.
I wouldn't suggest Notch Trail Badlands for anyone with a fear of heights, under the age of five, or an overzealous child that will not be cautious.
RELATED: TOP-RATED SOUTH DAKOTA CAMPGROUNDS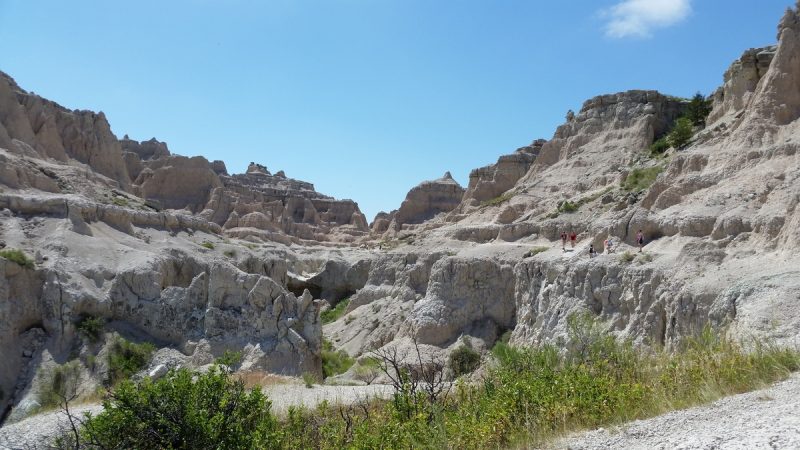 Tighten your pack and take your time scrambling up the rock face. It won't take too long; the way up is the easy part.
After the climb, you continue the hike hugging the inside of a rocky cliff overlooking the shallow canyon. Watch for steep drop-offs and be extra careful during or after heavy rains.
There is one fork along the way otherwise the trail is well-traveled and easy to navigate. At one point, you'll see a few small caves with hundreds of birds swarming around. Eventually, the path widens and is more relaxing for a short while before arriving close to the viewpoint.
Heading to Wyoming next? Check out our 5 Day Yellowstone Itinerary
At last, you will reach the short uphill climb to the viewpoint. If you are hiking with children, do not let them run up on their own since there's a 100-foot drop-off at the top.
Here is another area where sturdy footwear is helpful to keep your footing so make sure not to wear your flip-flops!
Upon reaching "the Notch," dramatic panoramic views of the White River Valley are yours for the taking. Take a break and enjoy the rugged landscape! See if you can spot the Cliff Shelf Nature Trail below lodged along the Badlands wall.
Albeit a brief hike, it's a memorable one! Other than the vertical climb and steep drop-offs, the trail is fairly easy and super unique with the wood ladder scramble so we highly recommend it.
If you are looking for family-friendly spring break ideas in the Midwest, click here to read our favorites next!
Frequently Asked Questions
How difficult is Notch Trail Badlands? Notch Trail is not a difficult trail. The trek is considered intermediate with a ladder climb and some steep drop-offs so be extra careful if hiking with children.
How many steps are on the Notch Trail in Badlands? The ladder to nowhere on Notch Trail is roughly 50 steps to stunning views.
How far in on Notch Trail is the ladder? The ladder is fairly close to the start of the trail. You'll reach it in about five minutes of starting the trail.
Click below to read about other hiking trails in Badlands National Park:
Have you been to Badlands National Park? Have any other hiking spots or other favorite things to do inside the park?
Pin for Future Travels!