Having to wake up early on a Monday morning isn't so terrible when a new adventure is about to begin. It is day fourteen of our northeast road trip and we are heading to a new destination. It's time to research all the fun things to do on Block Island!
We quickly get ready before hitting the road to say goodbye to Mystic, Connecticut, and hello to the second New England state on the itinerary.
With a declaration from the Nature Conservancy that Block Island is one of its "Last Great Places" in the western hemisphere, it was a given that we were going to zip our way over once we crossed into Rhode Island.
As if dramatic rugged bluffs weren't enough to put us over the edge, the promise of freshwater ponds and rolling green hills had us hooked.
If you're planning an adventure in the northeast, here are some other articles to help with your trip:
An Incredible New England Itinerary
Connecticut Bucket List Destinations
How to Find the Best Newport Mansion Tour in Rhode Island
How to Get to Block Island
The Block Island Ferry runs from Point Judith and Newport in Rhode Island, and Fall River, Massachusetts. The Point Judith location is the only one that runs year-round and offers the cheapest option. The plan is to hop on the first ferry in the morning to take advantage of an entire day on the island.
Arriving an hour ahead of time like we read to do, there are plenty of parking spaces left in the lot across from the boarding area.
Surprisingly there are many more people waiting than we expected for a weekday, but we have no problem walking on.
Only 12 miles from the mainland, the ride is under an hour long but time goes by fast. About 35 minutes in, the gorgeous coastline dotted with a few random homes makes an appearance. Before we know it, we are disembarking and heading to our hotel.
HOT TIP: Highly recommend making reservations during the busy season and/or weekends. Click here to reserve Block Island Ferry Tickets.
Block Island Places to Stay
The National Hotel, where we are staying, is on Water Street, the heart of Block Island and luckily where the ferry drops off.
A prominent big white Victorian building, it was one of the first structures we noticed as we were pulling in on the ferry.
Full Disclosure: Some of the links in this post are affiliate links. We receive a commission at no extra charge to you if you purchase through them so a big thank you for that!
As we walk up the stairs of the hotel with our overnight backpacks, we see couples and families chatting away on the large porch enjoying breakfast with a view. That will be us tomorrow, I think to myself.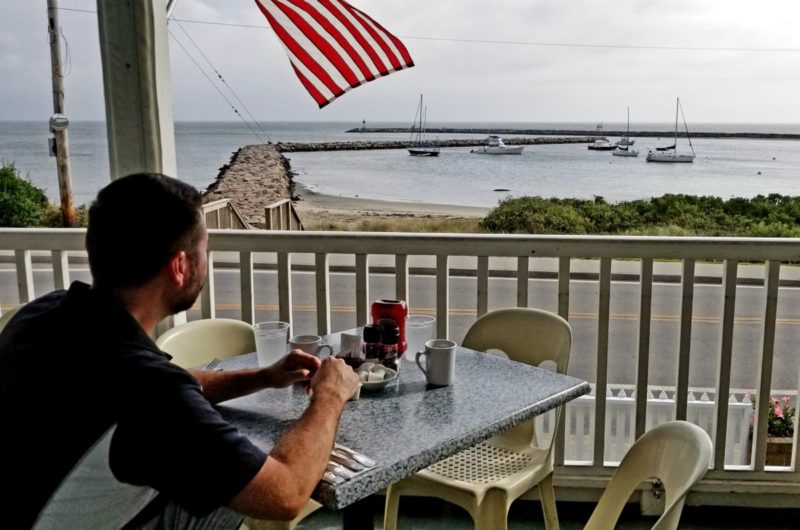 Check-in goes smoothly and as we head to our room on the top floor we quickly realize that packing light is the way to go. No elevators in a cool historic hotel like this.
Our corner room is cozy and colorful, overlooking the wild ocean. And I have to say the bathroom view isn't too shabby either.
The only negative at the National Hotel is the lack of air conditioning. It did not affect our stay since temperatures cooled at night quite a bit, but I thought I would mention it in case you are planning an overnight.
Overall, we had an excellent visit and would stay again at the National Hotel.
Other Highly-Rated Block Island Hotels
How to Spend a Day on Block Island
Is Block Island worth a visit? Absolutely, it is! It was one of our favorite stops on our New England road trip. Home to spectacular views, charming restaurants and shops, and all the outdoor activities you could ask for, Block Island is a fantastic destination.
Rent a Scooter
There are things to do on Block Island without a car, but to make the most of your visit we suggest renting a scooter. We love to ride bikes and had our bikes with us on this particular road trip, but we did not bring them to the island and I'll tell you why.
Block Island isn't that small and/or flat so with the notion that we wanted to explore the ENTIRE island, we came up with the idea of renting a scooter. Island Moped and Bike Rental had the cheapest all-day rate and offered a military discount. And it is located within walking distance of the ferry drop-off location.
Plus, it's just plain old good fun whizzing around on a scooter!
HOT TIP: If you are in a group call to negotiate a better price than what's online.
Block Island Tours
If you don't feel comfortable renting a scooter, you can join one of the Block Island tours. There are no public bus tours or trolleys on the island but you have the option of a taxi tour, helicopter tour, or kayak tour.
You can arrange for a taxi to pick you up at your hotel or find one at the Taxi Stand located in Old Harbor. The tours are typically around an hour long and narrated by the driver.
If you choose to get out on the water, you can whip around the island on the Sea Dog, a 35-foot cruiser, or by kayak, if you like a slower pace.
A helicopter tour is the most unique way to see the island, as it provides a bird's eye perspective of all the beautiful landscapes.
Search for Glass Orbs
Let me tell you about one of the coolest projects we have come across while traveling: The Glass Float Project.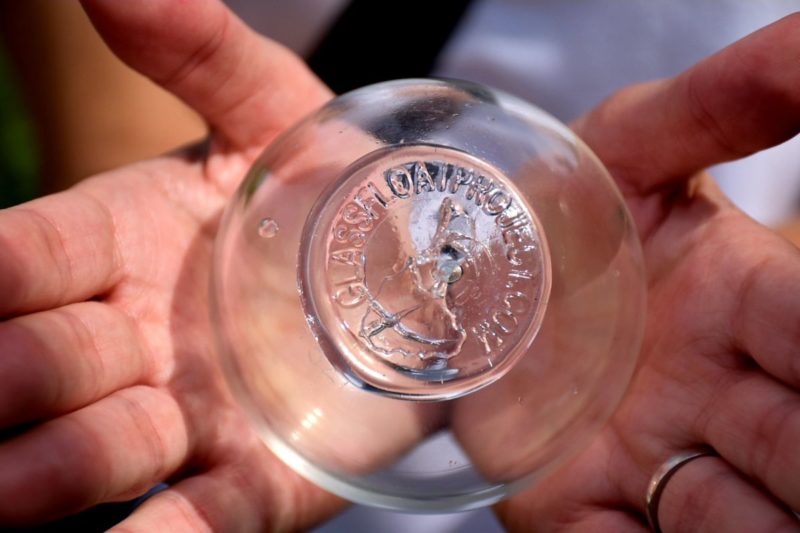 A local artist, Eben Horton, created 550 glass globes that are hidden all around the island for anyone to find.
The floats each have a number and a special stamp of an outline of Block Island on the bottom. You can check the website for a list of which ones have been found for the year and where they were picked up.
I had high hopes of discovering an orb to take home as a souvenir and just as Dave was reminding me the chances weren't good, a woman walked by with one in her hand. After a few squeals between the two of us, she explained that she had been looking for six years in a row and came up empty every year except now.
"How awesome," I thought with the realization it probably wasn't going to happen for us. But at least I was able to see one and meet an ecstatic hiker. It was just as good, right?
Nope! It must have been a good-Karma-kind-of-thought because shortly after our encounter, we made our very own discovery.
Mohegan Bluffs
On the southern shore of the island, visitors will be rewarded with breathtaking views of 150-foot clay cliffs.
Walk down the 100 or so stairs to Corn Cove for a better vantage point of the towering bluffs. And so you can experience the tumultuous waves crashing onto the rocks and sandy beach.
The Mohegan Bluffs is one of the most spectacular sites on the island.
Southeast Lighthouse
To the east from the Mohegan Bluffs, you can also spot the Block Island Southeast Light from afar.
The lighthouse was placed on the National Historic Landmark list as one of the most architecturally sophisticated lighthouses built in the United States in the 19th century.
Greenway Walking Trails
Block Island is three miles wide and seven miles long with roughly 30 miles of hiking trails.
Get out and explore what makes this island so special. The Greenway provides easy to moderate trails on mowed paths to rocky slopes through the island's most remarkable locations: Clay Head Preserve, Rodman's Hollow, the Enchanted Forest, Nathan Mott Park, and Turnip Farm.
RELATED: THINGS TO DO ON BLOCK ISLAND WHEN IT RAINS
Block Island North Light
Sailing through the passage of Point Judith and Block Island has long been known as a tricky area for mariners.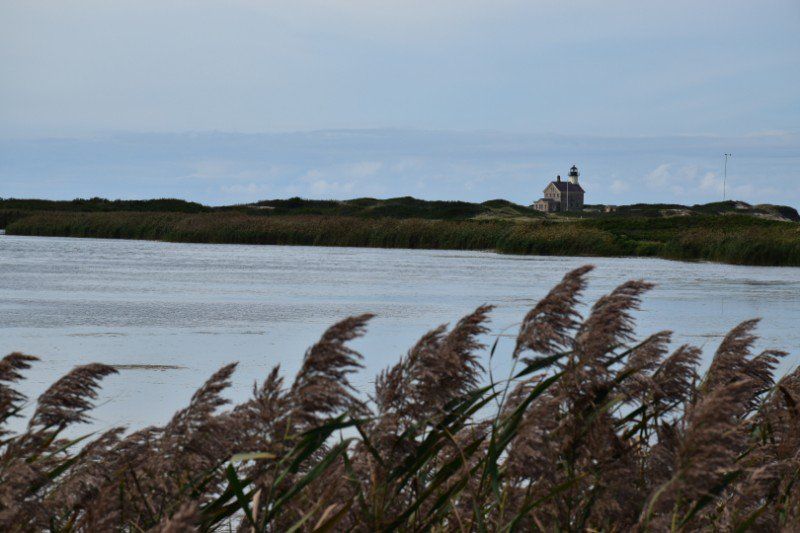 In the early 1800s, numerous vessels broke apart as they were thrown into the rocks surrounding the island. The northern tip historically being one of the most problematic.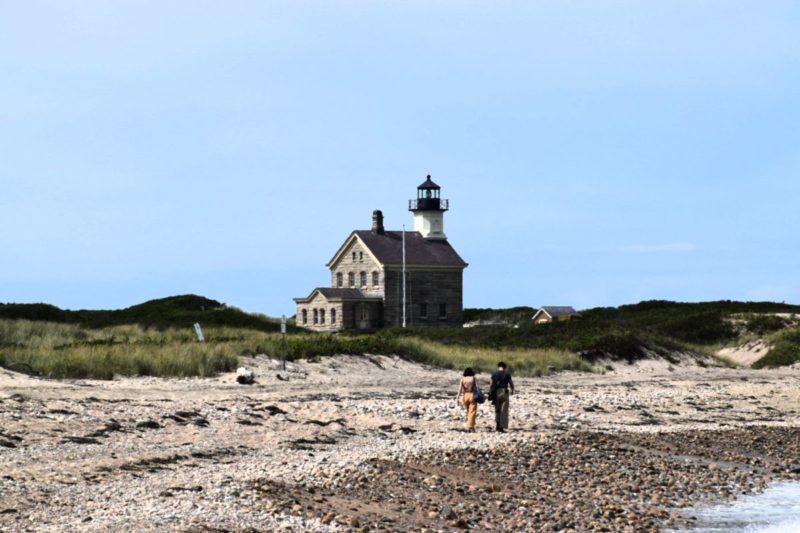 The North Lighthouse, built in 1867 of Connecticut limestone, was the final of four and still stands today.
HOT TIP: Make sure to check the water for bobbing seal heads. It's a popular area for them.
The Beaches
Whether you are taking a walk or going for a swim, the 17 miles of sandy beaches on Block Island should not be missed.
Crescent Beach at the edge of Old Harbor is the easiest to get to from the ferry and has soft sand and welcoming water. Other popular swimming beaches include Mansion Beach, Scotch Beach, Baby Beach, Surf Beach, and Ballard's Beach.
HOT TIP: The Frederick J. Benson Pavilion at Crescent Beach has full amenities including restrooms, showers, a concession, and equipment rentals.
Old Harbor Historic District
Steps from the ferry landing dock is the Old Harbor Historic District. You'll find specialty mom-and-pop shops with unique island gifts and souvenirs along with art galleries, restaurants, and inns.
Nightlife at the Block Island Bars
Captain Nick's, a rustic watering hole known for live music, a large dance floor, and an outdoor terrace.
The Beach Bar at Block Island Beach House, a casual outdoor bar with water views and classic summer cocktails.
Ballard's, tiki bars, and live music, what more could you ask for?
Club Soda, stays open the latest with a backyard patio and dive bar.
Old Island Pub, a low-key bar with a pool table, video golf, and friendly staff.
The Oar Restaurant
And last but not least, stop in the Oar Restaurant, one of our favorite Block Island restaurants, overlooking the Great Salt Pond for a delicious meal with a bay view.
The casual place offers a great beer selection and a big menu with sushi, seafood, and sandwiches.
Frequently Asked Questions
How much time do you need to see Block Island? Even if you only have a day, it's worth it to take the ferry out to Block Island. Being less than 45 minutes away, the short ride is definitely worth it.
What food is Block Island known for? Being a coastal destination, seafood is the most popular type of food you'll find on the island.
Can you walk everywhere on Block Island? The main tourist area is highly walkable, but there are parts of the island you cannot get to unless you rent a bike or moped.
When is the best time of year to visit Block Island? The peak season for Block Island runs from mid-June to the end of August, but the best time to go is right after that in the shoulder season of September. The air and water temperatures and still warm, the restaurants and shops are all still open and the summer crowds thin out leaving September the best month to visit.
Things to Do on Block Island in Winter
If you're looking for things to do on Block Island in winter, here are some other ideas.
Pilates and yoga are offered at Elevation Studio.
Have a relaxing day at Koru Eco Spa.
Skating, ice boating, and sledding.
Disclaimer: This post may contain affiliate links, if you book through our link we will receive a small commission at no additional cost to you. Thanks for helping to support the blog!
Have you been? Let us know what you think are the best things to do in Block Island in the comments below!