After spending two months wandering around New England, I am organizing must-see and must-do things in the six states. And high on my list includes the best tours of Newport mansions in Rhode Island to visit because walking around these lavish and overindulgent estates is definitely an experience you should not miss.
Originally, we planned on only visiting one or two mansions. However, after analyzing the Newport Mansions ticket prices, descriptions, and discounts, we ended up touring five on the inside and a few on the outside. As much as I cannot fathom growing up in these living museums during the Gilded Age, I am so thankful they have been preserved for us to masquerade in their world for a day or two.
If you're planning an adventure in the northeast, here are some other articles to help with your trip:
An Incredible New England Itinerary
Connecticut Bucket List Destinations
Block Island, a Magical Oasis in Rhode Island
Who Owned the Newport Mansions
The rich and famous, that's who!
Ah yes, the Gilded Age. A time in America when new wealth accumulated from generation to generation creating an era of exuberant extravagance. We are talking opulent "cottages" that could fit an entire small town inside. Yet they were built for one family to be used six weeks out of the year. Elaborate wild parties that lasted for days with intricate planning and grandiose theatrics.
Cue The Great Gatsby scenes in your mind.
"I was within and without, simultaneously enchanted and repelled by the inexhaustible variety of life." ― F. Scott Fitzgerald
Today, you can visit ten restored mansions that are run by the Preservation Society of Newport County, Rhode Island's largest cultural organization.
"Its historic properties and landscapes – seven of which are National Historic Landmarks – trace America's architectural and social development from the Colonial era through the Gilded Age. In keeping with its mission, the Society strives to offer its members and the public a comprehensive view of each property's architecture, interiors, landscapes and social history."
Find Out About the Man Who Coined the Term "Gilded Age"
Best Newport Mansions to Tour and What Tickets to Get
The biggest question we had in planning our visit was what tours of Newport mansions to choose from and if it was possible to see them all in one day.
All things considered, the best bang for your buck is the 5-House Ticket because you get to see the best homes and the tickets do not expire.
If you are not able to see all five in one visit, save your tickets for a future trip.
The list of Newport mansions you can tour includes:
The Breakers – A Vanderbilt summer home palace with 70 rooms and 4 floors, the biggest and most grandiose of the mansions.
Marble House – Another Vanderbilt mansion built in the late 1800s with 50 remarkable areas such as the Gothic room and the grand staircase made of Siena marble.
Rosecliff – Hear about and imagine the excessive parties that took place at this historic house and see the grand ballroom used in the movie, The Great Gatsby.
The Elms – Experience a romantic ambiance with French influences and one of the most beautiful grounds and gardens of Newport.
Chateau-sur-Mer – Highfaluting Victorian masterpiece with an impressive grand hall.
Chepstow – An Italian-style villa adorned with original furnishings and 19th-century American artwork.
Hunter House – Built in 1748 for a sea merchant, it is a fine option if you enjoy Georgian Colonial architecture.
Green Animals Topiary Garden – A country estate with green animal-shaped shrubs dotting the landscape.
Isaac Bell House – One of the less crowded mansions known for its Shingle Style architecture and a mix of European, Japanese, and American décor.
Kingscote –

A

Gothic Revival home built by cotton plantation owners with original Tiffany glass bricks in the dining room.
After much debate and research, we chose the first five in bold on the above list. They are the most awe-inspiring and over-the-top mansions and offer a wide variety of architecture and history.
If you only have time to tour one or two of the Newport mansions, I would highly recommend The Breakers and the Marble House. Unfortunately, the Breakers is the busiest, but it is a one-of-a-kind experience.
READ NEXT: AMAZING THINGS TO DO ON BLOCK ISLAND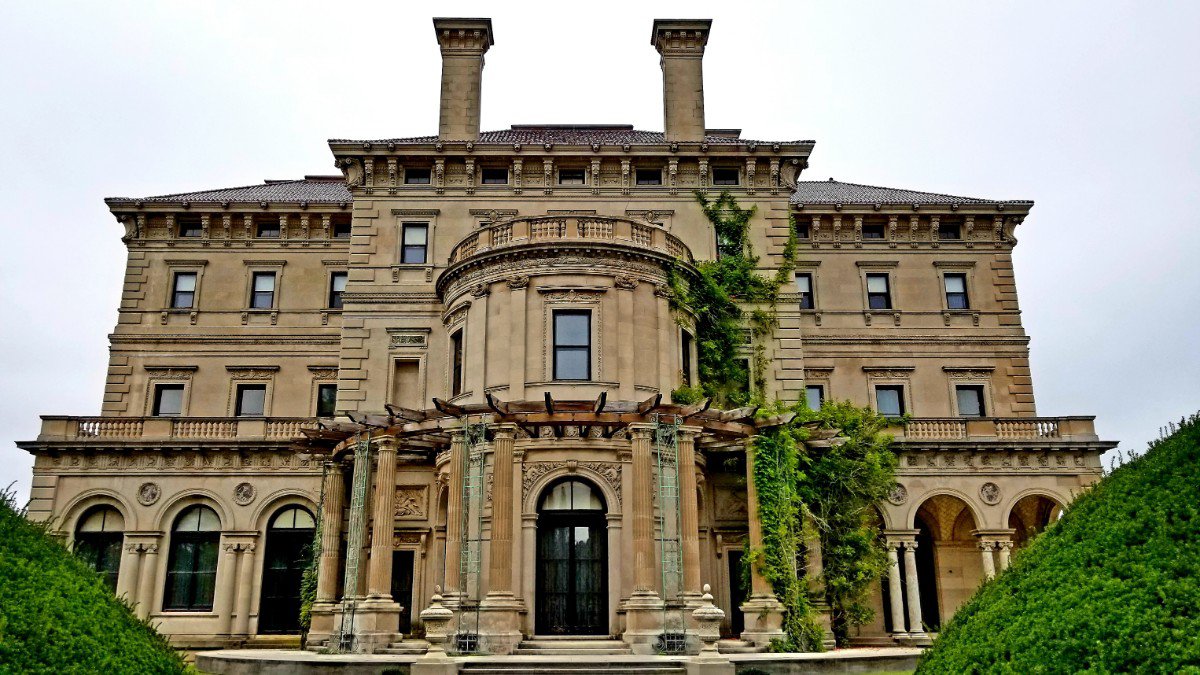 Newport Mansions Ticket Prices
Newport mansions tickets can be purchased online or at any Newport Mansion.
Breakers Only: Adult $29, Child $10
1 House Ticket: Adult $25, Child $10
2 House Ticket: Adult $38, Child $14
3 House Ticket: Adult $46, Child $16
5 House Ticket: Adult $60, Child $20
Student One Year Membership: $35 – Includes unlimited access to regular tours for one year.
Which Newport Mansions are Open?
Always check online as the open mansions change periodically based on the time of year.
The 2023 schedule is as follows.
April 1 – April 29: The Breakers, Elms, Marble House, and beginning April 15th, the Green Animals Topiary Garden.
April 30 – May 29: The Breakers, Elms, Marble House, Green Animals Topiary Garden, and Isaac Bell House.
May 30 – July 30: The Breakers, Elms, Marble House, Green Animals Topiary Garden, Hunter House, and Kingscote.
July 31 – August 31: The Breakers, Elms, Marble House, Green Animals Topiary Garden, Chateau sur Mer, Chepstow.
September 1 – October 1: The Breakers, Elms, Marble House, Green Animals Topiary Garden, Chateau sur Mer, Rosecliff, and The Breakers Stable and Carriage House.
October 2 – October 29: The Breakers, Elms, Marble House, Green Animals Topiary Garden, and Rosecliff.
October 30 – November 17: The Breakers and Rosecliff.
November 18 – January 1, 2024 (Holidays at The Newport Mansions): The Breakers, Elms, Marble House, and Rosecliff.
Military Discount on Memberships
Attention military folks: any active, reserve, or retired military with a valid military ID. The Preservation Society offers a $15 discount on memberships which ends up cheaper than the 5 House Ticket for a Dual Membership and Household Membership.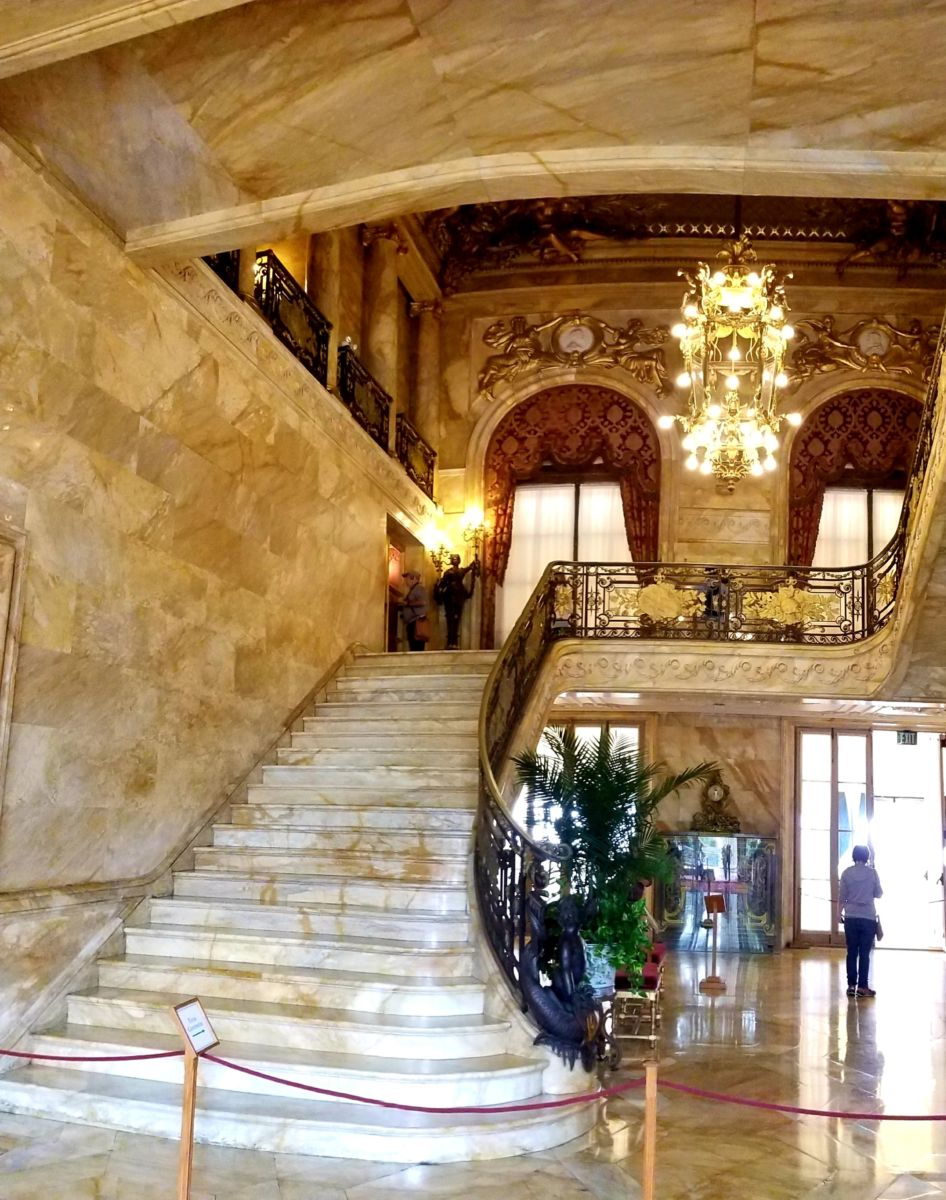 10 Tips for Visiting the Newport Mansions
Try to visit during the week and first thing in the morning for fewer crowds.
Headsets are available at the majority of the homes in various languages with the exception of Chateau-sur-Mer which is a guided tour.
Wear comfortable walking shoes, you'll be standing and walking most of the day.
Most of the houses are within walking distance of each other, but each of them has free parking lots with the exception of the Hunter House where you can find street parking.
If you do not have a car, public transportation is provided by the Rhode Island Public Transportation Authority. Hop on a trolley at the Newport Gateway Visitor Center, 23 America's Cup Avenue.
Photography is now allowed inside the mansions. You'll want to use the panorama setting on your phone to capture the rooms in their entirety.
Strollers are not allowed inside the mansions.
Give yourself time and spread out the tours over a few days if possible to not be overwhelmed. It is a lot of standing and information to take in.
Newport mansions Christmas decorations are over the top so it's a fantastic time of year to visit.
Don't miss the 3.5-mile Cliff Walk along the ocean's rocky ledge and the 8 Best Things to Do in Newport, Rhode Island.
Newport Mansions Map
See below for the Newport Mansions Map so you can plan out your visit.
Unique Places to Stay in Newport, Rhode Island
Disclaimer: This post contains affiliate links, if you book through our link we will receive a small commission at no additional cost to you. Thanks for help to support the blog!
Have you been to Rhode Island? What do you think are the best tours of Newport mansions to take?