Get acquainted with the birthplace of America on a New England road trip. Discover the quaint coastal towns, famous historical landmarks, and spectacular scenic drives the area has to offer. Our trip includes additional states, but the bulk of our itinerary is in six states: Connecticut, Rhode Island, Massachusetts, New Hampshire, Maine, and Vermont.
It's for 60 days, starting and ending in Chicago and driving roughly 2,500 miles, but you can adjust it to your liking. Visit one national park, too-many-to-count lighthouses, a few state parks, picturesque small towns, and overindulging on copious amounts of seafood along the way.
If you are looking for more unforgettable adventures, check out these trips: Chicago to L.A. via Route 66, hiking 500 miles on the Camino in Spain, and a cross country road trip to thirteen national parks.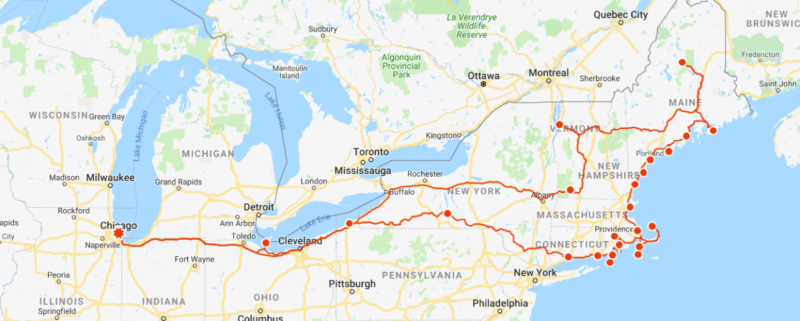 When to Visit New England
From our experience and research, there really is no bad time to visit New England. Each season brings something unique to the table.
Winter is cold and snowy but perfect for winter activities such as skiing and snowboarding. The thawing temperatures of spring bring wildflowers and maple syrup. Summer is known for its hot weather and sunny days filled with outdoor adventures. And last but not least, fall welcomes a blanket of blazing colored treetops and great hiking temperatures.
WAIT UNTIL YOU READ WHAT WE HAVE PLANNED! SCROLL DOWN FOR MORE INFO
One of the Top Spots for Fall Foliage in the U.S.
So why did we choose New England this trip? We have had an east coast road trip on our radar for quite some time and especially wanted to visit during the fall. It is touted as one of the best locations for fall foliage in the United States.
Donned in our heavy sweaters as autumn unfolds with rich colors of crimson and gold with the smell of fire and a hint of pumpkin spice floating in the air, I can't imagine a better time.
Hopefully, from mid-September until the end of October, we will be leaf peeping fools.
*Hot Tip: On your New England road trip fall edition, begin north where the leaves turn earlier and then head south. We had a few prior engagements with family so we had to adjust our itinerary.*


Ultimate New England Road Trip Itinerary Summary
Keep Scrolling for our detailed New England Self Drive Itinerary.
Summary starting and Ending in Chicago, Illinois
Put-in-Bay, Ohio (2 nights)
Erie, Pennsylvania (1 night)
Watkins Glen State Park, New York (3 nights)
Litchfield, Connecticut (1 night)
Hartford, Connecticut (2 nights)
New Haven, Connecticut (1 night)
Niantic, Connecticut (1 night)
Mystic, Connecticut (2 nights)
Block Island, Rhode Island (1 night)
Portsmouth, Rhode Island (2 nights)
Providence, Rhode Island (2 nights)
Provincetown, Massachusetts (1 night)
Falmouth, Massachusetts (1 night)
Martha's Vineyard, Massachusetts (3 nights)
Plymouth, Massachusetts (1 night)
Salem, Massachusetts (1 night)
Hampton Falls, New Hampshire (1 night)
Kennebunkport, Maine (1 night)
Acadia National Park / Bar Harbor (8 nights)
Bangor, Maine (2 nights)
Baxter State Park, Maine (3 nights)
Lily State Park, Maine (2 nights)
White Mountains, New Hampshire (6 nights)
Burlington, Vermont (2 nights)
Stowe, Vermont (2 nights)
West Dover, Vermont (7 nights)
Buffalo, New York (1 night)
Chicago, Illinois
Day 1: Chicago, Illinois to Put-In-Bay, Ohio
We leave Lake Michigan to head over to Lake Erie, the southernmost lake of the Great Lakes. It is also the shallowest which makes its water temps the warmest.
Our first stop is Put-In-Bay, a small village on South Bass Island. Known for its party-hearty culture, we are determined to not only imbibe a bit but also to discover the hidden gems on the island.
Driving Info: 279 miles, 5 hrs 20 minutes with a ferry ride
READ NEXT: TOP 10 THINGS TO DO IN PUT-IN-BAY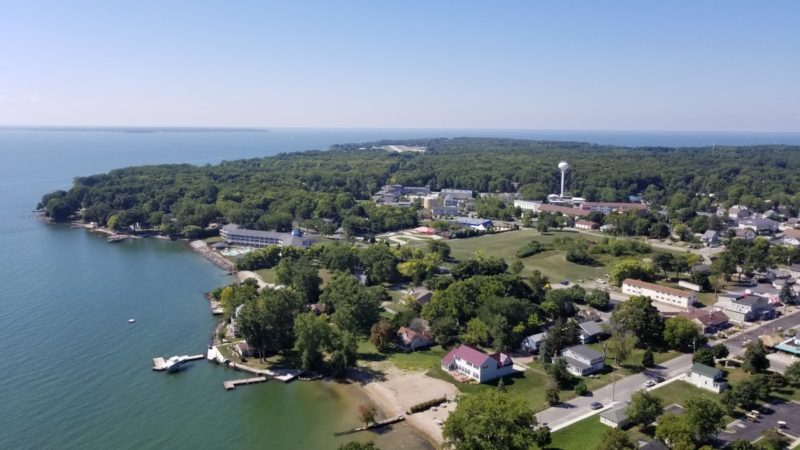 Day 2: Put-In-Bay, Ohio to Erie, Pennsylvania
We were beckoned to drive along the Lake Erie coast when we visited Cleveland a few years ago but didn't include the ride on that trip. Up the waterline, we go, as we leave Put-In-Bay to explore the small towns and lighthouses along the way.
Who knew Pennsylvania has a sliver of land right on the lake? We stop for the night at Presque Isle State Park, a small park on a sandy peninsula that juts into Lake Erie. If you are interested in renting an RV and starting in Pennsylvania, check out RV Rental Philadelphia, the largest, most trusted RV Rental marketplace with a wide-ranging inventory.
Driving Info: 190 miles, 3 hrs 45 minutes with a ferry ride
RELATED: COOL STOPS ALONG OHIO'S LAKE ERIE COASTAL TRAIL
Days 4 – 6: Erie, Pennsylvania to the Finger Lakes, New York
The Finger Lakes region in New York is known for a series of pristine lakes and beautiful vineyards. The area is also home to a number of hiking trails, breweries, distilleries, and hard-cider producers.
Driving Info: 198 miles, 3 hrs 15 minutes
READ MORE: 3 DAY FINGER LAKES ITINERARY
Day 7: Finger Lakes to Litchfield Hills, Connecticut
Ever heard of the television show, Gilmore Girls? Today, we reach our first New England state, Connecticut, where the fictional town of Stars Hollow was based on. We are touring the northwest hills in search of magical towns like Washington, New Milford, Bantam, and Litchfield which inspired the creators of the show.
Driving Info: 297 miles, 5 hrs
Days 8 & 9: Litchfield Hills to Hartford, Connecticut
And we are off to the state capital of Hartford, one of the oldest cities in the United States. Founded in 1635, we are bound to find some historical places to visit. A few on the list so far are Trinity College, Wadsworth Art Museum, and Bushnell Park.
The one I'm most excited about is the Mark Twain House where he wrote some of his most famous works and raised his family.
Driving Info: 32 miles, 50 minutes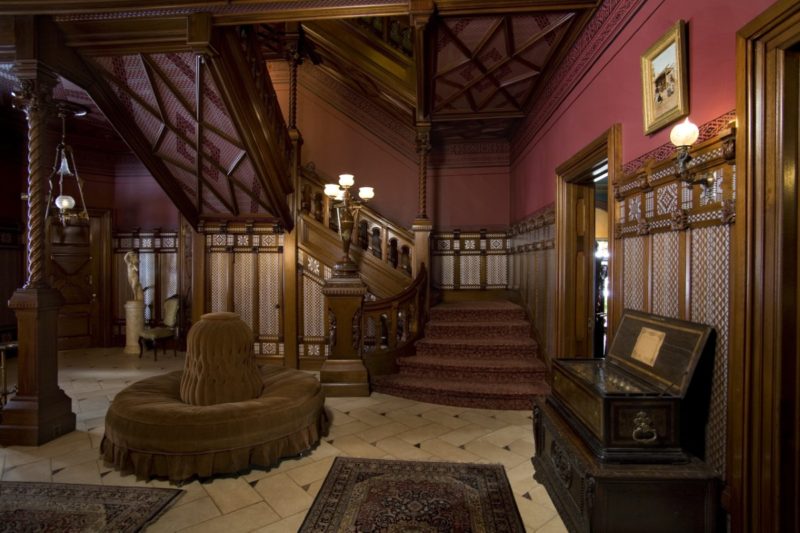 Day 10: Hartford to New Haven, Connecticut
Let's make our way to the water again, New Haven is situated along the Long Island Sound in southern Connecticut. It's the first planned city in America and home to Yale, one of the oldest universities in America.
Oh and apparently, home to some of the best pizza in the country. This Chicago-born Midwesterner writes with a probably-not-side-grin. But hey, you never know!
Driving Info: 39 miles, 40 minutes
Day 11: New Haven to Niantic, Connecticut
On our way to Mystic, we plan to take a leisurely drive along the coast to dip in any beach towns with a view. At lunch, we will find our first lobster roll of the trip. The word on the street is that Connecticut's rolls are not made with mayo, just butter and a squeeze of lemon so it's a must-try.
Driving Info: 42 miles, 45 minutes
Days 12 & 13: Niantic to Mystic, Connecticut
Never did I imagine a New England road trip would have me hunting down pizza, but stopping at Mystic Pizza is a MUST in my eyes. My love for Julia Roberts isn't the only reason we are stopping here, the seaside village is brimming with charm and boasts the nation's largest maritime museum.
Driving Info: 18 miles, 25 minutes
Day 14: Mystic to Block Island, Rhode Island
With a declaration from the Nature Conservancy that Block Island is one of its "Last Great Places," it was a given that we were going to zip our way over once we cross into Rhode Island. As if dramatic rugged bluffs weren't enough to put us over the edge (literally and figurately), the 365 freshwater ponds and rolling green hills had us hooked.
Driving Info: 54 miles, 2 hrs 15 minutes with a ferry ride
Plan Your Trip Here: Amazing Things to Do on Block Island
Days 15 & 16: Block Island to Portsmouth, Rhode Island
Portsmouth is our base location for exploring the grandeur Newport Mansions of the social elite like the Vanderbilts and Astors. Ah, the Gilded Age, when the rich were rich and wanted everyone to know it.
After a few tours such as the Biltmore Estate and Stan Hywet Hall and Gardens, we've become obsessed with these over-the-top homes. We can't wait to stroll the Cliff Walk, a 3.5 mile National Recreation Trail that hugs the Newport shoreline offering gorgeous coastline and mansion views.
Driving Info: 46 miles, 2 hrs 11 minutes with a ferry ride
How to Choose the Best Newport Mansion Tour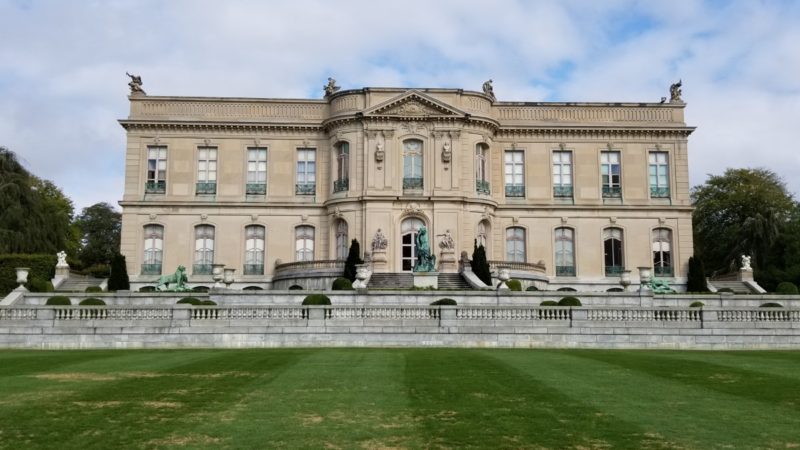 Days 17 & 18: Portsmouth to Providence, Rhode Island
Cheers to hitting another state capital! Providence is the cultural hotspot of New England. With a vintage feel in a college town and the most coffee and doughnut shops per capita of any city in the country, I'm sure we'll keep busy, or at least our mouths will.
Driving Info: 29 miles, 32 minutes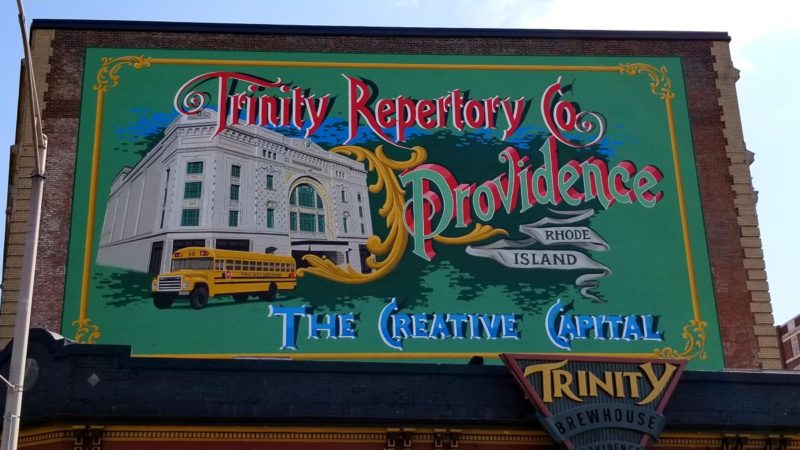 Day 19: Providence, Rhode Island to Provincetown, Massachusetts
Onward to the Cape! Cape Cod that is. And it is here where we will have one of the most anticipated experiences of the trip, a whale watching tour!
Situated at the tip of Cape Cod, Provincetown is a quirky artsy area that also happens to be a jumping point for whale watching tours.
Driving Info: 120 miles, 2 hrs 12 minutes
Day 20: Provincetown to Falmouth, Massachusetts
Today is a day for moseying around the island stopping at captivating waterfront villages and maybe a local food shack or brewery. Since we brought our bikes, we will roll onto the Shining Sea Bikeway, a 10.7-mile path that runs from the coast in Falmouth to Woods Hole and then past to North Falmouth.
Overnight is at Falmouth so we can get an early ferry over to Martha's Vineyard.
Driving Info: 68 miles, 1 hr 35 minutes
Days 21 – 23 Falmouth to Martha's Vineyard, Massachusetts
Just south of Cape Cod and a short ferry ride away sits Martha's Vineyard, a presidential getaway in my mind. I picture snazzy inns, upscale boutiques, and perfect stately homes; ritzy glamour degraded by the simplicity of the beach… where I will tell no one that our minivan turned campervan awaits us back on the mainland. Read here about all the fun things to do on Martha's Vineyard Island.
Driving Info: 19 miles, 1 hour 15 minutes with a ferry ride
Day 24: Martha's Vineyard to Plymouth, Massachusetts
Advancing north, stop for an overnight at the first Pilgrim settlement, Plymouth, where I'm sure you will have mixed emotions about the small rock that marks the spot.
But the iconic landmark is not what keeps visitors coming back for more.
Driving Info: 55 miles, 2 hrs
Day 25: Plymouth to Salem, Massachusetts
If you haven't heard of the Salem witch trials then you may be living under a rock. Plymouth rock, perhaps.
Salem is not shy about its history where the word "witch" is displayed all over town. It shouldn't come as a surprise that a witch museum, cemetery and a house with a supernatural past are on our itinerary.
Driving Info: 64 miles, 1 hr 17 minutes
Day 26: Salem, Massachusetts to Hampton Falls, New Hampshire
Clutching the coast, swing past Manchester-by-the-Sea, Gloucester, Rockport, and Newburyport before crossing over to the next state of New Hampshire.
Make sure to detour to the Hammond Castle Museum, an exotic castle built in the early 1900s by an inventor.
Driving Info: 32 miles, 45 minutes
Day 27: Hampton Falls, New Hampshire to Kennebunkport, Maine
At 18 miles long, New Hampshire's coastline is short-lived so progress to the state of Maine. It's hard to believe you've hit five of the six New England states already!
Kennebunkport is going to be all about seafood, boats, and shopping.
Driving Info: 43 miles, 50 minutes
Days 28 – 35: Kennebunkport to Acadia National Park, Maine
It's time for some hiking and biking! Park it in Acadia National Park for at least four days (more if you can swing it) because you'll be in awe of the beauty around you.
Cadillac Mountain, Sand Beach, Bar Harbor, and Park Loop Road are just a few things on the list of things to see.
Read about one of the most thrilling hikes in the Northeast that you'll find within the park.
Driving Info: 201 miles, 3 hrs 30 minutes
Days 36 & 37: Acadia National Park to Bangor, Maine
The main reason for our weekend in Bangor is to visit with friends, but items like a Stephen King's house and the world's largest Paul Bunyan statue might have you putting it on your itinerary as well.
Driving Info: 50 miles, 1 hr 15 minutes
Days 38 – 40: Bangor to Baxter State Park, Maine
Baxter State Park is home to Mount Katahdin and the end of the 2,168-mile Appalachian Trail. Take a few days to explore and hike to the peak of the highest mountain in Maine at 5,270 feet.
Driving Info: 88 miles, 1 hr 35 minutes
RELATED: SEE OUR FAVORITE FREE CAMPING APPS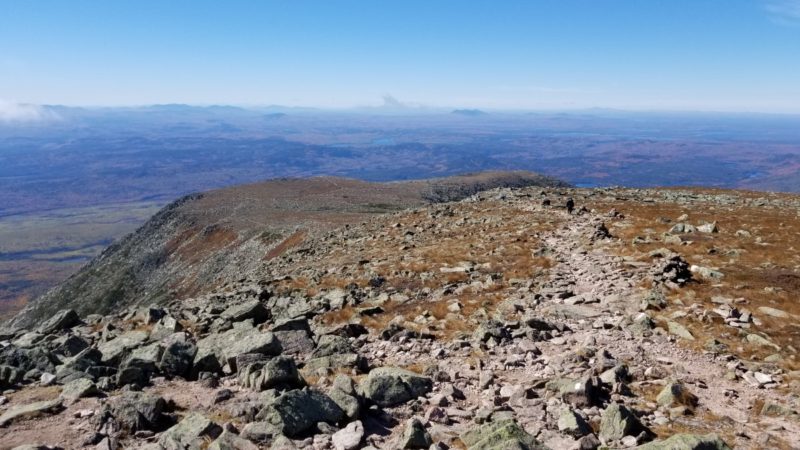 Days 41 & 42: Baxter State Park to Lily Bay State Park, Maine
At Lily Bay State Park, you'll find what's often referred to as Maine's crown jewel, Moosehead Lake, the largest lake in New England.
It is also known to sprout some bright fall colors and is a great area to spot moose.
Driving Info: 51 miles, 1 hr 35 minutes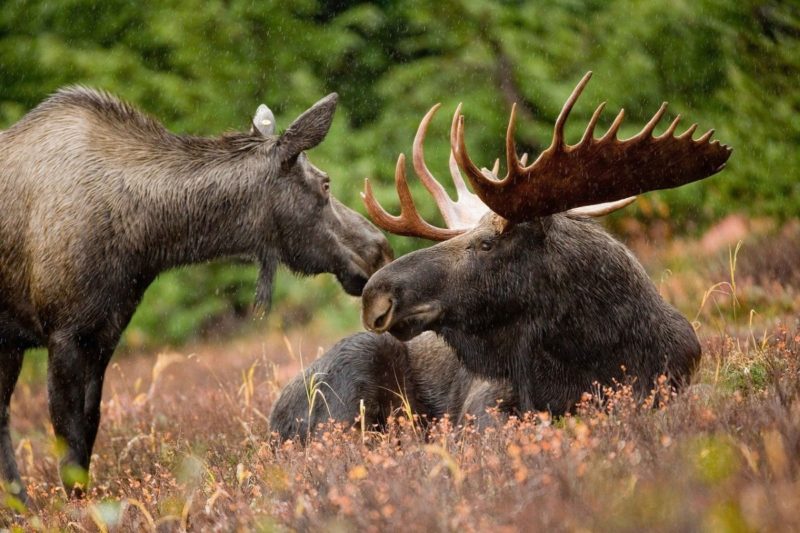 Days 43 – 48: Lily Bay State Park, Maine to White Mountains, New Hampshire
The Kancamagus Highway, a 34-mile road through the heart of the White Mountains, is one of the best drives for fall foliage in the United States.
No stores, no houses – just forest; the scenic byway stretches from Lincoln to Conway.
Driving Info: 205 miles, 4 hrs 25 minutes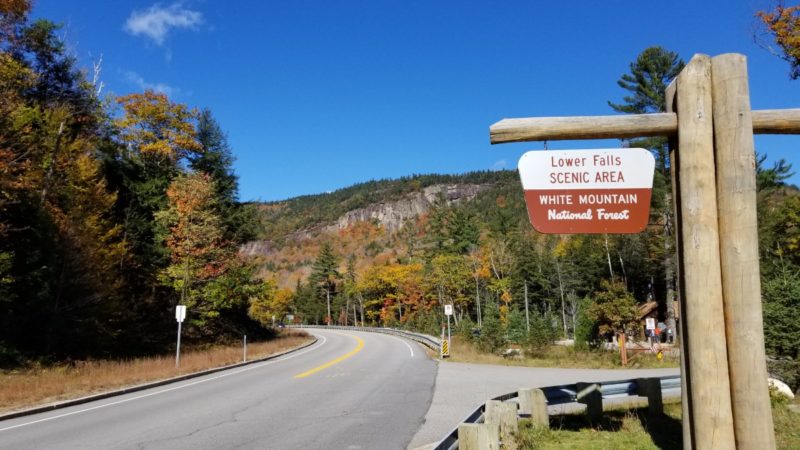 Days 49 & 50: White Mountains to Burlington, Vermont
Along the shores of Lake Champlain sits a vibrant city with a thriving arts scene and welcoming atmosphere. Vermont's largest city, Burlington, has a little bit of everything.
Driving Info: 2 hrs 20 minutes
Days 51 & 52: Burlington to Stowe, Vermont
The birthplace of the infamous Heady Topper Beer from The Alchemist Brewery and a stone's throw away from Ben & Jerry's factory, I think I'm going to start calling Stowe, the adult playground of Vermont.
Driving Info: 36 miles, 46 minutes
Days 53 – 59: Stowe to West Dover, Vermont
From Stowe, take the well-known Highway 100, another popular fall foliage route in New England, down along the Green Mountains.
Hopefully, those green mountains will be lit up with scarlet reds, glistening golds, and tangerine orange.
Driving Info: 147 miles, 2 hrs 41 minutes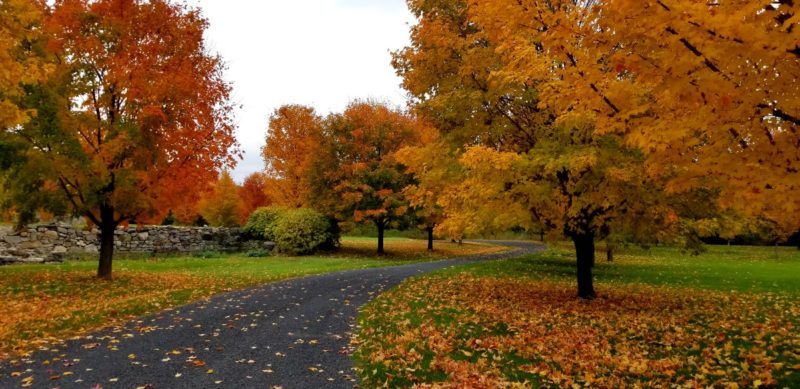 Day 60: West Dover, Vermont to Chicago, Illinois
At this point in the trip, you could take an extra night to stop at the one and only Niagara Falls in New York. Otherwise, that's a wrap folk!
60 days and a whole lotta unforgettable memories!
TIP: For those of you that would like to close the loop, head further south to the Berkshires of Western Massachusetts. A popular destination for fall foliage, cultural attractions, and outdoor fun.
Driving Info: 13 miles, 13 hrs 36 minutes
See Below for a Map of the New England Road Trip Itinerary.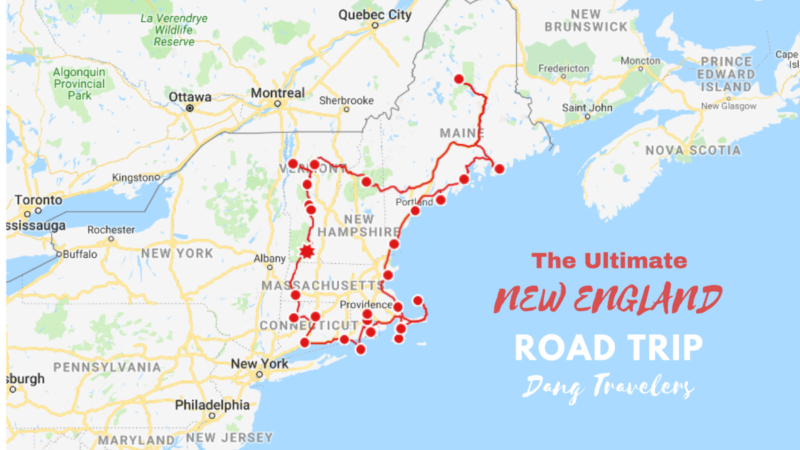 You Might Also Like
Do you have any additions to our New England road trip itinerary? Let us know in the comments below!
Disclaimer: This post may contain affiliate links, if you book through our link we will receive a small commission at no additional cost to you. Thanks for helping to support the blog!
Save this Northeast Road Trip Itinerary for later!
Pin it!