It almost sounds like a myth when I say the first stop on our northeast road trip is an island getaway in Ohio. Many people may not know that situated in the middle of Lake Erie, there is an island experience to be had. This cloak-and-dagger place is South Bass Island. There, you'll find the small charming village of Put-in-Bay, a must-experience destination in the Midwest. And here are the best Put-in-Bay attractions once you arrive.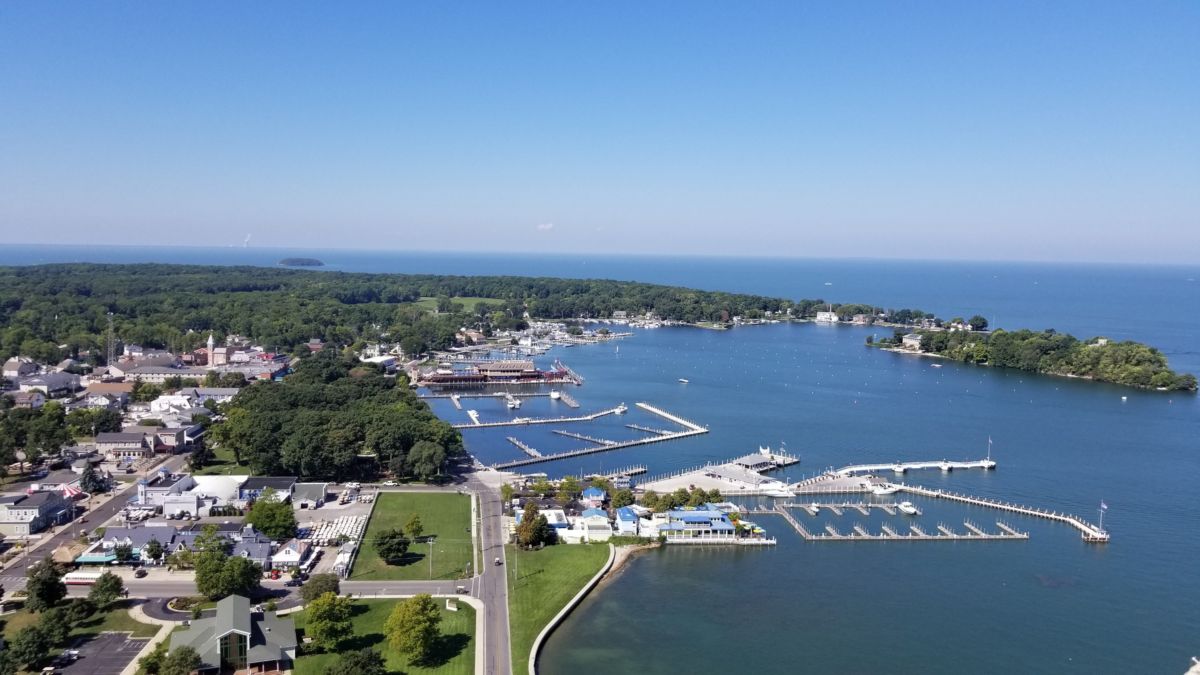 How to Get to Put-in-Bay
Today, our two-month northeast road trip begins with us rolling on Interstate 90 heading east with the first overnight being in Put-in-Bay.
From Boston to Seattle, Interstate 90 stretches from coast to coast across the northern section of the United States. The transcontinental freeway carries countless travelers to different destinations for a myriad of reasons.
You'll find the ferry service to the island just a short detour off the interstate in northern Ohio less than 300 miles from Chicago.
Take a look at the Put-in-Bay Map below.
On Our Way to Put-in-Bay
We pack up a few last-minute items in our minivan-turned-campervan. It's our second 'big' adventure with her; last year we drove the infamous Mother Road from Chicago to Los Angeles, all the while getting a little taste of van life.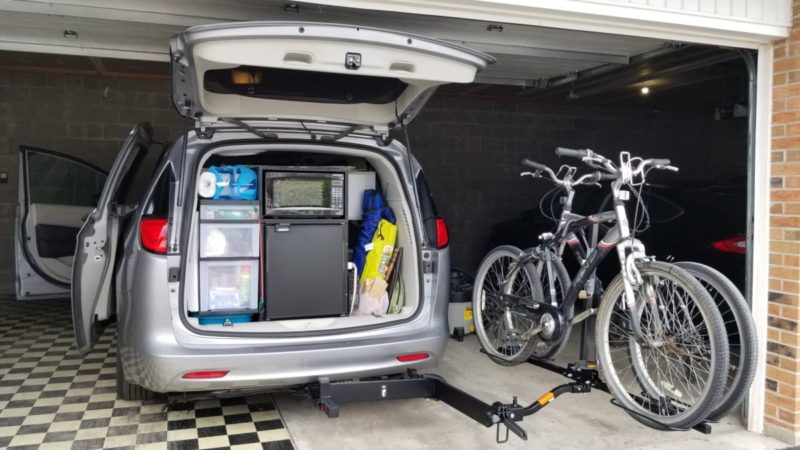 Once we finally get going – it never fails that we leave later than expected always finding last-minute things to do – we find ourselves sharing the road with semi truck after semi truck. It feels like we will never get out of the city limits.
But after about an hour, we leave them in our rear window as we nudge across northern Indiana. "Remember riding bikes along the Pumpkinvine Trail?" I say as we pass by a sign for one of our favorite areas in the state: Indiana's Amish Country.
Reminiscing about past trips is always a fun way to kill time on long road trips. After roughly four hours, we exit I-90 and head towards Catawba.
READ NEXT: COOL STOPS ALONG THE LAKE ERIE COASTAL TRAIL
Put-In-Bay Ferry
For a small fee, the Miller Ferry, a passenger and car ferry, runs round-trip from Port Clinton / Catawba to Put-in-Bay approximately every 30 minutes through mid-September.
Once we arrive near the port, we quickly find a parking spot and realize Put-In-Bay is visible across the water. Almost there!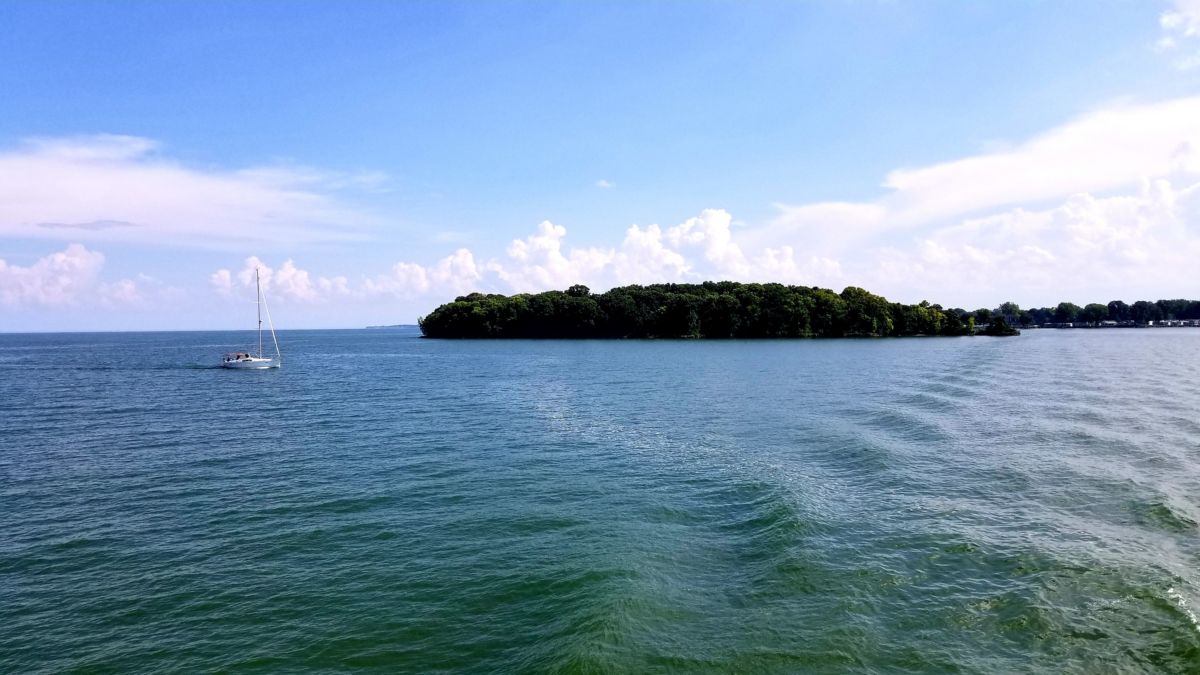 Before we know it, we are on the island. The ride is quick; only about 18 minutes long.
Know Before You Go
Reservations are not required.
There are five free parking lots near the dock.
Open alcoholic beverages are prohibited.
Baggage may be subject to inspection.
Children 6 – 11 get a major discount, 5 years and under are free.
Private vehicles may be transported over on a first-come, first-served basis.
Although Miller Ferry provides the most frequent and budget-friendly trips there are other options like the Jet Express from Sandusky.
Put-in-Bay Places to Stay
Once we arrive by ferry, we hit the ground running; only having two nights on the island.
You can find every type of lodging in Put-In-Bay: hotels, rentals, inns, and bed and breakfasts. There are party places and quiet corners, depending on what type of vacation you are planning.
For our Put-In-Bay getaway, we are anchored in at Anchor Inn Boutique Hotel, a quaint hotel with a B&B feel that is within walking distance to the heart of downtown.
Full Disclosure: Some of the links included in this post are affiliate links, if you book through it we will receive a small commission at no additional charge to you.
Sweet Dreamin' at the Anchor Inn
We check in to the romantic Coastal Dreams room in the rear of the house. The room has a fridge, Keurig coffee maker and a balcony with two chairs and small tables; a perfect spot to enjoy our coffee in the morning.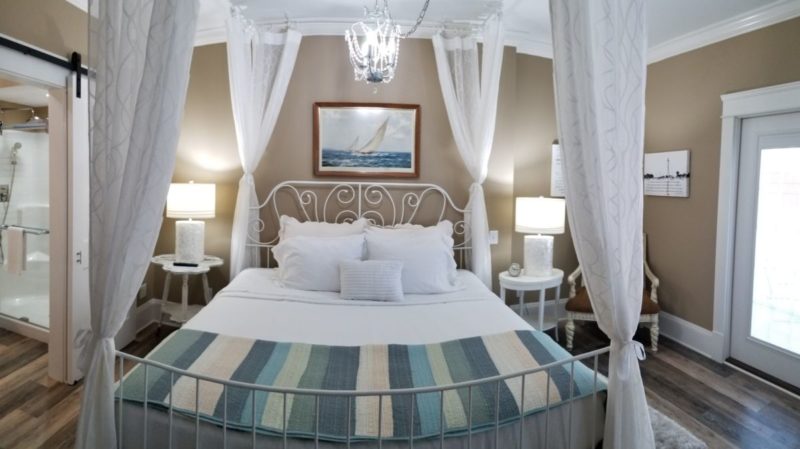 Immediately, we notice the extra special details that a one-of-a-kind hotel has to offer. Our room has a way of getting us into that island spirit everyone talks about. The décor has a cottage-at-the-lake theme with our own robes and slippers and a towel warmer in the bathroom.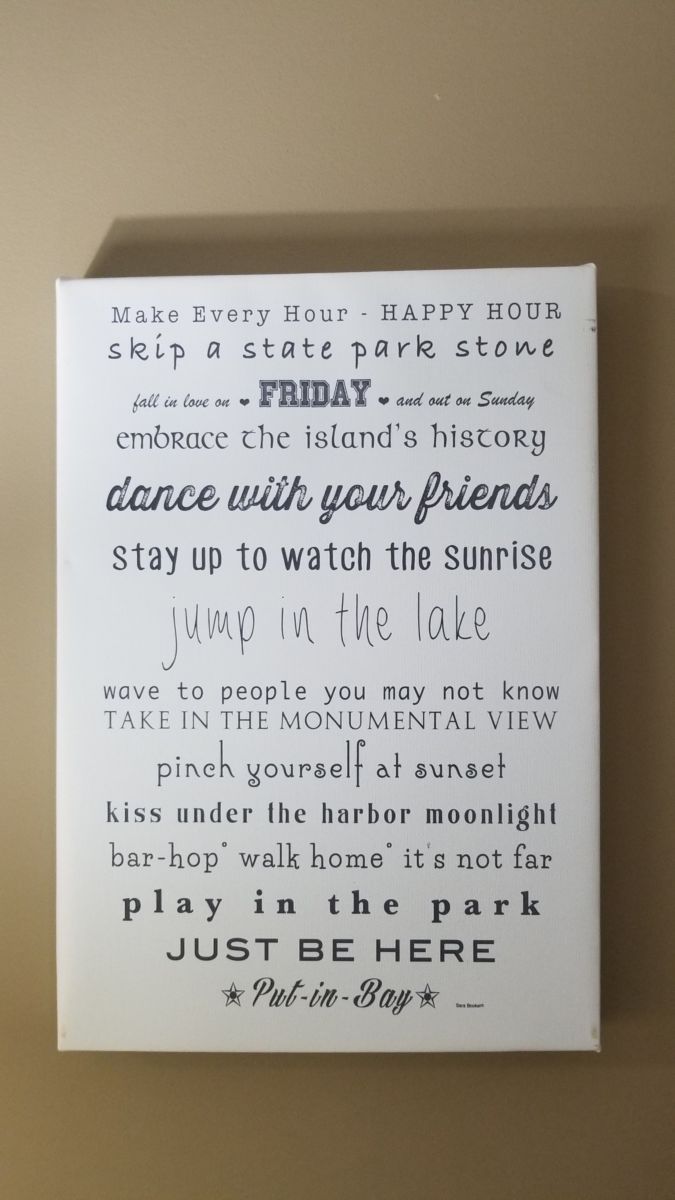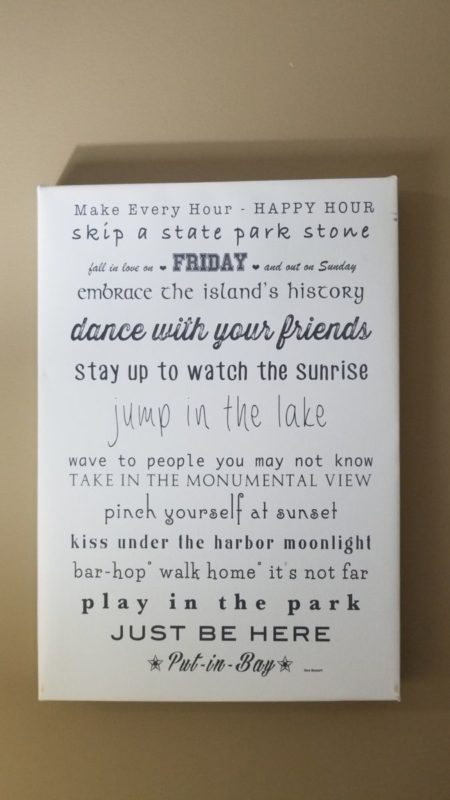 Best Breakfast on the Island
Every morning, we indulge in a chef-prepared home-cooked breakfast. The first day our spread includes a three-cheese polenta, white and sweet potato hash with bacon. On the second day we choose from two quiches, rosemary potatoes, watermelon with basil and feta cheese, mozzarella and tomato and fresh basil. All accompanied by deli meats, cheeses, olives, breads, and muffins.
Remember those extra special details I was talking about? How about grape juice from the local winery on the island!
All in all, we loved our stay at the Anchor Inn Boutique Hotel. It is perfect for a couples getaway; classy and intimate.
Put in Bay Attractions, Our Favorite 10 Things to Do
Whether it's your first time on the island or you want to expand your horizons beyond the party on Delaware Avenue, here are the best things to do on your Put-in-Bay visit.
Keep reading for more details and our experience at each attraction.
The Observation Deck at Perry's Victory and International Peace Memorial.
A tour of the island on the tram, a bike, or golf cart.
Sunset at South Bass Island State Park.
Heineman's Winery and Cave Tour.
The monument view from Oak Point State Park.
Swimming at The Sand Bar.
Chocolate, chocolate and more chocolate.
Put-in-Bay Brewery and Winery.
Massie Cliffside Preserve.
Lake adventures.
Our Put-in-Bay Couples Getaway
To say we had fun exploring South Bass Island would be the understatement of the year. We are already discussing when we can get back. Being a midweek stay after Labor Day, our visit was quiet which is apparently not the norm for Put-In-Bay, but we soaked in every minute of it.
Empty roads. No lines. No drama.
We took full advantage of the bikes at the hotel, making our way around the island. Here's what we found for the best things to do.
Perry's Victory and International Peace Memorial
The day was September 13th, 1813 and the British were about to take over Lake Erie. A crazy naval battle ensued with four out of every five men never to see home again.
Yet out of the wreckage, Oliver H. Perry led the remaining seamen to victory, a pivotal moment on the American side in the War of 1812.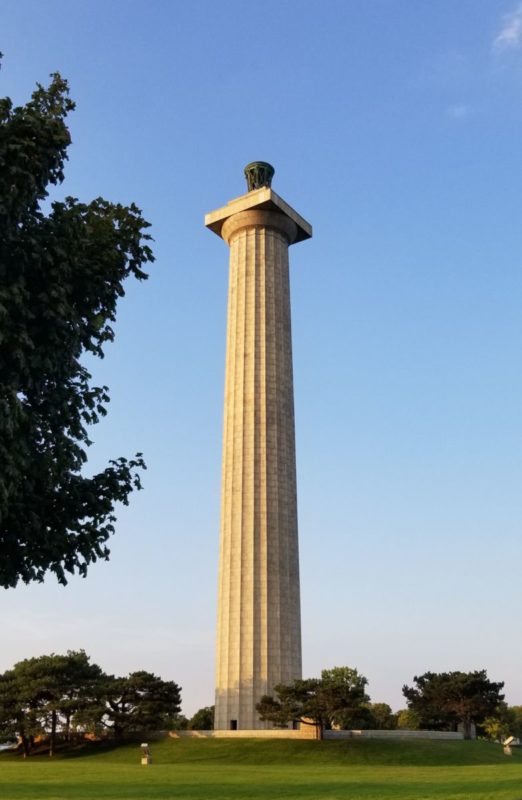 Now, a 352-foot monument – higher than the torch on the Statue of Liberty – stands on Put-in-Bay to commemorate the men on all sides that gave their lives and the enduring peace between the United States, Canada and Britain.
Make sure to take a ride up Perry's Victory and International Peace Memorial to see the beautiful views. It is the third tallest memorial of the NPS and the largest open-air observation deck in the United States.
HOT TIP: A National Park Pass will get you free admission so don't forget to bring it if you have one.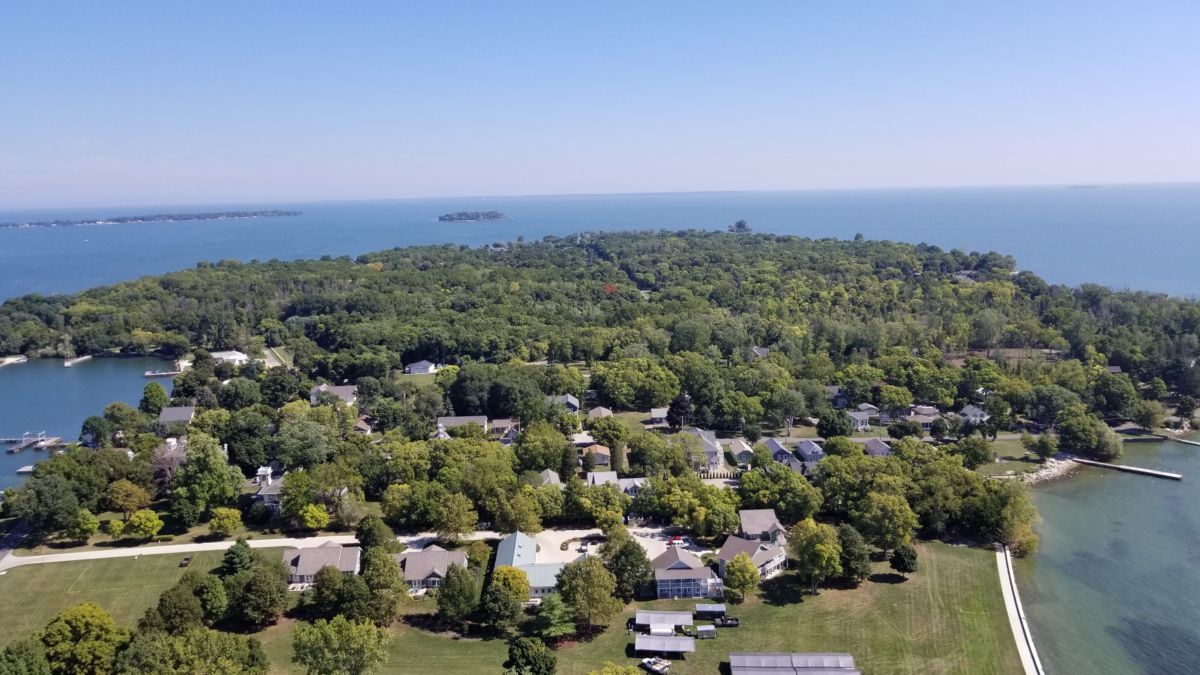 Tour the Island
Cycling around the island is the ideal way for us to explore but you can easily rent a golf cart rental yourself or take a tour. The one-hour narrated train tour picks up in the main downtown area. It rolled past us a few times while we were biking around.
Who wouldn't love whizzing around the island on one of these?
Take in a Sunset
I'm sure that golden hour we all love so much is great anywhere on the island so make sure not to miss it.
With picnic tables, a little beach and a restroom, South Bass Island State Park on the west side is a fantastic spot to watch the sunset. Even if we went back to the room for a short break, both nights on our visit, we made sure to plan for a ride to search for that burning light.
Heineman's Winery and Cave Tour
Founded in 1888, Heineman's is Ohio's oldest family-owned and operated winery. Take a tour of the production facility and crystal cave.
We met the 5th generation testing wine and filling bottles on our tour. The cave is super small -more like a room tour- but very cool.
It has the largest known celestite geode in the world. All of the crystals are good size, landing one of them at the Smithsonian Natural History Museum in D.C. And of course, we sampled some wine!
Oak Point State Park
When taking the long route to South Bass Island State Park, we run into Oak Point, a small parcel of land across from Gibraltar Island. With the glowing sky, it has a spectacular view of the bay with Perry's Victory Monument the star of the show.
If you are early risers, it is a great viewpoint for sunrise.
Swimming at The Sand Bar
The heat of summer has not let go at the beginning of September so after we sightsee around the island, we stop at The Sand Bar.
Music is playing, the tiki bar is open and we see a volleyball net and bag set as we walk in.
Grab a drink and enjoy! It's free admission for adults.
HOT TIP: We were told by a few locals this place can get insane during peak season. Try visiting during the week or shoulder season.
Chocolate Cafe & Museum
If you have a sweet tooth, the Chocolate Cafe is the place for you.
It serves coffee, desserts, chocolate and ice cream. Salted caramel and dark chocolate chunks called our names as we browsed the glass window full of sweet treats.
It is a perfect short break when touring the island.
The small museum – similar to the crystal cave, more like a room – walks you through the history of chocolate while playing Willy Wonka and The Chocolate Factory on a loop in the background.
Put-in-Bay Winery and Brewery
Housed in a building with over a hundred years of history and the island's first, Put-in-Bay Brewery is worth a stop.
The brewery has a few unique beers including watermelon wheat and strawberry basil wheat.
We didn't have a chance to eat but licked our lips as a few plates went by.
The Put-in-Bay Winery is another pick of ours; it has a fun vibe with a historic twist.
The tastings are in a Victorian Italianate home built in 1866 with a front patio facing the bay.
Massie Cliffside Preserve
A short hike through a young forest brings you to a shoreline overlook. You can enjoy the view up above where there are a few benches or walk out on the pier to adventure closer to the lake. A primo spot for fishing and bird watching.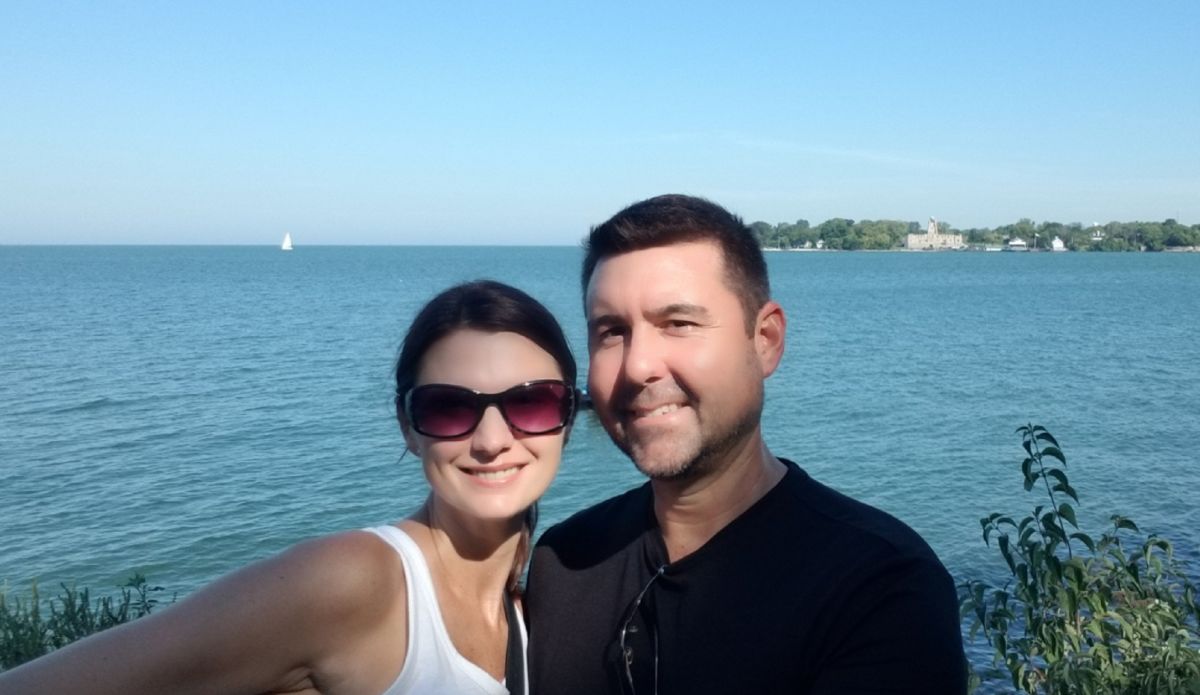 Get out on the Water
Ninety-degree weather can be looked at in two ways: is the glass half empty or half full? Since it was our first time exploring the island, we had plans to kayak but in that humidity it did not sound good at all.
But what's fantastic about being on an island, there is no shortage of water activities!
There are even two beaches, albeit small and rocky ones but two nonetheless.
Or take your pick between jet skis, canoes, kayaks, parasailing, or even a boat rental.
That wraps up our Put-in-Bay island getaway, a wonderful way to kick off a two-month road trip!
Up next, we are heading along the Lake Erie Coastal Ohio Trail! Sign up below to follow on our adventures.
Like it? Please Pin it!