UPDATED 2020. Spend a weekend walking through beautiful gardens, biking the countryside, perusing artisan shops, visiting a few breweries, and getting acquainted with Indiana Amish Country.
What a surreal experience and only two hours away from Chicago!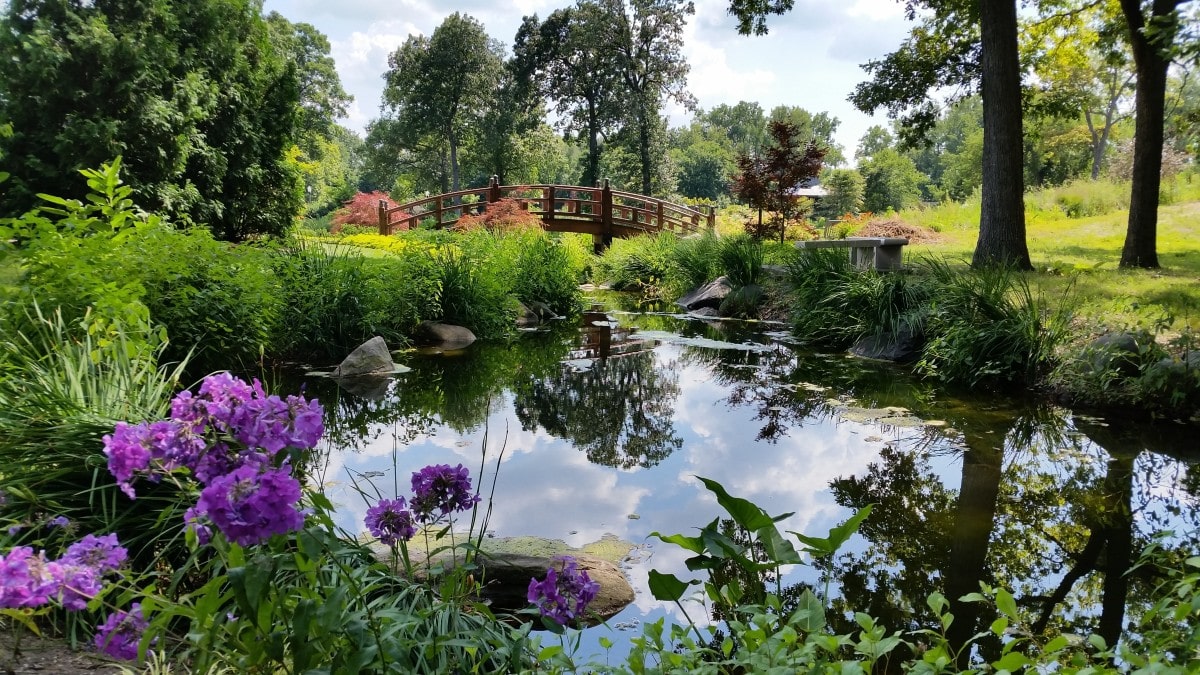 Amish Country Indiana Hotels and Bed & Breakfasts
We spent the night truck camping, which always seems to provide its own type of entertainment but if you are interested in different lodging see below:
READ NEXT: THE BEST WEEKEND TRIPS IN INDIANA
Indiana Amish Country Itinerary
I read about driving the Indiana Amish Country Heritage Trail, a 90-mile loop through multiple towns with quilt-designed murals and flower displays. Maybe that doesn't sound quite that interesting right out the gate, but when I saw the lovely pictures and read about some of the other things to do, I was hooked.
The next step I had to get the husband on board and in comes the biking and breweries! This weekend we decided to go tramping in Amish Country and we were both pleasantly surprised at what Northern Indiana had to offer.
Best Time of Year to Drive the Amish Country Heritage Trail
Although you can plan your trip any time of year, I suggest planning it around the Quilt Gardens along the Heritage Trail. It typically runs from late May to mid-September.
Local communities join forces to make this a one-of-a-kind event with over a million blooming flowers. You'll see 17 quilt-inspired gardens and 21 hand-painted quilt-themed murals.
2023 Quilt Gardens Dates: May 30th – September 15th
TIP: Please make a special note that some of the area attractions and restaurants are closed on Sundays so plan accordingly.
Friday on the Indiana Amish Country Heritage Trail
Start your weekend in Elkhart, where you can pick up maps of the Heritage Trail and Pumpkinvine Bicycle Trail at the Visitor Center. They also have a free audio driving tour available on CD or you can download it to your phone.
Elkhart Indiana
Next head over to downtown Elkhart, a small town situated on the St. Joseph River. Stroll down Main Street where the sides of the brick buildings are adorned with quirky murals and a few stores and restaurants dot the street.
Pizza and Craft Beer for Dinner
Stop at Iechyd Da Brewery for dinner. Supposedly pronounced Yah-key-Dah, not sure how that works! It means good health in Welsh.
The pizza is good and they have a large selection of beer: the hubby tried the Revolution IPA and American Black Ale (our bartenders favorite) and I had the Tatarosa Razz Berliner Weisse and Summer Wheatley Hoppy Wheat.
They offer half pints which is a great option so you can sample a few different beers on your visit.
TIP: No kids allowed. 21+ only. If you are looking for a family-friendly restaurant, check out Per Bacco Ristorante Italiano or Heinnies.
Saturday on the Indiana Amish Country Heritage Trail
Get an early start this morning because you have a long day ahead of you!
Wellfield Botanic Gardens
Start with Wellfield Botanic Gardens, your first official stop on the Heritage Trail, a unique spot for a garden as it sits on the site of the wells that supply the city with its drinking water. What a great idea to turn a functional space into a beautiful and peaceful walking area!
They definitely have more work to do on the expansion of the garden, but it was a delightful stroll with tons of photo ops. The garden can also be the start of a set-your-own-pace walk or ride on the RiverWalk Culture Trail, a trail that brings you to all the highlights of Elkhart.
Admission: Small fee with discounted rates for children under 12 and free for children under 3.
Ruthmere Mansion
From Wellfield, head over to Ruthmere Mansion to see your first quilt garden. If you would like to tour the interior, check times on their website. Unfortunately, the mansion was closed or we would have loved to take one.
Linton's Enchanted Gardens
I'm not sure how to describe the next quilt garden stop, Linton's Enchanted Gardens. It is a home and garden center, but with a strange and genius twist.
Entering the store you are thrown into sensory overload with gifts galore. They have jewelry, wall art, clothes, home decor, and many other items. There's a small cafe next to a trickling waterfall that serves breakfast, lunch, and an assortment of drinks.
The Enchanted Garden area is enchanted alright and a genius way to get additional income from random attractions; it has a small petting zoo, gemstone mining, a real tree house (top of a 200-year-old hollowed out tree), paddle boat, and train rides all among the huge selection of plants, flowers, and trees.
It's definitely worth the stop as we have never seen anything quite like it.
Bonneyville Mill County Park
Bonneyville Mill County Park is one of my favorite stops on the Heritage Trail. We had never been inside an 1880's working flour mill before and we had our first Amish sighting there as well! I hate to say it like that, as if they are an attraction, but their whole lifestyle piques my curiosity.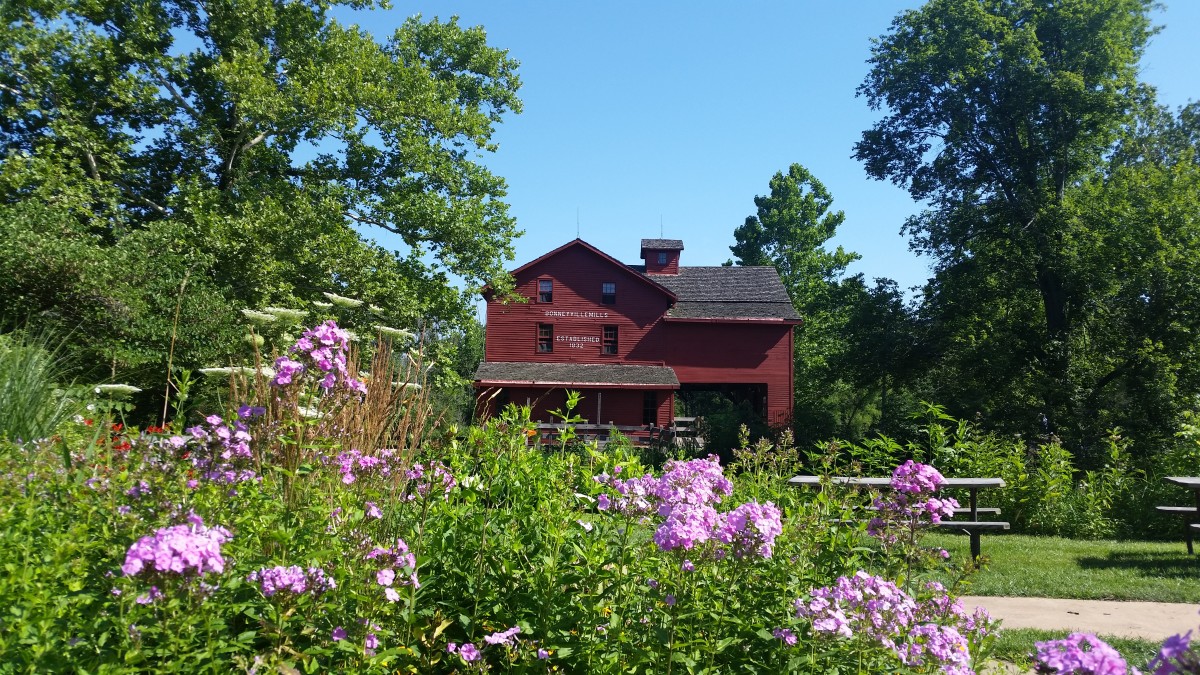 Sunday on the Indiana Amish Country Heritage Trail
Middlebury Amish Indiana
Plan to bike or walk a portion of the Pumpkinvine Bike Trail, Middlebury to Shipshewana is about 10 miles round trip. The paved trail is great!
Some sections were lined with wildflowers and as we passed through the Amish countryside, we saw many working farms and families using the same path as us to bike to town.
If you need to rent bikes, check out Pumpkinvine Cyclery here. Reservations are not required but a good idea.
We parked at Krider Gardens, the grounds of which were originally designed for the 1933 Chicago World's Fair. It's a small garden area but filled with flowers, a fountain, windmill, and sculptures.

Afterwards, we stopped at Rise 'N Roll, an Amish bakery, for some much-needed sugar. The cinnamon roll was good but the cinnamon caramel donuts and the apple fritters stole the show. SO GOOD!
Don't forget to pick up a free 8 oz coffee with your snacks. They had many samples so even if you're not in the mood for a donut, stop by and try all the other goodies.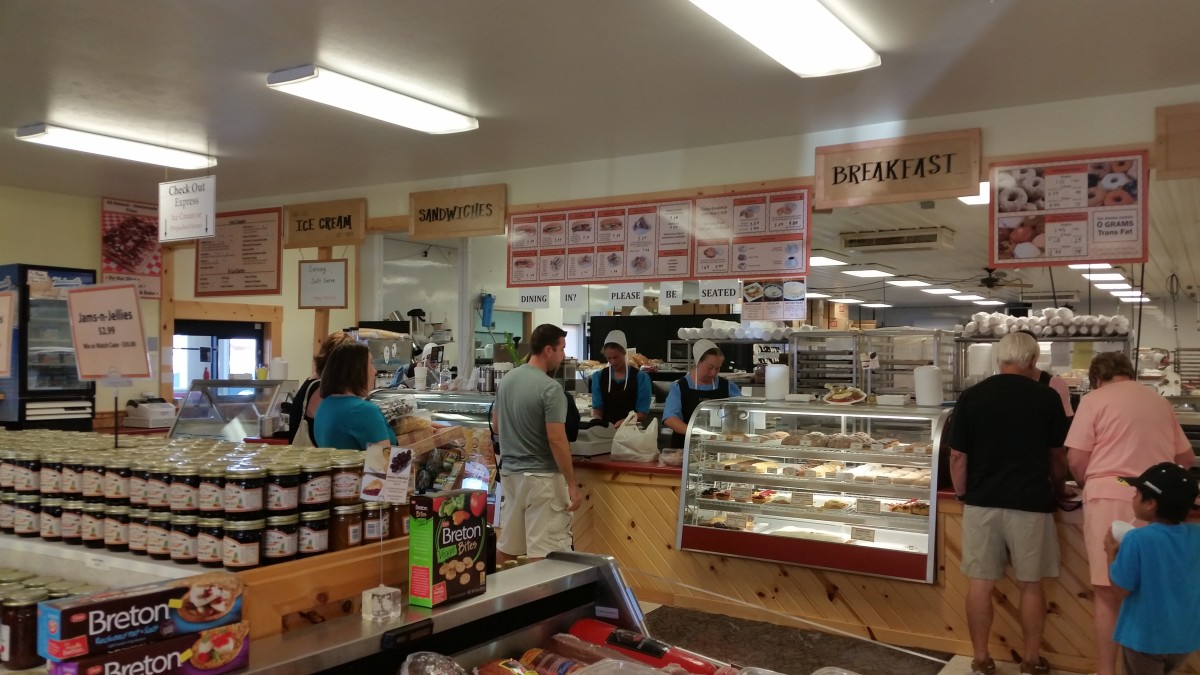 Shipshewana Amish Indiana – Our Favorite!
Shipshewana was our favorite town we visited in Amish Country. It is quaint and charming with a theater, artisan shops, and restaurants. We stopped in the Davis Mercantile, a four floor shopping complex, for a coffee break, then wandered through the shops.


While driving on the way from Shipshewana to Goshen, we encountered a group of Amish people on bikes to the left of us and two horse buggies to the right. There's something you don't see every day!
RELATED: WHY YOU NEED TO SEE THESE 5 AMISH TOWNS IN PA
Goshen
Goshen was another delightful, small town. The Elkhart County Courthouse, a stately brick building with a large clock tower, sits at the heart of town. We didn't eat there, but heard Olympia Candy Kitchen was a great place to stop for lunch or ice cream. The Old Bag Factory, built in 1896, is another great stop for specialty shops.

Wakarusa and Nappanee Amish Indiana – Final Towns
We didn't spend much time in the last two towns on the Heritage Trail, but we did find our favorite quilt garden at the Nappanee Center. It is a recreated Amish garden with stepping stones, a water pump, and bench. Make sure to stop by the Wakarusa Dime Store, it's every child's fantasy with countless candy options.
Detour If You Are Coming from the Chicago Area
Notre Dame Campus and 3 Floyds Brewery Stop
We ended the weekend with a bike ride through Notre Dame's beautiful campus in South Bend. Then for dinner we headed over to 3 Floyds Brewery. The food and beer were amazing!

We had a wonderful weekend tramping in Northern Indiana's Amish Country! We covered a lot of ground in two days, but we could have easily made it a full three day trip.
Want to read more about our adventures, sign up below!
Have you been to Indiana's Amish Country? Did we miss anything?
Highlights of the Trip:
Wellfield Botanic Gardens, Biking the Pumpkinvine Nature Trail, and the town of Shipshewana.
Other Things To Do Not Listed Above:
Elkhart: Time Was Museum, The Lerner, NYC Railroad Museum, Midwest Museum of American Art, New Paradigm Brewery, & RV Hall of Fame
Bristol: Elhart County Historical Museum
Middlebury: Das Dutchman Essenhaus, Dutch Country Market
Shipshewana: Flea Market & Auction, Yoder's Meat & Cheese, & Menno-Hof
Other Campgrounds:
Elkhart Campground, Middlebury KOA, Shipshewana Campground South, Pla-Mor Campground
Other Lodging:
Various Hotels & B&B's throughout the county
Other Indiana Adventures
Like it? Pin It and Save it For Later!