Is there really a Santa Claus, Indiana? I have been asked over and over. There is! And it is the perfect place to celebrate Christmas in July – or in any month for that matter. But with roller coasters and water rides to be ridden, it is an ideal summer weekend getaway. Santa Claus is otherwise known as America's Christmas Hometown and has the world's only post office with the Santa Claus name. Everything, everywhere is Christmas-themed. We never knew this place existed, but we are so thrilled we found it; it was a fun and unique experience to visit Santa Claus, Indiana.
"May the spirit of Christmas bring you peace, The gladness of Christmas give you hope, The warmth of Christmas grant you love."
RELATED: THE BEST INDIANA TRIPS
Where is Santa Claus, Indiana
The town of Santa Claus is in southwest Indiana, a short drive from many major cities such as Chicago, Indianapolis, St. Louis, Cincinnati, Nashville and Louisville.
It was originally named Santa Fe, but when they applied for a post office, they were told a Santa Fe already existed.
Since the town wanted to keep "Santa" and the only other thing that came to mind was Santa Claus, the new town was rebranded.
READ NEXT: A BEAUTIFUL STATE PARK IN INDIANA
Top 10 Attractions in Santa Claus, Indiana
Here is a quick recap of all the best attractions in town. Read below for more info and details on things to do and see on your trip.
Holiday World Amusement Park
Splashin' Safari Water Park
Santa Claus Christmas Store
Santa's Candy Castle
Santa's Stables
Santa Claus Museum
Frosty's Fun Center
Santa Claus Statue
Holiday Drive-In
Lake Rudolph Campground & Christmas Lake
Holiday World Amusement Park
The main attraction in Santa Claus is Holiday World & Splashin' Safari, the world's first theme park. It is the only park we have ever been to that has free parking and stations throughout the entire place with free pop, Gatorade, water, and sunscreen.
Perfect for all ages with rides for everyone. The amusement park side has four sections split up into different holidays and each ride in that area has that theme.
If you're looking to get off your feet for a while there are many live shows to choose from throughout the park.
Be fascinated watching high divers plummet 80 feet while on fire or relax and listen to a band perform some of country's greatest hits.
If the kids are along, head over to Santa's Storytime where Santa reads stories and sings Christmas songs. If you stick around after the show, you can get pictures with him as well.
There's definitely enough to do on both sides of the park that we would suggest a two day pass at least.
Not only did we see a few shows and hop on some rides, we had a FOOD CHALLENGE too.
When we saw bacon wrapped, cheese stuffed, deep-fried hot dog served on a pretzel bun on the menu, a challenge was among us.
Hot Diggity Dog!
Who would dare eat this heart attack dog? We will, we will. Let's see how it tastes. Very – what's the word – interesting…
Even though we won't be ordering it again, it was a memorable occasion.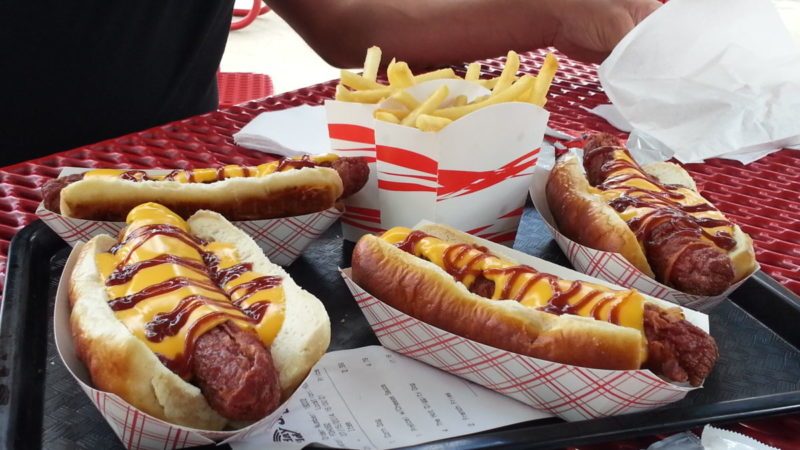 Splashin' Safari Water Park
Splashin' Safari is a great water park. The Mammoth is UNBELIEVABLY AWESOME. They call it a water coaster and that is exactly what it was.
A six person, round yellow boat sprinted us up to the top of this terrifying and thrilling ride, then the craziness begins.
I don't think we have laughed that hard in a long time. We were flying up and down steep hills, twisting and turning through dark tunnels, and were airborne some of the time.
All the while, being able to look at each other's horrified faces. I'm laughing just thinking about it. We had a group of six and our 5 and 7 year-old nephews went with us and I cannot believe they did it.
I guess they didn't really have a choice once it started!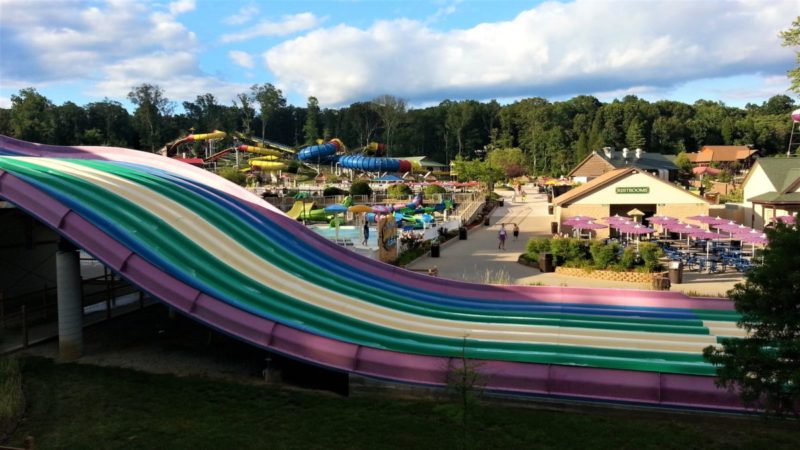 We went on the Mammoth first so we didn't expect the next ride to even compare. Oh were we wrong. The Wildebeest is AMAZING.
Another crazy ride, but this time we were on a toboggan-style raft which felt safer since we were tucked in, single-file. The front seat being the worst (or best, depending if you're a thrill-seeker) since your legs would fly all over.
Again, we were up and down all over the place, and in and out of narrow, covered tunnels. It was another heart-thumping, exhilarating experience.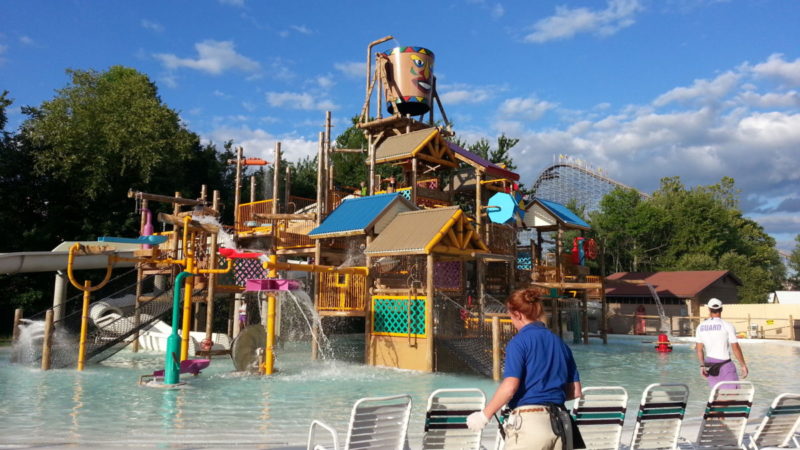 The water park also has a lazy river, a wave pool, toilet bowl, other water slides, and splash pads. Enough options to keep you busy all day long!
The park is extremely clean and reasonably priced, and the staff, is exceptionally nice.
Other Things to Do in Santa Claus, Indiana
The town itself is small but has a few must-see attractions and things to do.
Peruse loads of Christmas decorations, ornaments, and gifts at the Santa Claus Christmas Store (Santa himself happen to be there when we stopped in).
Eat (or drink?) a delicious frozen hot chocolate at Santa's Candy Castle.
Go horseback riding at Santa's Stables.
Write a letter to dear ol' Santa at the Santa Claus Museum and in December, you will receive a letter back from his elves. My nephews did this and they were so excited in December to get their special letter in the mail.
Play a round of miniature golf and visit the giant melting snowman at Frosty's Fun Center.
Take a picture next to the historic 22-foot-tall Santa Claus Statue.
Get nostalgic and watch a movie at the Holiday Drive-In.
Where to Stay in Santa Claus – Lake Rudolph Campground & RV Resort
There are many great options for lodging including campgrounds, vacation rentals, hotels and B&Bs. We stayed at the Lake Rudolph Campground & RV Resort and guess what? More Christmas stuff!
It was a great place to camp. The campground offers tent and RV sites, cabins, cottages, and even RV rentals.
They have a little water park of their own with a few slides, a pool, and a new splash pad (slides and splash pad area are an extra fee).
With added perks like golf cart rentals, a free shuttle to Holiday World, a fishing lake (no license required), and paddle boat, kayak, and rowboat rentals.
If you miss story time with Santa at the park, the campground has a meet and greet everyday with either Santa himself or Rudolph. At night they have a glow parade with decorated golf carts.
It's amazing how much time and effort some of the campers put into decorating their cart!
If you aren't interested in camping, see below for hotel recommendations.
Hotels near Santa Claus
We had a great time in Santa Claus, Indiana and can't wait for another opportunity to celebrate Christmas in the summer!
Looking for more tips on travel in the Midwest?
Check out these posts:
Do you know of any other places to celebrate Christmas year round?
Disclaimer: This post contains some affiliate links, if you book through our link we will receive a small commission at no additional cost to you. Thanks for supporting the blog.
Like it? Pin it