The Midwest metropolis of Cleveland, often overlooked, offers a well-rounded list of fun for everyone. From action-packed sporting events to a thriving cultural scene, the city is a worthy destination for any type of traveler.
Here are our top 10 things to do on a weekend in Cleveland.
1. To Eat Around the World at West Side Market
Cleveland's oldest public market has been a popular stop for hungry patrons since the early 1900's. French crepes, German brats, Middle Eastern falafels, or Asian noodles are just some of the options at West Side Market. Over 100 diverse vendors offer local produce, cured meats, assortments of cheese, fresh seafood and baked goods.
Tip: If you're not hungry, pick up something for later or stop in just to see the extraordinary architecture.
2. To See the Only U.S. Presidential Casket on Full Display
There have been four American presidents assassinated while in office. The second being President Garfield, assassinated in 1881, only 200 days into his presidency. The James A. Garfield Memorial stands in the northeast section of Cleveland in Lake View Cemetery. The panels on the exterior of the building tell the story of Garfield's life with 110 life-size figures. Not only is the mausoleum striking inside and out, it is home to the only presidential casket on full display.
Tip: Take the stairs to the top for views of Cleveland and Lake Erie

3. To Enjoy the Great Outdoors
We noticed many green spaces and parks while exploring around the city. No matter what part of town you are in, a park is not far away. The Cleveland Botanical Garden is located in University Circle and provides a quiet oasis for serenity. Wander through individual gardens, desert landscapes of Madagascar, and a butterfly-filled glasshouse.
The Cleveland Cultural Gardens are a unique concept that we haven't seen before in a city. Started in the early 1900's, the city created a collection of public gardens, each commemorating a particular culture. Today, there are 31 separate gardens dedicated to various heritages.
Tip: The Botanical Garden offers free admission to active military and military veterans and their immediate families.
Road Trip Idea: Lake Erie Coastal Drive
4. To Drink a Blackout Stout from Great Lakes Brewery
The first microbrewery in Ohio, Great Lakes Brewery is no novice when it comes to beer. Even though the Christmas Ale seems to be the local favorite, the seasonal Blackout Stout is a force to be reckoned with. The Russian Imperial Stout should be on everyone's beer bucket list (and I don't typically drink stouts). It is rich and velvety with a layered essence of chocolate and coffee with a roasted malty aroma. It goes down smooth yet is complex and bold.
Tip: Be careful, at 9.0% ABV a few of these might get you in trouble.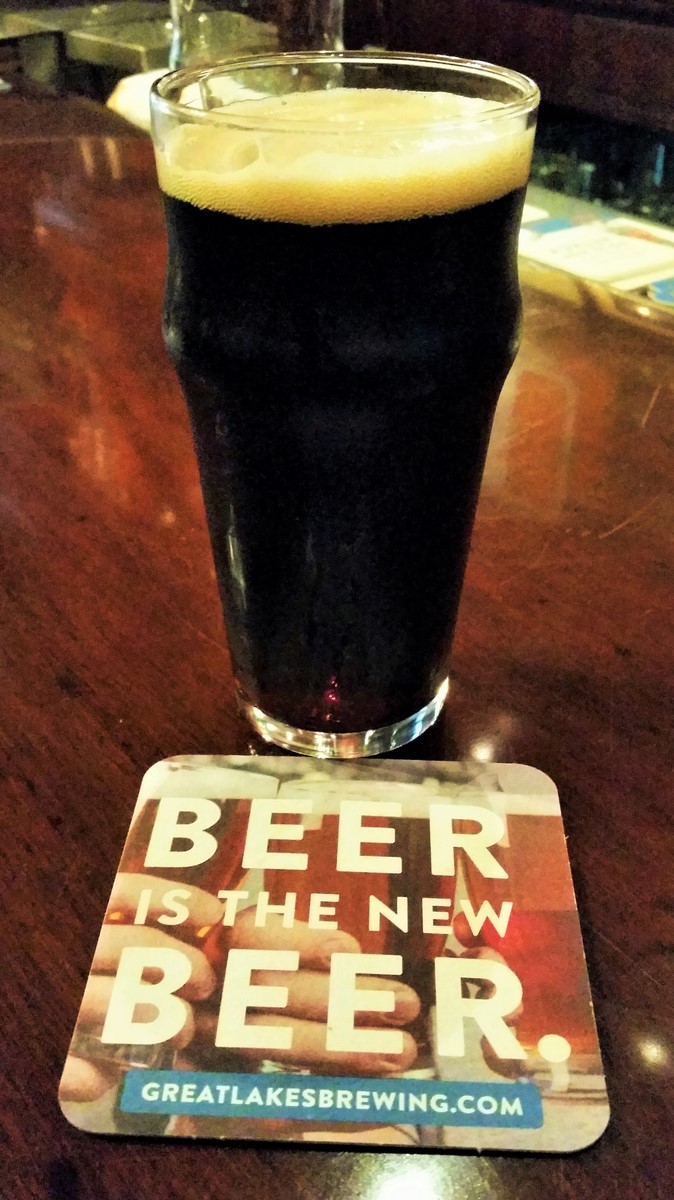 5. To Rock Out at the Rock & Roll Hall of Fame
A must-see attraction in Cleveland, the architecture of the building is as impressive as is its collection. Learn about the history of the popular genre of music that has morphed into various forms over the decades. At the Rock and Roll Hall of Fame, browse through records, posters, musical instruments, costumes, and one of a kind memorabilia from musicians that have made a name for themselves.
Tip: Plan for at least four hours, but you can easily spend an entire day in the museum.

6. To Get Revved Up at a Sporting Event
Take your pick from professional baseball, football, or basketball. There is a sporting event option for every season in Cleveland. See one of the most dedicated fans in baseball at Progressive Field, watch the Cleveland Browns at FirstEnergy Stadium, or catch hometown hero, LeBron James, with the Cavaliers.
Tip: If you happen to be visiting when no games are taking place or you didn't get tickets, head over to one of the many bars like Winking Lizard or Thirsty Parrot to watch the game.

7. Because I Triple-Dog-Dare-You To
A Christmas Story is an American classic that speaks to everyone's inner child. Take a trip to Ralphie's house and see where A Christmas Story was filmed. The exterior of the house was used in the original movie, and the interior has been recreated to reflect the rooms. Original memorabilia and props such as the toys from Higbee's window, the chalk board from Ms. Shields' classroom, the family car and Randy's snowsuit can be seen in the museum. Don't forget to stop in the gift shop for souvenirs.
Tip: Open year round from 10am – 5pm.
8. To Visit the Fanciest Grocery Store Ever
You will find Heinen's Grocery Store in the Cleveland Trust Company Building which was added to the National Register of Historic Places in 1973. The stop-you-in-your-tracks glass enclosed rotunda was designed by Mr. Tiffany himself. Purchase groceries, stop in for lunch at the salad and soup bar, sample wine and beer on the second floor or just come in to see the majestic masterpiece.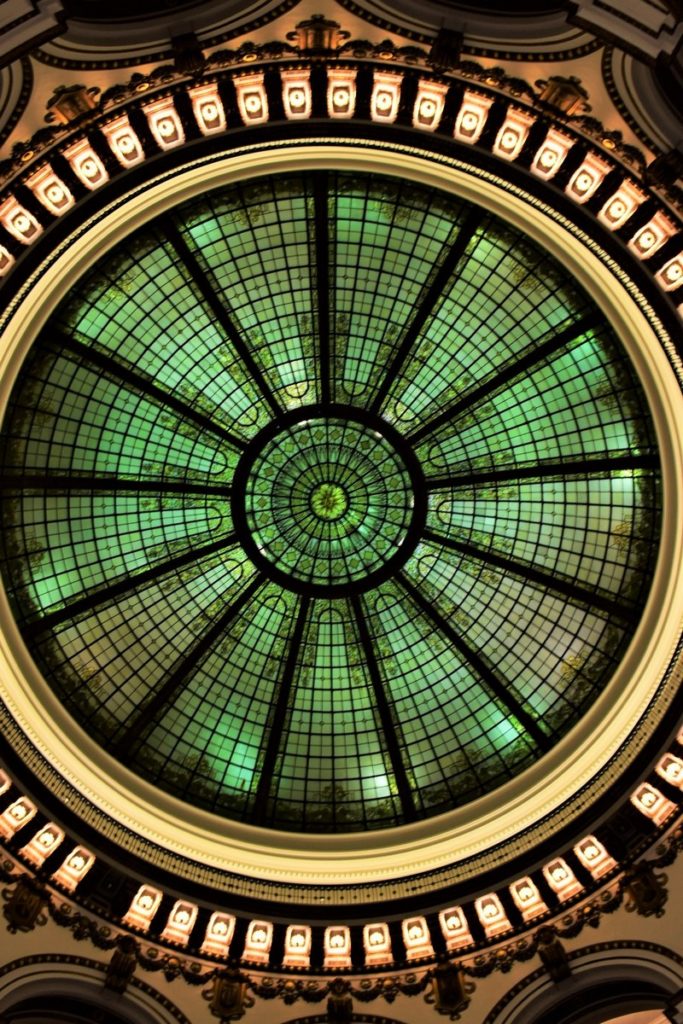 9. To Take a Stroll on the Riverfront
Even though Cleveland sits on the shores of Lake Erie, the riverfront is where it's at as far as entertainment goes. Walk along the water on either side of the Cuyahoga River and you will find waterfront restaurants and bars with a lively atmosphere.
10. To Knock Out a National Park
What do you mean there's a national park in the city? It's not right downtown, but theCuyahoga Valley National Park is only thirty minutes south of Cleveland. It's an easy option to combine with the city trip. Take a scenic train ride, hike, bike, canoe, kayak or go waterfall chasing in the park.

Cleveland Hotels
Have you ever been to Cleveland? What was your favorite thing to do?
Don't forget to sign up below to be the first to know when a new post comes out so you can follow along on our adventures!
Like it? Pin it!