No visit to Cleveland would be complete without the Rock and Roll Hall of Fame experience. The museum launches visitors through the evolution of a new era that turned America upside down.
In the 1950s, while parents were listening to the likes of Frank Sinatra, America's youth started tapping their feet to a different beat. Jazz, blues, gospel, country, and folk music all played a part in influencing the new sound and rhythm. With this cutting-edge music, came a wave of new dance moves of gyrating, twisting, and grinding.
Some called it Satan's music, but it was just rock and roll, baby!
"Rock n Roll is the most brutal, ugly, degenerate, vicious form of expression -lewd, sly, in plain fact, dirty-a rancid-smelling aphrodisiac and the martial music of every side-burned delinquent on the face of the earth." ~Frank Sinatra
The shake-rattle-and-roll attitude was not widely accepted by the older generation, but that didn't stop its popularity from exploding throughout America and later in Britain.
Now, decades later, rock and roll has evolved into many styles of music and the museum walks us through the past, and present and looks toward the future of popular music and the people that have contributed to its success.
Don't miss these other must-see places in Cleveland when planning your trip!
Why Cleveland?
The Rock and Roll Hall of Fame museum opened in 1986 in Cleveland, Ohio. Since then, over 700 inductees have received the honor. So why Cleveland?
One main reason the city was in the running was that it is considered the birthplace of rock 'n' roll. The term was coined by a Cleveland deejay in 1951, named Alan Freed. He introduced the term to mainstream radio and the rest they say, is history.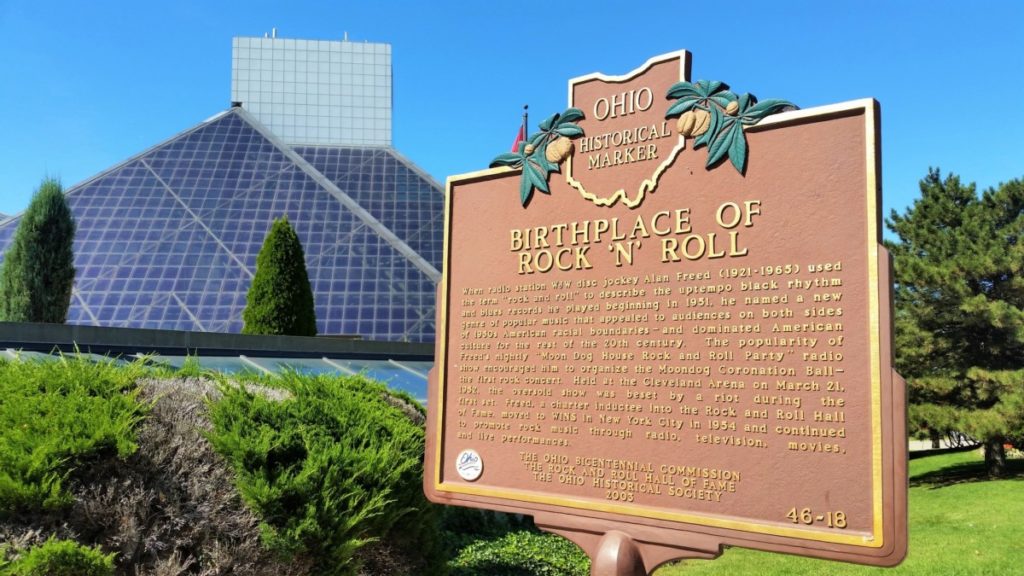 The Rock and Roll Hall of Fame Experience
The tour begins with an introduction to the new honorees. This year, Steve Miller Band, Deep Purple, Cheap Trick, N.W.A. and Chicago are being inducted.
Did you know there is a National Park just 30 minutes from Cleveland?
The early influencer section takes you back before the emergence of rock and roll. Listen to and read about the legends from all genres that opened the door for the new sound.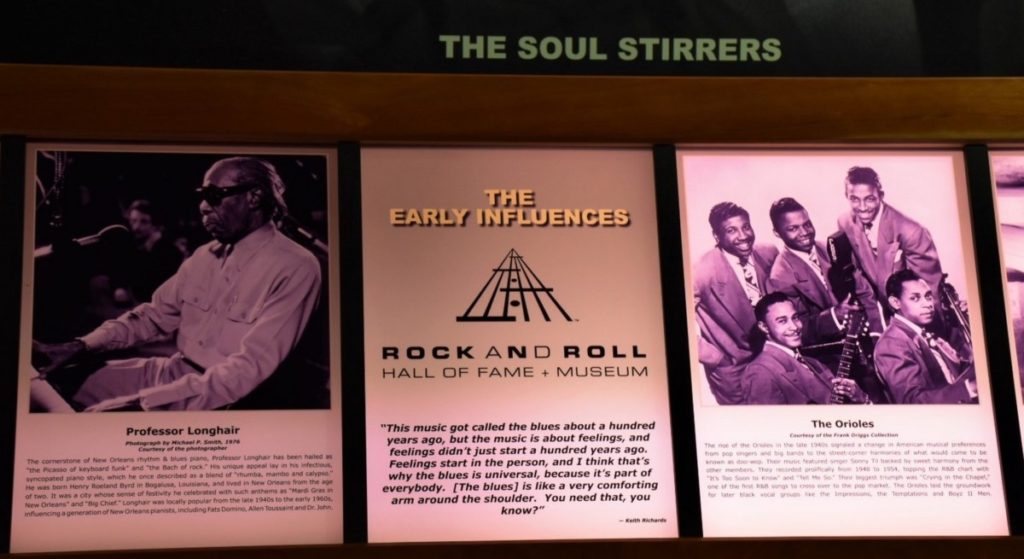 Videos of protests and newscasts of disapproving individuals convinced that rock and roll will brainwash America's youth play overhead.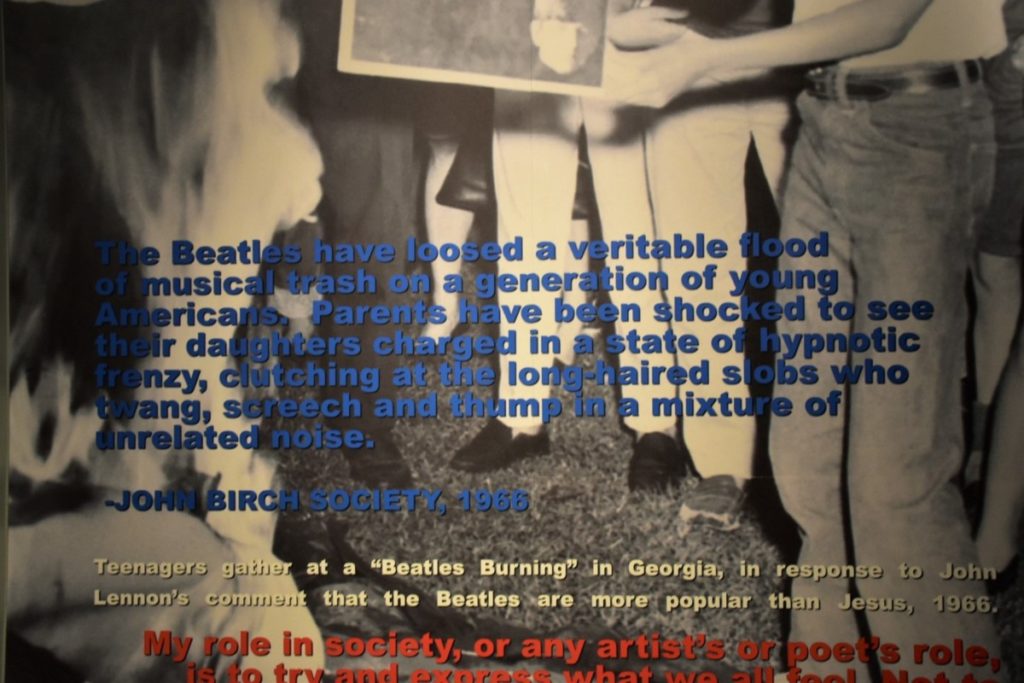 One-of-a-kind memorabilia – ranging from song lyrics, records, costumes, instruments, pictures and posters – of past and present artists line the hallways.
The Cities and Sounds exhibit highlights cities like Memphis, Seattle and Detroit that contributed to the progression of rock and roll.
The greats like Elvis, Rolling Stones and the Beatles have their own section dedicated to them.


The Music of the Midwest section not only focuses on the Hall of Fame's hometown of Cleveland but also on other influential cities that helped expand the rock and roll movement. Musicians such as John Mellencamp, Bob Seger, and Prince all hail from the heartland.
Did you know The Surf Ballroom was designed a historic landmark by the Rock and Roll Hall of Fame?
Enter the Hall of Fame Inductee Gallery for highlights of prior inductee ceremonies and an exciting multimedia production honoring the chosen hall of famers. The gigantic display projects a video that takes you on a year-by-year flashback through the stories of the inductees.
Louder than Words: Rock, Power & Politics
Many musicians have used their music and notoriety to try to make a positive change in the world like Bono, John Lennon, Willie Nelson, and Bob Dylan.
In addition to the permanent exhibits, the powerful temporary display, Louder than Words, examines the crossover of music into politics.
The piece covers all the various outlets that artists have used to share their political stances on war, civil rights, patriotism, freedom and equality.
The Rock and Roll Hall of Fame Museum is easily one of the best attractions in Cleveland. See below for hotel recommendations and tips for your visit!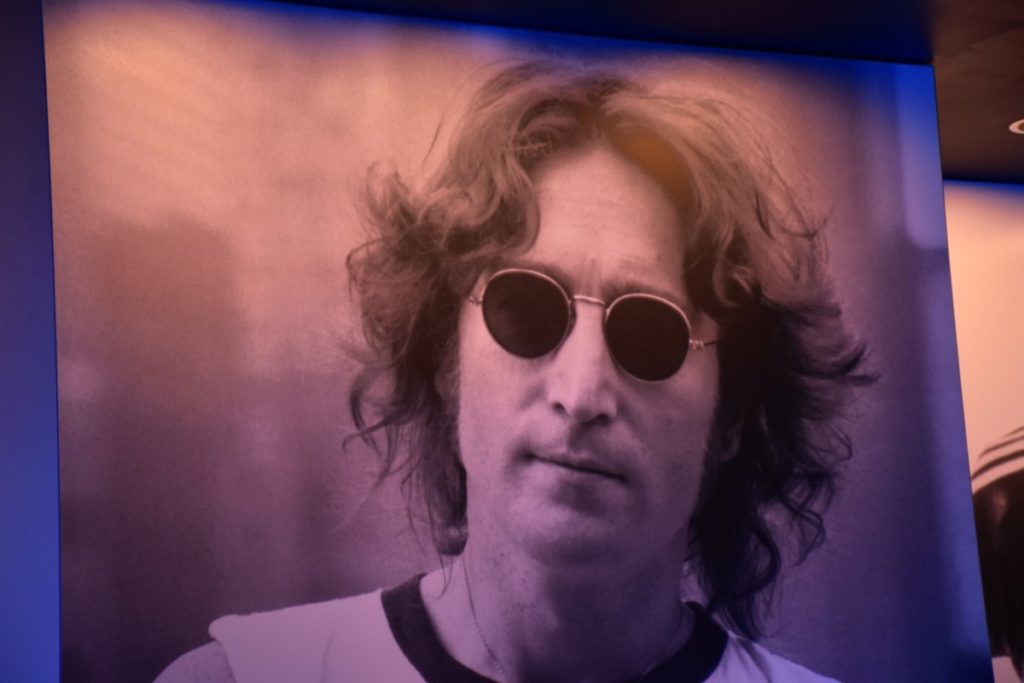 Know Before You Go
Plan for at least 4 hours, if not more
1100 Rock and Roll Boulevard, Cleveland, Ohio
Open Every Day 10am – 5:30pm
Closed Thanksgiving and Christmas Day
2016 General Admission: $23.50
Children ages 8 and under: Free
Discounts Available for Military, Senior, NE Ohio Residents, and Children 9-12
Hotels within Walking Distance
Doubletree by Hilton Downtown Lakeside
Holiday Inn Express Cleveland Downtown
Metropolitan at the Autograph Collection
*Thank you to Destination Cleveland for providing us with tickets. As always, all words and opinions, however, are my own.*
Have you ever been to the Rock and Roll Hall of Fame? What was your experience like? Tell us in the comments below!
Don't forget to sign up below to be the first to know when a new post comes out so you can follow along on our adventures!
Like it? Pin it!