Did you know the Amazon of Ecuador covers one-third of the entire country? And it offers a budget-friendly alternative to the crowded, touristy jungles found in other countries.
Since the rainforest has been high on my travel wish list since I was a kid, I was determined to fit it into our South America adventure.
I'm so glad we made it happen. It was one of the most memorable experiences of our entire three-month trip so I highly encourage you to add this wonderful destination to your itinerary!
We spent seven weeks in Ecuador, another helpful article to read next is
Important Tips and Things to Do BEFORE Arriving in Ecuador.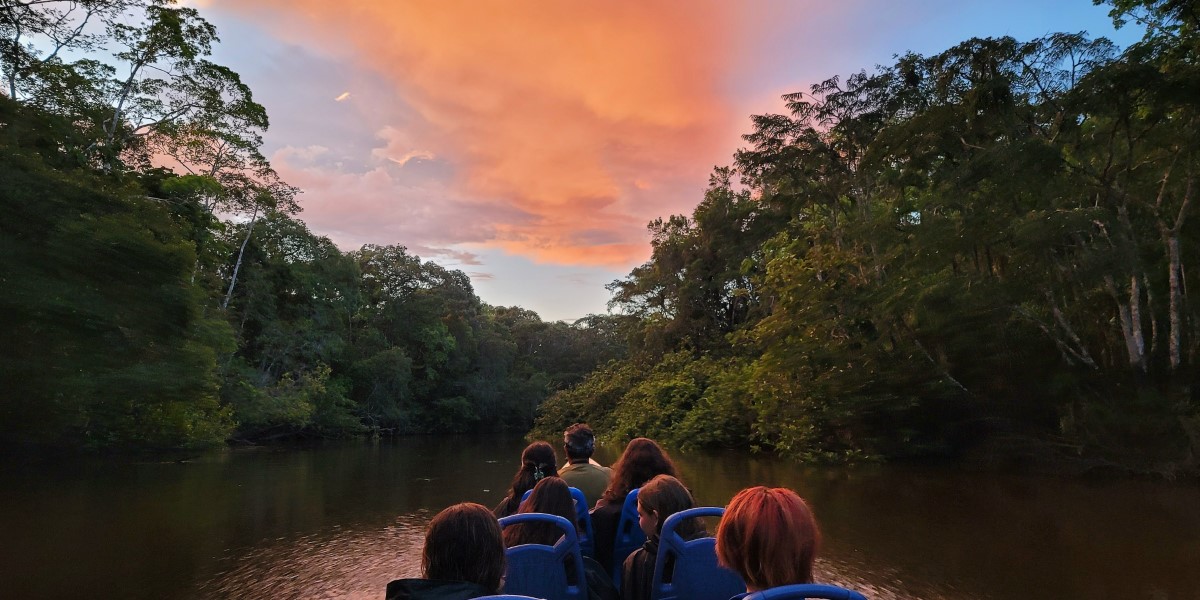 Below you'll find all the essential things you need to know to help you visit the Amazon in Ecuador including the budget-friendly tour we took, the best time to visit, and what to pack.
Amazon Ecuador Weather
Be prepared for muggy warm air no matter what month you plan your trip. The Ecuador Amazon is hot and humid all year long with an average humidity between 85% and 95%.
Since you'll be near the equator there is little fluctuation in the temperature. It hovers around 82° Fahrenheit (28° C) throughout the year, but we saw mid-90s in October on our expedition.
I hate the heat so I was worried it would be unbearable, but you get used to it. The guides do a fantastic job of heading out early, breaking midday, and then getting back out on the boat in the late afternoon/early evening.
Check out my packing list below to help make the days more comfortable.
So when is the best time to visit the Amazon of Ecuador? The best time to visit the Amazon in Ecuador is either in the rainy season (March through July) or the shoulder season (August through October), avoiding the dry months of November through February.
It sounds counterintuitive to plan a visit to a place during the rainy season, but I'll tell you why.
In the Amazon, the rain will be a welcoming break from the oppressive heat. Plus, you'll get higher water levels which makes it easier to navigate to harder-to-get places. It also produces lush green vegetation and blooming flowers.
It really should be called the rainier season, because it is the rainforest after all; there's rain every month.
But in the dry season, there is less of it causing low water levels and a possibility of certain activities being canceled or boat rides being extended – and not in a good way.
Ecuador Amazon Animals
With its diverse collection of wildlife, the Ecuadorian Amazon is an animal lover's dream!
The jungle is home to over 1,600 species of birds, 800 species of fish, 350 species of reptiles, and 300 species of mammals.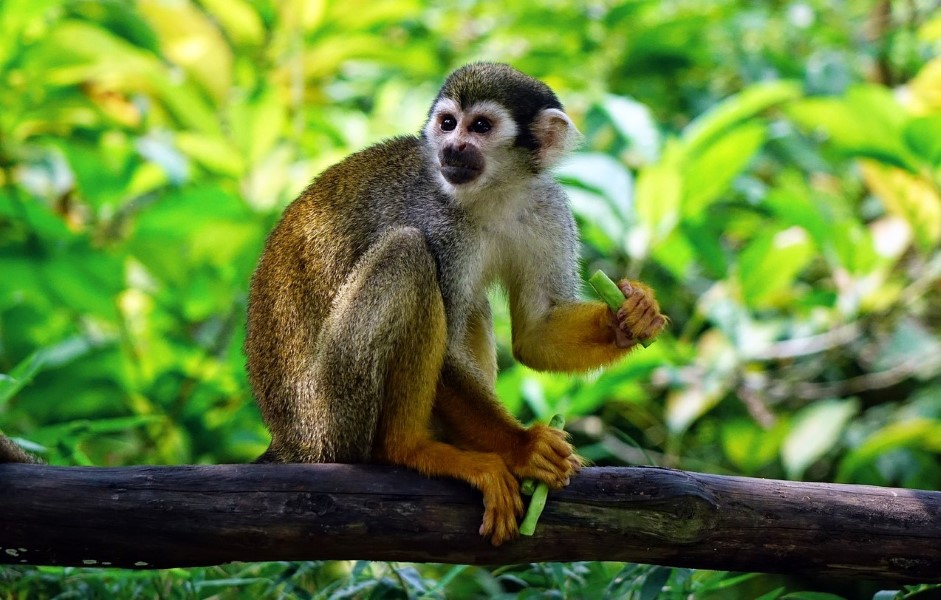 We were fortunate to see so many of them on our tour including both the gray and pink river dolphins, squirrel monkeys, toucans, a sloth, woolly monkeys, caimans, kingfishers, tiger herons, saki monkeys, red-tailed falcons, otters, red howler monkeys, wolf spiders, macaws, tree bats, anacondas, a boa constrictor, tarantulas, and parakeets.
And those are only the ones we jotted down! I'm sure I am missing a few on this list.
Some of the other amazing creatures you may observe during your Ecuador Amazon experience include tapirs, jaguars, piranhas, and poison dart frogs.
How to Get to the Ecuador Amazon Lodges
While in Ecuador, you can visit the Amazon at Yasuni National Park or Cuyabeno Wildlife Reserve.
Both are very remote areas and take a considerable amount of time to get to. You can arrive by bus, private vehicle, or by plane.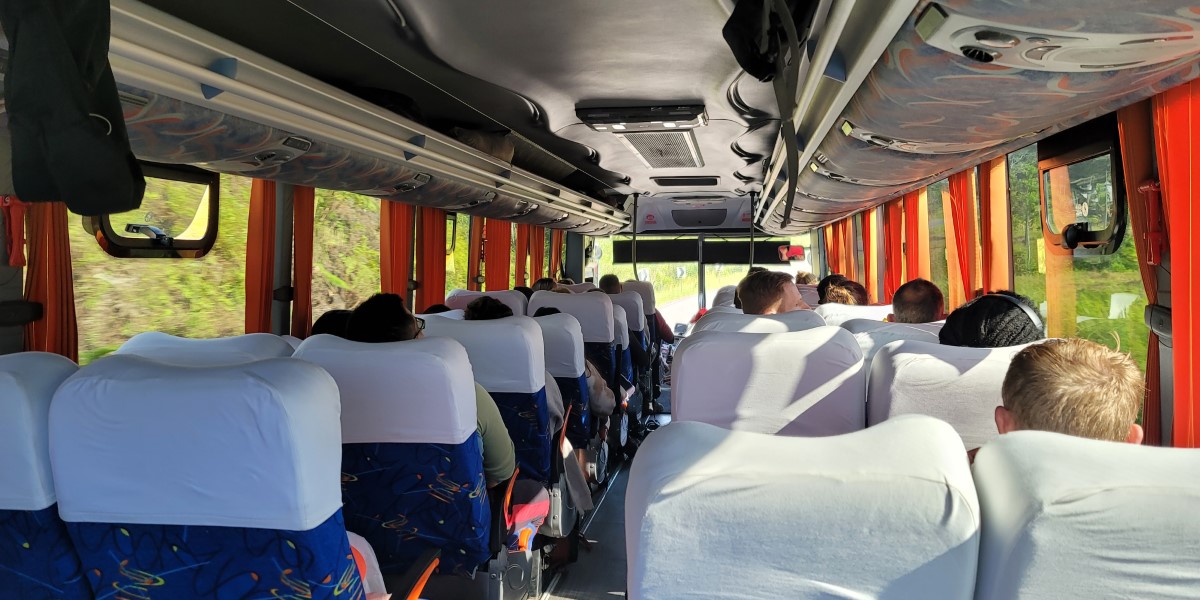 The cheapest option is by bus, but the drive is 11 to 12 hours from Quito (don't miss my Best Things to Do in Quito post to help plan your time in the city) and is done overnight. We chose this option to save money, but if you are short on time and have the extra to spend, I recommend flying as the ride is long and the bus is cramped.
Click the Ecuador Amazon Rainforest map below to open Google Maps.
Ecuador Amazon Tour Itinerary
We chose the Cuyabeno Jungle Tour through Community Adventures.
The magnificent Cuyabeno Reserve is in the heart of the Amazon rainforest and cheaper to visit than Yasuni. The protected area is a biodiverse wonderland with over 2,300 square miles of lush tropical forest, winding rivers, and beautiful lagoons. It is an incredible experience to immerse yourself in one of the world's most pristine ecosystems.
We thoroughly enjoyed every minute of our time in the jungle and will hold those unforgettable memories close to our hearts for a lifetime.
4-Day Cuyabeno Jungle: What to Expect
The overnight bus ride from Quito is roughly eleven hours. Since there are no bathrooms on the bus, we took two bathroom breaks.
Once we arrived in Lago Agrio in the morning, the guides separated us by which lodge we were staying at. We then hopped in a small boat with our group and rode roughly two hours through the Amazon jungle to the Dolphin Lodge.
I'm not going to lie, the overnight bus ride and then all-day exploring in the heat is a bit overwhelming, but the excitement of being in the Amazon outweighs the exhaustion.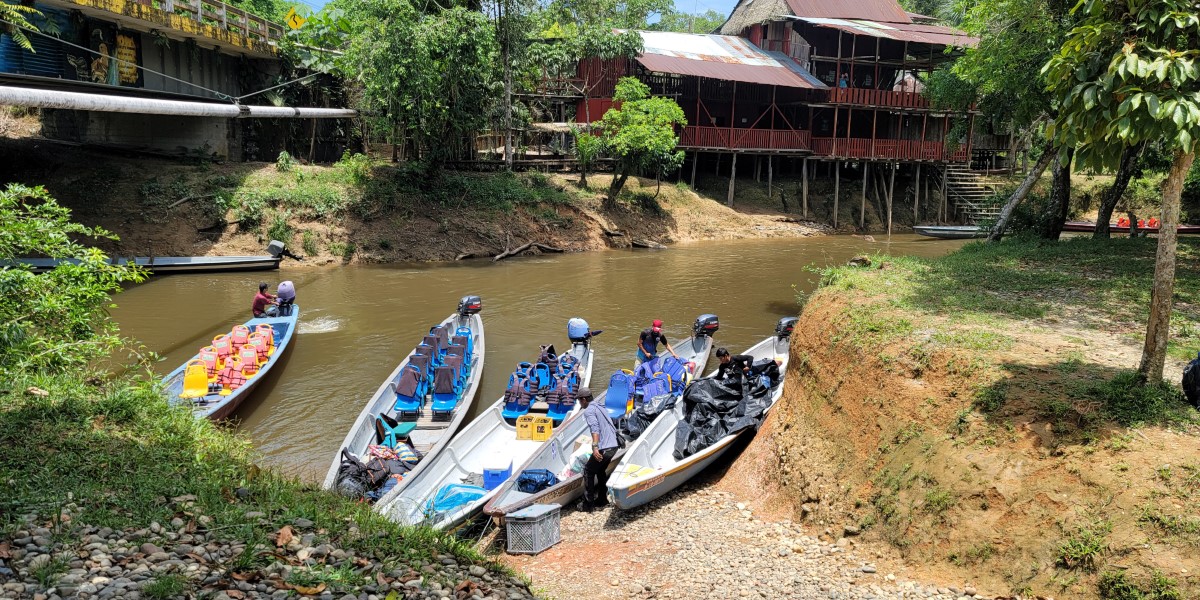 Day 1
Welcome to the wild side of Ecuador, where you'll find out immediately that the lush green jungle reigns supreme and the wildlife runs free.
From the first moment, we began our float on the river, there were all sorts of animal sightings. Before we arrived at the lodge, we had seen more monkeys and birds than I thought we'd see the whole trip!
The two-hour canoe ride took a little longer since we stopped to take pictures. Our guide, also a biologist, did a fantastic job welcoming and introducing us to this remote corner of Ecuador.
Once we arrived at the Dolphin Lodge, we were taken to our rooms to settle in and clean up for a late lunch.
Meals are served communal style at a big long table. It's a guaranteed way to get to know your fellow travelers.
In our group, we had one woman from Canada, a couple from the US but currently living in Ecuador, and a group of four Israeli girls who just got out of the military and were taking a sabbatical before university.
Even though everyone was exhausted from the long travel day, we were all chitchatting about where we were from and what we had done in the country before arriving in the Amazon.
After dinner, we relaxed a bit before heading out again on the boat to catch the sunset at Laguna Grande (the big lagoon) and for night swimming.
On our way, we saw the first big snake of the trip. It was big and black and coiled around a branch hanging over the river. Not something you necessarily want to see before jumping in!
Although our guide, Jose, assured us we were not in any danger as we all discussed how creepy it was swimming in water where we know spooky creatures frequent.
All our jitters disappeared though when we saw our guide let his 10-year-old daughter jump in. We figured he wasn't lying then! That or he was paying a child actor to convince us it was all good.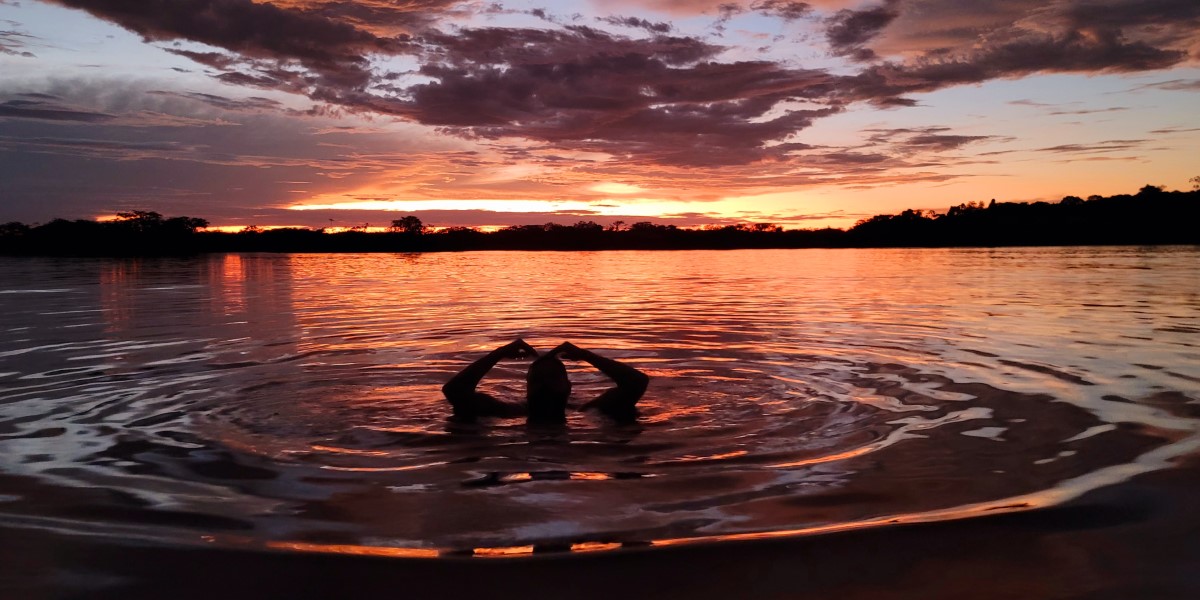 Day 2
Our second day began with a simple breakfast. Most of the food prepared is simple and easy to digest as all provisions are carried in and also the guides do not want anyone to have any stomach issues while out exploring all day.
After breakfast, we went for a morning boat ride and hike in the Sendero Palma Roja (Red Palm Trail). On the hike, we learned all about the forest including how to climb trees, find bark with medicinal value for stomach aches, flora and fauna types, and survival techniques.
We also had an interesting sighting as one of the girls luckily looked up and spotted a boa constrictor (pictured above in the animal section) curled up on a branch.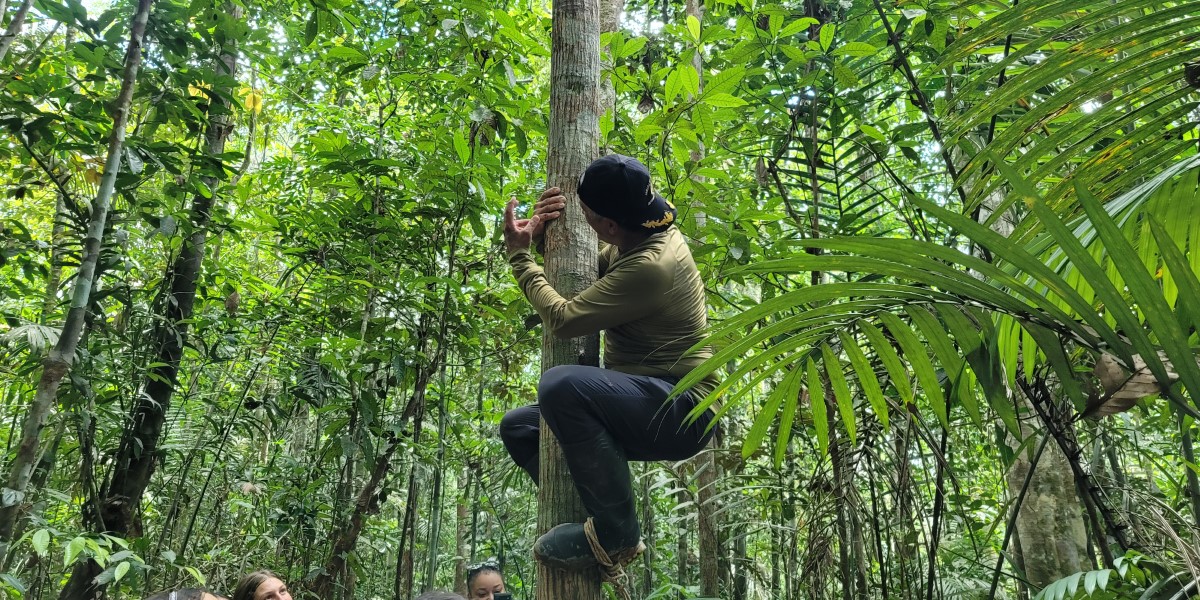 On the way back for lunch, we didn't have a dull moment. First, we saw a few otters playing in the river, then we came across a sloth while observing various birds like toucans kingfishers, and macaws, and finally, a few gray river dolphins appeared for quite the show.
Late afternoon, we moved out again for a relaxing bird-watching experience. We saw many exotic species at Caimancocha and Patococha with the surprise appearance of a few saki monkeys.
We enjoyed another spectacular sunset while swimming in the lagoon. Once the darkness set in, we were able to observe an explosion of bright stars, the planet Jupiter and could even see the Milky Way since it was such a clear night.
On the way back to the lodge, we spent some time on the river in the dark with our flashlights searching for caiman.
Make sure to pack a strong light for the trip because you will not be able to see their eyes glowing unless you are the one holding the flashlight. We found a few small ones and a big one that Jose managed to get right up on!
The day ended with a fabulous meal and a few beers before turning in for the night.
Day 3
Day three was all about experiencing some local flair at one of the well-known indigenous tribes on the river, the Siona community. There we learned all about their local customs and traditions unique to living off the grid.
We picked yuca, a root vegetable, from the garden and then helped make bread with it. Afterward, we met with the shaman to discover his mysterious techniques for working with nature and the spirits.
Even though every day in the Amazon was special, this day really stood out as an extraordinary escapade!
Our final night concluded with another great dinner, sunset, swim, and a night hike.
Night hiking in the rainforest is interesting, to say the least! At first, you don't see anything, then as people start pointing out bugs and spiders, your eyes adjust and you keep seeing more and more.
The morning of our final day, we all had the option to go bird-watching one more time before breakfast. Everyone from our group chose to get up a little earlier to take advantage of the last few hours.
On our final journey back up the Cuyabeno River, we were all ecstatic to see a large anaconda snuggled on a branch sending us off with a dramatic farewell. What a way to end our time in the jungle!
If you're looking to explore the Ecuador Amazon on a budget, the Cuyabeno Reserve is the way to go! It's an unforgettable adventure into one of Mother Nature's greatest masterpieces.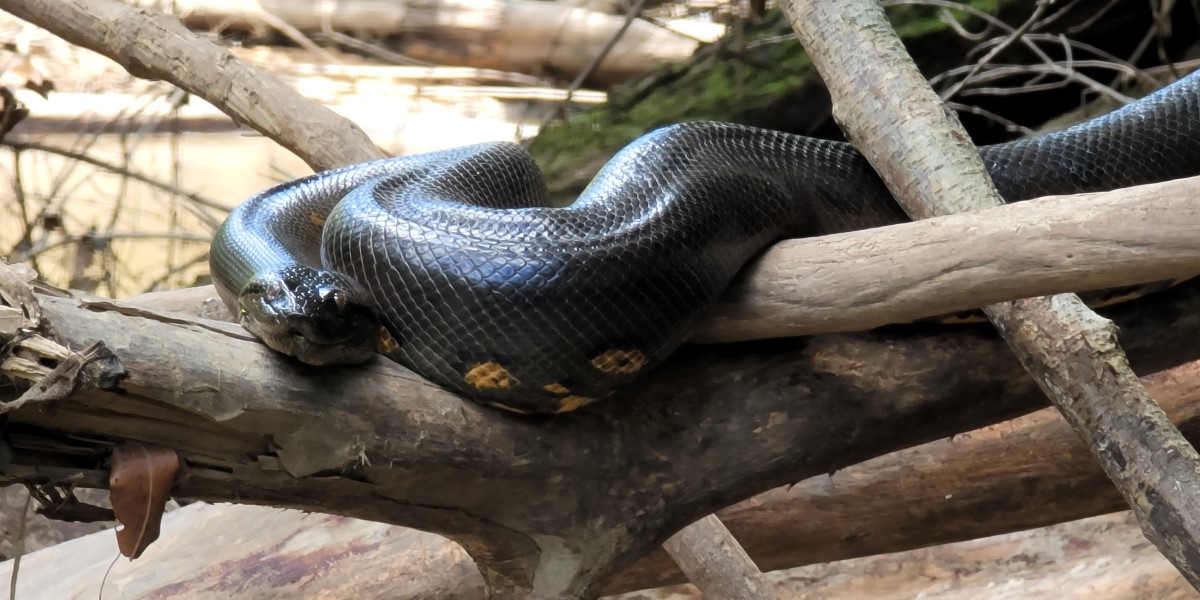 Amazon Ecuador Packing List & Tips for Your Trip
Wondering what to wear in the Amazon rainforest? We'll make it easy for you, see below for a checklist of items to pack!
Clothes
Medications
Malaria Pills. Even though we did not come across many mosquitos and there are no major outbreaks of malaria in Ecuador right now, we feel it is better to be safe than sorry.
Sudafed – We came from the mountains so my sinuses really acted up the first two days once we got back to lower ground.
Electrolyte Packets – It's extremely hot and humid so having a few of these helped stay hydrated.
Other Items
Permethrin – It lasts up to six weeks or through six washings and works for bed bugs too so we sprayed our Amazon clothes and backpack before we left for our trip.
Portable Charger (being out for hours at a time, I loved having an extra charge
Dry bag with Shoulder Straps (to use as a day bag)
Refillable Water Bottle
Breakfast for the first morning & snacks for the bus ride
Sunscreen & Lip Balm
Flashlight
Bug Spray
Sunglasses
Earplugs
A dry bag for dirty or wet clothes
Kindle – you'll have a decent amount of downtime and it's nice not to have to burn the battery of your phone.
Cash for tips
A helpful tip is to stay at a hostel the night before (we chose to stay at Community Hostel where our tour departs from) so you can leave your big backpack or luggage in their storage room and bring only what you need for the few days. Most hotels will do this as well.
The boats that take you in and out of the lodge are small so it is helpful for the guides to bring only what you need for those few days.
Also, make sure to line your bag with a garbage bag or something waterproof since it tends to rain often.
If you do not book the same tour as us, make sure to confirm whether or not waterproof ponchos and boots are provided. You will definitely need them at some point!
Many of the lodges have no air conditioning or electricity in the rooms. They will, however, have one area in the common space to plug your electronics in.
5 Interesting Ecuador Amazon Rainforest Facts
The Amazon spans eight countries: Ecuador, Peru, Brazil, Bolivia, Colombia, Venezuela, Guyana, and Suriname.
Even though the Amazon represents one-third of Ecuador, it is only 2% of the entire Amazon Basin.
A Spaniard, Francisco de Orellano, was the first European to discover and explore the Ecuadorian Amazon in 1541. He named it after the female warrior tribes in Greek mythology.
There are an incredible number of species of trees in the forest, making it the highest in any region of the world.
There is a lot of crude oil under Ecuador's Amazon and it is a constant struggle to keep the jungle secure from drilling and oil extraction. As of 2023, the debt-riddled government wants to tap into the reserves more than it already has.
Frequently Asked Questions
Is there yellow fever, dengue, or malaria in the Ecuadorian Amazon? Yellow fever: There is a risk of yellow fever in South America, but the risk is low in the Ecuadorian Amazon. There is a risk of Dengue Fever and Malaria, both contracted through the bite of infected mosquitoes, in Ecuador's Amazon. It is recommended to wear bug spray and long sleeves, and pants while in the rainforest.
It's best to see a travel doctor before your visit
Do you need a yellow fever vaccine to visit the Amazon in Ecuador? No, it is not required to have a yellow fever vaccine to visit the country of Ecuador or the Amazon Rainforest in Ecuador.
Is it safe to drink the water in the Amazon in Ecuador? No, it is not safe to drink water in the Ecuadorian Amazon. Your lodge will provide you with potable drinking water.
Are there mosquitos in the Cuyabeno Reserve? The only time we saw mosquitos was right at sunset and about twenty minutes after. Otherwise, we were pleasantly surprised not to have that many buzzing around.
Disclaimer: This post may contain affiliate links, if you book through our link we will receive a small commission at no additional cost to you. Thanks for helping to support the blog!