I recently found out that in my circle, Branson has a reputation for kitschy musicals geared toward the older population and not much more. When I announced my next travel adventure was down to Missouri with my nephews, I was surprised by the responses I received. I heard things like, "Why would you go to Branson with kids?" and "Oh, they are going to love that!" with a sarcastic tone. I guess I stumbled on a Midwest secret? Because I'm here to tell you, we spent a week in Branson for spring break and had the time of our lives!
From museums to roller coasters and from hiking to shopping, there are so many fun things to do in Branson with kids. We spent a week with a jam-packed itinerary and I don't even feel like we scratched the surface on all the things there are to see and do.
Here's my guide on all the best things to do with kids in Branson MO!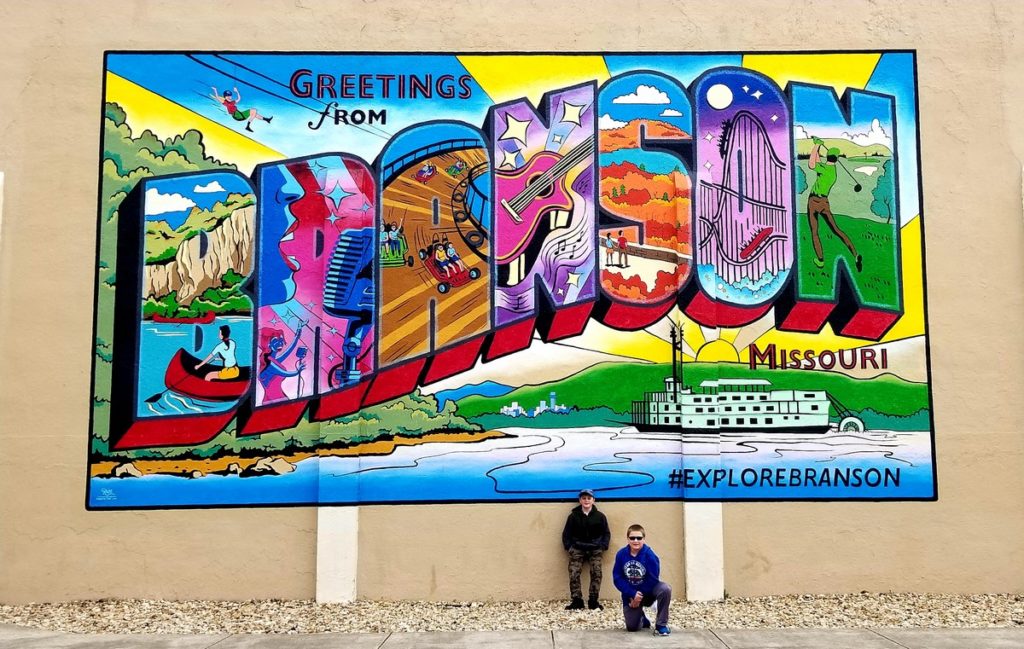 Find a Branson Kid-Friendly Hotel, Resort or Condo
If you are planning a short trip and don't mind eating out, Branson hotels work great. But if you are planning a longer trip and/or want to save money by cooking some of your meals, I recommend a condo or villa. We stayed for a week so we rented a townhouse and it was fantastic.
Branson Nightly Condos: 2-bedroom upscale condos with kitchenettes and an indoor and outdoor pool.
Full Disclosure: We were hosted on some of the attractions below, but all opinions and thoughts shared are my own. Also, please note some of the links in this post are affilitate links, if you book through any of them we will receive a small commission at no additional charge to you.
Top Things to Do with Kids in Branson MO
Keeping the family busy and challenged is the key to a successful vacation. Here are the best Branson attractions and activities that the kids will love. Keep reading for the full description, of our experience, and kid-friendly restaurants.
Titanic Museum
Dolly Parton's Stampede
Wonders of Wildlife National Museum and Aquarium
Table Rock State Park
Silver Dollar City Theme Park
Fritz's Adventure
Branson Landing
Dicks 5 & 10
Dogwood Canyon Nature Park
Shepherd of the Hills Fish Hatchery
The Branson Strip
RELATED: BEST SPRING BREAK DESTINATIONS IN THE MIDWEST
1. Titanic Museum Attraction
To my surprise, both of my nephews were extremely excited to visit the Titanic Museum. And that is before they saw the soaring 100-foot half replica with a protruding iceberg.
After we took pictures outside – could not miss this photo opportunity – we walked through the iceberg aboard the ship. As we were handed boarding passes with actual Titanic passengers' names, we quickly realized this wasn't going to be a typical museum visit. And with over 400 rare artifacts, 20 galleries, and 2,208 stories, it definitely was not.
Experience an iceberg, see a scale model of the ship that took two years to build, uncover the faces on the Titanic with a moving display of photos from the voyage, walk the Grand Staircase, and feel the frigid cold water of the ocean.
The museum not only pays respect to the 2,208 passengers and crew aboard the RMS Titanic by sharing the history of the ship itself but the lives of the people on it as well. It is definitely a must-see attraction in Branson. Book your advance Titanic ticket here.
Where: 3235 76 Country Blvd & Hwy 165, Branson
2. Dolly Parton's Stampede
You'll experience dinner, a show, and a sort of rodeo at Dolly Parton's Stampede in Branson. The interactive dinner attraction is good old-fashioned entertainment that the whole family will enjoy.
From eating a four-course meal with your hands to the comedic ventures of memorable characters, there's never a dull moment. The show has trick riders that perform daring stunts, a friendly competition between sides, and musical talent that will keep your feet stomping. It's a great way to spend an evening.
Where: 1525 W 76 Country Blvd, Branson, MO 65616
READ NEXT: WHAT TO EXPECT AT DOLLY'S STAMPEDE & TIPS FOR YOUR VISIT
3. Wonders of Wildlife National Museum and Aquarium
Even though Wonders of Wildlife is about an hour away from Branson, I am including it on the list because it is a must-do when in the area. Johnny Morris, the founder of Bass Pro, is a perfectionist, and everything this man touches turns into attraction gold.
He puts so much effort and thought behind all his projects, and Wonders of Wildlife is no exception.
Referred to as the "Walt Disney of the Outdoors," the 350,000-square-foot space is filled with 35,000 live fish, mammals, reptiles, amphibians, and birds along with immersive habitats and wildlife galleries.
During your visit, you'll be reminded how important it is to get out in nature and stay connected with it, and the importance of conservation and protecting our lands and animals for future generations. Plan to spend the whole day in Springfield, because not only will the museum and aquarium keep you busy but the granddaddy of all the Bass Pro shops is right next door. Being the birthplace of Route 66 and a pretty neat city, read our other tips for things to do in Springfield next.
Where: 500 W Sunshine St, Springfield, MO 65807
4. Table Rock State Park
Not only does Branson have a ton of attractions, but there is outdoor recreation to be found at Table Rock State Park just six miles south of downtown. If you're looking for free things to do in Branson, start here!
The state park marina rents everything from ski boats to bikes and offers many supplies whether it's for fishing or skiing. We rented a pontoon boat for the day a few years back and it's a beautiful clear lake surrounded by tree-lined shores.
Even if you don't have time or the money for a rental to get out on the water, don't miss the Table Rock Lakeshore Trail.
The two-mile paved trail connects the Dewey Short Visitor Center to Table Rock State Park. Stop in the visitor center for fantastic views of the Table Rock Dam and exhibits like a state-of-the-art interactive map of the lake, artistic wall murals, and a replica of an Ozarks bluff complete with local flora and fauna. It's one of the coolest free things to do in Branson.
5. Silver Dollar City Theme Park
Silver Dollar City pops up on this list for a few reasons:
There's a cave under the amusement park! An hour-long tour of Marvel Cave, one of Missouri's deepest caves, is included in your ticket price.
40+ rides and attractions including the tallest, fastest, spinning roller coaster, the Time Traveler.
With an 1800s theme, you can watch demonstrations throughout the park-like candle and taffy making, glassblowing, pottery, and blacksmith displays.
You can bring in beverages, coolers, sandwiches, and snacks so even though admission isn't cheap, it helped to be able to pack our own lunch.
Live performances and entertainment can be heard throughout the day at various stages in the park.
Free parking. Many parks nowadays charge for admission and parking but not at Silver Dollar City unless you want VIP parking.
Where: 399 Silver Dollar City Pkwy, Branson, MO 65616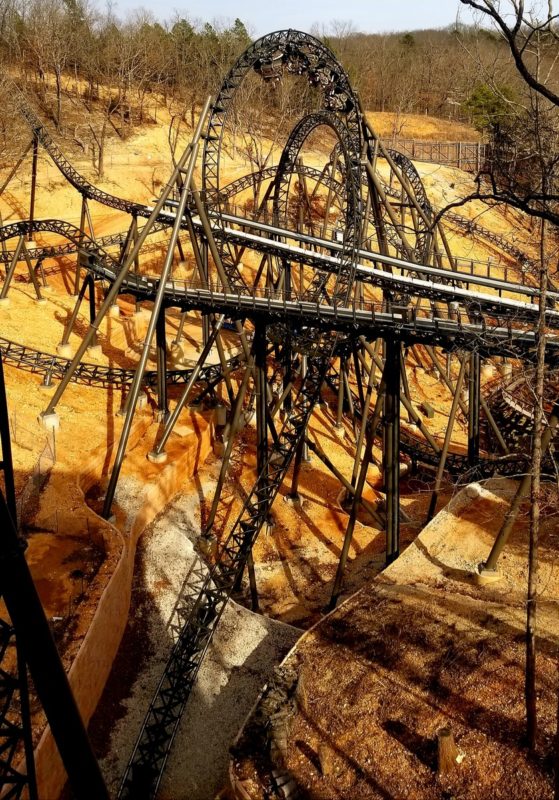 6. Fritz's Adventure
Fritz's Adventure is the perfect place to burn off some energy and make unforgettable family memories. It's one of the perfect Branson indoor kid activities on a rainy day.
With 11 indoor zip lines, a TreeTops course, 2 free falls, a climbing wall, 5 slides including a 32-foot spiral one known as The Chute, a Sky Trail ropes course, underground tunnels, a water tower, and aerial bridges, plan to spend a good chunk of the day there playing and exploring.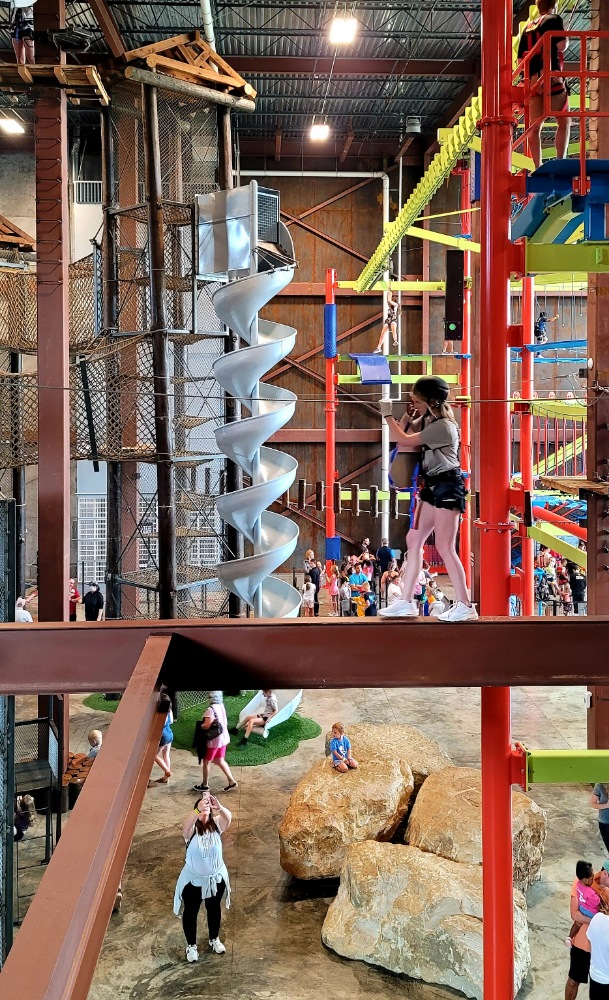 You can come and go throughout the day, but if you want to stick around there's a cafe with snacks, sandwiches, and pizza. And for an extra special treat, there are comfy massage chairs for parents who are waiting and want to relax and unwind.
Where: 1425 76 Country Boulevard
7. The Branson Landing
Another of the free things to do in Branson is the Branson Landing, a scenic boardwalk with over 100 specialty shops, restaurants, and attractions along Lake Taneycomo.
At the center of the boardwalk, you'll find the town square with a spectacular water attraction. Every hour starting at noon, the water fountains spring up 120 feet in the air, and fire cannons blast in harmony to various songs throughout the day.
Places the kids will love include Andy B's Bowl Social, The Paddlewheel, Mellow Mushroom, Arcade City, and the Shipwrecked Treasure Museum. You can also rise above the Branson boardwalk on the Steampunk Balloon, zip line over the lake at Parakeet Pete's, or hop on a jet boat or lake cruise from the marina.
Where: 100 Branson Landing Blvd, Branson, MO 65616
8. Dick's 5 & 10
Dick's 5 & 10 has been a landmark in downtown Branson since 1961. The family-run business is a 10,000-square-foot store filled with over 75,000 items and lives up to the founder's dream of being the most well-stocked store in the area.
It's a throwback and one of the last five and dime shops in the country.
Where: 103 W Main St, Branson, MO 65616
9. Dogwood Canyon Nature Park
If you like outdoor adventure, about an hour south of Branson you'll find Dogwood Canyon Nature Park. Another gem built by Bass Pro's founder, Johnny Morris, the park rests in the peaceful Ozark wilderness.
Explore by foot, Segway, tram or bicycle as you pass waterfalls, wildlife, crystal clear streams, and at the treehouse, all surrounded by limestone bluffs.
TIP: Since the park is associated with Wonders of Wildlife you can purchase combo tickets at a discount.
Where: 2038 West State Hwy, 86, Lampe, MO 65681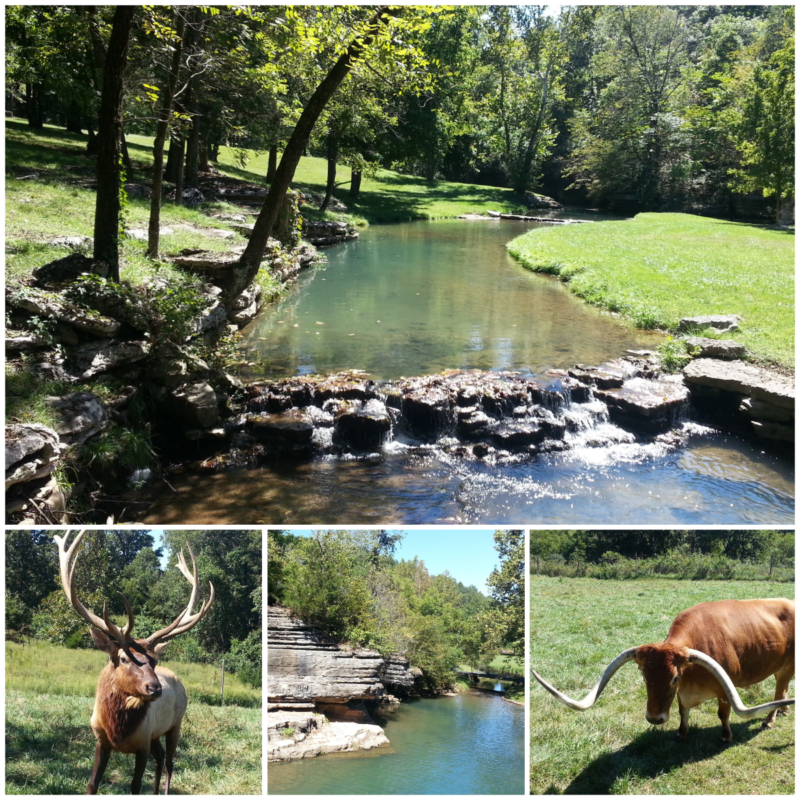 10. Shepherd of the Hills Fish Hatchery
Another free thing to do in Branson with kids is the Shepherd of the Hills Fish Hatchery.
Watch a short film in the Visitor Center to find out how the hatchery stocks Lake Taneycomo with over a million rainbow and brown trout throughout the year.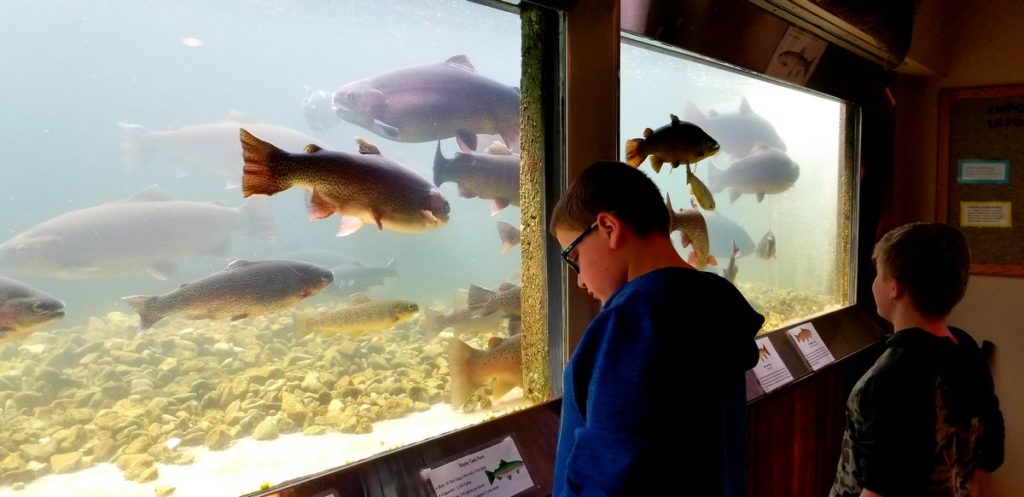 Then, head outside to feed the fish at different ages and see the dam. It's definitely a unique stop in Branson.
Where: 483 Hatchery Rd, Branson, MO 65616
11. The Branson Strip
And last but not least, fill any extra time you have at one of the many kid-friendly places on the Branson Strip.
You'll find a variety of entertainment options along Highway 76 including Ripley's Believe It or Not museum, miniature golf, Wonderworks Branson, a wax museum, an indoor/outdoor water park, and go-karts to name a few.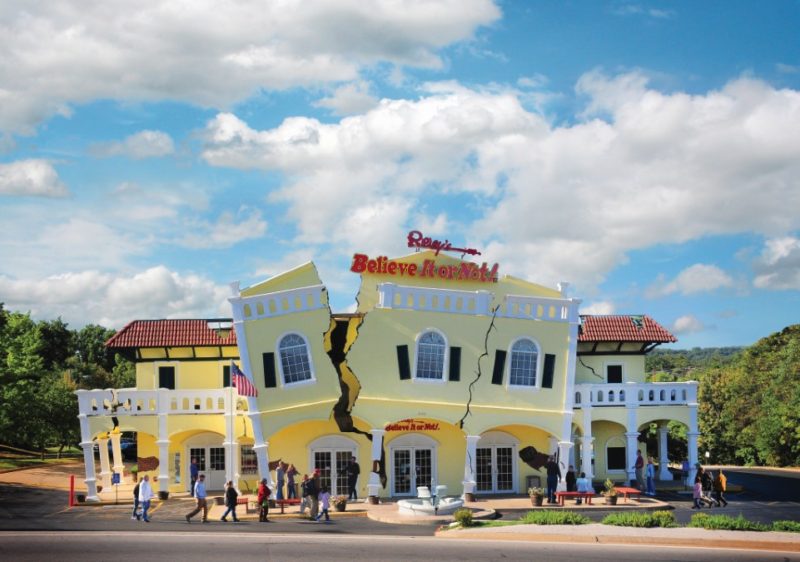 Eat at Kid-Approved Restaurants
Pasghettis Italian Restaurant – With a giant meatball and fork on the front of the building, it's not hard to find or figure out it's kid-friendly.
White River Fish House – Right outside the Bass Pro at the Branson Landing, you'll find downhome country cooking along the lake
Andy's Frozen Custard – A popular stop for ice cream on the strip.
Danna's BBQ & Burger Shop – Finger licking good barbecue in a casual setting.
Hurts Donuts – You'll find any kind of donut you can think of at this local favorite on the Branson strip.
After a week of exploring Branson, I couldn't wait to share our experience. Yes, it is still a hub for theatre and country music, but Branson is definitely in the midst of a transformation to expand its reach. The area provides endless possibilities for a vacation in the Midwest and we look forward to visiting again.
What's your favorite thing to do in Branson with kids? Share your favorite Missouri attractions for families in the comments below!
Please Pin for Later!