We are making our way southwest through Route 66 Missouri to the birthplace of the Mother Road, the city of Springfield. Weren't we just in Springfield? That was back in Illinois!
The fact that we are driving through two, that I know of on this trip, prompted me to look up just how many Springfield's we have in the United States. The Postal Service says officially, there are a total of 26 cities with the name. That's a whole lot of Springfield's. Maybe that's why the Simpsons live in a city named Springfield!
Route 66 Missouri Map
Ted Drewes, a Route 66 Treat

We are back on the road in the early afternoon, driving through the outskirts of St. Louis when we pass Ted Drewes, a family run frozen custard shop.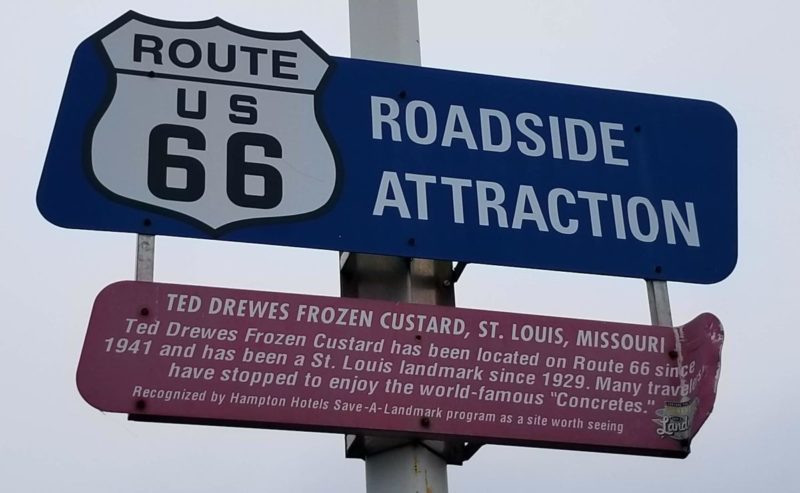 Drewes is famous for their concrete shakes, flip one upside down and nothing will spill out. As I order a mini Reese concrete, I ask the girl through the window if I turn mine over and it falls out do I get another one for free? She laughs and says yes, but it's not going to fall out. Sure enough, it withstood my test.
Looking for Elk and Bison at Lone Elk Park
Even though Lone Elk Park isn't on Route 66, it's only a short detour off and I wanted to drive through since we haven't been in years. It is a county park with roaming bison, wild turkey, waterfowl, elk and deer. They have picnic areas, restrooms, hiking trails and a one-way driving tour.
We saw a few bison off in the woods, none I could get a clear shot of. But we did see a lot of elk, probably twelve total, more than I have ever seen before. It's a pretty drive and fun to look for the animals. FYI – motorcycles are not allowed.
*Tip: Early mornings and right before sunset are the best times to see animals.*

Route 66 State Park
Route 66 State Park is a throwback to the road's heyday. It is on the abondoned site of the town of Times Beach, a summer resort spot in the 1920s for the city dwellers of St. Louis. The Visitor Center is the former Bridgehead Inn, a 1935 roadhouse that sat on the original Route 66.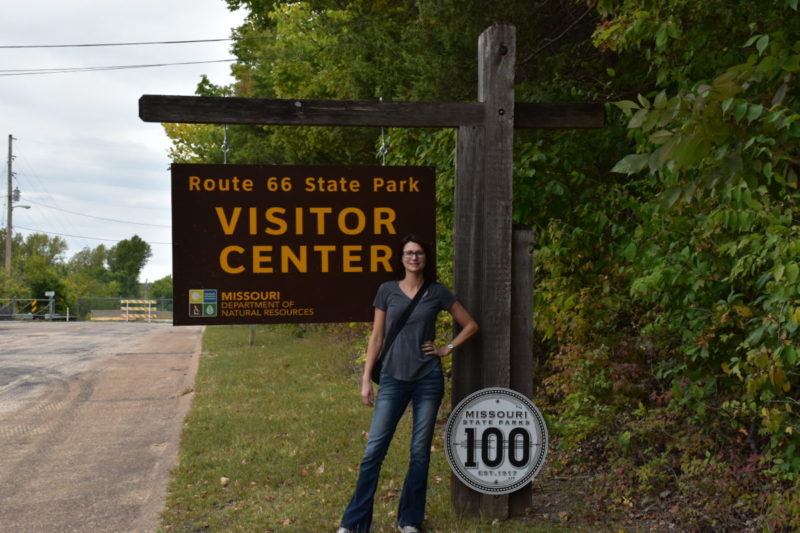 Inside they have a respectable collection of old neon signs, maps, newspaper clippings, pictures, and a small souvenir shop.
Meramec Caverns
Signs for Meramec Caverns in Stanton begin popping up right when you get outside the city limits so this one won't catch you by surprise. It has been one of Missouri's most famous roadside attractions since 1933 when Route 66 was brand new. We have been before and are planning to hit Fantastic Caverns down in Springfield so we don't stop this time around.
It's definitely worth a stop with a few claim to fames: Jesse James hid out in the cave in the late 1800s, it has one of the rarest cave formations in the world, the Wine Table, and it is the largest cave formation in the state of Missouri.
A Potato to Plan a Road Trip Around
Just before ending the day at our first campground of the trip, we stopped at Missouri Hick BBQ in Cuba. We weren't starving so we decided to split the Ory's Spud, a baked potato with barbecue pulled pork, shredded Monterey Jack and cheddar cheese, baked beans sprinkled with bacon, chives, and their specialty seasoning.
Holy mother of all that is good in life!
This ENORMOUS potato rocked our world. Come to find out, the Travel Channel was just there filming a segment and guess what they focused on?
*Tip: Military discount available.*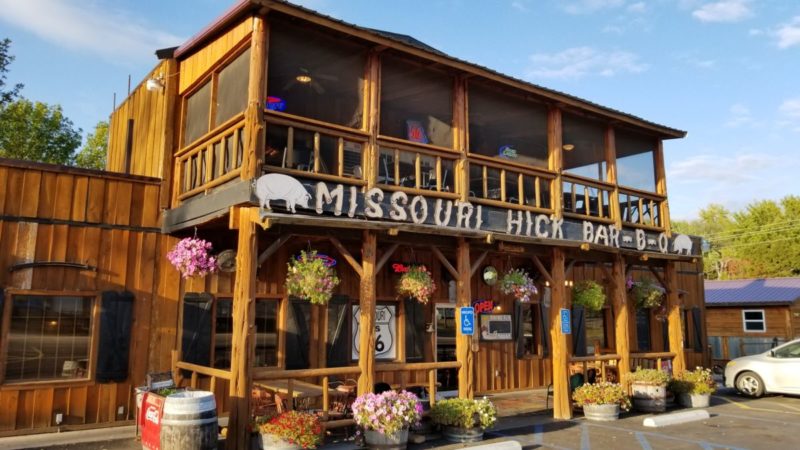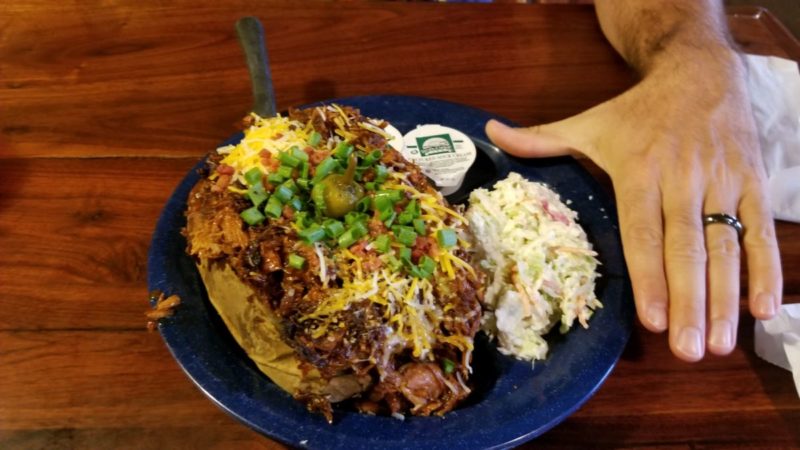 The BBQ joint is right next door to the Wagon Wheel Motel which has been around for more than eighty years.

Free Tent Site with Tents for Troops
It's the first night camping and because of an awesome program called, Tents for Troops, we stay for free at Candy Cane RV Park and Campground in Steeleville.
"Tents for Troops is a "pay it forward" program that allows RV parks, campgrounds, RV manufactures, RV dealers, industry associations, industry suppliers, and media outlets to show thanks to the many, many service members who put their lives on the line for us every day to make sure we are safe at home. To show appreciation, RV parks and campgrounds across the nation are offering a minimum of two nights complimentary camp/RV sites to active military and their families."
Cuba, the Town of Murals
The next morning, we jump back on good ol' Route 66 to the tiny town of Cuba. Even though it's small, it has murals everywhere throughout town.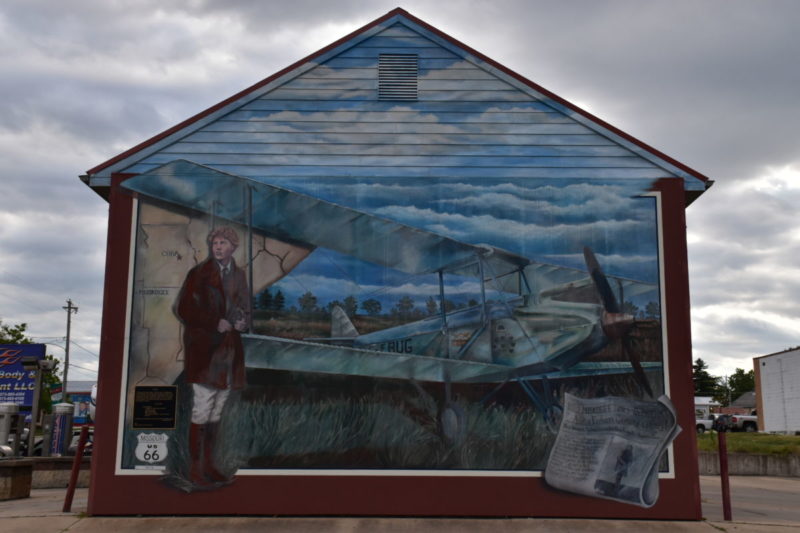 The 2nd Largest Rocking Chair… in the World
I am a sucker for a "world's largest" anything so we had to stop in Fanning, Missouri where they boast of having the world's largest rocker.
The chair is next to the Fanning Outpost that just reopened this year. They will eventually offer over 200 kinds of popcorn inside with other local specialties. They had a few tubs already and we were able to sample some: dill, spicy buffalo, caramel drizzle, and another spicy one called The Reaper. We walked out with some chocolates and a bag of spicy buffalo. It'll go perfect with a cold beer.
When we were walking out we met two girls from Colorado on bikes. I asked if they were riding a section and they said they were going the whole way like us! They are averaging about 50 miles a day and loving every minute of it so far.
Matt's Steakhouse, an Excellent Lunch
We have been following Matt's Steakhouse in Rolla on Instagram for about a year now, oohing and aahing over all their food pics. We figured we would stop by some time on a trip down south.
Mahi Mahi with a fresh mango salsa. Tonight's special! #rollamo #seafood #tonightsspecial #missouri #steakandseafood
Right before we left, I found out they are right across the way from Route 66! So we stopped by and let me tell you… we will be back!
Like us, Matt and his wife both met in the Air Force. They opened this location 10 years ago and have been pleasing visitors ever since.
We started with lightly fried jumbo mushrooms with homemade ranch dipping sauce. Then rolled into our entrees. I ordered the special of the day, Chicken Fried Chicken, and the hubby ordered a delicious tender steak sandwich.
We really didn't have room for dessert, but we were coerced into trying the Amaretto White Chocolate Bread Pudding. Now, I'm not a bread pudding fan or at least I didn't think I was until a visit to Matt's. We will be talking about this little piece of heaven for the rest of the trip!
Thanks for Picking Uranus!
The woman behind the counter yelled as a couple walked out the door. We had to take a break to find out what was going on when we saw Uranus or shall I call it, Giggle Town. It was all smiles at the Uranus Fudge Factory and General Store.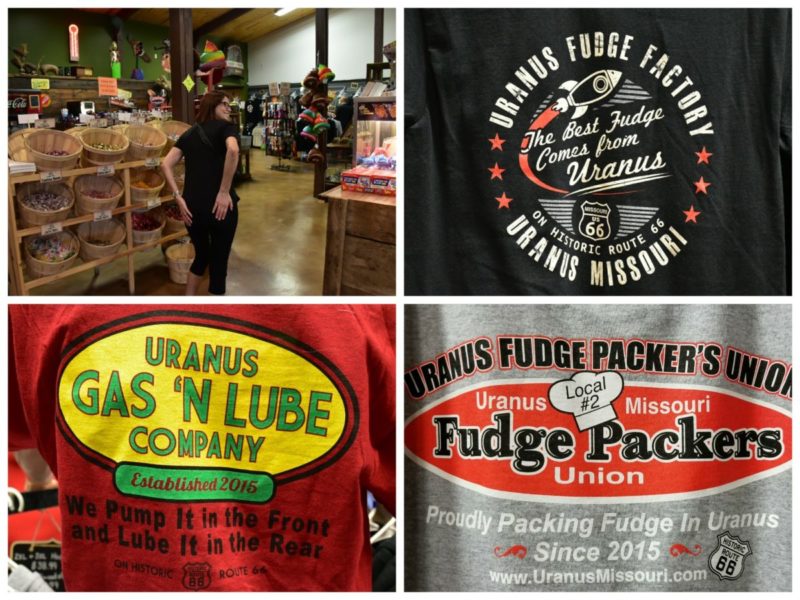 The pull-off has a Western town motif storefront complete with a saloon, tattoo parlor, burlesque show, and the candy store.
What more could you ask for at a roadside attraction?
Lebanon, on the Edge of the Ozarks
Lebanon hasn't had Route 66 running through its town since 1957, but it still has love for the scenic byway. We made two detours in town to the Munger Moss Motel and to the library. No, not to check out a book but to see the Route 66 museum in it. They have an indoor recreated gas station with vintage pumps and a real 1950s car in it. After wandering around for a bit we head back down the road to Springfield Route 66 KOA, our final stop for the day. Tomorrow we explore the birthplace of Route 66! Maybe we will find out why they call it that.
Other Route 66 Posts
Have you ever been on Route 66 in Missouri? What was your favorite attraction?
Don't forget to sign up below to be the first to know when a new post comes out so you can follow along on our adventures!