If you are planning a trip to Springfield, one of the must-see attractions is the Abraham Lincoln Museum.
Here are three reasons you need to visit.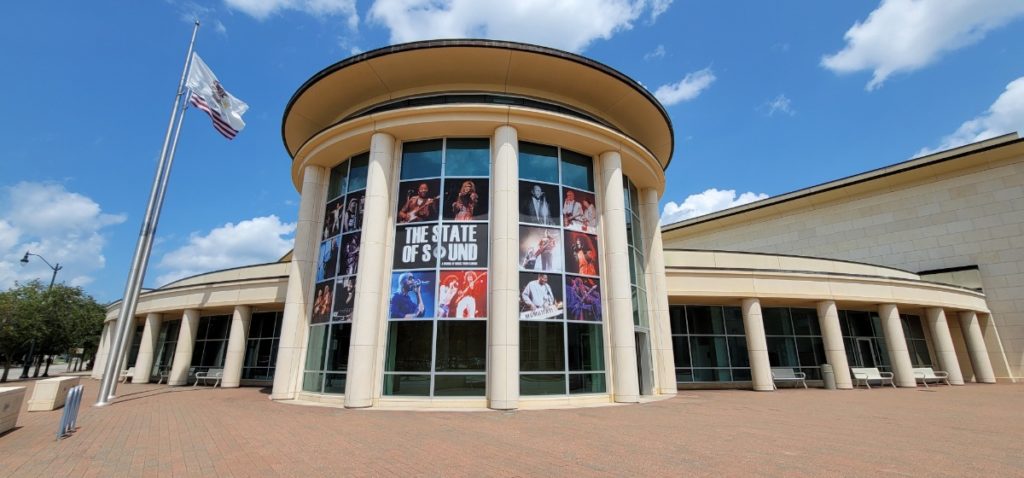 1. It's Not Boring
Let's be honest, some museums have you glazed over in minutes.
By transporting you into the former president's world with fascinating exhibits, the Abraham Lincoln Presidential Museum is anything but boring.
As you enter the large bright atrium and take a scan around, you're welcomed by an incredibly lifelike Lincoln family standing in front of an 1861 White House replica.
The perfect setting for a memorable photo opp.
Need help planning your getaway? Click here to read our Springfield Itinerary with all the best things to help you plan an unforgettable trip!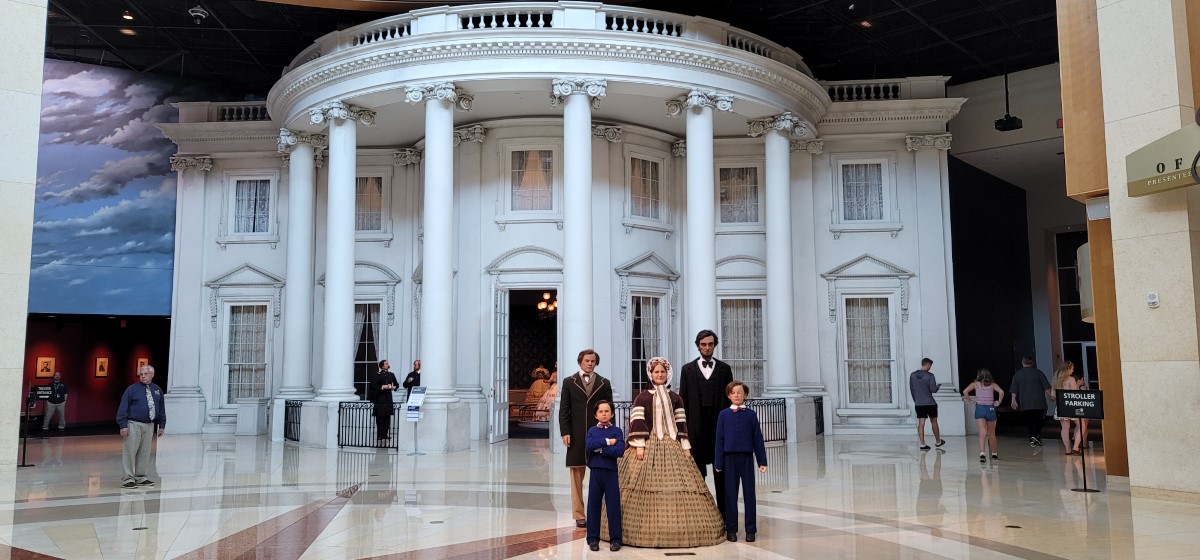 You'll then begin your journey through Lincoln's early days by veering left and walking by a young Abe before entering a small rustic cabin.
As you move along, the dioramas show how Lincoln's humble beginnings and early experiences shaped who he became as a man.
Abe sits by a fire with his dog at his feet, reading a book inside the one-room log home where he lived with his family.
It's hard to imagine growing up and having to teach yourself in such circumstances.
Then, a traumatic scene unfolds at a family slave auction he witnessed in New Orleans which left an indelible impression on a young Lincoln.
Next, you'll stand in the New Salem failed store which taught him perseverance. It's also where you'll be introduced to Lincoln's first love, Ann Rutledge, who died at a young age.
The following displays take an intimate look at his life in Springfield as a lawyer, husband, and father.
The one of Lincoln's children running wild is an eye-opener on how relaxed he was as a father and humanizes the political hero.
The gallery also focuses on his run for the presidency and the Lincoln-Douglas debates.
As you continue, you enter a news control room where you'll maybe recognize the late television journalist, Tim Russert, broadcasting the 1860 campaign but as if it's happening in the 21st century.
"The chaos of a four way presidential race continues as the campaign of 1860 stumbles toward election day."
It's an amusing few minutes to get a current view of an election that happened well over a century ago.
2. For the Engaging Special Effects Shows
Do not miss the two shows offered at the museum. I repeat, do not miss the shows!
At Union Theatre, Lincoln's Eyes gives a unique perspective of his life with special effects and dramatic state-of-the-art theatrics.
It's hard for me to describe because I've never seen anything quite like it. There are multiple projection screens and delightful storytelling that will keep you engaged from start to finish through the 17-minute production.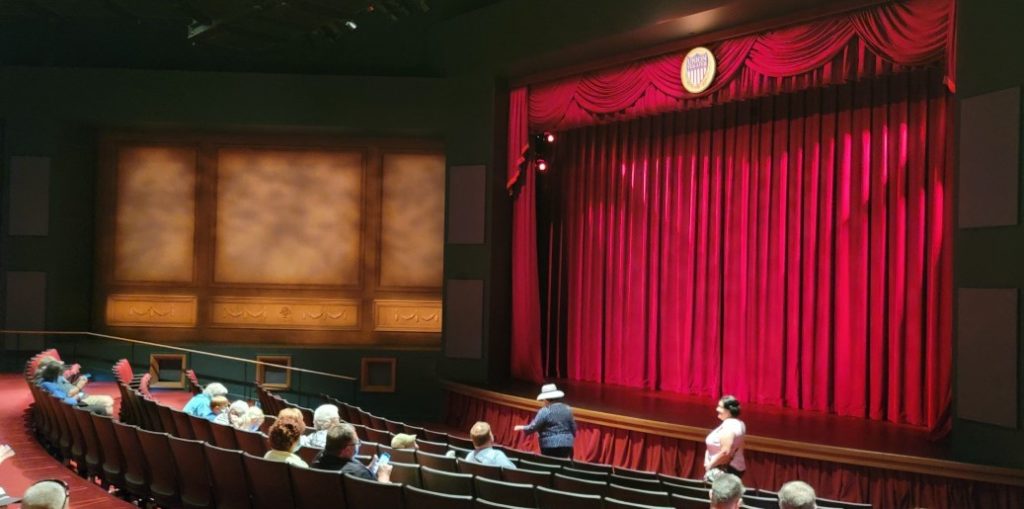 In the Holavision Theater is another interesting presentation, the Ghosts of the Library. A live performer combined with smoke, vapors, optical illusions, and holograms create a magical account of why it's important to learn about history and the artifacts left behind.
The show is only 9 minutes long but it does an incredible job explaining how the past and present are connected.
Photos and video are not allowed inside the theaters.
3. You'll Learn More than You Expected To
If lessons were taught in school this way, I'd remember a lot more history I'll tell you that much!
When education is staged with holograms, three-dimensional illustrations and life-size dioramas, you don't even realize you're soaking it all in.
If you are driving the Mother Road into Springfield, click here to read our Favorite Illinois Route 66 Stops
It's not memorizing dates or specific names, it's snapshots of crucial moments of the past with staying power. And that's what you get at the Abraham Lincoln Museum.
Besides learning all there is to know about the 16th president, you'll gain an understanding of the times and the sentiment of the people.
A portal to the past, the Journey 2 section takes you through Lincoln's White House years and examines the personal tragedies as well as the political difficulties the Lincolns endured during this time.
There was much debate surrounding the Emancipation Proclamation. Does it go too far? Or doesn't it go far enough?
As families lost loved ones on the battlefield during the Civil War, the Lincoln's endured their own loss at home. Willie, their 11-year-old son, died on February 20, 1862, after becoming ill with typhoid fever.
It took an obvious toll on both of them, but especially Mary Todd. No one would have predicted she'd be going through that unimaginable grief again a few years later. She was sitting next to her husband in the box at Ford's Theatre when he was shot in the head by John Wilkes Booth.
After exploring the two exhibits, make sure to walk through the Treasure's Gallery where you will see original artifacts from the presidential family and rare items from the Civil War. In addition, the Illinois Gallery showcases rotating special exhibits.
And last but not least, swing into the Abraham Lincoln Museum Gift Shop to pick up a memorable souvenir.
History buff or not, we highly recommend a visit to the Abraham Lincoln Museum. It is one of the best museums we've been to leaving the visitor not only well-informed but inspired as well.
Address: 212 N. Sixth Street, Springfield, Illinois
Hours: 9:00 AM – 5:00 PM Daily (Closed Thanksgiving, Christmas Day, and NYE)
RELATED: BEAUTIFUL PLACES IN ILLINOIS
Abraham Lincoln Museum Tickets
Admission:
Adults $15
Seniors (62+) & Students (ID required) $12
Military (ID required) $10
Children (5-15) $6
Children 4 and Under, Free
Other Information
Street parking: Available near the front entrance and around the block. On-street parking is currently free.
Parking Garage: There is also a parking garage at the corner of Sixth and Madison.
People typically spend up to 2.5 hours at the museum.
No outside food, beverages, candy or gum is allowed inside.
Bags will be inspected.
No flash photography except for the Plaza and Mrs. Lincoln's Attic (currently closed).
Full Disclosure: We received complimentary tickets from Visit Springfield but this was our second time touring the museum (we paid our own way when it first opened). All thoughts and opinions are my own.
Have you been to the Abraham Lincoln Museum, what were your thoughts? Share below in the comments!