As an Illinoisan, born and raised, I used to think it was every Midwesterners rite of passage to come to the Land of Lincoln. The beloved 16th president lived and worked here for a large portion of his life after all. But my latest visit convinced me everyone, not just those hailing from the Heartland, should make the trip to not only learn about the revered Abraham Lincoln but also to experience Route 66 and one of the most beautiful capitol buildings in the United States.
Below is the perfect weekend itinerary with fun things to do in Springfield, Illinois.
If you're a traveler exploring Springfield via the iconic Mother Road, click here to read our Do-Not-Miss Route 66 Attractions in Illinois or The Best State by State Route 66 Stops next.
Day 1: Friday
Whether you love history, food, or the outdoors, this is the ideal way to spend three days in the capital city. Here are our favorite things to do in Springfield, IL with kids and adults!
Lincoln's New Salem State Historic Site
What is Springfield most famous for? Since Springfield's historic claim to fame is Abraham Lincoln, it's not a surprise your trip will begin with him!
Lincoln was born in a one-room log cabin in rural Kentucky, moved to southern Indiana when he was 7 years old, then came to Illinois in his early twenties.
He discovered New Salem, 20 miles northwest of Springfield, by flatboat and eventually relocated to the area.
Lincoln's New Salem State Historic Site, a reconstructed village, allows you to step back to the 1830s and experience what pioneer life was like when he lived there.
Pay a visit to the museum inside the visitor center first. Check out the exhibit and watch the movie; it gives great insight for what you are about to experience.
The movie is screened in the auditorium every half hour.
Afterward, head outside to explore. We couldn't believe how incredibly beautiful and peaceful the property is!
On your walk through the log village, you'll see green pastures, canopies of trees, and historically furnished buildings including various workshops, stores, houses, a school, and a tavern.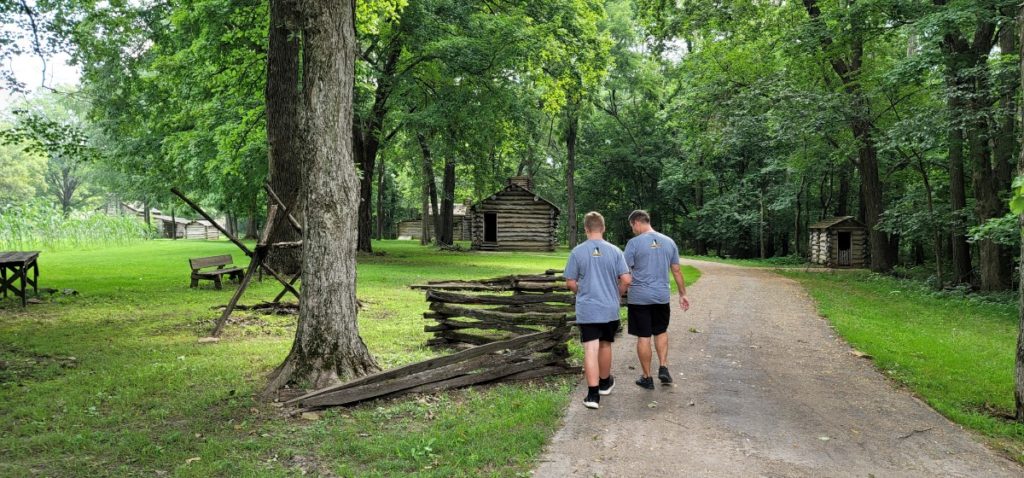 Lincoln learned what it meant to be an adult here; he taught himself law, failed at owning and running a store, and worked hard to improve himself.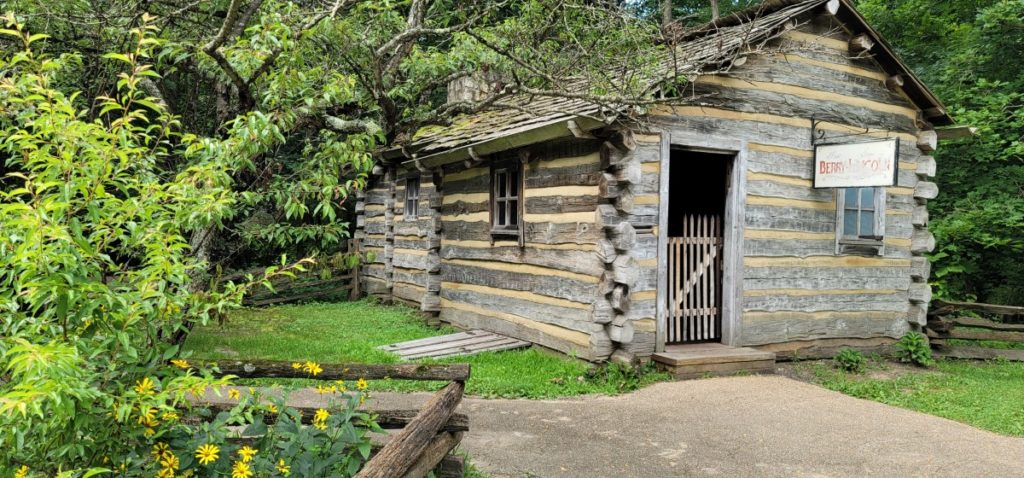 If you visit June through early August, the park is part of the History Comes Alive summer program and has costumed interpreters on Fridays and Saturdays. Interacting with the villagers really brings the site to life!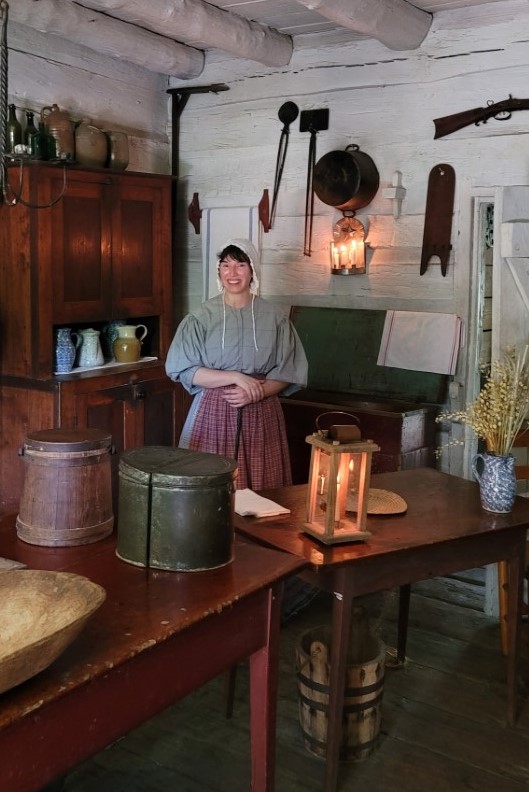 One of my favorite experiences was talking to a resident in the town tavern and inn where she was making corn bread.
She showed us where the patrons slept and explained how hard she worked throughout the day to maintain the household and keep things running smoothly.
Address: 15588 History Lane, Petersburg
Lunch at Route 66 Motorheads
For lunch, zip over to Route 66 Motorheads Bar & Grill. Turn when you see the giant Route 66 sign – you can't miss the "world's largest" 32-foot-by-32-foot black and white marker beckoning travelers to pull over.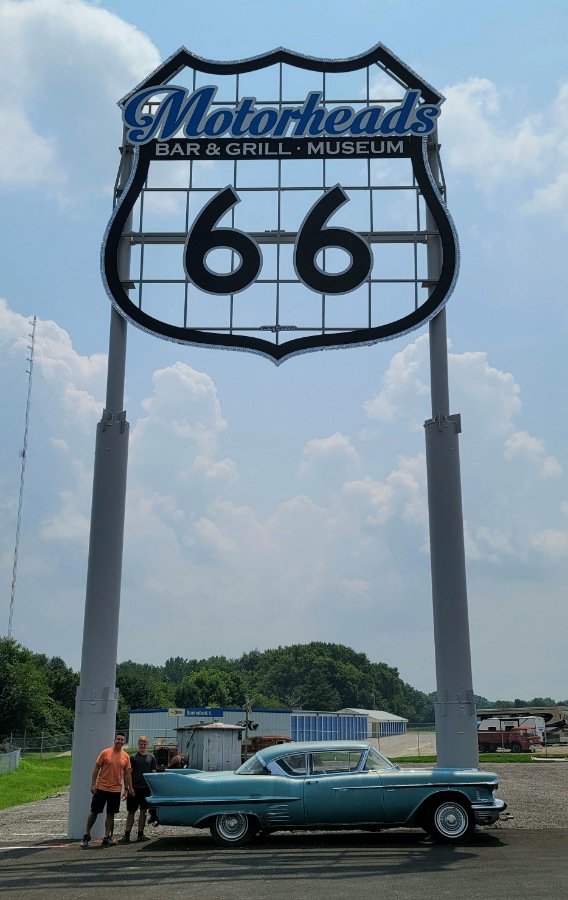 Full Disclosure: We were hosted on parts of the trip, but all thoughts and opinions are my own. Some of the links included are affiliate links, if you book through any we will receive a small commission at no additional charge to you.
Not only does the restaurant have first-rate food, but the decor and collectibles are impressive too.
There's a ton of Route 66 and car memorabilia from the owner's personal collection including a restored silver 1969 Chevy Camaro hanging in the rafters.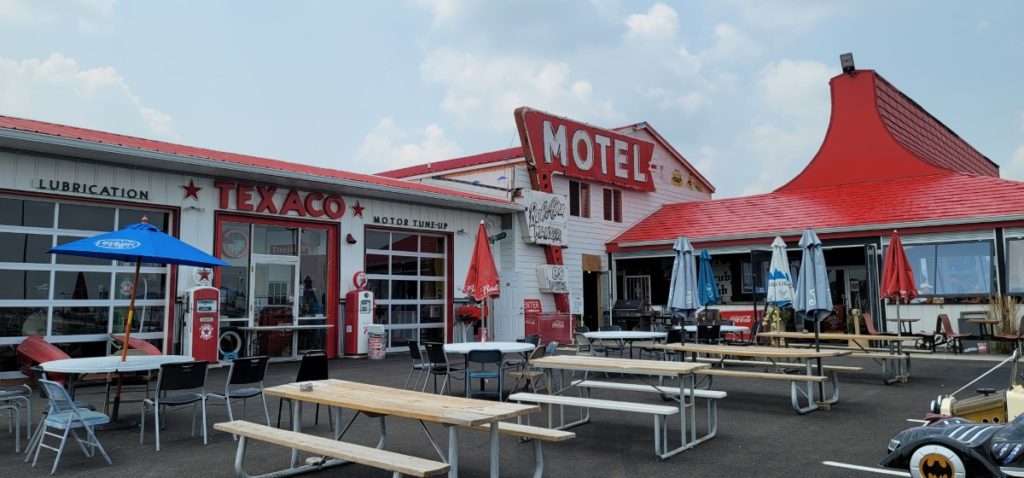 And somehow I missed it when we first walked in! It wasn't until I looked up after we were seated when I noticed the shiny undercarriage so take your time looking around.
Whether you're a full-blown gearhead or not, this place is cool.
During lunch, we kept finding new items on the walls to appreciate. "Look behind the bar!" my nephew points out. It wasn't the 18 tappers he was excited about, he saw the backend of three classic cars – yellow, blue, and red right in a row.
Inside the small museum housed in an old filling station, you'll find original gas pumps, old car parts, a 1915 Ford race car, and vintage signage from iconic Route 66 landmarks like the BelAire Manor Motel, Sonrise Donuts, and Shea's Gas Station.
READ NEXT: TOP THINGS TO DO IN PEORIA
Going along with the theme, browse the owner's manual and start your engines with an order of lug nuts – cheese curds.
For burgers and sandwiches, we went with The Standard, a classic 1/2 pound Angus beef burger topped with avocado, lettuce, pickle, onion, and tomato on a brioche bun; a Bootlegger, grilled chicken breast topped with applewood smoked bacon, pepper jack cheese, sriracha bourbon glaze, and caramelized onion served on a pretzel bun; and a Bacon Chicken Ranch Wrap with cheddar, lettuce, tomato, and ranch.
Click here if you've ever considered driving the Illinois Great River Road? Discover charming river communities, historic sites, beautiful state parks, and more!
Motorheads is a great 'pit stop' if you visit Springfield or if you're ever driving on I-55 from Chicago to St. Louis.
Address: 600 Toronto Road, Springfield
Knights Action Park
Established in 1930 near Route 66, Knights Action Park has been hanging in there for almost 100 years! Still family-owned, what began as a popular golfing range has expanded over the years to an amusement park, water park, and drive-in theatre over the course of three generations.
The amusement park features a driving range, go-karts, batting cages, The Big Wheel, miniature golf, and an arcade.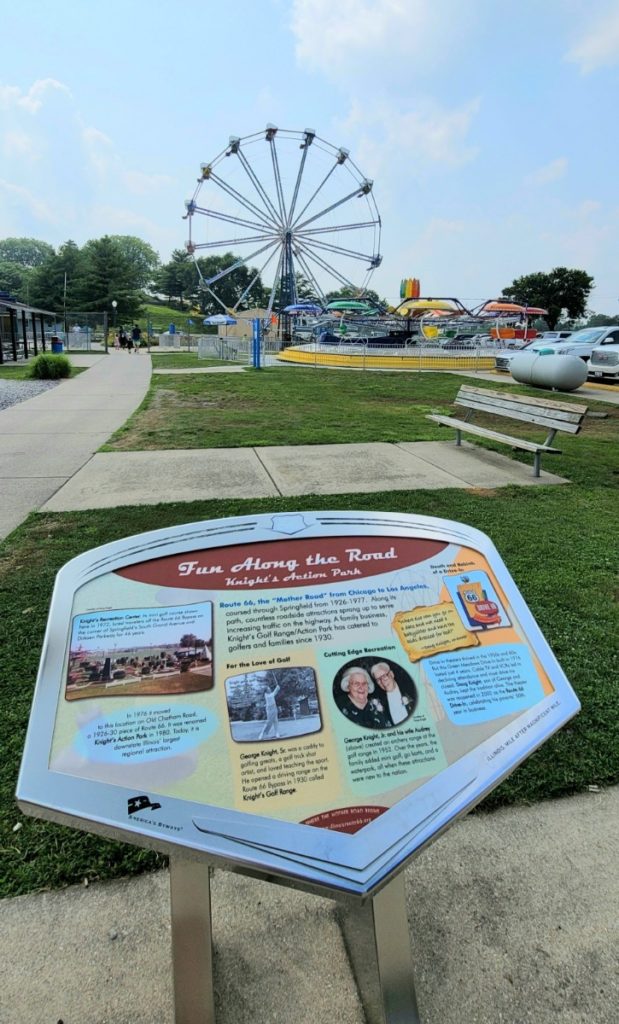 Since it was a hot summer day, we opted for an afternoon of sun and slides at the water park, Splash Kingdom.
Whether you want to relax and soak in some rays or hit the fast-paced rides, there's something for all ages.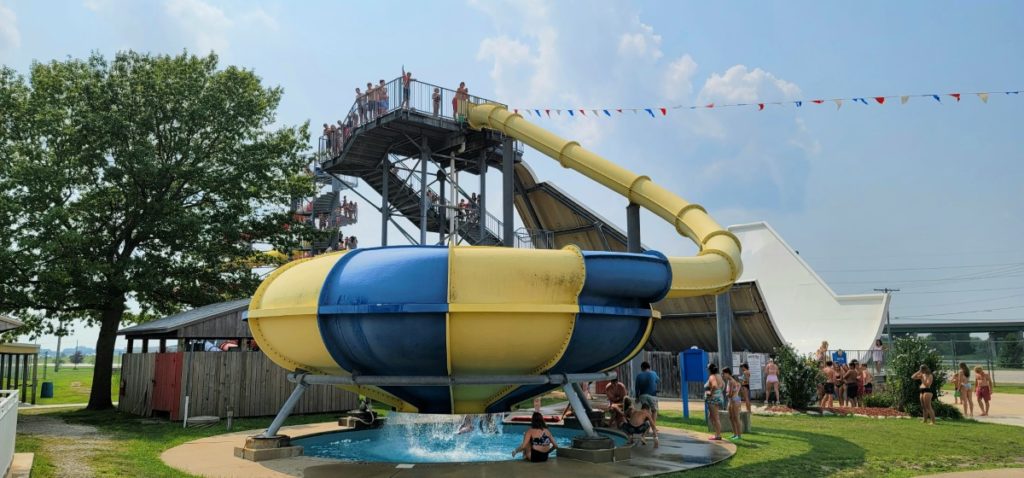 Choose between eight waterslides, a long lazy river, a giant wave pool, and a few play areas, or do them all! Either way, you'll have a good time splashing around.
Address: 1700 Knights Recreation Drive, Springfield
Dinner at D'Arcy's Pint
It's time to learn what a Springfield horseshoe is! We heard of this famous Illinois dish but had never tried it.
Everyone told us D'arcy's Pint is one of the best places to order one so off we went. And we are so glad we did so we can pass along the great suggestion to you.
The open-faced sandwich is made with thick slices of toasted bread as a base, your choice of meat in the middle, a mega mound of French fries on top, and is doused in a creamy cheese sauce.
Attention: this is not your average order of cheese fries, whatever is in that sauce will cause severe addiction.
If you want to expand your horizons beyond the delicious fry plate, there's an extensive menu to choose from.
Along with authentic Irish fares such as shepherd's pie and corned beef and cabbage, D'Arcy's also offers salads, sandwiches, burgers, and pizza.
My guess is you won't be disappointed as we enjoyed everything we ordered.
Address: 661 W Stanford Avenue, Springfield
Day 2: Saturday
Breakfast at the Old Capitol Farmers Market
The Old Capitol Farmers Market, established in 1999, is a one-stop spot to sample a few different area vendors. Plus, it's a great way to support local farmers and restaurants and to get a feel for the community.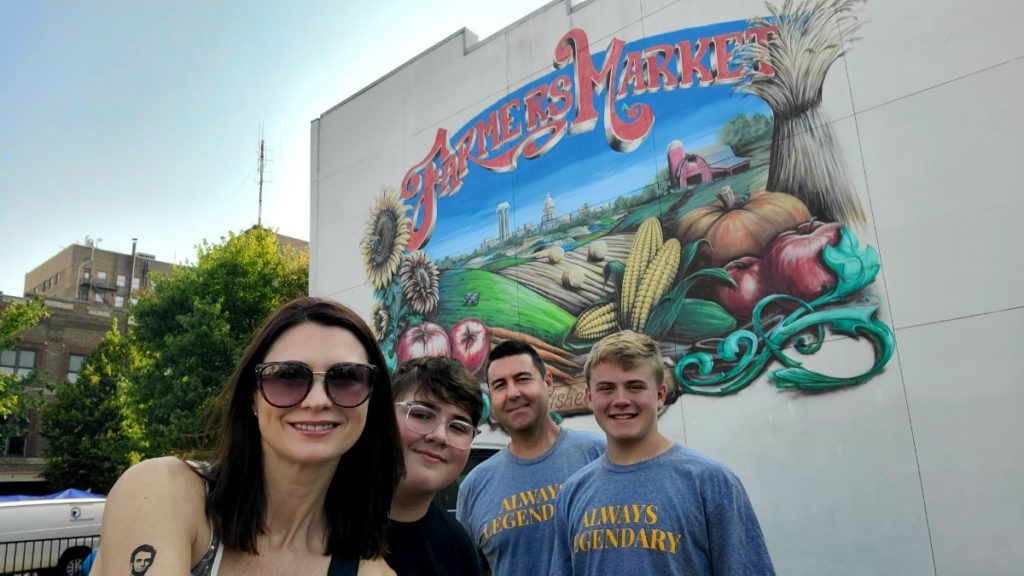 Two words come to mind from our morning at the market: fresh and delicious.
We chose our breakfast goodies based on the length of the lines and ended up with a few homerun selections: lemon blueberry bundt and gooey butter cakes from A Lil' Sumpin' Special food truck and ham and cheese and chocolate croissants from Incredibly Delicious.
The market runs mid-May through the end of October on Wednesdays and Saturdays from 8:00 – 12:30 pm. If it's not open when you visit, spend the morning at Incredibly Delicious, the beloved bakery serves breakfast, lunch, and desserts on 7th street in a beautiful historic mansion.
Address: 4th and Adams, Springfield
Springfield Visitors Center
No matter what city or town you are exploring, we always recommend finding the Chamber of Commerce or Visitors Center because they have the best advice, information and maps.
PRO TIP: Before heading over to the Visitors Center, I suggest stopping at the Lincoln Home Visitors Center to pick up your free tickets for the house tour. They can easily book up over busy weekends so it's a good idea to reserve tickets early.
The Springfield Visitors Center is no exception; there are a few reasons to swing by. You can pick up an Explorer Passport with Abe's Hat Scavenger Hunt, a fun game to play while visiting different key attractions throughout the city.
Use the clues to figure out where the hidden hat is located and match the correct color to the correct location at six different sites to collect a prize.
The Passport also has the Route 66 Living Legends of Springfield, featuring current business owners that help keep the Mother Road's memory alive. You'll find some of the places we mention here like Motorheads, Cozy Dog, and Knights Action Park but also treasured locations like Maldaners, a fine dining establishment operating since 1884, one of the oldest restaurants on Route 66.
The Visitors Center is housed in the historic Tinsley Building where Abe practiced law with his partner, William H. Herndon, from 1843 to about 1852. Lincoln worked out of many places throughout the city but the Lincoln-Herndon Law Office is the only one still standing.
Take a look around the restored law office as well as a recreated U.S. Post Office that was also in the building when Lincoln worked there.
Address: 1 S Old State Capitol Plaza, Springfield
Abraham Lincoln Presidential Museum
Abraham Lincoln Presidential Library & Museum is a must-visit attraction in the city. It is impossible not to be captivated by the holograms, three-dimensional exhibits and life-size dioramas on display.
We have been to a lot of museums throughout the country and have never experienced anything quite like it.
The museum does an excellent job sharing Lincoln's life story from boyhood to his death and the important legacy he left behind.
If you want to make your visit extra special, plan your trip around the History Comes Alive summer program. Abe and Mary make an appearance on Fridays and Saturdays at the museum.
Address: 212 N. 6th Street, Springfield
Union Square Park
Located across the street from the Lincoln Museum, is Union Station, a historic train station that was open for an extended period of time from 1898 to 1971.
While the station is currently closed to the public, the elegant brick building and tall clocktower make for a great backdrop for the lovely Union Square Park.
Sit on a bench with Lincoln surrounded by colorful flowers, pretty landscaping, a gazebo, and a few other memorable statues.
Address: 500 East Madison, Springfield
Lunch at Cozy Dog Drive In
One of the most popular Route 66 attractions in the city is Cozy Dog Drive In – the birthplace of the original corn dog on a stick.
It's diner meets fast food with a Route 66 flair. From the simple sign outside to the nostalgic surroundings inside, the diner takes you back to simpler times.
The restaurant is still family-owned by the third generation of the founders and the Cozy Dogs are still made with the same original recipe.
The dogs are crispier than any other corn dog we've had but with a light fluffy inside once you bite into it. It also has a 'cornier' flavor than most – more like actual cornbread. Good? You bet!
You know you've found a gem of a place when you hear locals and visitors alike enjoying a meal at a long-standing establishment.
Address: 2935 S. 6th Street, Springfield
Lincoln Home National Historic Site
Now that you're fueled up, time to explore the Lincoln Home National Historic Site, the only home Lincoln ever owned. He lived here with his family for 17 years from 1844 to 1861 before moving on to the White House.
The free 25-minute tour provides an intimate look into their daily lives with many pieces inside the home originally belonging to the family.
Afterward, take a stroll and walk in the footsteps of what many consider the greatest leader our nation has ever seen.
The four blocks in the neighborhood is pedestrian-only and well-preserved with other restored homes – a few open to the public.
Address: 413 S. 8th Street, Springfield
Dinner at Obed and Isaac's Microbrewery and Eatery
Whether you are sitting in the historic mansion where local art hangs on the walls, outside on the quiet patio with lights strung overhead, or at a picnic table next to the chill bocce beer garden, Obed and Isaac's Microbrewery and Eatery is a fabulous option for a meal.
Along with the horseshoe, the local favorite, expect salads, flatbreads, burgers, and wrap options on the menu.
Our delicious picks were salmon filet on a bed of red beans and rice, hand-breaded chicken and buttermilk waffles, a cheeseburger with Angus beef on a pretzel roll, and a turkey club with creamy homemade mac-n-cheese.
And to wash it all down, adults can order a flagship beer like our favorite hoppy Isaac's IPA or a rotating seasonal like Blueberry Wheat or Oktoberfest.
Address: 500 S. 6th Street, Springfield
Day 3: Sunday
Breakfast at Charlie Parker's Diner
Ever eat in a Quonset hut before? Driving by, you'd never guess this World War II-era storage shed was home to Charlie Parker's, a hoppin' 50's diner slinging breakfast daily.
Contrary to the plain appearance on the exterior, you are greeted with neon lights, retro red furniture, and a checkered floor on the inside. Vinyl records adorn the walls along with vintage signs and pictures of cultural icons from the twentieth century.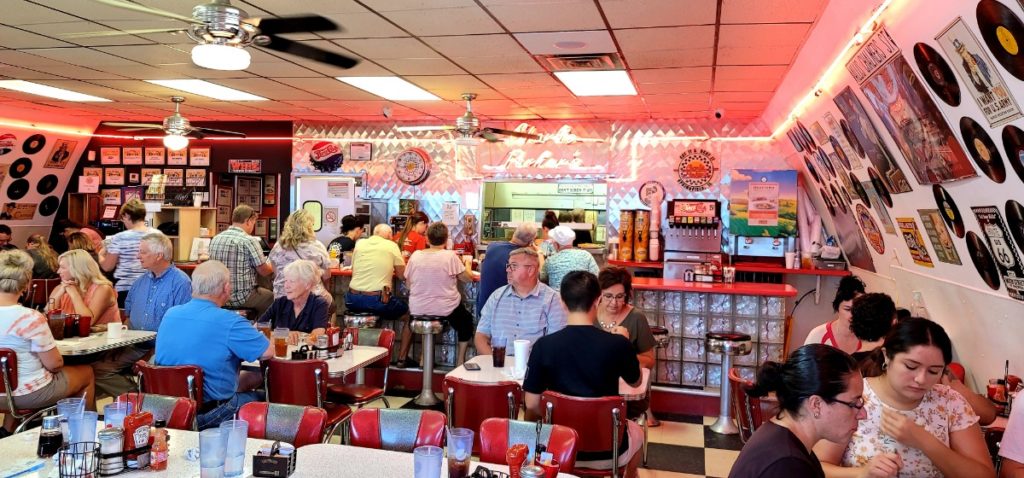 With pancakes the size of a small pizza, mouthwatering biscuits and gravy, and classic hashbrowns, the undercover eatery is the perfect kick-off to your last day in Springfield.
Address: 700 W. North Street, Springfield
Illinois State Capitol Tour
It's hard to miss the Illinois State Capitol and its towering silver dome rising above all the other buildings in town. In fact, Illinois has the tallest non-skyscraper capitol building in the United States, even taller than the U.S. Capitol in Washington D.C.
You'll learn that fun fact and a few others on the free guided tour.
If you are short on time, you can walk around the first floor on your own but you won't see all the special paintings, statues, and chambers upstairs on the other levels so I highly recommend the tour.
The current building, completed in 1888, is the sixth capitol in Illinois – one in Kaskaskia, three in Vandalia, and two in Springfield.
The dome is made up of 9,000 pieces of stained glass and at the center, you can see the state seal.
There's marble and granite everywhere, exquisite artwork, crystal chandeliers weighing 750 pounds each, ornate railings and elaborate reliefs; it is stunning inside and out.
Address: 301 S. 2nd Street, Springfield
Lincoln's Tomb and Oak Ridge Cemetery
Springfield is not only where Lincoln lived and worked, but it is also his final resting place, along with his wife and three of their four sons.
Located within the Oak Ridge Cemetery, the Lincoln Tomb State Historic Site – with the exception of rubbing his shiny nose for good luck – is a somber experience but one that should not be missed.
The granite monument and tomb sit on top of a small mound in the back of an expansive grassland. From 9 am – 5 pm daily, the tomb is open to visitors.
The self-guided tour begins in a rotunda where you'll turn right through a short hallway lined with statues to his massive marble headstone. Lincoln is buried ten feet below in a vault.
Address: 1500 Monument Avenue, Springfield
Lake Springfield and the Lincoln Memorial Garden
Did you know Springfield has a lake? If you've driven I-55 you probably noticed the reservoir on the southeast edge of town. We found two places on land to take in the views.
On the northern end, a boardwalk connects the east and west sides of Tom Madonia Park. It's a short walk, but fun nonetheless to get over the water and see the ducks, geese and turtles.
Both areas provide parking, waterfront picnic tables, pavilions, and fishing is allowed.
On the southern end, the Lincoln Memorial Garden provides 5 miles of hiking trails through the types of prairies and woodlands that would have been present when Lincoln was alive. The 100-acre garden also memorializes him with benches inscribed with his quotes.
While here, do not miss the larger-than-life troll off the main trail between Lake Springfield and the Nature Center. Inspired by the famous visual artist, Thomas Dambo, the gentle giant is 9 feet tall with size 42 shoes.
If You Have More Time
Even with this extensive itinerary, there are still many other neat things to see and do in the city. Other noteworthy tourist attractions for your next trip or if you are visiting longer than a weekend include the Dana-Thomas House, a Frank Lloyd Wright Design, Illinois State Museum, Thomas Rees Memorial Carillon, and the Old State Capitol, where Lincoln gave his famous House Divided speech.
Consider Engrained Brewery even if you're not a beer drinker, the farm-to-table restaurant offers great craft beer but also excellent food.
If you are looking for things to do in Springfield, IL for couples, consider visiting a winery in the area. Danenberger Family Vineyards is known for its award-winning wine and fun live music scene. Take a stroll in Washington Park Botanical Garden along with a dinner at Mariah's Steakhouse & Pasta.
Where We Stayed – Crowne Plaza Lodging
I can't tell you how many times, we've seen the imposing Crowne Plaza while driving down I-55 on our way to St. Louis. And we finally got to stay there!
With 288 guestrooms on 14 floors, the Crowne Plaza is a huge hotel with a conference center and meeting rooms as well. We stayed in separate rooms so we had the opportunity to experience two different types.
Full Disclosure: Some of the links included in this article are affiliate links, if you book through it we will receive a small commission at no additional charge to you.
The two-room executive king suite has a lot of extra space in the living room with a pullout sofa, table, refrigerator and half bath. A sizable bathroom is attached to the bedroom that also has ample space with room for a desk.
It's always a bonus to go back to a comfortable room after a long day. And that's exactly what we found at the Crowne Plaza. The double queen room is spacious as well with comfy beds and a desk.
Both rooms have plenty of outlets and are nicely decorated.
One of the coolest features at the hotel is the rooftop terrace where you can take advantage of the indoor pool, hot tub, sauna and the Springfield skyline view.
Conveniently located just minutes from all the major attractions, Crowne Plaza is a great option for families, couples, or solo travelers.
Address: 3000 South Dirksen Parkway
So, if you're asking yourself is there anything to do in Springfield Illinois? The answer is YES!
Have you ever been? What are your favorite things to do in Springfield Illinois? Let us know in the comments below!
On Pinterest? Please share!

>