Kenosha County is big on family fun and one of the latest escapades I had the opportunity to experience is a day at Boundless Adventures, a tree-top aerial park in Bristol.
If you're looking to make unforgettable memories, head on over to the outdoor playground! It's challenging, exciting, and you'll have a blast navigating through all the courses.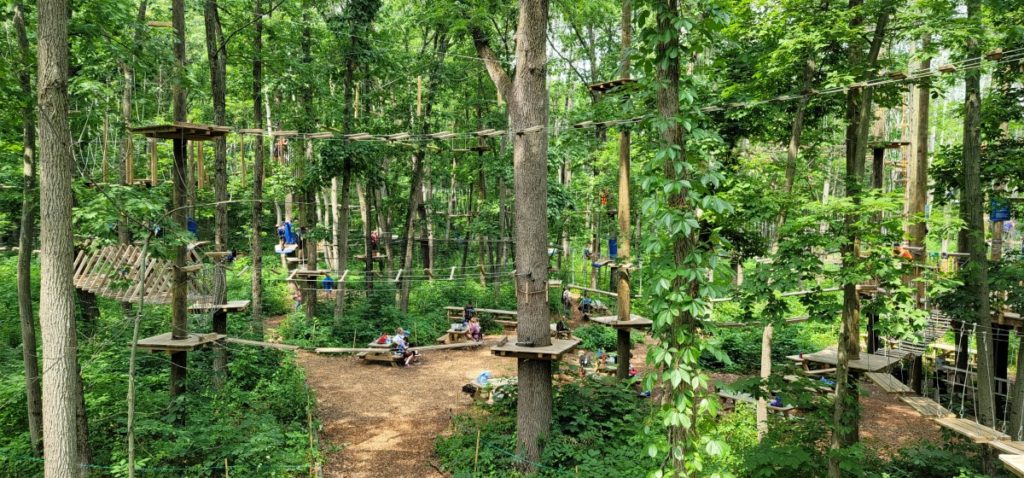 Even if you're scared of heights or never tried a park like this before, I say give it a go. With nine courses and four different skill levels ranging from beginner to expert, Boundless Adventures has something for everyone but proved to be a great park for newbies.
Three out of four of my group were first-timers and super nervous. It was the topic of conversation the night before at dinner with bets on who would last the longest.
And surprise, surprise after three full hours of crawling, climbing, soaring, twisting, and balancing, the girls were not ready to leave!
An easy hour drive from Chicago, combine your visit with a getaway to Kenosha, a charming Midwest town found right on Lake Michigan.
Planning a trip to the area? Make sure to read my Kenosha Travel Guide next for all the best things to do and places to eat to add to your itinerary.
Let's get back to your day at Boundless Adventures. Here's what to bring, what to wear, what to expect, restrictions, and discount ticket info below.
Full Disclosure: We were hosted for our visit, but all thoughts and opinions are my own. Some of the links included are affiliate links, if you purchase through it we will receive a small commission at no additional charge to you.
What To Bring
Water.
Snacks – Outside food is allowed and there are picnic tables available under the course so pack a lunch or be sure to bring snacks.
Gloves – zip line gloves are required but if you do not have a pair already, you can purchase with your ticket online or in person.
What To Wear
Baseball cap – A hat or head covering is not required but it is required to have long hair tied back.
Bug Spray – the bugs weren't terrible in the morning but they are definitely hanging around.
Sunscreen – most of the courses are in the shade but there are areas of the park you'll be in the sun.
Closed-toe shoes / Sneakers – no sandals allowed.
GoPro Chest Mount to capture all the activities hands-free.
Sporty Fanny Pack – to hold keys, money, and phone.
Stretchy/comfy workout top – If your top is too loose, it'll get bunched up when wearing the harness so it's good to wear comfortable clothes that are fitted.
Stretchy/comfy pants, capris, leggings, or long shorts with zippers for your car keys and phone if you don't bring a fanny pack.
A Day at Boundless Adventures, What to Expect
Once you check in at the office, where they also sell a few snacks, water, t-shirts, and gloves, you'll walk over to the equipment shed.
HOT TIP: Use the restroom before checking in and getting suited up. The restrooms are located right before the check in area.
One of the friendly staff members will take your sticker (has ages for kids or "A" for adult and your finish time) and will suit you up with the appropriate gear.
Then, you'll meet another crew member for a short intro and safety briefing.
Afterward, you'll practice using the clips on a line to make sure you are comfortable with the process.
And then, you're off!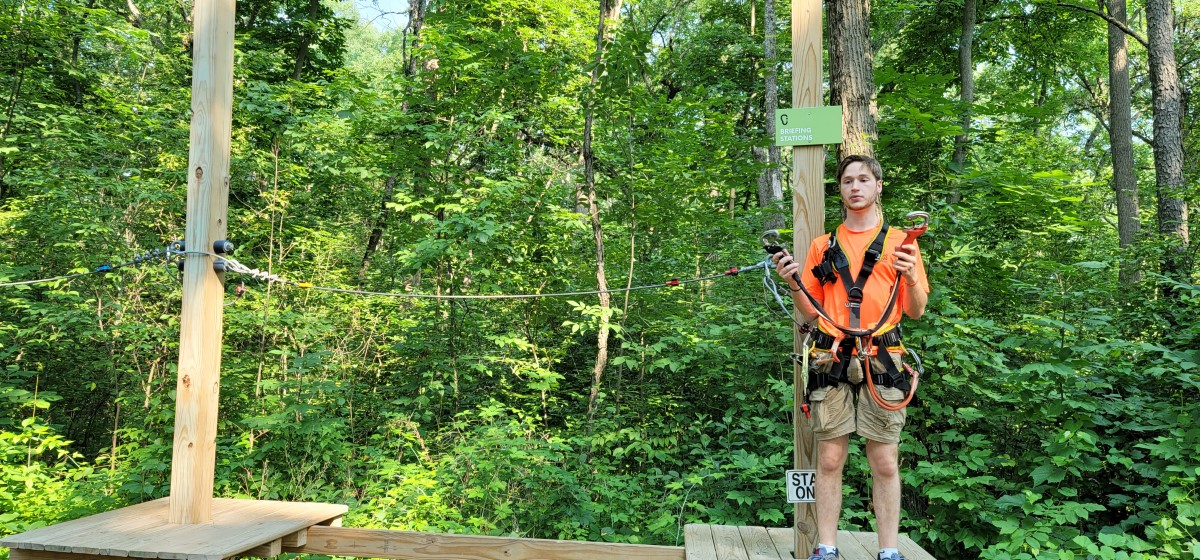 The courses go from light to dark for levels of difficulty starting with three yellow (beginner) courses. From there, you can choose between three green (intermediate), two blue (advanced), and one black (expert) course.
All the aerial trails begin at the starting platform.
On the platform, we asked a staff member which one was the easiest and she recommended the Honey Bee. After completing all three yellow ones, I agree that it's a good one to start with.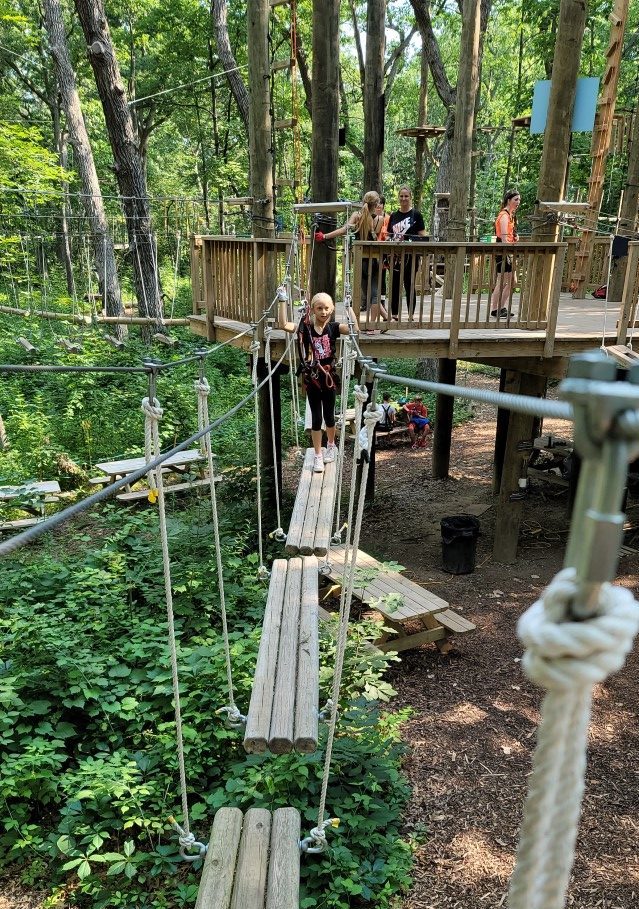 I went first and after ten minutes, the girls weren't even paying attention to what I was doing. They were completely comfortable guiding themselves and even wanted to be the leader on the next green course.
What I especially like at Boundless is that all the levels and all the courses have at least a few ziplines.
They get higher and longer the further up the skill level chain you go, but even the beginners could enjoy an easy smooth ride.
With over 100 rope bridges, 19 ziplines, and 3 leaps of faith, there's fun around every corner!
After completing the three beginner yellow levels, the whole group moved on to the intermediate.
What an excellent day outdoors! Whether you're looking to create memories with family or friends, build confidence, challenge yourself, or burn off some energy, Boundless Adventures is the place to be.
SEE BELOW FOR TICKET INFORMATION, DISCOUNTS & SPECIAL EVENTS
Pringle Nature Center
Boundless Adventures is connected to the Bristol Woods County Park. In fact, when you arrive you'll be in the same parking lot.
After you're done gallivanting through the trees at Boundless, take the short walk to the Pringle Nature Center.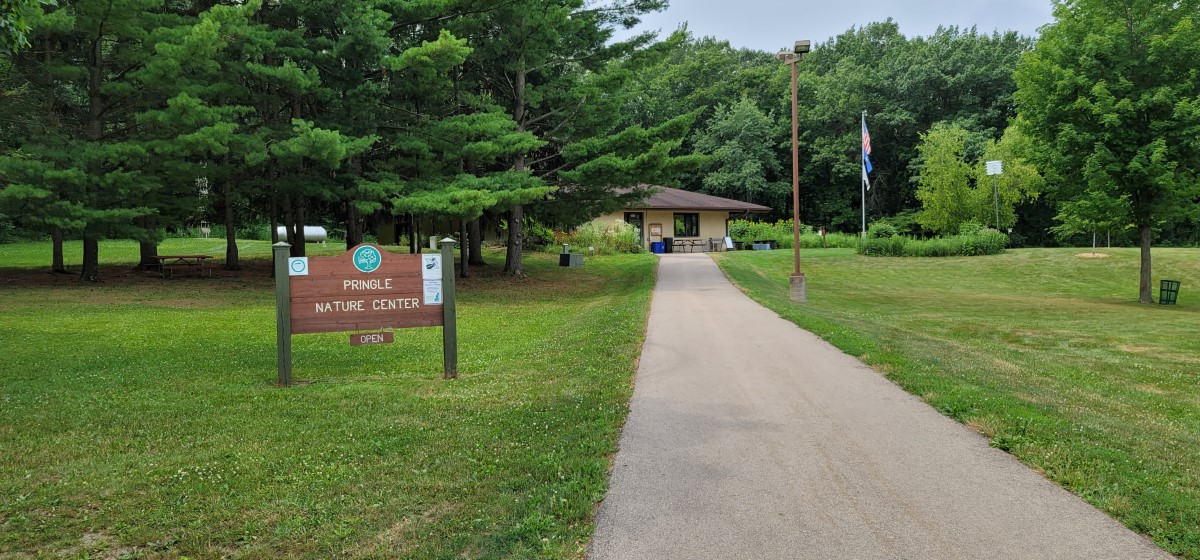 Inside, you'll find a few small exhibits with activities, animals, books and learning stations.
StoryWalk
Another thing to do at the park during the summer is to hike a StoryWalk. Placed along four different trails, are different children's books for you to follow as you go along.

Boundless Adventures Tickets
Boundless Adventures Kenosha Discount
25% off for College Students
10% off for Military and Seniors 65+
10% off when you Buy 10 Single-use Admission Tickets
Boundless Adventures Glow in the Dark Park
If you want to make your experience extra special, plan a Saturday night visit during the summer (the first and third Saturday from mid-May to mid-September) for a Glow in the Park adventure.
The park is lit up with neon lights, smoke machines create colorful fog and music is played throughout the area.
The themed nights like Beach Party, Star Wars, 80s Night, and Disney Night sound like a good time.
HOT TIP: Book early because these events are extremely popular.
Restrictions & Other Info
Weight: You must be under 265 pounds.
Height: No height restrictions.
Age: You must be 7 years old or older.
No dangling jewelry.
If You Like, Please Share on Pinterest!