Located midway between Milwaukee and Chicago is Kenosha, a charming harbor town situated right on Lake Michigan. The lakefront district provides a culturally rich, entertaining, and family-friendly getaway. Being only a little over an hour from Chicago, it's one of our favorite destinations in Wisconsin! Here are the top things to do in downtown Kenosha and the surrounding area.
Step back in time and cruise around downtown in an authentic electric streetcar, discover Kenosha's maritime history, climb a lighthouse, entertain dinosaur fans, learn about the Civil War and how it impacted the lives of people in the Midwest, enjoy the beach, or dine at one of the locally owned fantastic restaurants.
We found all of the above and so much more on multiple trips over the years.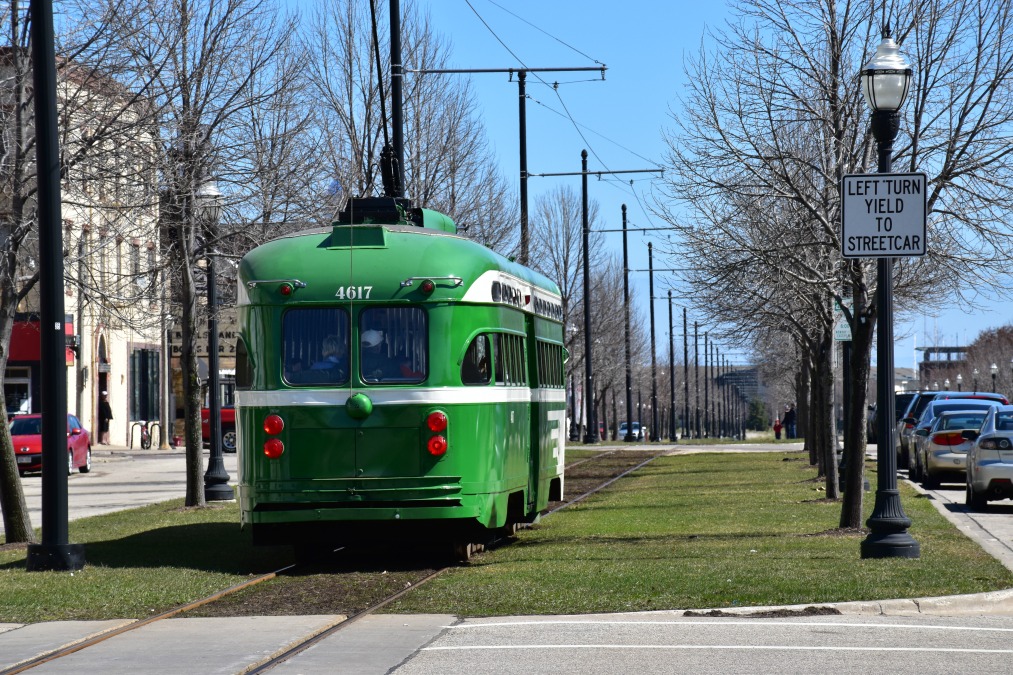 Full Disclosure: We were hosted on parts of our trips, but all thoughts and opinions are my own. Some of the links included are affiliate links, if you book through it we will receive a small commission at no additional charge to you.
Kenosha Lodging – Where to Stay

Unique Boutique with Best Location: The Stella Hotel & Ballroom, 5706 8th Avenue, Kenosha, WI (262) 842-2000.
We stayed at The Stella on our most recent visit and absolutely loved the location and rooms. Click here to read our full review for The Stella Hotel, a top-notch downtown Kenosha hotel.
Disclaimer: I earn from qualifying purchases. Some of the links included in this post are affiliate links and will provide me with a commission at no additional cost to you.
Waterfront:
Wyndham Garden Kenosha Harborside
,
5125 6th Ave, Kenosha, WI,
(262) 658-3281
Near the Brat Stop: Hampton Inn & Suites, 7300 125th Avenue, Kenosha, WI (262) 358-9800.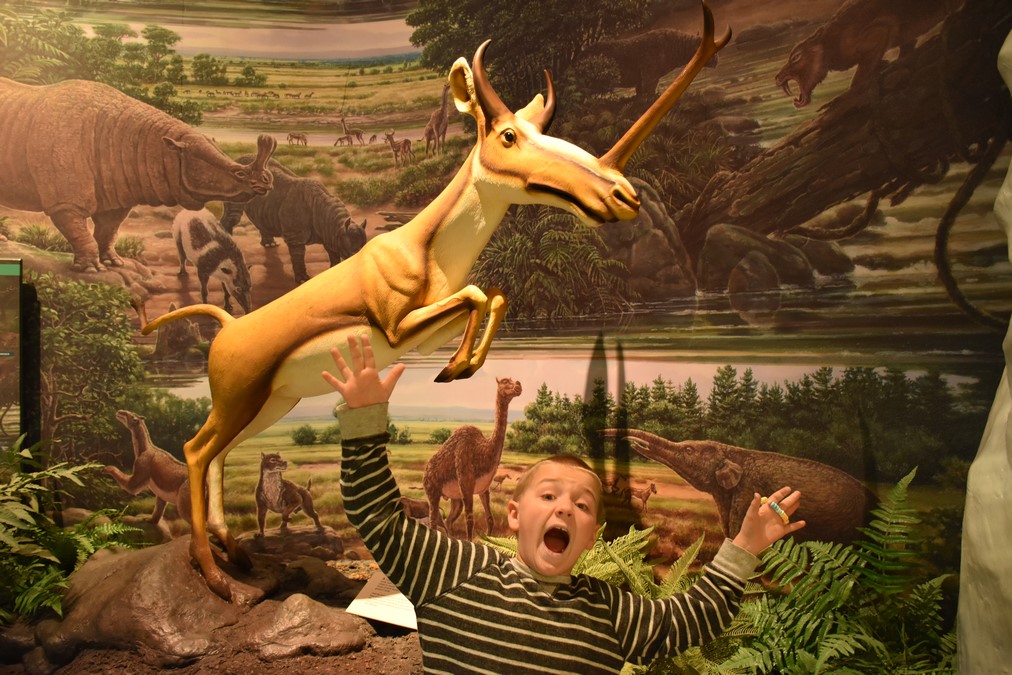 Fun Things to Do in Downtown Kenosha
Do you know what we love about Kenosha? Despite being the fourth largest city in the state, the downtown area has a small-town feel with a number of attractions (most of them free or budget-friendly) and restaurants within walking distance of each other.
Downtown Restaurants
So let's talk about food and drinks first!
Here are some of our favorites…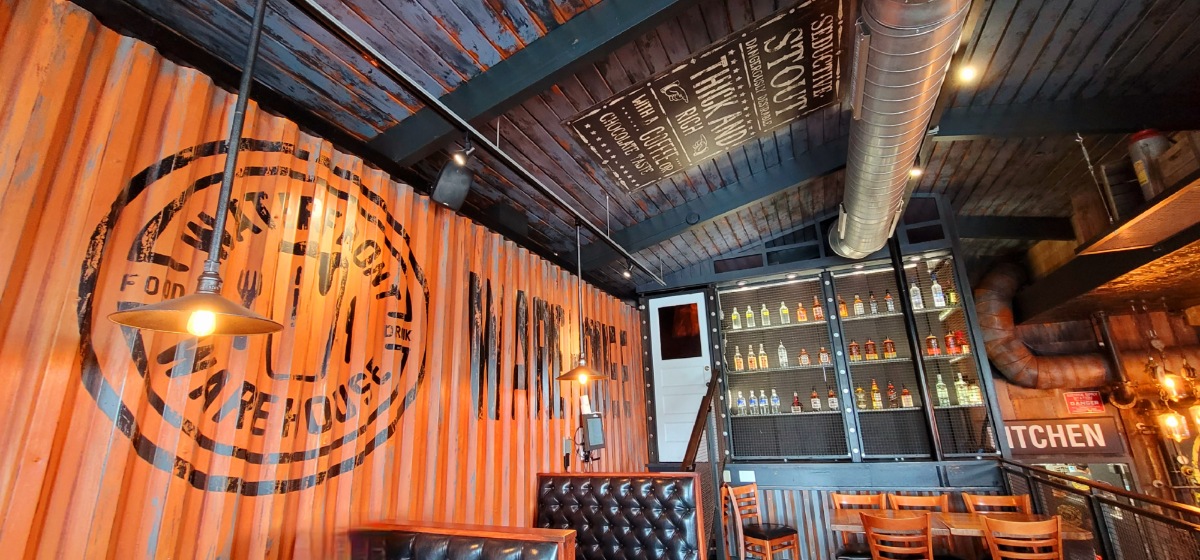 Waterfront Warehouse
From the fried Tijuana Roll appetizers mixed with chicken, creamy cheese, roasted corn, black beans, pico and jalapeños wrapped in wontons to the S'mores flatbread topped with marshmallow, chocolate, graham cracker crumbles, and whipped cream and everything in between, the food at Waterfront Warehouse (3322 Sheridan Road) is I-can-eat-here-every-day delicious!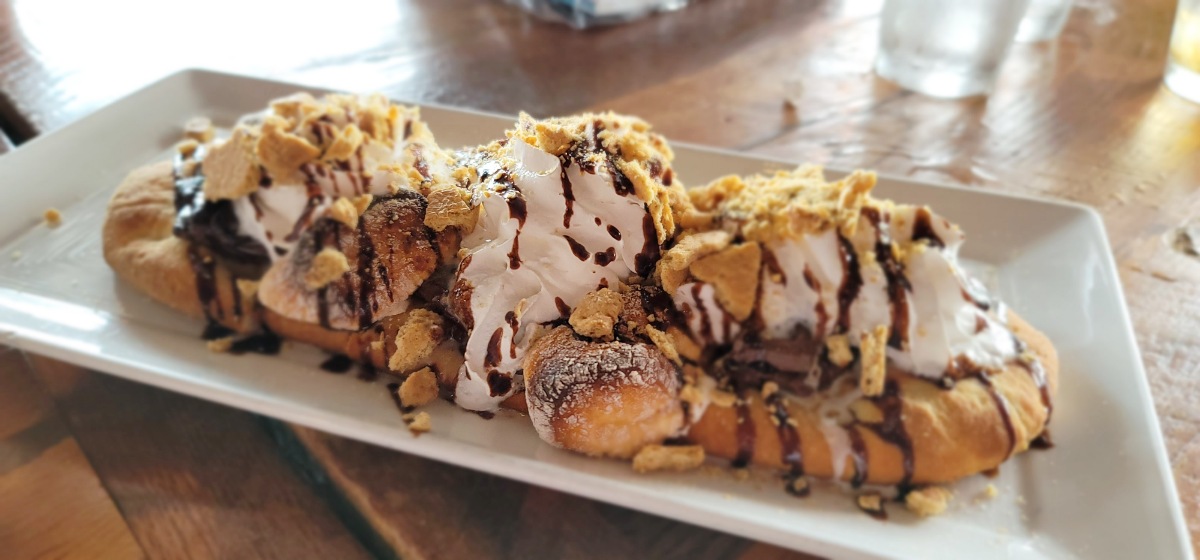 Not only is the food fantastic, but we adore the industrial vibe with the warm lighting, hardwood floors, and exposed brick.
Must-try: Wisconsin's Own Merkts Cheese & Bacon Burger. It comes with two beef patties, thick-cut Applewood smoked bacon, and Merkts signature cheese spread.
Kaiser's Pizza of Kenosha
Kaiser's Pizza & Pub (510 57th St) is the perfect spot to unwind after a busy day and is super family-friendly.
The kids were getting a bit loud at one point, but it didn't matter because there were other families and sports on the televisions to drown them out.
The menu is large with typical pub fare and a big children's menu. We ordered the delightful beer nuggets and tasty "world-famous" thin crust pizza that comes with – as might be expected – Wisconsin cheese.
Must-Try: Beer Nuggets. Pizza dough baked in olive oil, seasoned with garlic, oregano and Romano cheese served with homemade marinara sauce.
Scoops Ice Cream & Candy
Scoops Ice Cream & Candy (5819 6th Avenue) is a crazy cute ice cream shop right across the street from The Stella Hotel serving up premium Wisconsin-made ice cream and handmade candy.
The old-fashioned ice cream parlor makes its own waffle cones and even has vegan, no-sugar-added, and gluten-free options.
Definitely put this place on your list of places to visit when you plan a trip to Kenosha!
Must-Try: Oreo Cookie Cone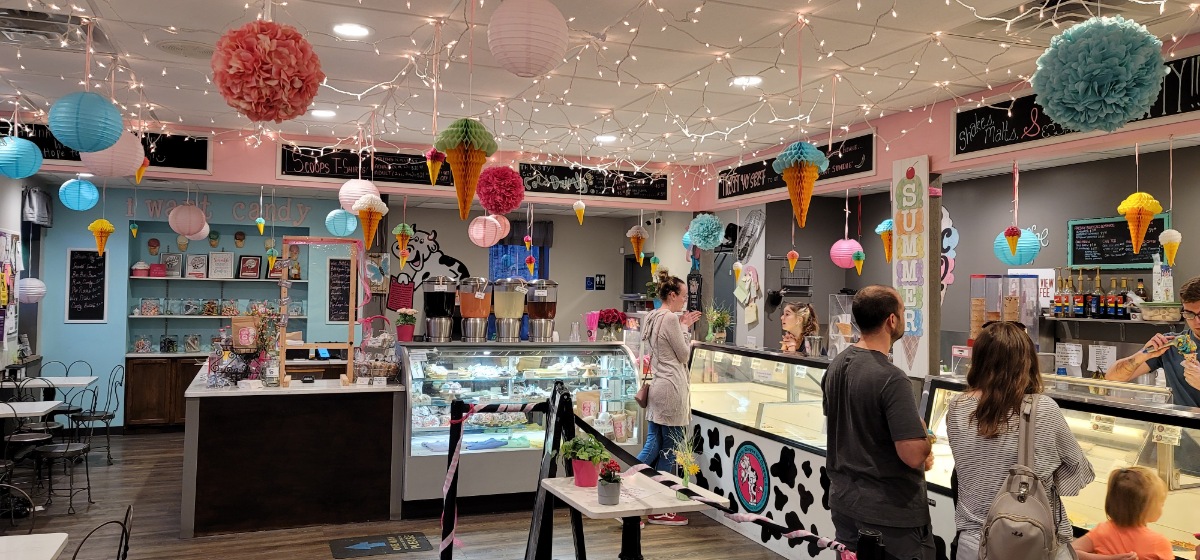 Boat House Pub & Eatery
The Boat House Pub & Eatery (4917 7th Avenue) is one of Kenosha's waterfront restaurants that'll make you feel like you just stepped off a vessel even if you didn't.
Known for their seafood dishes and flavored Long Island iced teas, the nautical-themed eatery can be found right off the lake in the harbor.
You can sit outside to watch the boats come in and out or take a seat inside and enjoy the bar and laidback atmosphere.
Must-Try: Fish Fry or The Meatball Bomber for the landlubbers.
Down Town'R Saloon
If you get a hankering for barbecue or some southwestern fare, walk through the swinging doors to Down Town'R Saloon. You'll be greeted with a warm smile and a welcoming attitude.
It'll be hard to choose between the inviting bar and the upstairs rooftop patio, but I'm sure you'll be happy with either decision.
The menu ranges from appetizers like Saloon Nachos topped with smokehouse chili or pulled pork and Cowboy Poutine made with seasoned fries, brisket, bacon and lime crema to tamales, tacos, and enchiladas to burgers, ribs, salmon and brisket.
Here are a few other Kenosha downtown restaurants that were recommended to us, but we didn't get a chance to try yet:
Trolley Dogs, 5501 6th Avenue – known for the Trolley Dog, a hot dog & tamale on the same bun.
Choo Choo Charlie's, 5414 13th Avenue – A train delivers the food.
Frank's Diner, 508 58th Street, is the oldest continuously operating diner in the US and has been on numerous "Best Diner" lists including Thrillist, Business Insider, and Chicago's Best Diner.
Tenuta's Delicatessen, 3203 52nd Street, is an Italian market known for cannolis and Italian food.
Vintage Streetcar Riding
Electric rail was how people got around in the early 1900s and you can see what it was like!
Kenosha operates seven different electric streetcars on a scenic 2-mile loop passing along the Lake Michigan shoreline, Metro Station, downtown Kenosha, HarborPark, and the Sculpture Walk.
The names and colors of the streetcars coincide with the cities that once operated streetcars as well.
It is a unique introduction to town or a great way to get around during your stay for a minimal fee.
$3.50 for an all-day pass. Children 4 and under are free, ages 5-12 only $0.50, and adults $1.00.
HOT TIP: Look for a vertical green sign that says, "streetcar" to designate a pickup spot and hop on when it quietly swings by.
We were fortunate to ride in three of the seven restored cars and the kids were ecstatic.
I don't know one child, or adult for that matter, that wouldn't enjoy a quick trip around town on the vintage cars.
Climb a Lighthouse
Built in 1866, the Southport Lighthouse is another must-do when in town. It served as a beacon for those out on the lake for 40 years before it was replaced by the bright red North Pier Lighthouse.
Today, the lighthouse and station are used as seasonal attractions. It's an exciting climb via the 72 steps to the top of the 55-foot tower for beautiful views of the harbor and the lake.
Open from May – October (must be 8 or older).
The house was restored and is now a maritime museum with exhibits documenting Kenosha's harbor history, with information on its lighthouse keepers, shipping and commercial fishing history.
It was placed on the National Register of Historic Places in 1990 and houses fascinating artifacts including an authentic Fresnel lens the size that used to shine from the Southport Lighthouse, period ship models, nautical charts and local shipwreck items.
Dinosaur Discovery Museum
Four of the five museums in Kenosha are free including the Dinosaur Discovery Museum. The kids will be in awe of the large hall of bones.
Upon entering the main exhibit, go to the left and make your way around to see the evolution of prehistoric meat-eating dinosaurs to modern-day birds, the only museum that has such a focus.
Stop and watch the video of paleontologists uncovering bones at an excavation site.
The main gallery explains where dinosaurs came from, what they looked like, what they ate, and how we know they existed.
The Little Clint, The Story of a Baby Dinosaur, exhibit, tells the story of a 3-year-old Tyrannosaurus rex, one of the youngest T. rex bones ever discovered. This area is interactive with puzzles, games, and a Dino Dig area for children ages 3 – 10.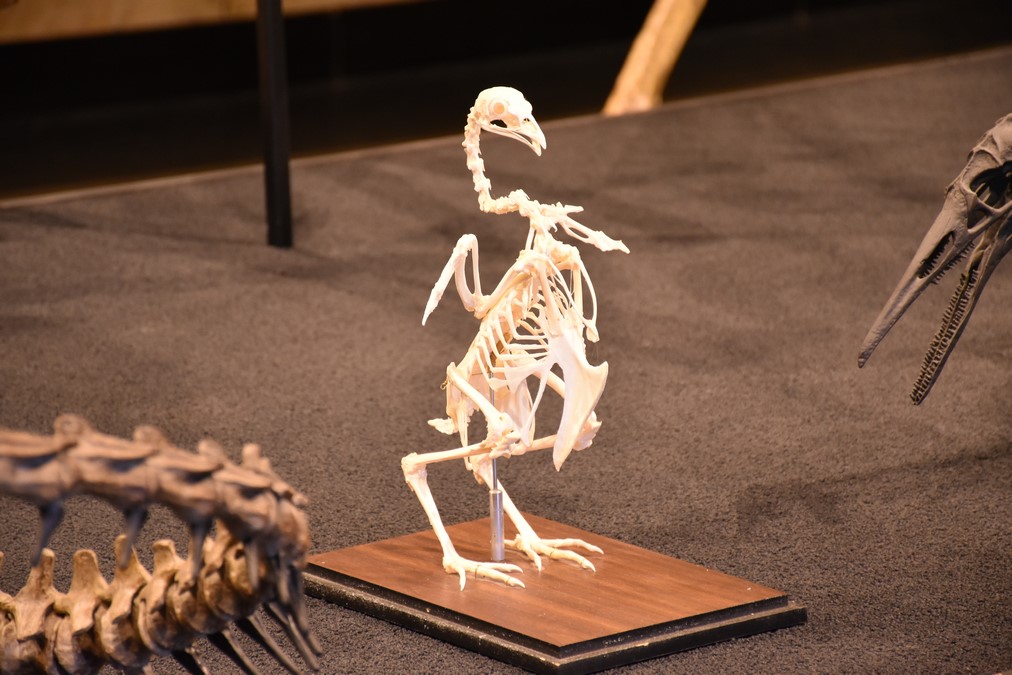 On the lower level is a classroom and play area with dinosaur puzzles, books, and coloring. Take a look in the big viewing windows to see the Carthage Institute of Paleontology's on-site research lab.
None of the crew were there (they were digging in Montana on our last visit), but you could see the partial skull of a Triceratops previously excavated.
The museum includes one exhibit, a gallery and a lower-level activity center so it doesn't take too long to explore. Plan for 45 minutes to an hour.
Kenosha Public Museum
Who knew the largest and most complete wooly mammoth skeletons in North America ever excavated were found in Kenosha County? Not us!
You'll find the Schaefer and Hebior mammoth exhibit and so much more at the Kenosha Public Museum, another free and incredibly captivating Smithsonian Affiliate museum.
Once inside, follow the geological timeline starting with prehistoric sea creatures, fossils and dinosaurs lining the pathway.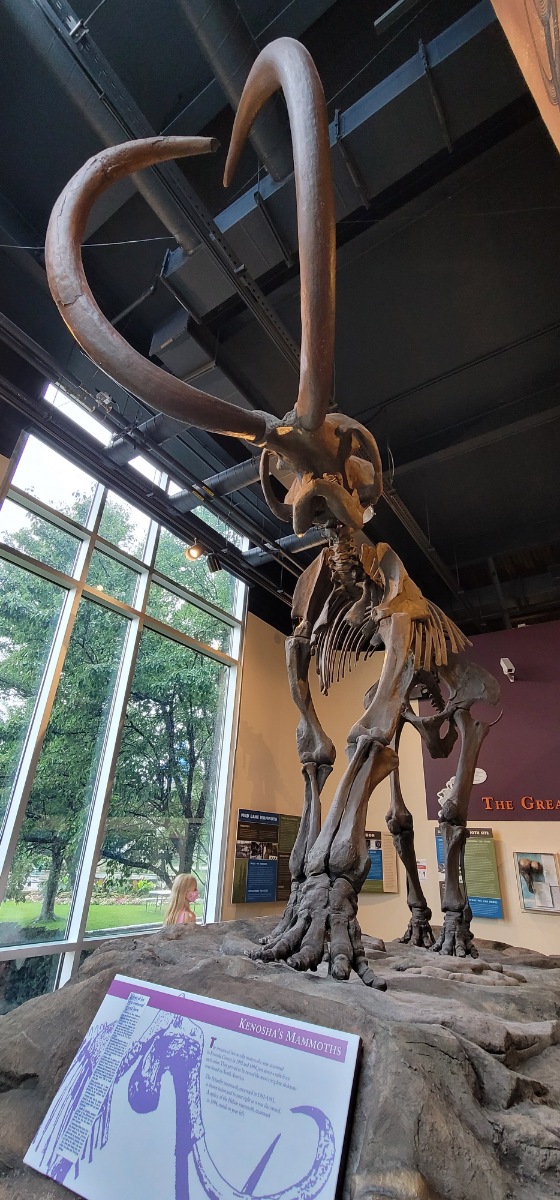 Then, follow along through a Native American village exploring how the natives came to Wisconsin and lived off the land through all four seasons.
Upstairs, walk through the 1600s Cabinet of Curiosity. It's an interesting perspective on how human curiosity led to the development of natural sciences. The closet-like exhibits show how museums got their start with personal rare collections of gemstones, coral, plants, skeletons, and more.
Across the hall, you'll be face to face with many local and exotic animals throughout six different global ecosystems in the taxidermy exhibit.
Ever look a bear in the eyes? It's a little intimidating let me tell you!
The rotating gallery of decorative and fine arts is also upstairs. Spend time enjoying the works of talented artists in this section. Beautiful watercolor paintings were on display for our visit.
There's a lot to see and learn at the museum which makes it one of our favorites in Kenosha.
Hot Tip: Don't miss the great view upstairs of the Kenosha Pierhead Lighthouse and Lake Michigan.
Plan for two hours or so depending on if you have children that will play in The Field Station.
Walk the Parks, Beaches, and Trails Along the Lakeshore
Take advantage of the most popular attraction in the area – the spectacular Lake Michigan, one of the largest freshwater lakes in the world!
Nearly 90% of Kenosha's shoreline is accessible to the public so there are numerous parks and paths to take advantage of.
Take a stroll along the harbor to see the various interesting works of art which rotate to keep things even more interesting, and you'll also discover a splash pad, marina, and flower gardens.
Bouncing across the big rocks and taking pictures next to all the sculptures on the Kenosha Sculpture Walk is another fun free thing to do in town.
There are a few beaches in Kenosha, but the two popular ones are right downtown: Eichelman Park and Simmons Island Park.
Both have free parking, playgrounds, public beaches, and a walking/biking trail.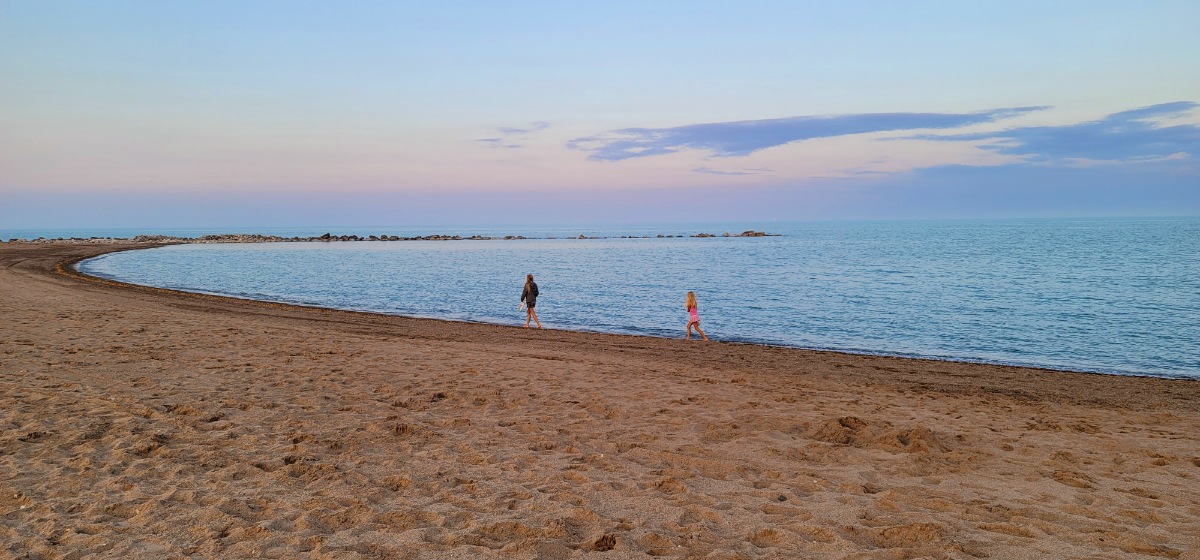 Civil War Museum
The Civil War Museum is the only Kenosha museum that charges an entrance fee, but we think it is so worth the nominal cost.
The interactive displays, life-size dioramas and 360-degree movie experience are impressive and the high quality and personal touch amazed us. The entire group was engaged throughout the entire museum.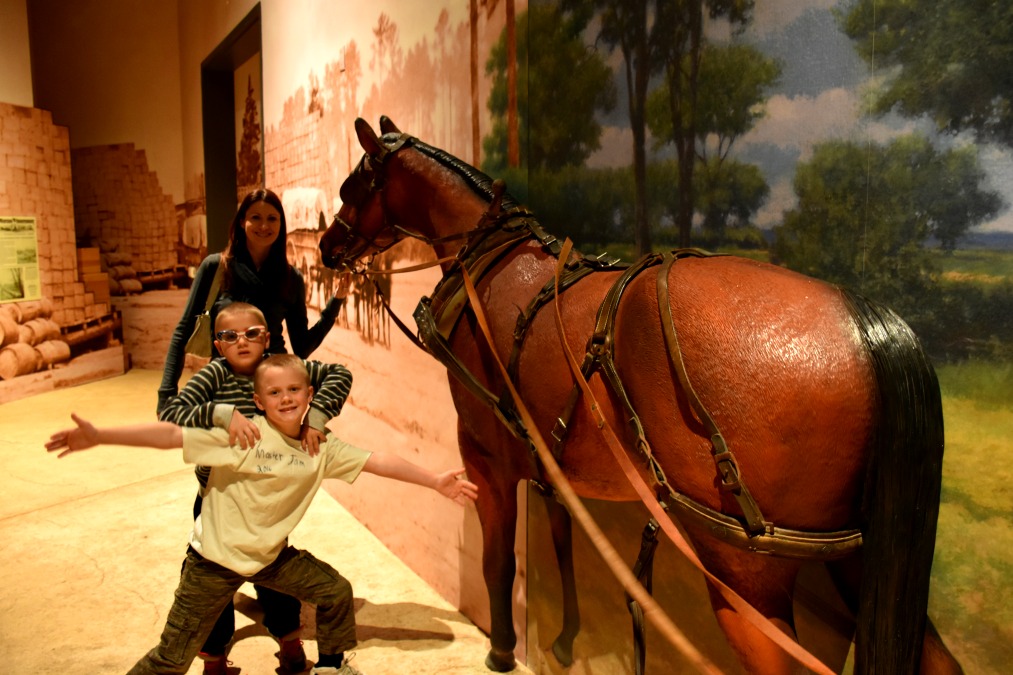 The museum illustrates what the average citizen's mentality was before, during and after the American Civil War. It focuses on the perspectives of people from the seven states of the upper-middle west: Illinois, Indiana, Iowa, Michigan, Minnesota, Ohio and Wisconsin.
Do not miss the movie, Seeing the Elephant; it's a 10-minute immersive experience telling the heartfelt tale of the Civil War through the eyes and experiences of soldiers.
I wasn't sure how the kids were going to like it, but they watched with their mouths hanging open and their eyes growing bigger with every blast of the cannon that shook the ground.
For a short film, it's quite powerful. It does a great job of making you feel invested in the lives of the soldiers and knowing their intimate thoughts and feelings. It's a unique experience and definitely one you won't want to miss on your visit.
Kenosha Downtown Shops
The historic downtown Kenosha area is home to a few specialty stores that are fun to explore. You'll find sports memorabilia, sweets, treats, gifts and more.
Blue House Books (5615 7th Avenue) is a quaint book shop that carries a good selection of literature. The store also hosts events like storytime and book signings.
Another local gem is the Duck Duck Goose Children's Shop (5811 6th Avenue) where you'll find educational, creative, and entertaining toys for the kids. The store carries brands like The Learning Journey, Melissa and Doug, Haba, Green Toys, and Fat Brain.
Kenosha History Center
Here we go again with yet another fantastic free museum.
The Kenosha History Center, located next to the Southport Light Station, was a pleasant surprise. It's a small museum with a wealth of information about Kenosha and its past.
The Yesteryear Gallery, shows us what it was like in the city back in the 1800s and 1900s complete with an oxcart, railroad depot, post office, General Store, one-room school, blacksmith shop, and a barbershop.
We learned that the creator of the modern typewriter was a Kenoshan, Mr. Christopher Latham Soles. He invented the still-used QWERTY keyboard which we still use today.
Take a cruise down memory lane in the car section detailing how auto manufacturing was big business back in the day and with a look at an impressive toy collection.
*Although the History Center is free, donations are appreciated.*
Birthplace of Orson Welles
Have you seen Citizen Kane? Orson Welles, one of the most celebrated American filmmakers, was born in Kenosha.
On 7th street, look for a blue and white 19th-century duplex and a placard on the front lawn to commemorate where he lived.
Seasonal Events including the HarborMarket
There's always something going on in Kenosha especially in the summer. Take your pick from free concerts, festivals, car shows, art exhibits, movie nights, and yoga in the park.
Every Saturday from the beginning of May through the end of October, over 80 booths line up at the HarborMarket, an open-air market featuring the best vendors around town.
RELATED: DO NOT MISS THESE MIDWEST SUMMER FESTIVALS
Other Things to do in Kenosha or Nearby
Bristol 45 Diner
It's throwback time! The Bristol 45 Diner takes you straight back to the 1950s with bright red walls and red and white booths and bar stools.
You can't go wrong ordering breakfast that's served all day at this colorful joint.
You'll spend the short time waiting for your food browsing the memorabilia pinned all over the wall.
The rural Kenosha restaurant offers up great food, a vintage vibe, and an extremely welcoming staff.
HOT TIP: You can combine your visit with a trip to Boundless Adventures (below) since it's less than 5 miles away.
Boundless Adventures
Boundless Adventures is roughly thirty minutes outside of downtown Kenosha in Bristol, but totally worth the drive. It's an entertaining attraction the whole – active – family will love.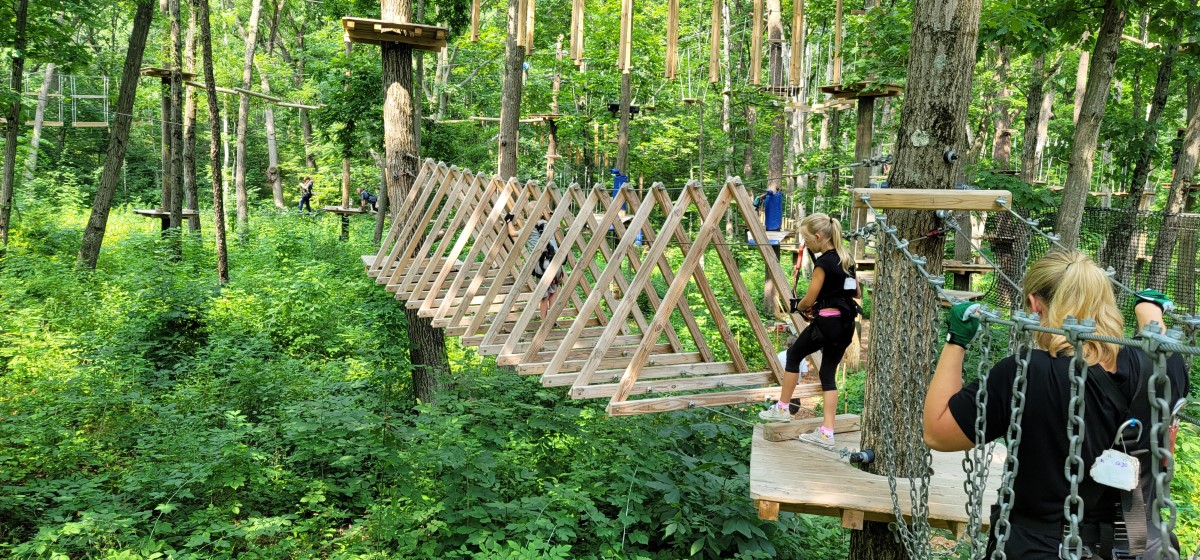 The aerial adventure park is up in the trees giving it an extra sense of adventure and has four different skill levels from beginner to expert having something for everyone.
The courses go from light to dark for levels of difficulty starting with three yellow (beginner) courses. From there, you can choose between three green (intermediate), two blue (advanced), and one black (expert) course so there's plenty to do.
Even our group, who three out of the four were scared of heights, made it to the green level. And after three full hours of climbing, soaring, balancing, twisting, and crawling the girls were not ready to leave.
Before you hit the ropes, click here to read our article on what to wear and what to expect at Boundless Adventures.
The park has over 100 rope bridges, 19 ziplines, and 3 leaps of faith.
It's a great way to enjoy the outdoors, add some excitement to your trip, and get a bit of a workout in!
Daily Dose Cafe
With the first bite into my breakfast panini at the Daily Dose Cafe (6010 40th Avenue), I knew the bread had to be made fresh and my guess somewhere locally.
And I was right. The waitress told us it's from the bakery down the street.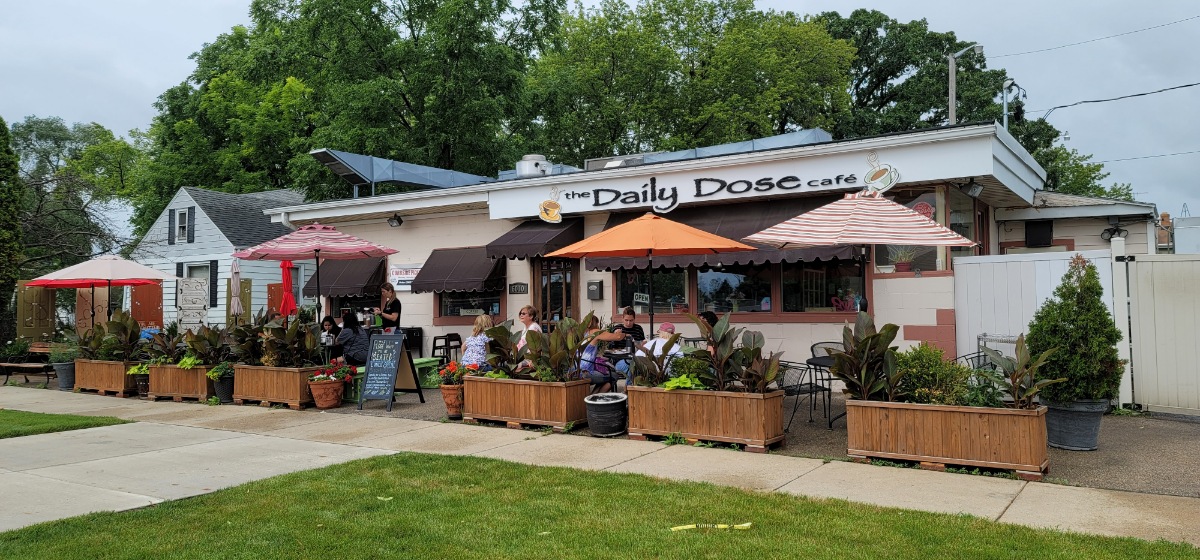 The cozy neighborhood eatery has delicious strong coffee, great paninis, and a nice outdoor patio.
Mars Cheese Castle
Minutes across the Illinois-Wisconsin border is the Mars Cheese Castle, a specialty food store with a taproom, bakery, delicatessen, and gift shop. It has all the Wisconsin-made goodies you could ask for and sure is hard to pass up.
Founded in 1947, it's a longtime tradition for us Illinoisians to stop here and browse the merchandise.
Along with any kind of cheese you can think of, the castle also carries many other royal treats like gourmet popcorn, local wine and beer, baked goods, and state souvenirs such as the below darling cheesehead hats.
I bet you can't wait to pick yourself up one of these!
Brat Stop
The Brat Stop is another famous landmark that has been serving brats, beers, and cheese to travelers since 1961.
The roadside eatery, conveniently located off I-94, is also known for hosting live music, its outdoor beer garden, and its friendly Wisconsin ambiance.
Beer, brats and cheese, please!
El Camino Kitchen
Another noteworthy restaurant is the El Camino Kitchen in Pleasant Prairie.
Expectations ran high when we found out it's owned by the same hospitality group as Warehouse Waterfront. Luckily, El Camino did not let us down.
The best SoCal Kitchen in Kenosha has a vast menu that has a touch of everything – salads, soups, Mexican dishes, burgers, rice bowls, wings, and sandwiches.
We took advantage of the lunch specials available Monday through Friday and ordered the lunch fajitas and all-you-can-eat soup and salad.
Large portions and "yummy" tacos off the kid's menu gained the little ones' stamp of approval.
#KenoshaFun
We now understand where the #KenoshaFun campaign comes from. All in all, we've grown to appreciate how many entertaining things Kenosha has to offer that are either free or at reasonable prices.
We've passed the city numerous times before on our way up to Milwaukee, never realizing we were skipping a destination unto itself.
There's no doubt we will be back to explore the adult activities like the art galleries and craft breweries. Kenosha won't be an off-the-radar stopover for long!
SEE BELOW FOR TIPS FOR YOUR VISIT!
Know Before You Visit Kenosha
Make sure to check out Kenosha WI upcoming events before you plan your trip!
Kenosha Transit Electric Streetcar

Runs every 15 minutes during operational hours.
Takes exact fare only.
Winter Schedule (January 2 – February 28th) Monday – Friday Closed, Saturday & Sunday 10:35 am to 6:15 pm.
Spring Schedule (March 1 – March 31st) Monday – Friday 10am – 2pm, Saturday & Sunday 10:35 am to 6:15 pm.
Summer & Fall Schedule (April 1 – December 31st) Monday – Friday 11:05 am – 6:35pm, Saturday & Sunday 10:35 am to 6:15 pm.
Dinosaur Discovery Museum

5608-10th Avenue, Kenosha, WI (262) 653-4450
Free public parking and streetcar stop.
Print out an I-Spy worksheet for the kids before you go here.
Closed Mondays and holidays.
Open Tuesday – Sunday 12 pm to 5 pm.
Kenosha Public Museum

5500 First Avenue, Kenosha, WI (262) 653-4140
Sunday 12pm to 5pm, Monday – Saturday 10am to 5m, Closed holidays
Free public parking and streetcar stop.
Civil War Museum

5400 First Avenue, Kenosha, WI (262) 653-4141
Sunday 12pm to 5pm, Monday – Saturday 10am to 5m, Closed holidays
Free public parking and streetcar stop.
Other Family-Friendly Getaways in the Midwest
Like it? Pin it or Save it for Later!