After seventeen long months, vaccinated Americans are crossing the border into Canada again.
With other countries and cruise ships still being restricted, we think it's a good time for a road trip through our neighbor to the north.
Once the Canada border opening date was announced, we started looking into what extra steps were needed during COVID-19. There's not a lot of detailed information out there so it took some time to figure it all out.
There's definitely a little more stress with the additional requirements, but it all worked out and we would do it again.
We successfully entered the country a few days ago and want to share what to expect when crossing the Canadian border by car.
Who Can Visit Canada Right Now
As of August 9th, 2021, fully vaccinated American citizens and permanent residents of the United States are allowed to enter Canada.
And as of September 7th, all other vaccinated foreign nationals will be able to enter as well.
After those dates, you do not need to quarantine upon entry if all other requirements are met.
NOTE: There are separate rules for visitors traveling with unvaccinated children under the age of 12. You can still enter but other Canadian border restrictions apply.
Items Required Before You Cross the Canadian Border
Valid Passport
As always, a valid passport is required to enter Canada. Most countries require your passport to be valid for at least 6 months beyond your planned date of departure.
Covid PCR Test
NOTE: The PCR Test is not the same as a rapid antigen test.
You must take a PCR molecular Covid test within 72 hours of arrival. We took ours at a CVS Pharmacy Drive-Thru for free with our insurance and received our results within 24 hours.
With over 4,100 testing locations throughout the United States and the fast turnaround, CVS is our number one choice for testing. You can reserve a test time online a week in advance.
Their website states it will take 1-2 days unless a surge in tests is going on. That little caveat had us worried because we had no idea if that was the case, but it must not have been since we received our results by email within 24 hours.
We took the test Friday afternoon in Illinois, received our results by Saturday afternoon and crossed the border on Monday morning.
Other Places to Take a Travel Covid Test
Many places offer PCR testing, but do not guarantee results within three days.
Here are a few other options:
Walgreens – results within 72 hours and free for most insurance holders.
Passport Health – PCR testing is available at most locations in 33 states and testing is for travel and returning to work requirements. Fee is usually required.
QuestDiagnostics – PCR testing is available at most locations with test results the next day and free for most insurance holders.
Proof of Vaccination
You must have received your last vaccine dose at least 14 days prior to arriving at the border where you'll present your vaccination card. Even if you had COVID-19 and believe you have antibodies, you still need to be fully vaccinated.
You must also upload the card to the ArriveCAN app – more on that below.
Accepted Vaccinations
Pfizer-BioNTech
AstraZeneca
Moderna
Janssen/Johnson & Johnson
Download and Register on the ArriveCAN App
Download the ArriveCAN app before your trip; it can be found on Apple and Android devices.
You cannot submit any data until you are within 72 hours of your arrival date. Within that time frame, open the ArriveCAN app and fill out your port of entry and date of arrival.
TIP: Check here for the U.S. to Canada border wait times to help plan the date and time.
It will then ask if your travel is related to any of the following: frequent cross-border services, performance of essential services, medical support services or trade and transportation services.
Then select "discretionary/optional travel by fully vaccinated U.S. citizen if it applies and provide your passport information."
Next, you'll fill out your vaccination information and upload a copy of your vaccination card.
Submit Quarantine Plan
Once the above info is completed and uploaded, you'll move on to the quarantine plan.
We weren't sure what information would be required for the plan and couldn't find a lot of information surrounding the new requirements after August 9th.
For this section, you will be asked a series of questions including a "Quarantine Plan Questionnaire" in case your travel is not approved by the Canadian Border Services Officer.
You must enter an address of the accommodation where you plan to quarantine and then the quarantine "plan" is a series of six yes or no questions regarding the type of accommodations.
You do not need to have an Airbnb or hotel booked, but you do need to provide an address.
Since we would only be 6 hours from home at our first destination, we originally planned on submitting our home address with the thought that if for some reason we are denied or tested positive on a random COVID test then we would just go back home but the app does not allow you to enter a non-Canadian address.
We gave the address of the first hotel we booked and it let us move on to the next series of questions.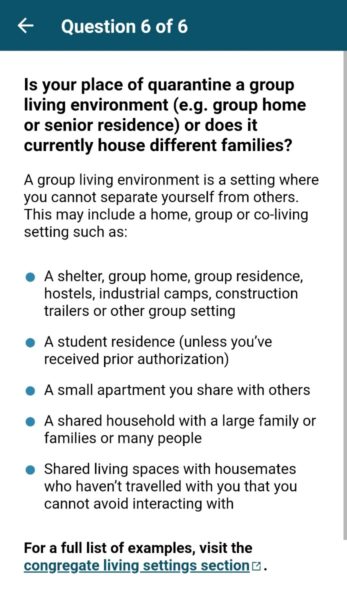 Next, is a self-assessment yes or no questionnaire to see if you are experiencing any COVID-19 symptoms.
And that's it. Even though it sounds in-depth, once you decide which address you will provide, the questions are simple and straightforward.
Open a SwitchHealth Account
When you arrive in Canada, you may be selected for a random Covid test.
If so, it will be helpful to already have a SwitchHealth account opened as it will expedite your testing.
We were one of the lucky chosen ones, read below for our experience.
What it is like Crossing the Border into Canada by Car Right Now during COVID-19
We crossed over at the Windsor Tunnel near Detroit a week after the Canada border opening date on Monday, August 16, 2021.
Since our first destination on our two month Canadian road trip is Niagara-on-the-Lake in the Ontario Province, we planned an overnight in Ann Arbor, Michigan the night before – it's only four hours from Chicago and a forty-five minute drive to the Canadian border.
Then on Monday morning, after a quick hotel breakfast, we hit the road at about 8:30 AM, arriving at the tunnel in Detroit at 9:15 AM.
We paid the $5.00 toll by credit card (no cash accepted) and pulled around the corner expecting a delay, but luckily, there were only a few cars.
We waited about 5 minutes before pulling up to the booth.
The border patrol agent asked us for our passports, negative COVID-19 results, and our reservation number from the ArriveCAN app.
She then asked a few questions- how long we are staying, if we have any alcohol with us, and what kind of travel it is.
After handing our paperwork back, she also provided us with two boxes and told us we would have to take another COVID test.
Fully expecting a long wait, we headed into town to the Red Cross temporary outdoor facility a few blocks away.
Instead, we were the only car at the facility.
A health professional approached the passenger side and asked us to open a SwitchHealth Account but we told her we already had one. She was pleasantly surprised and said, "Oh good, that'll make this easier."
We provided the email addresses the accounts were registered (we opened two separate accounts) to and she handed us plastic bags with the swabs and told us to move forward.
A different health professional approached the driver's side and walked us through the steps for the test.
She told us our results would be uploaded within the next few days and we were off.
The entire process took about 5 to 6 minutes. We couldn't believe it!
Our travels will take us through the eastern part of Canada for two months so if you'd like to follow along find us on Facebook or Instagram – or both!
Are you crossing the border into Canada soon? Let us know if you have any other questions!