Saving money and cutting costs are important in all aspects of our lives, but especially important in the midst of economic uncertainties. Our personal efforts to squander away as much as we can and live on a budget has always been motivated by the desire to travel, but there are many other reasons to focus on being thrifty.
Going through a rough patch?
Need to put your kids through college?
Want to retire early or reach financial freedom?
Whatever your reasons, the best way to start your journey of saving is to know where your money is going. It's not always fun, but it is CRUCIAL to take a good look at your spending habits.
Plus, it's a great motivator to be able to see the direct impact of the changes you make as you go along!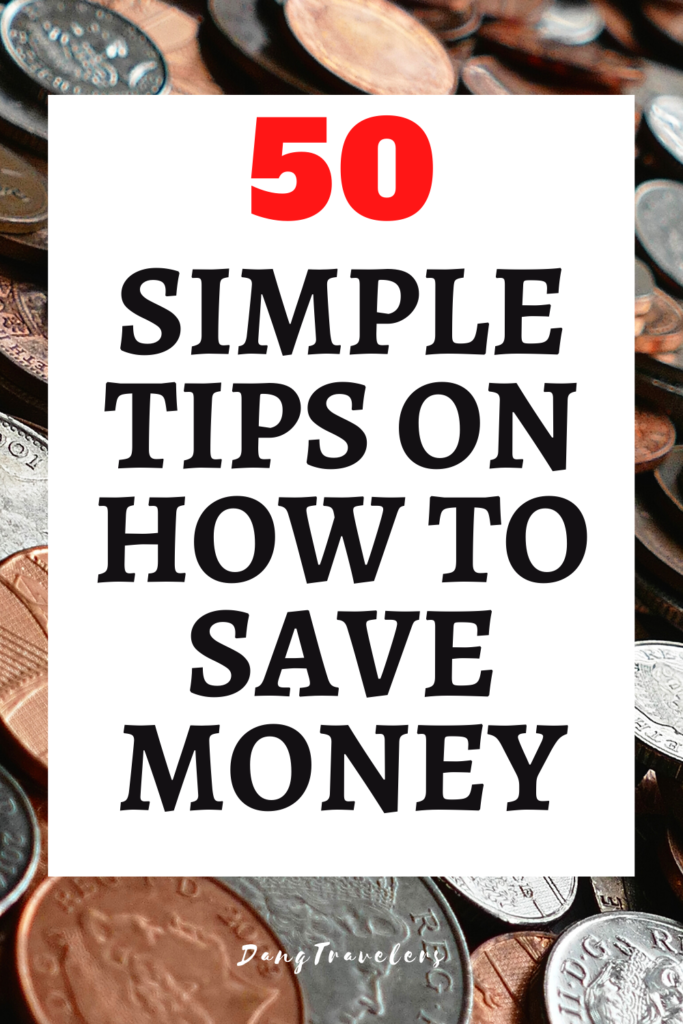 We use Personal Capital, a FREE online account management system to budget, analyze all our expenses, and plan for retirement. You can read our post here about How to Use Personal Capital and Why We Like It.
We highly recommend using the program to stay on track. They even have a super easy app for Android or Apple phones with useful charts and tools.
Sign up to Personal Capital here for FREE
Now that you are tracking your expenses, let's show you how to save money fast! And remember small adjustments can add up to BIG MONEY!
Disclaimer: Some of the links included in this post are affiliate links and will provide me with a commission at no additional cost to you.
50 Simple Ways to Save Money from Salary Wages
1. Reduce your car insurance. Is it time to change your car insurance from full coverage to liability? Or raise your deductible?
We went from full coverage to liability on one of our cars and added AAA Roadside Assistance as a safety measure and still saved over $500 a year.
Every few years you should also compare insurance companies for savings.
2. Work out at home instead of a gym. Most people do not utilize their gym membership enough to make it worth the cost.
Even if you do, there are so many options to work out at home that if you are serious about saving money this is one way to do it.
3. Give up cable. With so many cheaper options out there right now like Netflix, Hulu and Amazon it's getting easier and easier to go without cable.
We cut the cord a few years ago and we don't miss it one bit.
4. Shop homeowners insurance. Along with car insurance, homeowner's or renter's insurance is something you should get quotes on every few years to see if you can get a cheaper rate.
5. Limit the meals you eat out. Cook at home and bring lunch to work. If you still feel the need to get out, look for deals online at money-saving sites like Groupon.
6. Before going to the grocery store, check out the sales paper, make a meal plan, and a list. It sounds time-consuming but it will keep you from overbuying.
7. Buy generic. Some generic items might taste different but many taste similar or better.
8. Use cashback apps for grocery store purchases like Ibotta. You select offers then when you scan your receipt you will receive cashback for those purchases.
9. Take public transportation and walk or carpool when you can. We use public transportation when we travel and in our daily lives. It's an easy way to avoid parking fees and tolls, especially in big cities.
10. Use apps to save on fuel when you do have to drive. The Gas Buddy app (available on Apple and Android devices) helps you find the cheapest gas around.
It shows the price range per gallon from the lowest to the highest via a list or map view. It helps a lot when we travel, but also around our hometown since fuel varies a lot.
Another quick tip is to utilize fuel rebate programs like Shell, where you receive $0.05 back on every fill-up.
11. Don't go to everything you are invited to. The first thing that jumped out at me when we started tracking our finances was how much we were spending on gifts; it was one of the biggest expenses throughout the year. The amount was outrageous.
Start being choosey about what events you attend. Is that invite for a baby shower for a baby you'll never see or a wedding for people you are not close to? Don't go. I know it sounds a little rude, but making these decisions will save you time and money.
12. Buy cheaper gifts or start making your own. If you do decide to go to that birthday party or wedding, give less by buying cheaper gifts, getting creative, or making your own.
13. Don't spend your raise. If you're asking yourself how to save money from your monthly salary, this is an easy one.
You are already living on your current wage so when you get a raise, take that extra money and save it. Continue to budget on your old salary, and act like you never received the pay bump.
14. Save your change. This one is old school but in this credit card age, some people seem to have forgotten how much change adds up to.
I love bringing in my jars and leaving with fun money for our next trip.
15. Stop spending money on extras like coffee. Even if you only buy coffee on days you work and at the gas station for a dollar, you could save roughly $250 a year.
At Starbucks when coffee is on average $4, you would save $1,000 a year! Even those quick grabs at the gas station add up.
Other Tips: How can I save money with a low income?
16. Compare prices when you shop and use price matches. By now everyone should be looking online for the best deals, especially for expensive purchases. For anything over $20, we usually spend the time at the store or before to see if we can get a price match or one cheaper online.
Some companies that price match: Amazon, Bass Pro Shop, Walmart, Bed Bath and Beyond, Best Buy, Home Depot, and Michaels.
17. When booking online or shopping, use rebate programs. This year alone, I've received a little over $500 from rebate portals. All you have to do is click their site first, look for the website you are booking through and click it. You can sometimes receive up to 12% cashback, especially during popular shopping times like pre-Christmas.
The apps also has coupon codes which are extremely helpful.
We use three different ones, Rakuten, TopCashBack, and BeFrugal.
Start at CashBackMonitor.com to see which site will give the most cash back before making your purchase.
18. Take advantage of FREE things to do. There's always something free to do. Search for free things in your area, take a walk, visit museums on free days, go window-shopping, or play a board game.
When traveling you can save money by house sitting. Here's a TrustedHousesitters Review!
19. Invite friends over instead of going out. Alcohol and bar bills add up to quite a bit, it's always cheaper to stay in. *We are all doing this now, but remember it down the road.*
20. Set up a budget and stick to it. If you don't have, at a minimum, a monthly spending budget then you really need to sit down and hammer one out.
It's hard to save when you don't even know where you stand. See what you are currently spending using Personal Capital which also allows you to set budget amounts.
21. Stop paying interest on your credit cards. I know it's hard but stop carrying a balance on your credit cards. You will save hundreds on interest.
If it helps, only spend cash for a while until you get your balances paid down. That way you are not racking up more debt. Also, try calling the credit card and asking for a lower interest rate. Throw in the fact that you will be transferring the balance to a zero-interest card if not and they may be more willing to work with you.
22. Transfer your balances to zero-interest and no annual fee credit cards. As long as you remember that this is not so you can spend more money or put more money on the cards, it's a good way to help get out of debt.
23. Check your bank rates. Make sure you are banking at a place that has no fees for checking accounts, transfers, ATM use or debit charges.
Two great banks are Charles Schwab or USAA.
24. Open credit cards with travel rewards or cashback. Remember not to open ones with annual fees unless you will cancel within a year or think it's one where the benefits outweigh the cost and to use responsibly.
Capital One Quicksilver Cash Rewards Card (earn 1.5% cashback on every purchase) and Discover It (5% cash back at different places each quarter like gas stations, grocery stores and restaurants and 1% on other purchases).
And always manage fraud while at home and abroad with Credit Karma; it's free and they even have an app so it's easy to see your credit score and if or when someone opens a fraudulent card under your name.
25. Give the gift of time. We don't have kids so I apply this to our nephews. We try to spend time with them instead of buying gifts. In the end, we are saving money and creating memories that they won't forget.
26. Ask for samples for medication. Medication can be expensive, ask your doctor if they have a generic on the market or if they have samples.
27. Try home remedies. Since doctor visits and medication are expensive sometimes we try to see if there is a natural option first.
For example, it may sound crazy but after going to the dermatologist's office and making sure none of my moles were suspicious, I used apple cider vinegar to remove them. It works!
*Disclosure: This content is not intended to be a substitute for professional medical advice, diagnosis, or treatment. Always seek the advice of your physician or other medical doctor first.*
28. Sell what you no longer need. Instead of throwing away items or giving them away, try selling them first.
There are Facebook community groups where you can sells things in your area, eBay or Craig's List.
29. Buy Secondhand. This is one that I never understood until I went shopping with my mother-in-law. You can find some fabulous deals in thrift stores!
And think about it, your kids grow out of their clothes so fast, why wouldn't you? Garage sales are another great way to save.
Clothes challenge: Try not to buy new clothes for anyone in the house for one year.
30. Buy when everyone else is selling. This idea can be applied to a lot of things in life. It goes for the stock market, clothes during off-season, and produce.
It's always cheaper when there's an overabundance of something or when the season is coming to a close.
31. Get rid of bad habits. Not only is smoking and drinking excessively bad for your health but it's bad for your wallet too. Make this the year you quit!! I believe in you.
32. Be energy smart. Turn off lights, change your light bulbs to LED, winterize your home, and unplug appliances.
Communicate this to the whole family so everyone is on the same page.
33. Reduce heating and air conditioning costs. Don't turn on the air conditioning right away, open the windows.
Lower your thermostat in the winter and raise it in the summer. You can save 10% on your costs by dialing down the thermostat by 7 to 10 degrees for eight hours a day, according to Energy.gov.
34. Drink more water. Did you know you are supposed to drink 8 glasses a day? It's not only healthier but the cheaper option.
Remember this when you are out and about too. Don't buy bottled water but bring a refillable container with you.
35. Think before you spend. Avoid stress-spending by making a conscious effort to really think about every purchase.
Do you really need it? Can you go without? Is there a cheaper option?
36. Find cheap hobbies. You don't have to spend a lot to have fun. We love to read books and hike. Or you can find a hobby that can turn into gifts like knitting or painting.
37. Refinance your car or house. If interest rates are lower or if your credit situation has improved you may be able to get a better deal. Tips for refinancing your home here.
38. Challenge your property tax assessment. You can appeal your property taxes every couple of years. Most lawyers will do the work for no cost with a fee only when you receive a decrease in your taxes. There's no harm (or cost) in trying.
39. Get rid of your landline. If you still have a landline, get rid of it! You probably only use it for… well, nothing.
40. Lower your cell phone bill. There are a few ways to lower your cell phone bill: change your plan, add lines with friends or family, change or remove cell phone insurance.
Call and negotiate your current plan.
41. Use a Flexible Spending Account. If your employer offers FSAs and you know you typically have medical expenses throughout the year, it may be advantageous to open an account.
FSAs are accounts that allow employees to obtain reimbursement for certain medical expenses with pre-tax dollars. Be cautious of how much you put aside though because any unused money at the end of the year will be forfeited. Read more here.
42. Put your bills on auto-pay. Late payments can be expensive, there is zero chance of missing a payment if you automate your bills.
43. Cancel all subscriptions. Do you get magazines still or are you in a wine of the month club?
Reassess how much you need or want these monthly subscriptions and see if you can reduce them.
44. Buy discounted gift cards. When we do need to buy something, plan on going to restaurants, or book travel we save money by buying discounted gift cards at Raise. It can help you save hundreds of dollars each year.
45. Don't try to keep up with the Joneses. It can be hard at times but keep your eye on the prize and don't try to keep up with others just because. You'll never be happy chasing someone else's dream.
46. Do it yourself when possible. You can find ANYTHING on YouTube. If it's not dangerous, I say try to do it yourself.
When our garbage disposal and water heater broke, my husband installed a new one himself. It saved us over $750 in labor. Remember safety first!
47. Don't spend money on Apps. You may be surprised to hear that I've never spent even $1 on an app.
Because they are so cheap, many people purchase music or apps without even thinking about it. How much do you think that adds up to over the years?
48. Communicate your goal to the whole household. It doesn't work if just one person is on board with trying to save.
Make sure everyone is in it together and it will be a lot easier and less frustrating.
49. Treat yo' self. Saving money is serious business and a bit of a buzz kill so when you hit a goal, reward yourself and or your family with something fun.
50. Create a visual reminder of your goal. What are you saving for? If it's a trip to put your toes in the sand, print out a picture and put it up somewhere you'll see every day as a reminder of why you are working so hard at saving.
These are our tips on how to save money from salary wages, are we missing anything? What ways do you cut costs and save money?